For Black Girls Like Me by Mariama J. Lockington COVER REVEAL!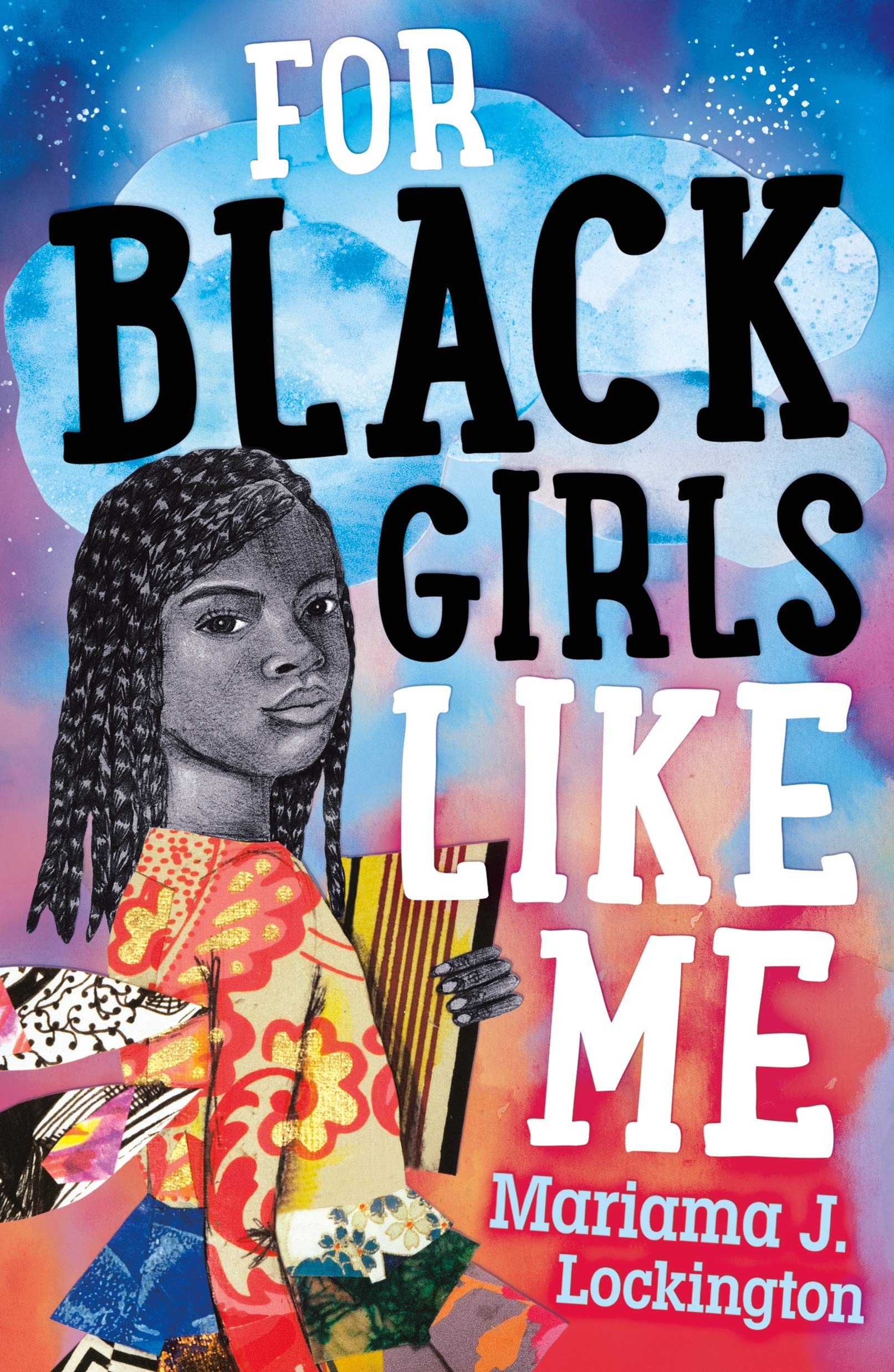 In partnership with Macmillian Children's Publishing Group, I am thrilled to be revealing the cover for the forthcoming July 2019 book For Black Girls Like Me by Mariama J. Lockington.  The cover is illustrated by Jamea Richmond-Edwards.  I also had the opportunity to ask the author a few questions which you can read below.
Total Pages: 336 pages
Publisher: Farrar, Straus and Giroux
Publication Date: July 30, 2019
Recommended Ages: 8-12 and up
Pre-Orders: Available for Pre-Order Now!
Synopsis

I am a girl but most days I feel like a question mark.
Makeda June Kirkland is eleven-years-old, adopted, and black. Her parents and big sister are white, and even though she loves her family very much, Makeda often feels left out. When Makeda's family moves from Maryland to New Mexico, she leaves behind her best friend, Lena— the only other adopted black girl she knows— for a new life. In New Mexico, everything is different. At home, Makeda's sister is too cool to hang out with her anymore and at school, she can't seem to find one real friend.
Through it all, Makeda can't help but wonder: What would it feel like to grow up with a family that looks like me?
Through singing, dreaming, and writing secret messages back and forth with Lena, Makeda might just carve a small place for herself in the world.
In this lyrical coming-of-age story about family, sisterhood, music, race, and identity, Mariama J. Lockington draws on some of the emotional truths from her own experiences growing up with an adoptive white family. For Black Girls Like Me is for anyone who has ever asked themselves: How do you figure out where you are going if you don't know where you came from?
Author Interview
WHAT INSPIRED YOU TO WRITE FOR BLACK GIRLS LIKE ME?
When I was a kid I was always looking for books that mirrored my experience growing up as a transracial adoptee. I searched library shelves for stories about curious black girls with white parents—black girls with mothers who gave them away, but I never really found them. Instead, I'd find and devour books about spunky orphans like Heidi or Anne (with an E!) of Green Gables because I was able to relate to the resilience and questioning personalities of these characters. I wrote For Black Girls Like Me because it is the book I needed to read as a kid, a book that reflects the kind of family that looks like mine.
WHAT DO YOU HOPE READERS WILL TAKE AWAY FROM READING YOUR BOOK?
This is a book about adoption, yes, but more than anything it's a book about a young black girl searching for her voice. It's a book about a multiracial American family trying to love one another, despite difference and human flaws. My hope is that adoptees will read this book and see some small part of their experience validated. I also hope that this book will spark conversation about identity, race, and belonging between siblings, parents and their children, teachers and students, and anyone else who has ever asked themselves: Where do I belong? I hope that this book will be a friend to someone who needs it.
HOW DID THE EXPERIENCE OF WRITING THIS BOOK DIFFER FROM WRITING YOUR PREVIOUS BOOK, THE LUCKY DAUGHTER, OR OTHER THINGS YOU HAVE WRITTEN?
Well, The Lucky Daughter was a book of individual poems, about varying topics written for an adult audience. In earlier drafts, For Black Girls Like Me was also written for an adult audience. In 2013, I graduated from my MFA program at San Francisco State University with a collection of about sixty prose poems about a nameless adopted pre-teen black girl. The manuscript was much more abstract, and I was having a hard time taking it to the next level. When I published my article "What a Black Woman Wishes Her Adoptive White Parents Knew" on Buzzfeed in 2016, my now editor at Farrar, Straus and Giroux, reached out. She asked if I'd ever considered writing a fictional book based on my own experiences as an adoptee, but for a middle grade audience. I was SO excited by this prospect, since my other passion in life is teaching and working with youth. I have a Masters in Education and I have worked with education nonprofits for more than ten years. When I thought about this girl I kept writing poems about, about writing her story more concretely for a younger audience, giving her a name, something just clicked. I was able to dive back into the manuscript and I began to write Makeda's store in short poem-scenes, with a stronger narrative thread.
WHAT INSPIRED YOU TO BEGIN WRITING AS AN AUTHOR?
Since I was little, I've known I wanted to write books. I used to make my own books out of cardboard, glue, and string. When I was about 12 I saw the movie Harriet the Spy, and I've been keeping a journal ever since. At first writing down my daily observations and telling stories was about survival, about creating worlds bigger than the one I sometimes felt confined to. But ultimately it was music that helped me find my path as an author. Both of my parents are classical musicians, and while I did not grow up in a particularly religious household, music is a kind of religion in our family. I played the flute and piano growing up and the practice of music led me to explore the possibilities of other kinds of creative arts. Eventually, music led me to formally studying writing in High School and beyond. Like my main character, Makeda, music helped me find my voice and my discipline. It has always been an anchor for me.
HOW MUCH OF YOURSELF, OTHER PEOPLE OR YOUR OWN PERSONAL EXPERIENCES DO YOU PUT INTO YOUR BOOKS?
While For Black Girls Like Me is fiction, it's based on some of the emotional truths of my experience growing up as a transracial adoptee. There are some ways in which I drew from my own memories to write Makeda's character. For example, I made both of her parents musicians. But then I let my imagination run wild and allowed myself to move past the autobiographical. As I was writing, I found that my characters took on new complex identities and histories that are different from the identities and histories of my actual family.
WHICH BOOKS HAVE INFLUENCED YOUR LIFE THE MOST?
This question is so hard for a bookworm like me! As I mentioned, as a kid, it was any story about an orphan— Annie, Anne of Green Gables, Heidi, or any story about a young kid who has to survive on their own in the wild— My Side of the Mountain, Hatchet, Island of the Blue Dolphins. I felt a kinship with these characters, as they struggled to make a way for themselves, without always knowing where they came from or if they belonged.
As an adult, my all-time favorite book is Sula by Toni Morrison. I re-read it almost every year. To me, it is an epic love story between two best friends who are full of contradictions. I love that it is a story about black girlhood, black womanhood, friendship, and how sometimes we fail to speak the same language as the ones who raise us or come up with us. But we love them fiercely anyway.
IF YOU COULD GIVE ADULTS ONE PIECE OF ADVICE ABOUT READING WITH CHILDREN, WHAT WOULD IT BE?
Don't gloss over or skip subjects in books you think your child can't understand, especially when it comes to race and identity. Be OK with being uncomfortable, with not having all the answers. Books help all of us learn about different perspectives and experiences— even adults. You don't have to be the expert, you just have to be willing to grow alongside your child, ask questions, and listen.
HARDCOVER, PAPERBACK OR E-BOOK (WHEN READING A BOOK ON YOUR OWN)?
Team Hardcover all the way! There is nothing more luxurious than the weight of a hardcover book in my lap and a hot cup of tea in hand.
FICTION, NON-FICTION OR SOME OTHER GENRE (WHEN READING A BOOK ON YOUR OWN)?
I read anything and everything I can get my hands on. I am a poet at heart, so I read a ton of poetry, but I am also an avid reader of fiction. Lately, I've really been enjoying reading short story collections. I can read at least one story before I fall asleep!
WHAT BOOKS ARE ON YOUR NIGHTSTAND OR E-READER RIGHT NOW?
If you follow me on Instagram, I periodically post #nightstandselfies which feature an overzealous stack of books I hope to get to. Right now, at the top of my pile, you'll find: Speak by Laurie Halse Anderson, The Heads of the Colored People by Nafissa Thompson-Spires, Other Words for Grief by fellow adoptee, Lisa Marie Rollins, and Ghost by Jason Reynolds.
ARE YOU WORKING ON ANY SPECIAL PROJECTS THAT YOU WANT TO SHARE WITH OTHERS?
I work full-time for a youth nonprofit, so this fall I am busy writing curriculum and delivering programs. I'm also excited to be working on a YA project— a queer, black girl love story. It's very fresh, so that's all I'll share for now, but stay tuned! And of course, I'm getting ready to launch For Black Girls Like Me and hopefully go on book tour.
HOW CAN PEOPLE GET IN TOUCH WITH YOU ON SOCIAL MEDIA OR ON YOUR WEBSITE?
You can find me on Twitter @marilock, or on Instagram @forblackgirlslikeme (Which frequently features pictures of my sausage dog, Henry!)
Check out For Black Girls Like Me when it publishes in July 2019!