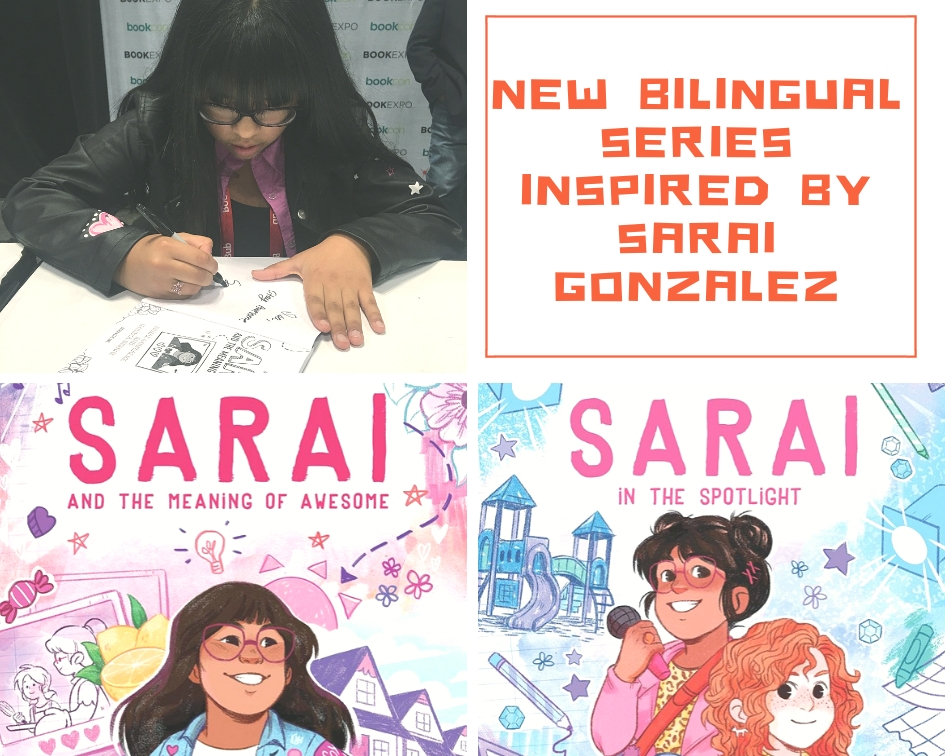 Viral video sensation and social activist, Sarai Gonzalez has teamed up with award-winning author Monica Brown to create a new illustrated chapter book series influenced by Gonzalez's life.  Sarai initially became popular back in 2016 when she "broke the internet" with a music video for Colombian band Bomba Estéreo for the song "Soy Yo" ("I'm Me").  The video has a contagious Latin rhythm and strong lyrics emphasizing self-love and diversity.  The video garnered over 30 million views and the New York Times called Sarai a Latina icon.
Sarai Gonzalez is AWESOME. Fourth grader Sarai Gonzalez can do anything. She can bake, dance, and run her own cupcake business, Sarai's Sweets.  Sarai is a spunky little girl with a kind heart and big dreams.
My kids and I truly enjoyed reading both of these chapter books over the course of a few weeks as read aloud stories.  We liked how much Sarai loves her family, her Peruvian and Costa Rican culture and her willingness to help her family and friends when needed.  We found this chapter book series to be very fun and upbeat to read!
I also appreciated having a few Spanish words sprinkled throughout both books as well as a few Peruvian references like the word "Tata", which means grandfather.  Emerging readers would have no problem reading the text on their own, with some help needed from a grown-up every now and again.  Overall, we adore little Sarai, her friends and tight knit Latinx family.  A great series for emerging readers ages 7 and up.
Launching simultaneously in Spanish and English, the series kicks off with two books: Sarai and the Meaning of Awesome (9781338236682; 9/11/18; $5.99; Paperback) and Sarai in the Spotlight (9781338236699; 9/11/18; $5.99; Paperback).  Recommended for ages 7-10, Grades 2-5.
About Sarai Gonzalez
Eleven-year-old Sarai Gonzalez became an overnight sensation after appearing in Bomba Estero's, "Soy Yo," a music video about embracing yourself and loving your flaws. Sarai and the Meaning of Awesome is the first book in her new chapter book series inspired by her life. Sarai lives in New Jersey with her family.
About Monica Brown
Monica Brown is the award-winning author of super-awesome books for children, including The Lola Levine chapter book series, Marisol McDonald Doesn't Match/no combina, Frida Kahlo and Her Animalitos, and Waiting for the Biblioburro. She is Professor of English at Northern Arizona University, specializing in Latinx and African American Literature. She lives in Flagstaff, Arizona with her husband and her dogs, Lola and Finn. Visit her at www.monicabrown.net.
Your turn: Have you checked out this series yet?  Feel free to share in the comments.