Disclaimer: We received a complimentary copy of this book from the publisher (Scholastic Press) in exchange for an honest review.  As always, all opinions expressed are my own.
Tiny and the Big Dig by Sherri Duskey Rinker, illustrated by Matt Myers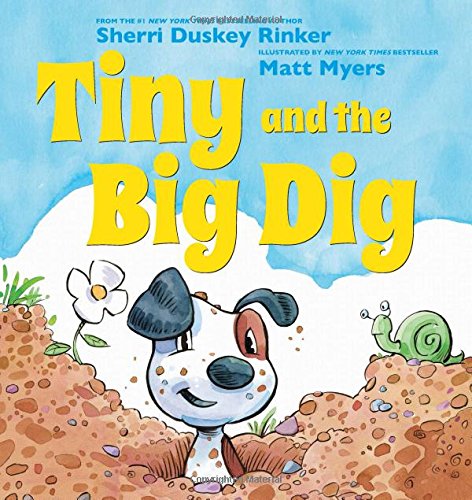 Publisher: Scholastic Press
Age Range: 3-5
Grade Level: Preschool – Kindergarten
Format: Hardcover
Synopsis
Tiny may be a small dog, but don't let that fool you. He's a pooch with power who knows what he wants. And he's going for it. But oh, those pesky pessimists — they're trying to rain on Tiny's dig-parade!
Thank goodness for one special boy who believes in Tiny, because in the end, this dog's grit proves that he's the little pup who could… dig up some giant surprises!
Reflection
Tiny and the Big Dig is a fun rhyming read aloud with colorful illustrations…perfect for story time! I love the overall message of believing in yourself and avoiding negative talk from the naysayers.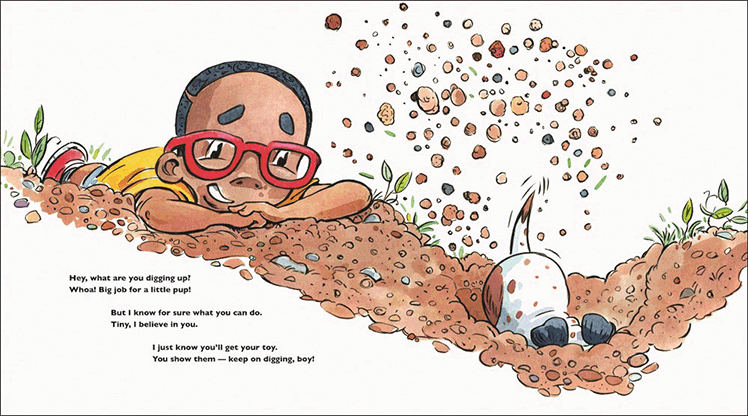 Not only did little Tiny believe in himself, but so did his kid owner, a cute little unnamed Black boy. He cheered little Tiny on until the very end.  I love how Tiny proves all of the other animals wrong in the end and finds a "really big" bone!  I think this book is great for showing kids it doesn't matter how small you are to accomplish goals or make a difference.  Kids may also enjoy the bright and cheerful cartoon-like illustrations which are very engaging.
Overall, I think this is a fun read aloud for smaller readers.  I'd especially recommend this one for children who like excavation, digging, exploring, or dogs.
Your turn: Have you read this book with your little readers yet?  Feel free to share in the comments.