This Is It by Daria Peoples-Riley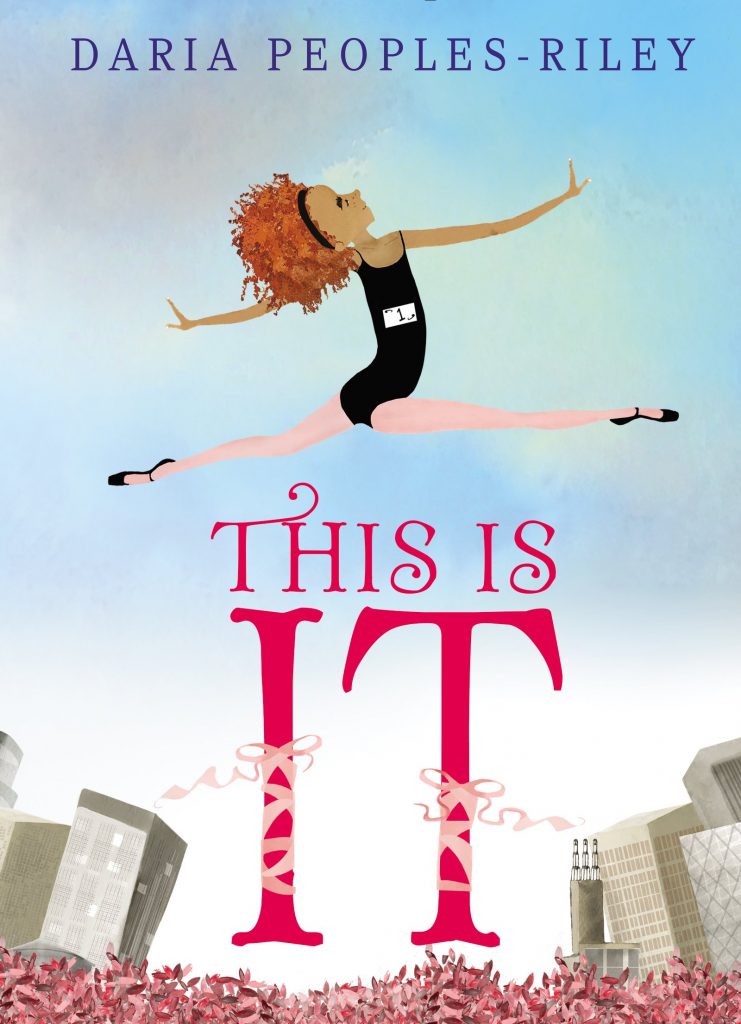 Publisher: Greenwillow Books
Format: Hardcover
Pages: 40
Age Range: 4-8 years
Grade Level: Preschool – 3
Synopsis
Daria Peoples-Riley's debut picture book is a celebration of individuality, self-expression, and dance. Fans of Misty Copeland's Firebird and Matt de la Peña's Last Stop on Market Street will want to read it over and over again.
When a young dancer is nervous about her upcoming auditions, her shadow springs to life and leads her on a joyous exploration of their city. Soon enough, the young girl finds confidence in her skills, her body, and her ability to shine.
With an energetic, rhythmic text that begs to be read aloud and striking, exuberant artwork, This Is It is a love story to originality and the simple joy of movement.
Check out the amazingly heartwarming book trailer for This Is It here: https://t.co/PJN3rbkTBe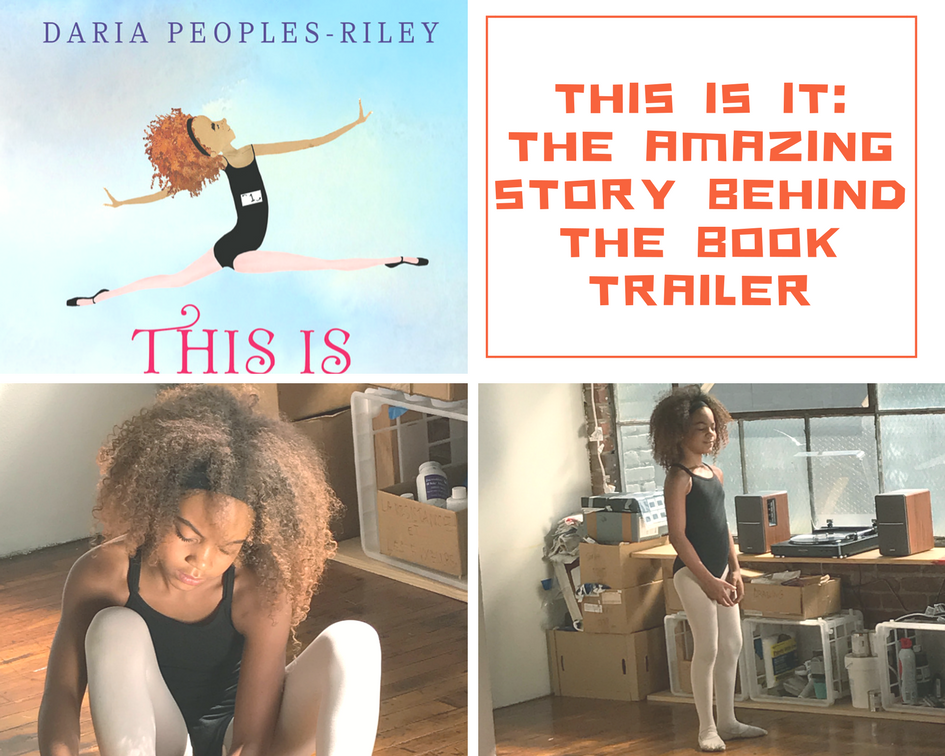 What's the Story Behind the Book Trailer?
Tell us a little bit about the trailer.
It's not the average book trailer for a picture book. I know, right? Well, I've always been interested in making films, so when THIS IS IT was acquired, I knew I wasn't going to do an animated book trailer. Creating a live action book trailer would be the perfect opportunity to try filmmaking. I thought the idea of bringing my heroine to real life would be more impactful. To be honest, as a child, I wasn't very interested in cartoons. I liked shows and movies with real people. It's hard for me to believe there aren't more kids out there like that. The book trailer is the prologue to the book, and you have to read the book to find out what happens next. It was a wonderful opportunity to create my first experience as a filmmaker.
Who was some of the talent behind the scenes of the trailer?
I enlisted the expertise of Patrick Lascu, a Los Angeles based filmmaker, and he put together a crew of amazing talent. He really went out of his way to involve me in the creative process. I learned a lot from him, and hope we can work together again in the near future.
And in front of the camera, who plays the shadow?
The shadow is played by my daughter, Jonah Marie. She is an aspiring ballerina who inspired the poem in THIS IS IT.
Jonah, can you tell us a little bit about your ballet training?
I train in Vaganova Ballet, a style of Russian ballet. I train about ten hours a week right now, and in the summer I attend summer intensives. Last summer, I attended Los Angeles Ballet School and next summer I will attend UNCSA's classical ballet intensive.
What was it like dancing as the shadow?
It was really fun because I didn't have to worry about being on the camera, but I was still apart of the trailer. Besides ballet, what are some of your other interests? I like fashion and baking.
What are some of your dreams for the future?
I would love to become a professional ballet dancer. The mom and the daughter—who plays those roles? The mom is played by Tanya Hill, and her daughter Jalyn Noelle. They are real mom and daughter, so the connection was natural.
How did you go about finding Tanya and Jalyn?
It was pretty unconventional actually. We call it a God story—one of those acts of Providence only God could orchestrate. Patrick and I were looking for actors, and reached out to a few casting directors, but we hadn't found anyone who looked quite like the character in THIS IS IT. However, after a couple of weeks of unsuccessfully finding anyone, I was leaving a hotel in
Buena Park, California when I drove by Tanya and Jalyn who were standing along the street at a crosswalk. Immediately, I was amazed at how much Jalyn looked like my heroine, so I pulled over. It wasn't until I got out of my car to approach them, I realized Jalyn and Tanya were holding a homeless sign and asking for money.
What did you do next?
Truthfully, it caught me off-guard a little and probably out of nervousness, I commented on Tanya's t-shirt, a North Carolina Panther's shirt. I don't really watch football, but I am a Cam Newton fan because of all the wonderful things he does for kids, so the first thing I said was something like "I'm a Cam Newton fan!" Awkward, right? So funny. But she said, "I am too!" Then, we Cam-dabbed together. Once the ice was broken, I told her I was an author/illustrator who wrote a book, and her daughter looked a lot like the character in my story. I asked her if she was interested in acting in my book trailer, and that was when Jalyn told me, "Of course, I'm an actor." Tanya told me she was struggling after relocating to California from North Carolina. She cried tears of joy when I offered Jalyn the role. Then, I cried. Then, we celebrated by taking a selfie. We exchanged information, and Jalyn became my real life heroine. The best thing about it was I was able to compensate Jalyn for her talent.
How are Jalyn and her mom doing now? Can you give us an update? Do you still keep in touch? Absolutely! We keep each other updated. Jalyn and her mom will be in my heart forever. They are doing wonderful. Shortly after our first meeting, I reached out to my aunt who lives in the LA area to find Tanya and Jalyn housing. She enlisted the help of Boys II Men singer, Nathan Morris who has a heart for helping the homeless. Together, we raised $9,000 in three days on GoFundMe. Jalyn and her mom moved back to the Carolinas. Jalyn is acting and attending school and mom is working as a manager of an optical gallery.
Jalyn, what did you think about Daria asking you to be in her trailer?
I felt excited because I wanted to be an actress and she just came in my life and helped me fulfill my dreams, and well, it was the first time I was on onset with cameras. I did NarroWay, A Christian theater in South Carolina, but it wasn't like that.
How was your experience? What was your favorite part?
I loved the experience. It was a lot of fun doing it. My favorite part was learning ballet. It was the first time I ever tried it, but now I actually want to do ballet.
What are you doing now?
Well, I went back to NarroWay and now I'm doing a show called Not Just Another Love Story.
What are your some of your dreams for the future?
One of my dreams is becoming a veterinarian. I love animals and I really want to help the homeless. I've been in that situation before, and it's not fun.
Where can people purchase the book?
This Is It is available now online (the publisher's website, Amazon, Barnes and Noble) and in bookstores wherever books are sold.  You can also check your local library to see if they have it in their circulation. If they don't simply request your library to order a copy.
Connect with Daria Peoples-Riley!
Website | Instagram | Twitter
Your turn: Are you looking forward to reading this with your little readers now that you've seen the trailer and read the story behind it?  Feel free to share in the comments.