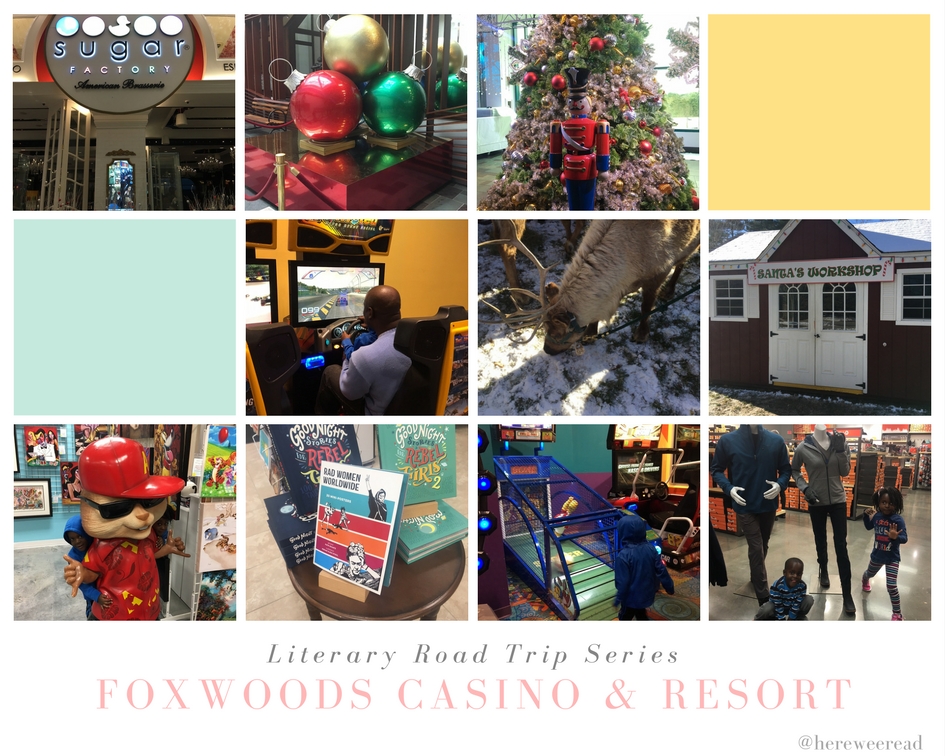 Foxwoods Casino and Resort is located about an hour north of us, which makes it perfect for a quick road trip getaway. Thank you to Foxwoods for hosting us last month!
We stayed in a one bedroom deluxe room with two double beds that sleeps 4. We found the room to be spacious even with the four of us in it.  The rooms and hallways were always very clean and whenever we asked a staff member a question (like finding our way around – the place is huge!) they were always very helpful and polite. I was particularly taken by the sophisticated colors and the Native American accents shown throughout the hotel, casino and resort. It felt very luxurious and well appointed.  An added bonus was looking at all the beautiful holiday decor since we went right around the Christmas holiday.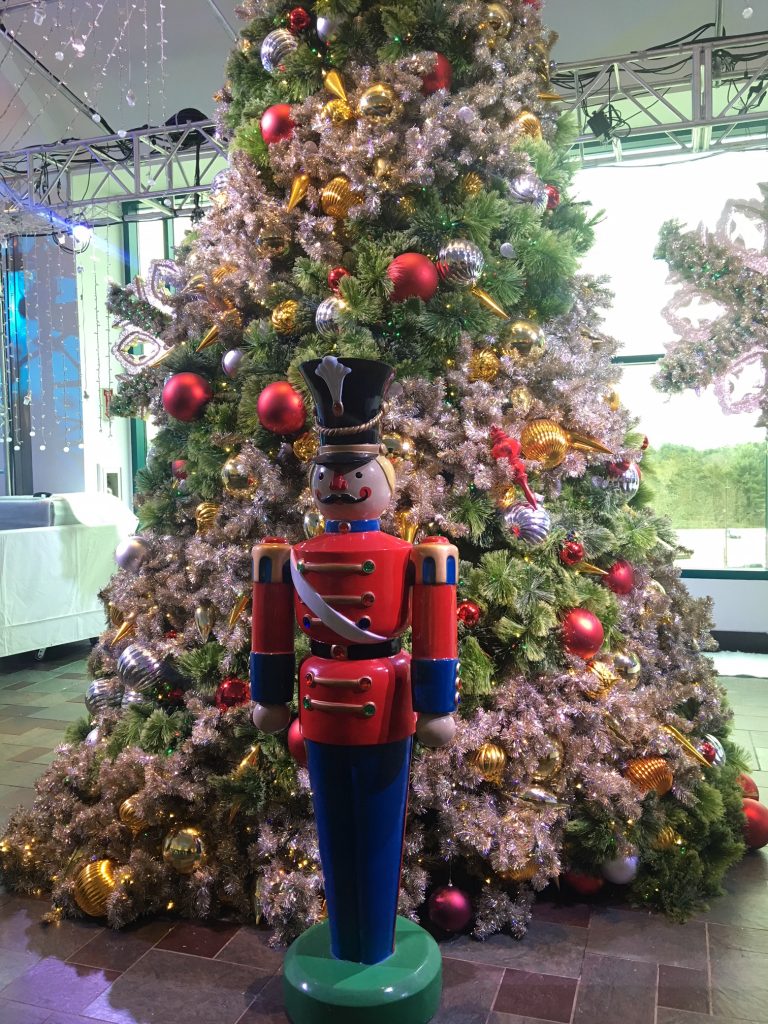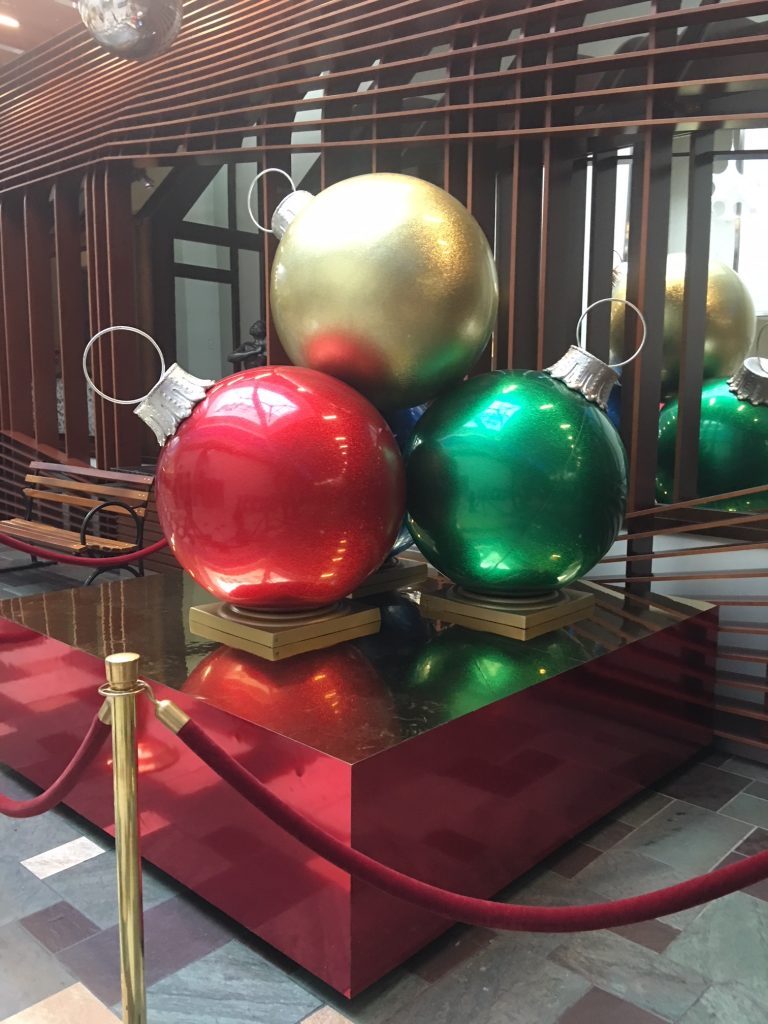 Our room was located in the beautiful Fox Tower.  With the blanket of light snow far below, the views from this height were very impressive. We could have stayed in our room all day enjoying the views.  The views at sunset were incredible!
While Foxwoods doesn't have on-site child care, they do offer activities for kids, along with familiy-friendly shows, on-site casinos and adult-themed entertainment.  Also, did you know they are second on the list of top ten largest casinos in the U.S.?  The giant Foxwoods Resort complex currently boasts a whopping 344,000 square feet of casino space, 4,800 slot machines, and 280 table games (including poker tables).  They also have a 20-lane bowling alley, golf course, museum, zip line, outdoor trails, an outlet shopping mall, swimming pools, spas, an arcade with dozens of kid-friendly games and dozens of family-friendly restaurants.
My husband and I aren't huge gamblers, but we took turns exploring the gaming area for a bit while one of us stayed with the kids.  During our stay we also had the opportunity to take advantage of the kid-friendly activities.  The kids were so excited to get up close and personal with live reindeer, feed them and take photos with Santa.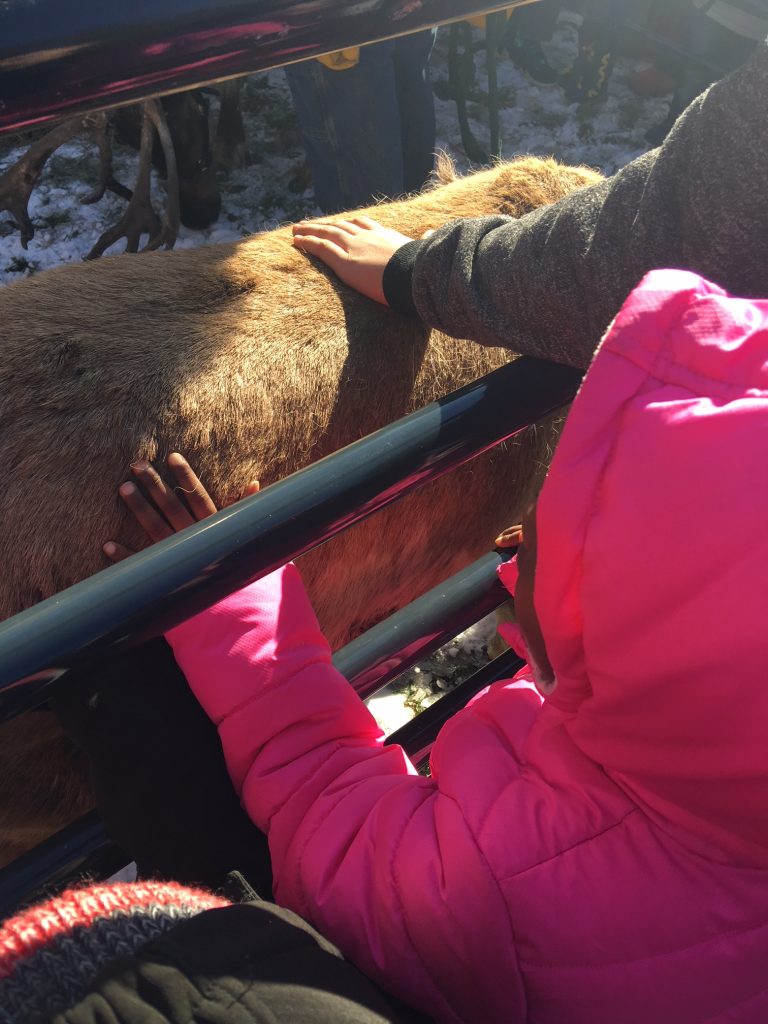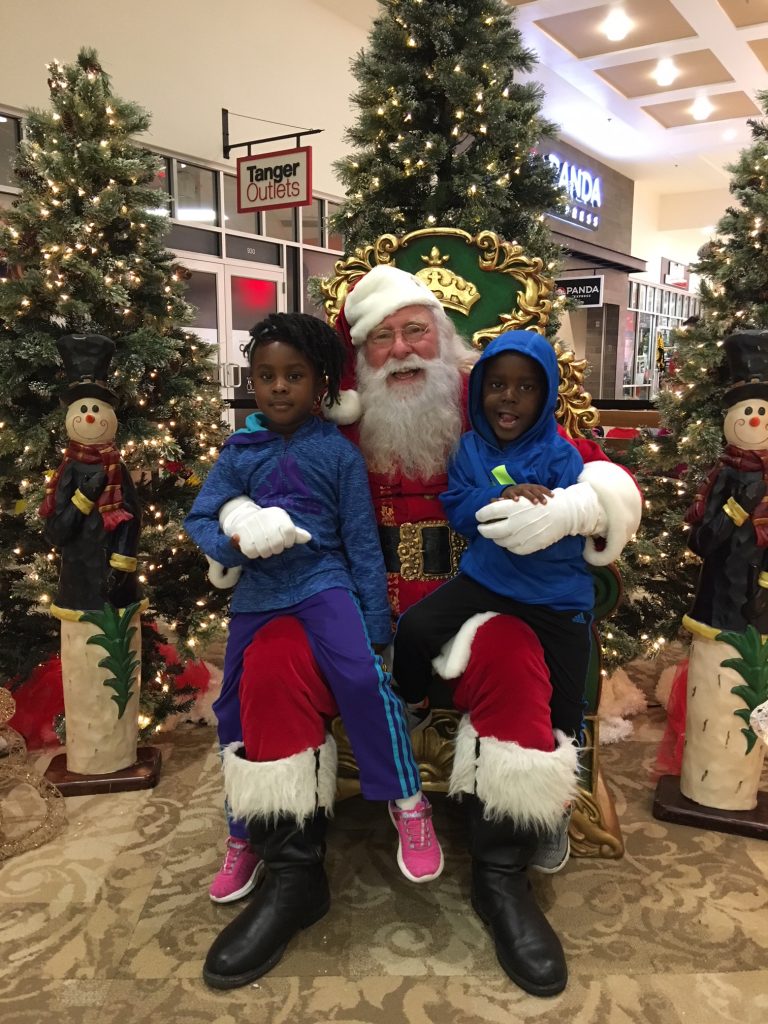 Since we had some last minute holiday shopping to finish we also did some shopping at Tanger Outlets.  Tanger Outlets offers everything from high end shops to affordable stores you know well.  Mixed in with the shops are also many restaurants to choose from.
Bring on the Books!
Of course our road trip wouldn't have been complete without books!  There is a nearby public library just minutes away from Foxwoods (Preston Public Library), but we opted to go to Bank Square Books in Mystic, CT instead.  It's located directly across the street from the famous Mystic Pizza from the popular movie.  I had been wanting to check out that book store for a while so this trip was the perfect opportunity.
Overall, I was pleased with Bank Square Books.  It's a cute and quaint store with a nice selection of both children's and adult books along with other novelty items.  I purchased a book for the kids as a Christmas gift – one we didn't own yet: Green Pants by Kenneth Kraegel.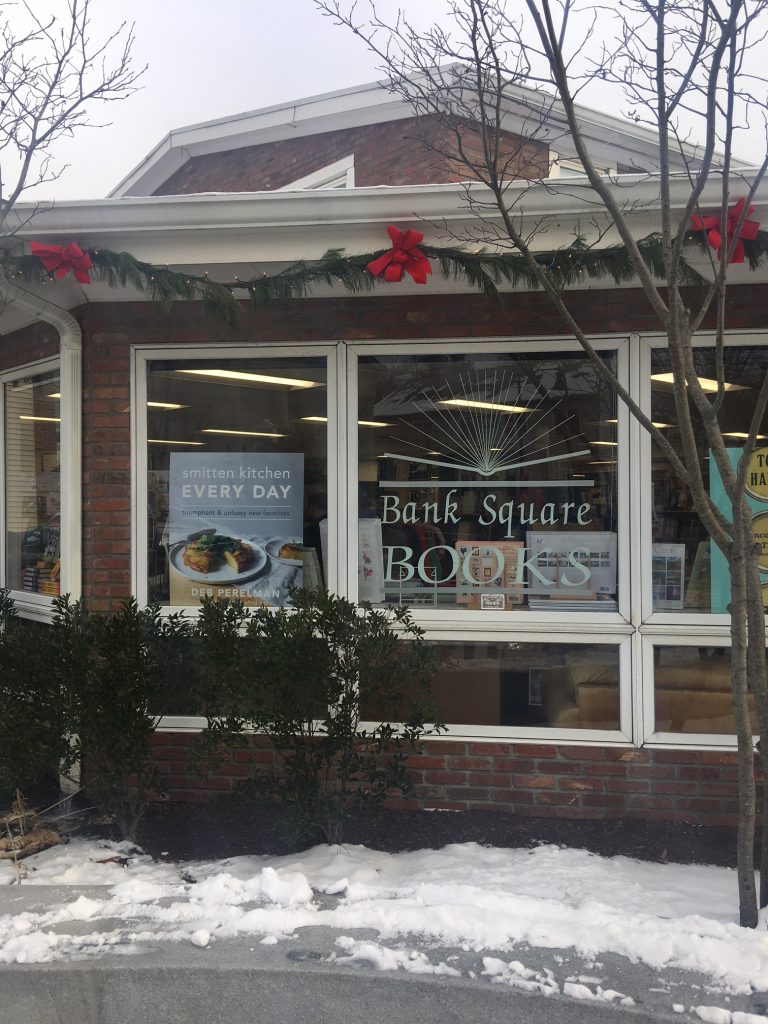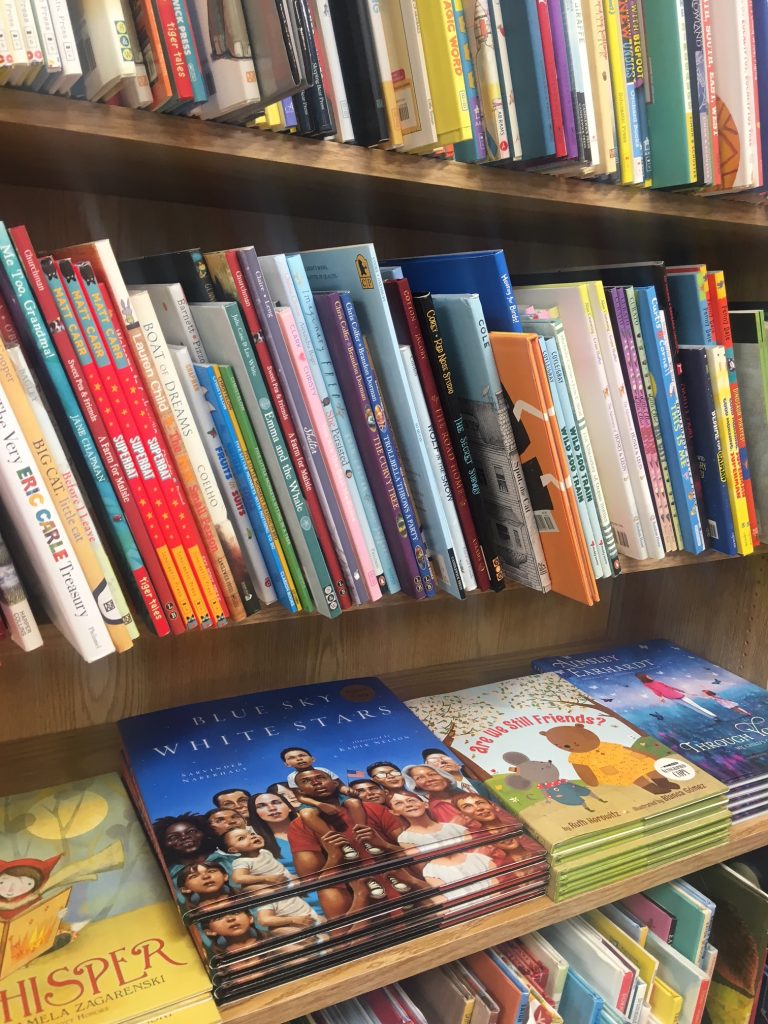 The thing we like most about Foxwoods is everything is in one location.  If we didn't go off-site to visit the book store, we wouldn't have had to go outside at all.  Foxwoods is a unique and diverse experience for families to explore.  No matter what your interests, Foxwoods is fun and worth the trip for the whole family.  Be sure to check out some of their upcoming family-friendly events taking place soon!
Riverdance – Bring the family to go watch this amazing show!
New England Patriots Cheerleading Auditions – Have you ever wanted to see cheerleading auditions for a professional football team take place?  Well this is your chance to do it for FREE!!!  Great for sports and cheerleading fans!  A fun, free, family-friendly event!
Piff the Magic Dragon – Go see the break out star from season 10 of NBC's 'America's Got Talent', Piff the Magic Dragon!
Super Hero Kids Week!
4/7/2018 – 4/15/2018
It's time to take a break from saving the world and celebrate Super Hero Kids Week! This is the best time for kids to unleash their inner super hero and for Tanger Outlets at Foxwoods to unleash it's savings for all! We are celebrating this 9 day event by hosting all sorts of free super hero themed activities. Meet your favorite heroes and participate in the scavenger hunt for prizes and much more!  For easiest access to Tanger Outlets park at the Fox Tower garage.
Family Fun Day with Mystic Aquarium- APRIL 14TH
Join Tanger Outlets and The Mystic Aquarium on Saturday, April 14, 2018 for a fun, interactive family event from 12 – 4 PM near Sketchers. Kids can learn about Dinosaurs and see LIVE tree fogs in a simulated habitat! Touch a real fossil and see ancient artifacts. Families can enter to win an encounter with live animals at Mystic Aquarium.
Disclaimer: We received a media rate for our stay at Foxwoods.  As always all opinions are honest and my own.
Your turn: Are you planning an upcoming literary road trip?  I'd love to hear about your experience and where you're planning to go!  Feel free to share in the comments.