Before She Was Harriet by Lesa Cline-Ransome, illustrated by James E. Ransome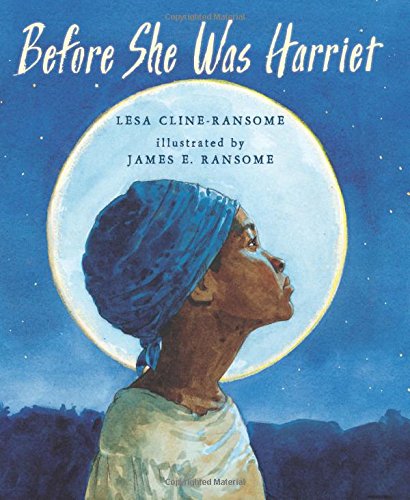 Publisher: Holiday House
Format: Hardcover
Pages: 32
Age Range: 4-7
Grade Level: Kindergarten – 2
Synopsis
We know her today as Harriet Tubman, but in her lifetime she was called by many names. As General Tubman she was a Union spy. As Moses she led hundreds to freedom on the Underground Railroad. As Minty she was a slave whose spirit could not be broken. An evocative poem and opulent watercolors come together to honor a woman of humble origins whose courage and compassion make her larger than life.
Reflection
I'm thrilled to be reviewing this book as a co-host for Multicultural Children's Book Day!  Multicultural Children's Book Day 2017 (1/27/18) is in its 5th year and was founded by Valarie Budayr from Jump Into A Book and Mia Wenjen from PragmaticMom. Their mission is to raise awareness of the ongoing need to include kids' books that celebrate diversity in home and school bookshelves while also working diligently to get more of these types of books into the hands of young readers, parents and educators.
Before She Was Harriet is written in beautiful, verse-like poetic text. The text is accompanied by gorgeous and very detailed watercolor illustrations that help bring each word to life. With the turn of each page, readers are introduced to a new role that Tubman had during her lifetime: suffragist, general, union spy, nurse, aunt and underground railroad conductor. Harriet Tubman was born a slave, her parents named her Araminta "Minty" Ross. She changed her name in 1849 when she escaped.
I love that the author chose to tell Harriet's story in reverse chronological order from her later days as an older woman to her earliest days as a young slave girl.  The book ends in the most poignant way possible with Harriet riding on the train as a free woman.  What an honor it must have been to be able to ride on the train freely after all she went through during her days as the leader of the Underground Railroad.  It was so powerful for me to see everything in her life come full circle.
While this book doesn't include an author's note, a timeline, or any additional biographical information about Harriet Tubman, it is a beautiful tribute and brief introduction to her life.  I think this poetry book would inspire readers to want to learn more about Tubman.
Before She Was Harriet challenged me to fill my life with the brilliant history of a woman who has made her own choices just like Harriet did.  I'm inspired to slowly begin to slowly peel back the layers of my own life until the very core of my being is revealed.  As I get older it's become clear that each pivotal point in my life often requires changes for growth to continue. Thanks to Harriet Tubman for reminding me to elevate my consciousness, and embrace a new sense of freedom to find my place in this challenging world.  Thank you for helping me to discover my power just as you did.  I can now pass along these messages and this beautiful book to my own children.
Check this one out for your home or school library.  Perfect for reading during Black History Month, Women's History Month or any time of the year.  Recommended for ages 4-7 and up.
More Information About Multicultural Children's Book Day
Current Sponsors: MCBD 2018 is honored to have some amazing Sponsors on board.
2018 MCBD Medallion Sponsors
HONORARY: Children's Book Council, Junior Library Guild
PLATINUM: Scholastic Book Clubs
GOLD: Audrey Press, Candlewick Press, Loving Lion Books, Second Story Press, Star Bright Books, Worldwide Buddies
SILVER:Capstone Publishing, Author Charlotte Riggle, Child's Play USA, KidLit TV, Pack-n-Go Girls, Plum Street Press
BRONZE: Barefoot Books, Carole P. Roman, Charlesbridge Publishing, Dr. Crystal Bowe, Gokul! World, Green Kids Club, Gwen Jackson, Jacqueline Woodson, Juan J. Guerra, Language Lizard, Lee & Low Books, RhymeTime Storybooks, Sanya Whittaker Gragg, TimTimTom Books, WaterBrook & Multnomah, Wisdom Tales Press
2018 Author Sponsors
Honorary Author Sponsors: Author/Illustrator Aram Kim and Author/Illustrator Juana Medina
Author Janet Balletta, Author Susan Bernardo,  Author Carmen Bernier-Grand, Author Tasheba Berry-McLaren and Space2Launch, Bollywood Groove Books, Author Anne Broyles,  Author Kathleen Burkinshaw, Author Eugenia Chu, Author Lesa Cline-Ransome, Author Medeia Cohan and Shade 7 Publishing, Desi Babies, Author Dani Dixon and Tumble Creek Press, Author Judy Dodge Cummings, Author D.G. Driver, Author Nicole Fenner and Sister Girl Publishing, Debbi Michiko Florence, Author Josh Funk, Author Maria Gianferrari, Author Daphnie Glenn, Globe Smart Kids, Author Kimberly Gordon Biddle, Author Quentin Holmes, Author Esther Iverem, Jennifer Joseph: Alphabet Oddities, Author Kizzie Jones, Author Faith L Justice , Author P.J. LaRue and MysticPrincesses.com, Author Karen Leggett Abouraya, Author Sylvia Liu, Author Sherri Maret, Author Melissa Martin Ph.D., Author Lesli Mitchell, Pinky Mukhi and We Are One, Author Miranda Paul, Author Carlotta Penn, Real Dads Read, Greg Ransom, Author Sandra L. Richards, RealMVPKids Author Andrea Scott, Alva Sachs and Three Wishes Publishing, Shelly Bean the Sports Queen,  Author Sarah Stevenson, Author Gayle H. Swift Author Elsa Takaoka, Author Christine Taylor-Butler, Nicholette Thomas and  MFL Publishing  Author Andrea Y. Wang, Author Jane Whittingham  Author Natasha Yim
We'd like to also give a shout-out to MCBD's impressive CoHost Team who not only hosts the book review link-up on celebration day, but who also works tirelessly to spread the word of this event. View our CoHosts HERE.
TWITTER PARTY Sponsored by Scholastic Book Clubs: MCBD's super-popular (and crazy-fun) annual Twitter Party will be held 1/27/18 at 9:00pm EST.
Join the conversation and win one of 12-5 book bundles and one Grand Prize Book Bundle (12 books) that will be given away at the party! http://multiculturalchildrensbookday.com/twitter-party-great-conversations-fun-prizes-chance-readyourworld-1-27-18/
Free Multicultural Books for Teachers: http://bit.ly/1kGZrta
Free Empathy Classroom Kit for Homeschoolers, Organizations, Librarians and Educators: http://multiculturalchildrensbookday.com/teacher-classroom-empathy-kit/
Hashtag: Don't forget to connect with us on social media and be sure and look for/use our official hashtag #ReadYourWorld.