Save the date for International Book Giving Day 2018!
Oh, I just LOVE literary related initiatives and events, don't you?  Ok, I know not everyone gets excited about stuff like this, but I certainly do!
International Book Giving Day takes place on 14th February each year.  Yes, the same day as Valentine's Day.  The aim of the day is to get books into the hands of as many children as possible thereby increasing children's access to and enthusiasm for books.  Although the holiday originated in the UK, book lovers around the world now join in the celebrations every year.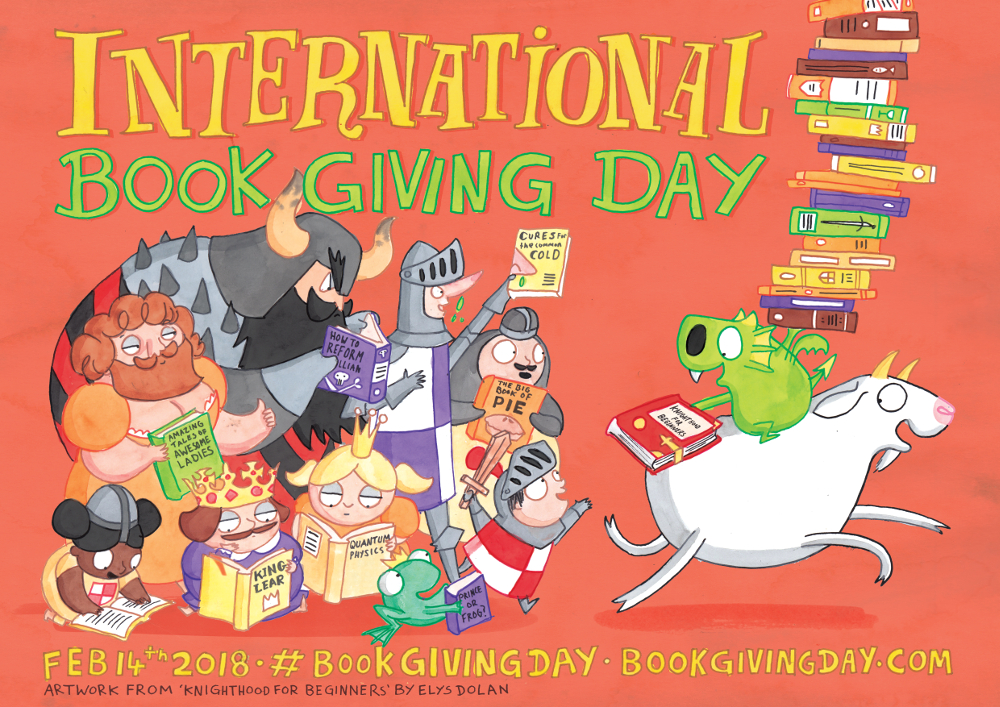 Elys Dolan, is an author and illustrator based in Cambridge where she studied children's book illustration. Elys is the illustrator for the official International Book Giving Day poster for 2018.
International Book Giving Day is a 100% volunteer initiative born out of the knowledge that:
Most children in developing countries do not own books.
In the United Kingdom, one-third of children do not own books.
In the United States, two-thirds of children living in poverty do not own books.
International Book Giving Day's focus is on encouraging people worldwide to give a book to a child on February 14th.
Why not use the day to spread love in a different kind of way to:
1) gift a book to a friend or family member,
2) leave a book in a waiting room at a pediatrician's office or children's hospital for children to read, or
3) donate a gently used book to a local library, or shelter or to an organization that distributes used books to children in need internationally or locally.
4) Host a book giveaway on your blog or social media accounts.  (This is a great idea for all you authors out there!)
Just like in previous years, I plan to donate books on International Book Giving Day to various places.  I usually make a donation to one of my local libraries and the kids' pediatrician office.  The kids and I may also plan to leave some books around our local town and be book fairies for the day like we did one day last year.  Are you and your kids fellow book fairies too?  Let me know.
So instead of giving the kids chocolates this Valentine's day why not give a book instead?  Perhaps you agree, but I think chocolate and toys are all great but books, well books are just awesome and last much longer than a box of chocolates ever will.  I'm just saying.
To learn more about International Book giving Day visit their website here.
Your turn: What are your plans for International Book Giving Day?  How will you give back?  Feel free to share in the comments.