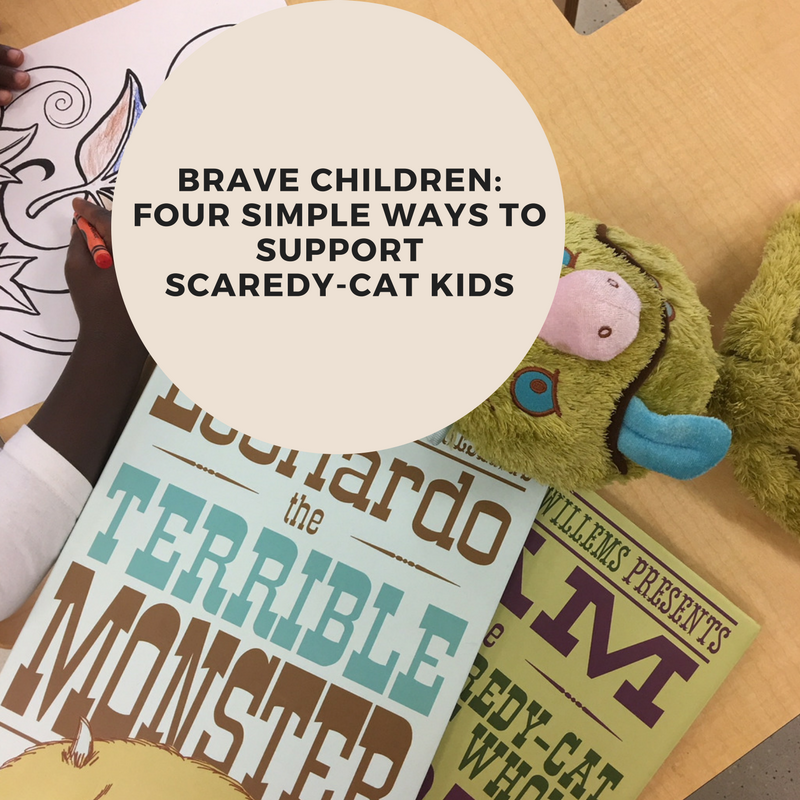 Disclaimer: This post is sponsored by Disney-Hyperion for the #ReadMo Ambassador program!
Monsters, the dark, ghosts, the boogeyman, giants, shadows, loud or creaky noises – all things that lead to nighttime fears in children.  Are you dealing with any of these lately?  We certainly are with our (almost) four year-old son.
Does this scenario sound familiar?  Dinner time is over, dishes are washed and now it's time to give the kids a bath before bed.  Once the kids are squeaky clean and story time is over, it's time for them to snuggle and get cozy in their beds.  Then all of a sudden the fears start settling in.  Here come those darn annoying monsters again – or so your children think.
As parents, I think it's our natural instinct to want to do everything we can to help create a bedtime environment that will help our children feel safe, while also validating their fears and working together to solve the problem.  Sounds simple enough, right? Not always! Here are a few ideas of how I try to accomplish this.
Read Empowering Books About Scaredy-Cats
The goal: Show kids how to handle and overcome fears
Now that we've identified our sons' fear of being afraid of monsters and the dark, I try to focus on these topics by reading lighthearted, "not so scary" books like Leonardo the Terrible Monster and Sam the Most Scaredy-Cat Kid in the Whole World by Mo Willems.  Our son has really taken his Leonardo the Terrible monster stuffed toy.  He honestly takes his Leonardo everywhere to help protect him (even to school) – it's the cutest thing!  I also like using the book Sam the Most Scaredy-Cat Kid in the Whole World to show our son how brave Sam and his new friend Kerry are.  It seems to be helping him feel more brave by sleeping in his own bed through the whole night…winning!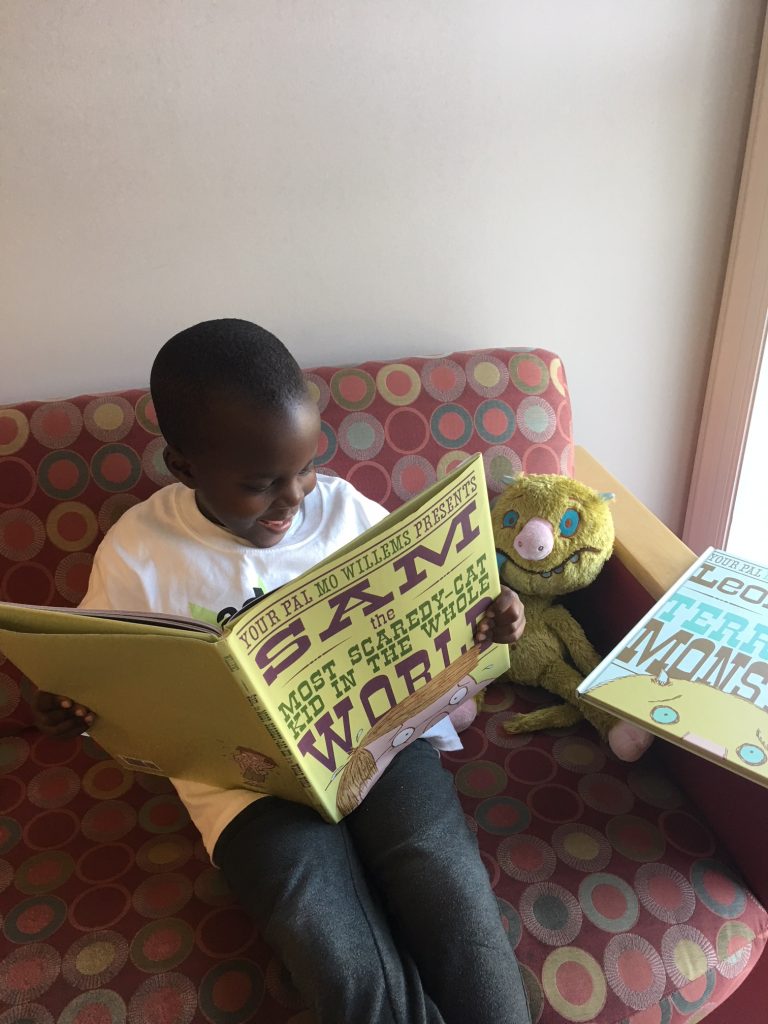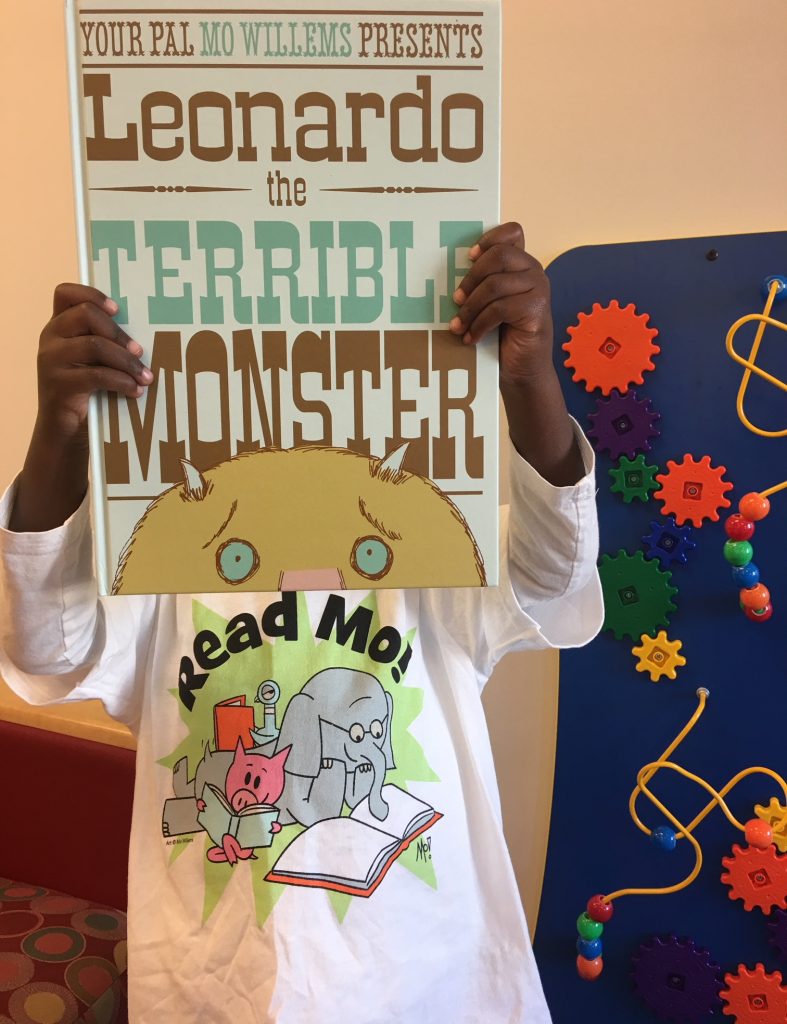 Make a Bottle of "Monster Spray"
The goal: Scare those pesky monsters away!
Fill a spray bottle with water and add a few drops of lavender essential oil (around 5-10 drops). Use a crayon, pen or permanent marker to make a "label" (or design one on the computer, print it out, and tape it on). You can also decorate your spray bottle with googly eyes or other craft materials.  Each night at bedtime when your child says they're scared use the spray.  Let your child spray all the places in their room that need it when it's bedtime.  Hopefully you child will be confident there are no monsters in the room which will help them fall asleep.
Show Your Kids How Much Fun It Is to Be in the Dark!
The goal: Show kids being in the dark can be a fun experience.
Get creative and show your kids how much fun being in the dark can be.  Read books by flashlight under the covers in the dark or have a glow in the dark party to help your children make the connection between the dark and having fun.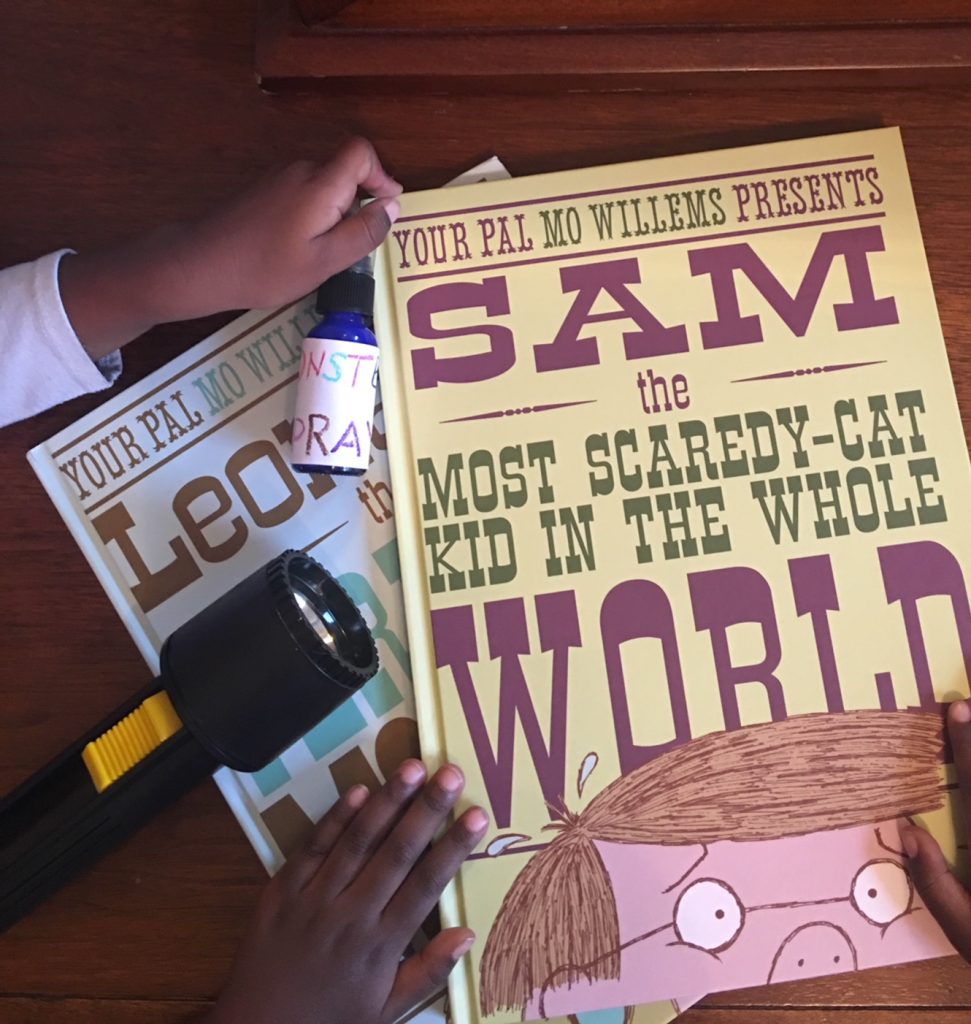 Be Supportive: Watch Your Mouth!
The goal: Avoid saying negative statements to your kids and be supportive.
Whenever possible try to avoid saying any of the following phrases to your children:
You're a big kid/stop acting like a baby.
There's no need to be scared.
There's no such thing as monsters, don't be silly!
Stop whining/crying!
During times like these, it's important to remember children's imaginations are powerful and complex things. They can bring both delight and fear.  Remember that your goal is to stay connected with your child, provide empathy and support, and be a safe place for them to fall back on.
About Sam, the Most Scaredy-cat Kid in the Whole World
A TERRIFICALLY TERRIFYING TALE!
Sam is afraid of anything and everything—except for his friend Leonardo, the terrible monster.
Kerry is afraid of everything and anything—except for her friend Frankenthaler, the other monster.
One day, the two scaredy-cat kids make a particularly scary discovery: each other!
AAH! EEK! Something has to be done. Something BIG. But what?
About Leonardo, the Terrible Monster
Leonardo is truly a terrible monster-terrible at being a monster that is. No matter how hard he tries, he can't seem to frighten anyone. Determined to succeed, Leonardo sets himself to training and research. Finally, he finds a nervous little boy, and scares the tuna salad out of him! But scaring people isn't quite as satisfying as he thought it would be. Leonardo realizes that he might be a terrible, awful monster-but he could be a really good friend.
Visit the Official Website
Follow Disney-Hyperion on Twitter
Check out Disney Books on Facebook and Instagram

Your turn: What are some of your best tips to help kids overcome their fears?  Feel free to share in the comments.