Mrs. McBee Leaves Room 3 by Gretchen Brandenburg McLellan, illustrated by Grace Zong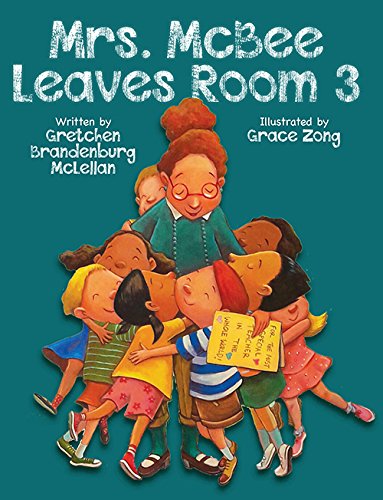 Publisher: Peachtree Publishing
Pages: 32
Format: Hardcover
Grade Level: Preschool – 3
Synopsis
Join the children of Room 3 and Mrs. McBee as they find their own ways of helping each other get ready to leave and say goodbye. It's not just the end of the school year at Mayflower Elementary. It's time to say goodbye to Mrs. McBee, who is leaving the school. Jamaika, William, and the other kids in Room 3 have to figure out a special way to celebrate their beloved teacher. But everyone has a different idea. How can they arrive at an agreement?
Reflection
It's never easy to say goodbye to the ones you love, but it's a lifelong process that will happen many times throughout the course of our lives.  There inevitably comes a time when we must say goodbye to people, things, and routines.  As the school year comes to a close, children will be saying farewell to teachers, friends, and a daily routine they have come to expect.  This fall, my daughter will be transitioning to a new classroom and my son will be moving to a completely different school.  It will be great having them both in the same school, but it will be a period of transition and change for all of us.
The kids in Room 3 at Mayflower Elementary will soon be entering a period of transition too.  The end of the school year is always bittersweet, but it's even more tough when your beloved teacher decides to leave the school.  Mrs. McBee tells the class she will not be returning after the summer vacation, but she doesn't say why.  Perhaps she's retiring or moving to a different school?  Whatever the reason, the kids in Room 3 are sad to see Mrs. McBee go, especially William.
To help clean up the classroom and get it ready for the next school year, Mrs. McBee assigns each child a job.  The kids help organize the books and pack away all of the classroom belongings.  I liked how all of the kids and cooperated worked together as a team in their own way.  The act of deconstructing the classroom is a concrete way to signify that the school year is ending.  Together with Mrs. McBee, the children in Room 3 created the environment and now they have the opportunity to see and be part of it being treated with respect as it is put away.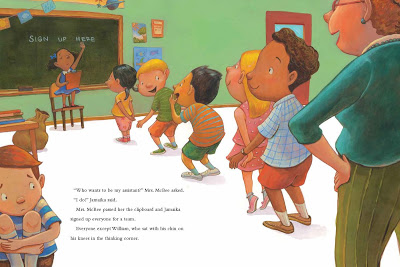 With a lively and diverse cast of characters, this book highlights themes of: teamwork, coping with change, compassion and feelings.  The illustrations are cute and the text isn't too lengthy.  My favorite illustration is the adorable cover image where all of the kids are shown embracing Mrs. McBee in a group hug.  This is a great book to read with a classroom of preschool and early-age elementary students, especially if a teacher is leaving at the end of the school year.  It's also a good book to have discussions about dealing with change and respecting others feelings.
About the Author
Gretchen Brandenberg McLellan is a former reading specialist at Dorothy Fox Elementrary in Camas, Washington.
About the Illustrator
Grace Zong was born in Illinois and moved to Korea when she was seven.  She returned to the United States to study art at the Rhode Island School of Design where she majored in illustrations.  She currently lives in New York and Korea.
This post may contain affiliate links and may include items that I received at no cost in exchange for an honest review.  All thoughts and opinions are my own.
Your turn: If you're a teacher, how do you handle end of the year transitions with your students?  Do you do anything special with your class to say goodbye? Feel free to share in the comments.