Thunder Underground by Jane Yolen, illustrated by Josée Massee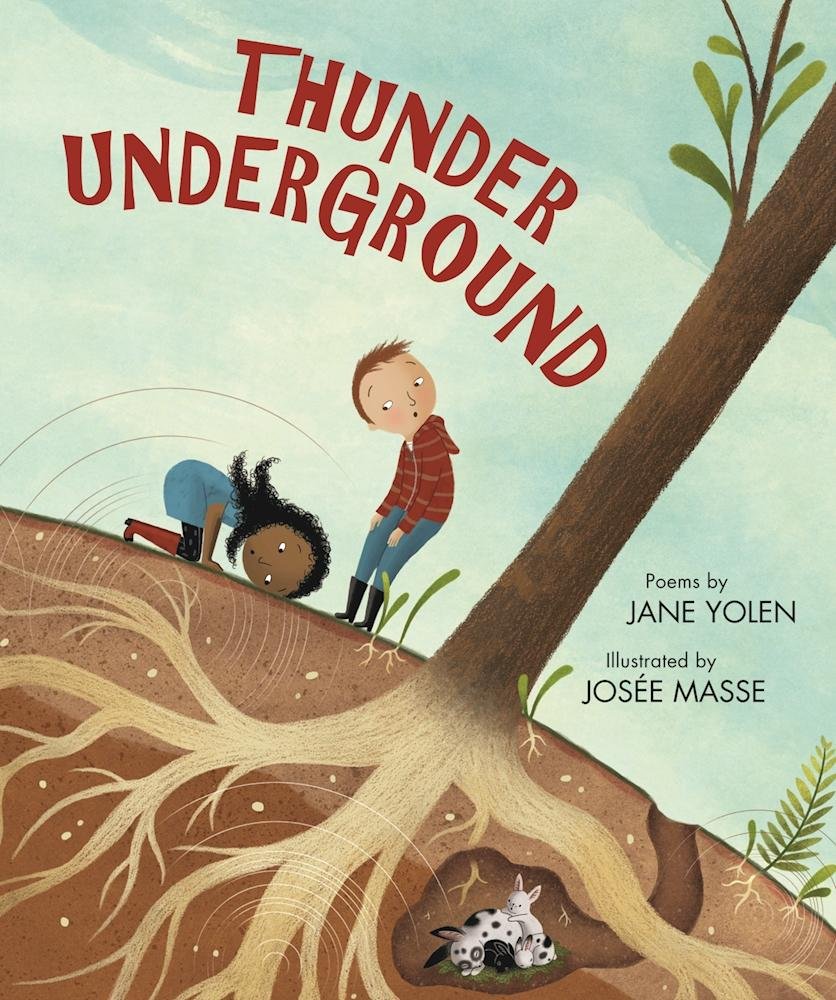 Publisher: WordSong
Format: Hardcover
Age Range: 5 – 10 years
Grade Level: Kindergarten – 5
Pages: 32
Synopsis
In this collection of poems, noted children's poet Jane Yolen takes readers on an expedition underground, exploring everything from animal burrows and human creations, like subways, near the surface—to ancient cities and fossils, lower down—to caves, magma, and Earth's tectonic plates, deeper still below our feet. At the same time, in Josée Masse's rich art, a girl and boy, accompanied by several animals, go on a fantastic underground journey. This book contains science, poetry, and an adventure story all rolled into one. But it's also more than that: In these poems we see that beneath us are the past, present, future—history, truth, and story. This thought-provoking collection will evoke a sense of wonder and awe in readers, as they discover the mysterious world underneath us.
Reflection
Did you know that corn plants can "talk"?  Recent scientific studies show the roots of corn roots emit sounds that can't be heard by the human ear alone, but can be recorded.  How interesting!  This is just one of the fascinating things little readers will learn by reading Thunder Underground, a fun and informative poetry book great for children ages 5 – 10.
In this book, a young Black girl and White boy go an adventure to explore a variety of things commonly found underground: fossils, animals, tree roots, subway stations and buried treasures.  Each of the twenty-one poems challenges children to use their imagination and wonder.
There are several wonderful poems throughout this book, but my favorites are entitled: Under, Seeds and Corny Conversations.  The thing I like most about this book is it exposes children to nature, science and poetry all at the same time.  By reading the additional notes in the back, there is even more scientific and personal information about each of the poems.  I even learned a new word by reading this book – "spelunk" which is the word for "going caving."
I think the wordplay in this book is excellent and really challenges children to think on a deeper level in order to grasp the meaning of some of the poems.
Where we all end.
And we all start.
This dot,
this spot,
this period at the end
of winter's sentence
writes its way up
through the full slate of soil
into the paragraph of spring.
I think Thunder Underground would be great for reading aloud with younger children, but it's also ideal to use in an English or creative writing class especially during National Poetry Month.
Your turn: Are you excited to check this poetry book out?  What are some of your favorite Jane Yolen books?  Feel free to share in the comments.