My Kicks: A Sneaker Story by Susan Verde, illustrated by Katie Kath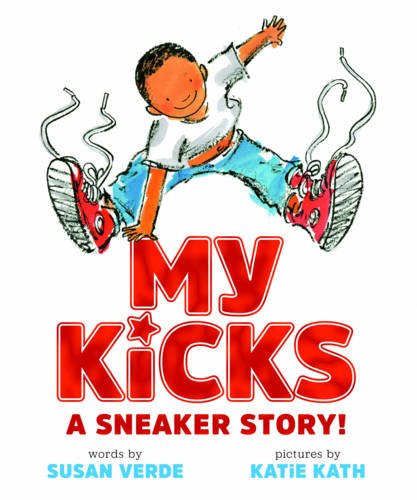 Publisher: Abrams Books for Young Readers
Format: Hardcover
Pages: 40
Age Range: 5 – 7 years
Grade Level: Kindergarten – 2
Available for Sale: April 11, 2017
Synopsis
Boys love sneakers. But when a child finds that his toes have outgrown his favorite shoes, and they've gotten too dirty and smelly, his mom says it's time for a new pair. Resistant to let go, the boy reminisces about all the good times he's had with his favorite kicks on the city streets. There's the paint splatter from his masterpiece and the drip from a Popsicle. There's the scuff from when he fell off his skateboard. And there are those frayed laces that he learned to tie in bows and doubles. A new pair just won't be the same. But, with bigger shoes to fill, the boy realizes new adventures await him. Maybe he could paint a little better? Or skate a little faster? This picture book explores the love and pride that kids have for their sneakers and the joy that can be found in growing up, growing out, and moving on.
Reflection
Let's face it, many kids are rough on shoes after they've worn them a few times.  I've witnessed my kids kick off their shoes when they get home, drag them across the floor and jump in puddles or snow.  Shoes take a beating everyday and many bear the scars and signs of wear and tear.  But as we learn in the book My Kicks: A Sneaker Story, there's nothing like an old pair of kicks (sneakers).  They have so many stories to tell.
My Kicks is a charming story about a little boy who has outgrown his favorite pair of red sneakers during his summer vacation. When the boys' mom tells him it's time to to get a new pair, he starts reminiscing about all the fun he's had with his favorite pair of kicks.  It's through the boys' flashbacks that little readers learn a little more about him like: he knows how to tie his shoes, he likes to run and jump in puddles, he rides a skateboard, he likes to climb trees, he enjoys painting and playing soccer. When he finally picks out a new pair of yellow sneakers and tries them on he can't wait to start making new memories.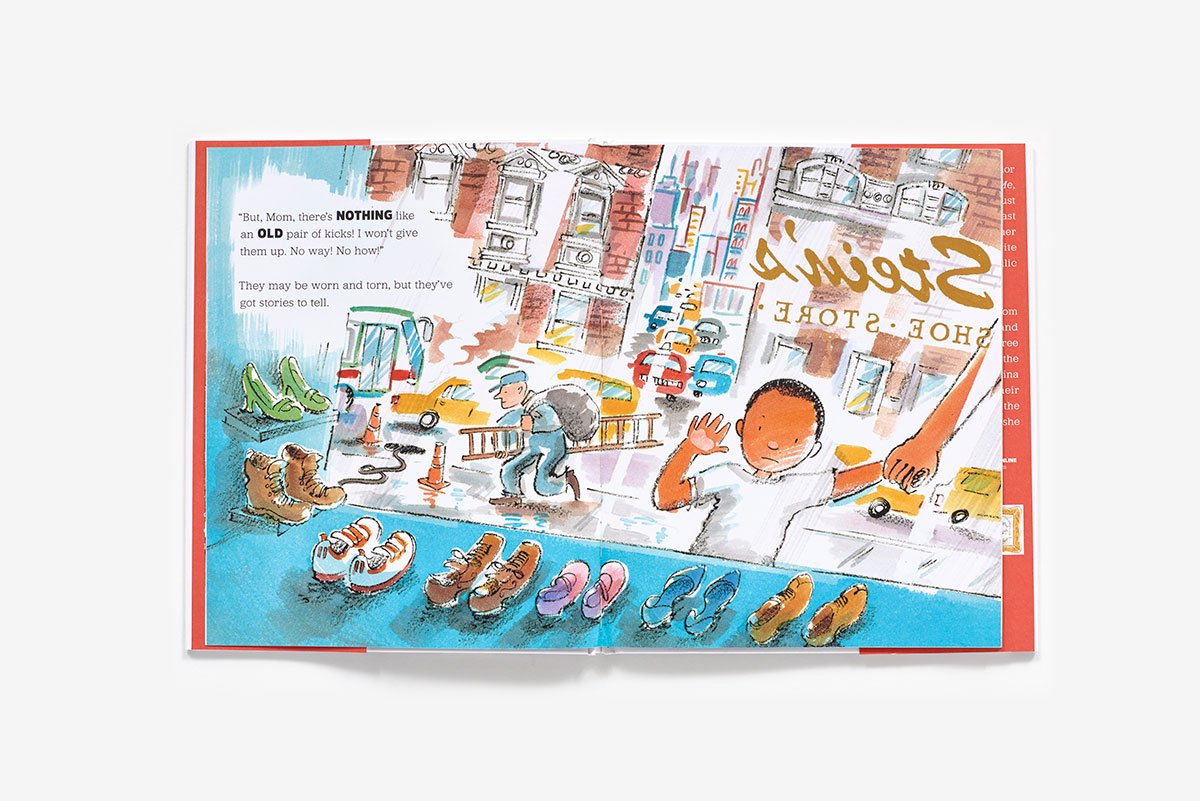 The kids and I really enjoy this story because we can relate to it.  While the kids enjoy getting new shoes, there have been times when they've wanted to keep their old ones because they were so attached to them.  Much like the boy in this story, they are excited when they finally try on their new shoes for the first time.  Once that happens they don't want to take them off!
The watercolor illustrations are cute and whimsical showing a diverse set of characters throughout.  I like the ending where they boy is shown placing his old shoes on the dresser in his bedroom instead of throwing them away.  It shows just how much he really likes them.  In addition, it shows children they can still hold on to their beloved possessions a little while longer until it's truly time to let them go.  I also like the overall messages and themes of this story.  It touches upon topics like: letting go and moving on, growing up, making decisions, friendship and the joys of playing and being a kid.
There is also a fun surprise for kids if you remove the dust jacket of this book: a handy step-by-step shoe tying guide. I personally think this should have been placed in the endpapers or at the beginning of this book instead of on the cover as it can easily be missed if you don't know it's there.  If you don't want to take off the dust jacket you can visit the author's website to find the shoe tying guide there.


I think parents will enjoy reading this story and start reminiscing about their favorite pair of kicks growing up. Thinking back to my own childhood, name brand sneakers like Nike, Reebox, L.A. Gear and Adidas were popular.  I remember getting my first pair of Reebox sneakers.  I thought I was so hot!  Prior to that all of my other sneakers ubiquitous, unbranded, ugly and cheap.  I loved my cheap shoes though because they were so easy to run around in, and my mom loved them because they saved wear and tear on my "real" shoes.  It's fascinating to see how much sneakers have morphed into designer athletic shoes over the years.
Overall, this is a fun read for kids (boys and girls) ages 5- 7 and up.  Check it out in April 2017 when it publishes!
Connect with Susan Verde!
Website | Twitter | Instagram | Facebook
Connect with Katie Kath!
Website | Twitter | Facebook
Your turn: Are you looking forward to reading this book with your little readers?  What was your favorite pair of kicks growing up? Feel free to share in the comments.