Welcome to the 1st annual Lucky Leprechaun Giveaway Hop hosted by SaraLee's Deals Steals & Giveaways. This is an open themed hop with NO minimum prize value. Enter to win the prize Grand Prize by our host for that lucky man in your life. Manscaped – The Perfect Package is sponsoring the prize. So be sure to enter the giveaway here than hop on over and enter all the other great prizes today!
I'm so excited to be a part of of the "Lucky Leprechaun" blog hop and to sponsor a copy of the book How to Trap a Leprechaun by Sue Fliess as my personal contribution.
About the Book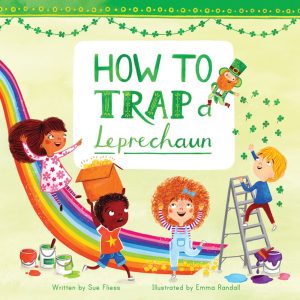 Legend has it that if you catch a leprechaun, he'll grant you a wish. But, be careful! Leprechauns are full of trickery. To catch one, you'll need to be clever in crafting your trap. Grab some glitter and glue and get prepared for your wily holiday visitors!
On the night before St. Patrick's Day, leprechauns show up to steal your treasures and then disappear as quickly as they came. However, if you're careful you might be able to catch one and then he'll grant you a wish. You'll have to be sneaky and set just the right trap to trap a leprechaun.
Sue Fliess's read-aloud text and Emma Randall's whimsical illustrations will provide much fun for young readers eager to catch their very own leprechaun! But beware: leprechauns may leave you with nothing but a cardboard box and a shoe or two.
Enter the giveaway here!
Also, be sure to enter for your chance to win the grand prize and visit some of the other amazing bloggers involved in the giveaway blog hop!
or
or