The Banana-Leaf Ball: How Play Can Change the World by Katie Smith Milway, illustrated by Shane W. Evans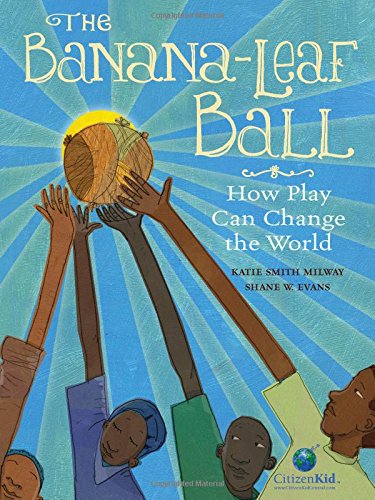 Publisher: Kids Can Press (CitizenKid Series)
Format: Hardcover
Pages: 32
Age Range: 4-8 years and up
Grade Level: 3 – 7
Lexile Measure: 780
Available for Sale: April 4, 2017
Synopsis
Separated from his family when they were forced to flee their home, a young East African boy named Deo lives alone in the Lukole refugee camp in Tanzania. With scarce resources at the camp, bullies have formed gangs to steal what they can, and a leader named Remy has begun targeting Deo. Then one day a coach gathers all the children to play soccer. Though Deo loves soccer and has even made his own ball out of banana leaves, he's unsure at first about joining in when he sees Remy on the field. But as Deo and the other boys get drawn into the game, everything begins to change. Their shared joy in playing provides the children — including Remy — with a sense of belonging.  Ball by ball, practice by practice, children who were once afraid of each other laugh together, the book explains, and no one feels so alone anymore.
Based on a true story, Katie Smith Milway's inspiring tale shows how a desperate situation can be improved by finding common ground through play. It provides a perfect starting point for discussing the social justice issues surrounding the growing number of refugees worldwide. Award-winning Shane W. Evans's artwork powerfully and poignantly personalizes for children the experience of refugees. Furthermore, the book examines the value of using sports to build pro-social behavior, particularly as it relates to bullying. By depicting characters who change and evolve over the course of the story, kids of all backgrounds and experiences will find something positive to relate to. The back matter contains information about the real Deo, instructions for games that build trust and inclusion through play, and suggestions for how to support play-based nonprofit organizations.

Reflection
Just like representation, play matters! Based on a true story, The Banana-Leaf Ball is the perfect example to showcase the importance of play for children of all ages.
Little Deo and his family must flee their home in Burundi after a war breaks out. Leaving with just the essentials (pots, blankets and food), Deo is saddened there is no room for his beloved his soccer ball made from banana leaves. His father promises him he can make one when he gets to the Lukole refugee camp in Tanzania.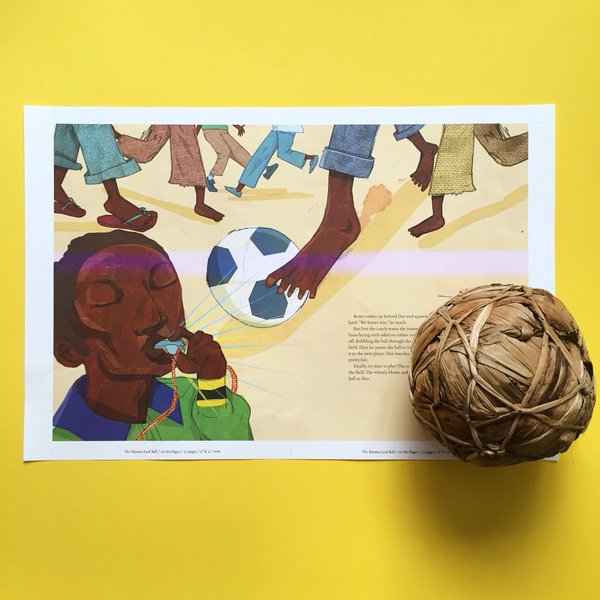 Source: Twitter @Kids Can Press
Separated by his family, Deo feels alone at the camp and he is bullied by a gang leader. He misses his family and longs for the days of playing soccer with his friends. Before long, Deo shows all of his new friends how to make banana-leaf balls so they can practice and play soccer together. Although there are still problems in the refugee camp, the boys all feel like a team. They formed a special bond all because of banana leaves and their love of playing soccer.
I think this book is great!  Apart from the illustrations, the thing I like the best is the amazing organizations listed in the back all centered around the importance of play! The organizations all use soccer and other forms of play to build compassion and confidence in boys and girls. Each organization also lists different games (including directions) you can play with your kids.  I also enjoyed the wide variety of themes featured throughout including: sports (soccer), teamwork, bullying, refugees, community, war, confidence, social change, overcoming differences, and friendship.
In the back little readers can learn more about the real Deo and see pictures of what real banana leaf balls look like. Recommended for soccer lovers, little agents of change and children interested in social justice.