When I came across MyFamilyBuilders™ on Instagram I knew I had to feature them in my holiday gift guide!  While my kids haven't actually tried these blocks yet, I can already tell they'll spend hours playing with them.  Don't they look great?

The overall mission of MyFamilyBuilders™ is to help create a world where parents and kids celebrate love and the values shared by all families, regardless of color, creed, sexual orientation or culture.  The folks at MyFamilyBuilders™ wants to improve our world, so we're starting with children, the toys they play with, and what those toys can teach them.  Through MyFamilyBuilders™ toy set they are creating a world where children and parents are proud of themselves, their families and their communities.
WHAT IS IT?
MyFamilyBuilders™ toy set contains 48 wooden pieces that snap together with cleverly concealed magnets and a board game with 25 big cards that they've designed to empower parents and kids to play, experience and facilitate easy conversations about diversity & tolerance.  With a total of 2048 possible matches per set, kids will have a ton of fun and create a world free of preconceptions.
THE MyFamilybuilders™ SET INCLUDES
· 48 handcrafted magnetic wooden blocks that come in 12 sizes: 16 adults heads, 16 kids heads, 4 big bodies, 4 small bodies, 4 big legs, 4 small legs; 3 blocks (head, body, and legs) make up a character.
· 25 big cards to play 5 fun educational games in conjunction with the 48 unique wooden blocks. The 5 games were designed by an education specialist for different age stages ( 3+; 4+; 5+; 6+).
DETAILS
Packaging: The MyFamilybuilders™ set comes packaged in a handy box to keep all of the pieces securely in one place for storage.
Size: Total weight is 3.12 lbs.
Materials: Eco-friendly hardwoods. Safe, non-toxic, water-based paint.
Safety: This product conforms to most international safety requirements for toys, including regulations in the USA (CPSIA) and Europe (EN71).
Price: 48-piece set: $69.95 (current sale price), 32-piece set $49.95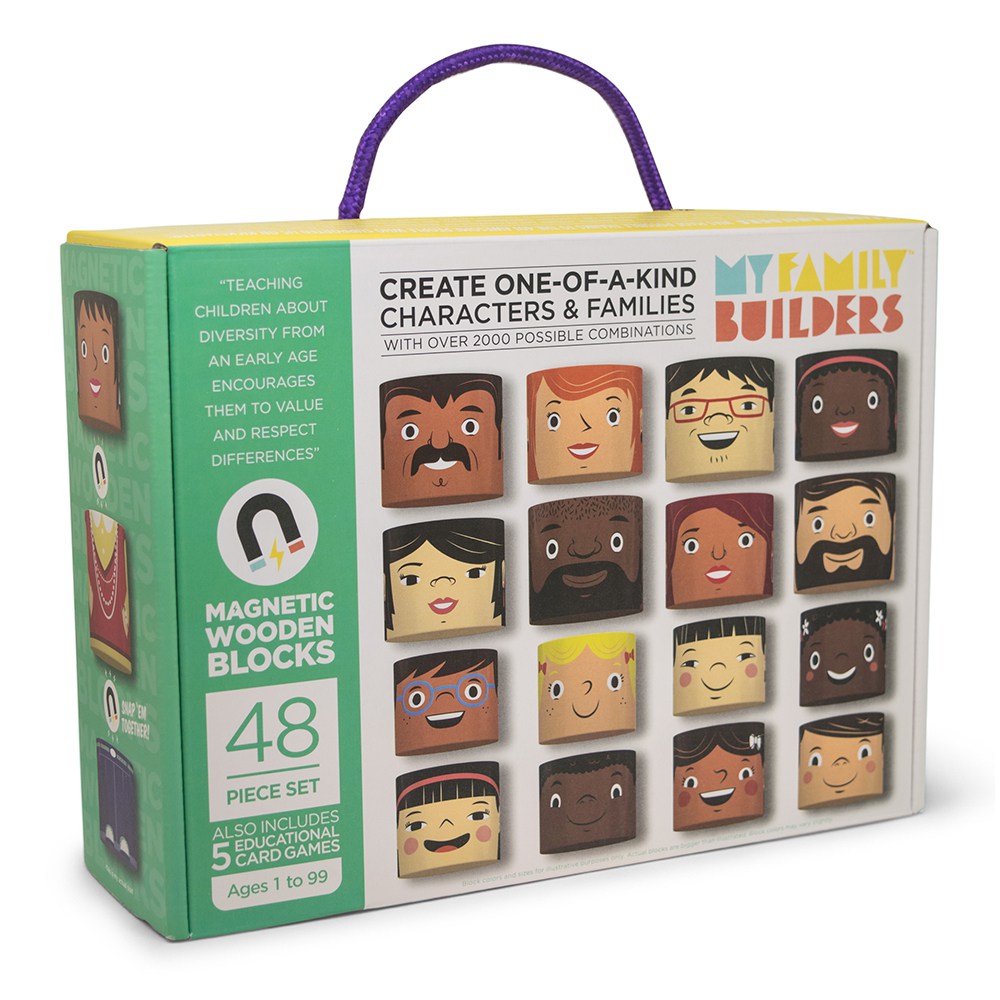 I think this magnetic wooden block set would be perfect for teaching kids about diversity and respecting differences of other people.  They'd also be great for kids who love to mix and match colors and fashion styles.  Add these to your holiday gift list, but hurry because I hear they are a hot selling item!  Great for ages 1 to 99.
Connect with MyFamilyBuilders!
Website | Instagram | Facebook | Twitter