The Christmas Story by Robert Sabuda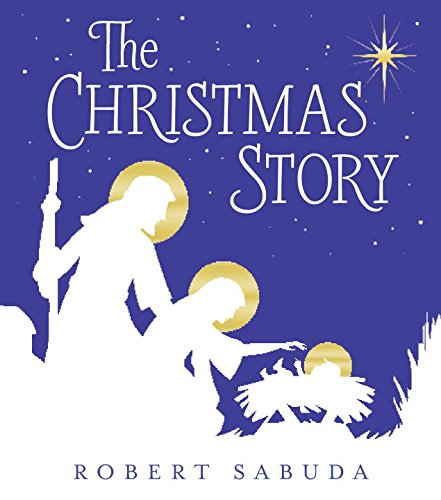 Publisher: Candlewick
Format: Hardcover
Pages: 12
Age Range: 5 – 8 years old (and up)
Synopsis
Hope and joy radiate from the pages of Robert Sabuda's new pop-up book celebrating the Nativity.
Long ago in the town of Bethlehem, on a bright and starry night, a baby was born, a child who was called the son of God. Announced by an angel, born in a humble manger, laid in a bed of straw, visited by shepherds and wise men—the age-old, awe-inspiring story of the birth of Jesus is lovingly brought to life by master pop-up artist Robert Sabuda in six gorgeously imagined scenes, culminating in a 3-D manger sheltering humans and beasts, guarded by an angel above. Glinting with touches of gold and pearlescent foil, The Christmas Story is a visual feast, a holiday treasure to be shared with the whole family.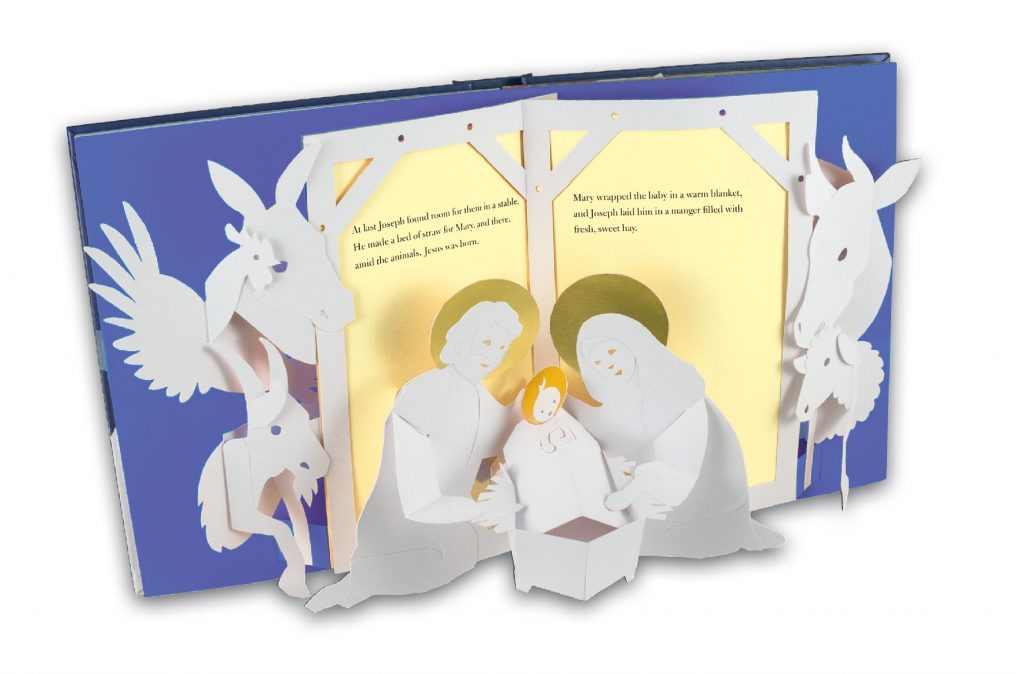 Reflection
Before there were 3D movies, there were pop-up books.  As a child, I used to love pop-up books because the action literally jumped right out at me as I turned the pages.  Opening each page was like unwrapping a gift.  There was always a surprise awaiting on the next page to reward me.  So fun!
Pop-up book artist Robert Sabuda is the master at transforming a blank piece of paper that lacks dimension, texture and movement and turning it into a beautiful piece of art.  That's exactly what he has done with the book The Christmas Story.  It's truly a marvel in paper engineering that your kids, and even some adults, will be pretty impressed by.
My kids love looking at all of the intricate art on each page.  As I read the story, they like counting the number of items they see on each page like: doves, sheep, palm trees and camels.  They also love pointing at the gold foil accents that make certain things in the book stand out like the stable where Jesus was lying in.
Reading this book really gets me in the holiday spirit.  It features six imagined scenes from the inspiring story of the birth of Jesus.  Little readers will see scenes of the angel who came to tell Mary she would soon have a baby named Jesus, a scene of the three wise men traveling, and more.  The book ends with a beautiful nativity scene with the three wise men giving Mary precious gifts befitting for a king.
This book makes a really special holiday gift for children or adults.  While I wouldn't recommend it to be held by the smallest readers due to the fragile pop-up art, I think children ages 5 and older would handle it just fine.  The pages are sturdy and so is the cover, but the pop-up artwork is fragile.  A true delight to read and marvel at all the beautiful scenes featured.  A holiday book that can be enjoyed as a family again and again each year during the holiday season. Perfect for religious families!
Your turn: Have you read any of Robert Sabuda's pop-up books?  Feel free to share in the comments.