Power in My Pen: A Snippet of the Life of Ida B. Wells by Louie T. McClain II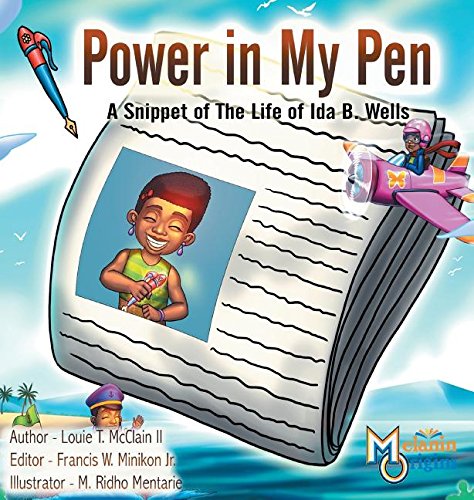 Publisher: Melanin Origins, LLC
Grade Level: Kindergarten – 2nd grade
Format: Paperback
Pages: 25
Synopsis
Step into the world of Ida B. Wells as she uses her life experiences and obstacles as motivation to achieve many firsts in editing and journalism in the United States of America and abroad. Read along as she flourishes in the wake of family tragedy and ever changing life situations. "Power in My Pen" encourages penmanship, free thought, and historical lessons from a highly influential leader in the early 1900's. The strong intelligent woman we know as Ida B. Wells proved, no matter who you are, you can share your message and your truth to the world through the power of the pen.

Reflection
I think Ida B. Wells is one of the fiercest ladies from the 19th century.  Every time I hear her name I am reminded of the legacy of one of the most inspiring women to ever live.  Born on July 16, 1862 in Holly Springs, Mississippi, Ida quickly became a prominent journalist and activist for civil rights and women's suffrage.  After getting fired from her job as a teacher, she became an editor before age 25 of two papers in Memphis, which she continued to run even after her printing press was destroyed by an angry mob.  Later in life, she became editor of the Chicago Conservator and married Chicago attorney Ferdinand Barrett.  In 1909, she was one of the founders of the National Association for the Advancement of Colored People (NAACP).
The book
Power in My Pen
gives little readers a snippet of the life of Ida B. Wells.  At a very young age, Ida was known to be a leader.  She helped care for her five brothers and sisters until they were all grown up after her parents became very ill.  Later in life, Ida went on to become a teacher at the neighborhood school.  It was in the classroom where she learned the power that lies in her pen.  By expressing herself through teaching and writing she was able to communicate powerful messages to people and do her part to make a difference in the world.
What I like most about this book is the overall messages of always telling the truth and making a difference – no matter how small it may be.  Ida's grandmother told her, "the first step in making a difference is to shine the candlelight of truth."  While we can't make our children tell the truth at every turn, we can have a major influence in their moral development by reading them books like this one.
Another great thing about this book is children are exposed to a bit of history with a modern twist.  They get to learn a little about an amazing historical figure with vibrant and relatable images of diverse children.  Power in My Pen also encourages penmanship, journalism and free thought.  The back matter includes a cursive writing activity to help children become familiar with writing cursive uppercase and lowercase letters.  Check this one out with your little readers!
Connect with Melanin Origins!
Website | Facebook | Twitter | Instagram