Food Anatomy: The Curious Parts & Pieces of Our Edible World  by Julia Rothman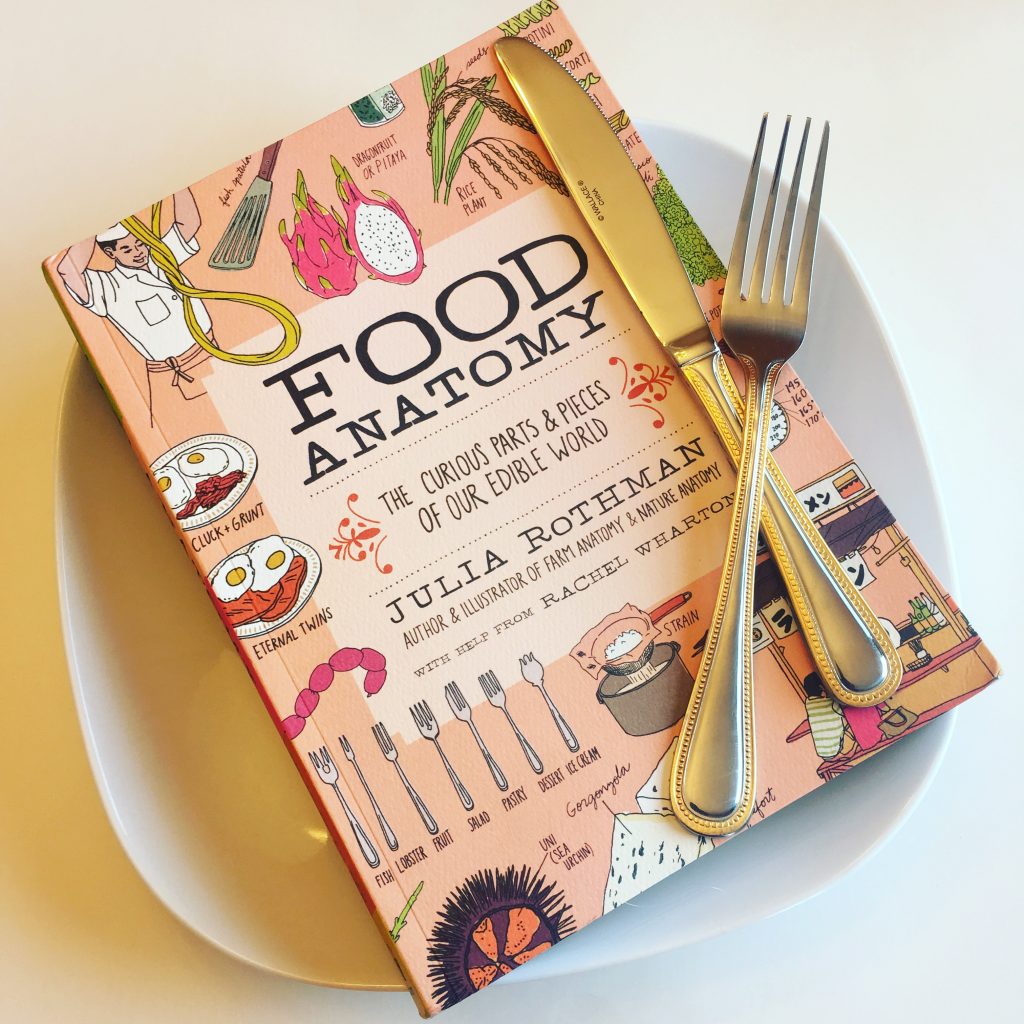 Publisher: Storey Publishing, LLC
Format: Paperback
Pages: 224
Synopsis
Get your recommended daily allowance of facts and fun with Food Anatomy, the third book in Julia Rothman's best-selling Anatomy series. She starts with an illustrated history of food and ends with a global tour of street eats. Along the way, Rothman serves up a hilarious primer on short order egg lingo and a mouthwatering menu of how people around the planet serve fried potatoes — and what we dip them in. Award-winning food journalist Rachel Wharton lends her editorial expertise to this light-hearted exploration of everything food that bursts with little-known facts and delightful drawings. Everyday diners and seasoned foodies alike are sure to eat it up.
Reflection
I'm so impressed with the Anatomy series by Julia Rothman!  I've read the two previous books and this third one surely didn't disappoint – it's so deliciously gorgeous!  Being a fellow foodie, I enjoyed this book immensely and learned so much from it.  Food is a topic that literally everyone can get behind because it's something we all need in order to survive.  There's something for people of all cultures in this charming international guide.
The book starts out providing readers with a brief history of food from 80,000 BCE right up to modern day. It also includes detailed illustrations of place settings from different cultures around the world: formal American, Chinese, Japanese, Thai, Korean and Indian/Nepalese.  It's filled with interesting nuggets of information like this of all things related to food – one of my favorite subjects.
Did you know there is a special type of fork for eating asparagus or a special spoon specifically for eating grapefruit? Or that in the Philippines people typically like to eat banana sauce on their french fries?  Do you know how to braid a challah or make tofu or chocolate?  You'll learn the answers to these questions and so much more by reading this book.  What makes this book so scrumptious are the whimsical illustrations on every page.  They look good enough to eat!  In addition, the paper quality is top-notch and really helps to bring out the lovely hand-drawn illustrations.
It's evident a lot of time and research went into compiling all of this information.  I think this book is well suited for adults and children alike.  It serves as a wonderful reference book and will make a lovely addition to any coffee table.  There are also several recipes included throughout the book for things like: creamy maple mocha pudding, shikanjvi (a spiced lemonade drink from India) and noodle pudding.
I believe readers will enjoy the crisp, clean perfectly imperfect lines and detailed information that has been the hallmark of Rothman's work since the very beginning.  Not to mention all of the tidbits of information and the recipes.  It's a true gem!  This books makes an excellent gift for readers of all ages – especially for food lovers.  Did I mention that I love this book? 🙂 I'm sure you will too.

Check out all the books in this series: The Julia Rothman Collection | Farm Anatomy | Nature Anatomy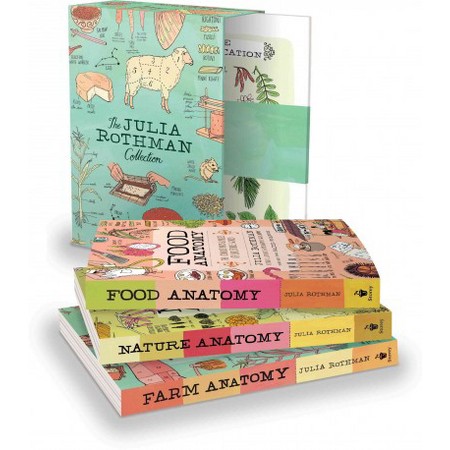 The Julia Rothman Collection presents all three of Julia Rothman's popular Anatomy volumes in a handsome giftable box set featuring a specially designed slipcase and 10 framable prints.
Your turn: Have you read any of the books in this series?  Feel free to share in the comments.