Puffy: People Whose Hair Defies Gravity by Aya de León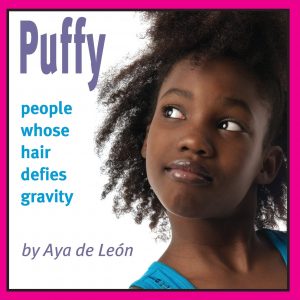 Synopsis
This is a children's book of text and photographs featuring kids, teens, adults, and families with naturally puffy hair. Writer/performer/educator Aya de León put out a call for photos. Individuals and families from far and wide submitted pictures that reflect the pride, wonder, and delight that so many people feel in having hair that defies gravity. We live in a world that works to subdue the natural exuberance of children in a myriad of ways, and this includes attempts to subdue their hair. The Puffy Hair Project is a celebration of the authentic, untamed self as expressed through our hair. The selection of photos primarily reflects people of the African diaspora, and it includes people of Asian, Latina/Latino, Arab, and Jewish heritage, as well. It is designed to provide puffy-haired kids with positive images, and to provide all of us with an opportunity to celebrate the wonderful diversity of our world. The text is inspired by the simple yet memorable style of Dr. Seuss: "Puffy here. Puffy there. Yay! I love my puffy hair."
Reflection
I love the idea behind the Puffy Hair Project!  This book celebrates naturally kinky and curly hair and allows little readers to see positive images of people who look like them.  I'm so happy with the paradigm shift that has taken place over the past few years.  It allowed me to abandon the chemicals, love the natural hair I was born with, and cross over to "team natural".  In addition, it allowed me to pass on the pride and love I have for my hair onto my two children.
The shift also sparked a movement that encouraged authors like Aya de León to write books about natural hair.  I think it's important for parents and caregivers to read books like this one with children in order to have open and honest discussions about the unspoken beauty standards that are imposed on young girls (and boys).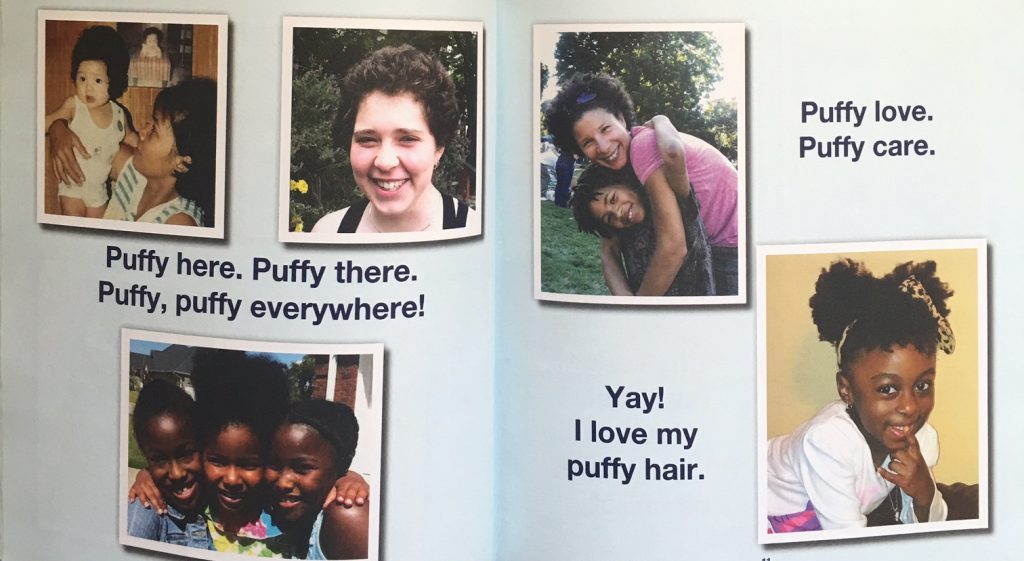 I love the catchy repetitive text that's featured throughout: "Puffy here.  Puffy there.  Yay!  I love my puffy hair."  The photographs are beautiful and showcase little girls, boys, men and women of different skin tones sporting their natural hair.  While most of the images in the book are of African-Americans, the book also features Jewish, Latina, Arab and Asian people with puffy hair, as well as many different types of families and people with disabilities.  The last few pictures show little sleepyheads who are fast asleep making it a cute book to read for a bedtime story.  My kids love reciting the rhyming text along with me as I read it aloud with them.  A short and sweet story that celebrates diversity and teaches children the importance of loving themselves just the way they are.
About the Author
Aya de León is a children's book author, writer/performer for adults working in poetry, fiction, and hip hop theater.  Her work has received acclaim in the Village Voice, Washington Post, SF Chronicle, and has been featured on Def Poetry, in Essence Magazine, and various anthologies and journals.  For more information about Aya please visit her website or follow her on Twitter.
Your turn:  Have you read this book yet?  Feel free to share in the comments.