Esquivel! Space-Age Sound Artist by Susan Wood, illustrated by Duncan Tonatiuh


Publisher: Charlesbridge
Age Range: 6 – 9 years
Grade Level: 1 – 4
Hardcover: 32 pages
Available for Sale: September 6, 2016 Pre-order here!
Synopsis
Juan Garcia Esquivel was born in Mexico and grew up to the sounds of mariachi bands. He loved music and became a musical explorer. Defying convention, he created music that made people laugh and planted images in their minds. Juan's space-age lounge music–popular in the fifties and sixties–has found a new generation of listeners. And Duncan Tonatiuh's fresh and quirky illustrations bring Esquivel's spirit to life.
Reflection
I just love a good children's non-fiction biography book! Especially when I learn something completely new that I never knew before. Have you ever heard of Juan Garcia Esquivel? I hadn't either until I read this book with the kids.  Juan who later became known simply as Esquivel! (with an exclamation point), the king of space-age pop, was born in Tampico, Mexico in 1918. He loved music and grew up to the sounds of mariachi bands. Defying convention, he created music that made people laugh and planted images in their minds.
A self-taught player (he learned how to play the piano on his own), composer, and arranger, he to be proved a musical prodigy, and was soon leading the station orchestra. Esquivel! also became a pioneer in the innovative style of space-age music popular in the 1950s and '60s. This unique style of music  is full of brilliant, bizarre, and exciting sounds, which are particularly striking to ears.  It's a mixture of Latin, jazz, instruments and human voices combined.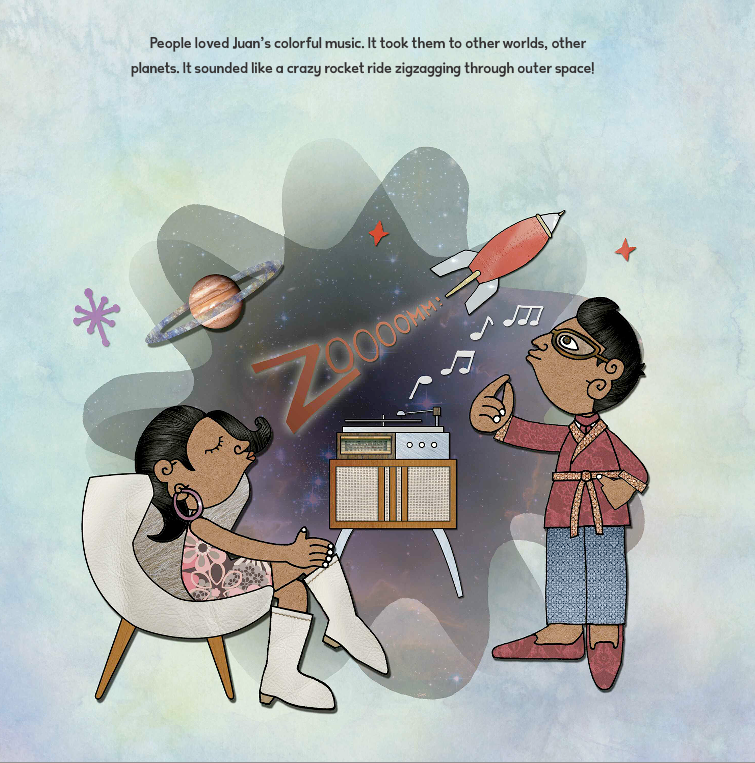 During his career, Esquivel! became popular in both Mexico and the United States, and he wrote many songs for TV shows and movies. He passed away in 2002, but even today he remains an inspiration to artists in many fields from musicians to animators to filmmakers who appreciate his originality and imagination.
Recommended for children ages 6 – 9, but it makes an informative and fun read aloud for younger kids too – you may just have to break it up into a couple of reading sessions like we did. The illustrations are bright and cheerful – they really complement the story well as the characters are dressed in outfits from the 50's and 60's era.
I think the kids favorite thing about this book is repeating all the unique musical sounds like: "rah-rah-rah-ree", "blop-bleep-bleep-blop" and "squiddle diddy squee"!  It would have been fun to have all of the different musical sounds on CD to accompany this book as I'm sure our little musical rendition was way off key!  My favorite thing about this book was learning about someone completely new (and lesser known) from a diverse background.  We don't see too many books about successful Mexicans so this was a real treat for me to read.
The back matter contains both an author's and illustrator's note as well as a list of additional resources.  Highly recommended for music lovers as well as Mexican or Mexican-American children to allow them to see themselves represented in a book.  I think many little readers will be inspired by Esquivel! to follow their dreams just like he did.
Disclaimer: I received a complimentary copy of this book in exchange for an honest review.  All opinions expressed are my own.
Your turn: Do you think your little readers will enjoy this book?  Feel free to share in the comments.