The Bot That Scott Built by Kim Norman, illustrated by Agnese Baruzzi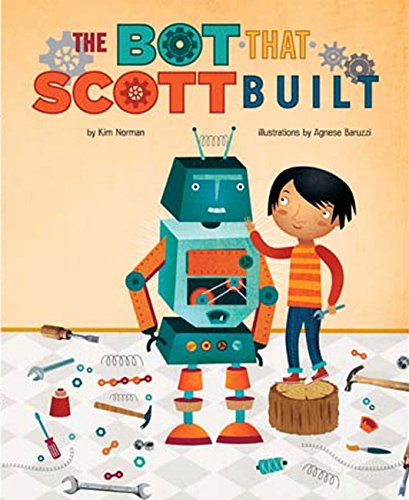 Publisher: Sterling Children's Books
Age Range: 3 – 7 years
Grade Level: Preschool – 2
Format: Hardcover
Pages: 32
Available for Sale: August 16, 2016
Synopsis
When Scott builds a bot, a bippity-bot, sparks fly . . . and his entire classroom goes wild. Before long, fiery ants and carnivorous plants, a freaky frog, a big-bellied boa, and an exploding "volcano" have wreaked total havoc. Can Scott's bot, which started it all, manage the mess?
Reflection
Are you familiar with the cumulative storytelling format?  You know, when the previous sentence builds upon the next one? It's the classic The House That Jack Built idea.  I think reading these types of books are loads of fun and so do my kids.  The pattern of these types of stories typically adds new characters or events so that the main character eventually arrives at a final situation or resolution.
I think this book is very pleasurable for little readers because there's built in anticipation. It's interesting to see what the next addition will be and how that will affect Scott and his bippity bot.  This book does a great job building the accumulation of other characters and events which repeat as the story progresses.  In the end, Scott's robot saves the day and is regarded as a hero.
We love the hilarious chain reaction of events that take place in Scott's classroom.  Before long, there is a freaky frog and an exploding volcano. The kids seem to get a kick out of the teacher in the polka dot pants and when all of the fiery ants go flying.  They always laugh out loud when looking at all of the funny facial expressions!
The bright and vivid pictures and the rhythm of the tongue-twisting text makes this action-packed book fun to read aloud with kids. A winning combination of clever writing and colorful illustrations.  Overall, a wonderful book to teach children how one event can quickly spawn into other events and spiral out of control.  Good thing Scott had his trustworthy bot to help save the day!
The Giveaway!
Our friends at Sterling Children's Books were generous enough to sponsor this amazing giveaway!  You can enter to win a copy of The Bot That Scott Built before it hits bookstores on August 16th!  Only open to US residents age 18 and over…sorry international friends!  Hurry, giveaway ends Friday, August 12th at 11:59pm Eastern time.  Good luck!
Your turn:  Are you looking forward to checking this one out?  What other cumulative storytelling books come to mind that you and your little readers have enjoyed?