This is Not a Cat! by David Larochelle


Publisher: Sterling Children's Books
Format: Hardcover
Age Range: 3 and up
Grade Level: Preschool and up
Pages: 40
Available for Sale: August 9, 2016
Synopsis
Welcome to Sunny Hills Mice School where the first lesson is recognizing DANGER! And that means CAT. So Miss Mouse shows her students pictures of things that are, and are not, a kitty. But the kids are a bit restless . . . until something enters the classroom that makes them all sCATter. But, is their unwelcome guest really a cat?
Reflection
Learning that things aren't always what they seem to be can be a difficult concept for small kids to grasp.  They're so uneducated, totally inexperienced, and have underdeveloped, unseasoned brains with very little context for their thoughts.  I imagine mice are even more uneducated than tiny humans.
In this funny book, a group of mice are in mouse school and their first lesson is recognizing danger. The teacher, Miss Mouse, shows her students a series of pictures that are and are not: a cat, a carrot, a butterfly, an ice cream cone, a bunny.  The lesson is going as planned until an unwelcome guest enters the classroom via the open window. But is their guest really a cat?  On the opening page of this book, adults will be able to figure out who the "cat" really is.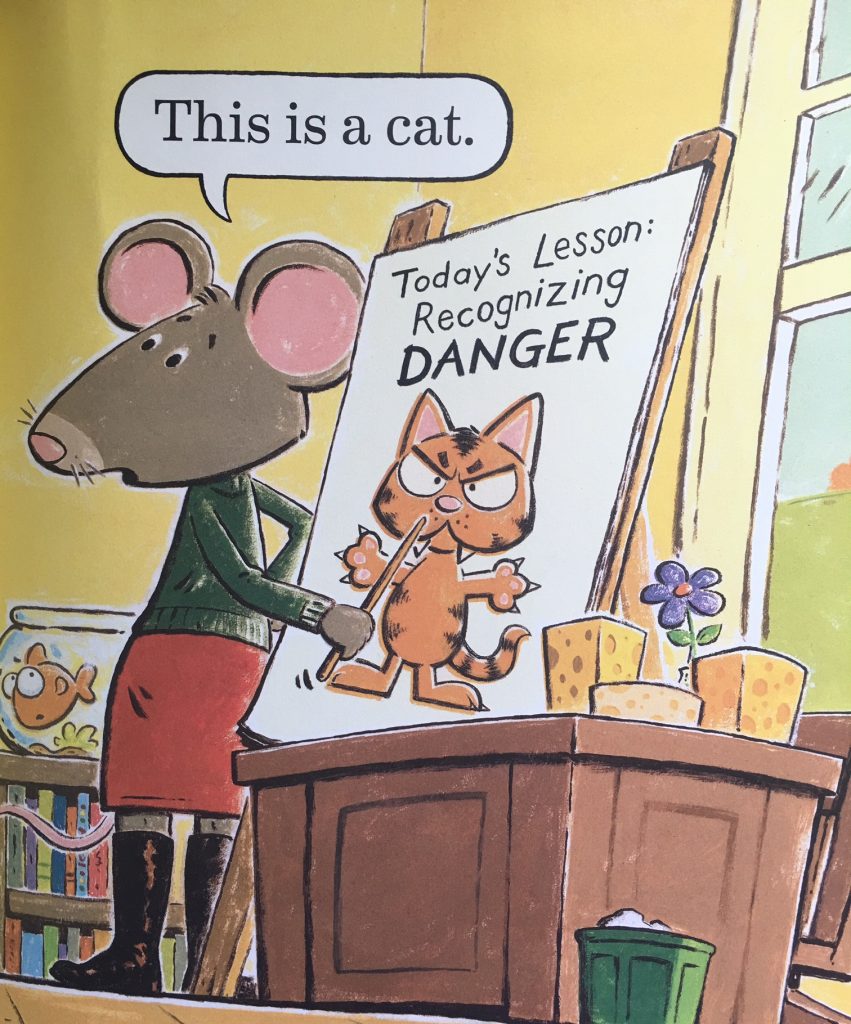 Although this is a quick read, there are lots of things to notice in the illustrations: the goldfish in the fist bowl, the portraits of the mice hanging on the wall, the reactions and body language of the three students/teacher and the unwelcome guest gradually sneaking into the classroom.  I think the illustrations are brilliant and really help to make this delightful story come alive.
I'm not going to spoil the rest of the plot for you because I want you to have fun with your little readers the first time you read it. Comprised of only 3 short sentences and 2 questions, this is the kid's latest favorite bedtime book at the moment. It's a rather short and simple story written using only the words in the title. The book teaches kids things are not always as them seem.  Check this one out with your little readers for some laughs.
About the Author
David LaRochelle is a former teacher who has been writing children's books since 1988.  He has won a number of awards including the Sid Fleishman Humor Award, the SCBWI Golden Kite Honor Award, and the Minnesota Book Award.  David lives in White Bear Lake, MN.  Visit his website at davidlarochelle.com.
About the Illustrator
Mike Wohnoutka wrote and illustrated several books including Dad's First Day.  Some of his other illustration work includes the Twelve Days of Christmas in Minnesota.  Mike lives in Minneapolis, MN.  Visit his website at mikewohnoutka.com.