Have you heard about the adorable Letters to My… series yet?  Oprah named this book series as one of her favorite things in 2015.  If you know me you'll know I love all things Oprah.  I'm all over anything she endorses like "white on rice" and these books are certainly no exception.
With over 750,000+ copies of these books sold since 2014, each book in this series is an absolute treasure.  These innovative books contain 12 fold-and-mail style letters.  Each letter bears a prompt to inspire self-reflection. Once written, the letters can be sealed with the stickers included and postdated. The keepsake bundle of letters is like a dozen diary entries for the future.
There are currently 9 books available in the series including:
Letters to Me, When I Grow Up (New this season!  Young Writer's Edition – perfect for kids ages 7 – 13)
Letters to My Future Self
Letters to My Baby
Letters to My Grandchild
Letters to My Love
Letters to My Mom
Letters to My Dad
Letters to Open When
Letters to the Bride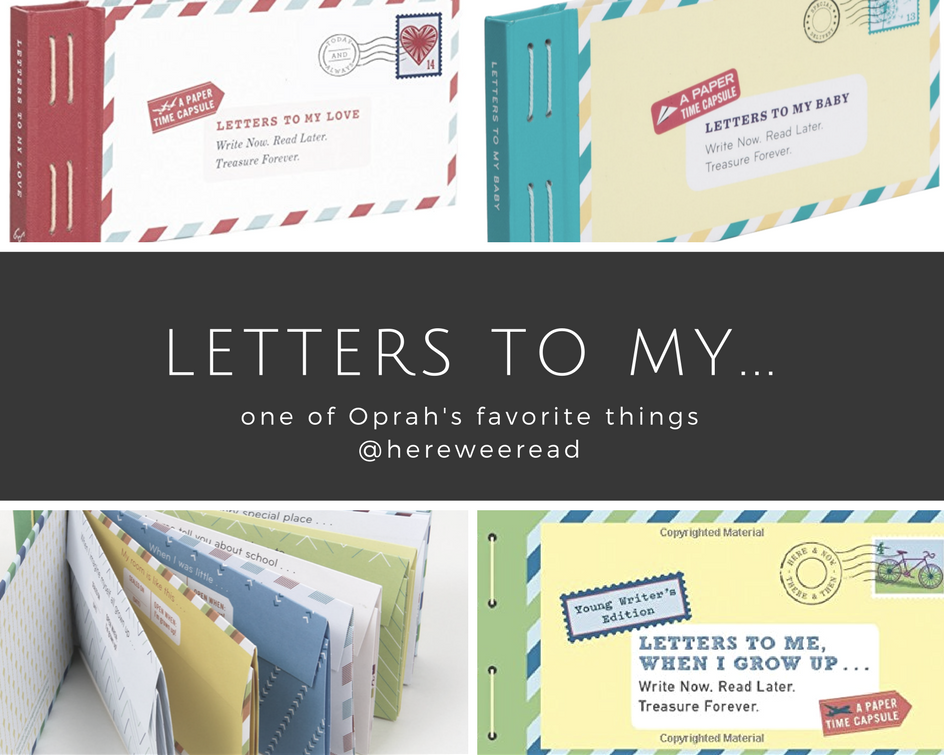 Letters to Me, When I Grow Up is the kids' version of the bestselling Letters to My Future Self.  It brings young writers a fun new way to capture their childhood. Twelve prompted letters bound into a keepsake book invite kids to share stories, draw, or make lists reflecting on what they know now, and what they imagine for their future. When they're grown, this paper time capsule becomes a cherished—and likely hilarious—look back on who they once were and who they have become.
I think these books make absolutely wonderful gifts – and they're affordable…yay!  They are so creative, memorable, compact (slightly larger than the size of a dollar bill) and beautifully packaged.  What a fantastic alternative to a journal for people who aren't very good at keeping up with journaling!  These books allow you to capture and share your hopes, thoughts, goals, dreams and experiences with your loved ones or your future self.
Although the writing space is somewhat limited on each page, I think it's just enough space to get your heartfelt messages or words of wisdom across.  Also, you're not limited to only writing on the pages.  You can draw, make a small collage, include wallet sized photos – whatever.  Have fun and use your creativity to share your messages. Think of these books as mini paper time capsules sure to fill the recipients with joy and emotions as they read through it.  My book is currently blank, but I'm looking forward to filling the pages with my thoughts, dreams and memories.  I can just see myself now looking back at my book to reflect on the person I used to be when I wrote the letters.  It will also be fun to watch my kids flip through their books when they get older.
I created time capsules for each of my children when they turned one.  I wish I had the Letters to My Baby book back then so I could have included it in their time capsules.  Now that I know about these books they will definitely be my staple gifts for weddings, baby showers, birthday parties, Mother's Day, Father's Day, Grandparents Day and more!  They are perfect for giving your loved ones a glimpse into your heart or finding out what you wished their future or your own future.
P.S. Although you can actually mail these letters, I like the idea of keeping them all contained within the book.  I just think it makes for a nicer presentation when it's all completed.
Check out this unique series of books and let me know what you think.  Enjoy!
Oh, and in case you're wondering, here are the writing prompts for one of the books we received:
Letters to My Future Self contains the following 12 writing prompts:
These are my roots…
Where I want to go…
All the things I'd like to try someday…
This is what I live for…
It was an extraordinary day…
I promise to myself…
There's no place like home…
A pep talk for the future me…
This is a letter about my love…
I never want to forget this…
[Blank – write your own]
[Blank – write your own]
About the Author
Lea Redmond is a collector of curious objects and a maker of unusual experiences. She is always looking for the poem hiding inside things: a salt shaker, a clothes tag, a hand gesture, a cloud. Lea is infinitely intrigued by the way experiences can slip from the ordinary to the extraordinary and she designs things that hold this possibility. Leafcutter Designs, her creative studio in Berkeley, CA, makes the world more playful and peaceful one little experience at a time. Visit Lea's world at http://www.leafcutterdesigns.com.
Disclaimer: I received two complimentary copies of these books in exchange for an honest review.  All opinions expressed are my own.