The Genius of Leonardo da Vinci by Guido Visconti, illustrated by Bimba Landmann
Age Range: 5 to 11 years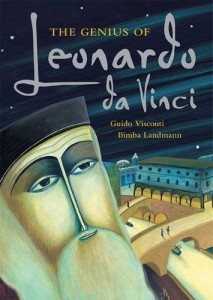 Synopsis
Meet Leonardo da Vinci: artist, engineer, pacifist and inventor. Told through the eyes of da Vinci's young apprentice, this stunning book will fascinate youngsters — and inspire everyone! Features original words and drawings from da Vinci's notebooks to spark curiosity about STEAM and offer a unique glimpse into this boundary-busting thinker.
Reflection
Since this book was much longer than I expected it to be (it's 40 pages, but the text per page is a bit lengthy), I chose not to read it aloud with the kids because I didn't think it would hold their attention too long.  However, I read this book on my own and found it to be both interesting and enjoyable.
The book is a biography of Leonardo's life told through the eyes of his mischievous 10 year-old assistant, Giacomo.   I was surprised to learn that Leonard was not only an artist, but he was also an engineer, map maker, scientist, inventor, and musician.  No wonder why he's often referred to as being a genius.  Although he is very wise, I like the fact that he didn't appear to be too cocky or a "know-it-all", just a regular down to earth guy who just happened to be very intelligent and talented.
Little Giacomo is quite mischievous in the book often annoying Leonardo.  I think kids will be able to relate to his character.  Leonardo refers to him as being "a liar, a thief and a greedy brute who eats as much as two boys and causes as much trouble as four."
The book also includes a series of Leonardo's wonderful quotes, original sketches and a glimpse of the his later years, including his paintings of the Mona Lisa and The Last Supper.  My favorite quote is: "A person's life is just a moment in infinity."
Although I didn't read this book aloud with my children, I definitely plan to when they are a bit older.  This book is filled with gorgeous illustrations, original works of art and awesome vocabulary building words for little readers.  I'd recommend this book for older children ages 6 -12.  It's perfect for helping students research Leonardo's life for a biography homework assignment.
Your turn: Have you read this book yet with your little readers?  Feel free to share in the comments.