On April 12th, beloved author Beverly Cleary is turning 100 years old!  Best known for her stories about Ramona Quimby, her sister Beezus, and their friend Henry, Cleary has written more than 40 books.  Her stories have been captivating readers of all ages for more 60 years. From the Mouse and the Motorcycle to Socks the Cat, her characters and the tales they inhabit are still going strong all these decades later.
Inspiring kids to love reading, especially struggling readers like herself as a child, has been a lifelong mission for Cleary who grew up on a farm in Yamhill, Oregon—a town so small it had no library.
Today, people all across the world celebrate Cleary on her birthday.  In fact, Harper Collins Publishing recognizes April 12th—as "DROP EVERYTHING AND READ" (D.E.A.R.) Day.  Check out the official website here.

To celebrate Beverly Cleary's 100th birthday, I've collaborated with three other awesome bloggers to give you a chance to win our "Beverly Cleary 100th Birthday Prize Pack."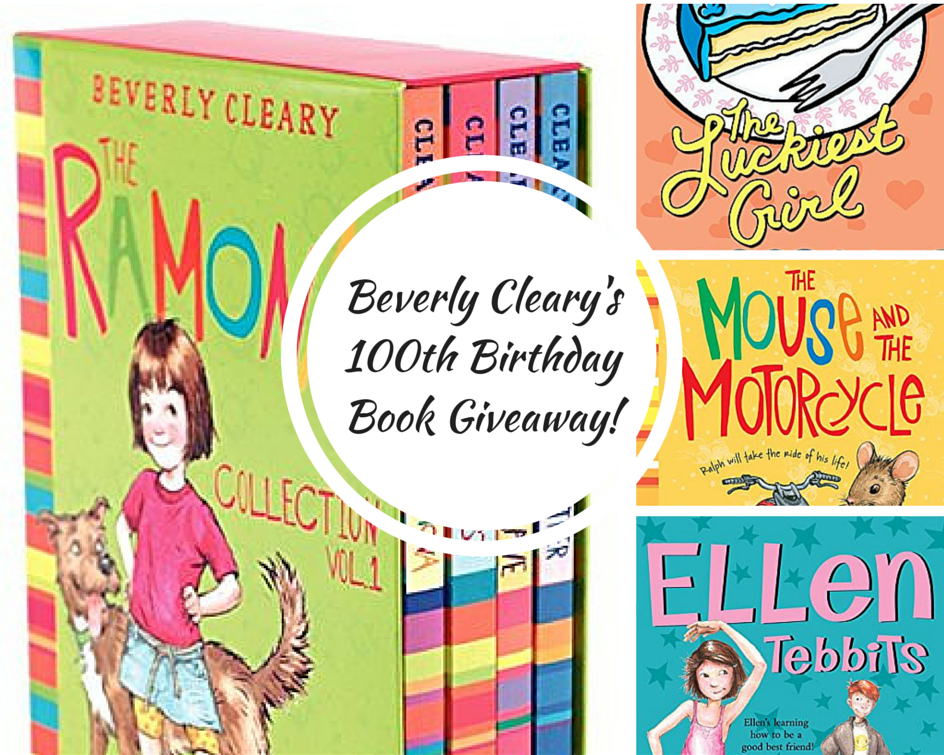 Before I mention what the prize pack contains, let me tell you who all of the generous bloggers are that helped sponsor this fantastic giveaway.
Lizzie from Photosynthesis206
Stephanie from Pin Up Girl Beauty
Tiffany from unRehearsed
Each of us have pitched in and spent our own money to purchase all of the books for this giveaway.  Why?  Because we all adore Beverly Cleary, but most importantly we wanted to give something back to you – yes, YOU!
Ok, so what's included in the prize pack?
Here's what we have up for grabs for all of our fellow Beverly Clearly loving readers:
Note:  Due to high shipping costs, this giveaway is only open to US Residents age 18 and older. (Sorry, international friends!)
Sounds wonderful!  My kids and I love Beverly Cleary, how can I enter?
Please use the Rafflecopter entry form to enter the giveaway.  One (1) winner will be chosen on April 13, 2016.  The winner will have 48 hours to respond once notified.  If the winner does not respond within 48 hours an alternate winner will be chosen.  All books within this prize pack will be shipped individually by each of our sponsors.  Good luck!