As much as I like to read, I also love going to the movie theater to watch movies!  Especially when the movie first debuts or if I'm lucky enough to attend a pre-screening prior to the movie being released to the general public.  I don't get a chance to watch much TV at home so going to the movies and being able to actually sit and watch an entire movie from start to finish is a real treat for me…(it's the little things).
The kids and I have seen our fair share of kids movies over the past couple of years from Zootopia to The Good Dinosaur.  And while some parents of two and three year olds may not be so willing to bring their kids to the movies, I would take my kids to a new movie every other weekend or at the very least once a month if there were enough supply of kids movies to meet our demand.  Surprisingly, my kids actually do sit and watch the movies, but only when we're in the theater – at home is a totally different story.  Go figure!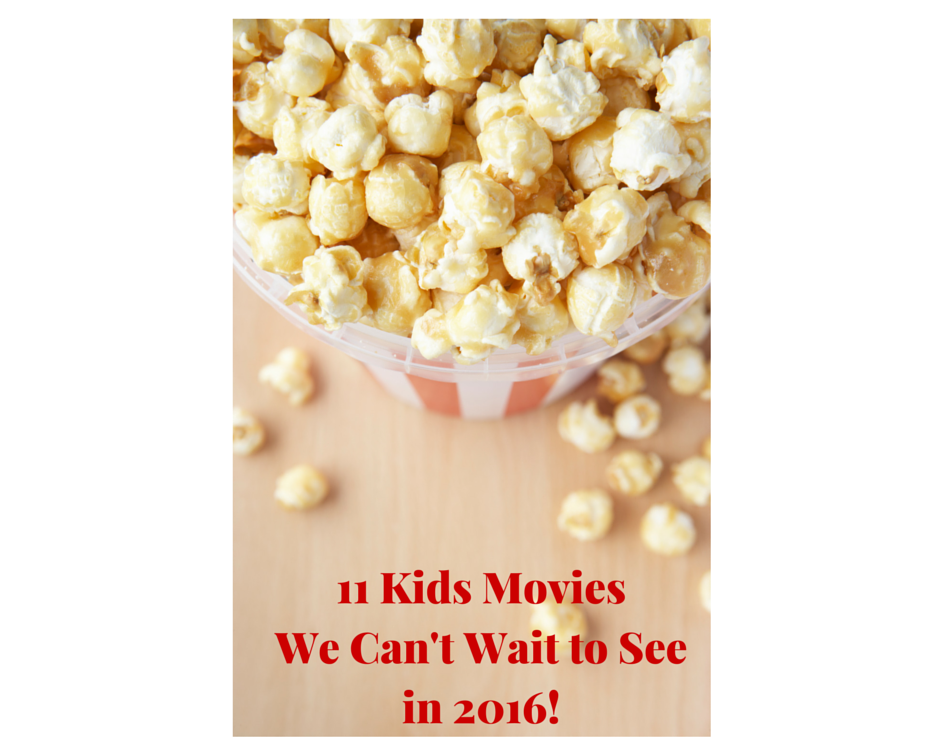 There are some great kids and family movies coming out this year that we're really looking forward to seeing.  Here's the top 11 we're most excited about:
Title: The Jungle Book
Release Date: April 15th, 2016
Rating: PG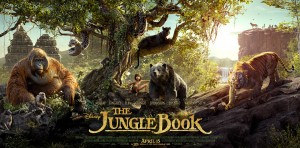 Directed by Jon Favreau ("Iron Man"), based on Rudyard Kipling's timeless stories and inspired by Disney's classic animated film, "The Jungle Book" is an all-new live-action epic adventure about Mowgli (newcomer Neel Sethi), a man-cub who's been raised by a family of wolves. But Mowgli finds he is no longer welcome in the jungle when fearsome tiger Shere Khan (voice of Idris Elba), who bears the scars of Man, promises to eliminate what he sees as a threat. Urged to abandon the only home he's ever known, Mowgli embarks on a captivating journey of self-discovery, guided by panther-turned-stern mentor Bagheera (voice of Ben Kingsley), and the free-spirited bear Baloo (voice of Bill Murray).
Title: Ratchet & Clank
Release Date: April 29th, 2016
Rating: PG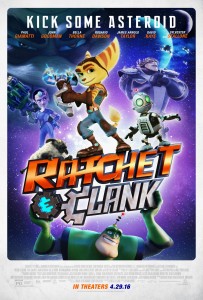 Ratchet and Clank tells the story of two unlikely heroes as they struggle to stop a vile alien named Chairman Drek from destroying every planet in the Solana Galaxy. When the two stumble upon a dangerous weapon capable of destroying entire planets, they must join forces with a team of colorful heroes called The Galactic Rangers in order to save the galaxy. Along the way they'll learn about heroism, friendship, and the importance of discovering one's own identity.
Title: Finding Dory
Release Date: June 17th, 2016
Rating: G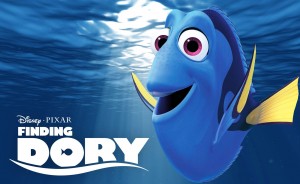 "Finding Dory" takes place about a year after the first film, and features returning favorites Marlin, Nemo and the Tank Gang, among others. Set in part along the California coastline, the story also welcomes a host of new characters, including a few who will prove to be a very important part of Dory's life.
Title: Ice Age: Collision Course
Release Date: July 22nd, 2016


Scrat's epic pursuit of the elusive acorn catapults him into the universe where he accidentally sets off a series of cosmic events that transform and threaten the Ice Age World. To save themselves, Sid, Manny, Diego, and the rest of the herd must leave their home and embark on a quest full of comedy and adventure, traveling to exotic new lands and encountering a host of colorful new characters.
Title: The BFG
Release Date: July 1st, 2016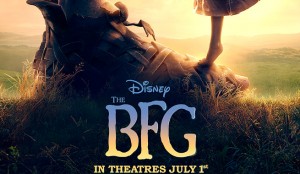 Have you read this book yet?  I love it!
The exciting tale of a young London girl and the mysterious Giant who introduces her to the wonders and perils of Giant Country. Based on the beloved novel by Roald Dahl, "The BFG" (Big Friendly Giant) was published in 1982 and has been enchanting readers of all ages ever since. Dahl's books, which also include "Charlie and the Chocolate Factory," "James and the Giant Peach," "Matilda" and "Fantastic Mr. Fox," are currently available in 58 languages and have sold over 200 million copies worldwide.
Title: The Secret Life of Pets
Release Date: July 8th, 2016
Rating: G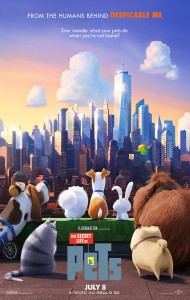 For one bustling Manhattan apartment building, the real day starts after the folks on two legs leave for work and school. That's when the pets of every stripe, fur, and feather begin their own nine-to-five routine: hanging out with each other, trading humiliating stories about their owners or auditioning adorable looks to get better snacks. The buildings top dog, Max (voiced by Louis C.K.) a quick witted terrier rescue who's convinced he sits at the center of his owner's universe, finds his pampered life rocked when she brings home Duke (Eric Stonestreet), a sloppy, massive mess of a mongrel with zero interpersonal skills. When this reluctant canine due find themselves out on the mean streets pf New York, they have to set aside their differences and unite against a fluffy-yet cunning bunny named Snowball (Kevin Hart), who's building an army of ex-pets abandoned by their owners and out to turn the tables on humanity…all before dinner time.
Title: Storks
Release Date: September 23rd, 2016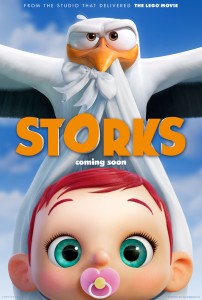 Storks deliver babies…or at least they used to. Now they deliver packages for global internet giant Cornerstore.com. Junior, the company's top delivery stork, is about to be promoted when he accidentally activates the Baby Making Machine, producing an adorable and wholly unauthorized baby girl. Desperate to deliver this bundle of trouble before the boss gets wise, Junior and his friend Tulip, the only human on Stork Mountain, race to make their first-ever baby drop – in a wild and revealing journey that could make more than one family whole and restore the storks' true mission in the world.
Title: Miss Peregrine's Home for Peculiar Children
Release Date: September 30th, 2016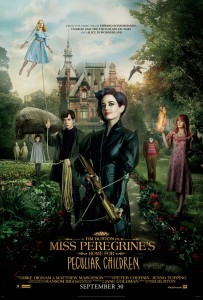 I haven't read this book yet, but the movie looks like it will be fantastic!
From director Tim Burton and based upon the best-selling novel, comes an unforgettable, thrilling and haunting tale. Sixteen-year-old Jacob follows clues that take him to a mysterious island where he discovers the crumbling ruins of Miss Peregrine's Home for Peculiar Children. As Jacob explores the abandoned bedrooms and hallways, he discovers that its former occupants were far more than peculiar; they possessed incredible powers. And they may still be alive.
Title: Trolls
Release Date: November 4th, 2016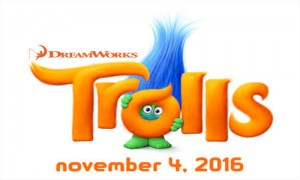 The film will be a grand scale musical comedy centering around how the Trolls came into their vibrant and colorful hair.
Title: Moana
Release Date: November 23rd, 2016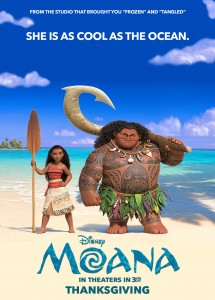 Kudos to Disney for creating a new multicultural Polynesian princess!
In the ancient South Pacific world of Oceania, Moana, a born navigator, sets sail in search of a fabled island. During her incredible journey, she teams up with her hero, the legendary demi-god Maui, to traverse the open ocean on an action-packed voyage, encountering enormous sea creatures, breathtaking underworlds and ancient folklore.
Title: Sing
Release Date: December 21st, 2016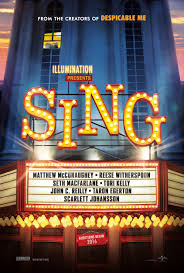 This movie looks like it will be hilarious!
Illumination has captivated audiences all over the world with the beloved hits Despicable Me, Dr. Seuss' The Lorax, Despicable Me 2 and Minions, now the second-highest-grossing animated movie in history. Following the release of The Secret Life of Pets in summer 2016, Illumination presents Sing at the holidays. Matthew McConaughey, Reese Witherspoon, Seth MacFarlane, Scarlett Johansson, John C. Reilly, Taron Egerton and Tori Kelly star in a musical comedy about finding the shining star that lives inside all of us.
Bonus Movies for Adults (Based on Best-Selling Novels)
Title: Me Before You
Release Date: June 3, 2016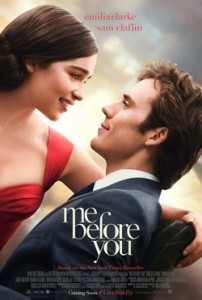 I cannot wait to see this movie!  I absolutely LOVED the book!
Young and quirky Louisa "Lou" Clark (Emilia Clarke) moves from one job to the next to help her family make ends meet. Her cheerful attitude is put to the test when she becomes a caregiver for Will Traynor (Sam Claflin), a wealthy young banker left paralyzed from an accident two years earlier. Will's cynical outlook starts to change when Louisa shows him that life is worth living. As their bond deepens, their lives and hearts change in ways neither one could have imagined.

Title: The Light Between Oceans
Release Date: September 2nd, 2016
Rating: PG-13


This book has been on my TBR list forever!  Maybe I'll finally get around to reading it before the movie comes out.
After four harrowing years on the Western Front, Tom Sherbourne returns to Australia and takes a job as the lighthouse keeper on Janus Rock, nearly half a day's journey from the coast. To this isolated island, where the supply boat comes once a season, Tom brings a young, bold, and loving wife, Isabel. Years later, after two miscarriages and one stillbirth, the grieving Isabel hears a baby's cries on the wind. A boat has washed up onshore carrying a dead man and a living baby.
Tom, who keeps meticulous records and whose moral principles have withstood a horrific war, wants to report the man and infant immediately. But Isabel insists the baby is a "gift from God," and against Tom's judgment, they claim her as their own and name her Lucy. When she is two, Tom and Isabel return to the mainland and are reminded that there are other people in the world. Their choice has devastated one of them.
Title: The Girl on the Train
Release Date: October 7th, 2016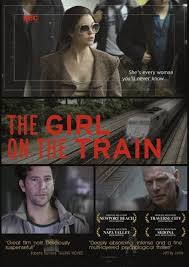 Confession: I started reading this book last year, but for some reason it didn't hold my attention.  I know lots of other people raved about it.  I'll just wait for the movie to come out to see what the hype around this book is all about.
Emily Blunt, Rebecca Ferguson, Justin Theroux, Haley Bennett, Edgar Ramirez and Allison Janney star in DreamWorks Pictures' THE GIRL ON THE TRAIN, from director Tate Taylor (The Help, Get on Up) and producer Marc Platt (Bridge of Spies, Into the Woods). In the thriller, Rachel (Blunt), who is devastated by her recent divorce, spends her daily commute fantasizing about the seemingly perfect couple who live in a house that her train passes every day, until one morning she sees something shocking happen there and becomes entangled in the mystery that unfolds. Based on Paula Hawkins' bestselling novel, The Girl on the Train is adapted for the screen by Erin Cressida Wilson and Taylor. The film's executive producers are Jared LeBoff and Celia Costas, and it will be released by Universal Pictures.
Your turn: What movies are you excited to see on the big screen in the theater this year?  Feel free to share in the comments.