Love Thy Fro
Written by Casey Elisha, illustrated by Aliecee Cummings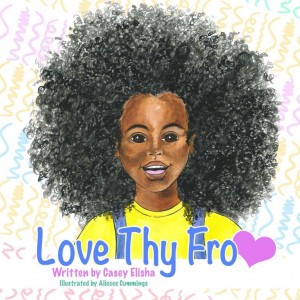 Synopsis
Aimed at girls ages 5-8, Love Thy Fro is about a young girl named Kemi who absolutely loves her big, beautiful, curly afro hair!  It's a simple book with a simple message, the aim is to teach girls the importance of loving themselves and embracing their "non-typical" hair from a young age.
Background
Love Thy Fro debuted for the first time in South East London on December 6, 2015.  The very next day the book was completely SOLD OUT.  Casey was inspired to write the book based on conversations she had with several people and her own personal reflections on her past issues related to self-love and her hair.
"My decision to write Love Thy Fro was a very random one stemming from my realization that, if I were to become a mother to a daughter anytime soon, I would have a really hard time teaching her to be comfortable in her own skin due to the images of beauty that society constantly throws at us. I wanted my future daughters to know and appreciate their unique beauty, so I chose to create something that I felt would help show them this." ~Casey Elisha

Reflection
I want my daughter to embrace the hair that naturally grows out of her head and to believe, with confidence, that there is nothing wrong with her hair despite what others may say.  Luckily, my daughter absolutely LOVES her hair at the moment.  I hope it stays that way for years to come.
I like to think I'm the main reason why my daughter feels so good about her hair.  How narcissistic of me, right?  Seriously though, I do take good care of my hair and I've been wearing it in its natural state for the past six years now.  Perhaps by seeing me take care of my hair it in turn made my daughter feel good about hers.  In addition, I am constantly telling her how beautiful her hair is hoping it will sink into her head.  I think its safe to say it has, at least for now.
I also read beautiful natural hair books like Love Thy Fro to my daughter frequently.  As I've stated on this blog before, it's important for me to let my children see characters who look like them in books.  That's especially true when it comes to teaching my daughter about hair.  She simply won't see characters with her hair type featured in princess books.  That's why I'm so glad authors like Casey Elisha and others are on the forefront writing positive and inspirational books for young girls with afro-textured hair.
The first day when the book arrived in the mail I opened it and read through it quickly on my own.  Later that night I read with my daughter and we both enjoyed it immensely.  I definitely think the book resonated with my daughter because Sundays are the same day I wash and style her hair for the week just like little Kemi in the book.
Throughout the book, Kemi explains the process her mum (mom) follows to shampoo, condition, moisturize and style her hair.  We love the rhyming text as well as the gorgeous illustrations that really help bring the book to life.  I especially loved that Kemi's mom let her decide what style she wanted to wear in her hair.  How empowering for little Kemi to tell her mom exactly how she wanted to wear her hair -in an afro!
There is also an activity section in the back of the book for girls to: draw a picture of their fro and write a few sentences describing reasons why they love their fro.  It's also worth mentioning that since Casey is a British author located in London, there are some words that are spelled differently than from what we use in the United States like: mummy (mommy), moistrises (moisturizes), colour (color), favourite (favorite) and canerows (cornrows).  This was not annoying at all to me though – just wanted to make you aware of it.
Kudos to Casey Elisha on recognizing the need for positive, self-esteem books like this one and for representing for curly girls everywhere.  With the help of books like Love Thy Fro, I will continue to show my daughter curly images to help reinforce her natural beauty.

Connect with Casey Elisha on Instagram or her website!
For all inquiries, please contact Casey Elisha directly at: CElishaBooks@gmail.com
Order a copy of the book here.
Your turn: Have you read this book yet?  How do you teach your daughter(s) or the little girls in your life to love their afro-textured hair?  Feel free to share in the comments.
Giveaway: Win an Autographed Copy of Love Thy Fro!
I'm thrilled to be hosting my first giveaway of 2016!  To enter to win this book simply follow the instructions listed in the Rafflecopter giveaway below.  Contest ends Thursday, January 14th at 11:59pm.  Good luck!