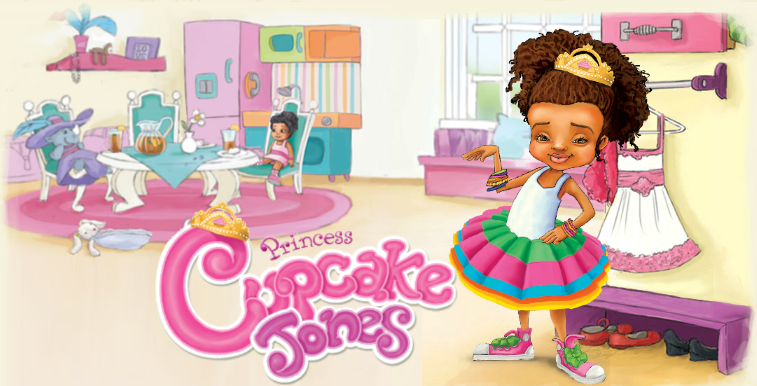 Well, it finally happened.  My three year-old daughter "Sparkles" is officially obsessed with all things related to princesses.  It all started shortly after her third birthday a couple of months ago.  I always knew if I had a daughter at some point she'd be hit by the princess craze like a tidal wave.
I don't mind that "Sparkles" already knows what a princess is or even that she pretends to be one on occasion, but I want her to have a healthy view of herself and have good role models even if some happen to be princesses like Princess Cupcake Jones.

Princess Cupcake Jones is a beautiful, spunky, natural-haired, brown girl who happens to be a princess.  She lives with her parents (the king and queen) in a beautiful castle located at 6 Garden Place.  There are currently three books in the series and each one celebrates diversity and teaches children valuable lessons while allowing each reader to have a fun, interactive experience.
I was immediately drawn to this adorable book series because it features a little brown girl on the cover.  Yay!  As you may know, finding a book that actually includes African princesses, African American princesses, Native American princesses, Indian princesses, Latina princesses, or Asian princesses, is next to impossible.  Perhaps one day book publishers, television producers, and movie producers will understand the beautiful variety of princesses (and princes) that the world has to offer.  Good thing there are children's books like these to help remind little readers of all cultures and backgrounds that princesses, kings, and queens are not limited to the images they see in the mainstream media.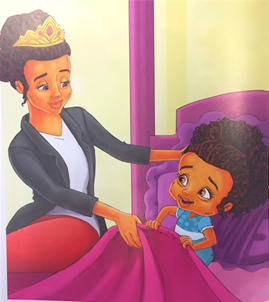 So far, the kids and I have read two out of the three books: Princess Cupcake Jones and The Missing Tutu and Princess Cupcake Jones Won't Go to School.  The third book in the series is called Princess Cupcake Jones and the Queen's Closet.  The author is also hard at work writing the fourth book about a dance recital that's due to be released in 2016.
To add to the interactive element, each book includes the word "love" hidden within the full color illustrated pages.  Helpful hints to finding the hidden word are available on the book's website, which also features downloadable color pages and other activities.
Both of the books we read teach an important lesson in a fun and whimsical way with gentle, rhyming cadence to match.  Oh, and the illustrations are gorgeous throughout.  They are so vibrant, bold, cheerful and really compliment the story well.  I can't wait to read about Cupcake's next adventure!
If your daughters have been hit by the princess craze like my daughter has, consider checking out Princess Cupcake Jones.  Little readers who like the series Fancy Nancy or Pinkalicious will adore these books just as much.  Cue the sparkles, tiaras, and tutus!
About the Author
Ylleya Fields has three daughters and a son. While looking for books to read to her eldest daughter (when she was 2), Ylleya was struck by the limited number of titles featuring African-American characters. Blending both of her daughter's images and personalities together, Cupcake Jones was created. Born in South America, Ylleya currently resides with her family in Cleveland, Ohio.  She enjoys writing and is currently working on new Princess Cupcake Jones adventures.
Your turn:  Have you read any of the books in this series yet?  Do you have a princess book that you feel great about reading with your children? Feel free to share in the comments.