The kids and I are counting down the days until the movie The Good Dinosaur opens on November 25th.  Have you seen the movie trailer yet?  We're currently obsessed with all things dinosaur, especially books!  Check out some of the kids' favorite dinosaur books below that we've been reading.
Brontorina by James Howe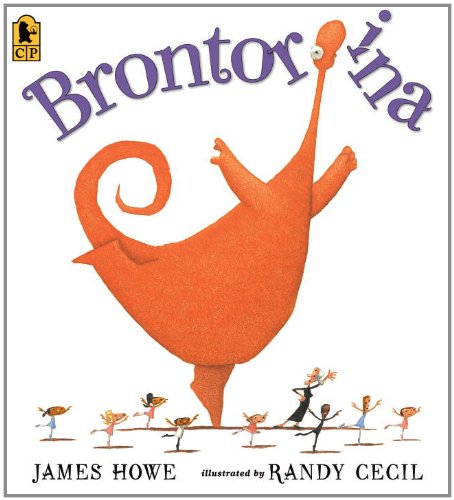 Book Synopsis:  This book is a sweet tale about fulfilling your heart's desire no matter what shape or size you may be.  Brontorina is a rather large orange dinosaur who desperately longs to dance. Although she meets many obstacles along her path, she knows in her heart she is to be a ballerina.  Ultimately, her size is only outmatched by her sweet determination and the affection of some kind-hearted people.  A lovely book for any and all who feel unsuited for something they long to be.
Goldilocks and the Three Dinosaurs by Mo Willems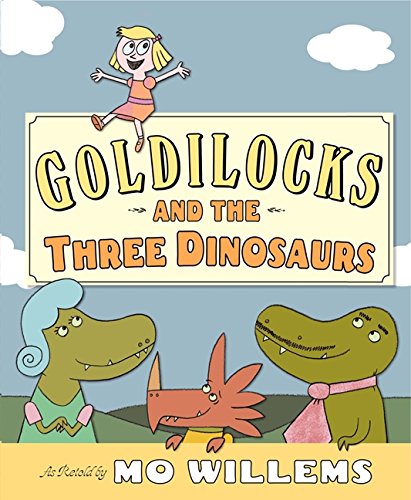 Book Synopsis:  Goldilocks and the Three Dinosaurs is a new take on the fairy-tale classic Goldilocks and the Three Bears, so funny and so original—it could only come from the brilliant mind of Mo Willems.
Once upon a time, there were three hungry Dinosaurs: Papa Dinosaur, Mama Dinosaur . . . and a Dinosaur who happened to be visiting from Norway.
One day—for no particular reason—they decided to tidy up their house, make the beds, and prepare pudding of varying temperatures. And then—for no particular reason—they decided to go . . . someplace else. They were definitely not setting a trap for some succulent, unsupervised little girl.  Definitely not!
Tyrannosaurus Drip by Julia Donaldson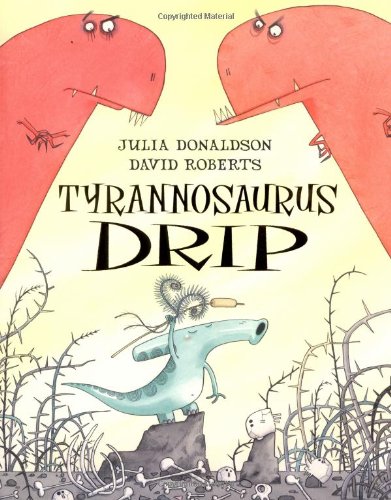 Julia Donaldson is my favorite children's book author.  I believe she has an amazing gift of delivering high quality books with easy-to-read rhythm and rhymes that appeal to a range of ages.  I enjoy reading Julia's books as much as my kids love to hear them so I am always happy when one of them is requested.
Book Synopsis: Everyone knows that tyrannosauruses are big and scary, so when a placid duckbill dinosaur's egg ends up in the wrong nest confusion is sure to ensue! When the baby dinosaur hatches out, he's so out of place that his grisly big sisters call him Tyrannosaurus Drip. Poor little Drip: all he wants is a quiet life munching on water weed.
Dinoblock by Christopher Franceschelli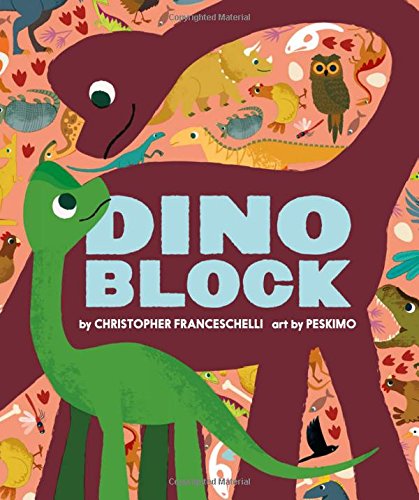 If you've read the books Alphablock and Countablock then you may also enjoy Dinoblock.
Book Synopsis:  This book features thick pages cut into the shapes of dinosaurs!  Readers will be introduced to more than 20 different kinds of dinosaurs via die-cuts of their unique silhouettes and the illuminating comparisons to familiar things from a young child's world. I stretch high like the ladder on a fire truck. I am a Brachiosaurus. As children touch the pages, they have a chance to guess the dinosaur and appreciate the uniqueness of its silhouette.
If You Happen to Have a Dinosaur by Linda Bailey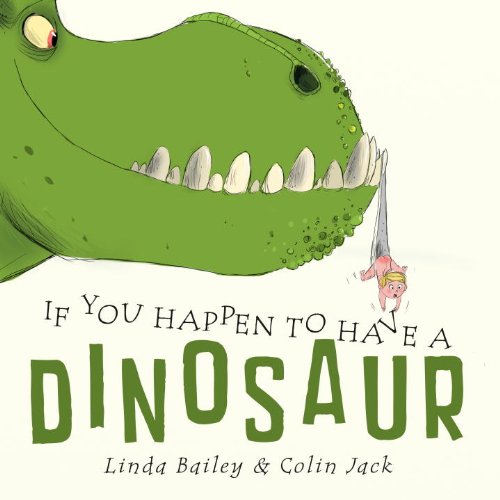 Book Synopsis:  If you happen to have a dinosaur, lying around your living room, and you don't know what to do with it … why don't you use it as a can opener? It will make a terrific nutcracker too! There are oodles of uses for a dinosaur — from a fine umbrella to an excellent kite and a dandy pillow, not to mention a reliable burglar alarm and the perfect excuse to forget your homework. This delightfully absurd exploration of the domestic uses of dinosaurs — and the things dinos just aren't good for at all — is guaranteed to tickle funny bones and spark imaginations. If you read carefully, you'll learn how to make your dinosaur last a very long time.
How Do Dinosaurs Play with Their Friends? by Jane Yolen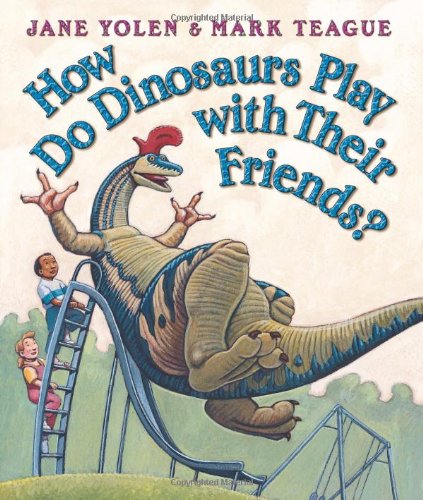 Book Synopsis:  This brilliantly illustrated board book is packed with rhymes that will teach children how. Mark Teague's laugh-aloud illustrations, along with Jane Yolen's playful text, will show children that "playing nice" can be easy and fun. Perfect for parents to read aloud with their children, this book is as humorous as it is instructive.
The Mine-O-Saur by Sudipta Bardhan-Quallen


Book Synopsis:  Do you have a little one who doesn't like to share?  The Mine-O-Saur is a selfish dinosaur who constantly takes everything away from the other dinosaurs at school.  Eventually, the Mine-O-Saur realizes that having everything for himself is not fun if the result is having no one to play with.
Edwina, The Dinosaur Who Didn't Know She Was Extinct by Mo Willems


Book Synopsis:  Edwina is one of the most helpful dinosaurs around who also happens to make really good chocolate chip cookies.  Everyone loves Edwina—except for a know-it-all little boy named Reginald. He is determined to convince everyone, including Edwina, that dinosaurs are extinct. If you love Willems, you'll really like this one.  Before you read this book with the little ones, bake some chocolate chip cookies to go along with it for story time.  The kids will love it!
Just for fun:  Pixar has been so gracious as to create The Good Dinosaur Coloring Pages that are free for you to print and use.  You can download the coloring pages PDF file here.

I've also included a fun Laurie Berkner video that has constantly been on replay in our house.  So fun!
Disclaimer:  I am not affiliated with Disney or Laurie Berkner nor was I compensated to write this blog post.
Your turn:  Are you and your little ones looking forward to seeing The Good Dinosaur during the Thanksgiving holiday?  What are some of your favorite dinosaur books?