I noticed I haven't written a post to update you all on the books I'm reading.  It's not that I've forgotten to write the posts, instead you can find my current reads of the month listed over on the right hand side.  However, it dawned on me that many people read blogs and websites on their phones nowadays, therefore you won't see the books listed if using a handheld device.
Usually I like to read at least 2-3 books per month, but for the month of November I'm only going to read one book.  I've heard so many amazing things about this book so I really want to sink my teeth into it and focus on it.  I'm sure many of you have already heard of it as it's been receiving rave reviews all over the Internet and social media.
The book I've chosen is none other than Big Magic: Creative Living Beyond Fear by Elizabeth Gilbert.  She's the same author who wrote the book Eat, Pray, Love.  I never read that book, but I absolutely adore the movie!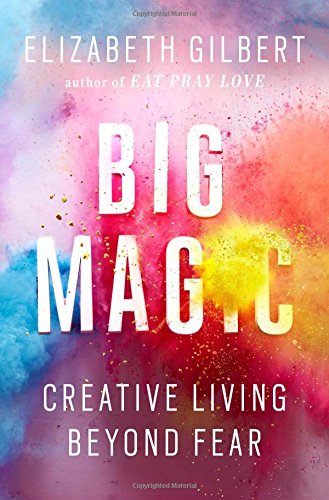 Synopsis (from Amazon)
Readers of all ages and walks of life have drawn inspiration and empowerment from Elizabeth Gilbert's books for years. Now this beloved author digs deep into her own generative process to share her wisdom and unique perspective about creativity. With profound empathy and radiant generosity, she offers potent insights into the mysterious nature of inspiration. She asks us to embrace our curiosity and let go of needless suffering. She shows us how to tackle what we most love, and how to face down what we most fear. She discusses the attitudes, approaches, and habits we need in order to live our most creative lives. Balancing between soulful spirituality and cheerful pragmatism, Gilbert encourages us to uncover the "strange jewels" that are hidden within each of us. Whether we are looking to write a book, make art, find new ways to address challenges in our work,  embark on a dream long deferred, or simply infuse our everyday lives with more mindfulness and passion, Big Magic cracks open a world of wonder and joy.
After reading this book I also plan to write a review so stay tuned for that in the coming weeks.  If you're so inclined, read this book next month on your own and join me!
P.S. I'm currently obsessed with this video of Marie Forleo and Elizabeth Gilbert discussing the book.  Check it out if you have about 45 minutes to spare.  So worth listening to!
Your turn:  Have you read this book yet or is it on your "to read" list?  Feel free to share in the comments.