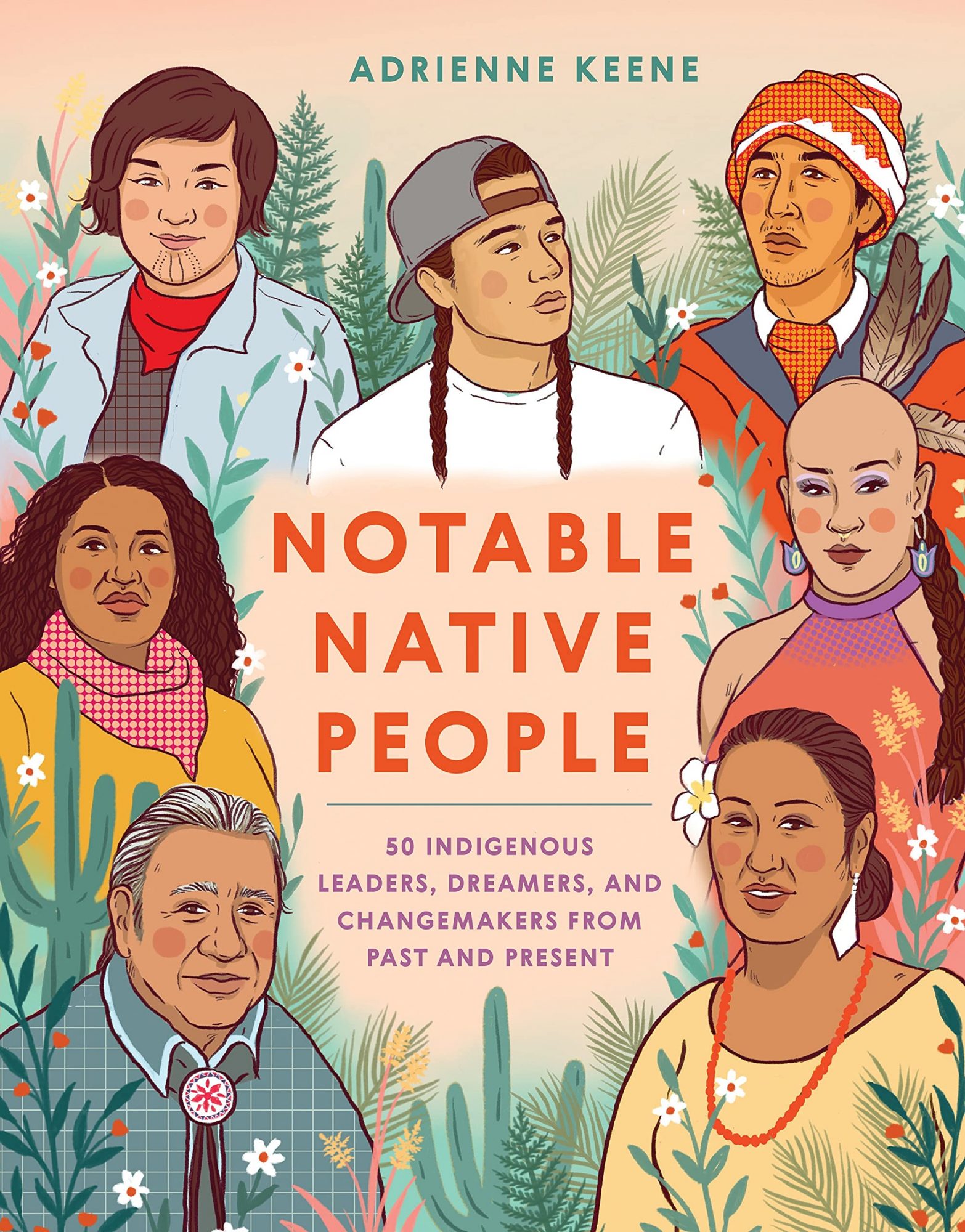 Written by a Native member of the Cherokee community, Notable Native People is a beautifully illustrated and well-written book that introduces readers to 50 Indigenous leaders, activists, scientists, and changemakers from past to present.  To curate a balanced group of individuals to feature in this book, the author elaborates a bit on the final group of people she chose.
"The people in this book represent a small slice of the Native experience, balanced across the three broad cultural groups of American Indian, Alaska Native, and Kanaka Maoli, as well as various gender identities, ages, locations, tribal affiliations, and work.  I also intentionally focused on the inclusion of Black Native, female, LGBTQ+, and Two Spirit people."
In the introduction, readers learn a little about the author's background and upbringing.  She was surrounded by non-Natives and educated in predominantly white schools.  She grew up learning from outdated textbooks and resources in her school that Indigenous people only existed in the past, not the present.  The author also talks about being surrounded by harmful images and stereotypes that depicted Native Americans in a negative way.  It wasn't until years later when she learned about the importance of representation and knowing the power of sharing stories that push beyond stereotypes.
If you're unsure of the name of the Indigenous nation or nations where you currently reside, there is a resource mentioned in the Whose Land Are You On? section.  The website http://native-land.ca can help you find out whose land you're on.  Once you find out, it's up to you to decide how you will honor your relationship to the land going forward.  For example, it is becoming more popular to hear people making "land acknowledgements" at the beginning of some public events, conferences, or talks.  Another way to honor your land relationship is to get to know Native people in your area or invite local Indigenous people to speak at events or conferences.  Perhaps one of the easiest ways you can honor your land relationship is to center, acknowledge, respect, and amplify Indigenous voices and perspectives.
What I appreciated most about this book is the amount of people featured that aren't so well-known.  People like: Viola Waghiyi, an environmental advocate and Aaron Yazzie, an engineer.  Of course, there are more well-known people featured too like: Maria Tallchief, Sharice Davids, and Wilma Mankiller.  It was great learning about everyday people like me who are making such amazing strides and contributing to society in positive ways.
The biographies for each person are brief enough to understand about the person's background, their achievements, and their work.  I'd recommend this one for home and school libraries for readers aged fourteen and older who may want to read about Indigenous leaders, changemakers, activists, scientists, and more.
A fantastic resource to check out during Native American Heritage Month or any time of the year.
Published by: Ten Speed Press
Author: Adrienne Keene
Illustrations by: Ciara Sana
Have you read this one yet?