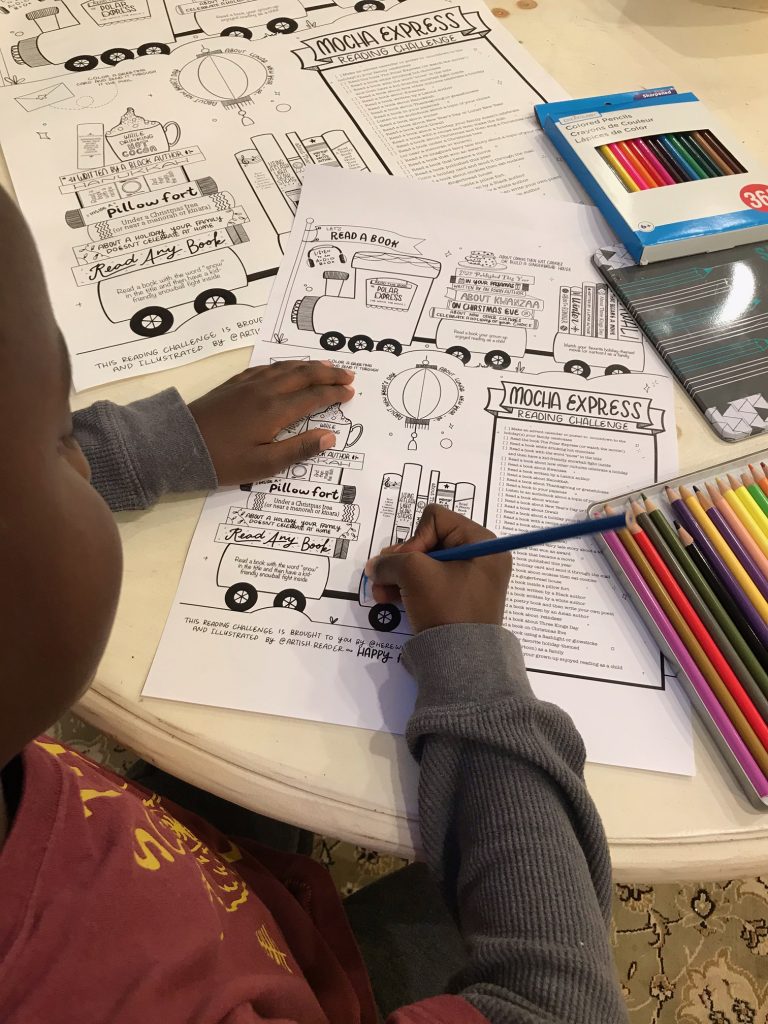 Happy Holidays, friends! Y'all ready for another resource to use with your little readers, your students or on your own? If you're an educator, it makes the perfect holiday gift for all of your students no matter what age they are!

To create this printable, I collaborated with Briana James of Artish Reader, a talented Art student. If you've been following me for a while, you may remember the first project Briana and I collaborated on for my 31 Days of Women's History coloring sheet.

I talked to Briana about my idea and concept and she used her creative genius to produce a high-quality reading chart. I couldn't be more happier with it! Get in touch with Briana, give her a follow on Instagram, and support her as she continues to build up her art portfolio. It's always such a pleasure to work with her and help support another Black woman at the same time.
This coloring printable is a fun way to celebrate holiday reading. It features an array of books and other items beautifully stacked on a train which I've decided to call the Mocha Express. You can enjoy this coloring page printed in various sizes from 11 x 17 up to 24 X 36 if you'd like jumbo poster size.
Each day during the holiday months, color in one book or object until the whole poster is complete. Also, be sure to use the checklist to check off books as you read or complete the challenges. I designed this printable to be used starting Thanksgiving Day (in the U.S.), but you can start using it any day throughout the year you choose.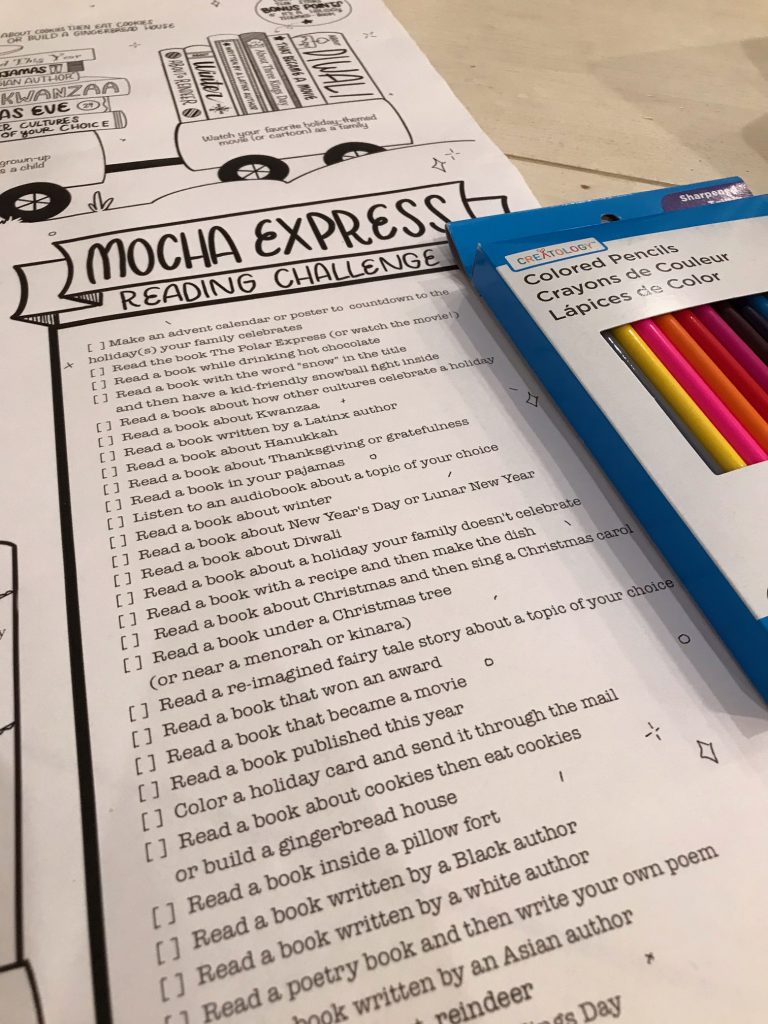 If you need book recommendations throughout the challenge, I have created several categorized lists in my online Bookshop and Amazon stores to assist you. Also, if purchasing new or used books isn't in your budget, be sure to utilize your local library.

Here are a few of my book lists to help get you started:

Thanksgiving Books for Kids
Hanukkah Books for Kids
Multicultural/Diverse Christmas Books for Kids
Latinx Book Recommendations
Diverse & Inclusive Board Books for Infants and Preschoolers
Diverse & Inclusive Picture Books for Kids
African-American Picture Books Featuring Males
African-American Picture Books Featuring Females
Native/Indigenous Picture Books
Asian & Pacific Islander Book Recommendations
Happy Reading!
CLICK HERE TO DOWNLOAD THIS PRINTABLE! 
CHECK OUT MORE OF MY RESOURCES (INCLUDING MY POPULAR PRINTABLE READING JOURNAL and 28 DAYS OF BLACK HISTORY) ON MY TEACHER'S PAY TEACHERS WEBSITE AND GIVE ME A FOLLOW OVER THERE TOO.

AS ALWAYS, THANK YOU FOR YOUR SUPPORT!