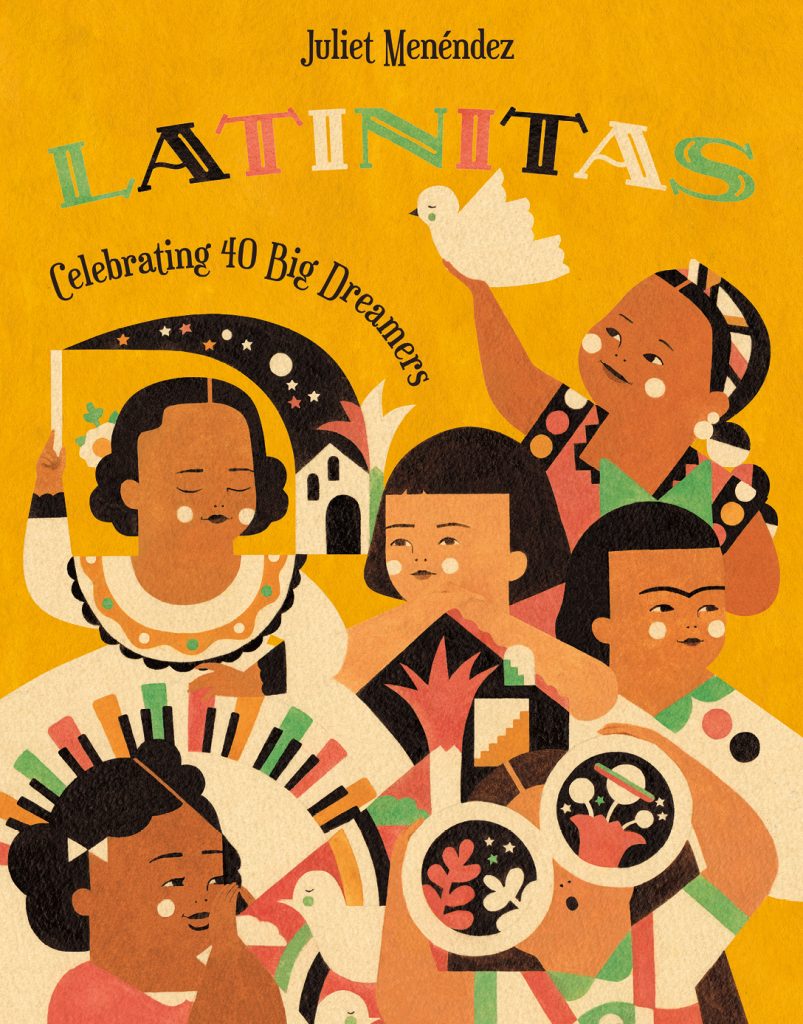 I'm thrilled to reveal the cover of this forthcoming 2021 beauty, Latinitas by debut author/illustrator Juliet Menéndez. Check out a quote from Juliet and the synopsis from the publisher written below.

"In making the cover, I wanted to celebrate this amazing community of Latinas who are inspiring leaders and advocates of change and am so happy to share it with you. I can't believe that this project I have been dreaming about since 2014 is finally coming to life! As Selena would say, estoy MUY excited!"  — Juliet Menéndez

Publisher: Godwin Books
On-sale Date: February 23, 2021, available for pre-orders now!

About the book: 
Meet some of the bravest, most influential Latinas in history! With portraits of the individuals as children and short bios celebrating their accomplishments and lives, Juliet Menéndez brings these amazing women to life. The subjects are a mix of well-known figures such as artist Frida Kahlo and Supreme Court Justice Sonia Sotomayor, and lesser known figures, like the spy Policarpa Salavarrieta from Colombia and NASA's first virtual reality engineer, Evelyn Miralles, from Venezuela.
The book also features Juana Azurduy de Padilla, Policarpa Salavarrieta, Rosa Peña de González, Teresa Carreño, Zelia Nuttall, Antonia Navarro Huezo, Matilde Hidalgo, Gabriela Mistral, Juana de Ibarbourou, Pura Belpré, Gumercinda Páez, Julia de Burgos, Chavela Vargas, Alicia Alonso, Victoria Santa Cruz, Claribel Alegría, Celia Cruz, Dolores Huerta, Rita Moreno, Maria Auxiliadora da Silva, Mercedes Sosa, Isabel Allende, Julia Alvarez, Sandra Cisneros, Rigoberta Menchú Tum, Mercedes Doretti, Sonia Pierre, Justa Canaviri, Evelyn Miralles, Selena Quintanilla, Berta Cáceres, Serena Auñon, Wanda Díaz Merced, Marta Vieira da Silva, Alexandria Ocasio-Cortez, and Laurie Hernandez.
Recommended for Ages 8 – 12 and up.

Visit Juliet's website here to see some of her work.