What books are you and your kids looking forward to reading in 2020?  We're entering this new decade with another epic list of diverse reads to share with you.  Ready?
Most of the books listed here are recommended either for infants, toddlers, preschoolers, and early elementary readers since my children fall within those groups and so do the little readers in my core target audience. However, I've also included a few middle grade and young adult books for slightly older readers to enjoy as well.  The best part is most of these books are available for pre-order now so you can get a head start on your shopping.
Rest assured, I've selected what I think will be the "best of the best" in terms of diverse books.  I know other amazing books will be released throughout the year, but these are the ones that were on my radar right now.  As other books are released, I will come back and make changes to this post throughout the year so be sure to check it periodically or bookmark it to read later.
I'm definitely looking forward to sharing most (if not all) of these books with my little readers.  As always, I tried to target books that will likely have: stunning illustrations, read aloud appeal, a kid-friendly theme – or all three!  Enjoy!
Note: ** Since other countries have different release dates, some of these books may be released earlier or later internationally than the months I have listed as publication dates do sometimes change. **
Check out our lists from previous years: 2019, 2018, 2017, 2016
January
Trailblazers: Beyonce Queen of the Spotlight by Ebony Joy Wilkins Ages 8 – 12 and up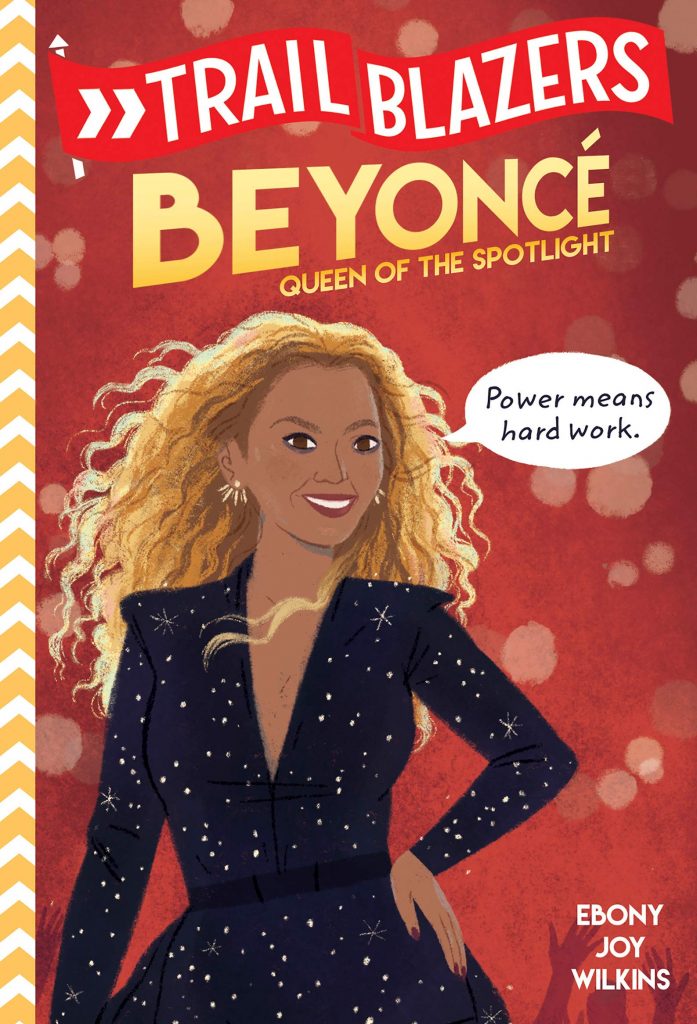 Beyoncé Knowles became famous as the lead singer of the popular group Destiny's Child. But on her own, she's had even bigger hits. From movies to Grammy Awards to performing at the Super Bowl halftime show, Beyoncé is one of the world's most amazing superstars. Find out how the girl who entered local singing competitions became one of history's greatest trailblazers!
Always, Jackie by J. Patrick Lewis, John Thompson Ages 6 – 8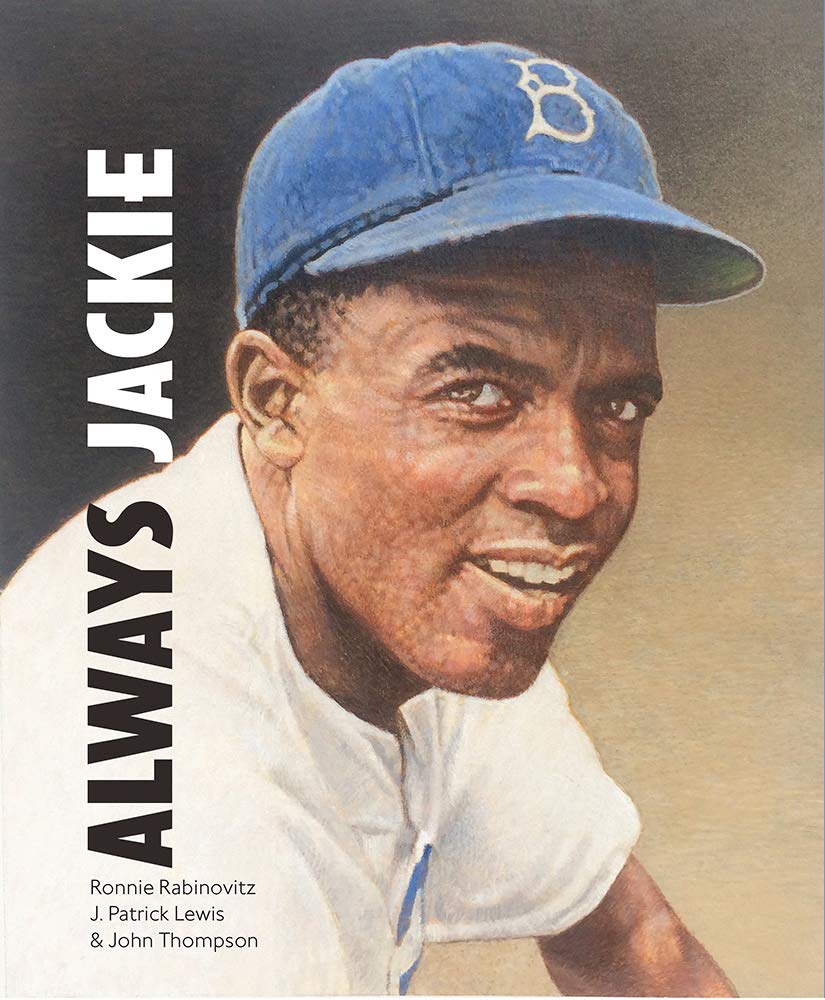 The unbelievable yet true story of how an eight-year-old white kid from Sheboygan, Wisconsin, met the legendary Jackie Robinson in 1954—and how the two became lifelong friends.
Mindy Kim and the Lunar New Year Parade by Lyla Lee, Dung Ho Ages 6 – 9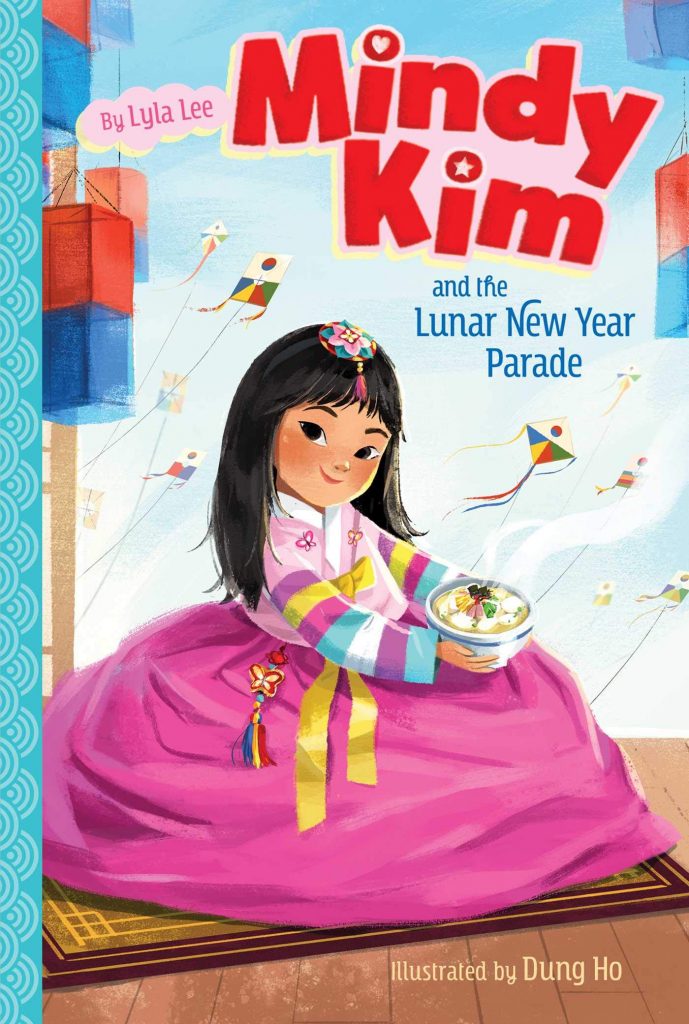 Mindy is excited to celebrate the Lunar New Year! Even though it's the first one without her mom, Mindy is determined to enjoy the day. She decides to make traditional Korean New Year food, a rice cake soup that's her favorite. But things aren't going quite to plan, and the celebration doesn't feel the same as it did before.
With the help of her family and friends, can Mindy find a way to still enjoy her old holiday traditions, and create new ones along the way?
Bread for Words: A Frederick Douglass Story by Shana Keller, Kayla Stark Ages 6 – 9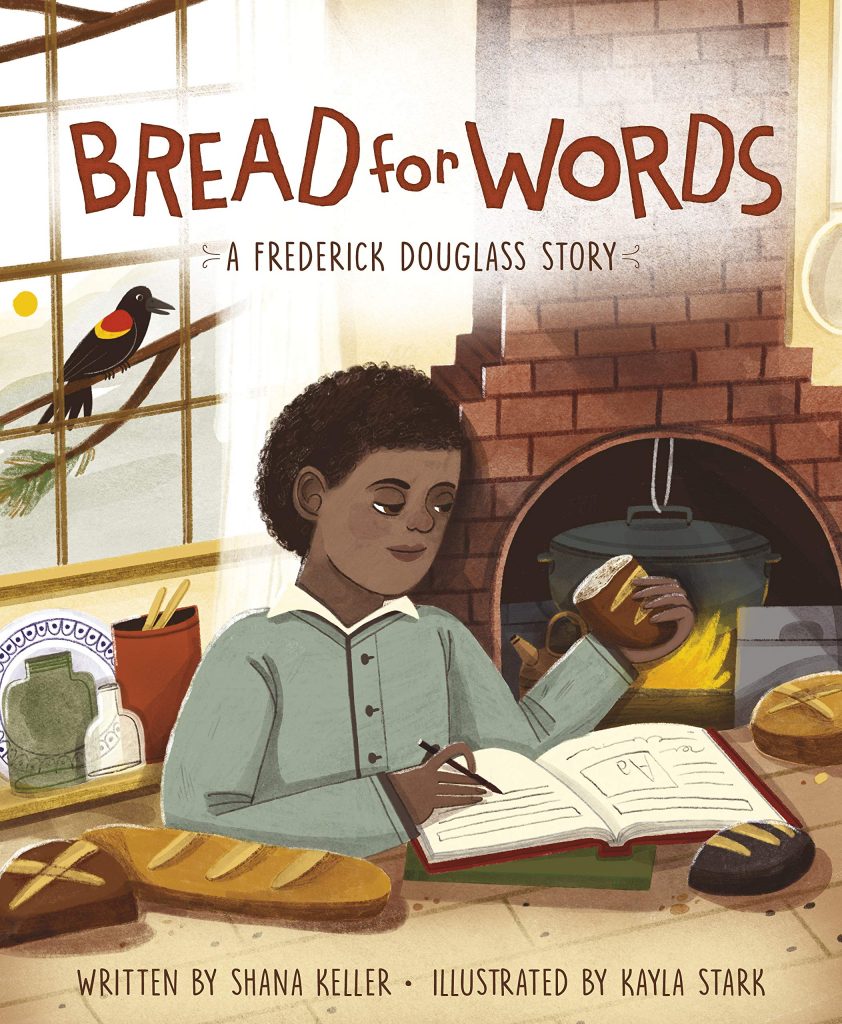 Frederick Douglass knew where he was born but not when. He knew his grandmother but not his father. And as a young child, there were other questions, such as Why am I a slave? Answers to those questions might have eluded him but Douglass did know for certain that learning to read and to write would be the first step in his quest for freedom and his fight for equality. Told from first-person perspective, this picture-book biography draws from the real-life experiences of a young Frederick Douglass and his attempts to learn how to read and write.
Yasmin the Writer by Saadia Faruqi (Author), Hatem Aly (Illustrator) Ages 5 – 8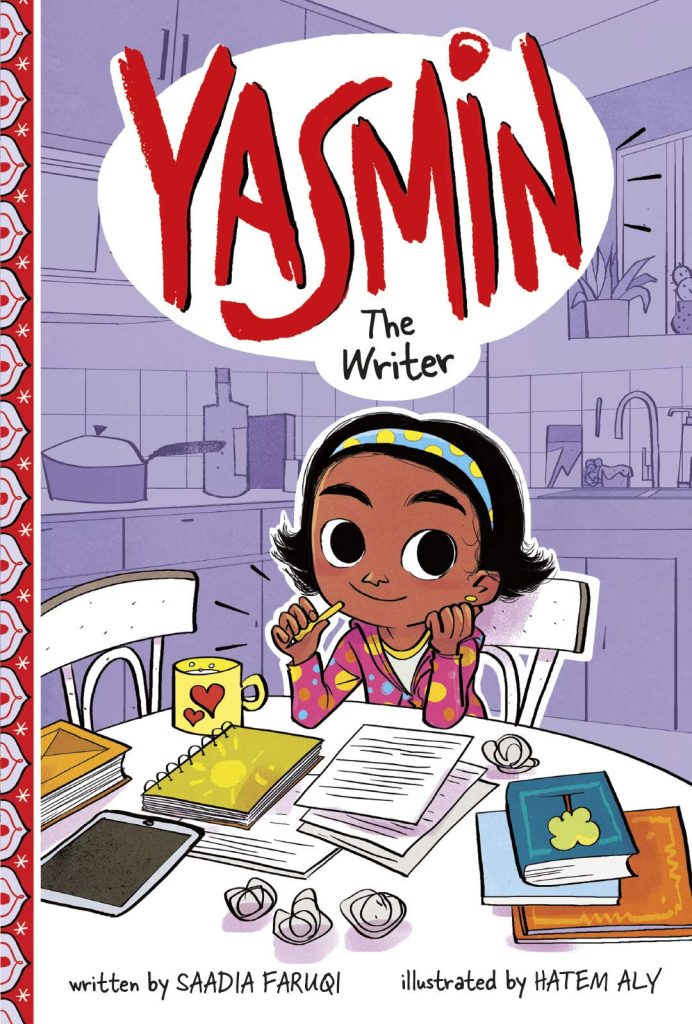 Ms. Alex has assigned Yasmin's class to write about their heroes. Yasmin loves to write, but she can't decide who her hero is. After dismissing lots of ideas, could it be that Yasmin's hero has been right beside her all along?
Michelle Obama: First Lady and Superhero: I Can Read Level 1 by Sarah Howden (Author), Nick Craine (Illustrator) Ages 5 – 6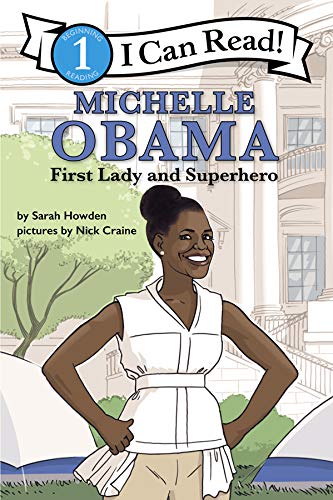 Invited to camp out on the White House front lawn during a special Girl Scouts trip, young Darlene is supported by her friend, Sam, as she tries to scramble up the courage to demonstrate her knot-tying skills to First Lady Michelle Obama.
Hosea Plays On by Kathleen M. Blasi (Author), Shane W. Evans (Illustrator) Ages 3 – 9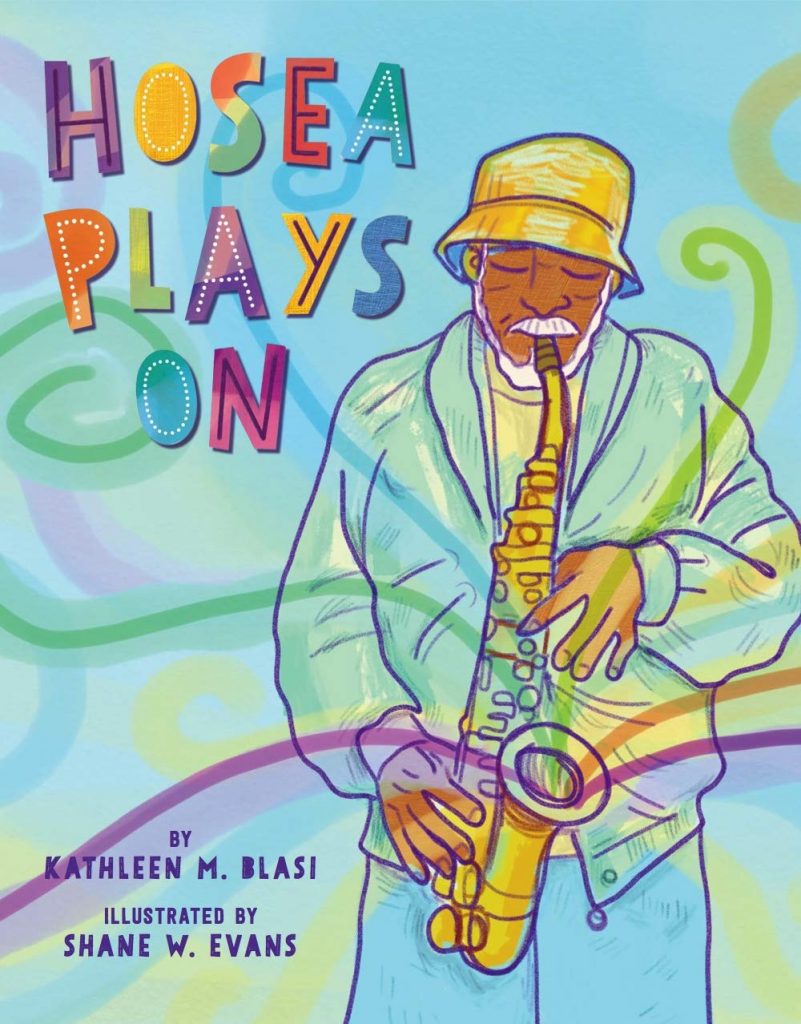 This heartwarming picture book (based on a true story) depicts a day in the life of Hosea Taylor, a musician who—with his charm, talent, and generosity—brought joy to everyone he met.  Every day, Hosea takes the Number 42 bus into the city to play his shiny brass saxophone—and to hopefully earn enough money. Setting up in his favorite place, Hosea makes sweet music as people greet him with a smile, a little girl dances, and crowds surround him. A surprise ending reveals what the money is really for.
Farah Rocks Fifth Grade by Susan Muaddi Darraj (Author), Ruaida Mannaa (Illustrator) Ages 8 – 12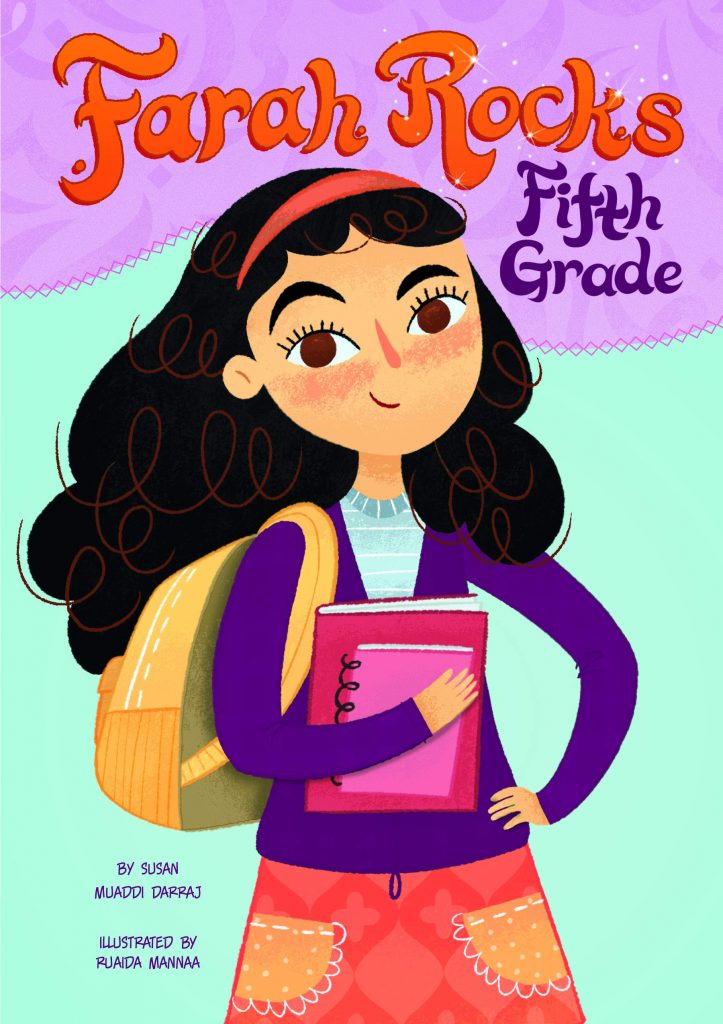 Farah and her best friend, Allie Liu, are getting excited to turn in their applications to the Magnet Academy, where they both hope to attend sixth grade. But when new girl Dana Denver shows up, Farah's world is turned upside down. As Dana starts bullying Farah's little brother, Samir, Farah begins to second-guess her choice to leave him behind at Harbortown Elementary/Middle School. Determined to handle it on her own, Farah comes up with a plan–a plan that involves lying to those closest to her. Will her lies catch up with her, or can Farah find a way to defeat the bully and rock fifth grade?
Stella Diaz Never Gives Up by Angela Dominguez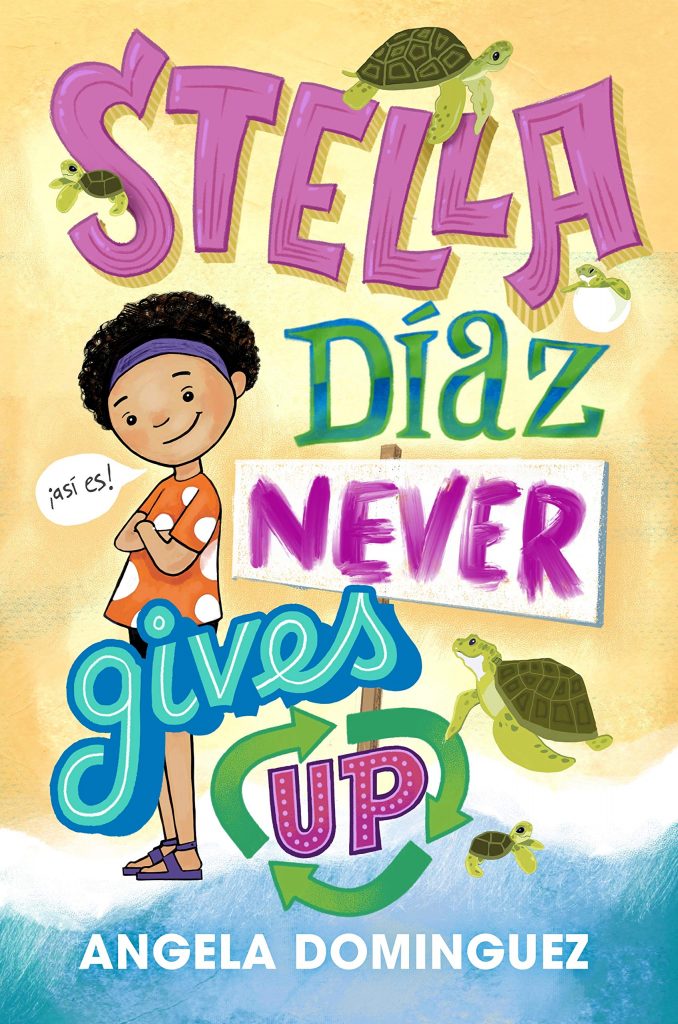 Stella gets a big surprise when her mom plans a trip to visit their family in Mexico! Stella loves marine animals, and she can't wait to see the ocean for the first time . . . until she arrives and learns that the sea and its life forms are in danger due to pollution.  Stella wants to save the ocean, but she knows she can't do it alone. It's going to take a lot of work and help from old and new friends to make a difference, but Stella Díaz never gives up!
Brave. Black. First.: 50+ African American Women Who Changed the World by Cheryl Willis Hudson (Author), Erin K. Robinson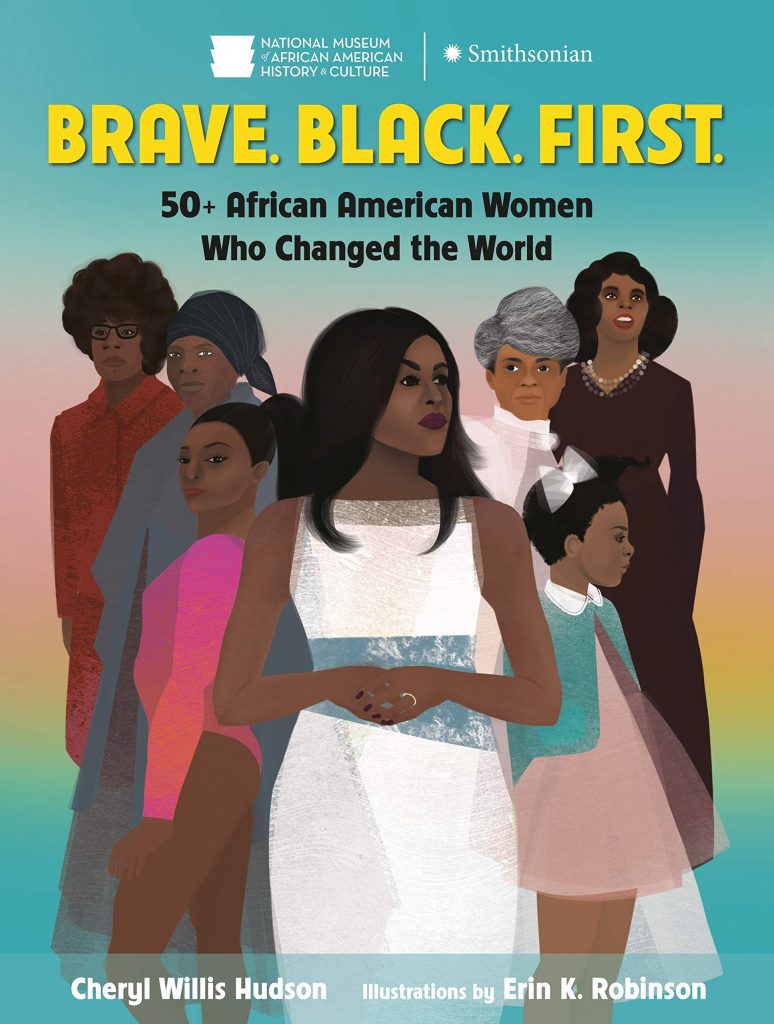 Published in partnership with curators from the Smithsonian National Museum of African American History and Culture, this illustrated biography compilation captures the iconic moments of fifty African American women whose heroism and bravery rewrote the American story for the better.
Making Their Voices Heard: The Inspiring Friendship of Ella Fitzgerald and Marilyn Monroe by Vivian Kirkfield, Alleanna Harris Ages 4 – 8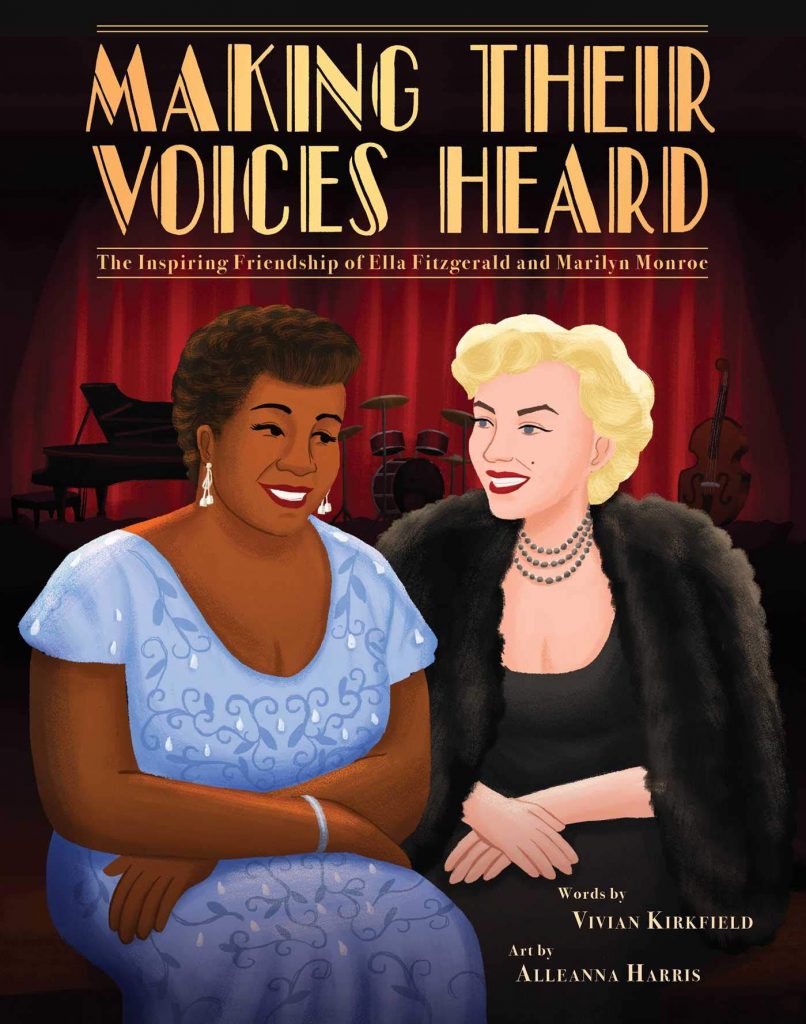 Two women whose voices weren't being heard. Two women chasing after their dreams and each helping the other to achieve them. This is the inspiring, true story of two incredibly talented women who came together to help each other shine like the stars that they are.
Say Her Name by Zetta Elliott, Loveis Wise (Ages 12 and up)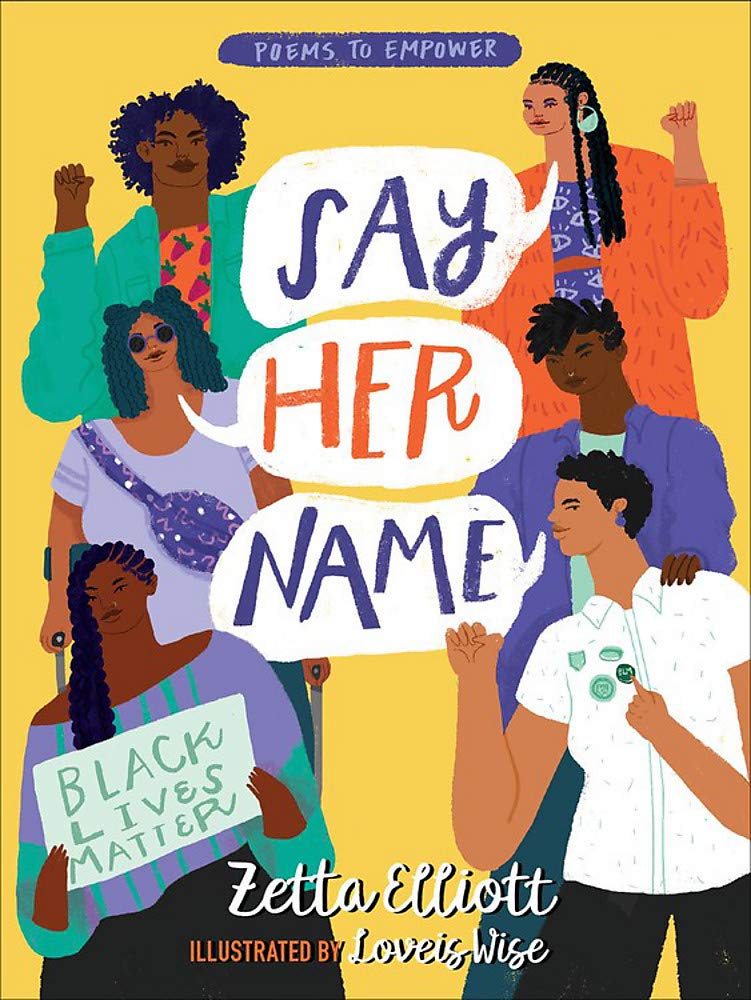 Inspired by the #SayHerName campaign launched by the African American Policy Forum, these poems pay tribute to victims of police brutality as well as the activists insisting that Black Lives Matter. Elliott engages poets from the past two centuries to create a chorus of voices celebrating the creativity, resilience, and courage of Black women and girls.
This collection features forty-nine powerful poems, four of which are tribute poems inspired by the works of Lucille Clifton, Audre Lorde, Nikki Giovanni, and Phillis Wheatley.
A Voice Named Aretha by Katheryn Russell-Brown (Author), Laura Freeman (Illustrator)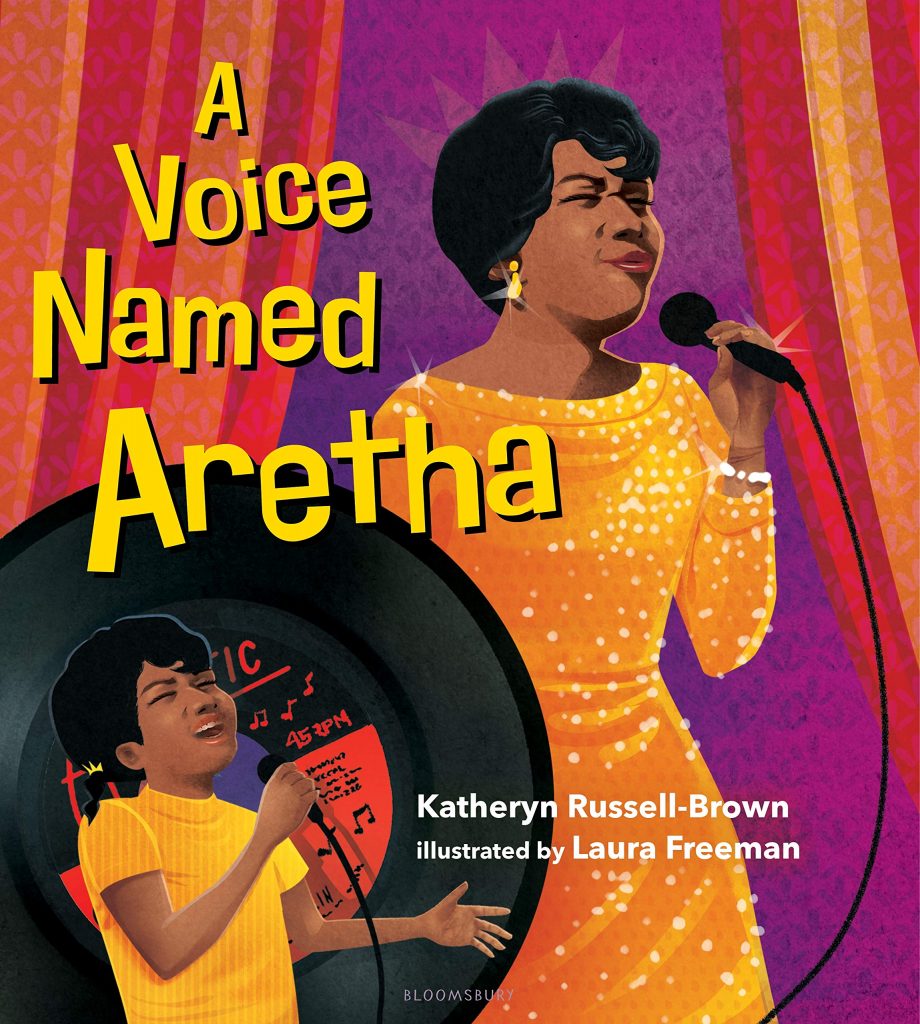 From acclaimed author and illustrator pairing comes a beautiful picture book biography about the Queen of Soul Aretha Franklin and how she fought for respect throughout her life.  Aretha Franklin is the Queen of Soul, a legend. But before she became a star, she was a shy little girl with a voice so powerful it made people jump up, sway, and hum along.
Not So Pure and Simple by Lamar Giles (Ages 14 and up)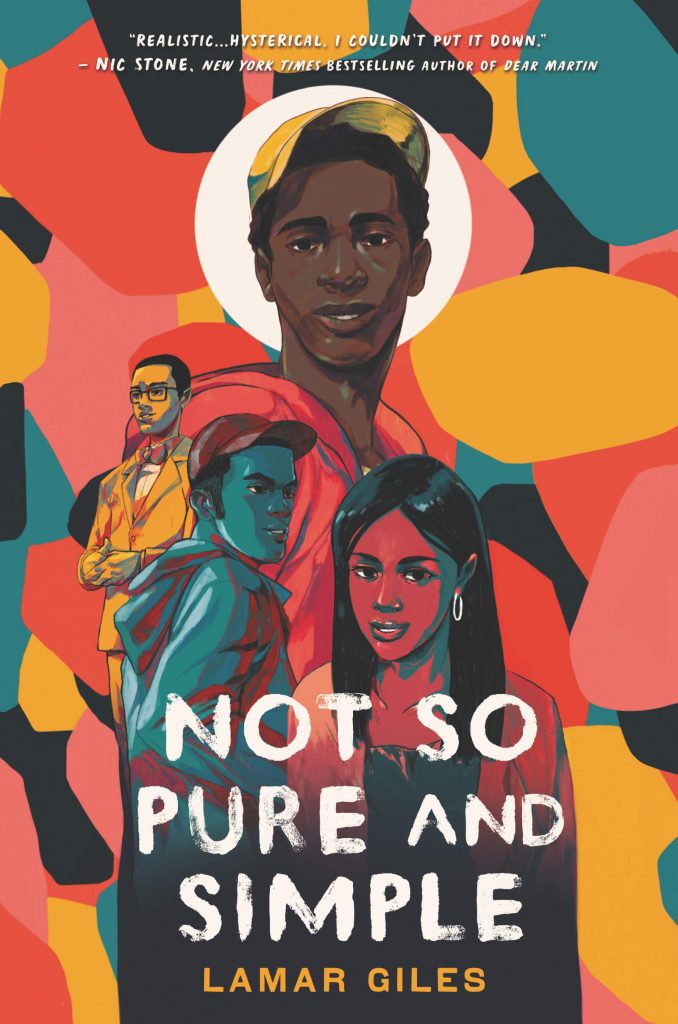 In his first contemporary teen novel, critically acclaimed author and two-time Edgar Award finalist Lamar Giles spotlights the consequences of societal pressure, confronts toxic masculinity, and explores the complexity of what it means to be a "real man."
By and By: Charles Albert Tindley, the Father of Gospel Music by Carole Boston Weatherford and Bryan Collier (Ages 4 – 8)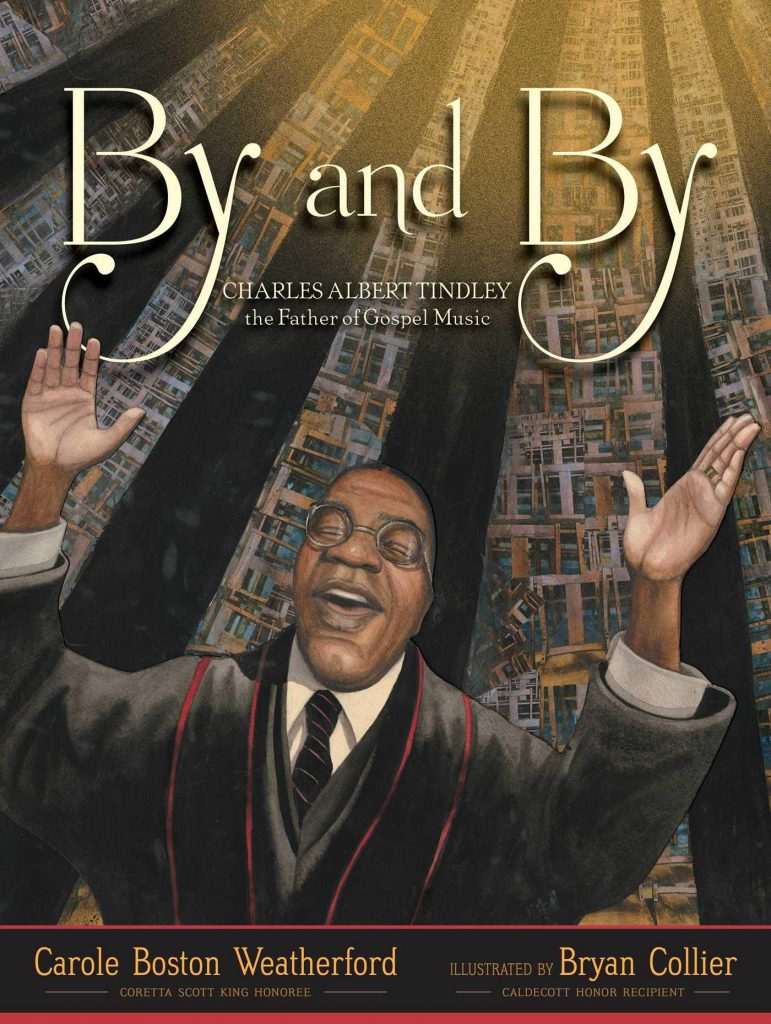 At a time when most African Americans were still enslaved, Charles Tindley was born free. His childhood was far from easy, with backbreaking hours in the fields, and no opportunity to go to school. But the spirituals he heard as he worked made him long to know how to read the Gospel for himself. Late at night, he taught himself to read from scraps of newspapers. From those small scraps, young Charles raised himself to become a founding father of American gospel music whose hymn was the basis for the Civil Rights anthem "We Shall Overcome."
Dream Builder: The Story of Architect Philip Freelon by Kelly Starling Lyons, Laura Freeman (Illustrator) Ages 9 – 12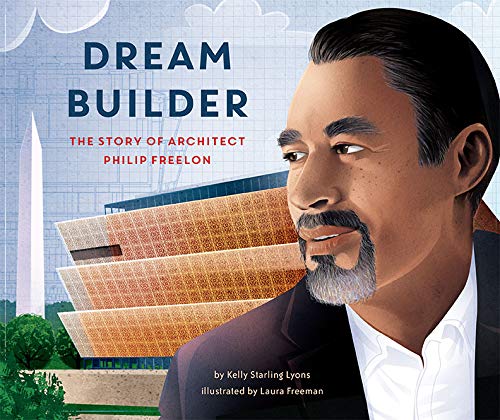 Dream Builder: The Story of Architect Philip Freelon celebrates a contemporary black STEAM role model, a man whose quiet work enabled the creation of an iconic building reflecting America's past and future. With a stirring text by Kelly Starling Lyons, vibrant pictures by Laura Freeman, and an afterword from Philip Freelon himself, it is sure to inspire the next generation of dreamers and builders.
Patricia's Vision: The Doctor Who Saved Sight by Michelle Lord (Author), Alleanna Harris (Illustrator) Ages 5 and up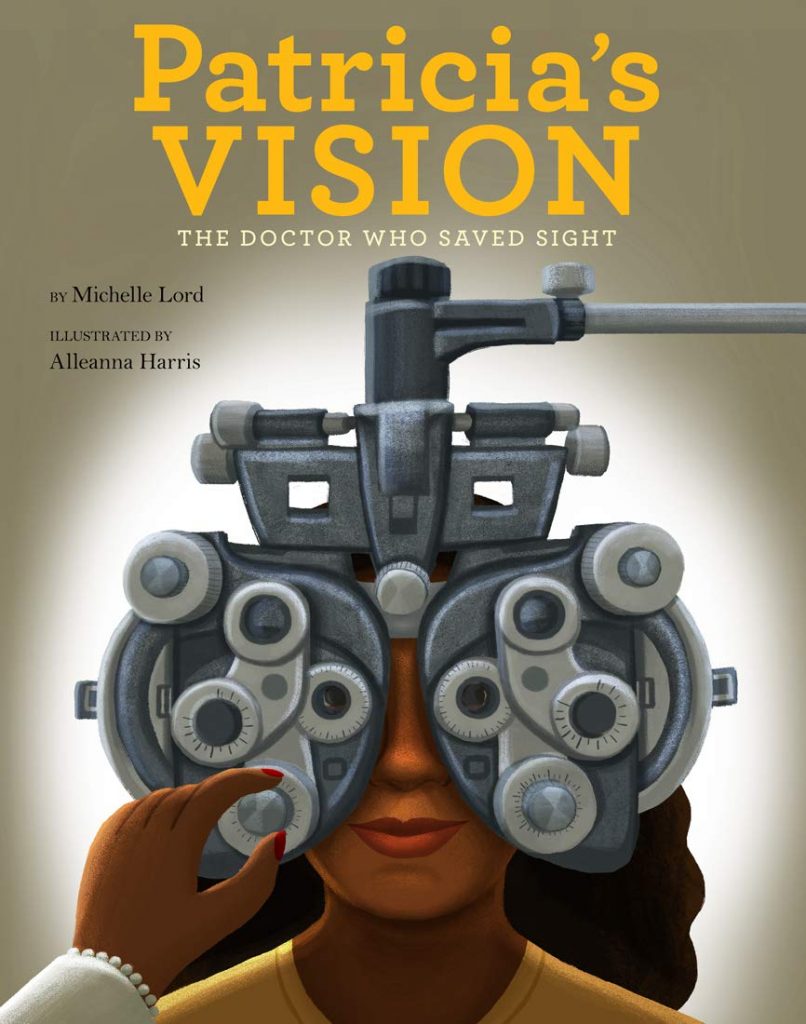 Born in the 1940s, Patricia Bath dreamed of being an ophthalmologist at a time when becoming a doctor wasn't a career option for most women—especially African-American women. This empowering biography follows Dr. Bath in her quest to save and restore sight to the blind, and her decision to "choose miracles" when everyone else had given up hope. Along the way, she cofounded the American Institute for the Prevention of Blindness, invented a specialized laser for removing cataracts, and became the first African-American woman doctor to receive a medical patent.
Leaving Lymon by Lesa Cline-Ransome Ages 8 – 12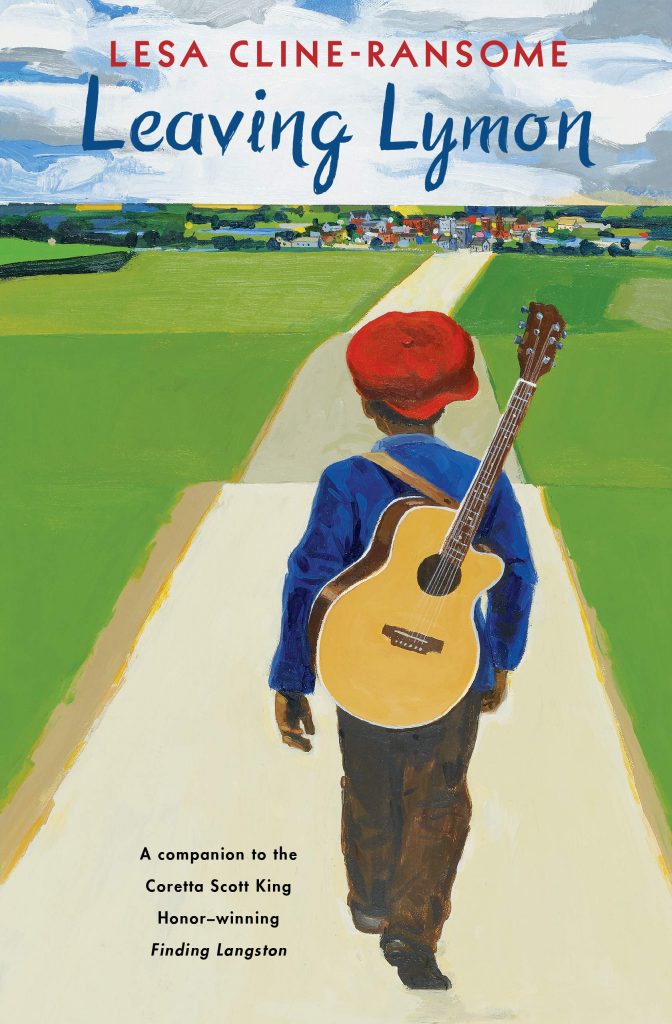 Lymon's father is, for the time being, at Parchman Farm–the Mississippi State Penitentiary–and his mother, whom he doesn't remember all that much, has moved North. Fortunately, Lymon is being raised by his loving grandparents. Together, Lymon and his grandpops share a love of music, spending late summer nights playing the guitar.
The Amazing Life of Azaleah Lane by Nikki Shannon Smith (Author), Mari Lobo (Illustrator) Ages 6 – 8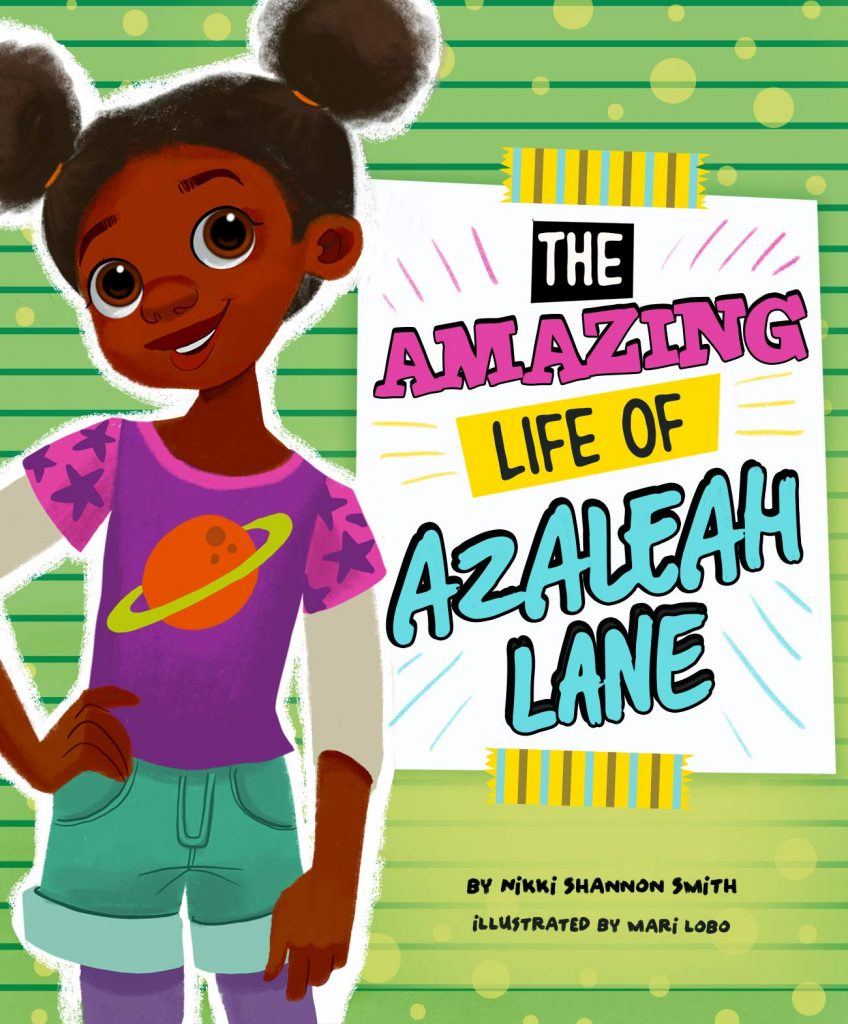 Azaleah can't wait for her class field trip to the National Zoo in Washington D.C., especially when her teacher announces the chance to earn extra credit. But when Azaleah gets home, she quickly realizes extra credit isn't as easy as she thought. Azaleah's younger sister Tiana can't find Greenie, her stuffed animal, and she's sure he's been stolen. With Mama at the restaurant and Daddy at work on a big case, it seems Azaleah is the only one available to track down the stolen stuffie. Can Azaleah get to the bottom of the mystery in time to finish her extra credit?
Mamie on the Mound: A Woman in Baseball's Negro Leagues by Leah Henderson (Author), George Doutsiopoulos (Illustrator) Ages 8 – 12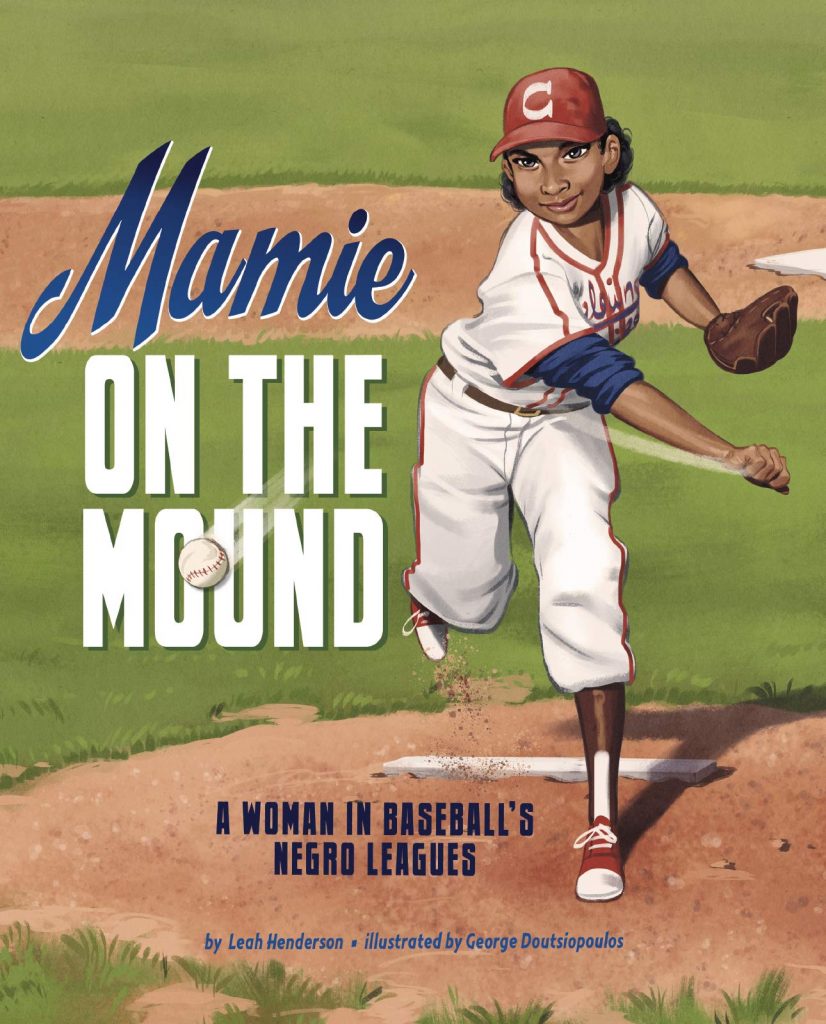 Mamie "Peanut" Johnson had one dream: to play professional baseball. She was a talented player, but she wasn't welcome in the segregated All-American Girls Pro Baseball League due to the color of her skin. However, a greater opportunity came her way in 1953 when Johnson signed to play ball for the Negro Leagues' Indianapolis Clowns, becoming the first female pitcher to play on a men's professional team. During the three years she pitched for the Clowns, her record was an impressive 33-8. But more importantly, she broke ground for other female athletes and for women everywhere.
The Power of Her Pen: The Story of Groundbreaking Journalist Ethel L. Payne by Lesa Cline-Ransome, John Parra (Ages 4 – 8)


Ethel Payne always had an ear for stories. Seeking truth, justice, and equality, Ethel followed stories from her school newspaper in Chicago to Japan during World War II. It even led her to the White House briefing room, where she broke barriers as the only black female journalist. Ethel wasn't afraid to ask the tough questions of presidents, elected officials, or anyone else in charge, earning her the title, "First Lady of the Black Press."
The Oldest Student: How Mary Walker Learned to Read by Rita Lorraine Hubbard, illustrated by Oge Mora (Ages 4-8)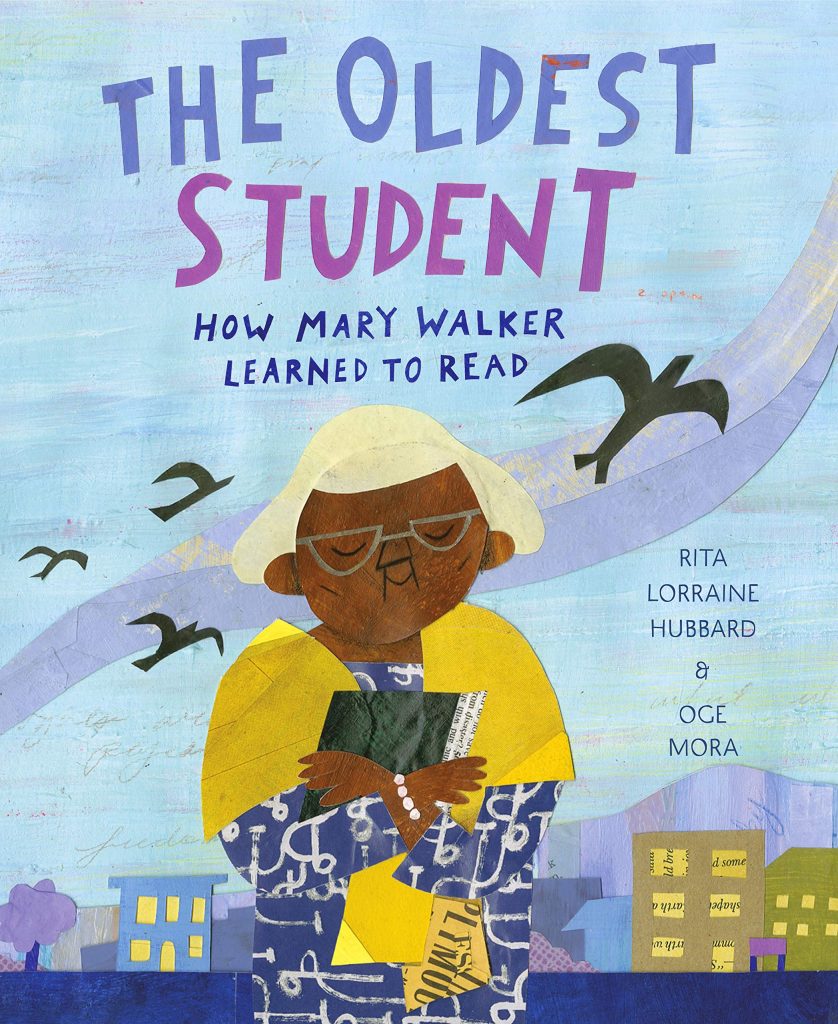 In 1848, Mary Walker was born into slavery. At age 15, she was freed, and by age 20, she was married and had her first child. By age 68, she had worked numerous jobs, including cooking, cleaning, babysitting, and selling sandwiches to raise money for her church. At 114, she was the last remaining member of her family. And at 116, she learned to read. From Rita Lorraine Hubbard and rising star Oge More comes the inspirational story of Mary Walker, a woman whose long life spanned from the Civil War to the Civil Rights Movement, and who–with perseverance and dedication–proved that you're never too old to learn.
Lizzie Demands a Seat: Elizabeth Jennings Fights for Street Car Rights by Beth Anderson, E.B. Lewis Ages 7-10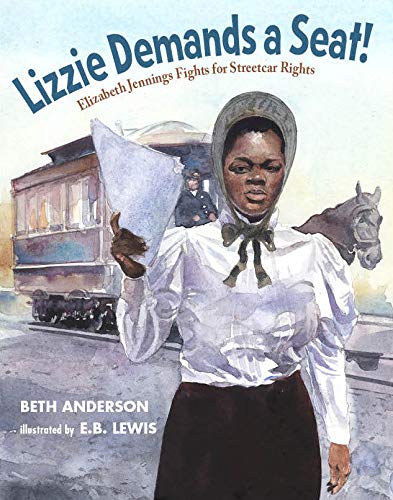 One hundred years before Rosa Parks took her stand, Elizabeth "Lizzie" Jennings tried to board a streetcar in New York City on her way to church. Though there were plenty of empty seats, she was denied entry, assaulted, and threatened all because of her race–even though New York was a free state at that time. Lizzie decided to fight back. She told her story, took her case to court–where future president Chester Arthur represented her–and won! Her victory was the first recorded in the fight for equal rights on public transportation, and Lizzie's case set a precedent.
Ana & Andrew: The Perfect Pet by Christine Platt, illustrated by Junissa Bianda Ages 5 – 7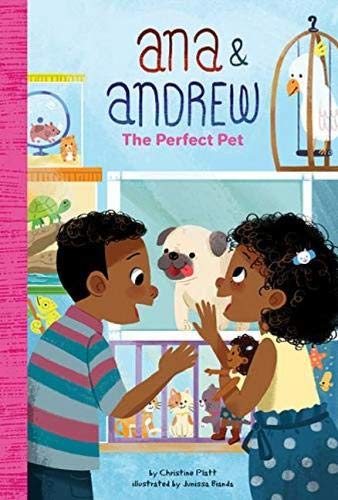 Ana & Andrew are getting a new pet! They research different pets before choosing the best pet for their family. Then they pick a name for it! With the name Ana & Andrew choose, they learn from a famous African American that skin color does not affect a persons abilities.
Ana & Andrew: Going to Ghana by Christine Platt, illustrated by Junissa Bianda Ages 3 – 7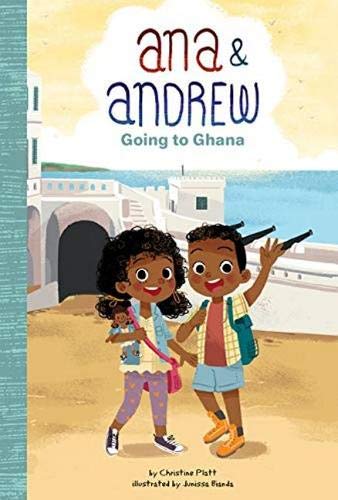 Ana & Andrew are going to Ghana! Papa is travelling to Ghana and the family gets to go too! Ana & Andrew love learning about Ghanaian culture, especially the food! While there, they visit Cape Coast Castle to honor their ancestors. There, they learn about the origins of the slave trade.
Ana & Andrew: The Magic Violin by Christine Platt, illustrated by Junissa Bianda Ages 3 – 7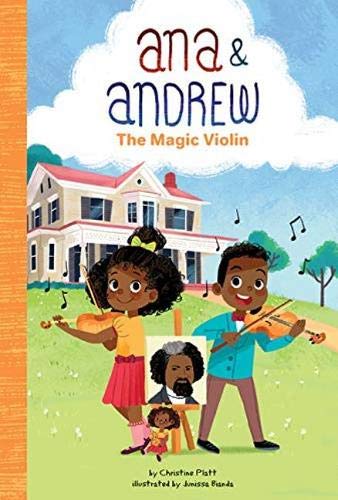 Ana & Andrew are learning to play the violin! They are excited to join the youth orchestra. At first it is fun. But when they start to lose interest, Ana & Andrew learn from an important African American about the importance of practicing.
Brown Baby Lullaby by Tameka Fryer Brown, illustrated by AG Ford (Ages 2 – 6)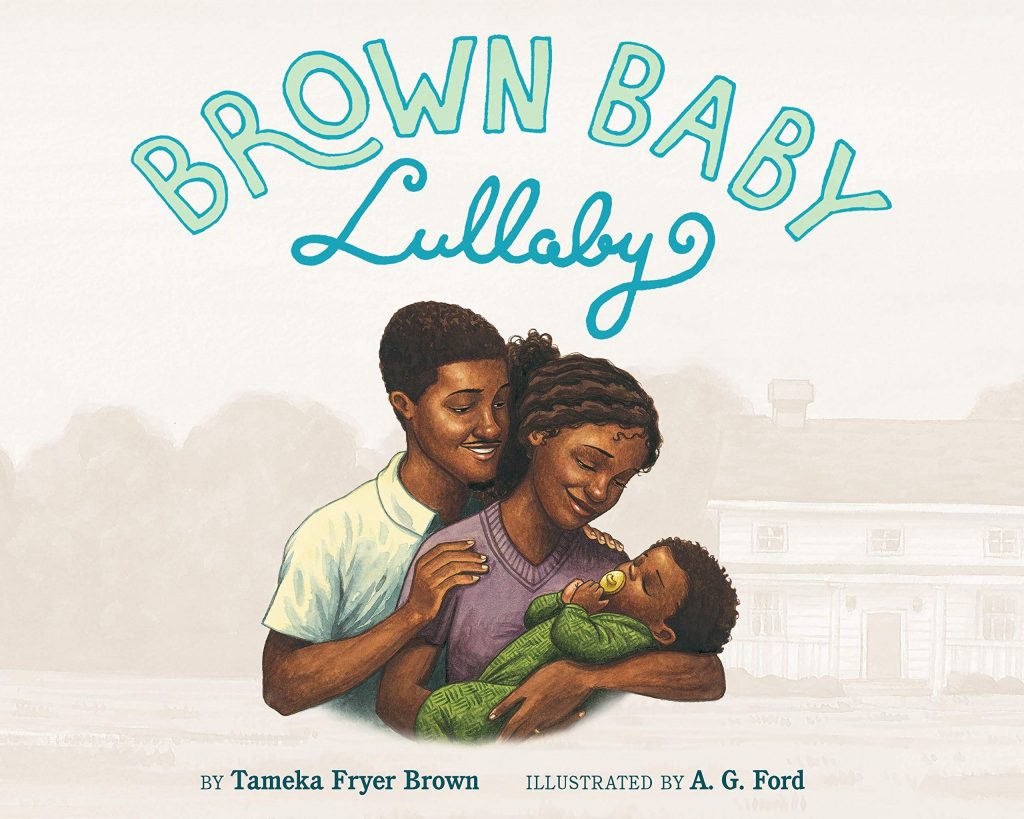 From sunset to bedtime, two brown-skinned parents lovingly care for their beautiful brown baby: first, they play outside, then it is time for dinner and a bath, and finally a warm snuggle before bed.
Ready to Fly: How Sylvia Townsend Became a Bookmobile Ballerina by Lea Lyon & Alexandria LaFaye, illustrated by Jessica Gibson Ages ( – )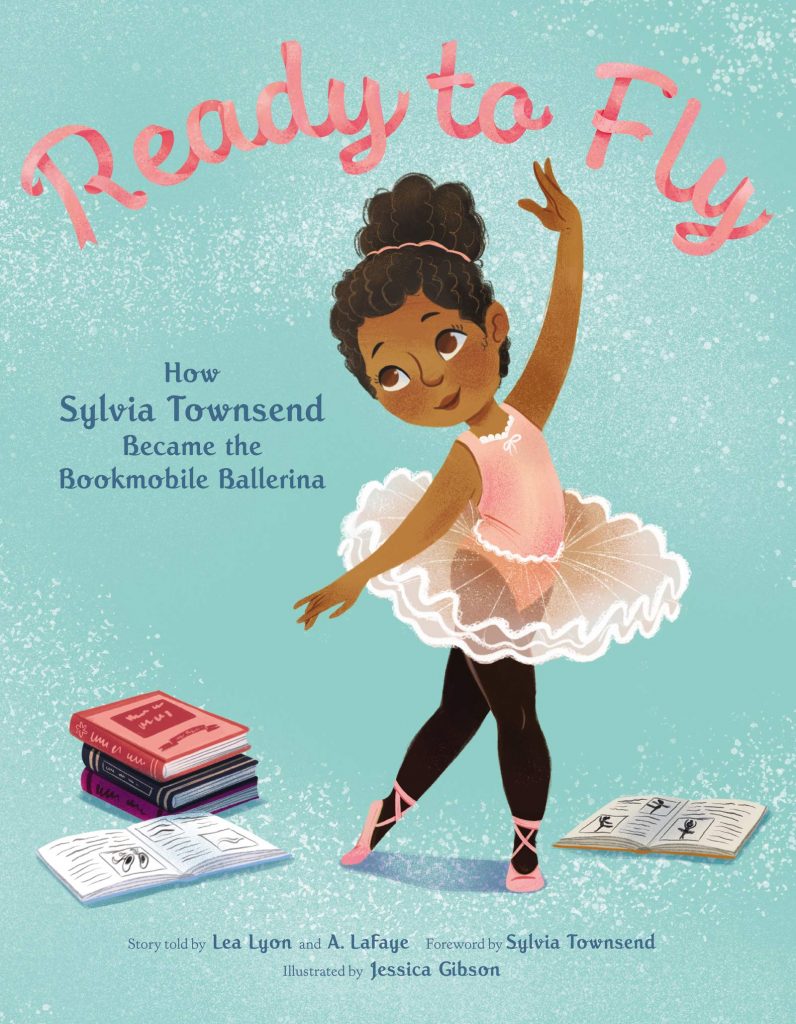 This beautiful first-ever biography of Sylvia Townsend tells the story of how one determined girl got her wings by discovering the magic of the bookmobile, keeping the beat in her feet, and staying on her tippy-toes . . . always ready for liftoff.
Just Like Me by Vanessa Brantley-Newton (Ages 4 – 8)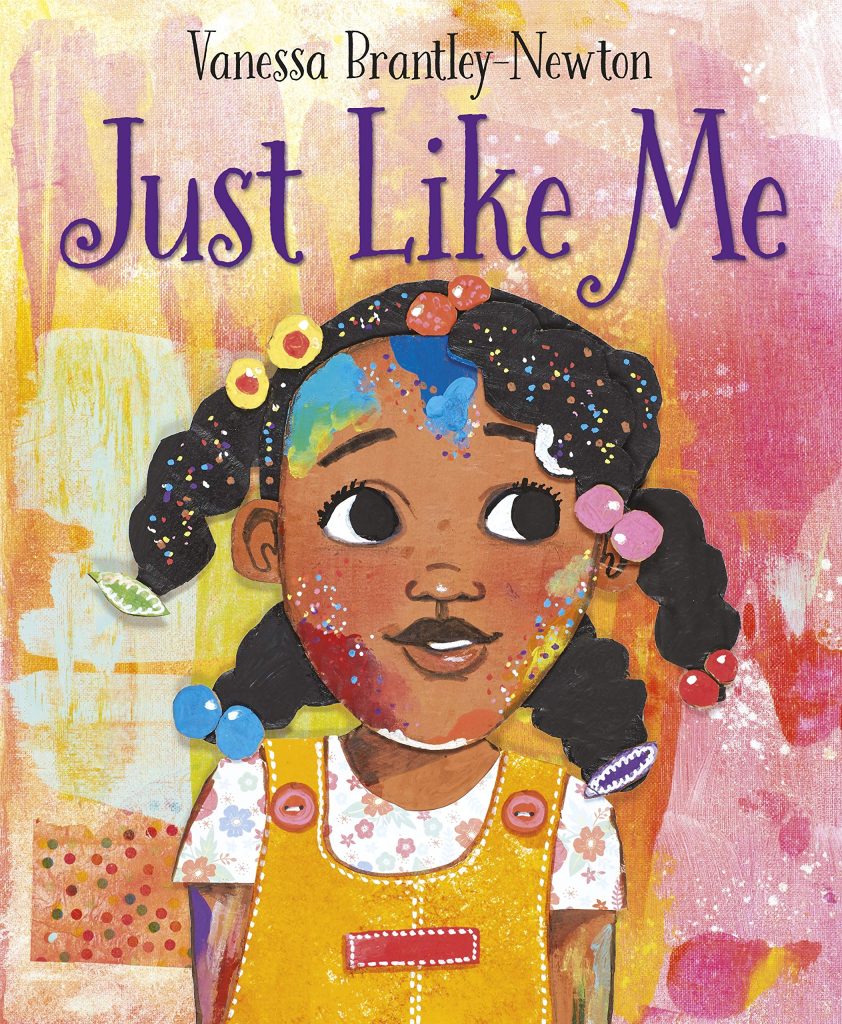 A collection of poetry filled with engaging mini-stories about girls of all kinds: girls who feel happy, sad, scared, powerful; girls who love their bodies and girls who don't; country girls, city girls; girls who love their mother and girls who wish they had a father. With bright portraits in Vanessa's signature style of vibrant colors and unique patterns and fabrics, this book invites readers to find themselves and each other within its pages.
Just Like a Mama by Alice Faye Duncan, illustrated by Charnelle Pinkney Barlow Ages (4-8)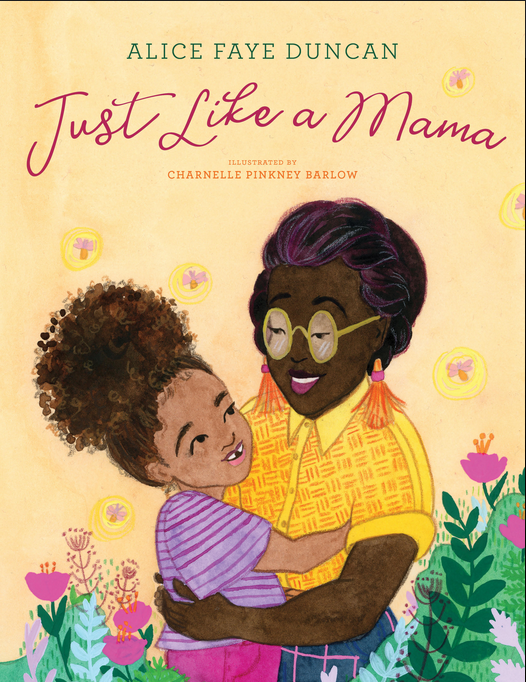 Carol Olivia Clementine lives with Mama Rose. Mama Rose is tender and sweet—everything a child could wish for in a parent. But she is also as stern and demanding as any good parent should be. In the midst of their happy home, Carol Olivia Clementine misses her mother and father. While she longs to be with them, she also learns to embrace the love that is present. Mama Rose becomes her "home." And Carol Olivia Clementine concludes that she loves Mama Rose "just like a mama."
Overground Railroad by Lesa Cline-Ransome, James E. Ransome Ages 4 – 8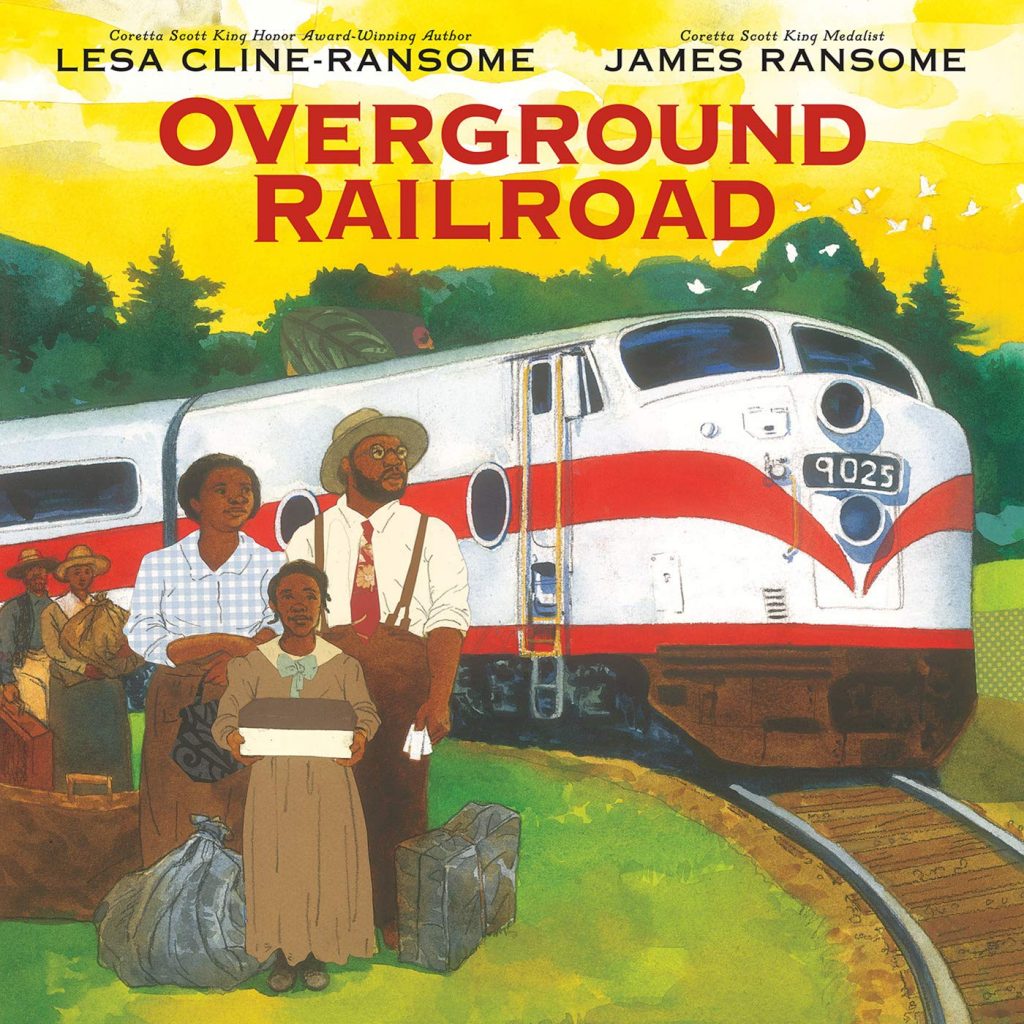 In poems, illustrated with collage art, a perceptive girl tells the story of her train journey from North Carolina to New York City as part of the Great Migration. Each leg of the trip brings new revelations as scenes out the window of folks working in fields give way to the Delaware River, the curtain that separates the colored car is removed, and glimpses of the freedom and opportunity the family hopes to find come into view.
Bedtime for Sweet Creatures by Nikki Grimes, illustrated by Elizabeth Zunon Ages (4-8)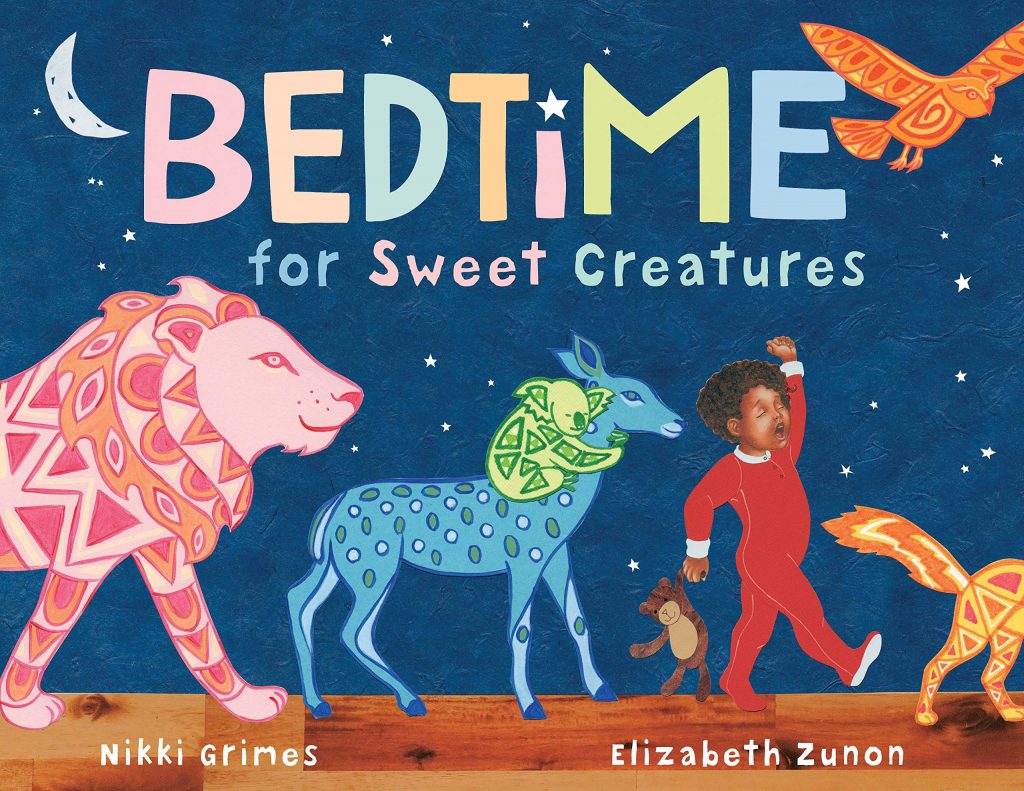 Earth Hour: A Lights-Out Event for Our Planet by Nanette Heffernan, illustrated by Bao Luu  (Ages 3- 7)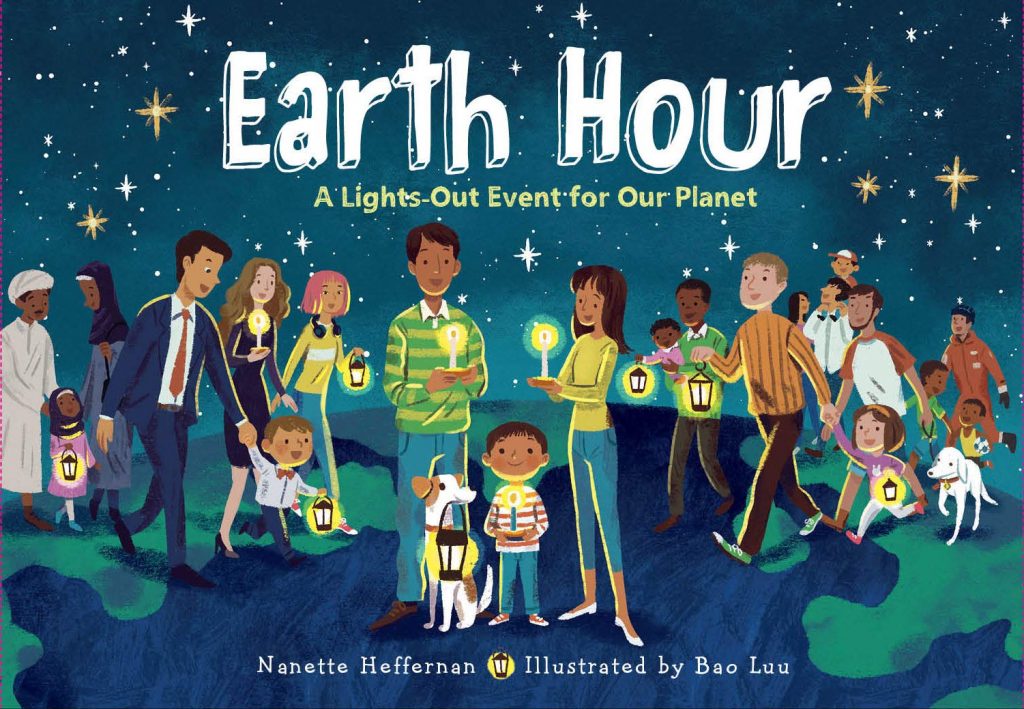 Kids around the world use electric energy to do all kinds of things–adults do, too! From cleaning the clothes we play in, to lighting up our dinner tables, to keeping us warm and toasty when the weather is cold, electricity is a huge part of our lives. Unfortunately, it can also have a big impact on our planet.
Earth Hour–a worldwide movement in support of energy conservation and sustainability–takes place each March and is sponsored by the World Wildlife Fund for Nature (WWF). During Earth Hour, individuals, communities, and businesses in more than 7,000 cities turn off nonessential electric lights for one hour. Across each continent–from the Eiffel Tower to the Great Wall of China to the Statue of Liberty–one small act reminds all of us of our enormous impact on planet Earth.
A Ride to Remember: A Civil Rights Story by Sharon Langley (Author), Amy Nathan (Author), Floyd Cooper (Illustrator) Ages 6-9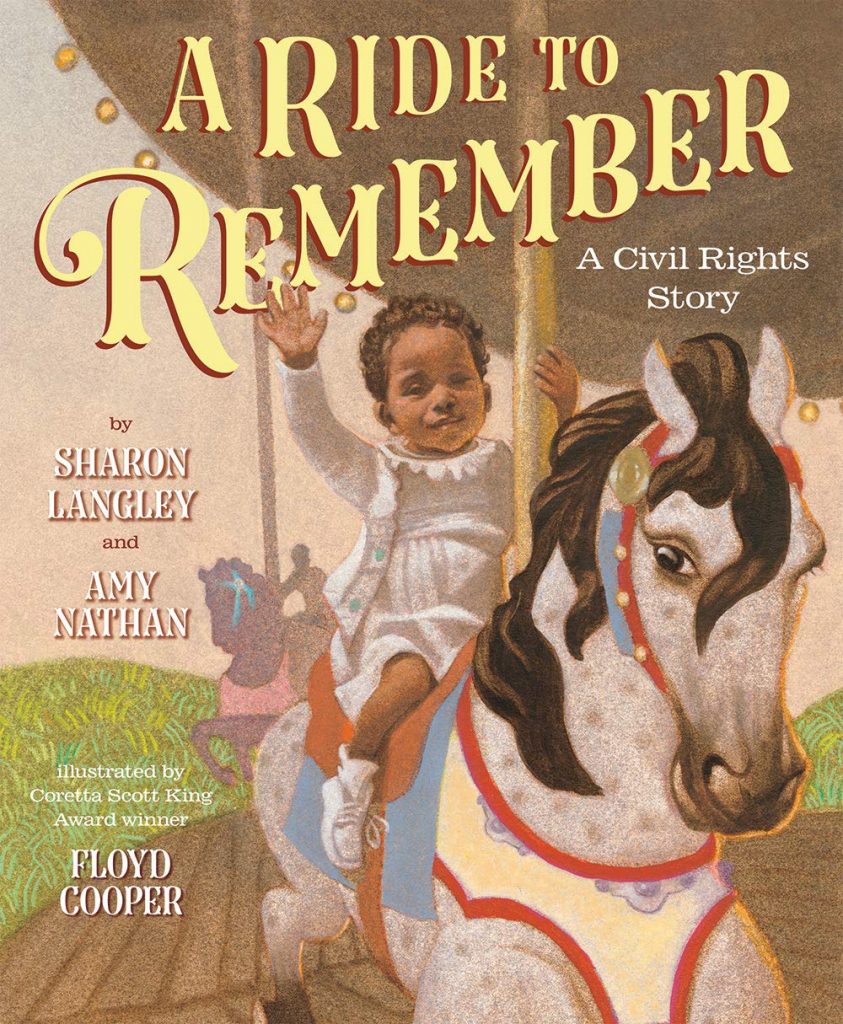 A Ride to Remember tells how a community came together—both black and white—to make a change. When Sharon Langley was born in the early 1960s, many amusement parks were segregated, and African-American families were not allowed entry. This book reveals how in the summer of 1963, due to demonstrations and public protests, the Gwynn Oak Amusement Park in Maryland became desegregated and opened to all for the first time.
This Book Is Anti-Racist: 20 Lessons On How to Wake Up, Take Action and Do the Work by Tiffany Jewell, illustrated by Aurelia Durand (Ages 11 – 15)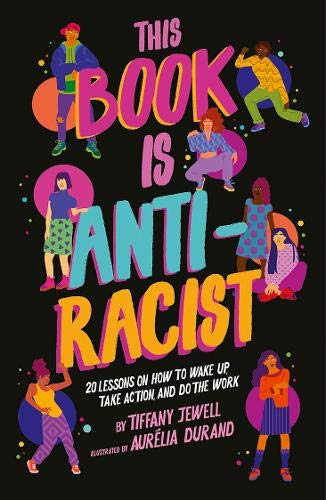 Gain a deeper understanding of your anti-racist self as you progress through 20 chapters that spark introspection, reveal the origins of racism that we are still experiencing, and give you the courage and power to undo it. Each chapter builds on the previous one as you learn more about yourself and racial oppression. Exercise prompts get you thinking and help you grow with the knowledge.
Harriet Tubman: Sheroes by Christine Platt, Addy Rivera Ages 4 – 9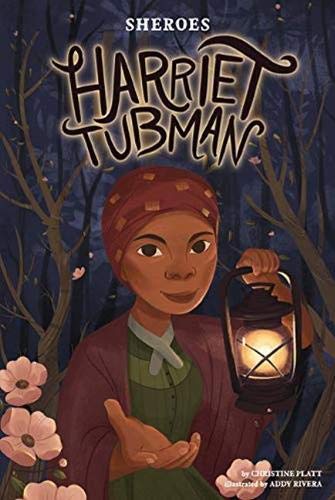 This title introduces readers to Harriet Tubman and how she became a shero to free as many enslaved people as possible through the Underground Railroad.
Are Your Stars Like My Stars? by Leslie Helakoski (Author), Heidi Woodward Sheffield (Illustrator) Ages 4-7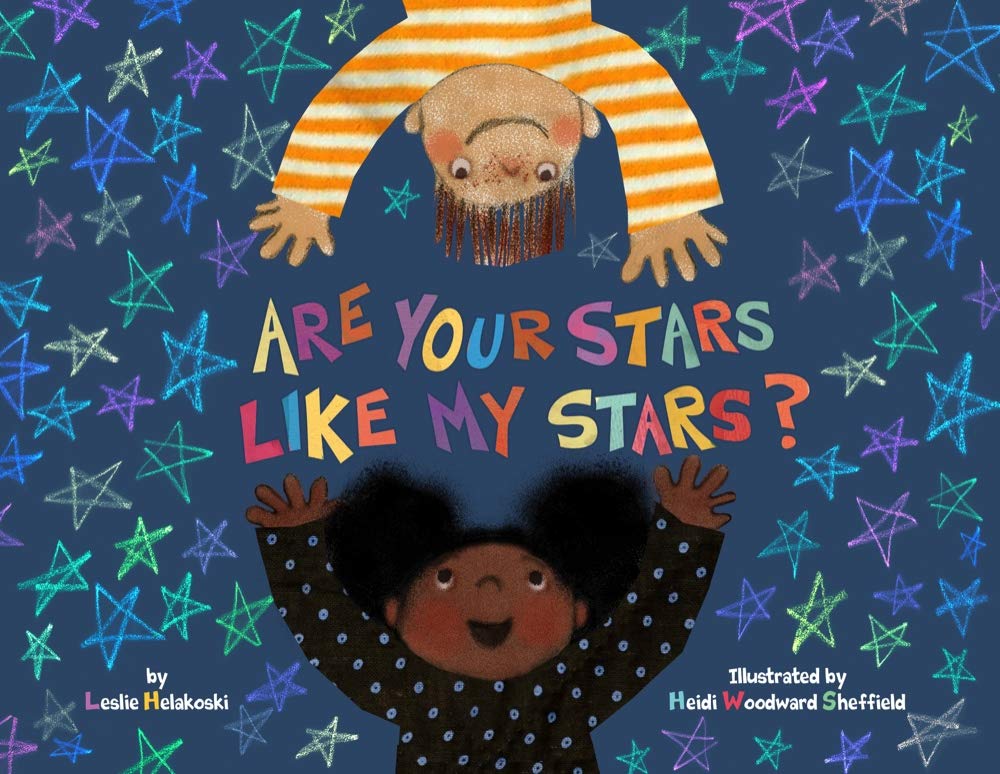 No matter where they live, all children gaze at the blue sky, bask in the warmth of the golden sun, dig in the rich dirt, and watch clouds grow soft and rosy at end of day. Through the eyes of one inquisitive and thoughtful young narrator, young readers explore the idea of perspective, and come to realize that all of us, everywhere, share the colors of the world. The gentle, poetic text and gorgeous collaged illustrations make this just right to say goodnight.
Black Is a Rainbow Color by Angela Joy, Ekua Holmes (Ages 4-8)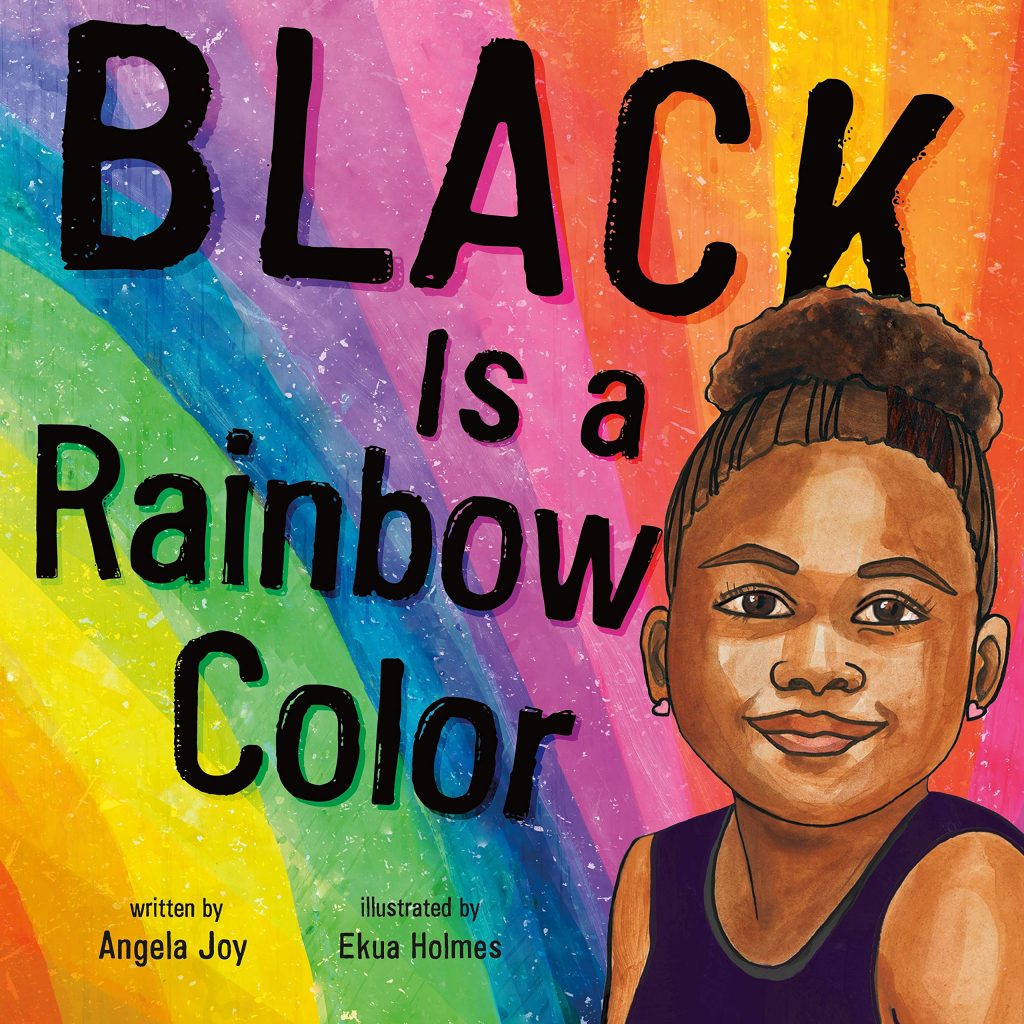 From the wheels of a bicycle to the robe on Thurgood Marshall's back, Black surrounds our lives. It is a color to simply describe some of our favorite things, but it also evokes a deeper sentiment about the incredible people who helped change the world and a community that continues to grow and thrive.
Magnificent Homespun Brown: A Celebration by Samara Cole Doyon (Author), Kaylani Juanita (Illustrator) Ages 5-6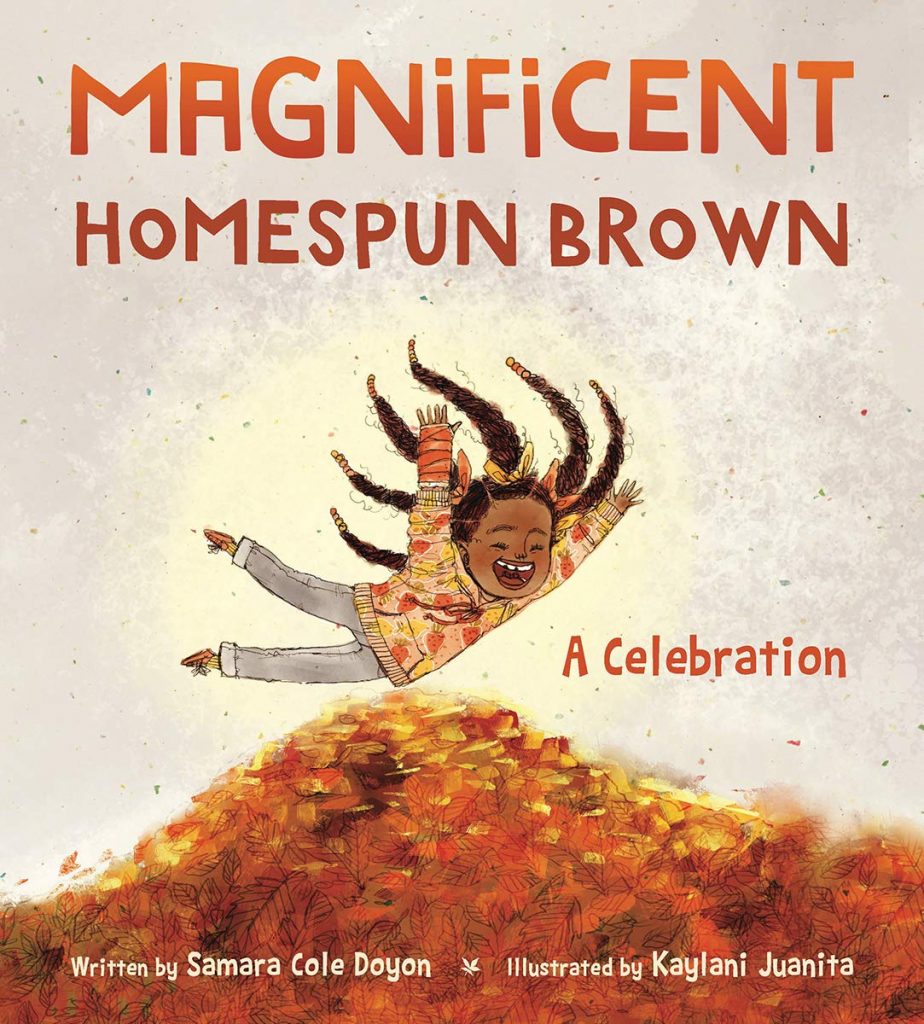 Magnificent Homespun Brown is an exploration of the natural world and family bonds through the eyes of a young, mixed-race narrator―a living, breathing, dazzlingly multi-faceted, exuberant masterpiece, firmly grounded in her sense of self-worth and belonging. This is a story―a poem, a song, a celebration― about feeling at home in your own beloved skin.
Freedom Bird: A Tale of Hope and Courage by Jerdine Nolen, James E. Ransome (Ages 5 – 9)

Brother and sister Millicent and John are slaves on Simon Plenty's plantation and have suffered one hurt and heartbreak after another. Their parents had told them old tales of how their ancestors had flown away to freedom just as free and easy as a bird. Millicent and John hold these stories in their hearts long after their parents are gone. "Maybe such a time will come for you," their parents said. Then one day a mysterious bird appears in their lives. The bird transforms them and gives them the courage to set their plan into motion and escape to freedom.
Saving Savannah by Tonya Bolden (Ages 14 and up)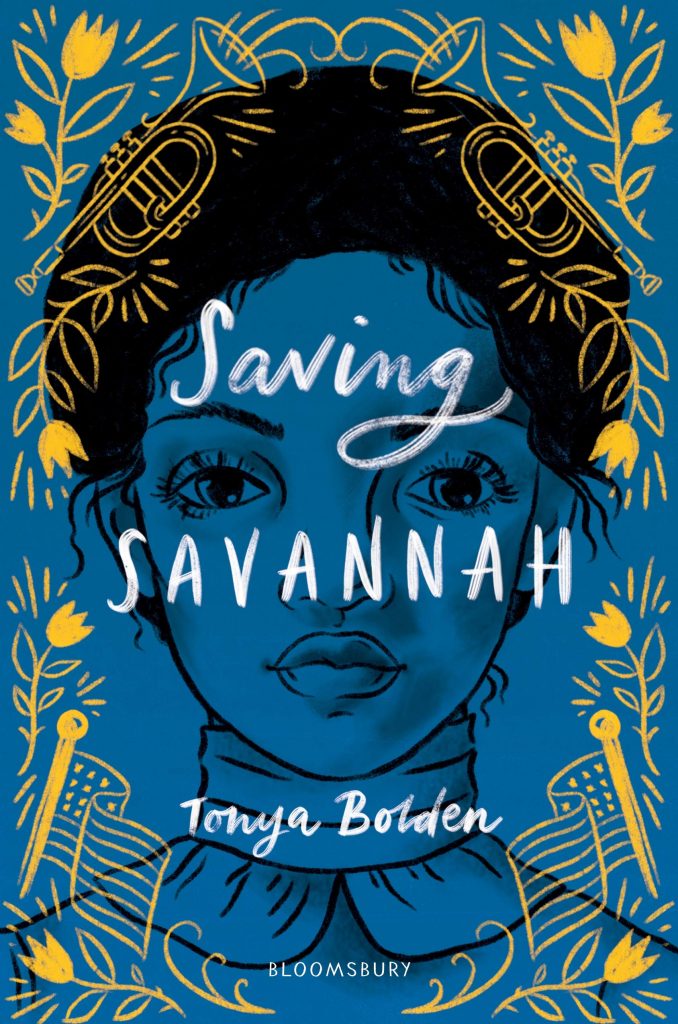 Savannah Riddle is lucky. As a daughter of an upper class African American family in Washington D.C., she attends one of the most rigorous public schools in the nation–black or white–and has her pick among the young men in her set. But lately the structure of her society–the fancy parties, the Sunday teas, the pretentious men, and shallow young women–has started to suffocate her.
Then Savannah meets Lloyd, a young West Indian man from the working class who opens Savannah's eyes to how the other half lives. Inspired to fight for change, Savannah starts attending suffragist lectures and socialist meetings, finding herself drawn more and more to Lloyd's world.
Althea Gibson: The Story of Tennis' Fleet-of-Feet Girl by Megan Reid, Laura Freeman Ages 4-8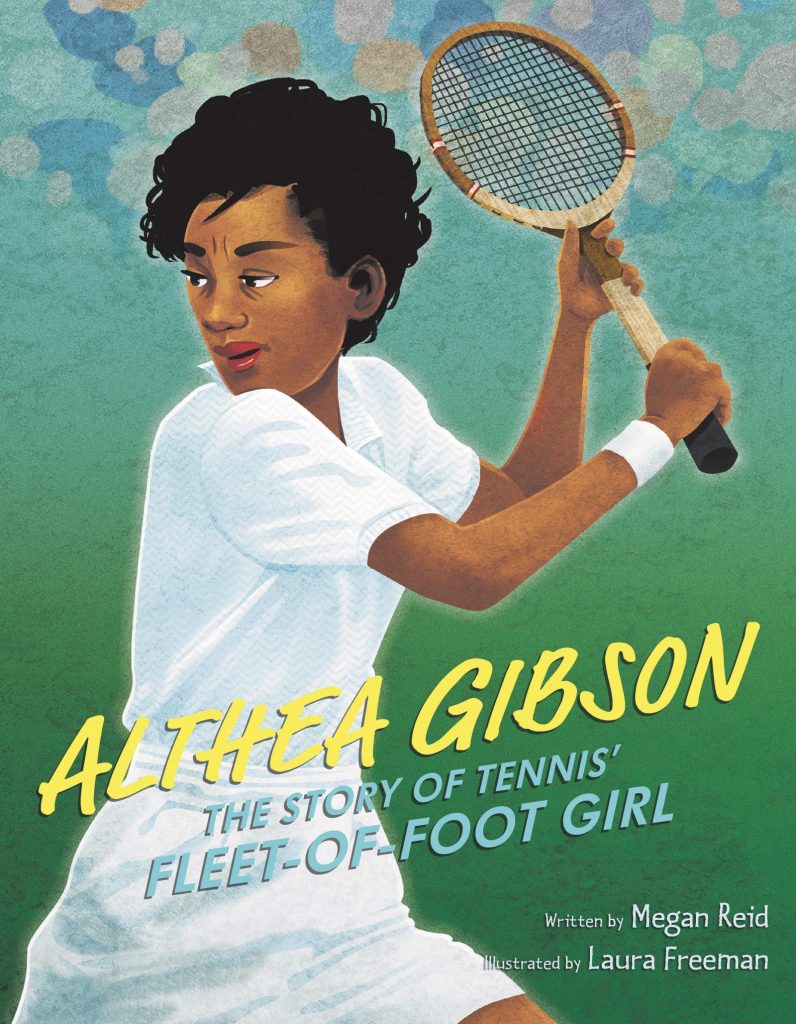 Because of segregation, black people weren't allowed to compete against white people in sports. Althea didn't care. She just wanted to play tennis against the best athletes in the world. And with skill and determination, she did just that, eventually becoming the first black person—man or woman—to win a trophy at Wimbledon.
The Secret Garden of George Washington Carver by Gene Baretta, Frank Morrison Ages 4-8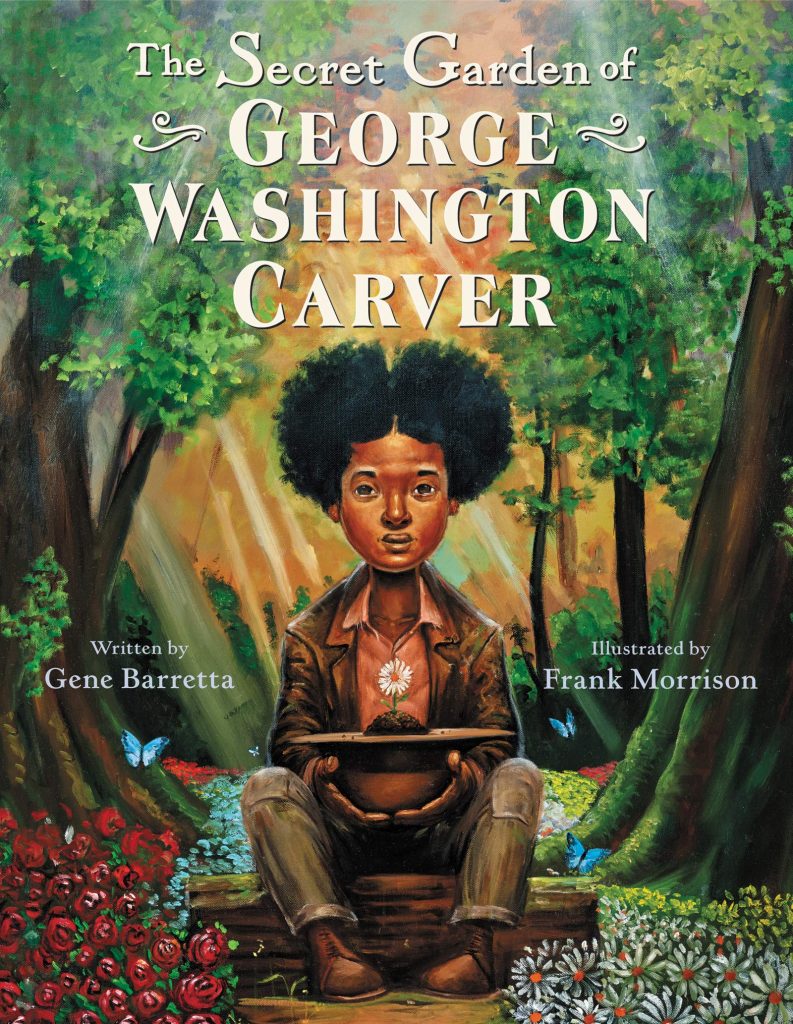 When George Washington Carver was just a young child, he had a secret: a garden of his own.
Here, he rolled dirt between his fingers to check if plants needed more rain or sun. He protected roots through harsh winters, so plants could be reborn in the spring. He trimmed flowers, spread soil, studied life cycles. And it was in this very place that George's love of nature sprouted into something so much more—his future.
Martin Luther King, Jr. by Maria Isabel Sanchez Vegara (Author), Mai Ly Degnan Ages 5 – 6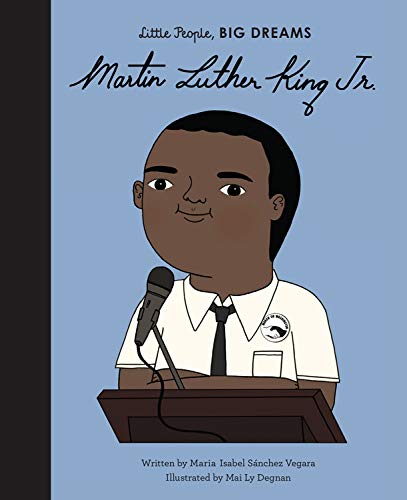 Little Martin grew up in a family of preachers: his dad was a preacher, his uncle was a preacher, his grandfather was a preacher…so maybe he'd become a great preacher too. One day, a friend invited him to play at his house. Martin was shocked when his mother wouldn't let him in because he was black. That day he realized there was something terribly unfair going on. Martin believed that no one should remain silent and accept something if it's wrong. And he promised himself that—when he grew up—he'd fight injustice with the most powerful weapon of all: words.
Black Girl Unlimited: The Remarkable Story of a Teenage Wizard by Echo Brown Ages 14 and up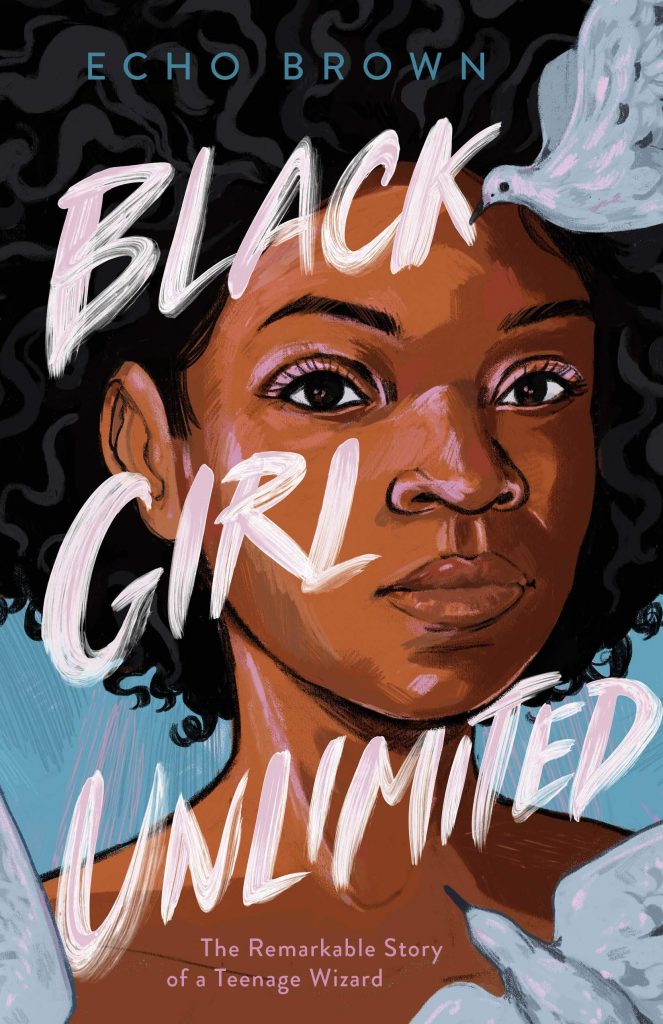 Echo Brown is a wizard from the East Side, where apartments are small and parents suffer addictions to the white rocks. Yet there is magic . . . everywhere. New portals begin to open when Echo transfers to the rich school on the West Side, and an insightful teacher becomes a pivotal mentor.
Each day, Echo travels between two worlds, leaving her brothers, her friends, and a piece of herself behind on the East Side. There are dangers to leaving behind the place that made you. Echo soon realizes there is pain flowing through everyone around her, and a black veil of depression threatens to undo everything she's worked for.
From the Desk of Zoe Washington by Janae Marks Ages 8 – 12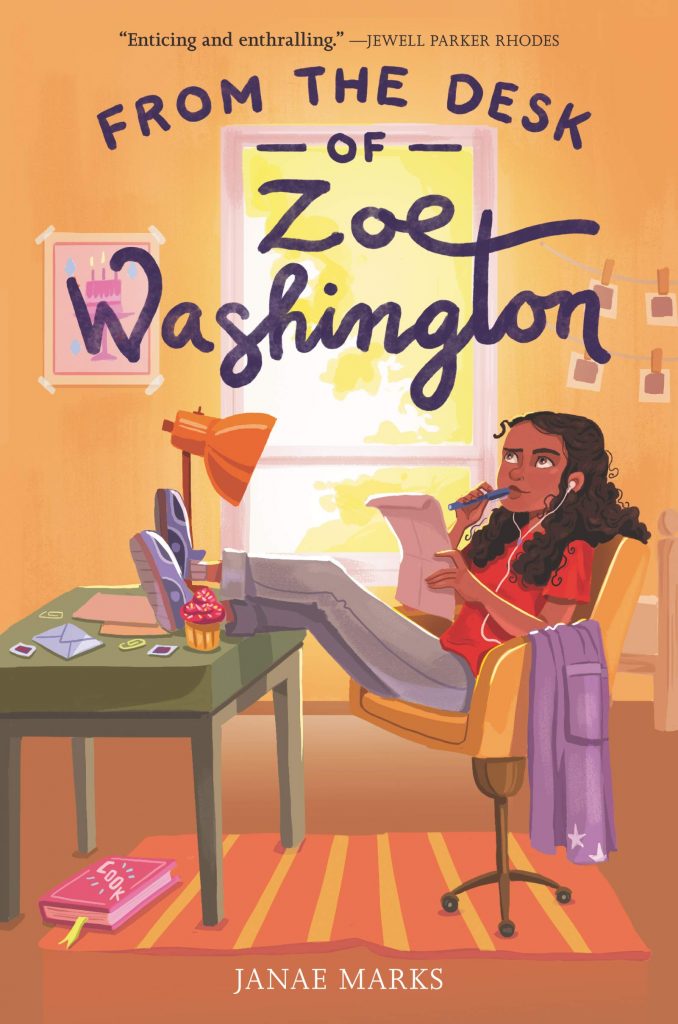 Zoe Washington isn't sure what to write. What does a girl say to the father she's never met, hadn't heard from until his letter arrived on her twelfth birthday, and who's been in prison for a terrible crime?  A crime he says he never committed.  Could Marcus really be innocent? Zoe is determined to uncover the truth. Even if it means hiding his letters and her investigation from the rest of her family.
Clean Getaway by Nic Stone Ages 8 – 12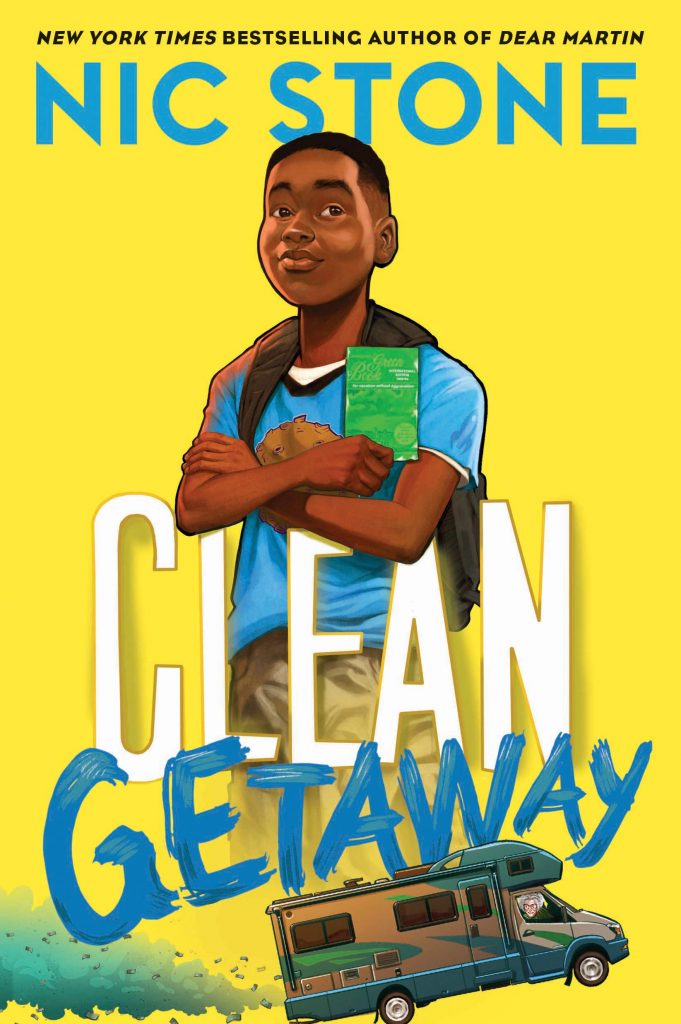 Set against the backdrop of the segregation history of the American South, take a trip with New York Times bestselling Nic Stone and an eleven-year-old boy who is about to discover that the world hasn't always been a welcoming place for kids like him, and things aren't always what they seem–his G'ma included.
February
Who Did It First? 50 Politicians, Activists, and Entrepreneurs Who Revolutionized the World by Jay Leslie (Author), Alex Hart (Editor), Nneka Myers (Illustrator) Ages 8 – 12 and up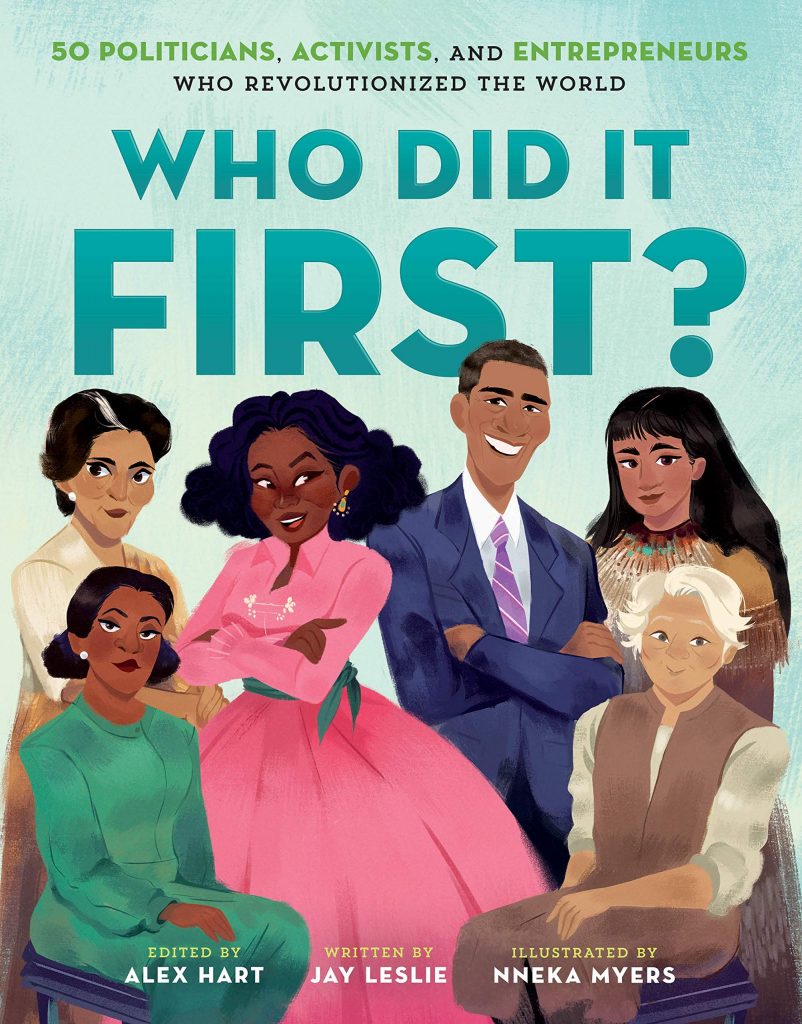 Who Did It First? 50 Politicians, Activists, and Entrepreneurs Who Revolutionized the World brings together all of these trailblazers into one stunning package. With both well-known figures and lesser-known heroes, this book is a celebration of the inspiring innovators who braved uncharted waters to pave the path for future generations.
Brown Sugar Babe by Charlotte Watson Sherman (Author), Akem (Illustrator) Ages 4 – 8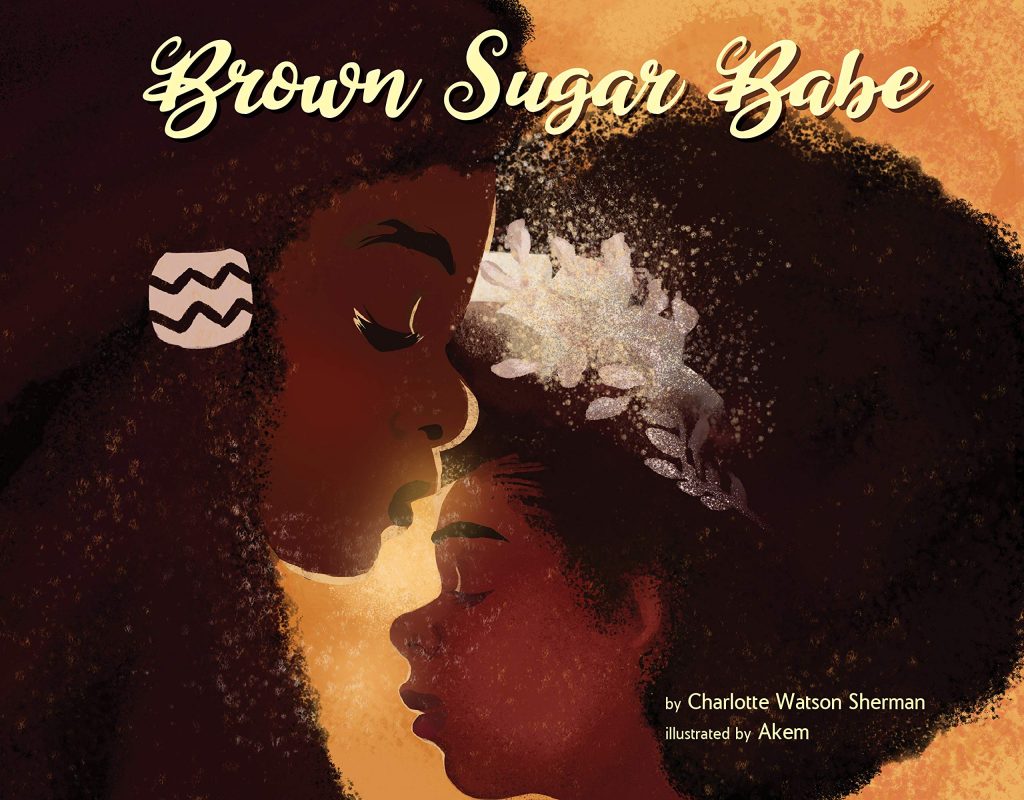 "I don't want to be brown!" says a little girl about her skin. But so many beautiful things in the world are brown — calming beaches, cute animals, elegant violins, and more. Brown is musical. Brown is athletic. Brown is poetic. Brown is powerful! Through lyrical words and stunning illustrations, it soon becomes clear that this brown sugar babe should be proud of the skin she's in.
Cece Loves Science: Push and Pull by Kimberly Derting, Shelli R. Johannes, Vashti Harrison Ages 4 – 8

Cece loves science―and experimenting! In this Cece Loves Science Level 3 I Can Read!, Cece's teacher, Miss Curie, explains the opposite forces of push and pull. To demonstrate this concept, she divides the class into two teams. Each team must make a treat dispenser for Cece's dog, Einstein, that uses both forces. Cece and her classmates rely on science, creativity, and teamwork―and they learn a lot along the way.
The Cece Loves Science books introduce readers to basic concepts of science, technology, engineering, and math, and are perfect for the classroom. This Level 3 I Can Read! focuses on basic scientific vocabulary and includes a glossary of terms and fun activities for readers to try on their own.
Vote for Our Future by by Margaret McNamara, Micah Player Ages 4 – 8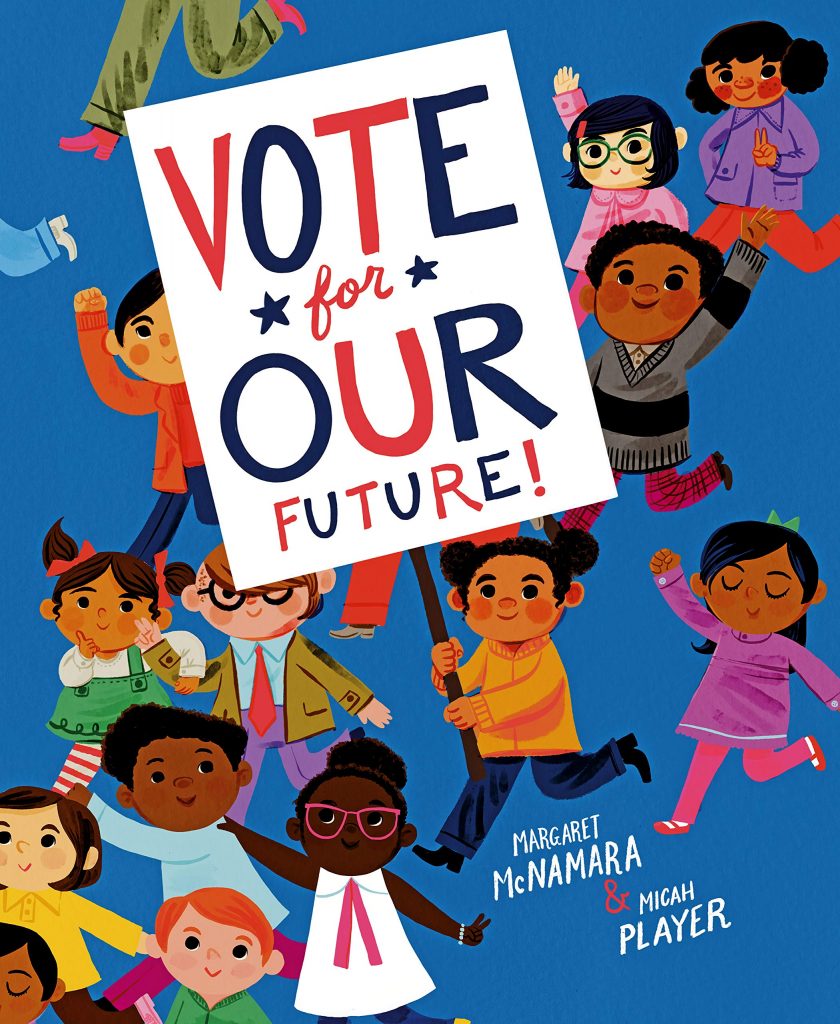 Every two years, on the first Tuesday of November, Stanton Elementary School closes for the day. For vacation? Nope! For repairs? No way! Stanton Elementary School closes so that it can transform itself into a polling station. People can come from all over to vote for the people who will make laws for the country. Sure, the Stanton Elementary School students might be too young to vote themselves, but that doesn't mean they can't encourage their parents, friends, and family to vote!
Mindy Kim and the Yummy Seaweed Business by Lyla Lee, Dung Ho Ages 6 – 9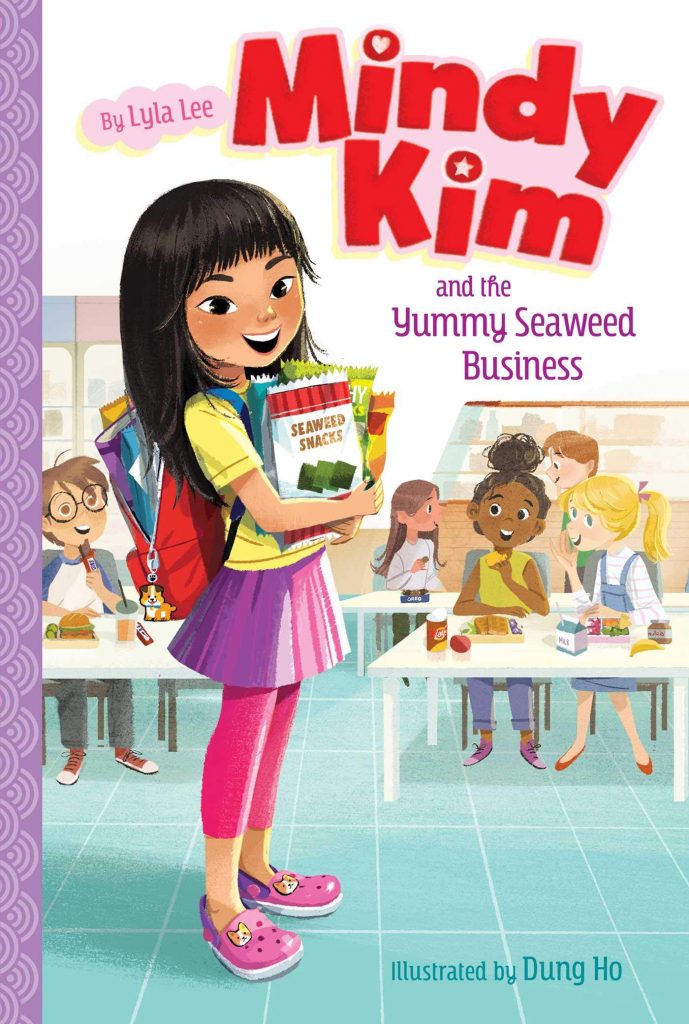 Fresh Off the Boat meets Junie B. Jones in this first novel in an adorable new chapter book series about Mindy Kim, a young Asian American girl who is starting a snack business!
Goodbye Winter, Hello Spring by Kenard Pak Ages 4 – 8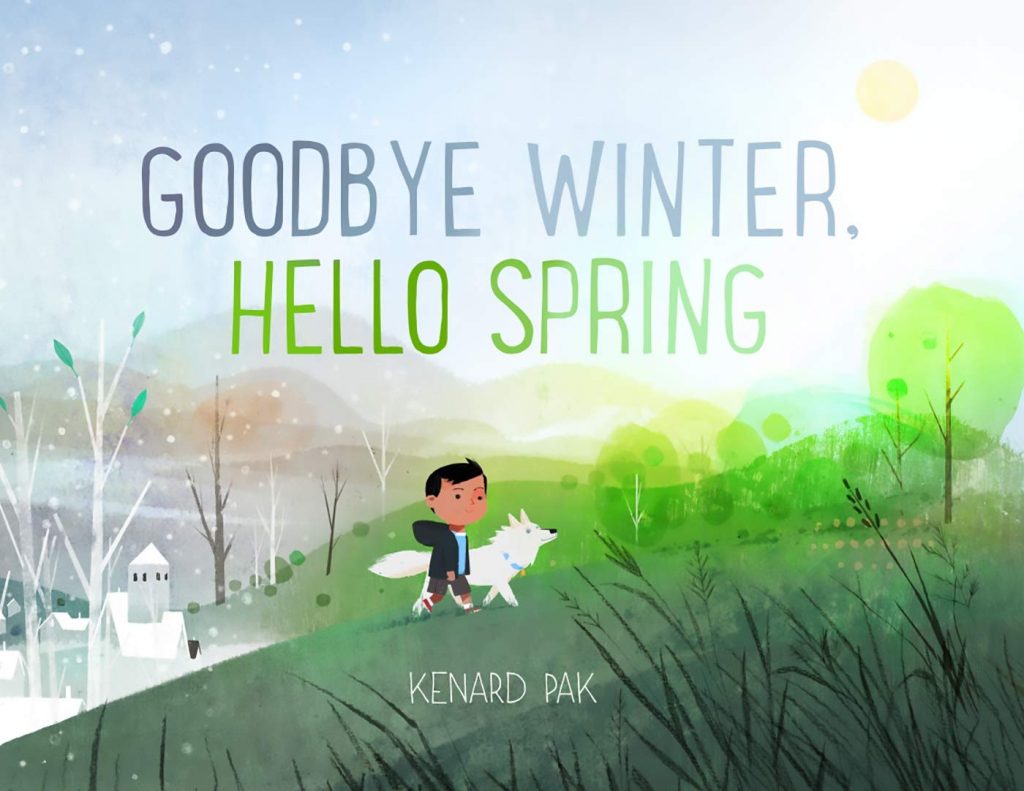 Join a boy and his dog as they explore nature and take a stroll through the countryside, greeting all the signs of the coming season. In a series of conversations with everything from the melting brook to chirping birds, they say goodbye to winter and welcome the lushness of spring.
Ruth Objects: The Life of Ruth Bader Ginsburg by Doreen Rappaport (Author), Eric Velasquez (Illustrator) Ages 7 – 10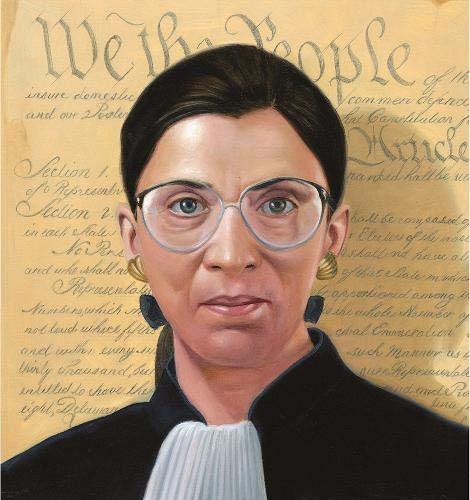 When Ruth was a young girl, her mother encouraged her to read, be independent, and stand up for what she thought was right. Ruth graduated first in her class at Cornell University and tied for top of her graduating class at Columbia Law School. But she faced prejudice as both a woman and a Jew, making it difficult to get a job. Ruth eventually found work as a law clerk, and her determination, diligence, and skill led to a distinguished career as a lawyer. In 1993, she became the second woman ever appointed to the United States Supreme Court.
The Slave Who Went to Congress by Frye Gaillard (Author), Marti Rosner (Author), Jordana Haggard (Illustrator) Ages 8 – 12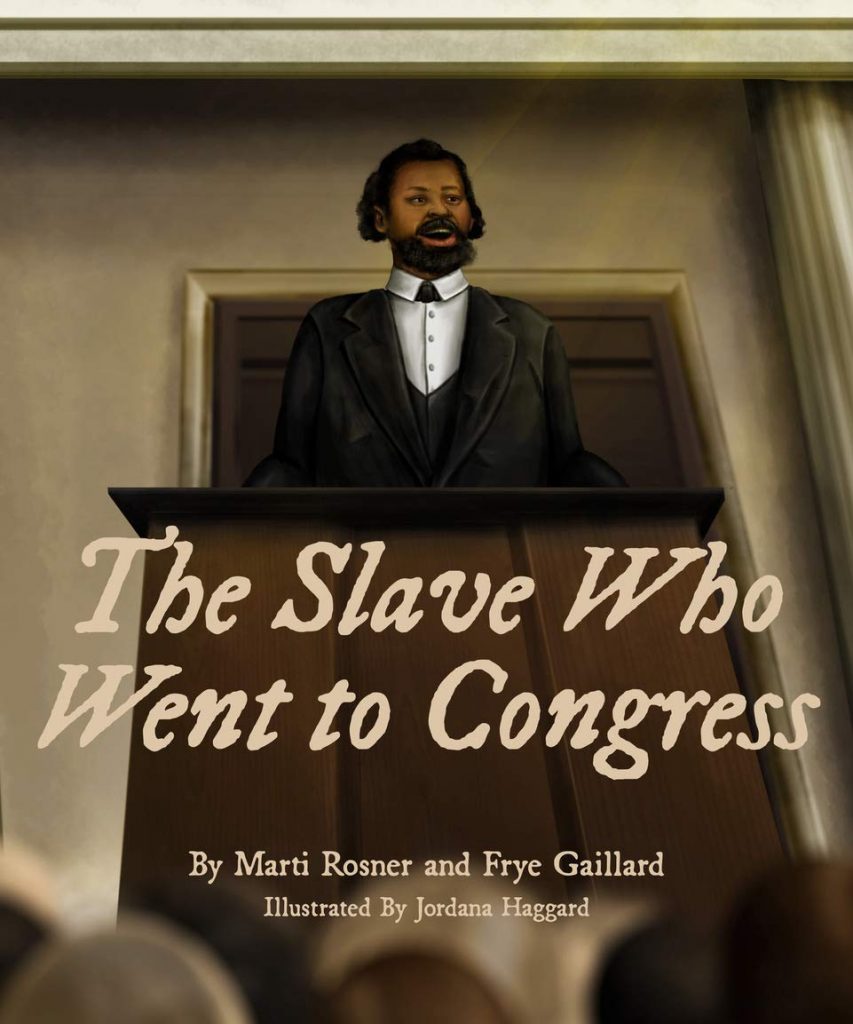 In 1870 Benjamin Turner, who spent the first 40 years of his life as a slave, was elected to the U.S. Congress. He was the first African American from Alabama to earn that distinction. In a recreation of Turner's own words, based on speeches and other writings that Turner left behind, co-authors Marti S. Rosner and Frye Gaillard have crafted the story of a remarkable man who taught himself to read when he was young and began a lifetime quest for education and freedom.
Yusra Swims by Julie Aberry, Sally Deng (Ages 6 – 8)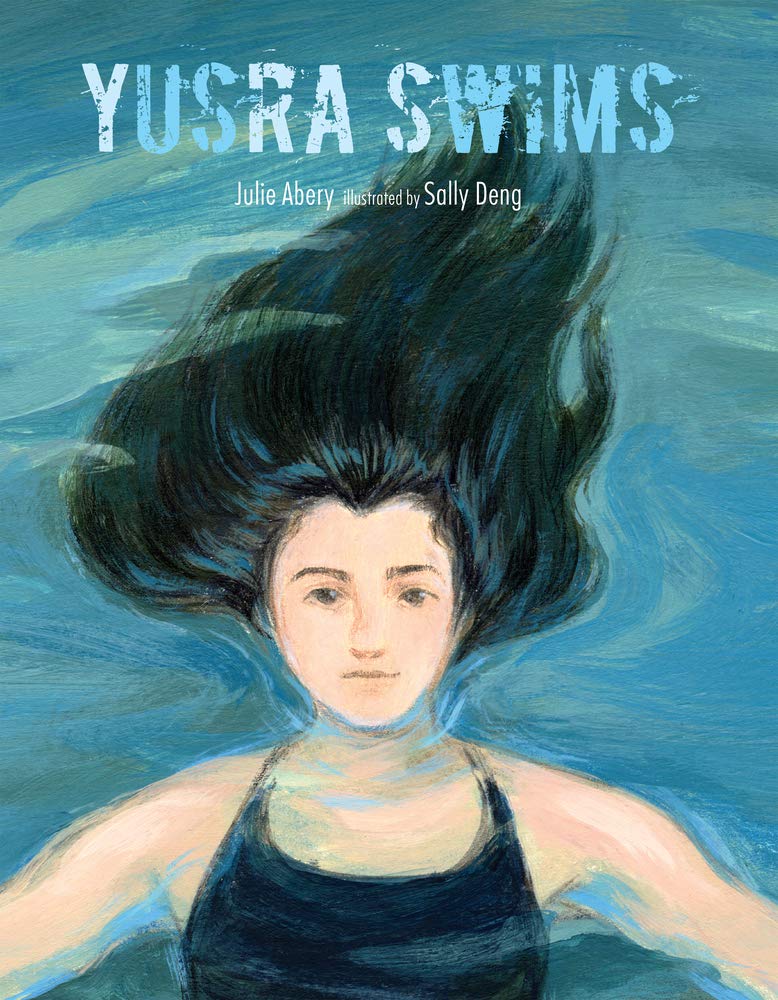 A biography in rhyme relates the story of Olympic swimmer and Syrian refugee Yusra Mardini.
All of a Sudden and Forever: Help and Healing after the Oklahoma City Bombing by Chris Barton (Author), Nicole Xu (Illustrator) Ages 7 – 11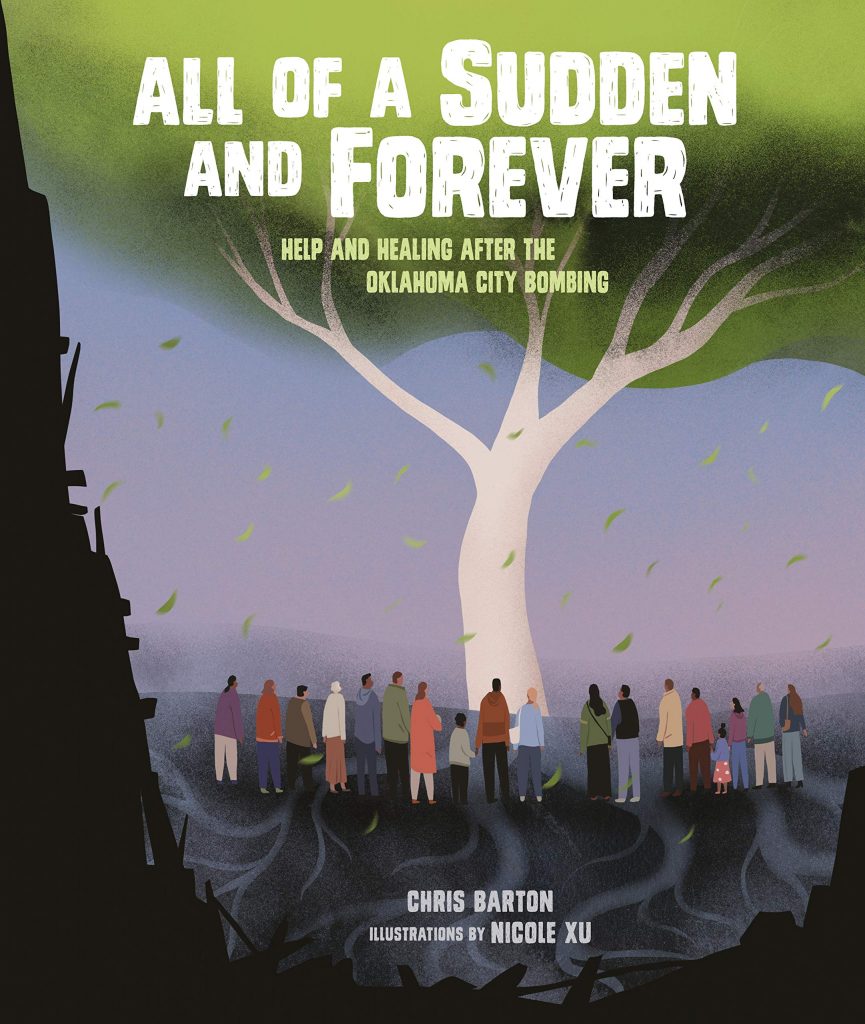 Released to coincide with the 25th anniversary of the Oklahoma City bombing, this book commemorates what was lost and offers hope for the future.
Sometimes bad things happen, and you have to tell everyone. Sometimes terrible things happen, and everybody knows. On April 19, 1995, something terrible happened in Oklahoma City: a bomb exploded, and people were hurt and killed. But that was not the end of the story. Those who survived―and those who were forever changed―shared their stories and began to heal. Near the site of the bomb blast, an American elm tree began to heal as well. People took care of the tree just as they took care of each other. The tree and its seedlings now offer solace to people around the world grappling with tragedy and loss.
Joni: The Lyrical Life of Joni Mitchell by Selina Alko (Author, Illustrator)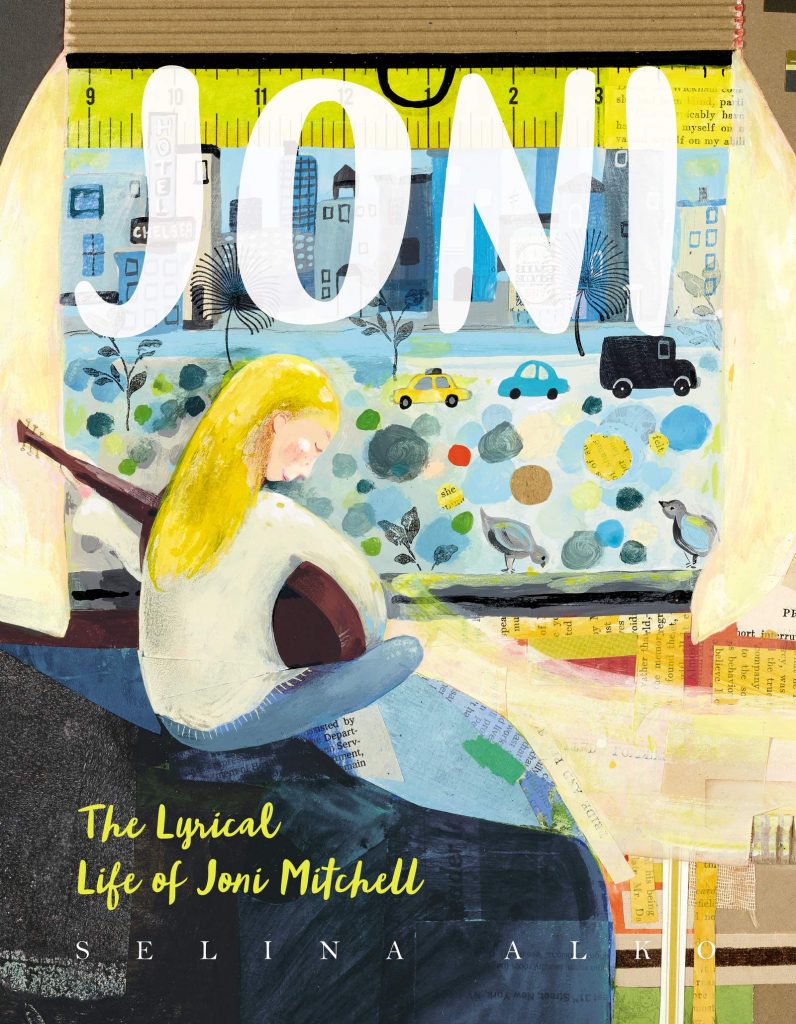 Celebrate the captivating life of Joni Mitchell, the world-famous songbird who used her music to ignite and inspire an entire generation, in this stunning picture book biography from award-winning author and illustrator Selina Alko.  Brought to life by Selina Alko's rainbow collages and lyrical language, this heartfelt portrait of a feminist and folk icon is perfect for parents, children, and music lovers everywhere.  Back matter includes a letter from the author and Joni's full discography.
The Arabic Quilt: An Immigrant Story by Aya Khalil, Anait Semirdzhyan Ages 4-7


Kanzi's family has moved from Egypt to America, and on her first day in a new school, what she wants more than anything is to fit in. Maybe that's why she forgets to take the kofta sandwich her mother has made for her lunch, but that backfires when Mama shows up at school with the sandwich. Mama wears a hijab and calls her daughter Habibti (dear one). When she leaves, the teasing starts.
Ohana Means Family by Ilima Loomis (Author), Kenard Pak (Illustrator) Ages 4 – 8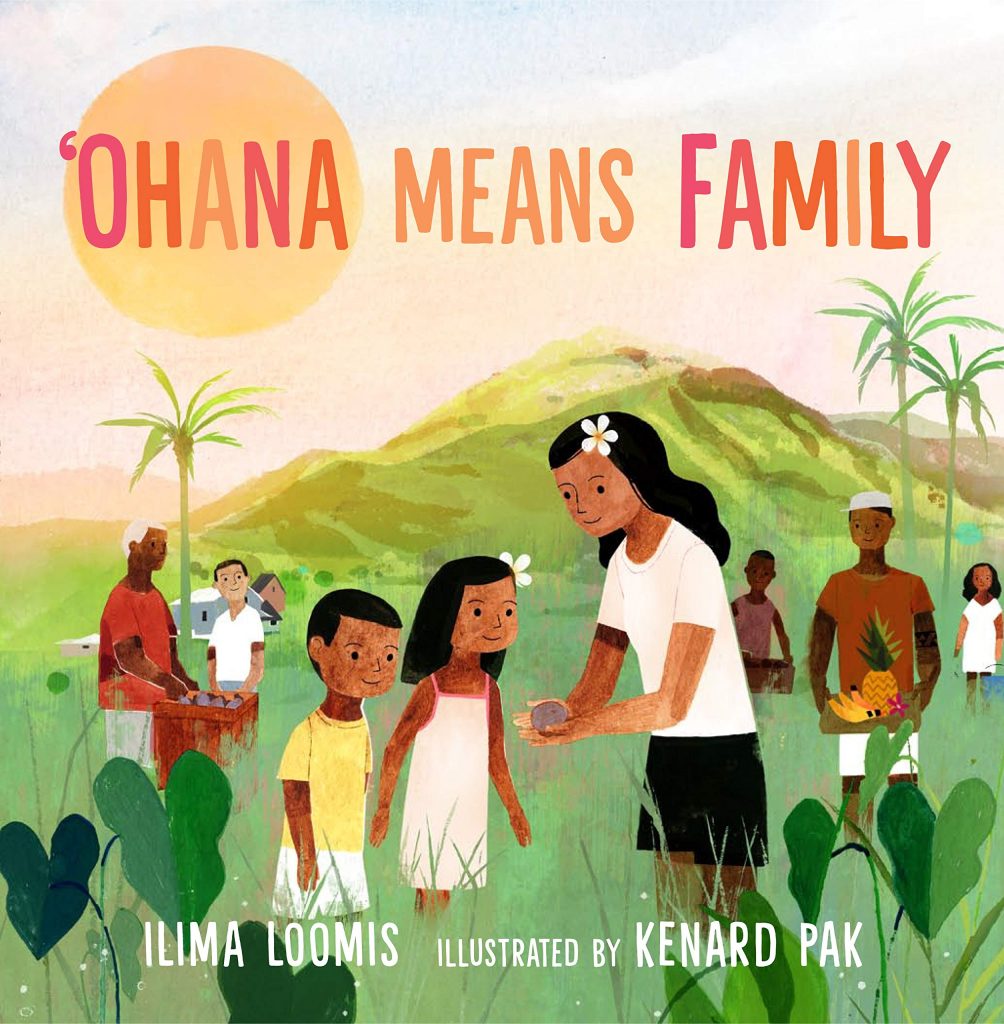 Acclaimed illustrator and animator Kenard Pak's light-filled, dramatic illustrations pair exquisitely with Ilima Loomis' text to celebrate Hawaiian land and culture.
Powwow Summer by Nahanni Shingoose Ages 15 and up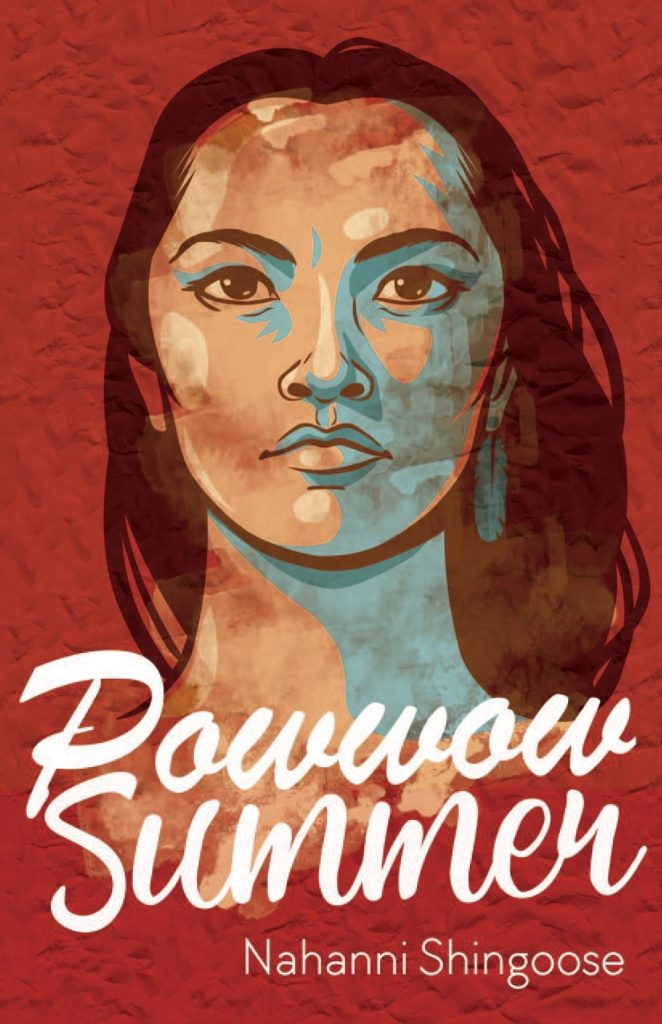 Part Ojibwe and part white, River lives with her white mother and stepfather on a farm in Ontario. Teased about her Indigenous heritage as a young girl, she feels like she doesn't belong and struggles with her identity.
Now eighteen and just finished high school, River travels to Winnipeg to spend the summer with her Indigenous father and grandmother, where she sees firsthand what it means to be an "urban Indian."
Music Is My Life: Soundtrack your mood with 80 artists for every occasion by Myles Tanzer, Ali Mac Ages 8 – 12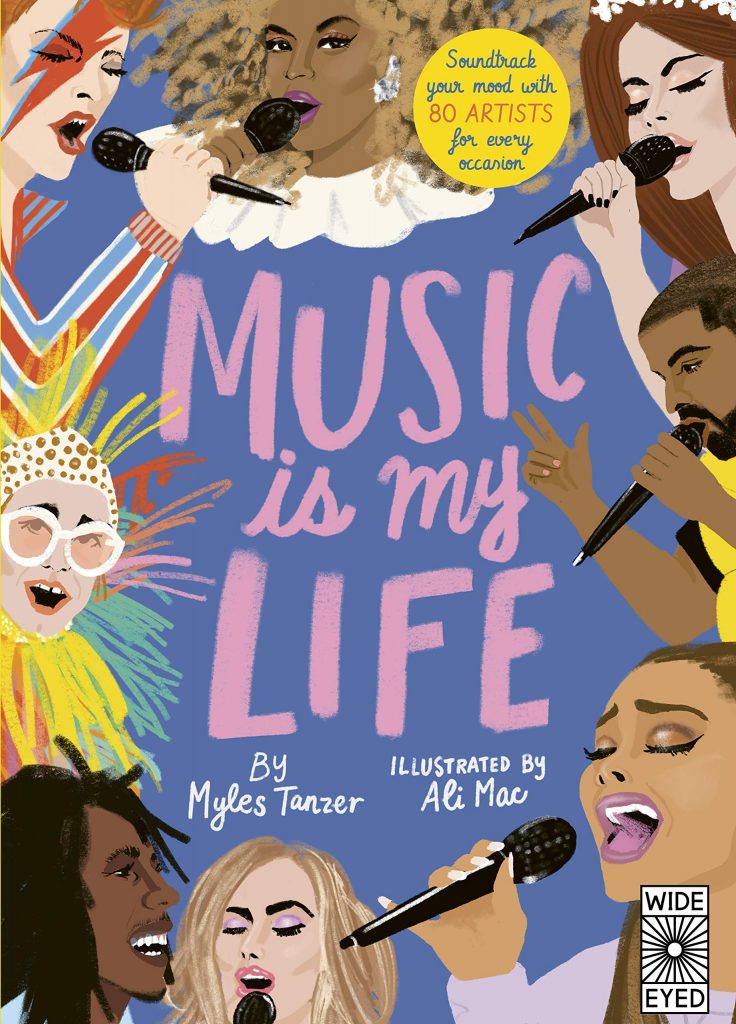 Do you remember the first time you discovered an artist you really loved? Have you listened to them over and over again at different points throughout your life? This book harnesses that feeling, by collecting together 80 of music's finest artists to guide young people through the good, bad and sad times. Whatever the feeling, these artists have been there and sung about it. Organised by mood, young ones can dip into the library to discover new artists from decades past to present day. Fall in love with John Legend, shout about it with Nirvana, love yourself with Lizzo, or cry it out with Adele. With 80 artists, bands, and composers from all genres (including classical) there's something for every family member to love and recommend to the next generation.
The Boy Who Became a Dragon: A Biography of Bruce Lee by Jim Di Bartolo Ages 8 – 12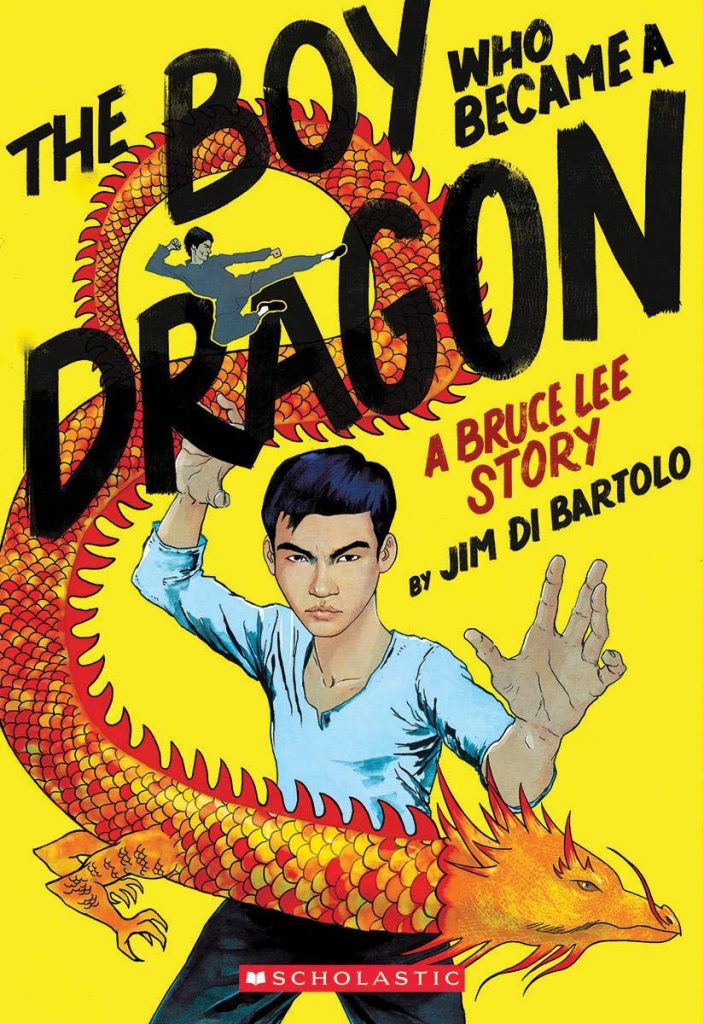 Bruce Lee was born on November 27, 1940 – in both the hour and the year of the dragon. Almost immediately, he was plunged into conflict: as a child in Hong Kong as it was invaded and occupied by the Japanese; as the object of discrimination and bullying; and as a teenager grappling against the influence of gangs.
I'm Gonna Push Through by Jasmyn Wright, Shannon Wright (Ages 4-8)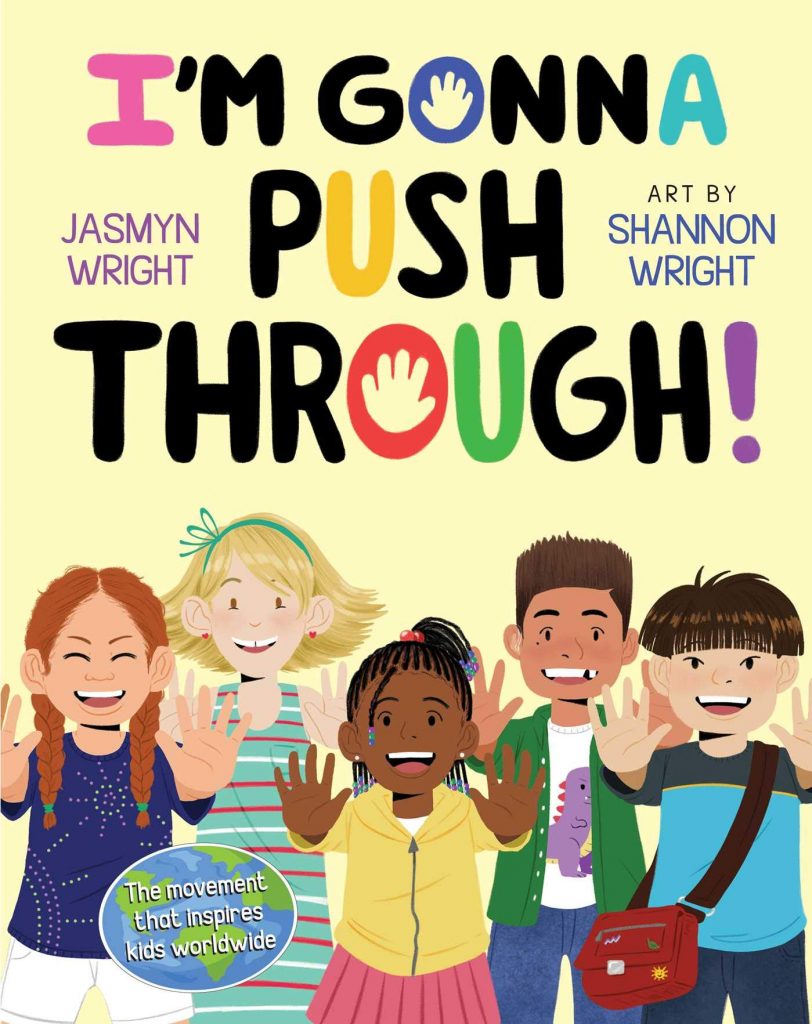 Inspired by a mantra written for her third-grade students, Jasmyn Wright's uplifting call to "push through" is an invitation to young readers to announce their own power and to recognize and reaffirm that of others, regardless of setbacks. Her empowering words not only lift children up, but show them how to lift themselves up and seize their potential.
Big Papa and the Time Machine by Daniel Bernstrom, Shane Evans (Ages 4-8)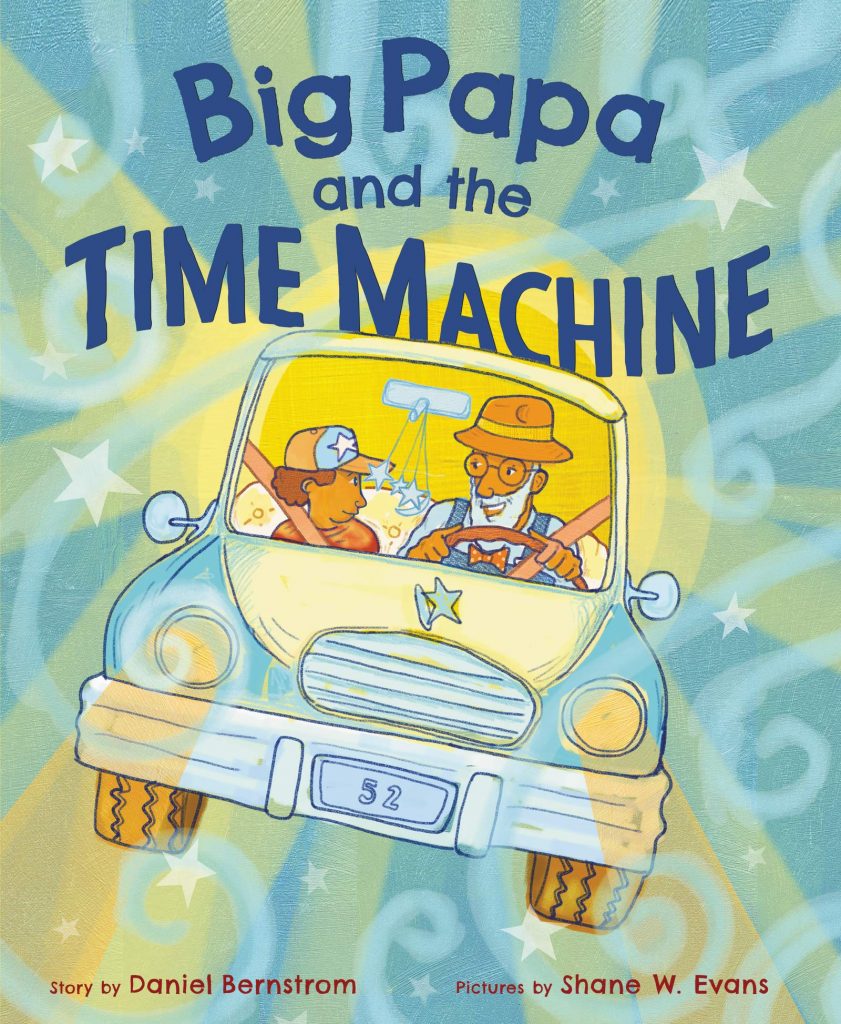 A little boy who lives with his grandpa isn't reprimanded for being afraid to go to school one day. Instead, Big Papa takes him away in his time machine—a 1952 Ford—back to all of the times when he, himself, was scared of something life was handing him.
Full of heartfelt moments and thrilling magical realism, Big Papa and the Time Machine speaks to the African American experience in a touching dialogue between two family members from different generations, and emerges as a voice that shares history and asks questions about one family's experience in 20th-century black America.
Dictionary for a Better World: Poems, Quotes, and Anecdotes from A to Z by Irene Latham (Author), Charles Waters Mehrdokht Amini Ages 8-12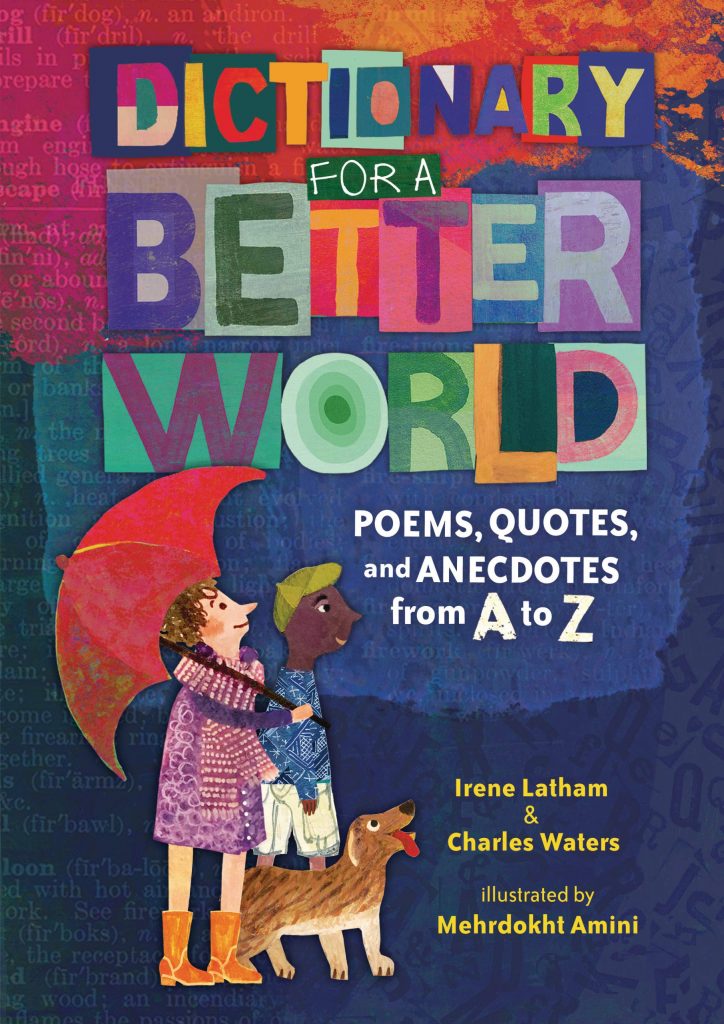 How can we make the world a better place? This inspiring resource for middle-grade readers is organized as a dictionary; each entry presents a word related to creating a better world, such as ally, empathy, or respect. For each word, there is a poem, a quote from an inspiring person, a personal anecdote from the authors, and a "try it" prompt for an activity.
Beautiful Shades of Brown: The Art of Laura Wheeler Waring by Nancy Churnin, Felicia Marshall (Ages 6 – 11)

Growing up in the late 19th century, Laura Wheeler Waring didn't see any artists who looked like her. She didn't see any paintings of people who looked like her, either. As a young woman studying art in Paris, she found inspiration in the works of Matisse and Gaugin to paint the people she knew best. Back in Philadelphia, the Harmon Foundation commissioned her to paint portraits of accomplished African-Americans. Her portraits still hang in Washington DC's National Portrait Gallery, where children of all races can admire the beautiful shades of brown she captured.
Equality's Call: The Story of Voting Rights in America by Deborah Diesen, Magdalena Mora


The founders of the United States declared that consent of the governed was a key part of their plan for the new nation. But for many years, only white men of means were allowed to vote. This unflinching and inspiring history of voting rights looks back at the activists who answered equality's call, working tirelessly to secure the right for all to vote, and it also looks forward to the future and the work that still needs to be done.
A Girl Like Me by Angela Johnson, Nina Crews (Ages 5 – 10)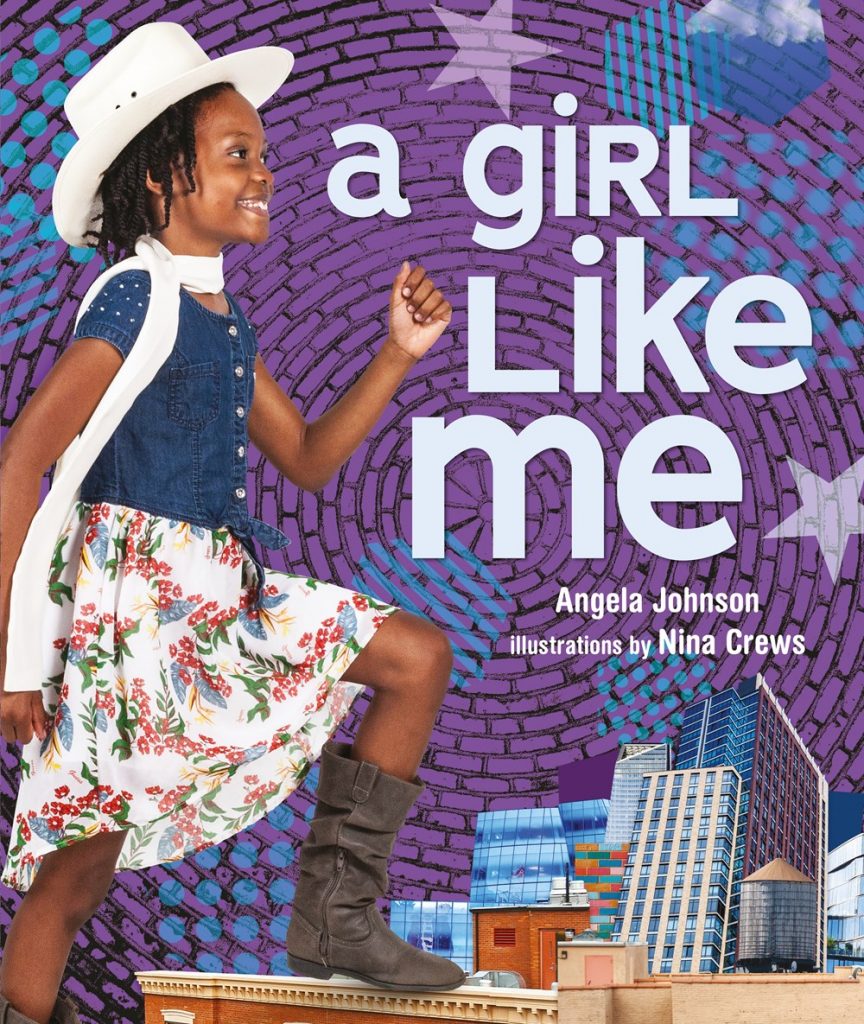 Empower young readers to embrace their individuality, reject societal limitations, and follow their dreams. This inspiring picture book brings together a poem by acclaimed author Angela Johnson and Nina Crews's distinctive photocollage illustrations to celebrate girls of color.
Frankie Sparks and the Lucky Charm by Megan Frazer Blakemore and Nadja Sarell (Ages 7 – 10)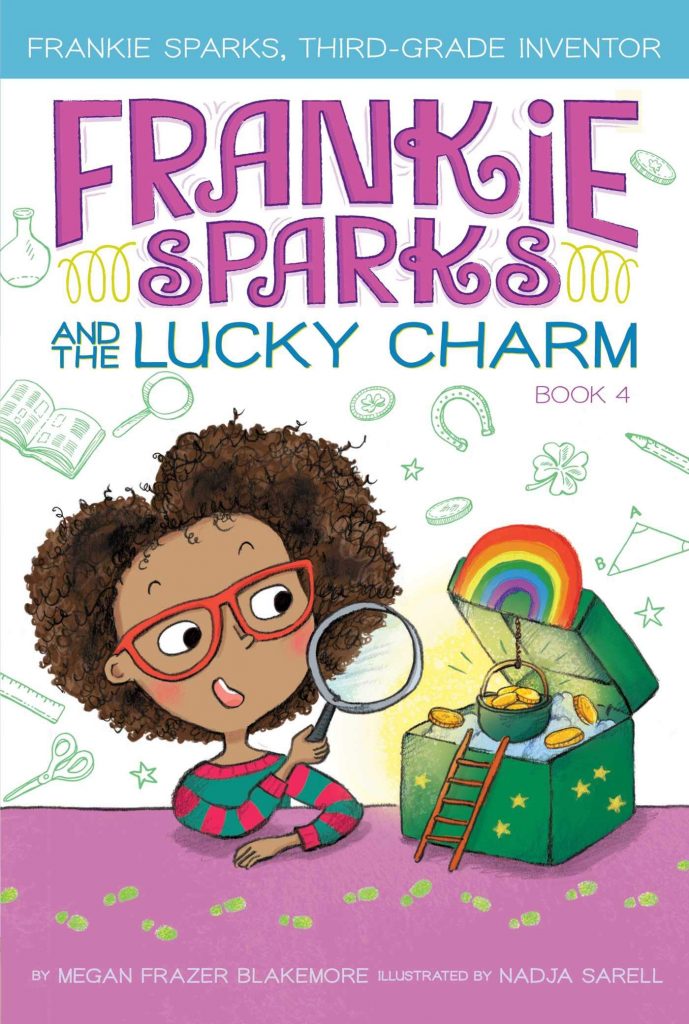 It's springtime in Ms. Cupid's class, and the entire class is excited to build their very own leprechaun traps. Maybe, if they catch one, they will all get the gift of good luck!
And after a few magical clues, it looks like there might be a leprechaun on the loose in Frankie Sparks's house! Her best friend, Maya, is convinced the leprechaun exists, but Frankie has her doubts—especially when it feels like every trap she designs fails! Will Frankie and Maya find their lucky charm, or figure out how to create some luck all on their own?
Born Curious: 20 Girls Who Grew Up to Be Awesome Scientists by Martha Freeman (Author), Katy Wu (Illustrator) Ages 7-12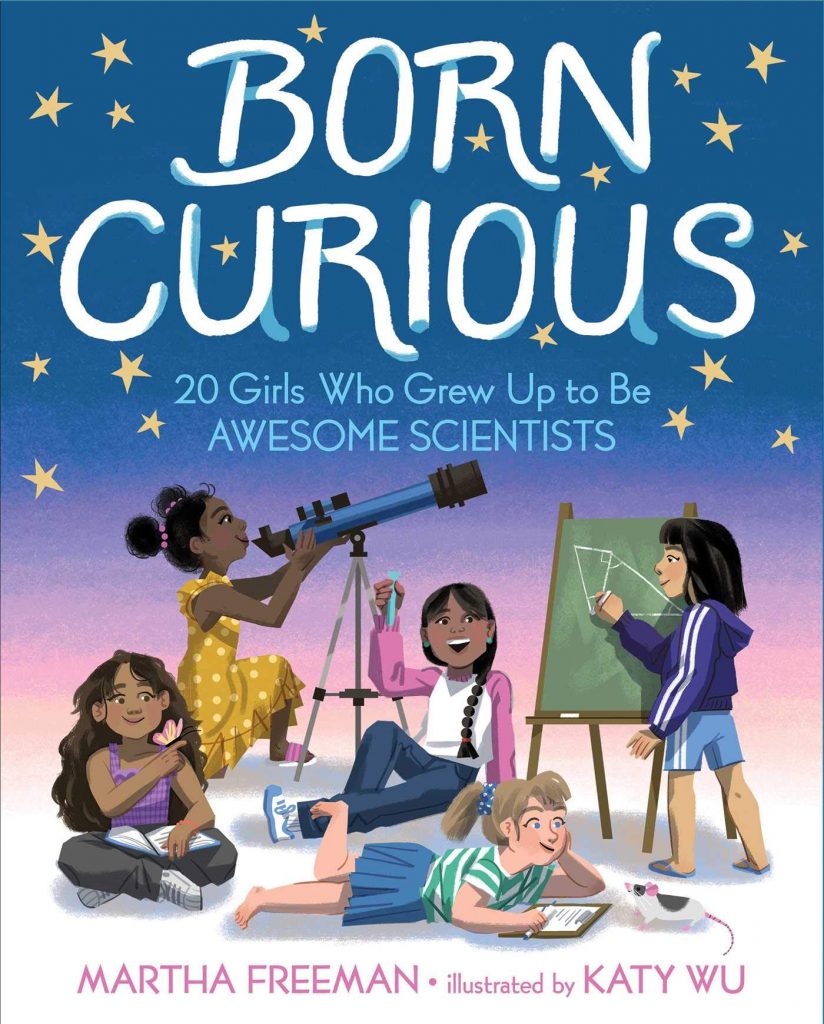 The twenty groundbreaking women—including Rosalind Franklin, Marie Tharp, Shirley Anne Jackson, and more—came from all kinds of backgrounds and had all kinds of life experiences. Some grew up rich. Some grew up poor. Some were always the smartest kid in class. Some struggled to do well in school. But all had one thing in common: They were born curious. Are you curious, too?
The Only Woman in the Photograph Frances Perkins & Her New Deal for America by Kathleen Krull, Alexandra Bye (Ages 4-8)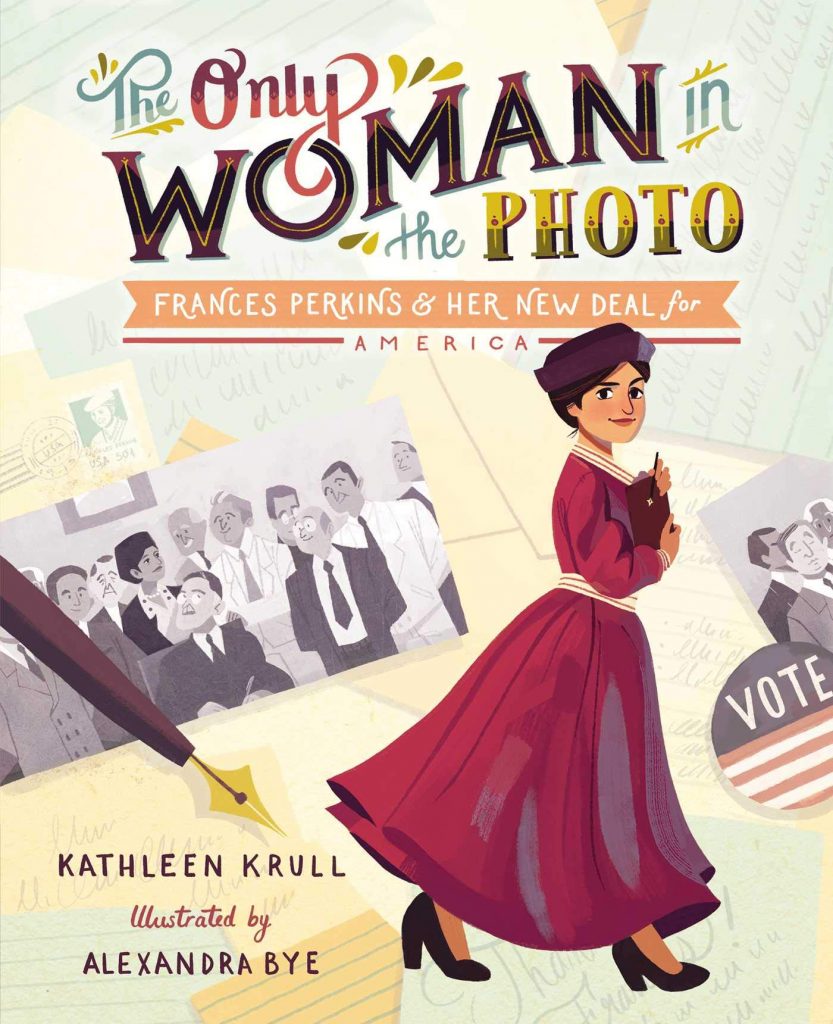 Frances realized she had to make her voice heard, even when speaking made her uncomfortable, and use it to fight injustice and build programs to protect people across the nation. So when newly-elected President Franklin Delano Roosevelt finally asked Frances to be the first female Secretary of Labor and help pull the nation out of the Great Depression, she knew she had to walk through that open door and forward into history.
Frances realized she had to make her voice heard, even when speaking made her uncomfortable, and use it to fight injustice and build programs to protect people across the nation. So when newly-elected President Franklin Delano Roosevelt finally asked Frances to be the first female Secretary of Labor and help pull the nation out of the Great Depression, she knew she had to walk through that open door and forward into history.
I Am a Promise by Shelly Ann Fraser Pryce (Author), Rachel Moss (Illustrator), Ashley Rousseau (Contributor) Ages 4- 8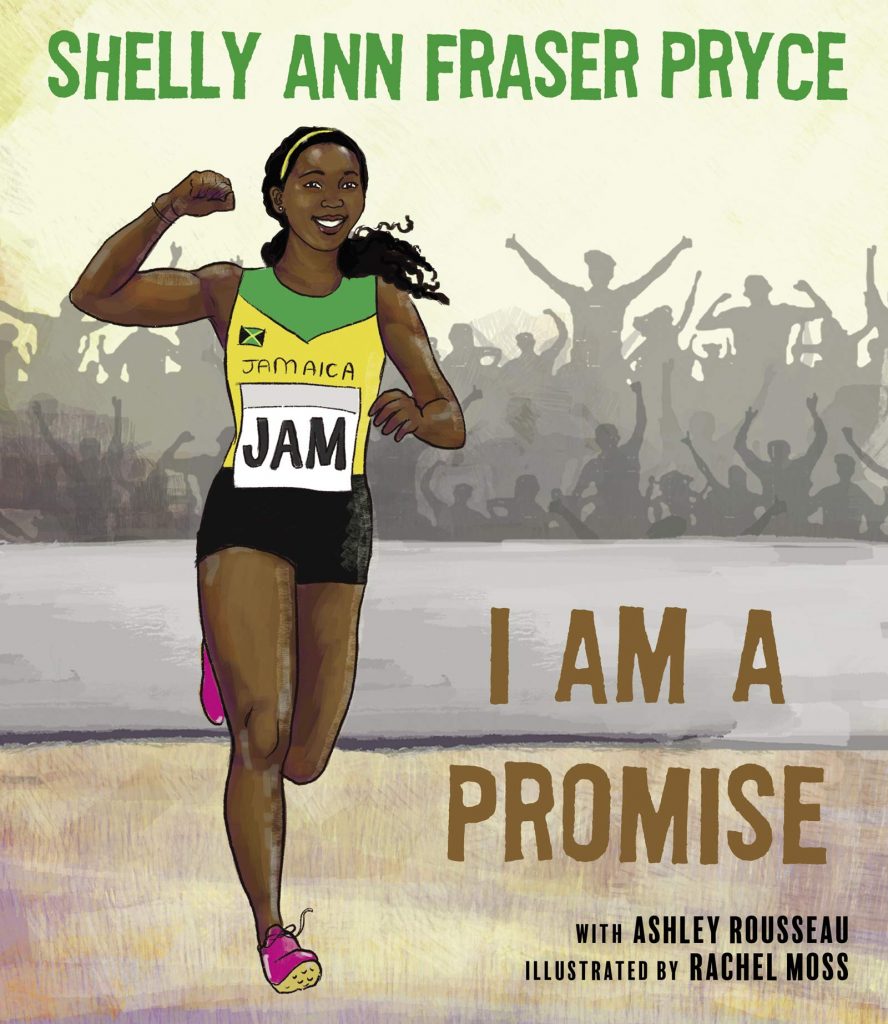 I Am a Promise takes readers on Shelly Ann's journey from her childhood in the tough inner-city community of Waterhouse in Kingston, Jamaica, through her development as a young athlete, to her first Olympic gold medal in the 100-meter sprint in 2008.
Cool Cuts by Mechal Renee Roe Ages 3 – 7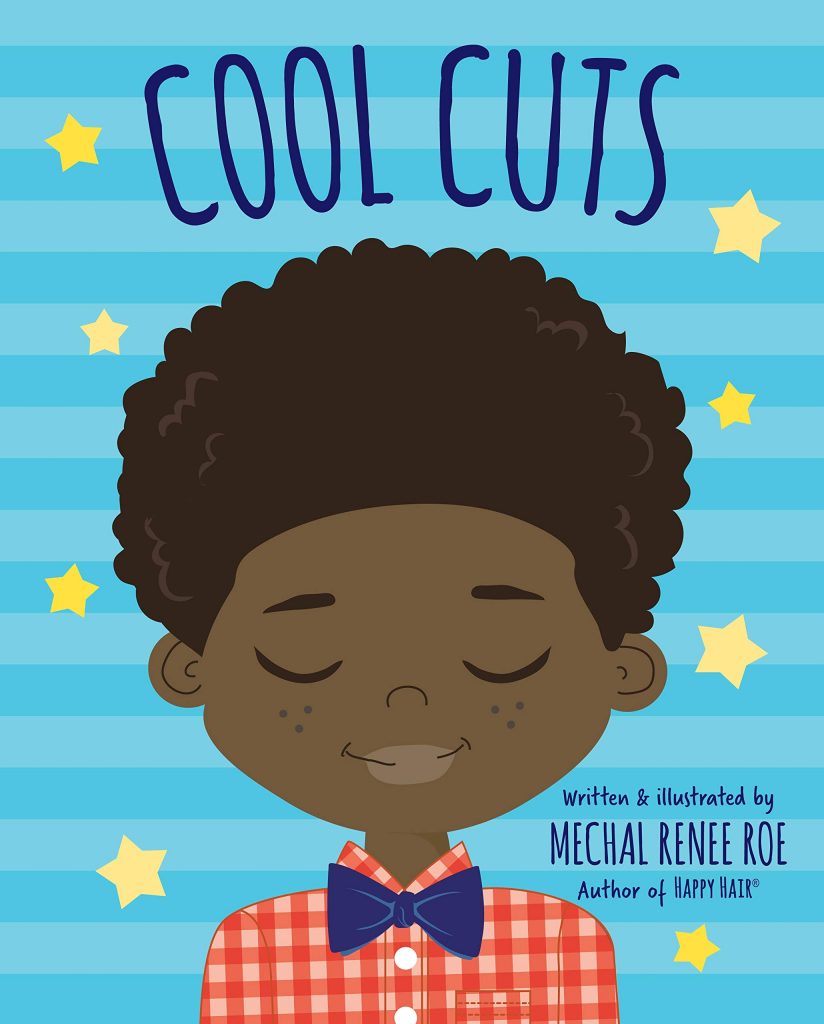 African-American boys will love seeing strong, happy reflections of themselves in this vibrant, rhythmic picture book celebrating a diversity of hip black hairstyles. From a 'fro-hawk to mini-twists and crisp cornrows, adorable illustrations of boys with cool curls, waves, and afros grace each page, accompanied by a positive call-and-response affirmation that will make boys cheer. It's a great read-aloud to promote positive self-esteem to boys of all ages, building and growing the foundation of self-love (and hair love!) and letting every boy know that "You are born to be awesome!"
Arcade and the Fiery Metal Tester by Rashad Jennings (Ages 8 – 11)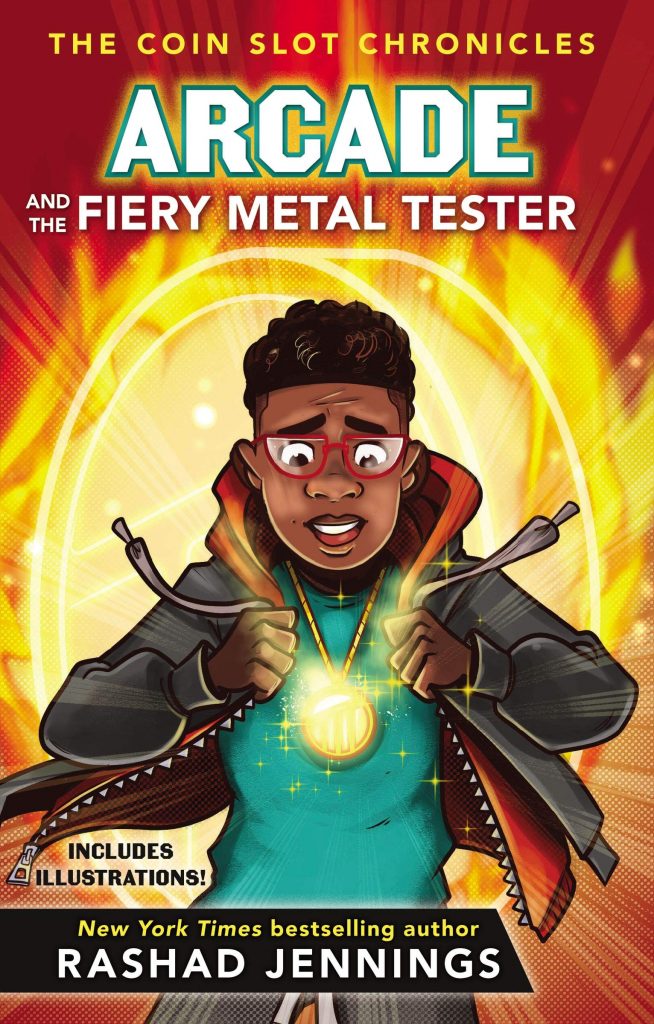 Read as part of the series or as a stand-alone novel! Arcade and the Fiery Metal Tester is the third book in the humorous and imaginative Coin Slot Chronicles series by New York Times bestselling author, former NFL running back, and Dancing with the Stars champion Rashad Jennings.
March
Summer in the City (Volume 2) (Mango Delight) by Fracaswell Hyman Ages 8 – 12 and up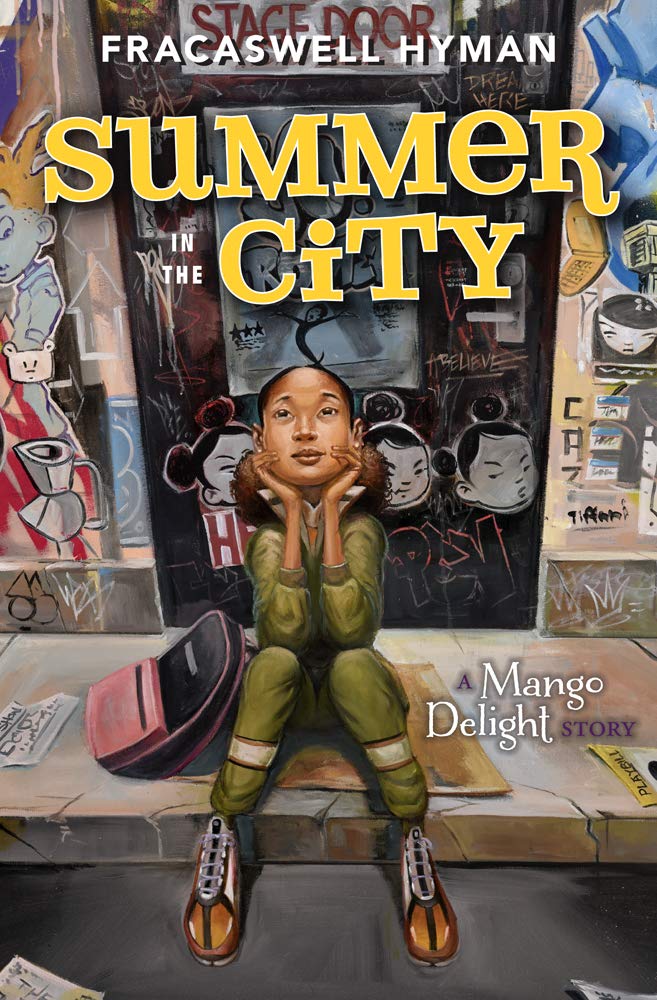 In this sequel to Mango Delight, the delightful heroine's adventures—and misadventures—continue as she prepares to make her off-Broadway debut.
Where Mango goes, drama is sure to follow! It's summer break, and Mango is content to spend her time babysitting her brother, hanging with her friend Izzy, and binge-watching movies late into the night. Then she runs into her drama teacher, who has some big news: their middle school play Yo, Romeo! is headed to the stage in New York City . . . and he wants Mango for the lead role! After overcoming her mom's initial reluctance—and with some firm rules established—Mango goes off to Brooklyn to stay with her Aunt Zendaya in a teeny apartment and prepare for her theatrical debut. It's the opportunity of a lifetime, but soon Mango must confront homesickness, insecurity, and the all-important question of what it means to be a good friend—especially when you're far away from the people you love.
All the Way to the Top: How One Girl's Fight for Americans with Disabilities Changed Everything by Annette Bay Pimentel, Nabi Ali Ages 4 – 8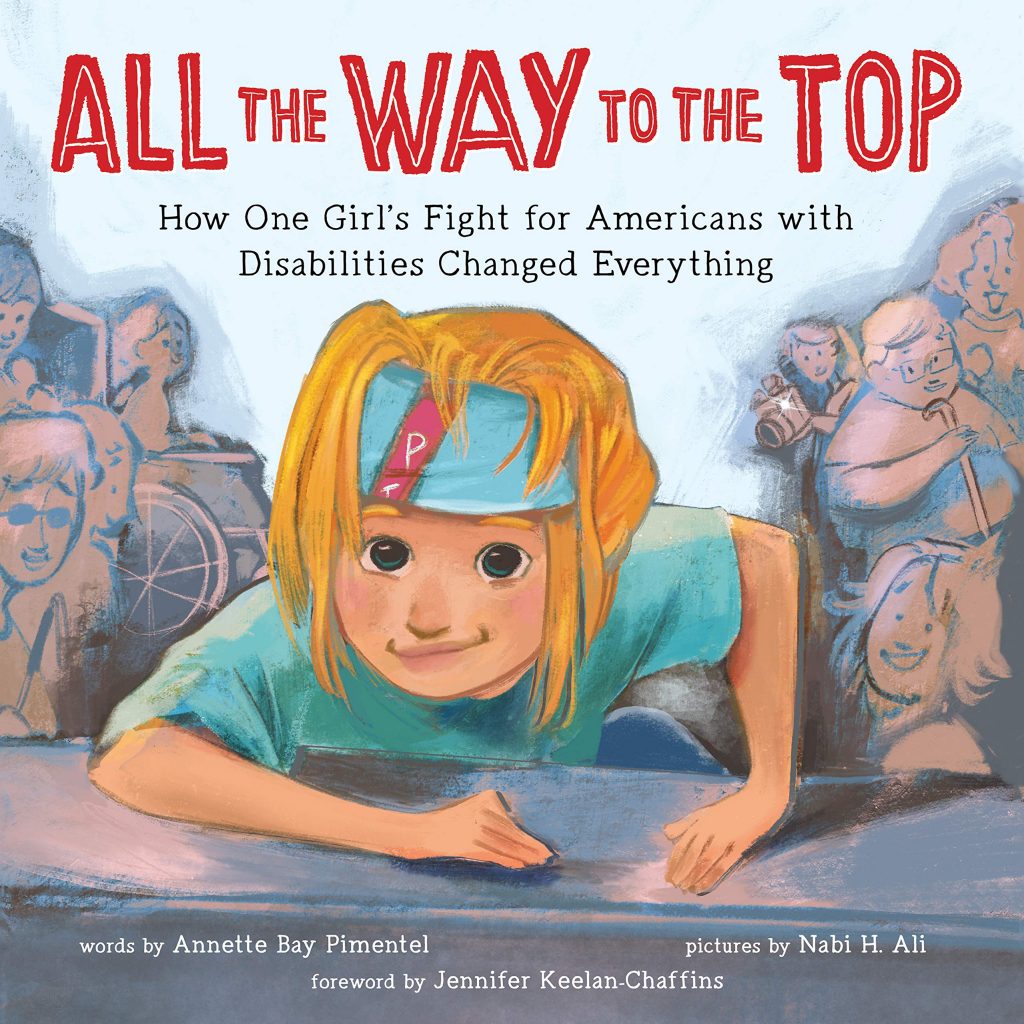 Jennifer Keelan was determined to make a change―even if she was just a kid. She never thought her wheelchair could slow her down, but the way the world around her was built made it hard to do even simple things. Like going to school, or eating lunch in the cafeteria.
Jennifer knew that everyone deserves a voice! Then the Americans with Disabilities Act, a law that would make public spaces much more accessible to people with disabilities, was proposed to Congress. And to make sure it passed, Jennifer went to the steps of the Capitol building in Washington DC to convince them.  And, without her wheelchair, she climbed. ALL THE WAY TO THE TOP!
Pirate Queen: A Story of Zheng Yi Sao by Helaine Becker (Author), Liz Wong (Illustrator) Ages 6 – 9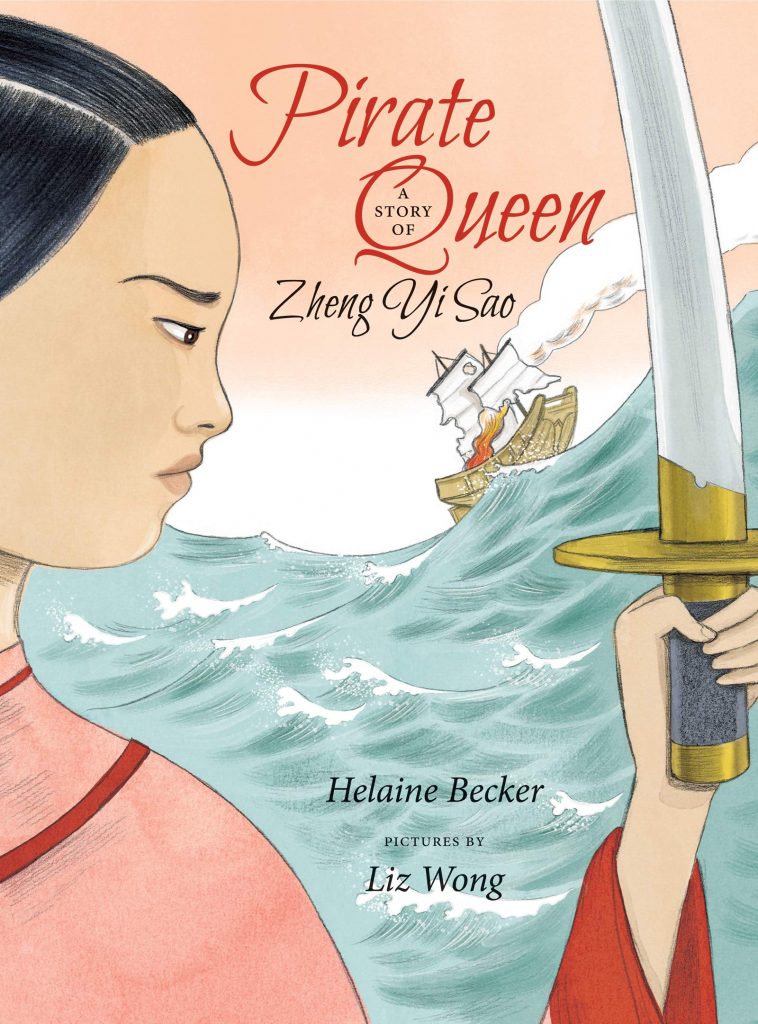 The most powerful pirate in history was a woman who was born into poverty in Guangzhou, China, in the late 1700s. When pirates attacked her town and the captain took a liking to her, she saw a way out. Zheng Yi Sao agreed to marry him only if she got an equal share of his business. When her husband died six years later, she took command of the fleet.  Over the next decade, the pirate queen built a fleet of over 1,800 ships and 70,000 men. On land and sea, Zheng Yi Sao's power rivaled the emperor himself. Time and again, her ships triumphed over the emperor's ships.
Like the Moon Loves the Sky by Hena Khan, Saffa Khan Ages 3 – 5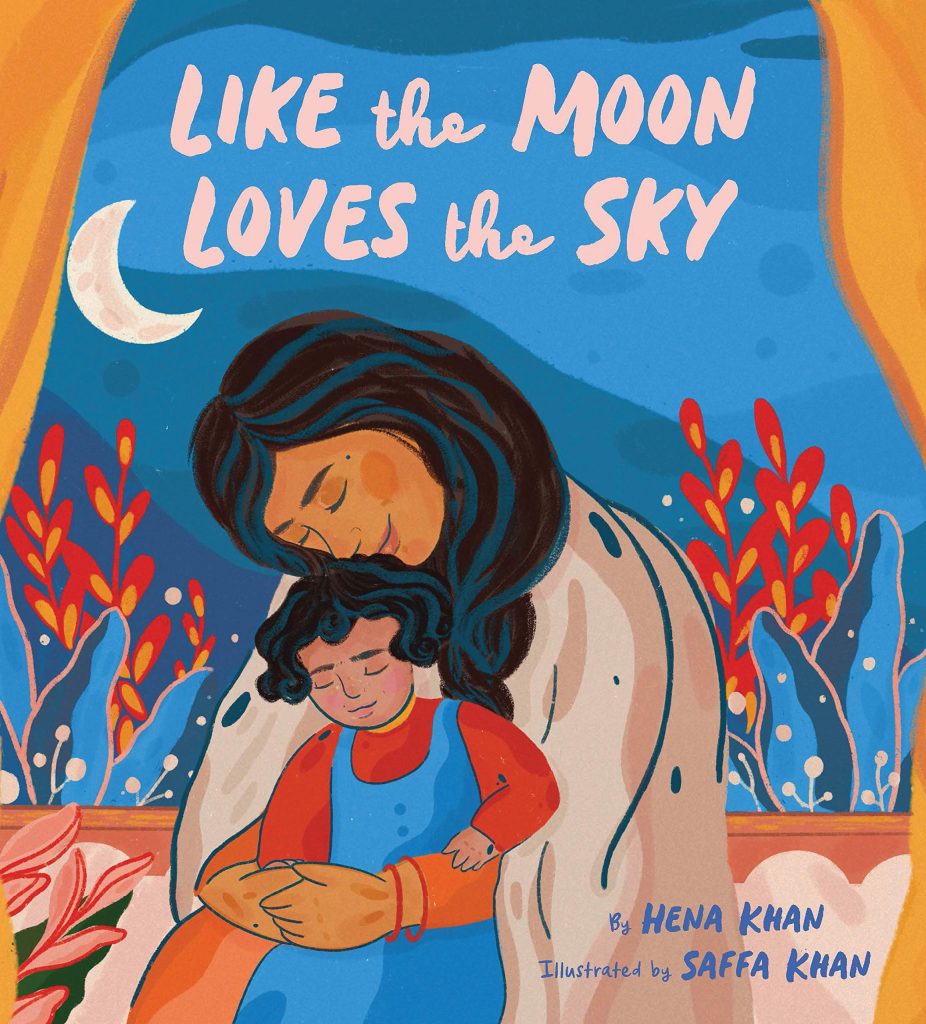 In this moving picture book, author Hena Khan shares her wishes for her children: "Inshallah you find wonder in birds as they fly. Inshallah you are loved, like the moon loves the sky." With vibrant illustrations and prose inspired by the Quran, this charming picture book is a heartfelt and universal celebration of a parent's unconditional love.
Be You! by Peter H. Reynolds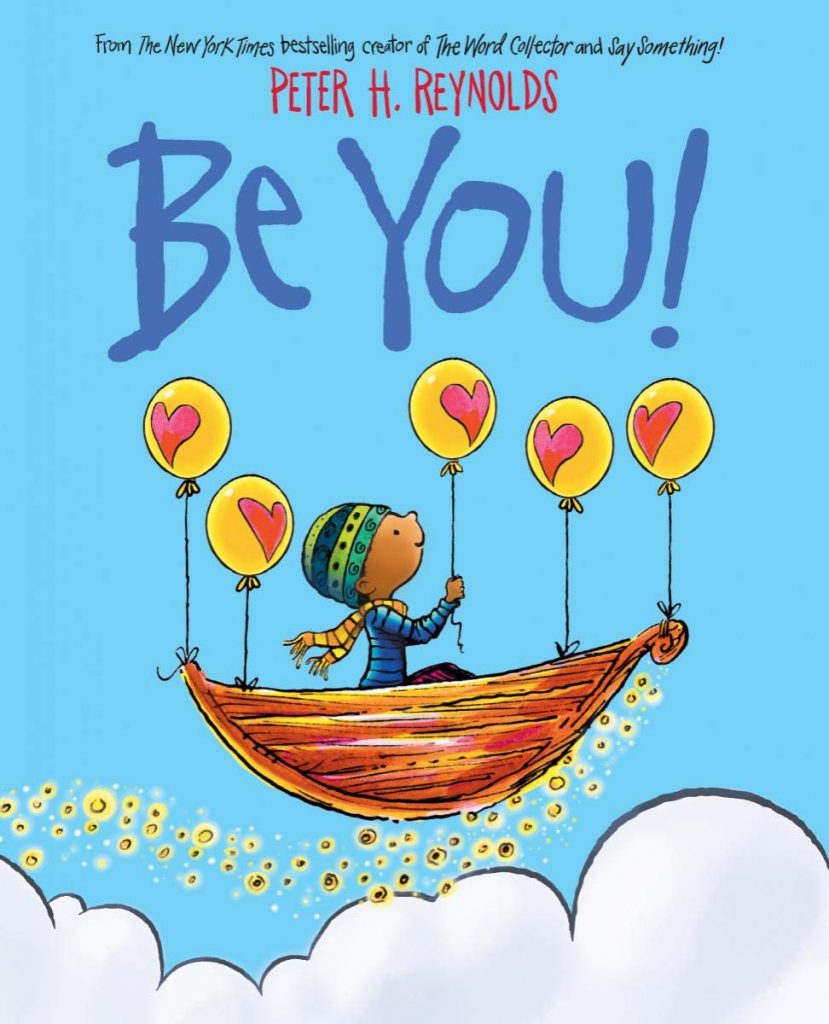 Discover a joyful reminder of the ways that every child is unique and special, from the beloved creator of The Dot, Happy Dreamer, and New York Times bestseller, The Word Collector. Here, Reynolds reminds readers to "be your own work of art." To be patient, persistent, and true. Because there is one, and only one, YOU.
Brown Girl Ghosted by Mintie Das (Author) Ages 14 and up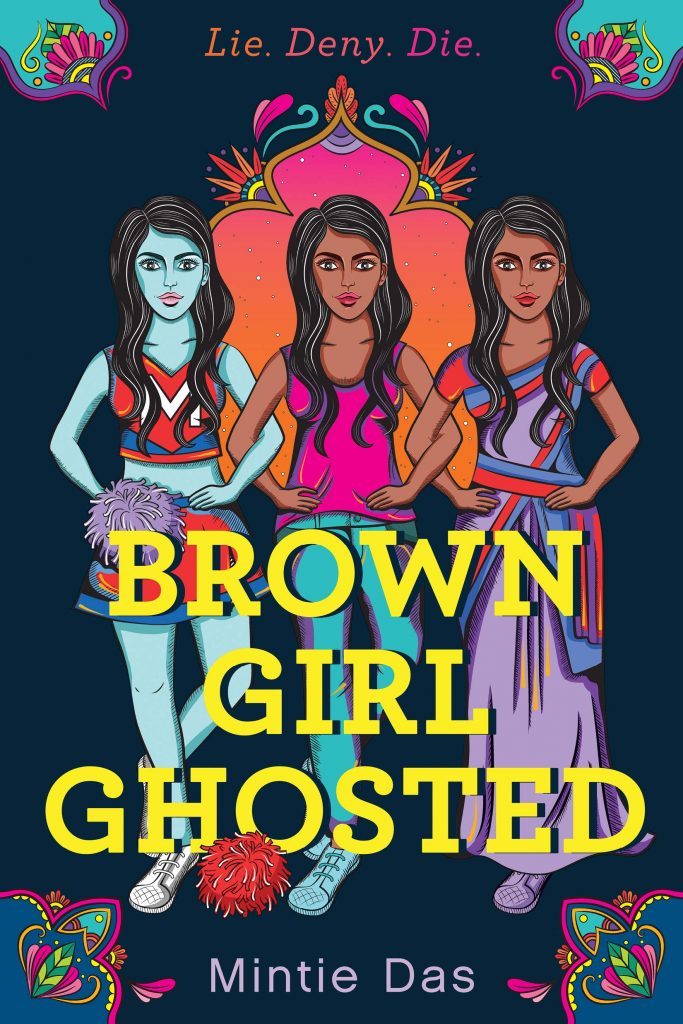 Violet Choudhury may be part of the popular clique at school, but as one of a handful of brown girls in a small Illinois town, all she really wants to do is blend in and disappear. Unfortunately for her, she's got a knack for seeing spirits, including the dead—something she's tried to ignore all her life. But when the queen bee of Violet's cheerleading squad ends up dead following a sex tape that's not as consensual as everyone wants to believe, Violet's friends from the spirit world decide it's the perfect time for Violet to test her skills and finally accept the legacy of spiritual fighters from whom she's descended. Her mission? Find the killer.  Or else she's next.
Sissy: A Coming of Gender Story by Jacob Tobia Ages 14 and up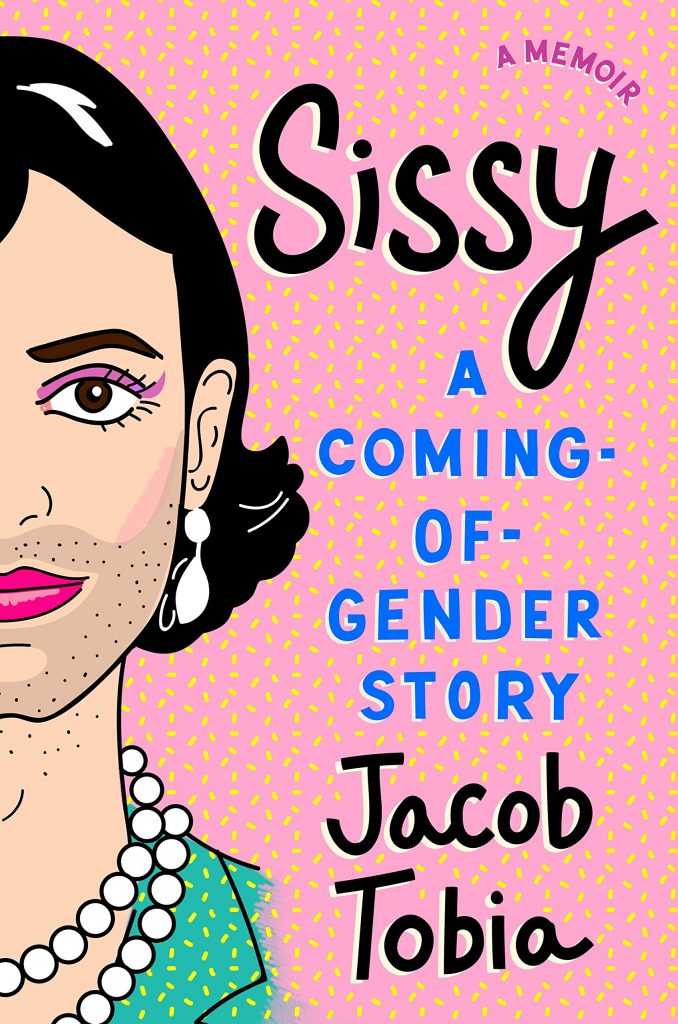 As a young child in North Carolina, Jacob Tobia wasn't the wrong gender, they just had too much of the stuff. Barbies? Yes. Playing with bugs? Absolutely. Getting muddy? Please. Princess dresses? You betcha. Jacob wanted it all, but because they were "a boy," they were told they could only have the masculine half. Acting feminine labelled them "a sissy" and brought social isolation.
The Only Black Girls in Town by Brandy Colbert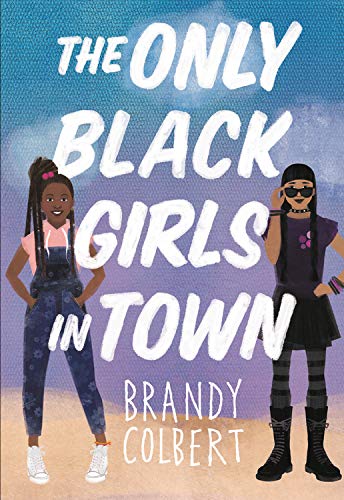 Beach-loving surfer Alberta has been the only black girl in town for years. Alberta's best friend, Laramie, is the closest thing she has to a sister, but there are some things even Laramie can't understand. When the bed and breakfast across the street finds new owners, Alberta is ecstatic to learn the family is black-and they have a 12-year-old daughter just like her.
Child of the Universe by Ray Jayawardhana (Author), Raul Colón (Illustrator) Ages 3 – 7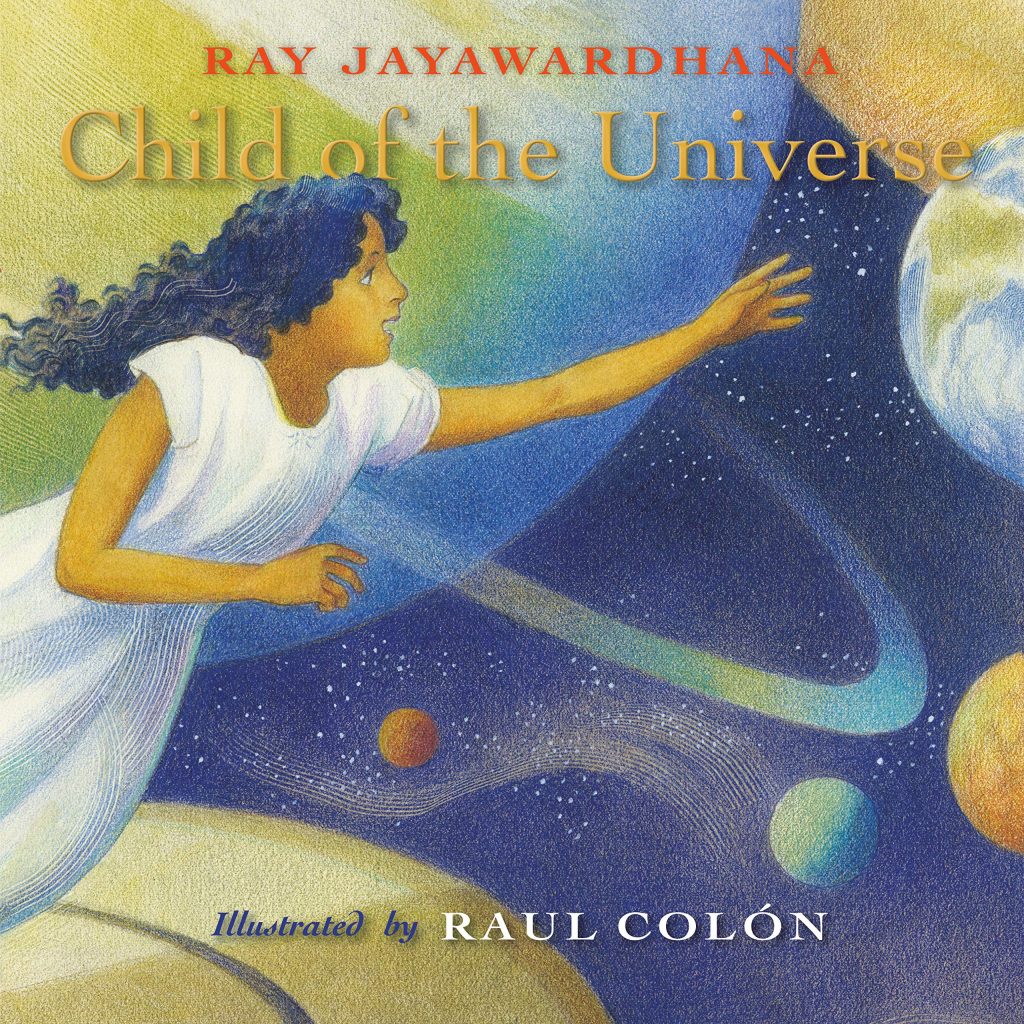 A lyrical meditation on the preciousness of one child and the vastness of the universe, this gorgeously illustrated picture book shares the immensity of a parent's love along with the message that we are all connected to the broader cosmos in important and intimate ways.
Rise Up! The Art of Protest by Jo Rippon (Author), Mari Copeny (Foreword) Ages 8 – 12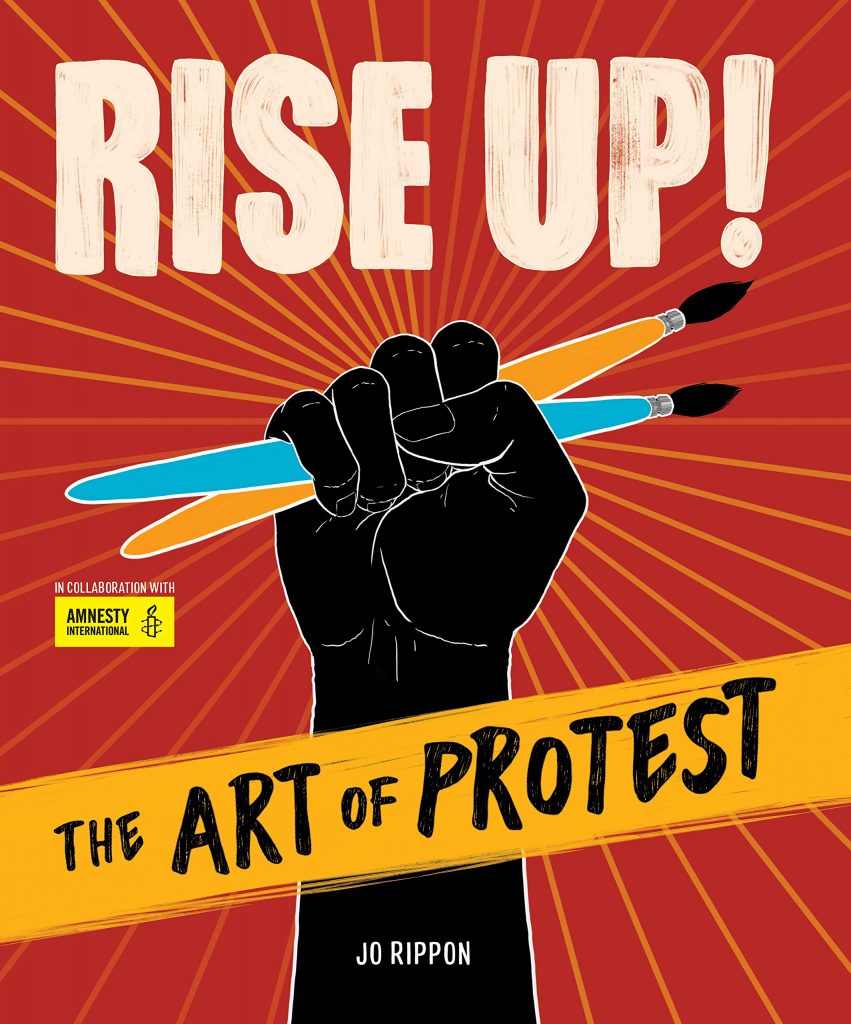 Human rights belong to every single one of us, but they are often under threat. Developed in collaboration with Amnesty International, Rise Up! encourages young people to engage in peaceful protest and stand up for freedom. Photographs of protest posters celebrate the ongoing fight for gender equality, civil rights, LGBTQ rights, refugee and immigrant rights, peace, and the environment.
Changing the Equation: 50+ US Black Women in STEM by Tonya Bolden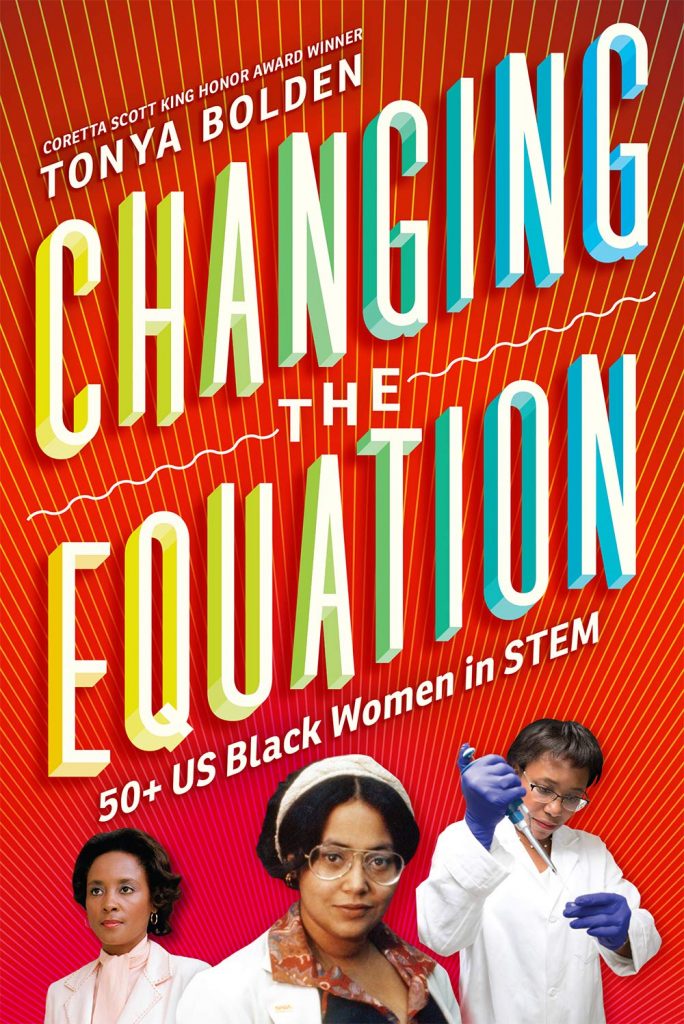 A celebratory and inspiring look at some of the most important black women in STEM
Award-winning author Tonya Bolden explores the black women who have changed the world of STEM (Science, Technology, Engineering, and Mathematics) in America. Including groundbreaking computer scientists, doctors, inventors, physicists, pharmacists, mathematicians, aviators, and many more, this book celebrates more than 50 women who have shattered the glass ceiling, defied racial discrimination, and pioneered in their fields. In these profiles, young readers will find role models, inspirations, and maybe even reasons to be the STEM leaders of tomorrow. These stories help young readers to dream big and stay curious. The book includes endnotes, a bibliography, and an index.
I Believe I Can by Grace Byers, Keturah A. Bobo (Ages 4-8)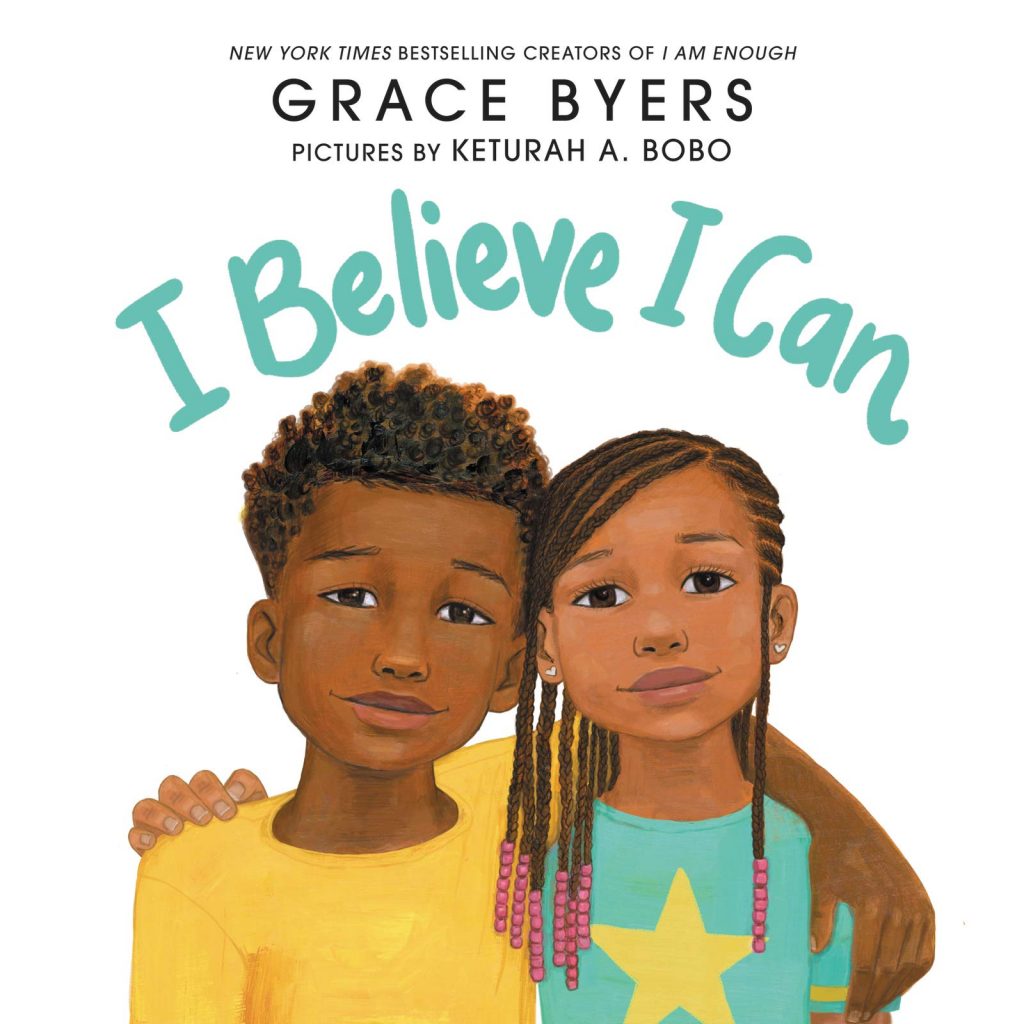 From the New York Times bestselling creators of I Am Enough comes an empowering follow-up that celebrates every child's limitless potential.  I Believe I Can is an affirmation for boys and girls of every background to love and believe in themselves.
Fresh Princess: Style Rules! by Denene Millner, illustrated by Gladys Jose (Ages 4 – 8)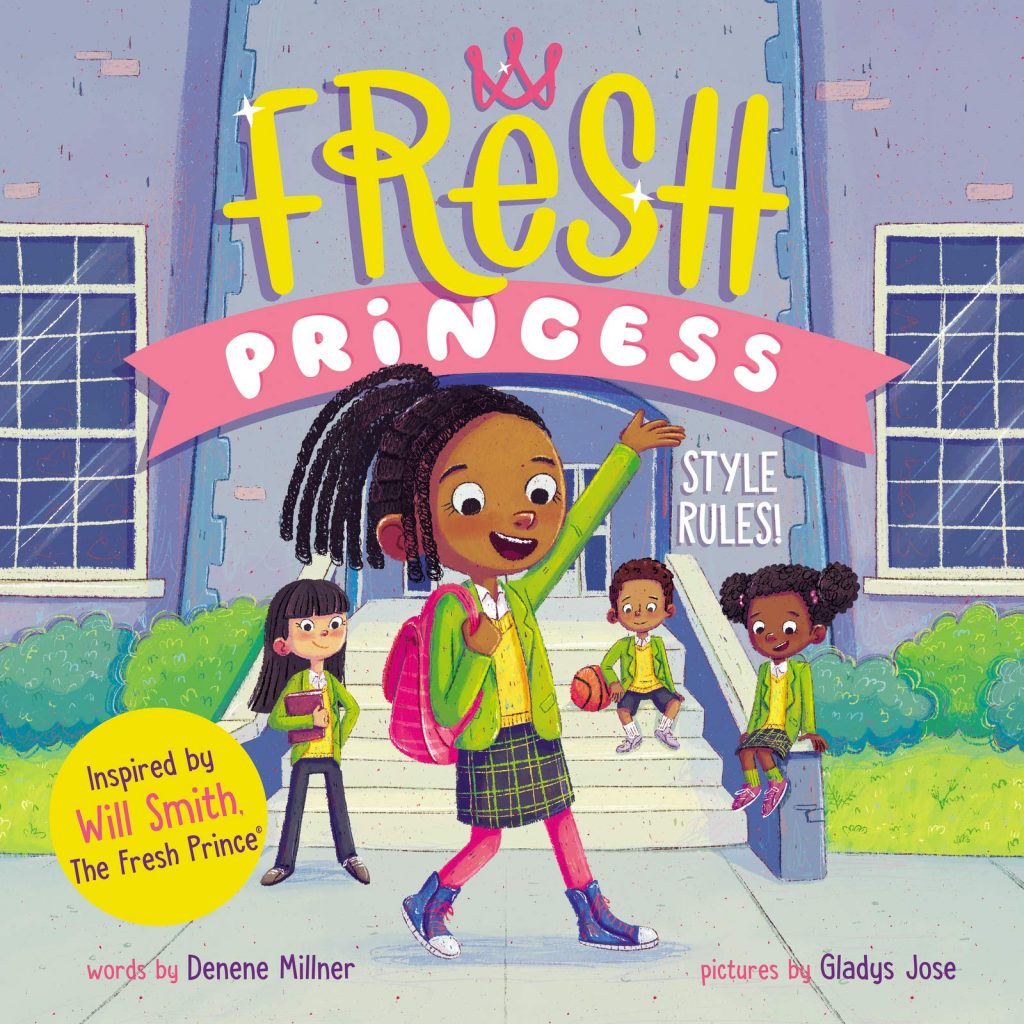 Destiny loves everything about school, but when she shows up to Paul Robeson Prep, it's bigger than she ever imagined, the uniforms are plain, and all her friends already have a "thing." Destiny suddenly doesn't feel so fresh and wonders how she'll ever stand out. That's when she notices something super cool about her uniform jacket…Will Destiny find a way to make her mark?
Tiara's Hat Parade by Kelly Starling Lyons, illustrated by Nicole Tadgell (Ages 4 – 8)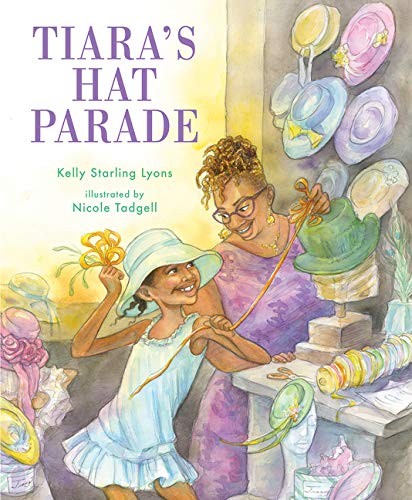 Tiara has a gift for storytelling; her momma has a gift for making hats. When a new store opens that sells cheaper hats, Momma has to set her dreams aside, but Tiara has an idea for helping Momma's dreams come true again.
Who Got Game?: Baseball: Amazing but True Stories! by Derrick Barnes and John John Bajet Ages 8 – 12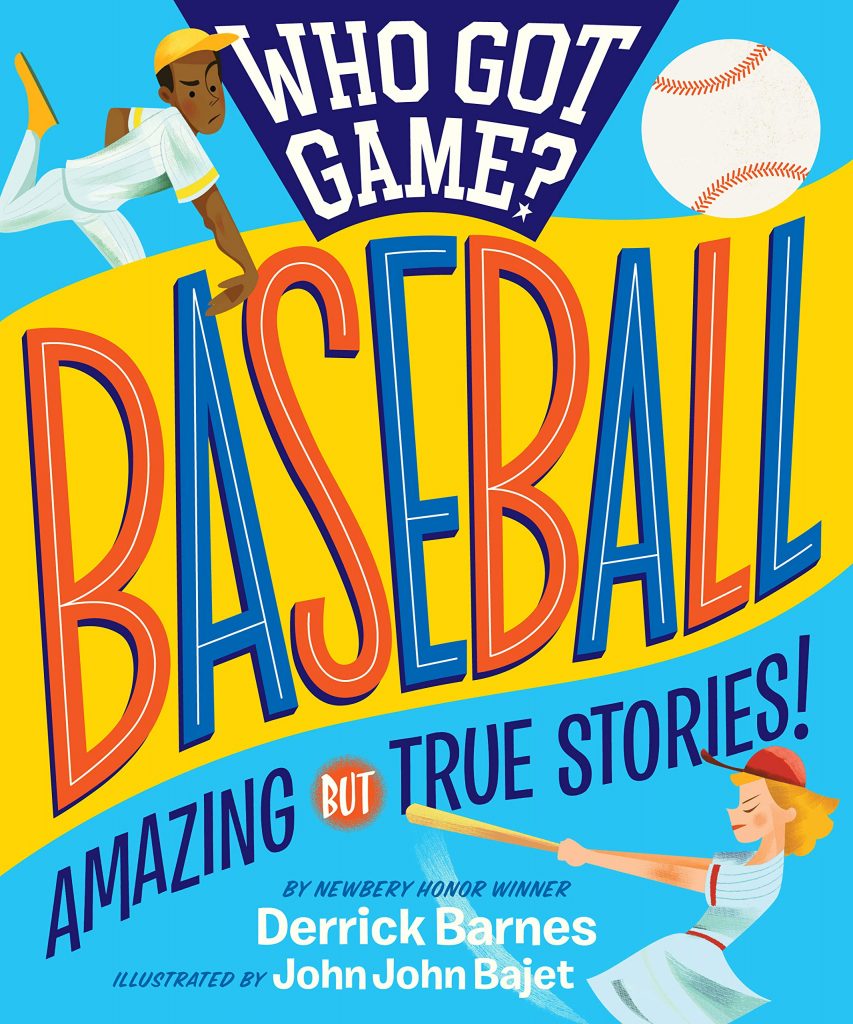 Derrick D. Barnes, winner of the 2018 Ezra Jack Keats Book Award for outstanding new writer, is a star in the YA and children's literary world. His picture book, Crown: An Ode to the Fresh Cut, won four honors at the 2018 American Library Association's Youth Media Awards, including the Coretta Scott King Author Honor. Now comes his first nonfiction book (and the first in a sports series), where he shines a spotlight on 45 fascinating baseball records, personalities, and anecdotes rarely mentioned in popular baseball lore. Like John "Bud" Fowler, William Edward White, Moses Fleetwood Walker, and Weldy Walker—four African Americans who integrated white teams decades before Jackie Robinson. Or Jackie Mitchell, the 17-year-old girl who struck out Babe Ruth and Lou Gehrig.
When Grandpa Gives You a Toolbox by Jamie L.B. Deenihan (Author), Lorraine Rocha (Illustrator) Ages 3 – 7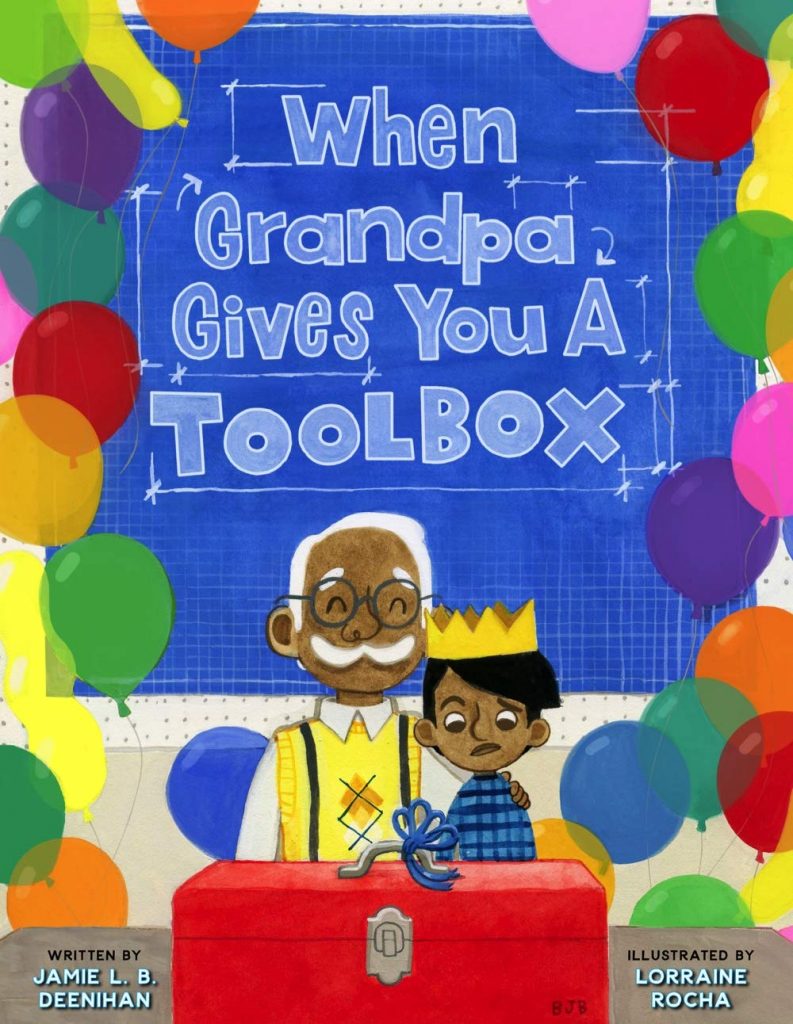 You asked for a special house for your dolls; but instead Grandpa gives you a toolbox! What do you do? Launching it into outer space is a bad idea. So is feeding it to a T. rex! Instead, be patient, pay attention, and you might find that you're pretty handy. And just maybe, with grandpa's help, you'll get that dollhouse after all. This clever story celebrates kindness, hard work, and community, as well as variety in gender expression: the male main character proudly engages in activities that might be considered typically girl (playing with dolls) and typically boy (building with tools).
Evonne Goolagong by Maria Isabel Sanchez Vegara (Author), Lisa Koesterke Ages 4 – 7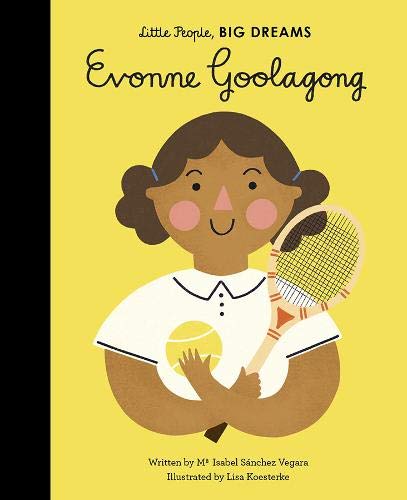 In this book from the critically acclaimed Little People, BIG DREAMS series, discover the life of Evonne Goolagong, the inspiring indigenous Australian tennis player.
Evonne grew up on a hot, dusty farm in Australia. She was the third of eight children, and descendant of the Wirundjuri people, who have lived on the land for more than 60,000 years. Her talent for tennis was discovered at a local tennis club, and before she knew it, the girl dreaming about the place called "Wimbledon" was playing on center court.
Princess Truly: I Can Build It! by Kelly Greenawalt, illustrated by Amariah Rauscher Ages ( – )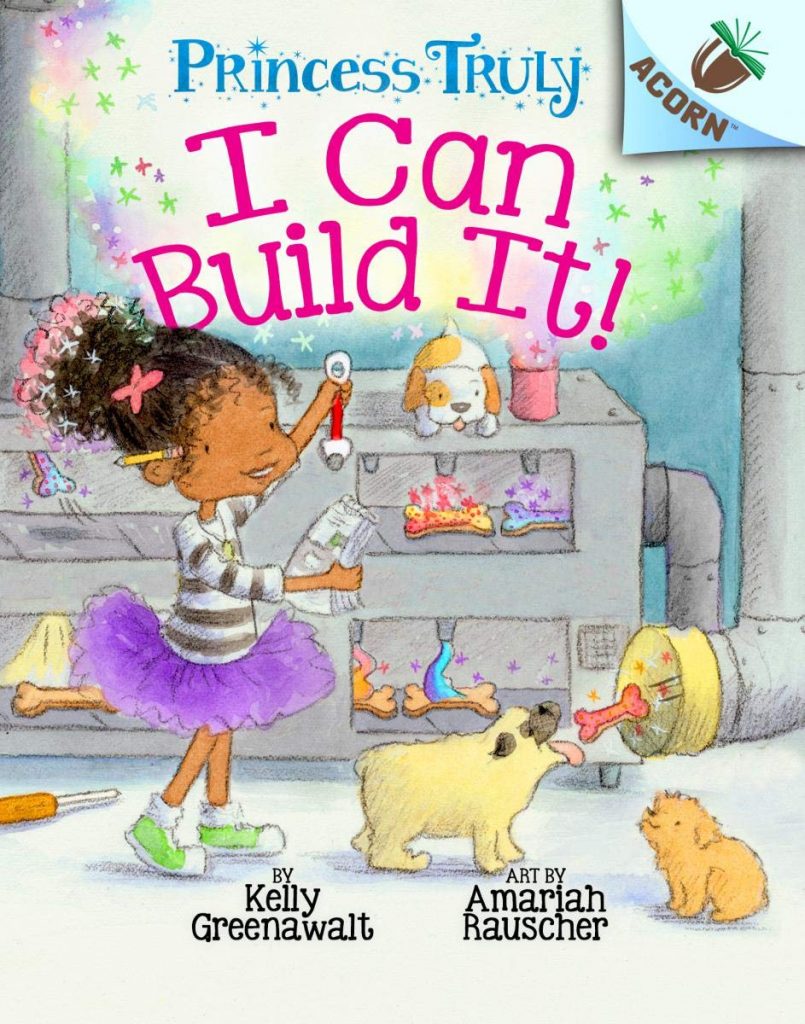 Princess Truly is a great inventor! With her magic, sparkling curls, she can build anything from a Brushy-Brush machine to a super-cool, turbo-boosted racing bike for her little brother. But when Truly and her sidekick pug Sir Noodles discover that the animal shelter is all out of treats, it's time for their biggest invention yet… the Super Snack Machine!
Chia and the Fox Man: An Alaskan Dena'ina Fable by Barbara Atwater (Adapter), Ethan Jacko Atwater (Adapter), Mindy Dwyer (Illustrator) Ages 5-7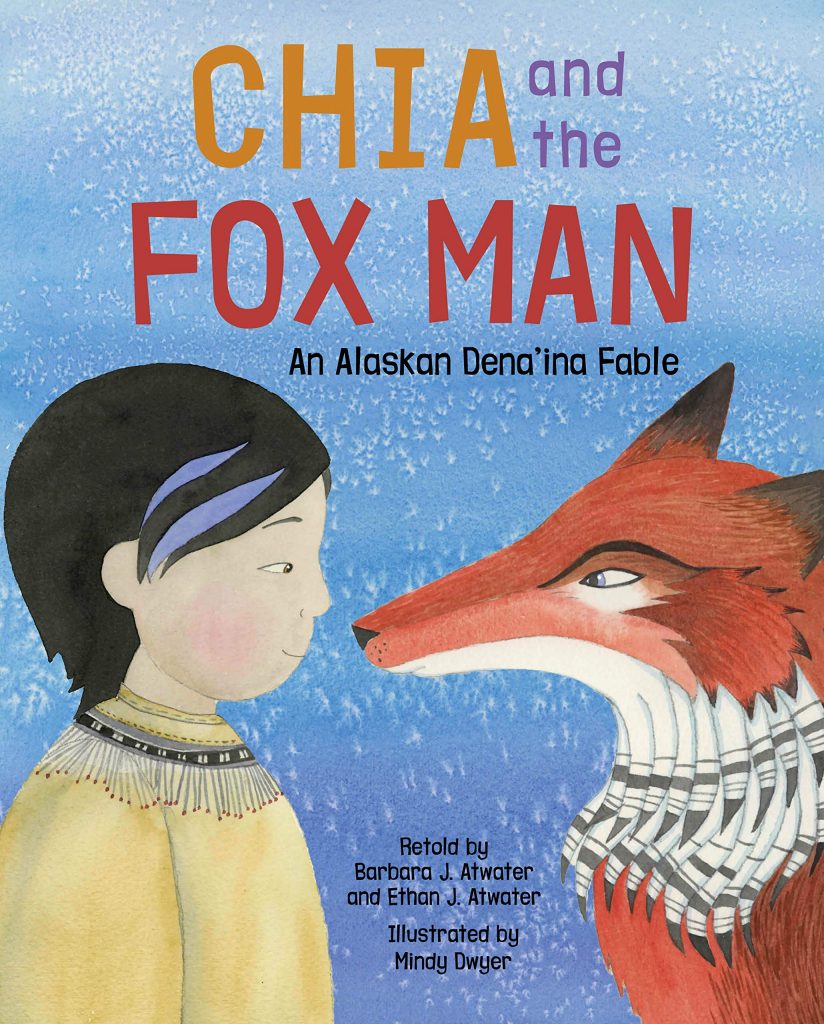 Life is hard for Chia. His village doesn't have enough food and every day there are many chores to do. Chia always goes to bed hungry and tired, until one day in the middle of the night he wakes to a strange noise. He decides to investigate―and meets the legendary Fox Man. Will the Fox Man be able to help Chia and his village?
We are Water Protectors by Carole Lindstrom, illustrated by Michaela Goade (Ages 3-6)


Inspired by the many Indigenous-led movements across North America, Carole Lindstrom's bold and lyrical picture book We Are Water Protectors issues an urgent rallying cry to safeguarding the Earth's water from harm and corruption.
Woke: A Young Poet's Call to Justice by Mahogany L. Browne, Elizabeth Acevedo & Olivia Gatwood, illustrated by Theodore Taylor III  (Ages 6 – 11)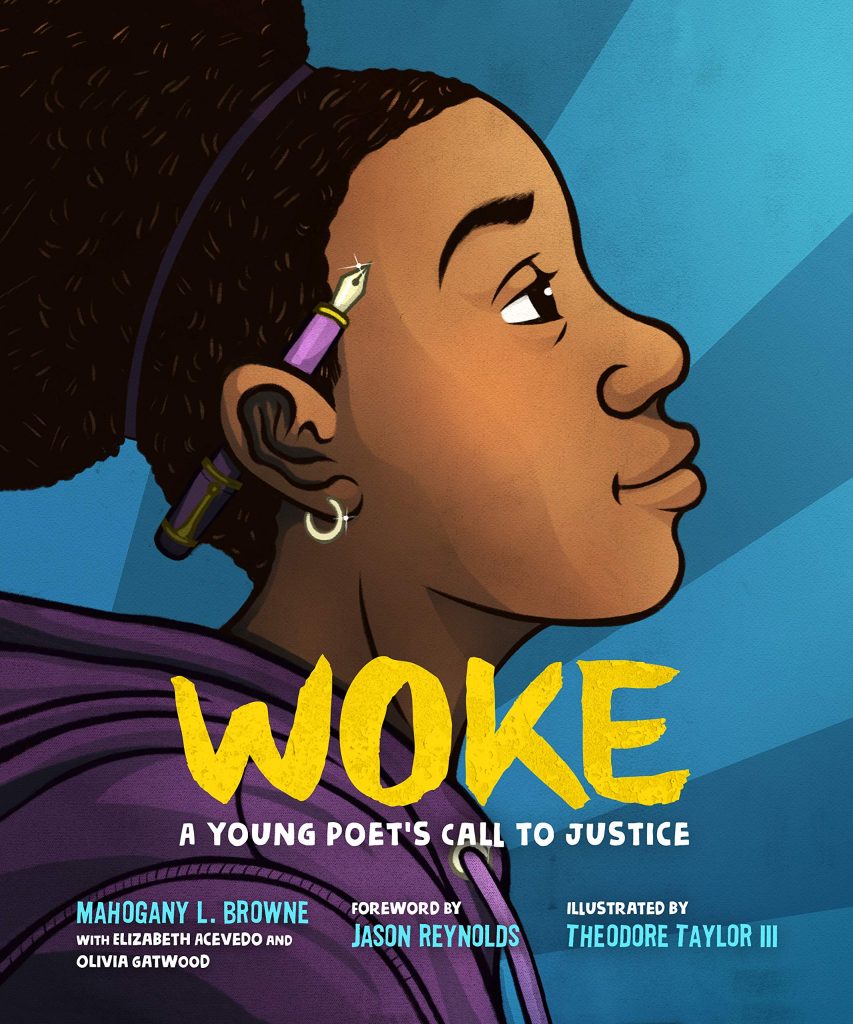 Historically poets have been on the forefront of social movements. Woke is a collection of poems by women that reflects the joy and passion in the fight for social justice, tackling topics from discrimination to empathy, and acceptance to speaking out.
I Am Brown by Ashok Banker, Sandhya Prabhat (Ages 5 – 8)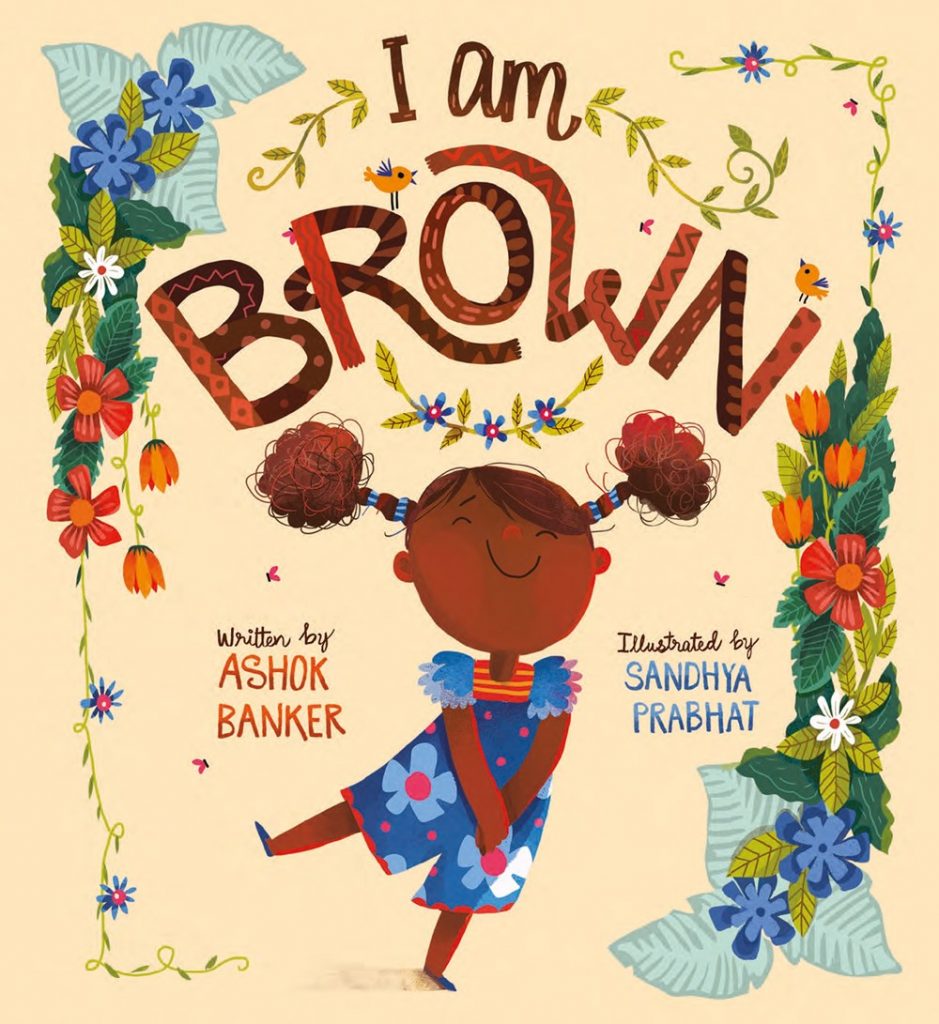 A joyful celebration of the skin you're in―of being brown, of being amazing, of being you.
Work It Girl, Mae Jemison by Caroline Moss, illustrated by Sinem Erkas Ages 8 – 12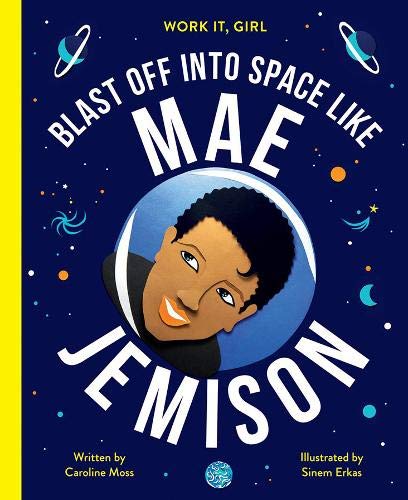 In this imaginatively illustrated book from the Work It, Girl series, discover how Mae Jemison became the first African American woman in space in this true story of her life. Then, learn 10 key lessons from her work you can apply to your own life.
Work It Girl, Michelle Obama by Caroline Moss, illustrated by Sinem Erkas Ages 8 – 12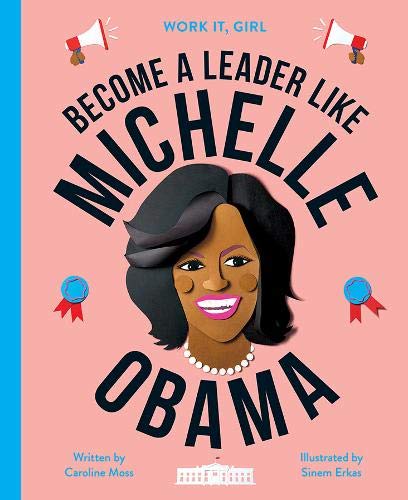 Michelle Obama grew up on the South Side of Chicago in a little bungalow with a close-knit family. She loved going to school, and she knew that, one day, she would use her voice to empower other young girls, just like her. Young Michelle was a brilliant student and wonderful daughter. With hard work and talent, she propelled herself into the universities of Princeton and Harvard. She qualified as a lawyer and life was going smoothly…Then she met a guy named Barack.
In this imaginatively illustrated book from the Work It, Girl series, discover how Michelle became an inspirational leader, FLOTUS, lawyer, author, and role model in this true story of her life. Then, learn 10 key lessons from her work you can apply to your own life.
Love Your Body by Jessica Sanders (Author), Carol Rossetti Ages 8 – 12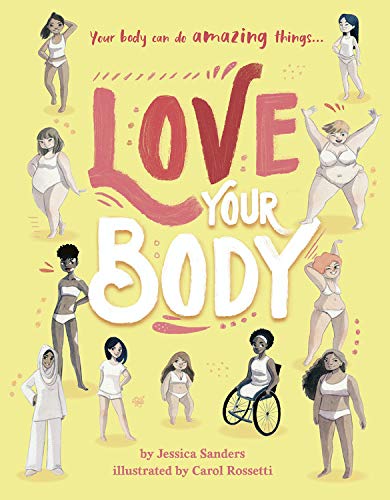 Love Your Body introduces the language of self-love and self-care to help build resilience, while representing and celebrating diverse bodies, encouraging you to appreciate your uniqueness. This book was written for every girl, regardless of how you view your body. All girls deserve to be equipped with the tools to navigate an image-obsessed world.
April
What I Like Most by Mary Murphy, Zhu Cheng-Liang Ages 3 – 7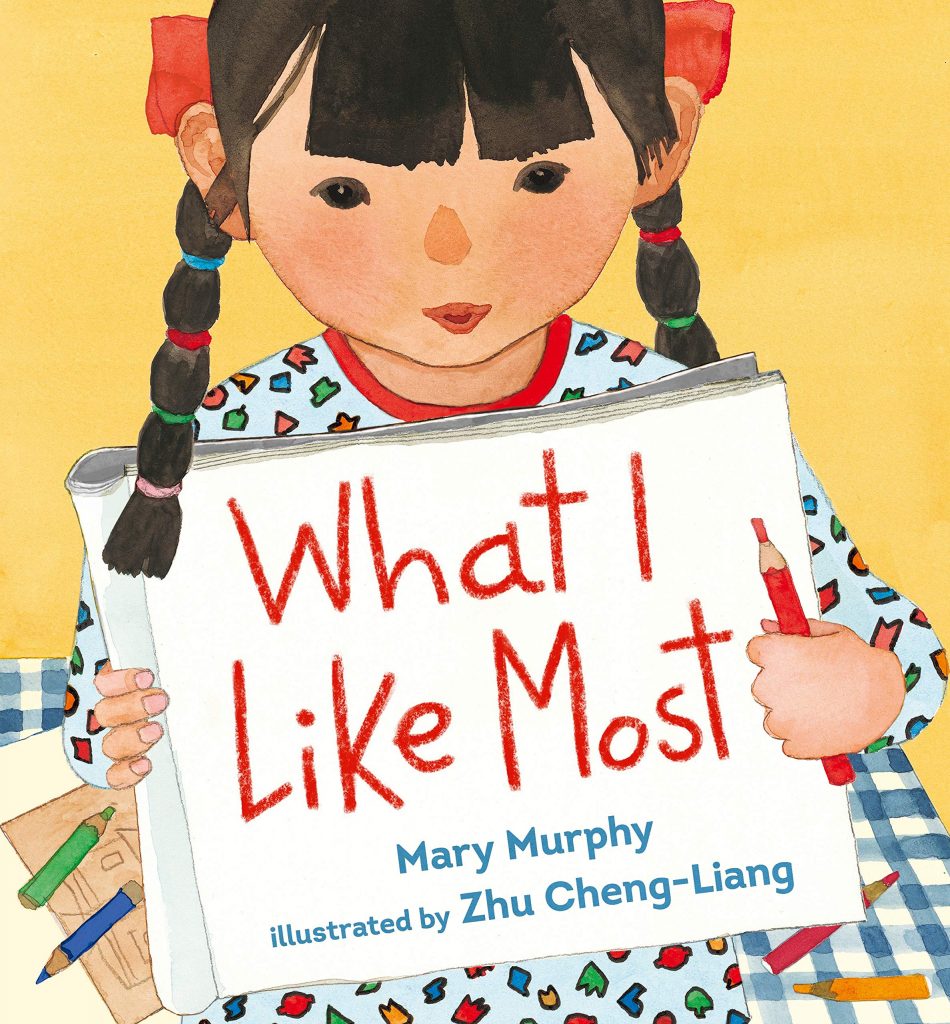 A little girl observes, one by one, things that give her pleasure — the apricot jam on her toast, the light-up shoes that make her feet bounce, the sparkling river, the pencil whose color comes out like a ribbon. But even after the jar becomes empty, and the shoes grow too small, and the pencil is all used up, one thing will never change.
Fly, Firefly by Shana Keller, Ramon Kaulitzki Ages 5 – 7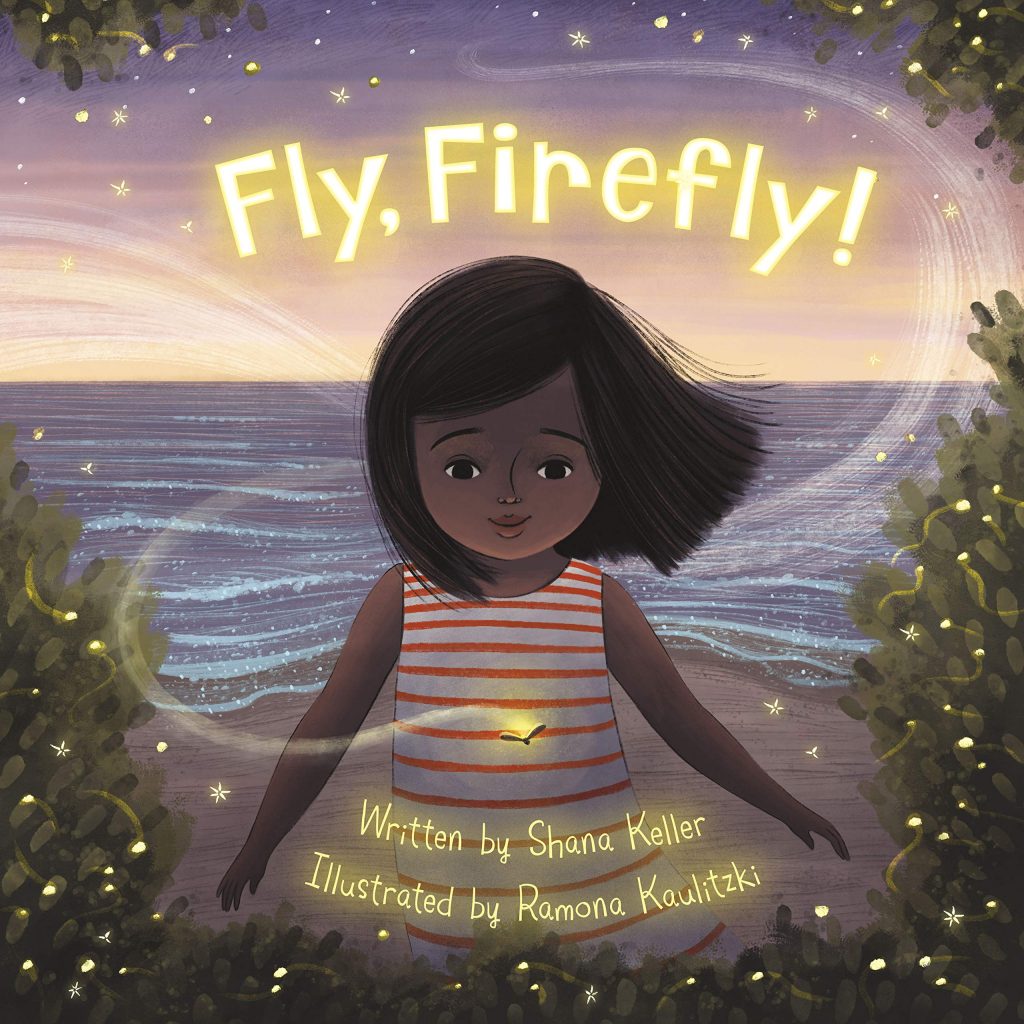 One evening at dusk a wind current carries a lone firefly out over the sea. Glancing down into the water, the insect is mesmerized by the glowing bioluminescence, mistaking it for other fireflies. Seeking company, the firefly plunges into the waves. Luckily, there are human bystanders who can lend a hand. Based on an event witnessed by nature writer and ecologist Rachel Carson (The Sea Around Us and Silent Spring) where a firefly attempts to join its "family" in the ocean, this lyrical story written in verse perfectly illustrates the wonder and delight the natural world offers those who pay close enough attention. Back matter includes science facts about fireflies and bioluminescence, as well as information about Carson's life.
When Stars Are Scattered by Victoria Jamieson (Author, Illustrator), Omar Mohamed (Author), Iman Geddy (Illustrator) Ages 9 – 12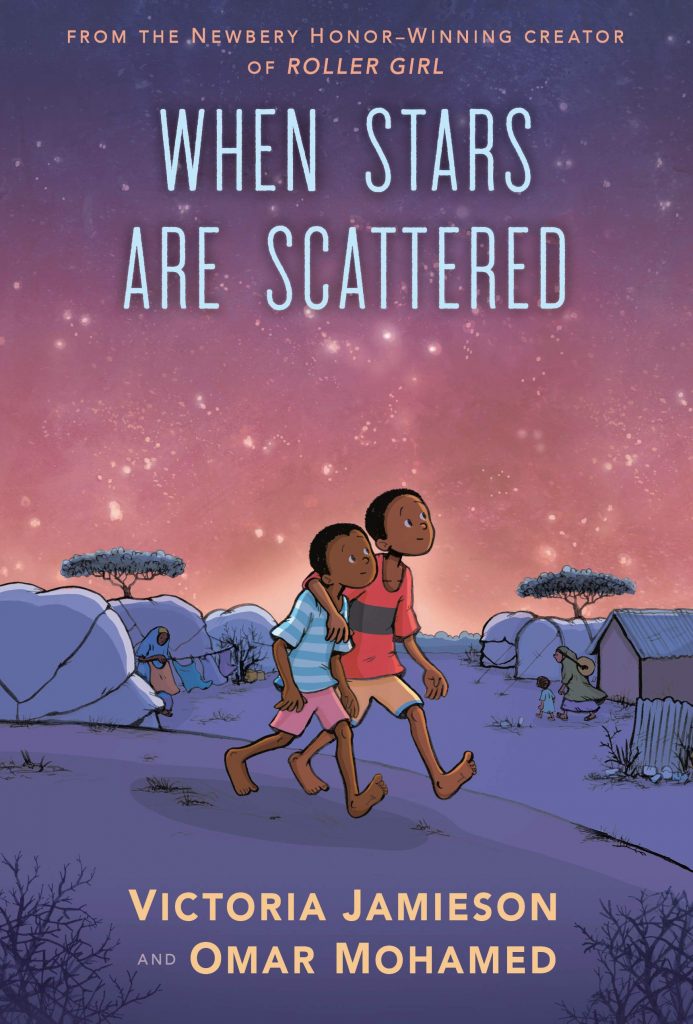 Omar and his younger brother, Hassan, have spent most of their lives in Dadaab, a refugee camp in Kenya. Life is hard there: never enough food, achingly dull, and without access to the medical care Omar knows his nonverbal brother needs. So when Omar has the opportunity to go to school, he knows it might be a chance to change their future . . . but it would also mean leaving his brother, the only family member he has left, every day.
Ways to Make Sunshine by Renée Watson Ages 7 – 10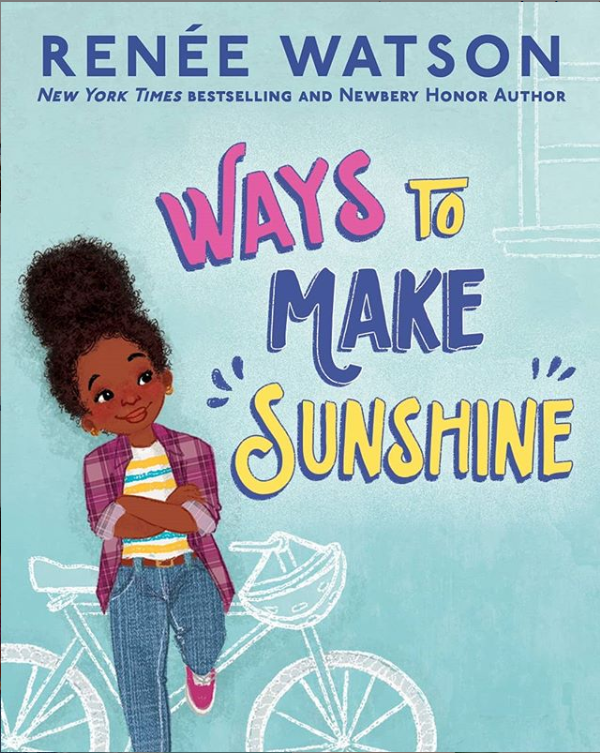 The Hart family of Portland, Oregon, faces many setbacks after Ryan's father loses his job, but no matter what, Ryan tries to bring sunshine to her loved ones.
A Story About Afiya by James Berry, Anna Cunha (Ages 5 – 8)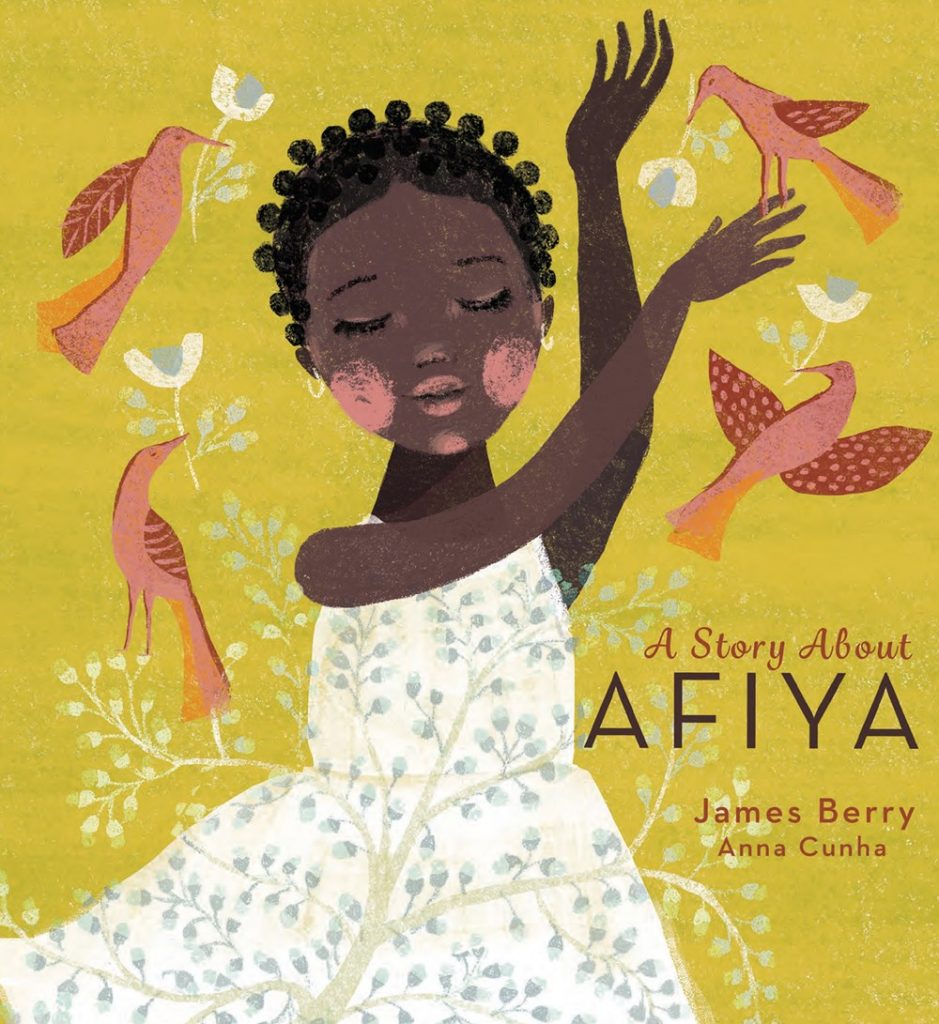 Some people have dresses for every occasion but Afiya needs only one. Her dress records the memories of her childhood, from roses in bloom to pigeons in flight, from tigers at the zoo to October leaves falling. A joyful celebration of a young girl's childhood, written by the late Coretta Scott King Book Award-winning Jamaican poet James Berry.
Exquisite: The Poetry and Life of Gwendolyn Brooks by Suzanne Slade, Cozbi A. Cabrera Ages 6 – 9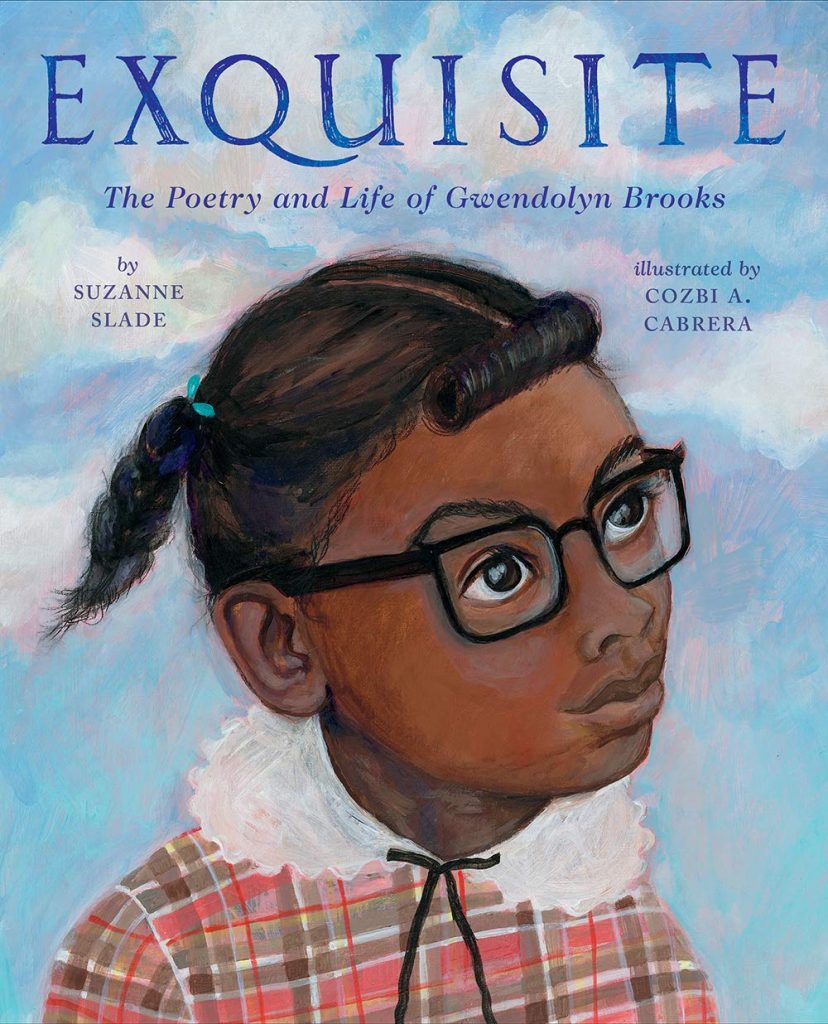 This picture-book biography explores the intersections of race, gender, and the ubiquitous poverty of the Great Depression—all with a lyrical touch worthy of the subject. Gwendolyn Brooks was the first Black person to win the Pulitzer Prize, receiving the award for poetry in 1950. And in 1958, she was named the poet laureate of Illinois. A bold artist who from a very young age dared to dream, Brooks will inspire young readers to create poetry from their own lives.
Immigrant Architect: Rafael Guastavino and the American Dream by Berta de Miguel, Kent Diebolt, Virginia Lorente Ages 6 – 8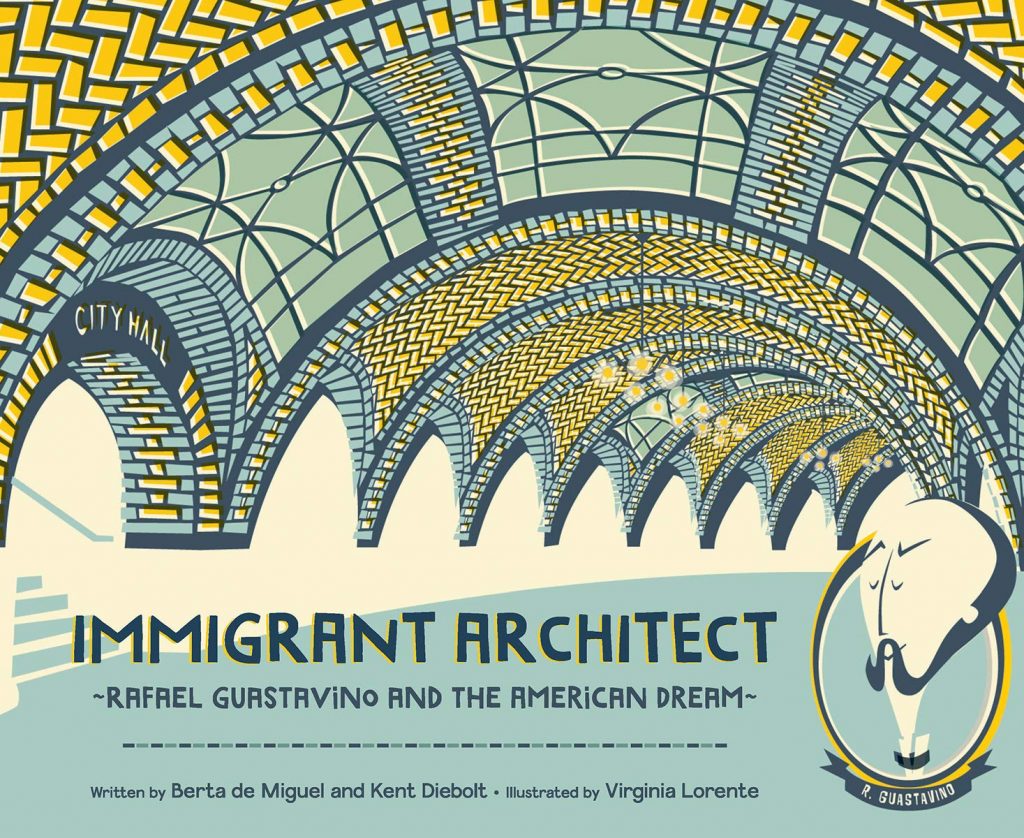 Rafael Guastavino Sr. was 39 when he left a successful career as an architect in Barcelona. American cities―densely packed and built largely of wood―were experiencing horrific fires, and Guastavino had the solution: The soaring interior spaces created by his tiled vaults and domes made buildings sturdier, fireproof, and beautiful. What he didn't have was fluent English. Unable to win design commissions, he transferred control of the company to his American-educated son, whose subsequent half-century of inspired design work resulted in major contributions to the built environment of America.
Immigrant Architect is an introduction to architectural concepts and a timely reminder of immigrant contributions to America. The book includes four route maps for visiting Guastavino-designed spaces in New York City: uptown, midtown, downtown, and Prospect Park.
BOX: Henry Brown Mails Himself to Freedom by Carole Boston Weatherford (Author), Michele Wood Ages 10 and up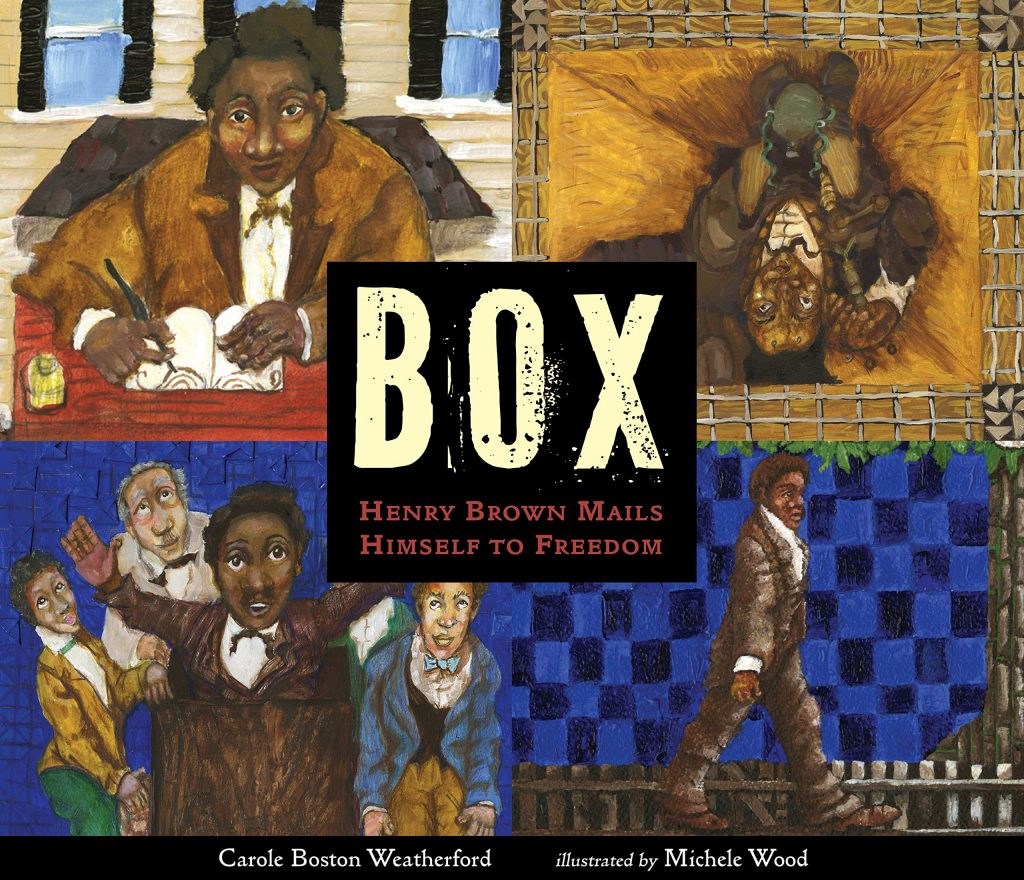 In stanzas of six lines each, each line representing one side of a box, celebrated poet Carole Boston Weatherford powerfully narrates Henry Brown's story of how he came to send himself in a box from slavery to freedom.
Bedtime Bonnet by Nancy Redd, Nneka Myers Ages 3-7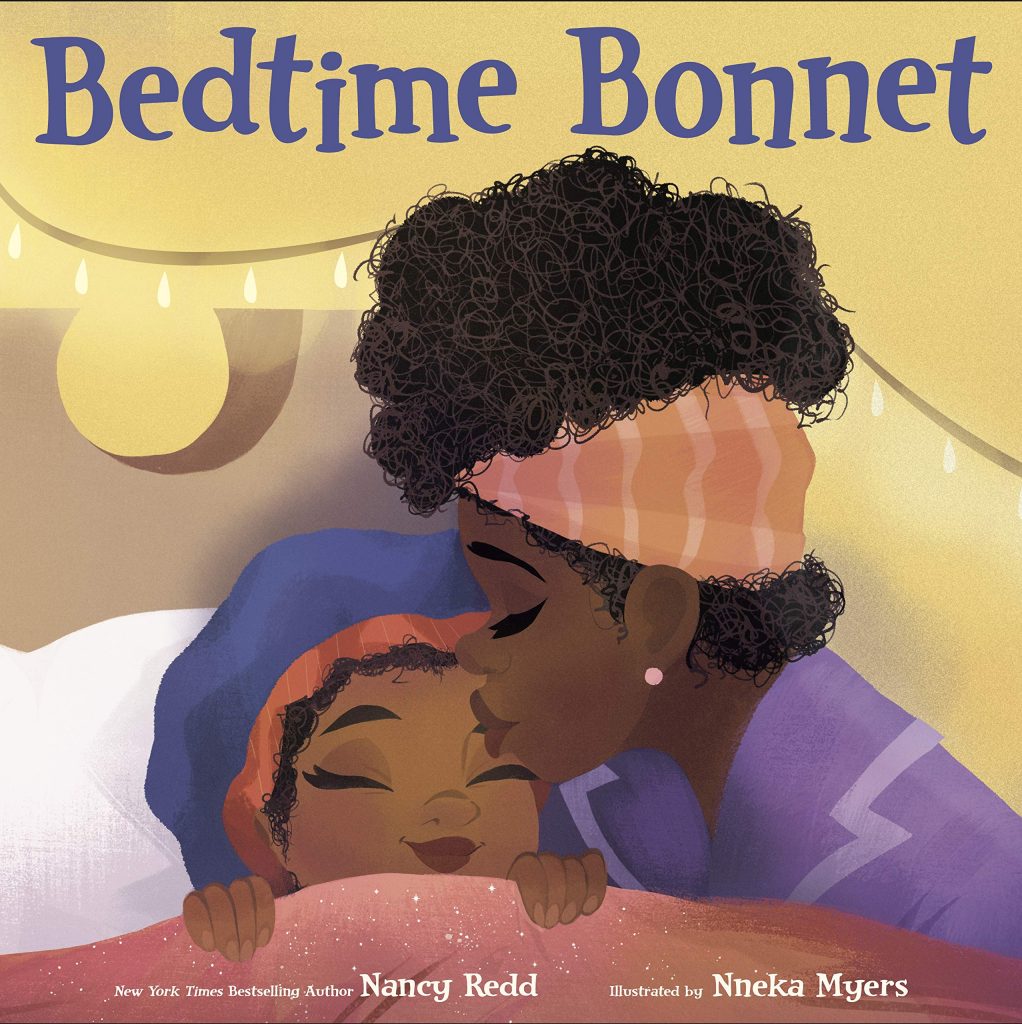 Bedtime Bonnet gives readers a heartwarming peek into quintessential Black nighttime hair traditions and celebrates the love between all the members of this close-knit, multi-generational family.
The Cat Man of Aleppo by Karim Shamsi-Basha (Author), Irene Latham (Author), Yuko Shimizu (Illustrator) Ages 4 – 8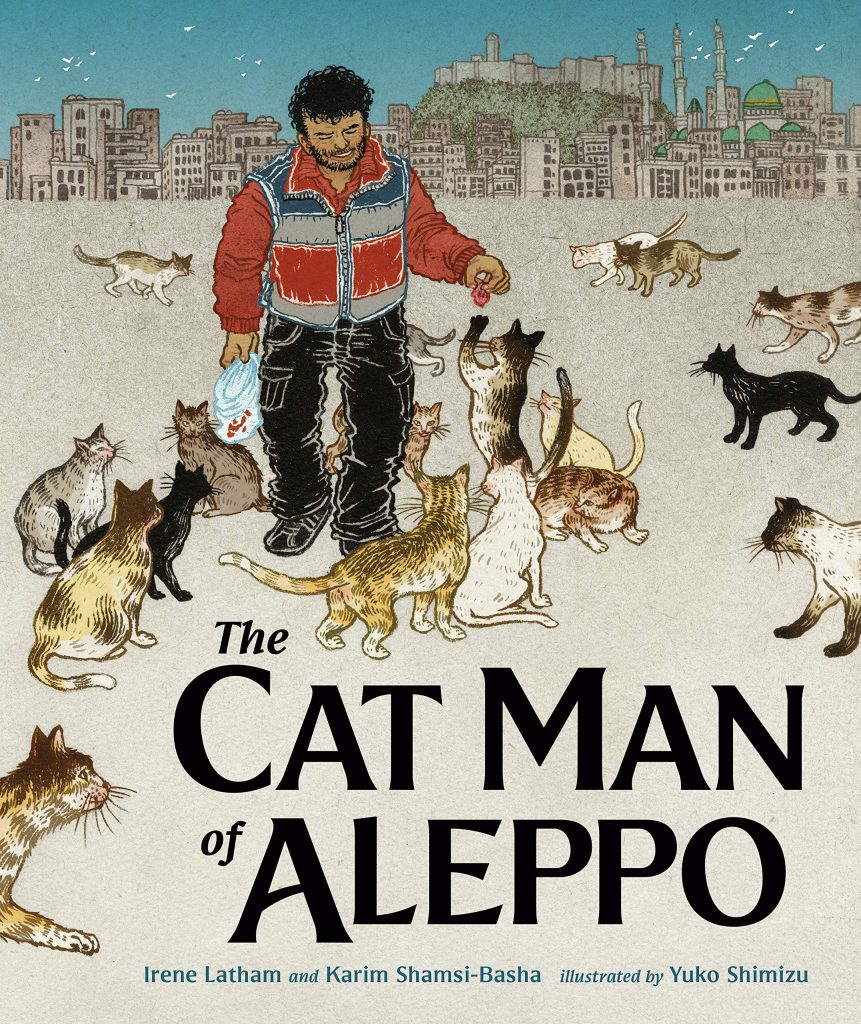 Alaa loves Aleppo, but when war comes his neighbors flee to safety, leaving their many pets behind. Alaa decides to stay–he can make a difference by driving an ambulance, carrying the sick and wounded to safety. One day he hears hungry cats calling out to him on his way home. They are lonely and scared, just like him. He feeds and pets them to let them know they are loved. The next day more cats come, and then even more! There are too many for Alaa to take care of on his own. Alaa has a big heart, but he will need help from others if he wants to keep all of his new friends safe.
How to Solve a Problem: The Rise (and Falls) of a Rock-Climbing Champion by Ashima Shiraishi, Yao Xiao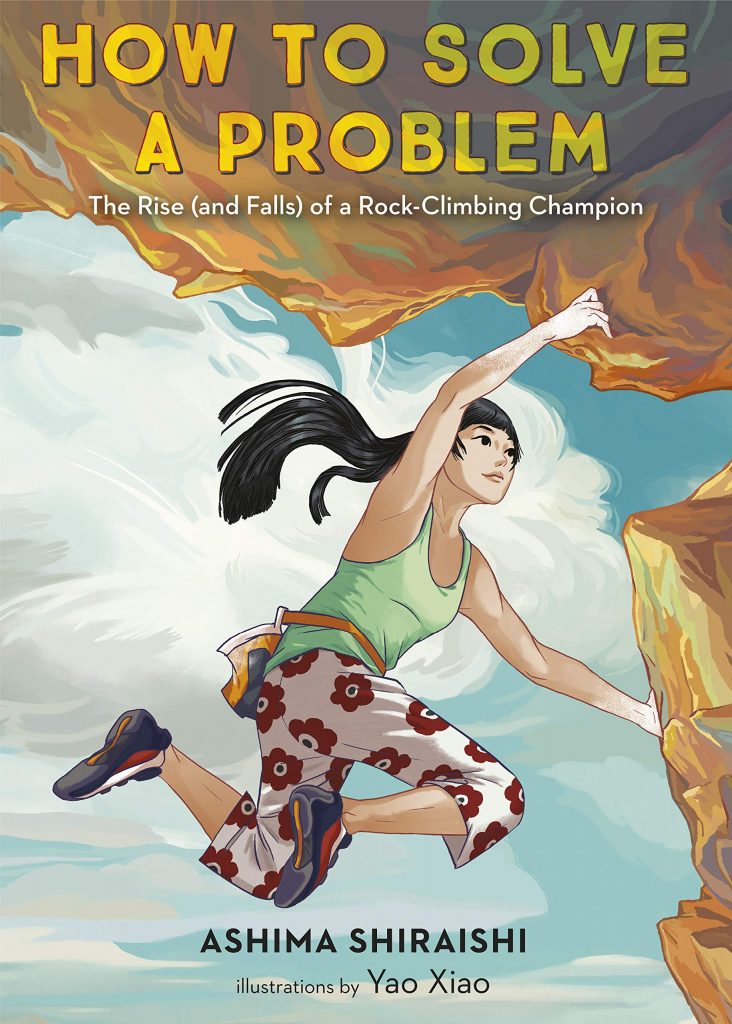 To a rock climber, a boulder is called a "problem," and you solve it by climbing to the top. There are twists and turns, falls and scrapes, and obstacles that seem insurmountable until you learn to see the possibilities within them. And then there is the moment of triumph, when there's nothing above you but sky and nothing below but a goal achieved.
Ashima Shiraishi draws on her experience as a world-class climber in this story that challenges readers to tackle the problems in their own lives and rise to greater heights than they would have ever thought possible.
In My Anaana's Amautik by Nadia Sammurtok (Author), Lenny Lishchenko (Illustrator) Ages 3 – 7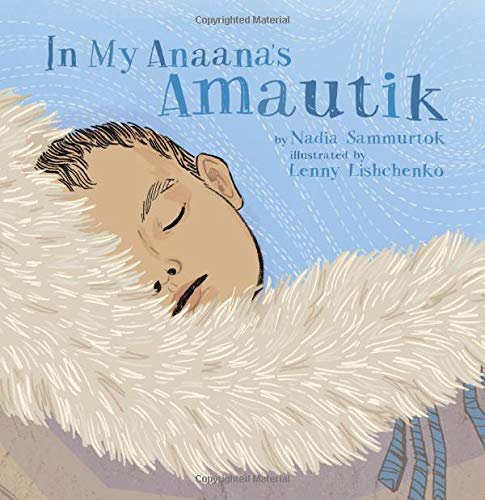 Nadia Sammurtok lovingly invites the reader into the amautik―the pouch in the back of a mother's parka used to carry a child―to experience everything through the eyes of the baby nestled inside, from the cloudlike softness of the pouch to the glistening sound of Anaana's laughter. Sweet and soothing, this book offers a unique perspective that will charm readers of all ages.
Bo the Brave by Bethan Woollvin (Author, Illustrator) (Ages 5-9 )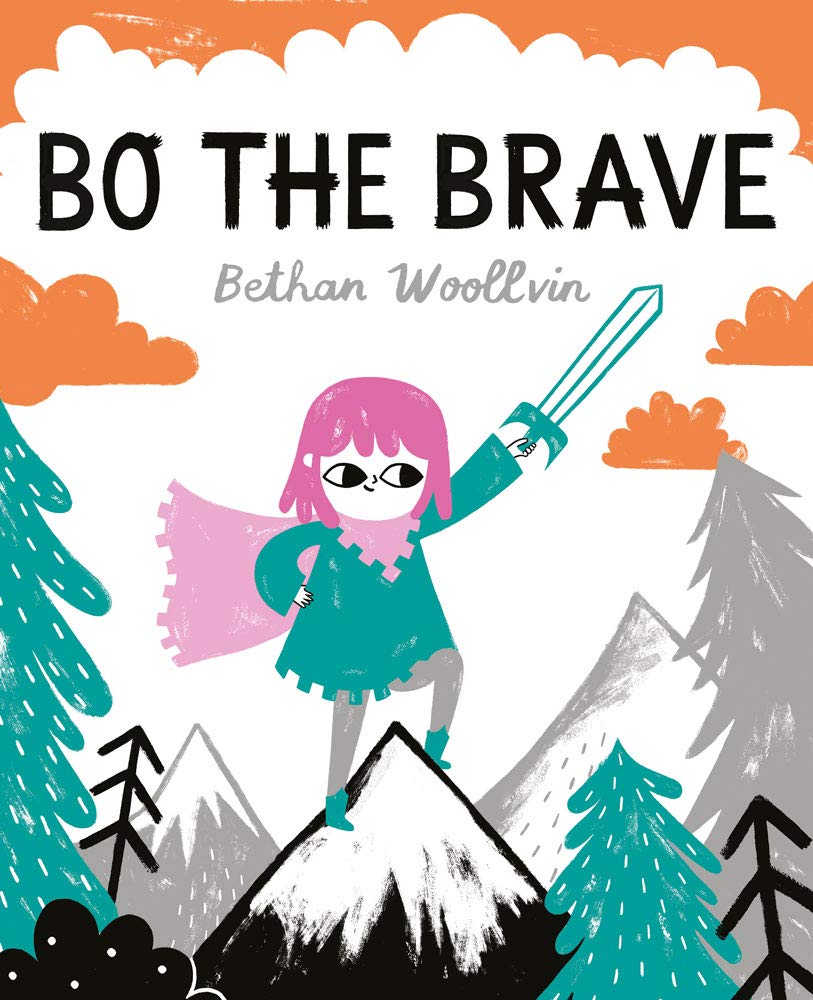 A feisty little girl learns who the real monsters are in this brilliantly funny medieval adventure.
Once, there lived a little girl called Bo. Bo wanted to be just like her brothers and capture a fearsome monster. Bo is small, too small to catch a monster―or so her brothers say. But Bo isn't one to take no for an answer, so she sets off on a quest to catch a monster of her own.
Wherever I Go by Mary Wagley Copp (Author), Munir D. Mohammed (Illustrator) Ages 6-9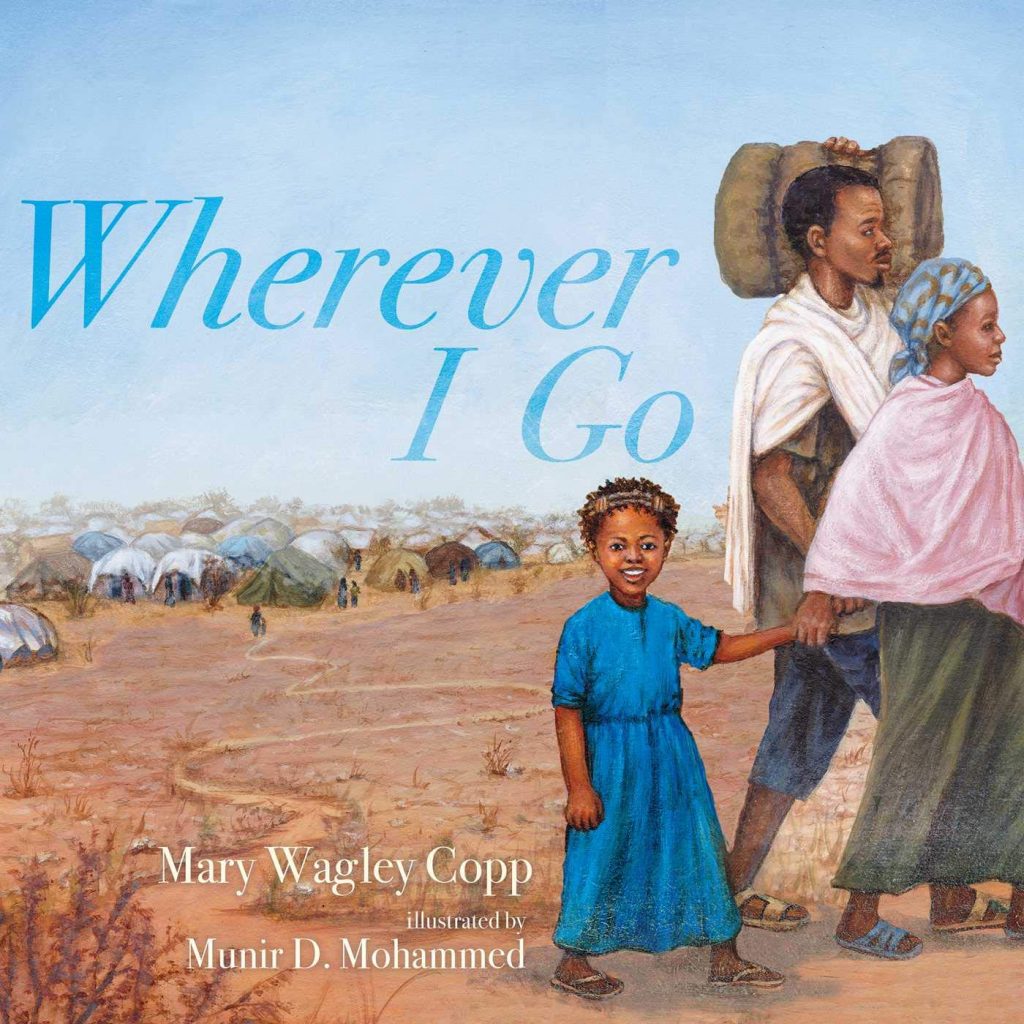 A hopeful and timely picture book about a spirited little girl living in a refugee camp.
Of all her friends, Abia has been at the Shimelba Refugee Camp the longest—seven years, four months, and sixteen days. Papa says that's too long and they need a forever home. Until then, though, Abia has something important to do. Be a queen.
A Journey Toward Hope by Victor Hinojosa (Author), Coert Voorhees (Author), Susan Guevara (Illustrator) Ages 4 – 8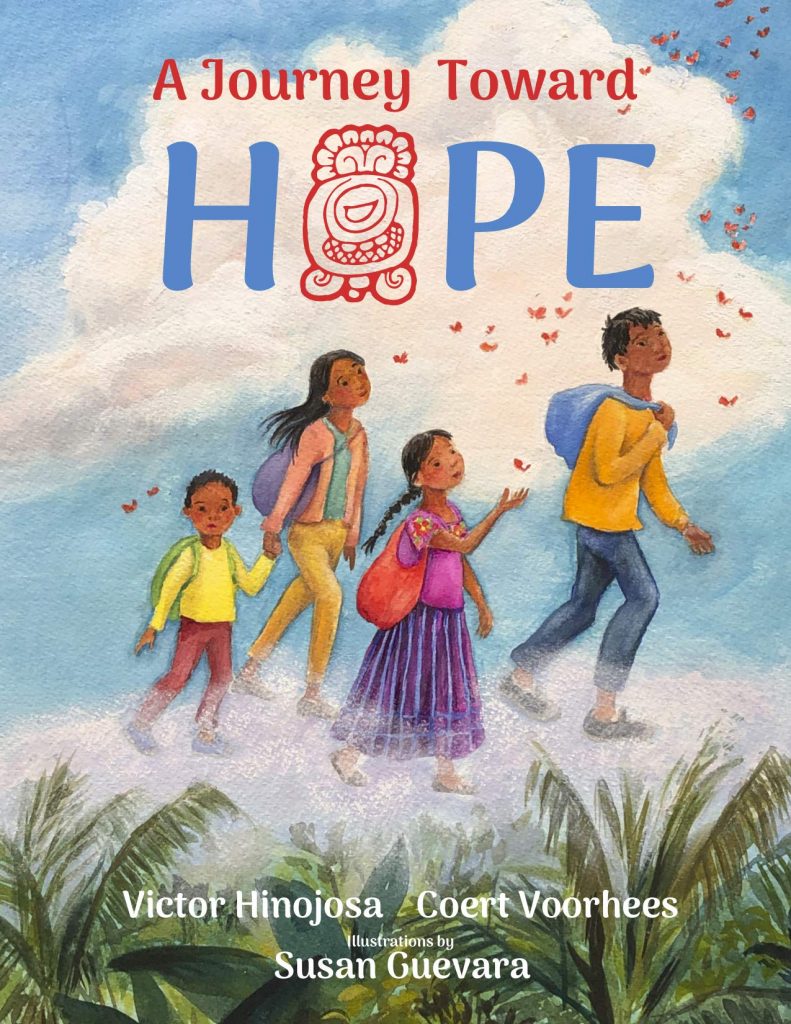 Every year, roughly 50,000 unaccompanied minors arrive at the US/Mexico border to present themselves for asylum or related visas. The majority of these children are non-Mexicans fleeing the systemic violence of Central America's "Northern Triangle": Honduras, El Salvador, and Guatemala.
A Journey Toward Hope tells the story of Rodrigo, a 14-year-old escaping Honduran violence; Alessandra, a 10-year-old Guatemalan whose first language is Q'eqchi'; and the Salvadoran siblings Laura and Nando. Though their reasons for making the journey are different and the journey northward is perilous, the four children band together, finding strength in one another as they share the dreams of their past and the hopes for their future.
Who Will You Be? by Andrea Pippins Ages 3 – 6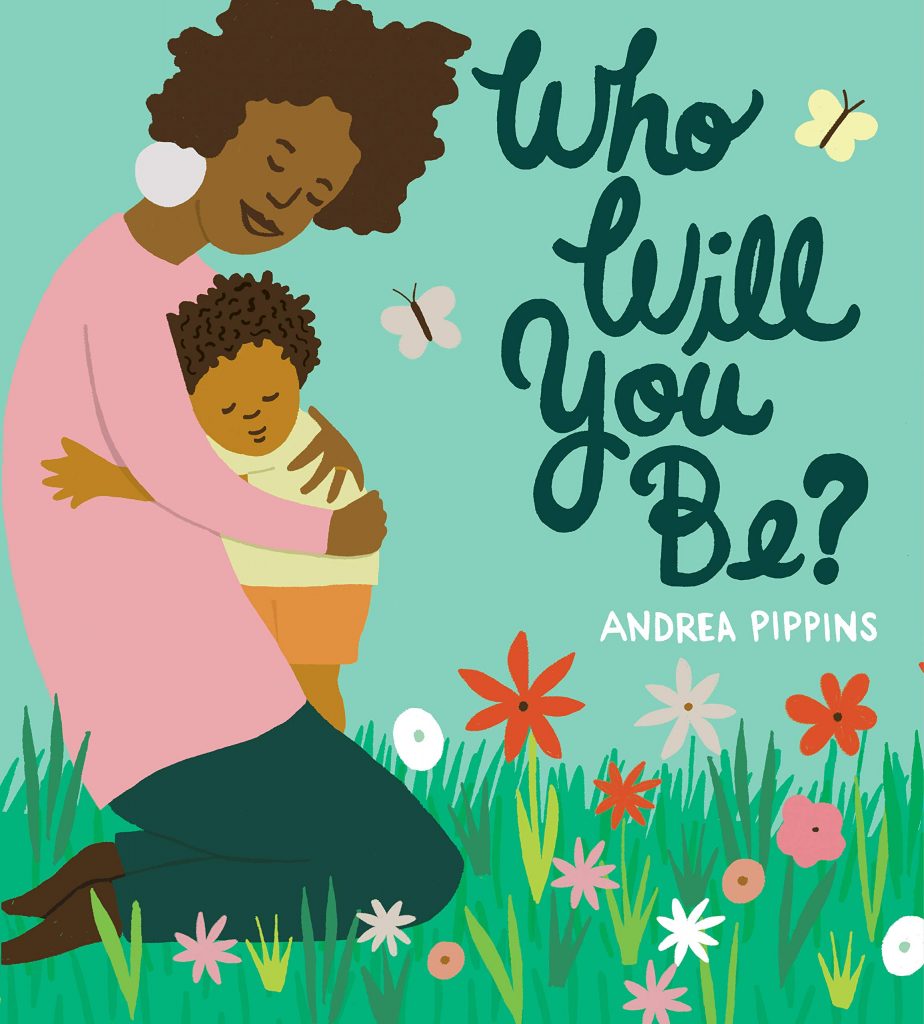 A mama wonders who her child will grow up to be. Will her little one be curious like Grandpa and adventurous like Auntie Amina? Compassionate like Amy and joyful like cousin Curlena? Moving from family members to the wider community, she muses about which attributes her child will possess. A perfect gift for a baby shower, birthday, or graduation. Who Will You Be? features gorgeous artwork and gentle words that celebrate childhood and is an ode to the power of our village–and a reminder that every child is uniquely wonderful.
Grandpa Grumps by Katrina Moore (Author), Xindi Yan (Illustrator) Ages 4 – 8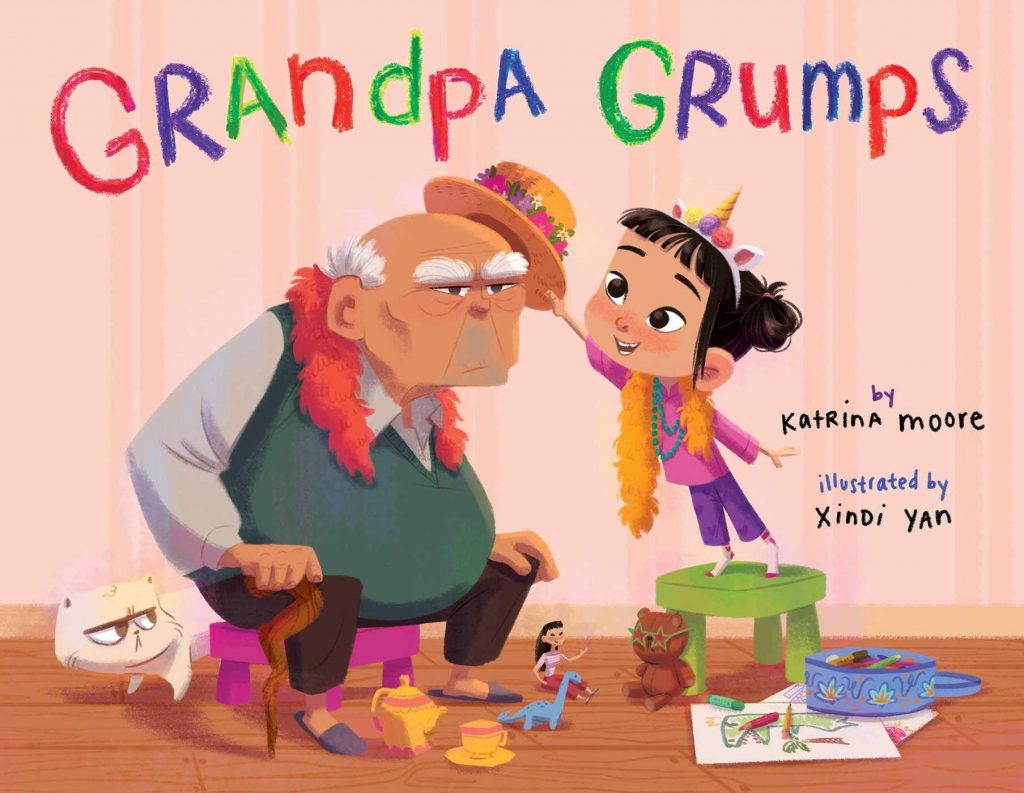 Daisy's Yeh-Yeh is visiting for the first time from China, and Daisy is so excited to meet him! She has big plans for all the fun they'll have together, like tea parties and snow angels, but when Yeh-Yeh arrives, Daisy finds him less jolly than she imagined. Throughout the week, she tries all sorts of things to get him past his grumpiness. Will she be able to make him smile before he goes home?
May
Welcome to the Party by Gabrielle Union, Ashley Evans Ages 4 – 8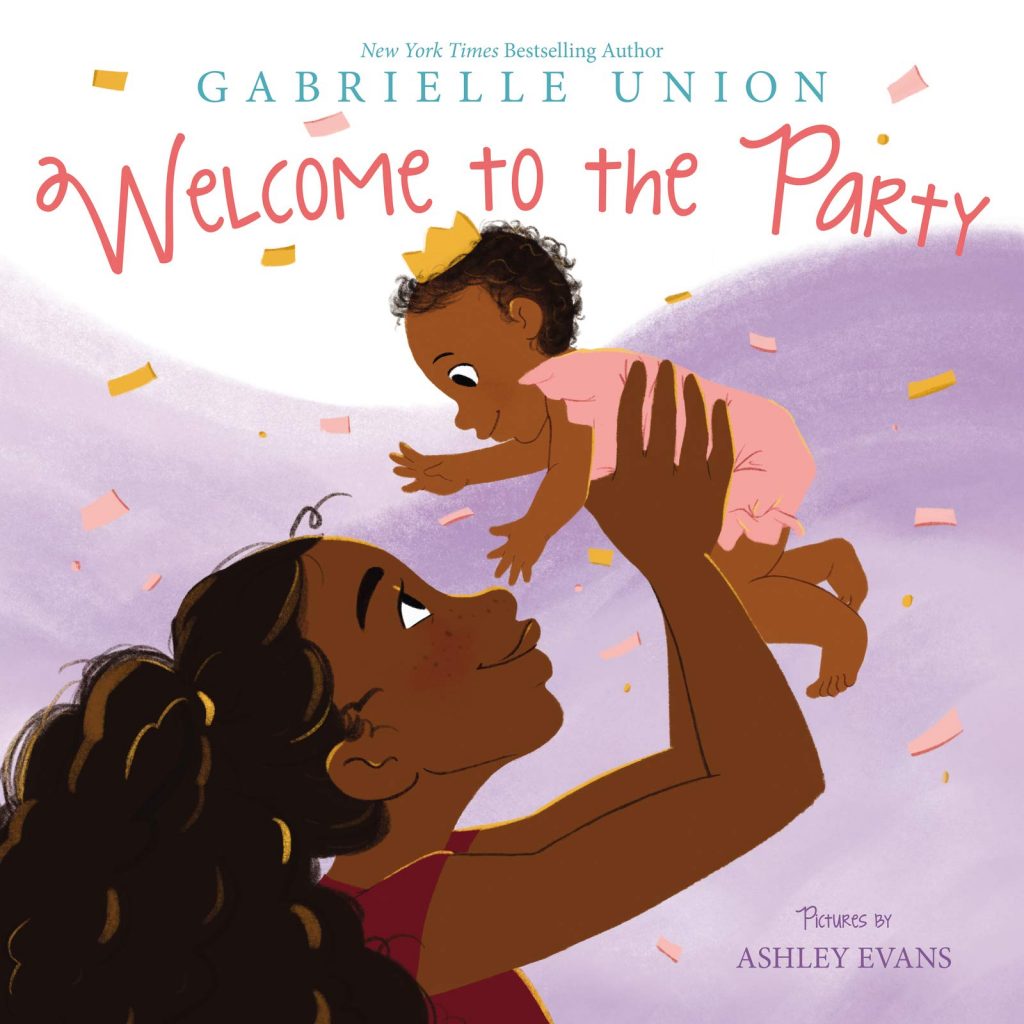 Inspired by the eagerly awaited birth of her daughter, Kaavia James Union Wade, New York Times bestselling author and award-winning actress Gabrielle Union pens a festive and universal love letter from parents to little ones, perfect for welcoming a baby to the party of life!
She Persisted in Sports: American Olympians Who Changed the Game by Chelsea Clinton Ages 4 – 8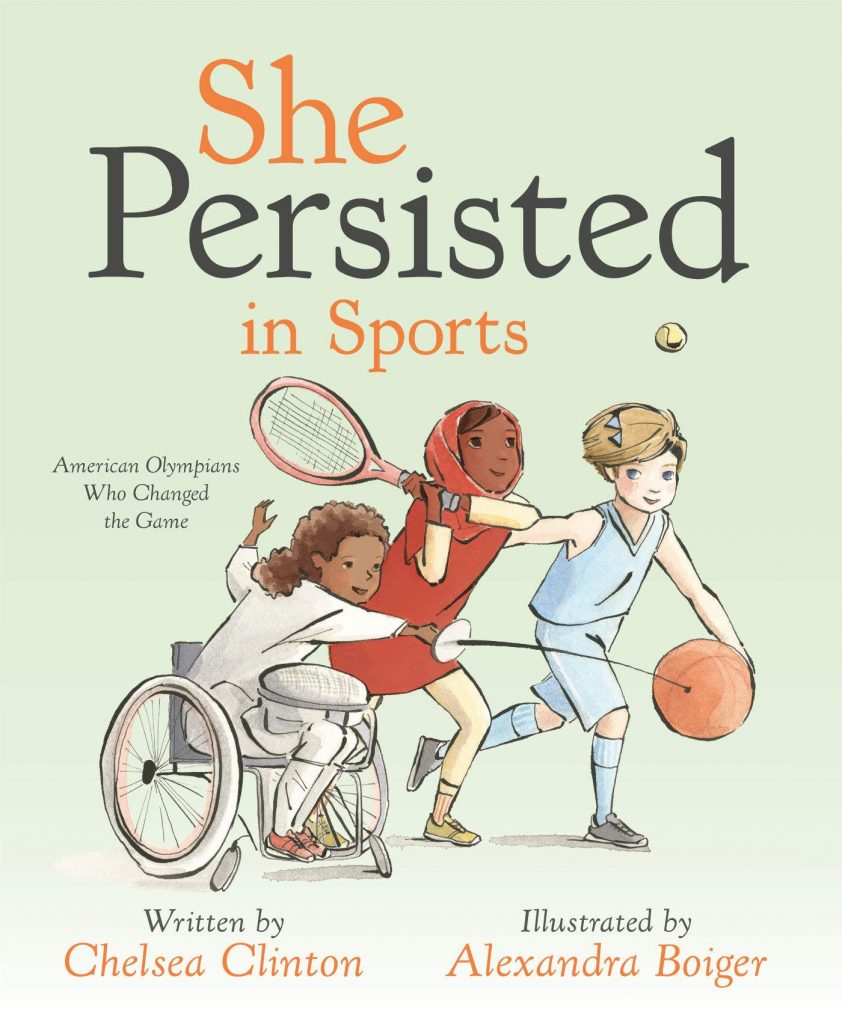 Throughout history, women have been told that they couldn't achieve their dreams, no matter how hard they tried. Women athletes have faced their own unique set of challenges, across countless sports and levels of play. In this third She Persisted book, Chelsea Clinton introduces readers to women who have excelled in their sports because of their persistence.
She Persisted in Sports is a book for everyone who has ever aimed for a goal and been told it wasn't theirs to hit, for everyone who has ever raced for a finish line that seemed all too far away, and for everyone who has ever felt small or unimportant while out on the field.
Bubble Kisses by Vanessa Williams, Tara Nicole Whitaker Ages 3 – 8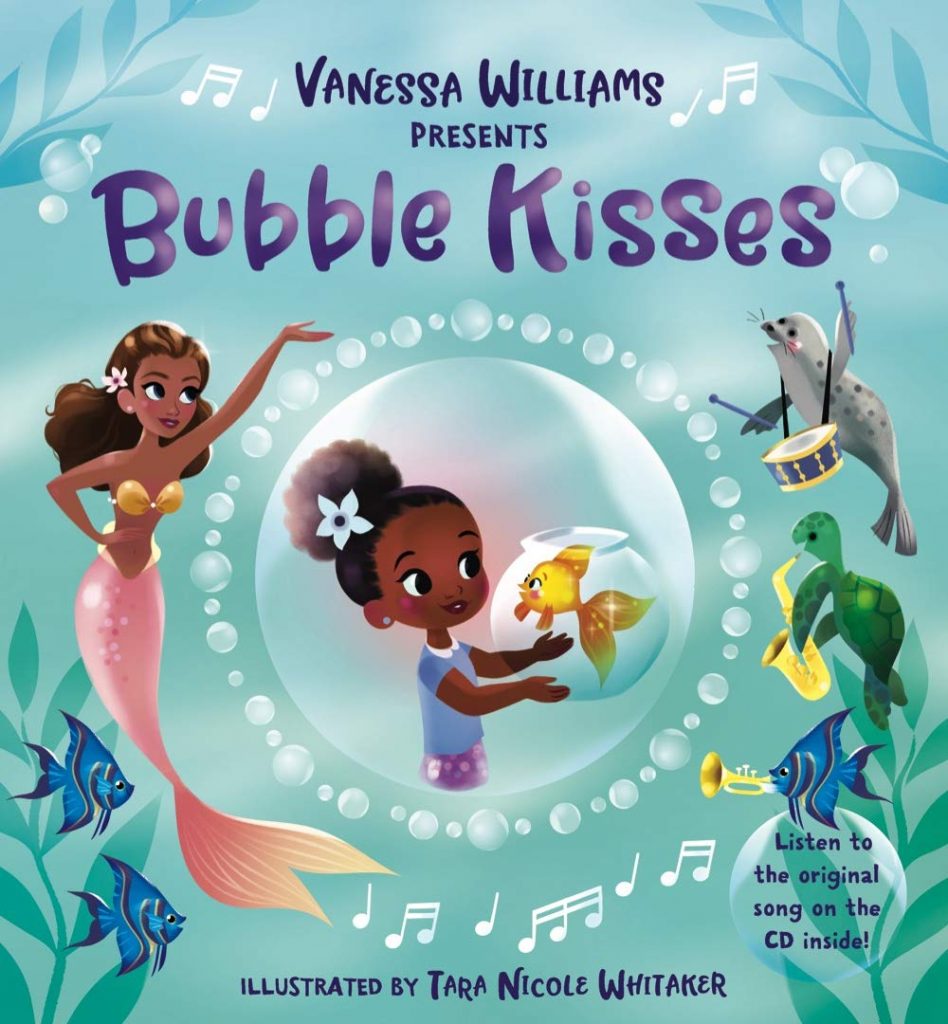 A young girl adores her goldfish, Sal. But Sal is no ordinary pet: while she can't fetch a ball or curl up on a lap, she can give bubble kisses that transform the girl into a mermaid and transport her to a world of underwater adventures. There, beneath the sea, they play, sing, and dance with other mermaids. The catchy, breezy, rhymed tale is perfect for bedtime, and the book includes a CD plus a link to a digital download.
It Doesn't Take a Genuis by Olugbemisola Rhuday-Perkovich Ages 10 – 15 and up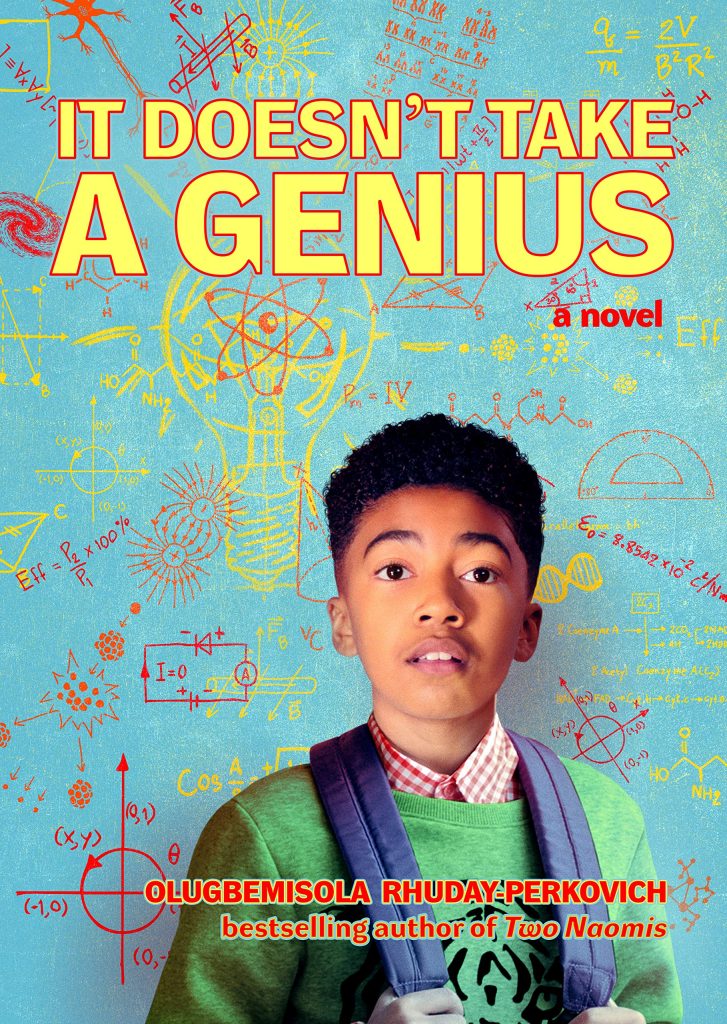 As Luke seems to be moving on to new adventures, Emmett struggles in unexpected ways, especially in swim class and the "It Takes A Village" entrepreneurship class. Without his brother to turn to for support, Emmett works to build a new crew of "superfriends," who'll help him plan something spectacular for the end-of-camp awards night and celebration. Along the way, Emmett learns that no matter what, there can be many ways to define family.
Based on the feature film Boy Genius, starring Miles Brown, Rita Wilson, and Nora Dunn.
Swashby and the Sea by Beth Ferry, Juana Martinez-Neal Ages 4 – 7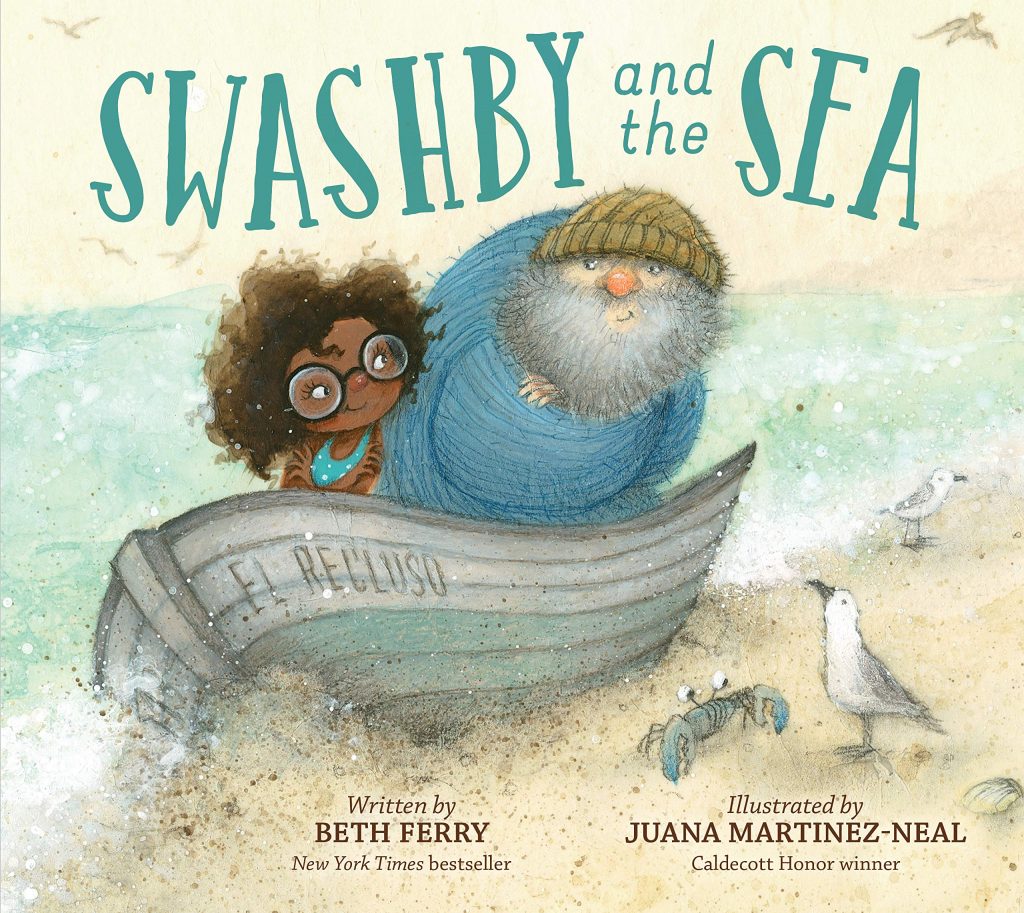 Captain Swashby loves the sea, his oldest friend. And he loves his life by the sea just as it is: salty and sandy and serene.
One day, much to Swashby's chagrin, a young girl and her granny commandeer the empty house next door. All Swashby wants is for his new neighbors to GO AWAY and take their ruckus with them.
The Fighting Infantryman: The Story of Albert D. J. Cashier, Transgender Civil War Soldier by Rob Sanders, Nabi Ali Ages 6 – 9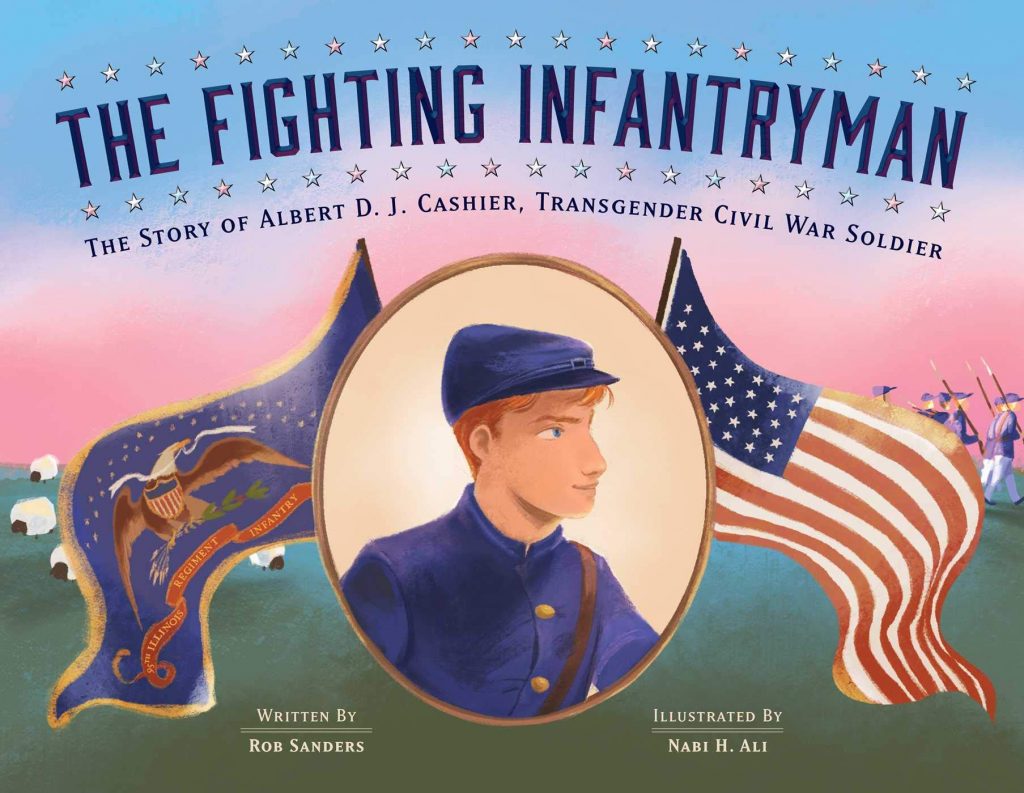 In 1861, the winds of war blew through the United States. Jennie Hodgers, a young immigrant from Ireland, moved west to Illinois and soon had a new name and a new identity–Albert D. J. Cashier. Like many other young men, Albert joined the Union Army. Though the smallest soldier in his company, Albert served for nearly three years and fought in forty battles and skirmishes. When the war ended, Albert continued to live his life as a man. His identity fit him as snug as his suspenders.
Decades later, a reporter caught wind of the news that an old man in the Soldiers' and Sailors' Home was actually a woman. The news swept through the country. What would happen to Albert and his military pension? Would he be allowed to continue to live as he wished? How would his friends, fellow soldiers, and others in the community react?  This book is published in partnership with GLAAD to accelerate LGBTQ inclusivity and acceptance.
Jack and the Beanstalk by Carly Gledhill (Ages 2 – 5)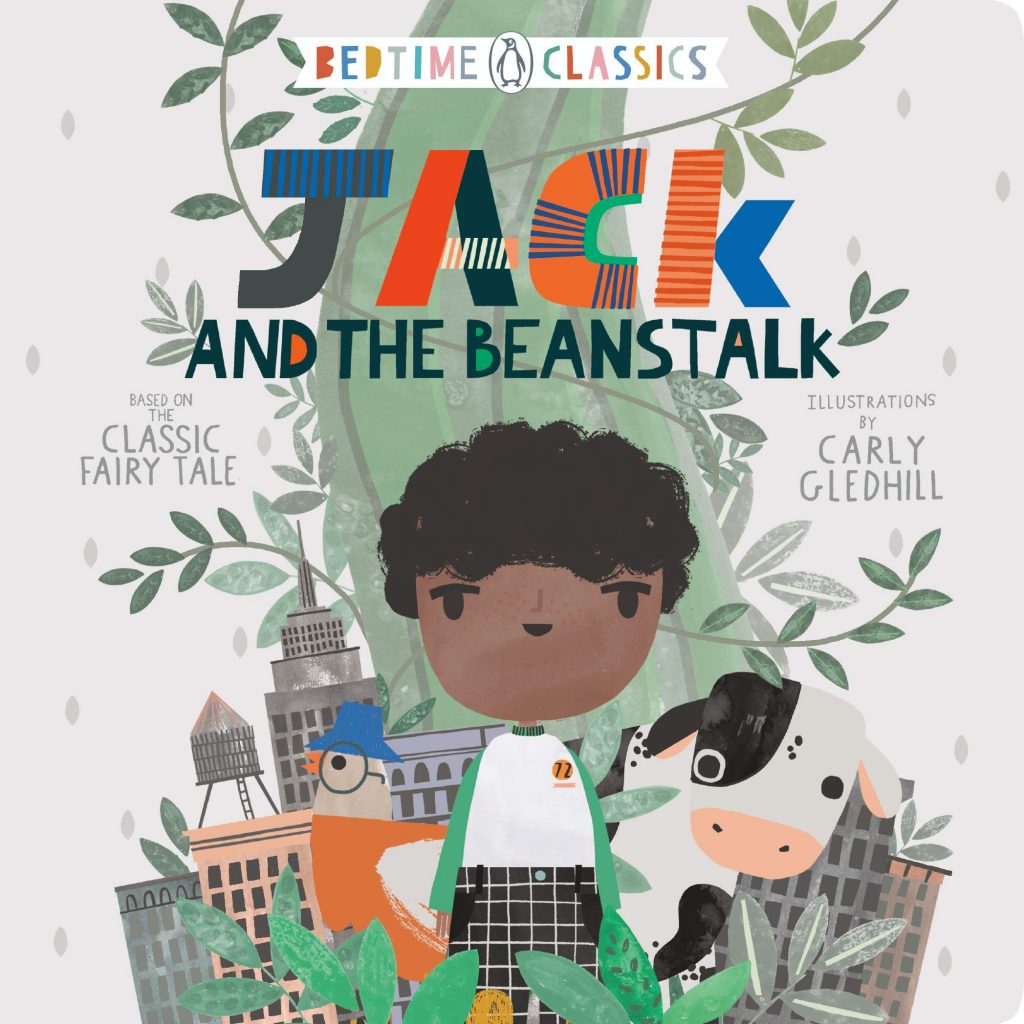 When Jack is sent to market to sell his family's cow, he makes a trade for some magical beans, much to his mother's chagrin. To Jack's surprise, the beans grow into a giant beanstalk. Jack climbs all the way up and encounters a frightening giant. But when the giant is fast asleep, Jack climbs up and steals his treasures.
Federico and the Wolf by Rebecca J. Gomez (Author), Elisa Chavarri (Illustrator) Ages 4 – 7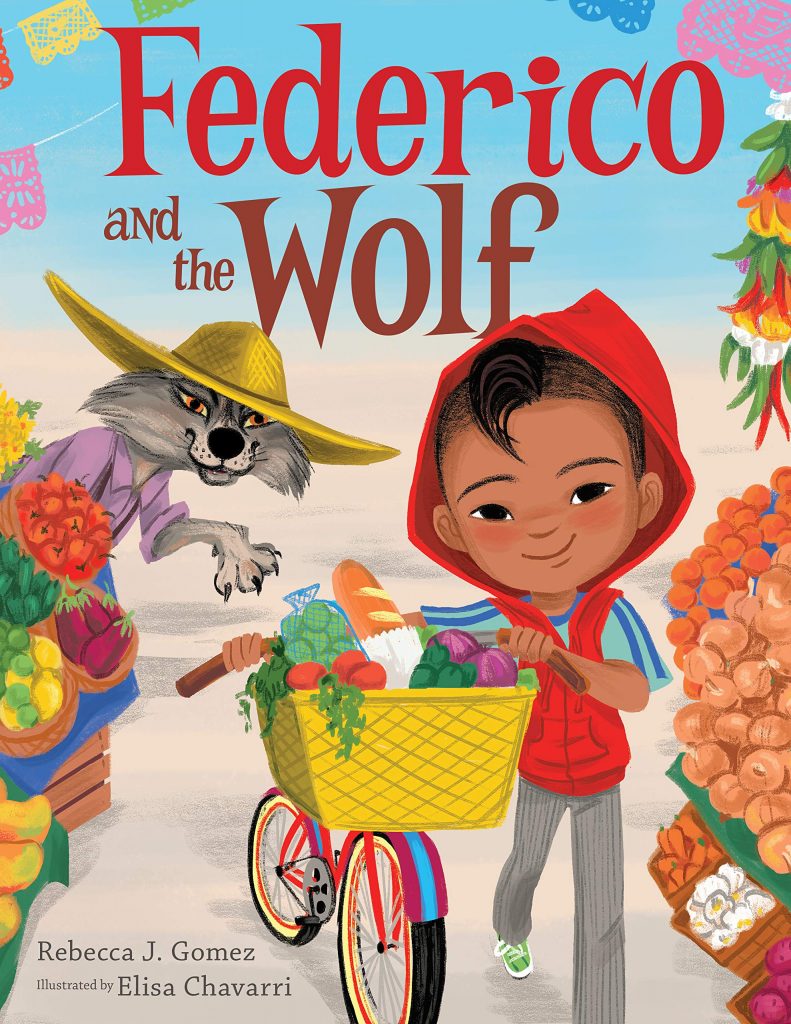 With his red hoodie on and his bicycle basket full of food, Federico is ready to visit Abuelo. But on the way, he meets a hungry wolf. And now his grandfather bears a striking resemblance to el lobo. Fortunately, Federico is quick and clever—and just happens to be carrying a spicy surprise! Federico drives the wolf away, and he and Abuelo celebrate with a special salsa. Recipe included.
Brick by Brick by Heidi Sheffield Ages 3 – 7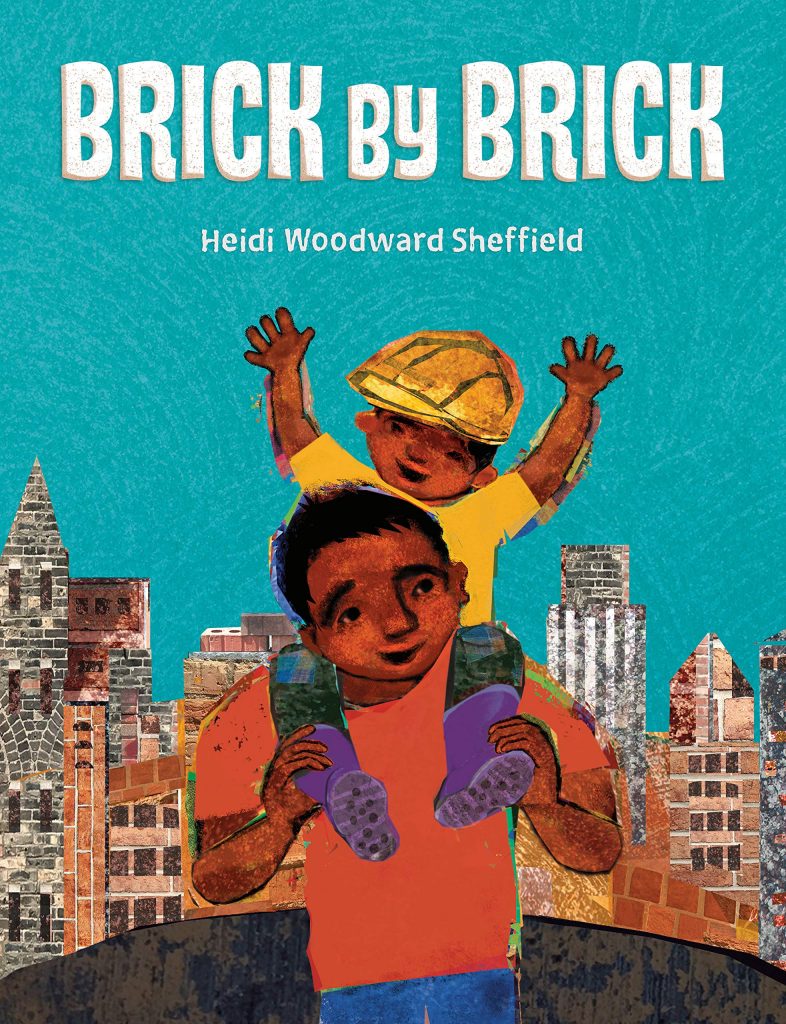 Papi is a bricklayer, and he works hard every day to help build the city, brick by brick. His son, Luis, works hard too–in school, book by book. Papi climbs scaffolds, makes mortar, and shovels sand. Luis climbs on the playground and molds clay into tiny bricks to make buildings, just like Papi. Together, they dream big about their future as they work to make those dreams come true. And then one Saturday, Papi surprises Luis with something special he's built for their family, brick by brick.
Parachutes by Kelly Yang Ages 14 and up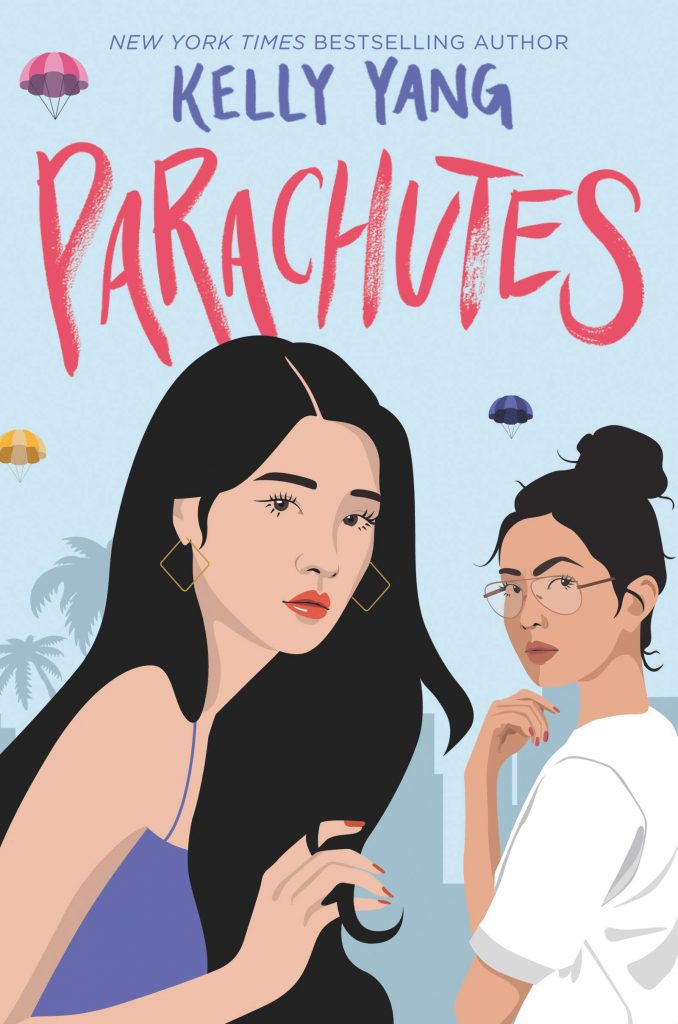 They're called parachutes: teenagers dropped off to live in private homes and study in the United States while their wealthy parents remain in Asia. Claire Wang never thought she'd be one of them, until her parents pluck her from her privileged life in Shanghai and enroll her at a high school in California.
Rainbow Revolutionaries: Fifty LGBTQ+ People Who Made History by by Sarah Prager (Author), Sarah Papworth (Illustrator) Ages 8 – 12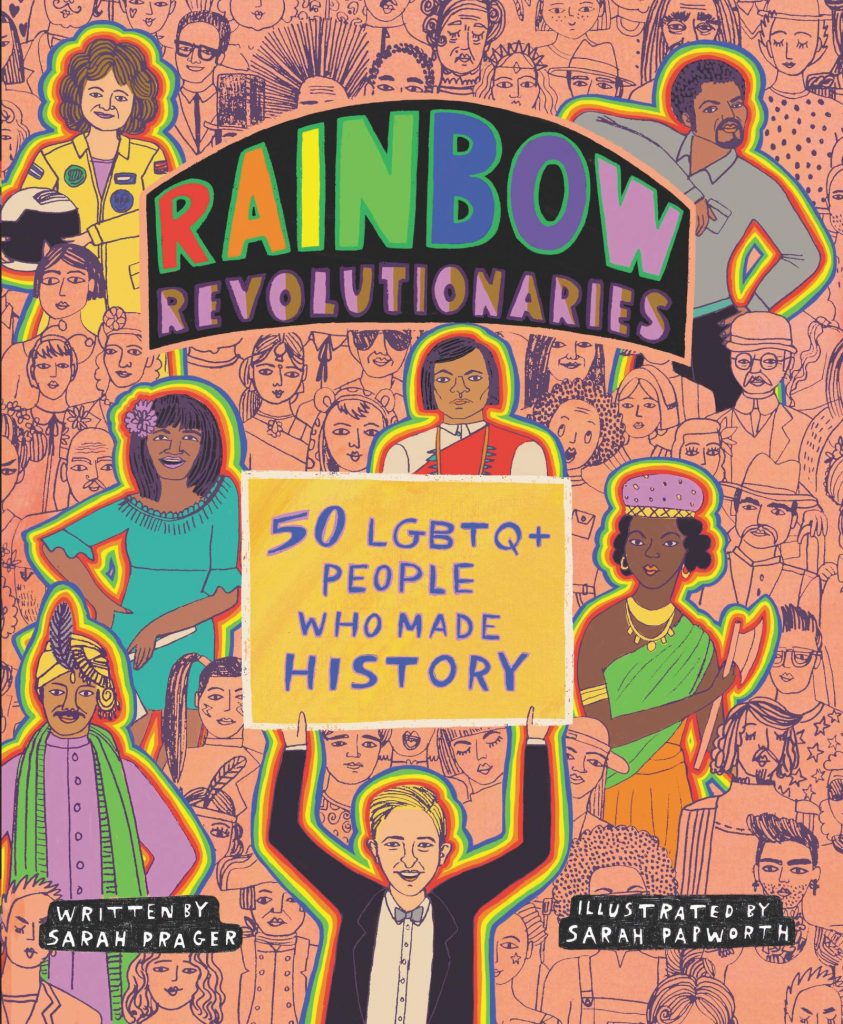 Rainbow Revolutionaries brings to life the vibrant histories of fifty pioneering LGBTQ+ people our history books forgot to mention.  This book is a celebration of the many ways these hidden heroes have made a difference and will inspire young readers to make a difference, too. Featuring an introduction, map, timeline, and glossary, this must-have biography collection is the perfect read during Pride month and all year round.
Biographies include:
Adam Rippon, Alan L. Hart, Alan Turing, Albert Cashier, Alberto Santos-Dumont, Alexander the Great, Al-Hakam II, Alvin Ailey, Bayard Rustin, Benjamin Banneker, Billie Jean King, Chevalier d'Éon, Christina of Sweden, Christine Jorgensen, Cleve Jones, Ellen DeGeneres, Francisco Manicongo, Frida Kahlo, Frieda Belinfante, Georgina Beyer, Gilbert Baker, Glenn Burke, Greta Garbo, Harvey Milk, James Baldwin, Jóhanna Sigurðardóttir, José Sarria, Josephine Baker, Juana Inés de la Cruz, Julie d'Aubigny, Lili Elbe, Ma Rainey, Magnus Hirschfeld, Manvendra Singh Gohil, Marsha P. Johnson, Martine Rothblatt, Maryam Khatoon Molkara, Natalie Clifford Barney, Navtej Johar, Nzinga, Pauli Murray, Renée Richards, Rudolf Nureyev, Sally Ride, Simon Nkoli, Stormé DeLarverie, Sylvia Rivera, Tshepo Ricki Kgositau, Wen of Han, We'Wha
Be Amazing: A History of Pride by Desmond Napoles (Author), Dylan Glynn Ages 3 – 6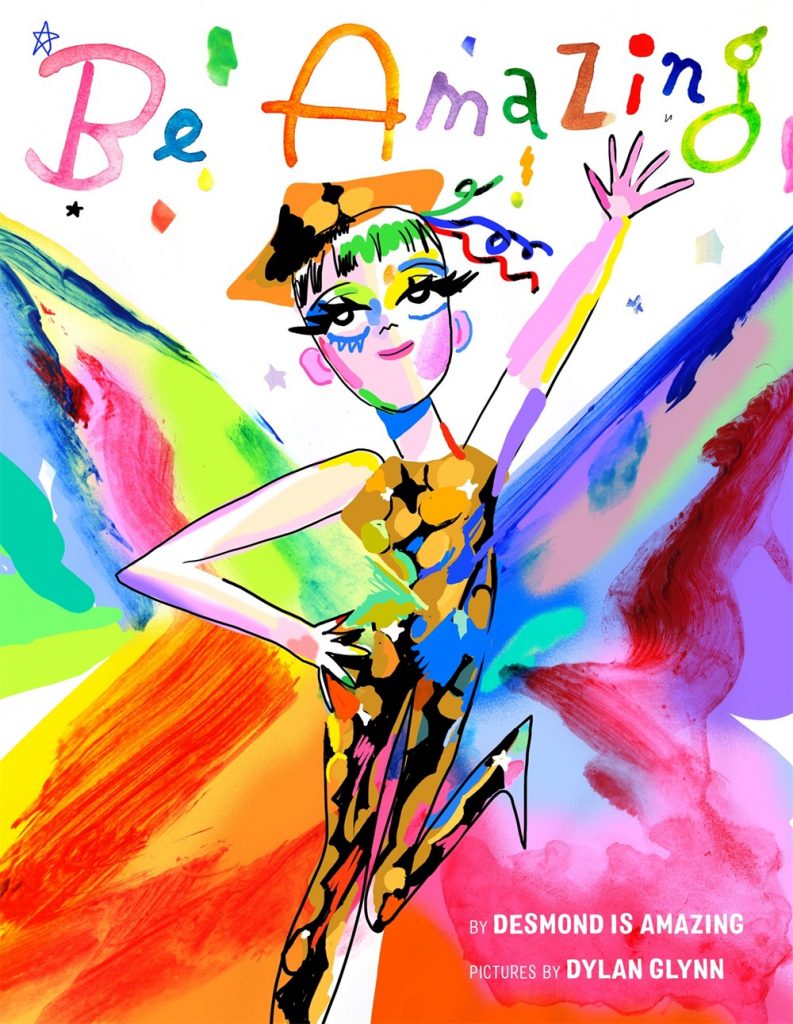 In Be Amazing, drag kid Desmond Napoles is Amazing, walking you through the history of the LGBTQ community, all while encouraging you to embrace your own uniqueness and ignore the haters.
A Place at the Table by Saadia Faruqi (Author), Laura Shovan (Author) Ages 10 – 12


A timely, accessible, and beautifully written story exploring themes of food, friendship, family and what it means to belong, featuring sixth graders Sara, a Pakistani American, and Elizabeth, a white, Jewish girl taking a South Asian cooking class taught by Sara's mom.
Siha Tooskin Knows the Strength of His Hair by Charlene Bearhead, Wilson Bearhead  Ages 9 – 11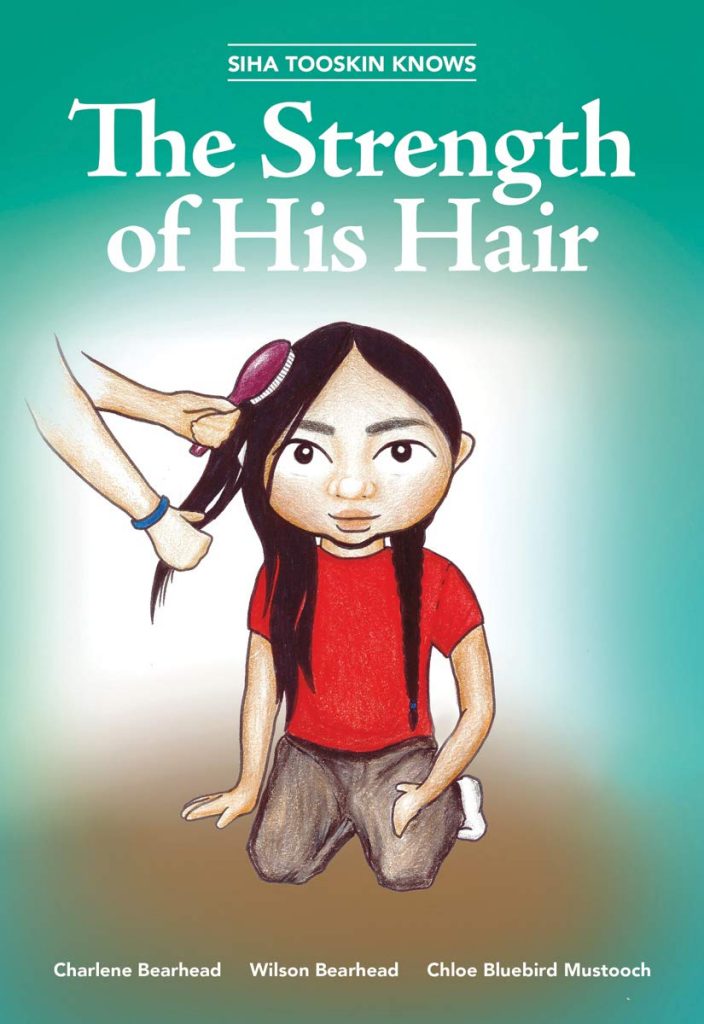 Paul Wahasaypa—Siha Tooskin—has learned from Ena (his mom) and Ade (his dad) to maintain a strong mind, heart, and spirit. Though starting at a new school can be hard, especially when the kids there have never experienced the values and culture of the Nakota people. Join Paul as Mitoshin (his grandfather) helps remind him how strength of character can be found in the strength of his hair.
The Siha Tooskin Knows series uses vivid narratives and dazzling illustrations in contemporary settings to share stories about an 11-year-old Nakota boy.
A Bowl Full of Peace: A True Story by Caren Stelson, Akira Kusaka (Ages 6-11)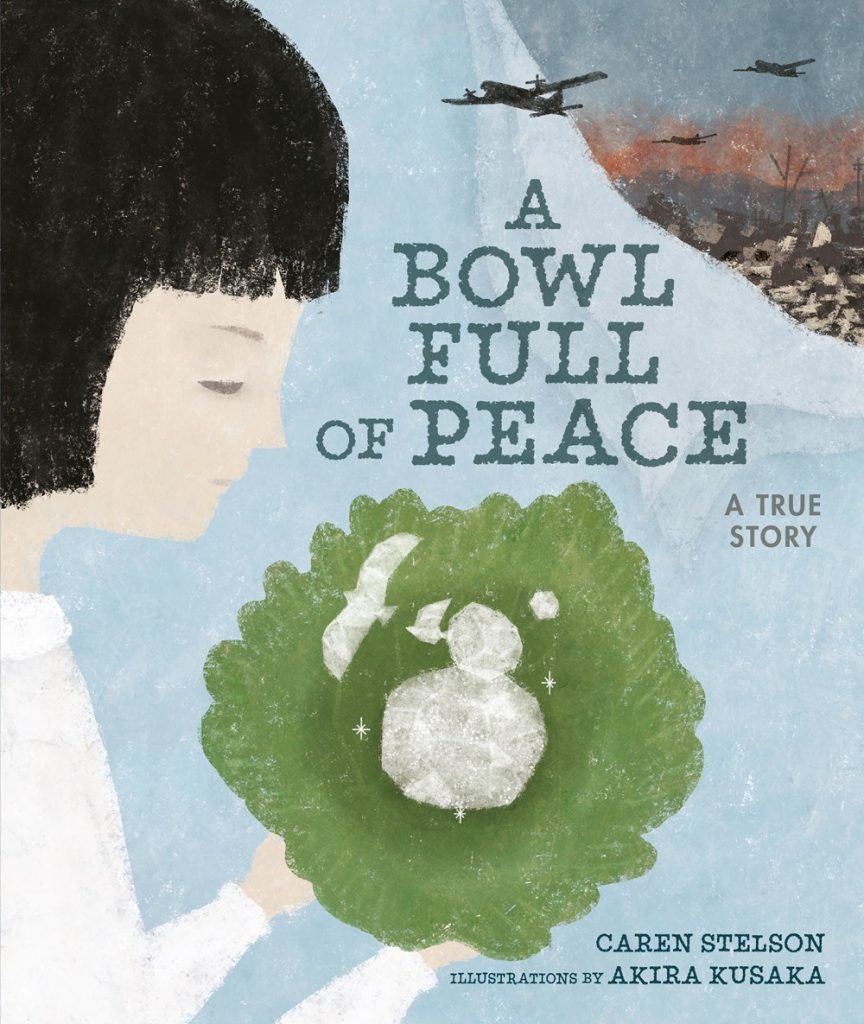 In this deeply moving nonfiction picture book, award-winning author Caren Stelson brings Sachiko Yasui's story of surviving the atomic bombing of Nagasaki and her message of peace to a young audience.
Sachiko's family home was about half a mile from where the atomic bomb fell on August 9, 1945. Her family experienced devastating loss. When they returned to the rubble where their home once stood, her father miraculously found their serving bowl fully intact. This delicate, green, leaf-shaped bowl which once held their daily meals now holds memories of the past and serves as a vessel of hope, peace, and new traditions for Sachiko and the surviving members of her family.
American as Paneer Pie by Supriya Kelkar Ages 8 – 12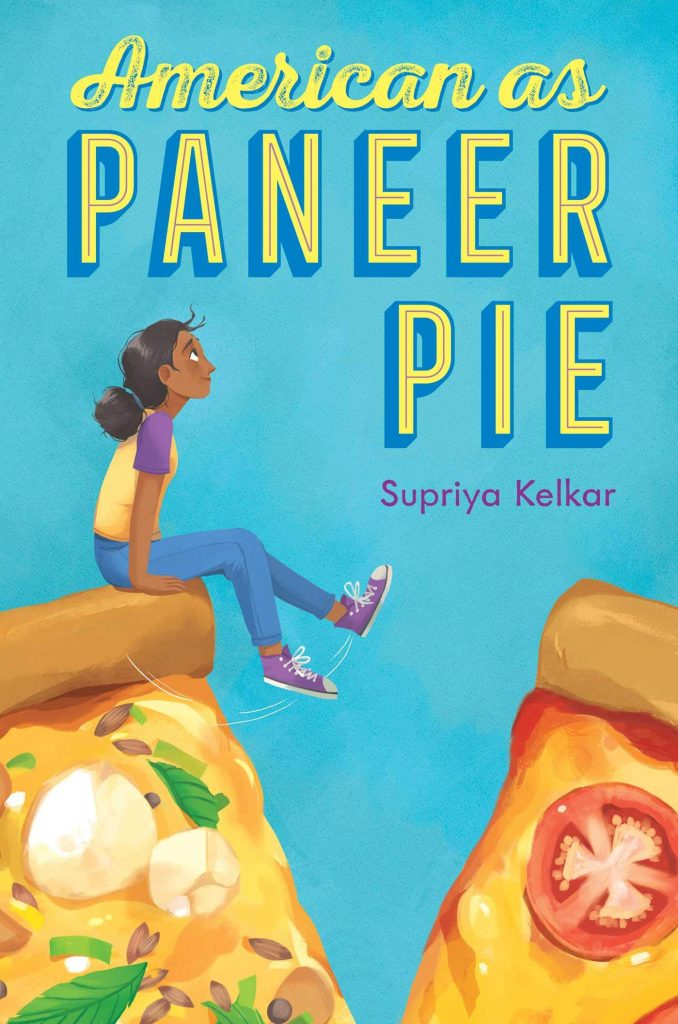 As the only Indian American kid in her small town, Lekha Divekar feels like she has two versions of herself: Home Lekha, who loves watching Bollywood movies and eating Indian food, and School Lekha, who pins her hair over her bindi birthmark and avoids confrontation at all costs, especially when someone teases her for being Indian.
Southwest Sunrise by Nikki Grimes, Wendell Minor (Ages 3 – 6)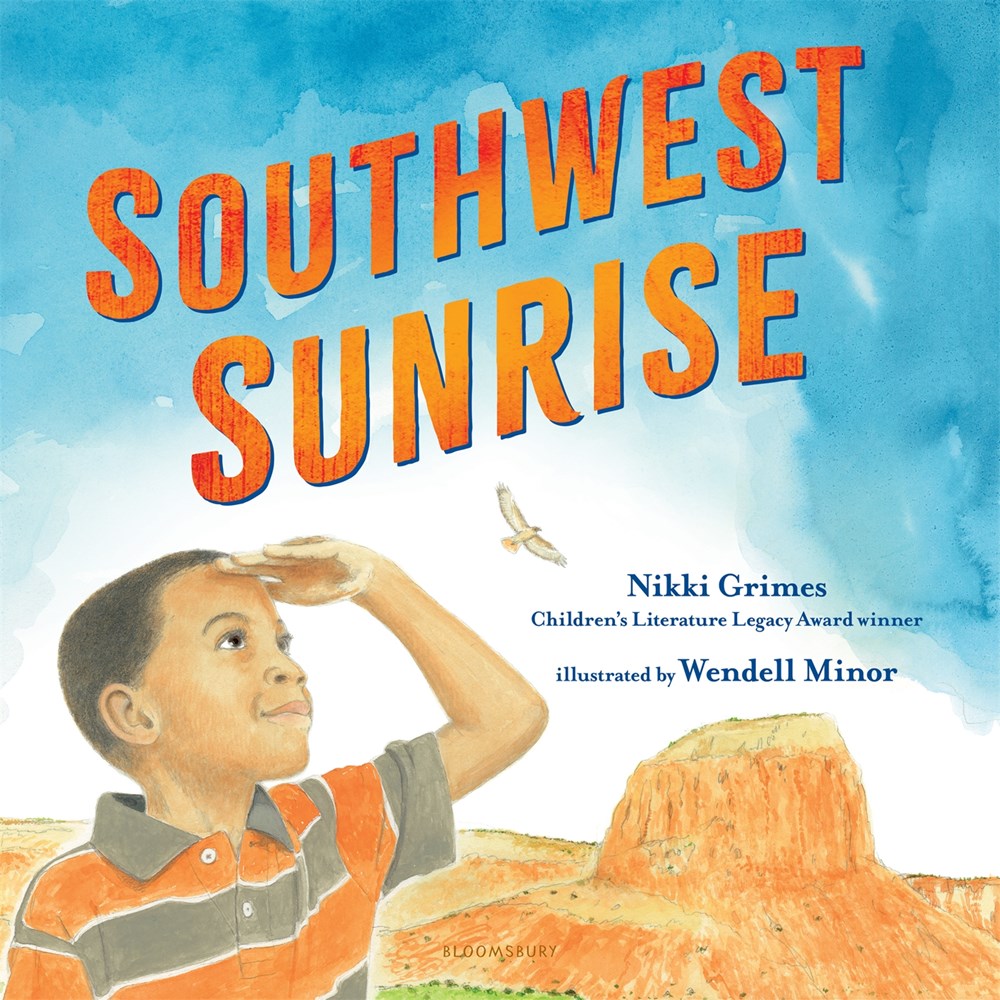 From Children's Literature Legacy Award winner Nikki Grimes and highly-acclaimed illustrator Wendell Minor comes a stunning picture book about the beauty of the natural world and finding a new place to call home.
Grandmother School by Rina Singh (Author), Ellen Rooney (Illustrator) Ages 6-8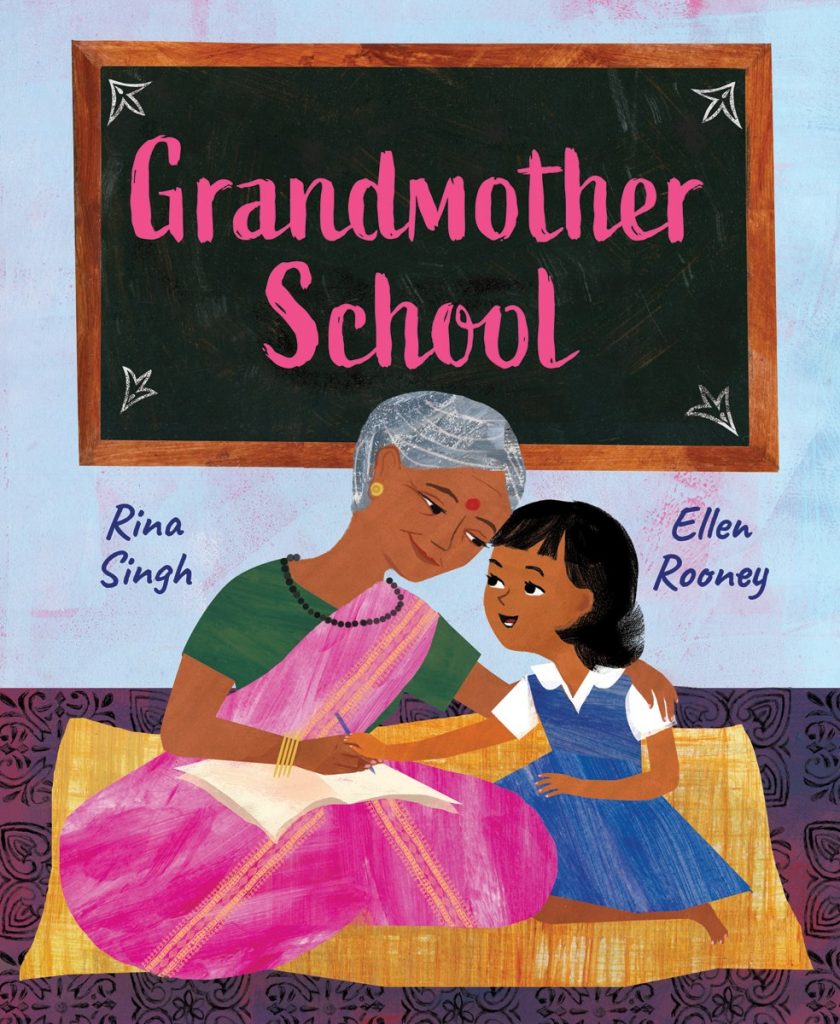 Every morning, a young girl walks her grandmother to the Aajibaichi Shala, the school that was built for the grandmothers in her village to have a place to learn to read and write. The narrator beams with pride as she drops her grandmother off with the other aajis to practice the alphabet and learn simple arithmetic. A moving story about family, women and the power of education—when Aaji learns to spell her name you'll want to dance along with her.
Women in countless countries continue to endure the limitations of illiteracy. Unjust laws have suppressed the rights of girls and women and kept many from getting an education and equal standing in society. Based on a true story from the village of Phangane, India, this brilliantly illustrated book tells the story of the grandmothers who got to go to school for the first time in their lives.
My Rainy Day Rocket Ship by Markette Sheppard (Author), Charly Palmer (Illustrator) Ages 4-8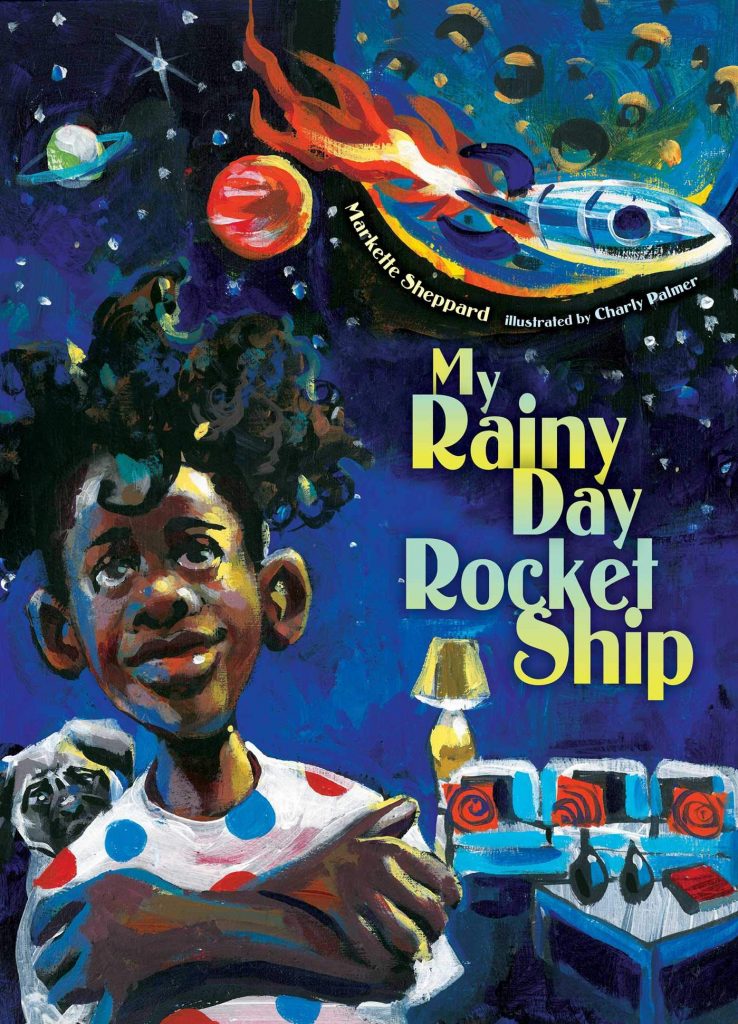 A stormy afternoon and an order from Mom to stay inside are no match for this little dreamer, who uses everyday household items—a rocket chair, a cardboard box, an old dish rag, and a super-duper imagination—to whip up a trip around the universe he won't soon forget.
Iggy Peck and the Mysterious Mansion by Andrea Beaty, David Roberts Ages 6-9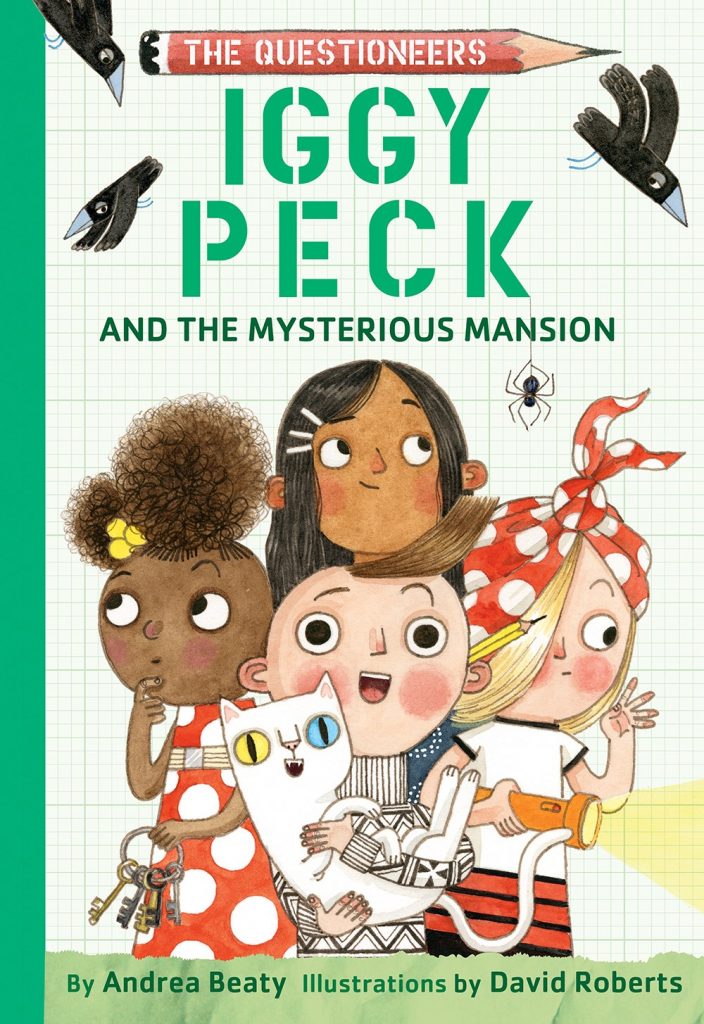 Iggy Peck is an architect at his very core: When he's not making houses out of food, his head is up in the clouds, dreaming of design. So he's totally blown away when Ada Twist's Aunt Bernice inherits an old house from ice-cream mogul Herbert Sherbert that is filled with countless rooms from all his favorite architectural periods. But something's not quite right . . . Everyone says the house is haunted, and it seems that a number of priceless antiques—which were supposed to help Aunt Bernice pay for the house's upkeep—have gone missing. If they can't find those antiques, Aunt Bernice might lose the house forever. It will take all of Iggy's knowledge of architecture and the help of the other Questioneers—Rosie Revere, Ada Twist, and Sofia Valdez—to solve the mystery and find the treasure!
Once Upon an Eid: Stories of Hope and Joy by 15 Muslim Voices by S. K. Ali, Aisha Saeed Ages 8 – 12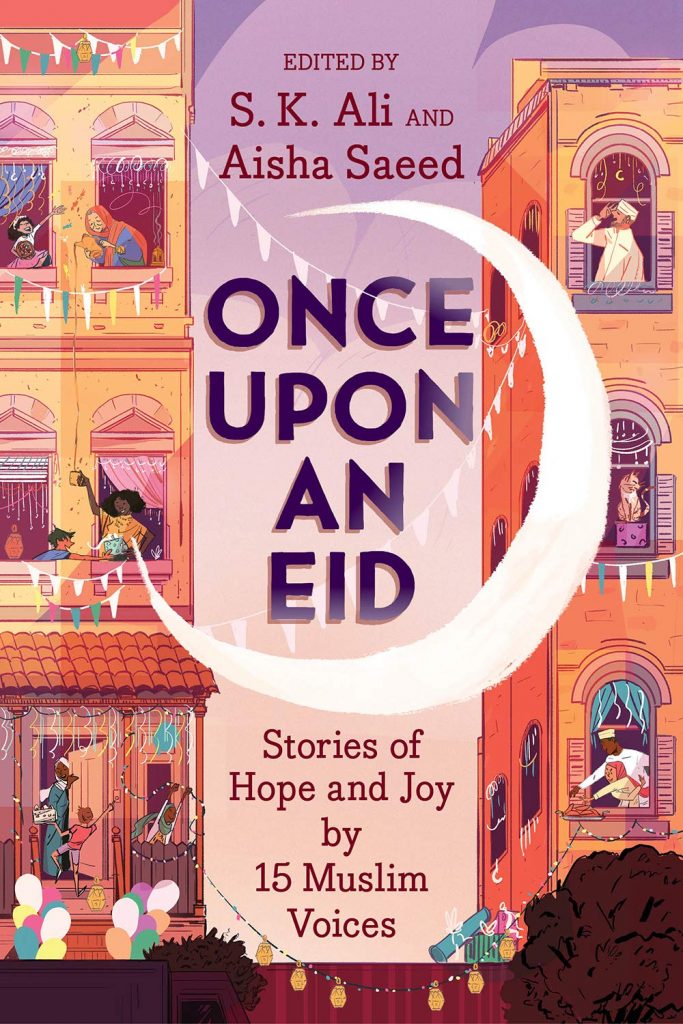 Once Upon an Eid is a collection of short stories that showcases the most brilliant Muslim voices writing today, all about the most joyful holiday of the year: Eid! Eid: The short, single-syllable word conjures up a variety of feelings and memories for Muslims. Maybe it's waking up to the sound of frying samosas or the comfort of bean pie, maybe it's the pleasure of putting on a new outfit for Eid prayers, or maybe it's the gift giving and holiday parties to come that day. Whatever it may be, for those who cherish this day of celebration, the emotional responses may be summed up in another short and sweet word: joy. The anthology will also include a poem, graphic-novel chapter, and spot illustrations.
The Magnificent Makers #1: How to Test a Friendship by Theanne Griffith, Reggie Brown Ages 7 – 10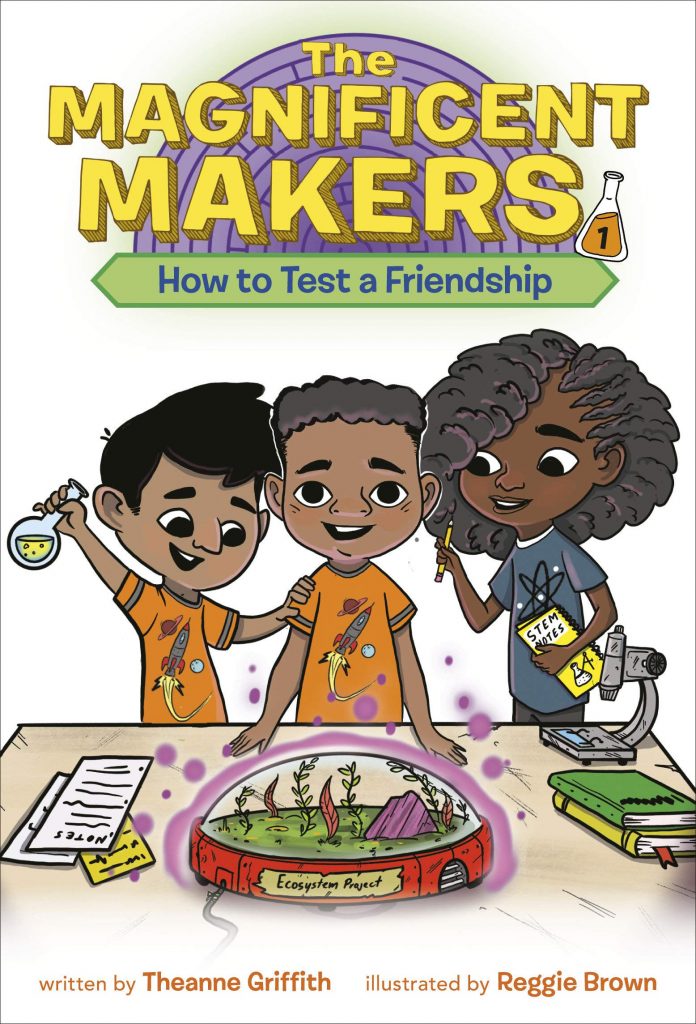 A modern-day Magic School Bus for chapter book readers!
Violet and Pablo are best friends who love science! So when they discover a riddle that opens a magic portal in the Science Space at school, they can't wait to check it out! Along with their new classmate, Deepak, the friends discover a magical makerspace called the Maker Maze. It's a laboratory full of robots, 3D printers, an antigravity chamber, and more. Doors line the walls of the makerspace, with a new science adventure waiting behind each one.
The Magnificent Makers #2: Brain Trouble by Theanne Griffith, Reggie Brown Ages 7 – 10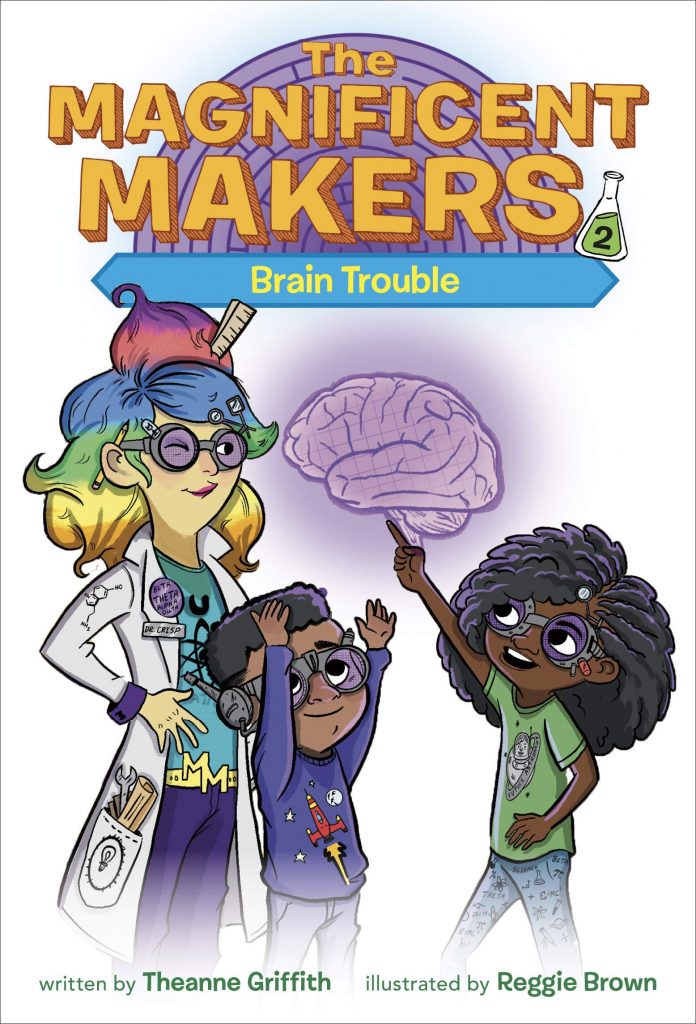 A modern-day Magic School Bus for chapter book readers!
Violet and Pablo are best friends who love science! So when they discover a riddle that opens a magic portal in the brain fair at school, they can't wait to check it out! In this adventure, the friends enter the Maker Maze–a magical makerspace–along with a set of twins who are interested in learning all about the brain. The kids can't wait to solve science puzzles . . . if first, they can learn to work together!
Greta Thunberg: Little People, Big Dreams Ages 4 – 7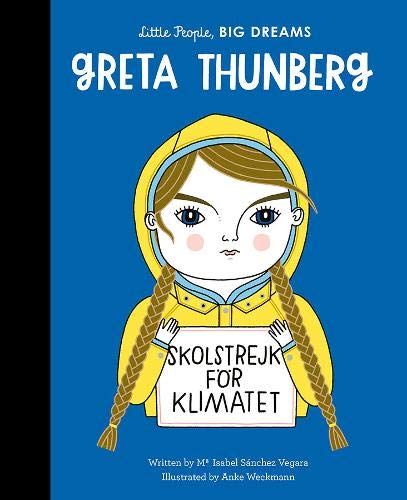 When young Greta learned of the climate crisis, she stopped talking. She couldn't understand why people in power were not doing anything to save our Earth. One day she started protesting outside the Swedish Parliament, creating the "School Strike for Climate." Soon, lots more young people joined her in a global movement that shook adults and politicians alike. She had found her voice and uses it to inspire humans to action with her powerful message: "No one is too small to make a difference."
June
Ubeatable Betty: Betty Robinson, The First Female Olympic Track & Field Gold Medalist by Allison Crotzer Kimmel, Joanie Stone Ages 4 – 8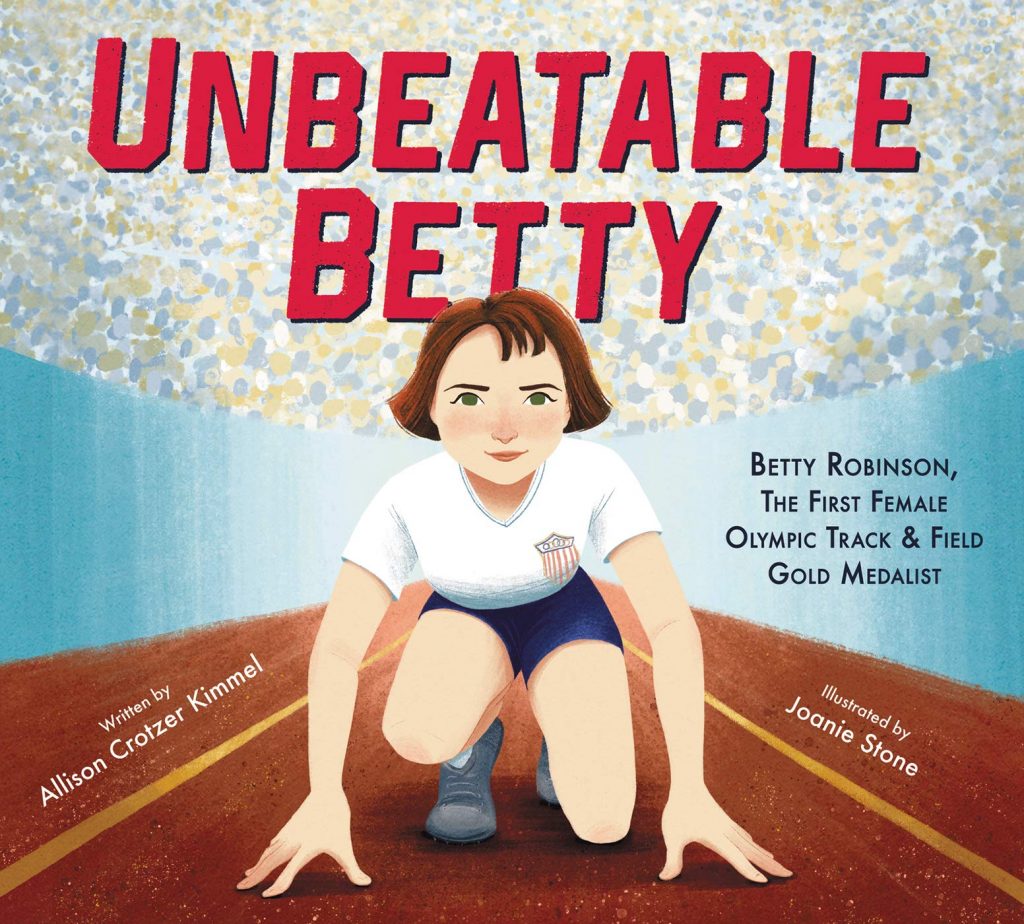 At only sixteen years old, Betty Robinson became the first female gold medalist in track and field in the 1928 Olympics and an overnight sensation. She was set for gold again and had her eyes on the 1932 Olympics.
Her plans changed forever when a horrible plane crash left her in a wheelchair, with one leg shorter than the other. But Betty didn't let that stop her. In less than five years, she relearned how to stand, to walk, and finally to run again and try to taste gold once more in the 1936 Olympics in Berlin.
Joey: The Story of Joe Biden by Dr Jill Biden, Kathleen Krull Amy June Bates Ages 4 – 8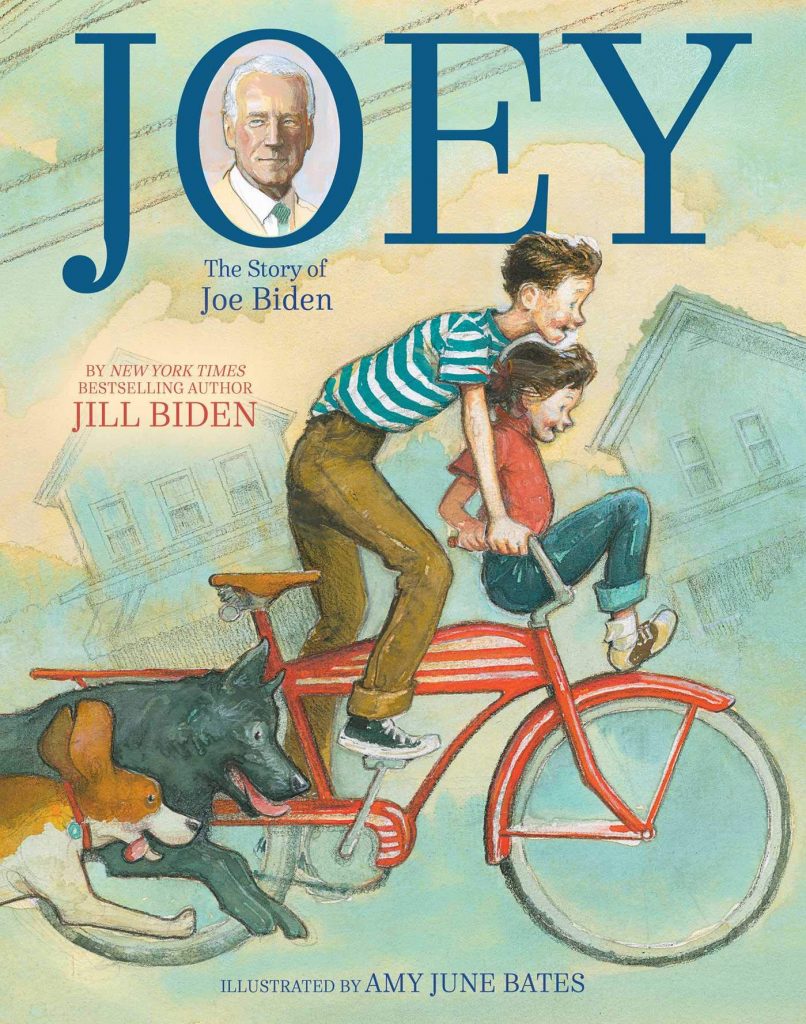 Joey is the first ever picture book about the young life of Joe Biden, the 47th Vice President of the United States, and includes never before told family stories about the presidential candidate and former vice president's childhood—written by Jill Biden, his spouse.
Joe Biden grew up in Scranton, Pennsylvania, the oldest of four children. His parents always encouraged him and his siblings to be independent and strong. The family moved to Wilmington, Delaware, where at twenty-nine, Biden was elected one the youngest United States Senators ever elected. This is his story.
Our Favorite Day of the Year by A.E. Ali, Rahele Jomepour Bell Ages 4 – 8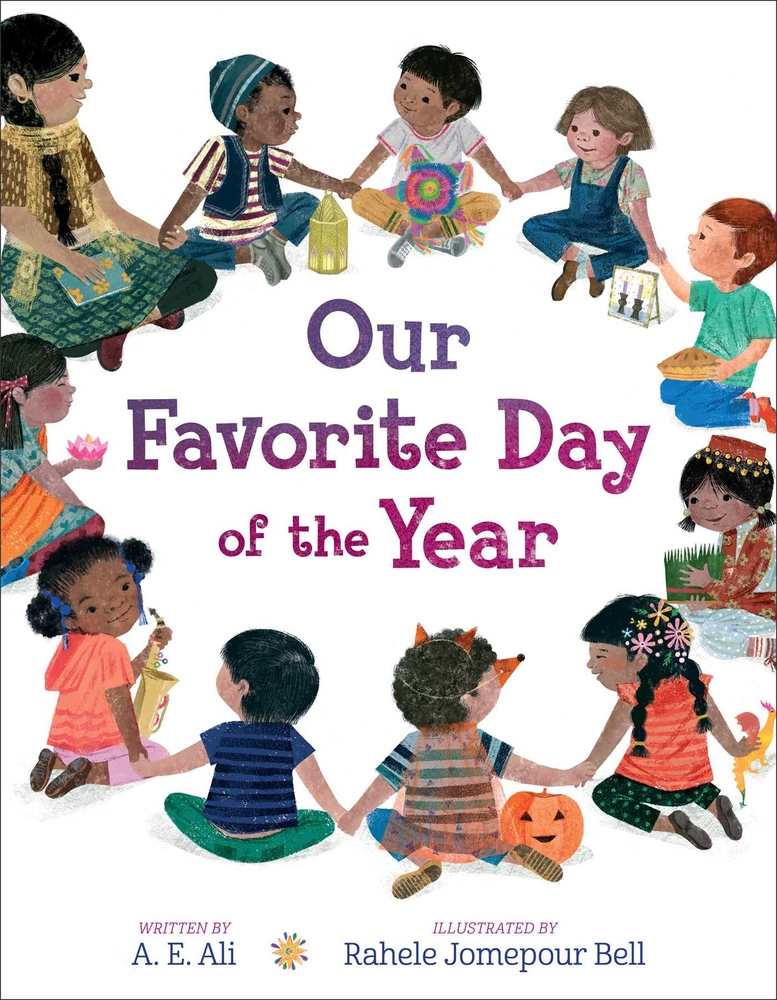 A heartwarming picture book following a group of boys from different backgrounds throughout the school year as they become the best of friends.
Musa's feeling nervous about his first day of school. He's not used to being away from home and he doesn't know any of the other kids in his class. And when he meets classmates Moisés, Mo, and Kevin, Musa isn't sure they'll have much in common. But over the course of the year, the four boys learn more about each other, the holidays they celebrate, their favorite foods, and what they like about school. The more they share with each other, the closer they become, until Musa can't imagine any better friends.
AntiRacist Baby by Ibram X. Kendi, Ashley Lukashevsky Ages 0 – 3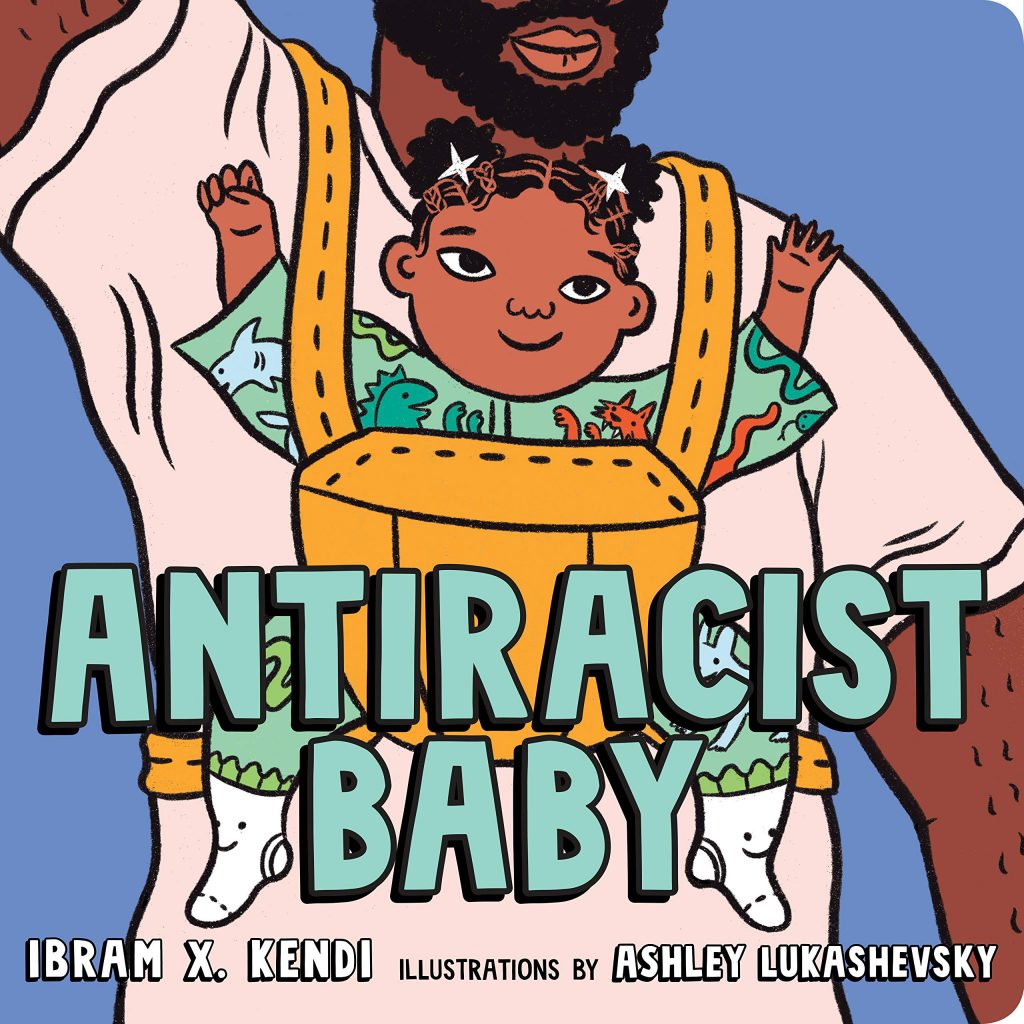 Take your first steps with Antiracist Baby! Or rather, follow Antiracist Baby's nine easy steps for building a more equitable world.
With bold art and thoughtful yet playful text, Antiracist Baby introduces the youngest readers and the grown-ups in their lives to the concept and power of antiracism. Providing the language necessary to begin critical conversations at the earliest age, Antiracist Baby is the perfect gift for readers of all ages dedicated to forming a just society.
Libby Loves Science by Kimberly Derting (Author), Shelli R. Johannes(Author), Joelle Murray Ages 4 – 8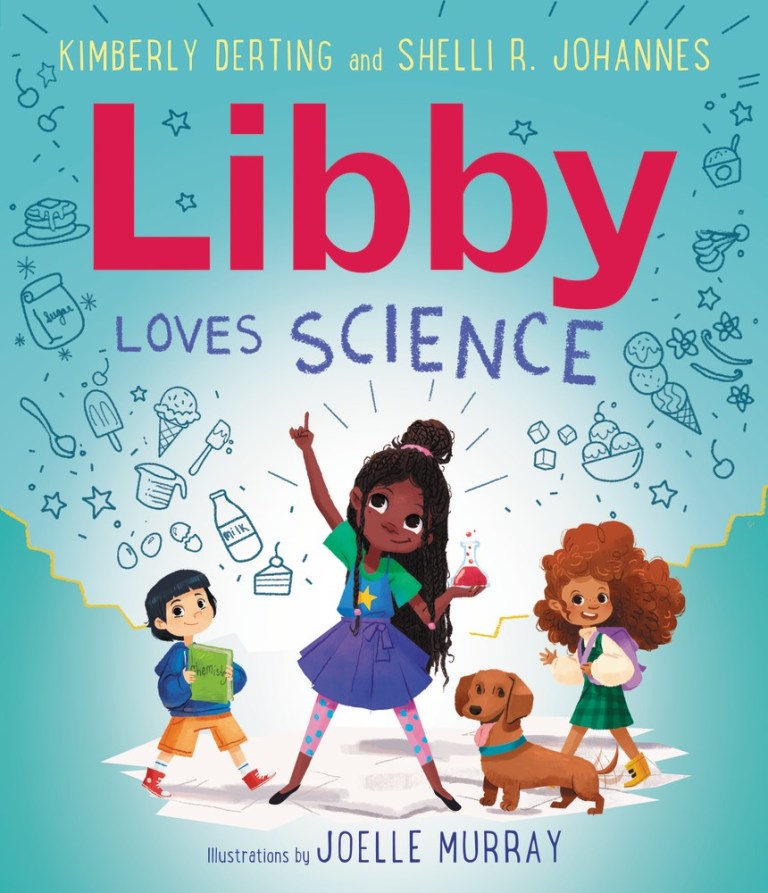 Libby and her friends volunteer to run the science booth at their school fair and have some great ideas, but Libby does not always follow directions precisely. Includes a worksheet for each experiment mentioned.
A Song Below Water by Bethany C. Morrow Ages 14 and up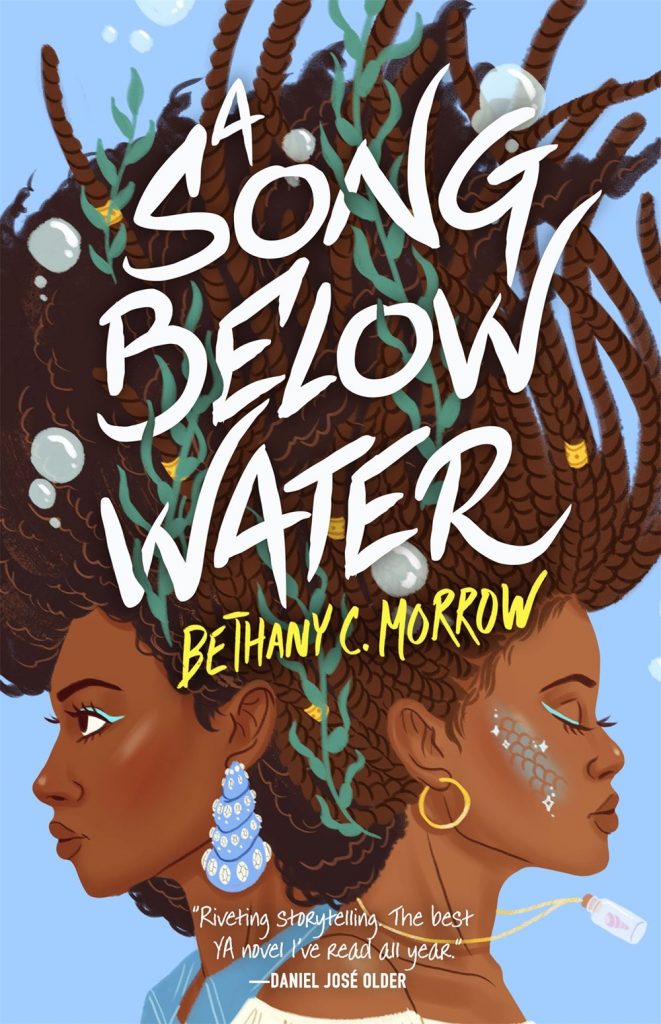 Tavia is already at odds with the world, forced to keep her siren identity under wraps in a society that wants to keep her kind under lock and key. Nevermind she's also stuck in Portland, Oregon, a city with only a handful of black folk and even fewer of those with magical powers. At least she has her bestie Effie by her side as they tackle high school drama, family secrets, and unrequited crushes.
Lift as You Climb: The Story of Ella Baker by Patricia Hruby Powell (Author), R. Gregory Christie (Illustrator)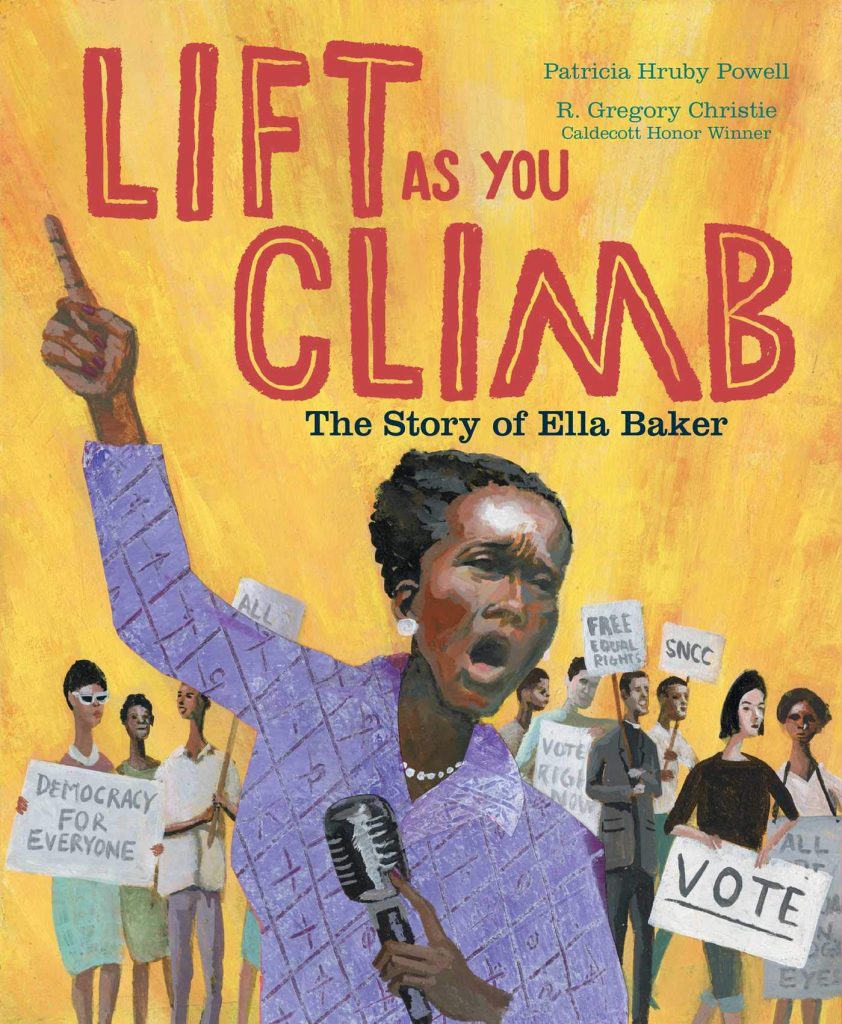 Long before the civil rights movement of the 1950s and 60s, Ella Baker worked to lift others up by fighting racial injustice and empowering poor African Americans to stand up for their rights. Her dedication and grassroots work in many communities made her a valuable ally for leaders like Dr. Martin Luther King Jr., and she has been ranked as one of the most influential women in the civil rights movement. In the 1960s she worked to register voters and organize sit-ins, and she became a teacher and mentor to many young activists.
3 2 1 Awesome!: 20 Fearless Women Who Dared to Be Different by Eva Chen (Author), Derek Desierto (Illustrator) Ages 1-3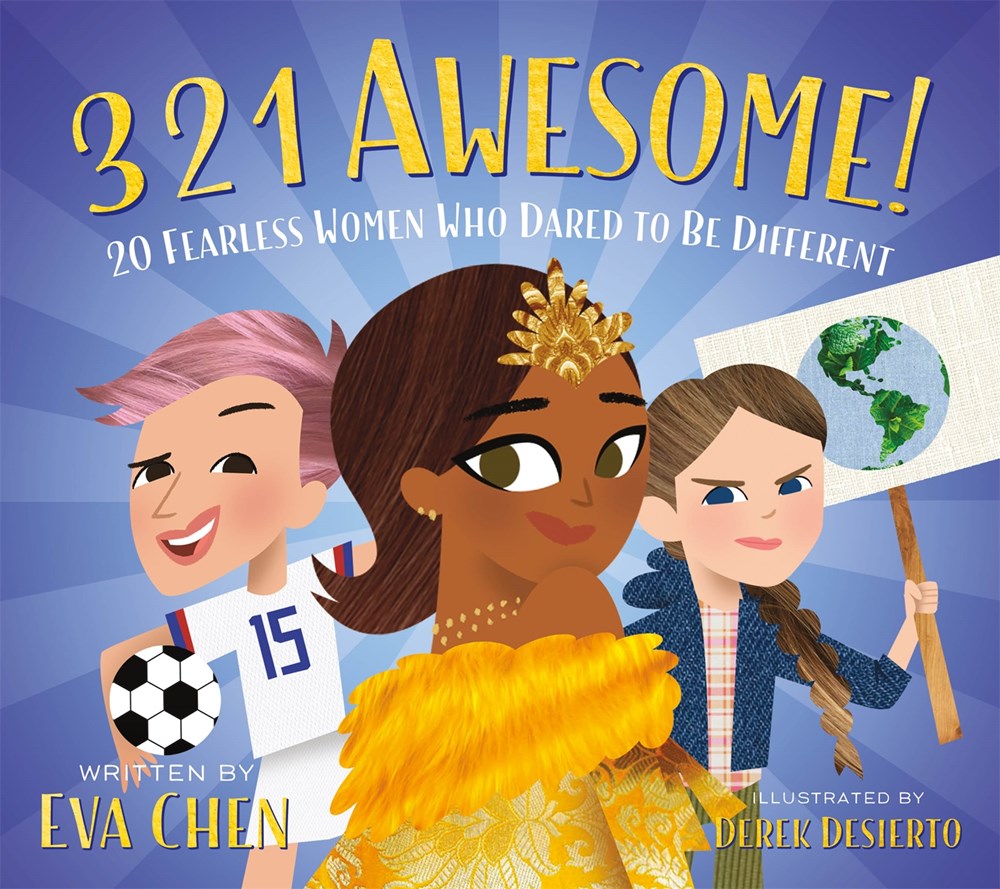 Instagram superstar and New York Times-bestselling author of Juno Valentine and the Magical Shoes Eva Chen shines a spotlight on 20 amazing women―including Megan Rapinoe, Sonia Sotomayor, J.K. Rowling, Greta Thunberg and more!―in this sassy and fun counting board book, perfect for the youngest of budding feminists.
Goodnight, Little Dancer by Jennifer Adams (Author), Alea Marley (Illustrator) Ages 3-6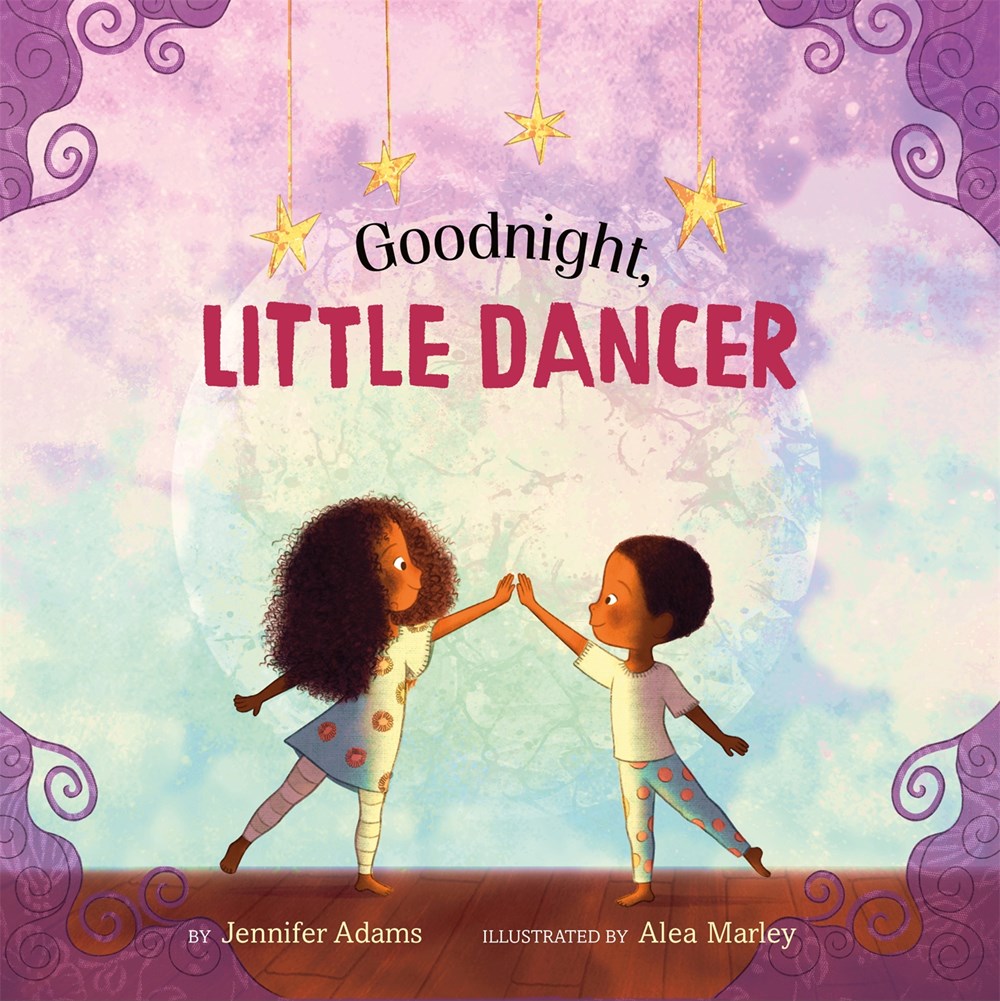 In this soothing, gentle rhyming picture book, author Jennifer Adams bids sweet dreams to the youngest readers who identify as ballerinas by day and tender, sleepy children by night. With luminous art from illustrator Alea Marley, Goodnight, Little Dancer is sure to send little ones to sleep with twirling, dancing dreams.
Jean-Michel Basquiat by Maria Isabel Sanchez Vegara, Luciano Lozano Ages 4-7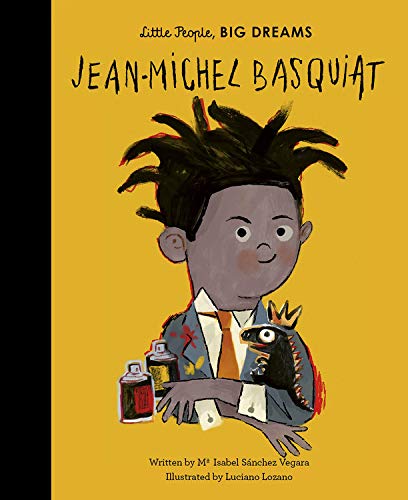 Jean-Michel was born in Brooklyn, New York. His father was from Haiti and his mother was Puerto Rican–American. As a child, his gift for art was noticed by his teachers and nurtured by his mother. After struggling in high school, he gained recognition as part of the graffito duo SAMO that spray-painted cryptic messages and images around the landscape of Manhattan's Lower East Side. He eventually made his way to the New York gallery scene and on to international acclaim.
Jesse Owens by Maria Isabel Sanchez Vegara, Anna Katharina Jansen Ages 4 – 7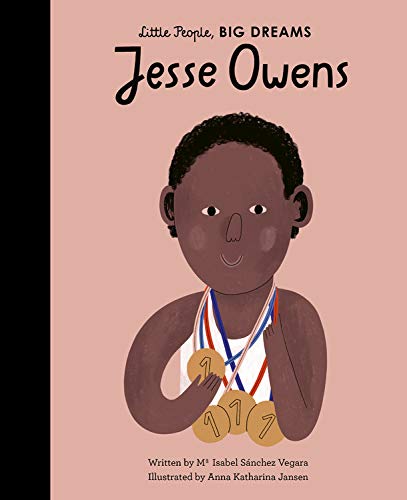 Little Jesse, originally J.C., was born in Oakville, Alabama, during segregation. When he was nine, he moved with his parents and nine brothers and sisters to Cleveland, Ohio, to find a better life. There, he found his passion for running, and was making national headlines by high school, where he equaled the world record in the 100-yard dash. It was during the 1936 Berlin Summer Olympics that he established himself as a legend, winning four gold metals that also delivered an unforgettable blow to Hitler and racism.
Nana Akua Goes to School by Patricia Elam Walker, April Harrison Ages 4 – 8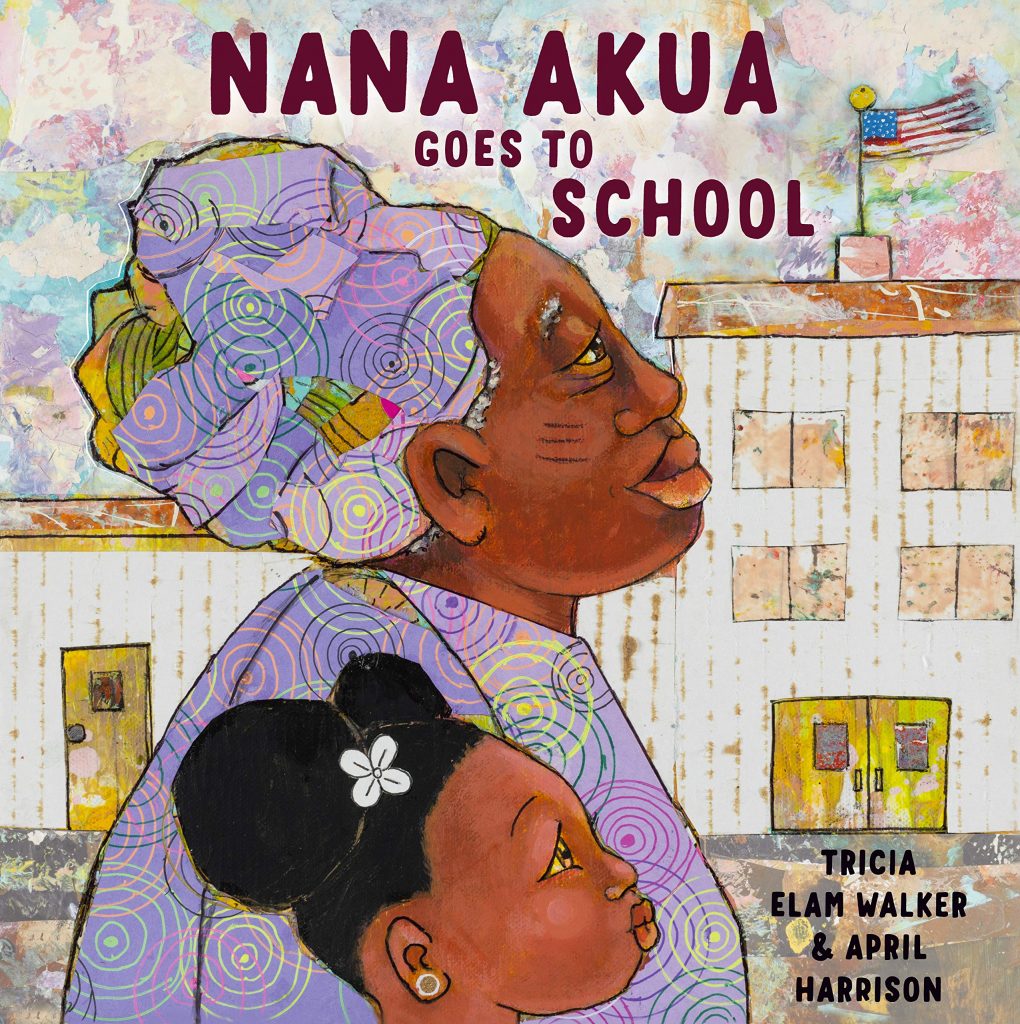 It is Grandparents Day at Zura's elementary school, and the students are excited to introduce their grandparents and share what makes them special. Aleja's grandfather is a fisherman. Bisou's grandmother is a dentist. But Zura's Nana, who is her favorite person in the world, looks a little different from other grandmas. Nana Akua was raised in Ghana, and, following an old West African tradition, has tribal markings on her face. Worried that her classmates will be scared of Nana–or worse, make fun of her–Zura is hesitant to bring her to school. Nana Akua knows what to do, though. With a quilt of traditional African symbols and a bit of face paint, Nana Akua is able to explain what makes her special, and to make all of Zura's classmates feel special, too.
All Welcome Here by James Preller, Mary GrandPre (Ages 4 – 7)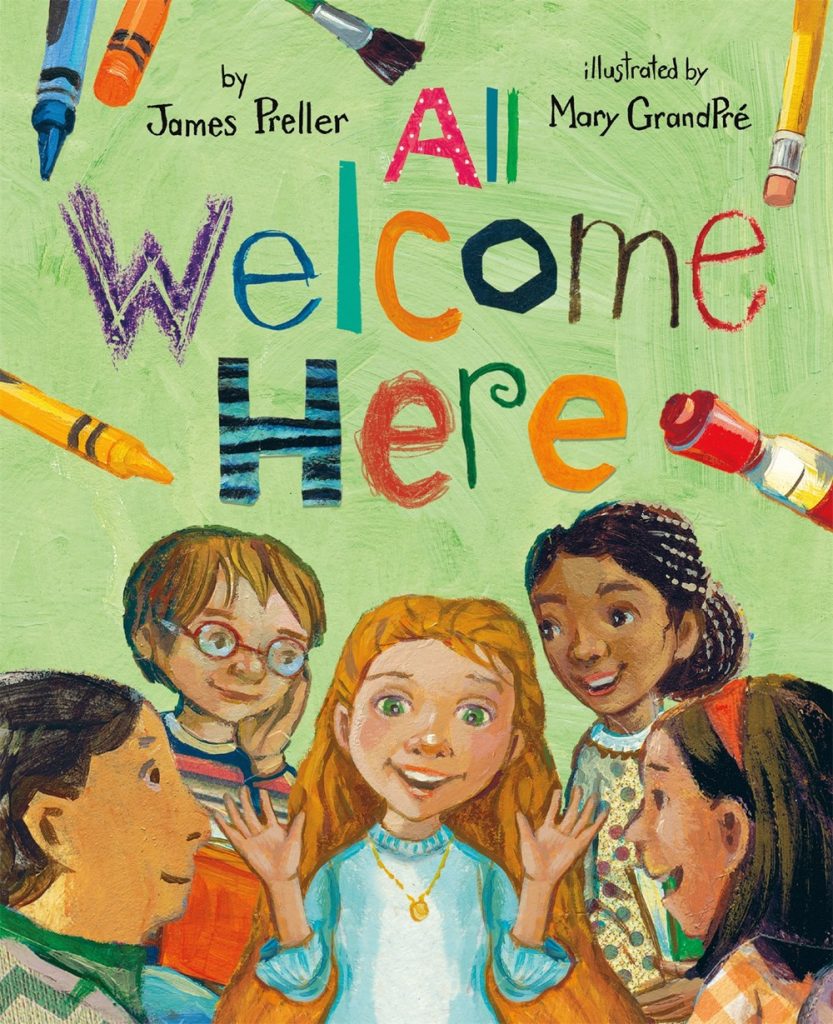 The first day of school and all its excitement, challenges, and yes, anxieties, are celebrated here in connected haiku poems. A diverse cast of characters all start―and finish―their first days of school, and have experiences that all children will relate to.
Forest of Souls by Lori M. Lee Ages 14 and up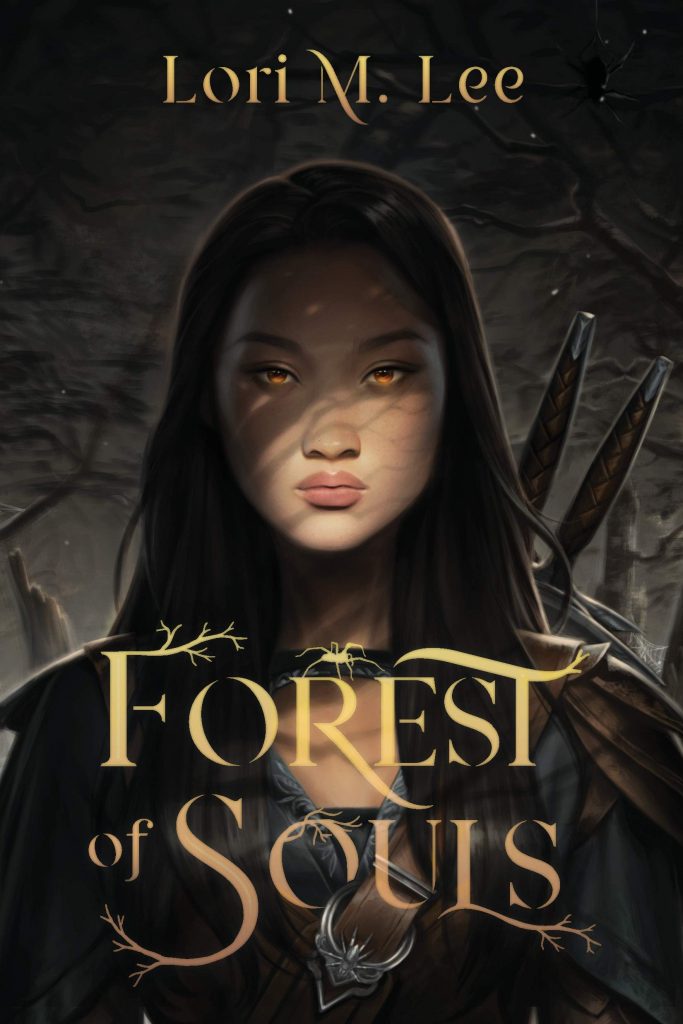 Featuring an all Asian cast of characters! 
Sirscha Ashwyn comes from nothing, but she's intent on becoming something. After years of training to become the queen's next royal spy, her plans are derailed when shamans attack and kill her best friend Saengo.  And then Sirscha, somehow, restores Saengo to life.
The Story of Martin Luther King Jr. by Christine Platt Ages 6 – 8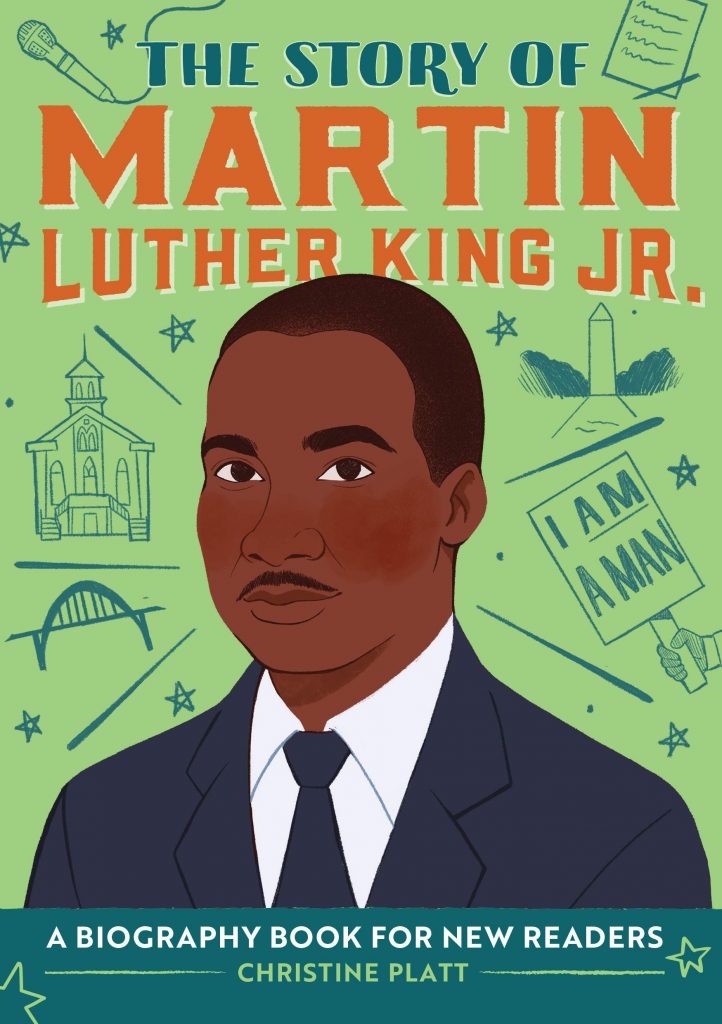 Martin Luther King Jr became one of the most important civil rights leaders in America by fighting for equality for black people. Before he made history with his powerful speeches and peaceful protests, Martin was a dedicated, smart kid who loved to learn. He challenged racism and overcame hardships to follow his passion and do the right thing.
Mindy Kim and the Birthday Puppy by Lyla Lee, Dung Ho Hanh Ages 6 – 9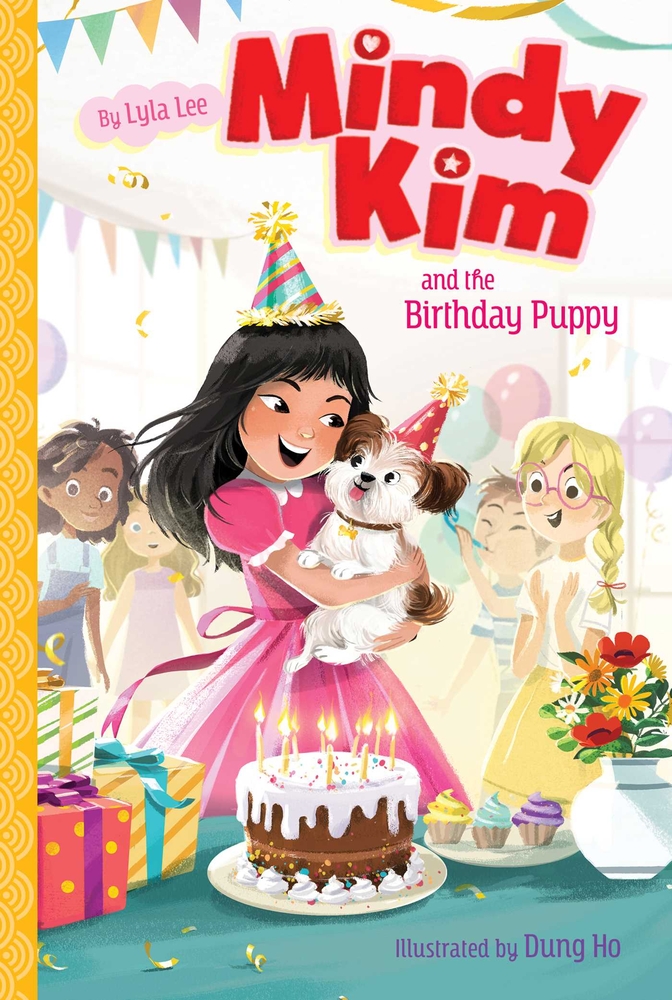 All Mindy Kim has ever wanted is a puppy of her very own. After all, having all the toy dog plushies in the world isn't quite the same thing as a real one! She wants a dog to take on walks, teach tricks, and cuddle with. She knows she has what it takes to be the perfect pet owner, and she thinks a dog would be a perfect gift for her upcoming birthday.
But her dad isn't so sure she's ready for the big responsibility. Can Mindy prove to her dad that she can handle a new addition to the Kim household?
July
Black Heroes: A Black History Book for Kids: 50 Inspiring People from Ancient Africa to Modern-Day U.S.A. by Arlisha Norwood Ages 8 – 12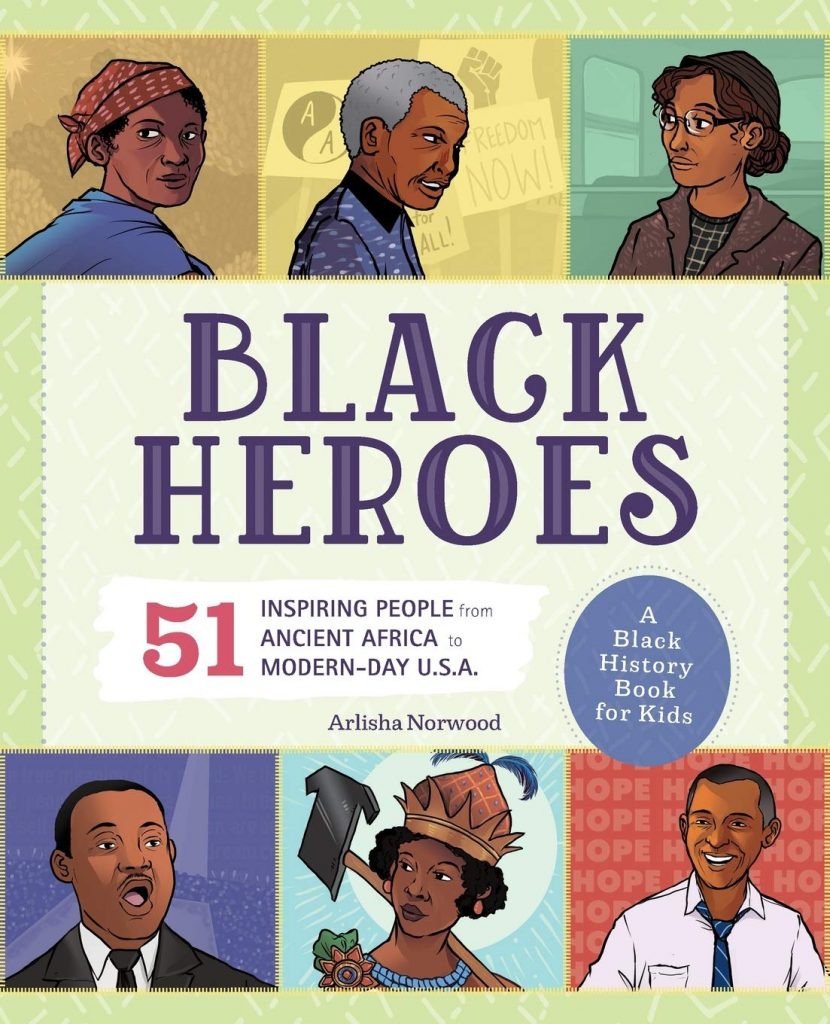 Explore the stories of well-known people like Rosa Parks and Barack Obama, and lesser-known figures like Rebecca Lee Crumpler, the first African-American doctor, and Benjamin Banneker, an astronomer and mathematician. This vibrant black history book for kids makes it fun to learn about how these individuals created lasting change and paved the way for future leaders.
A Girl Like You by Frank Murphy and Carla Murphy, illustrated by Kayla Harren Ages 5 – 7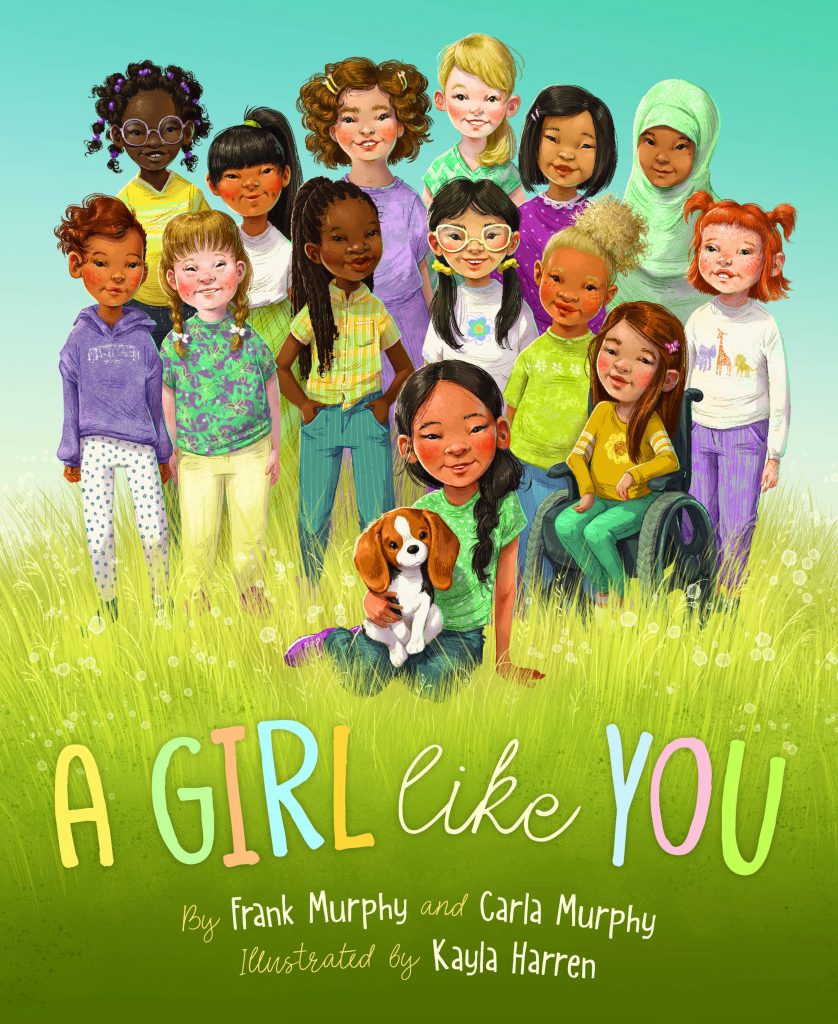 Every girl is a wonder! A Girl Like You encourages girls to embrace what makes them unique, to choose kindness, and to be their own advocates. In an age when girls can be whatever they want, this book reminds them of all the ways to be beautiful, brilliant, and uniquely themselves.
I Am Not a Label by Cerrie Burnell, Lauren Mark Baldo Ages 6 – 12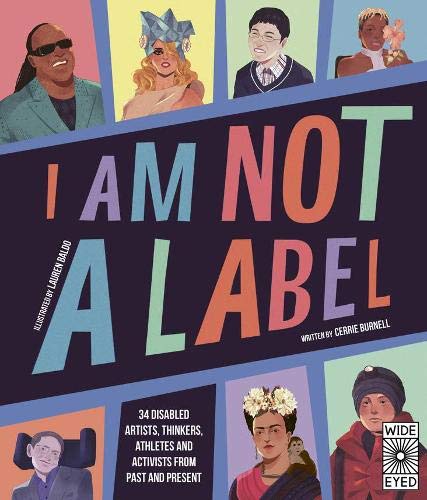 These short biographies tell the stories of 0 artists, thinkers, athletes, and activists with disabilities, from past and present.  Each person is a leading figure in their field, be it sports, science, math, art, breakdancing, or the world of pop.
The Voting Booth by Brandy Colbert Ages 12 and up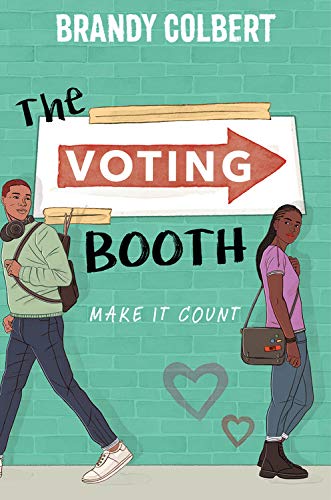 When Marva sees Duke turned away from their polling place, she takes it upon herself to make sure his vote is counted. She hasn't spent months doorbelling and registering voters just to see someone denied their right.
And that's how their whirlwind day begins, rushing from precinct to precinct, cutting school, waiting in endless lines, turned away time and again, trying to do one simple thing: vote. They may have started out as strangers, but as Duke and Marva team up to beat a rigged system (and find Marva's missing cat), it's clear that there's more to their connection than a shared mission for democracy.
Shirley Chisholm Is a Verb by Veronica Chambers, illustrated by Rachelle Baker Ages 4 – 8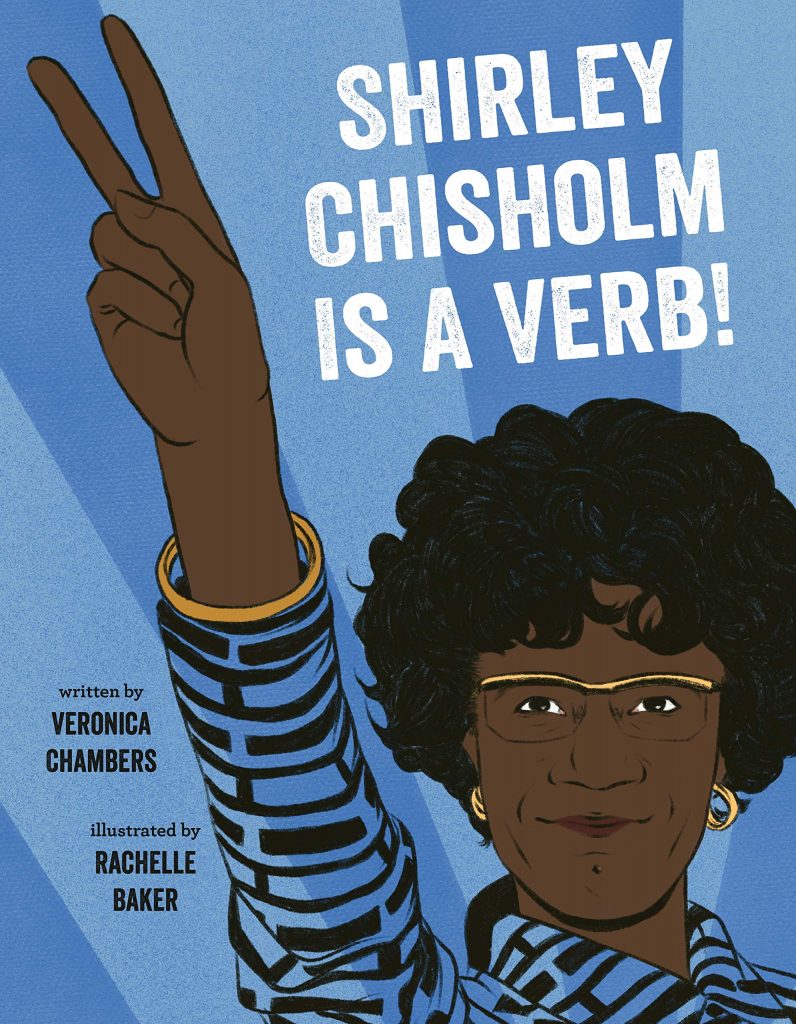 Shirley Chisholm famously said, "If they don't give you a seat at the table, bring a folding chair." This dynamic biography illuminates how Chisholm was a doer, an active and vocal participant in our nation's democracy, and a force to be reckoned with. Now young readers will learn about her early years, her time in Congress, her presidential bid and how her actions left a lasting legacy that continues to inspire, uplift, and instruct.
A Place Inside of Me: A Poem to Heal the Heart by Zetta Elliott, Noa Demnon Ages 4 – 8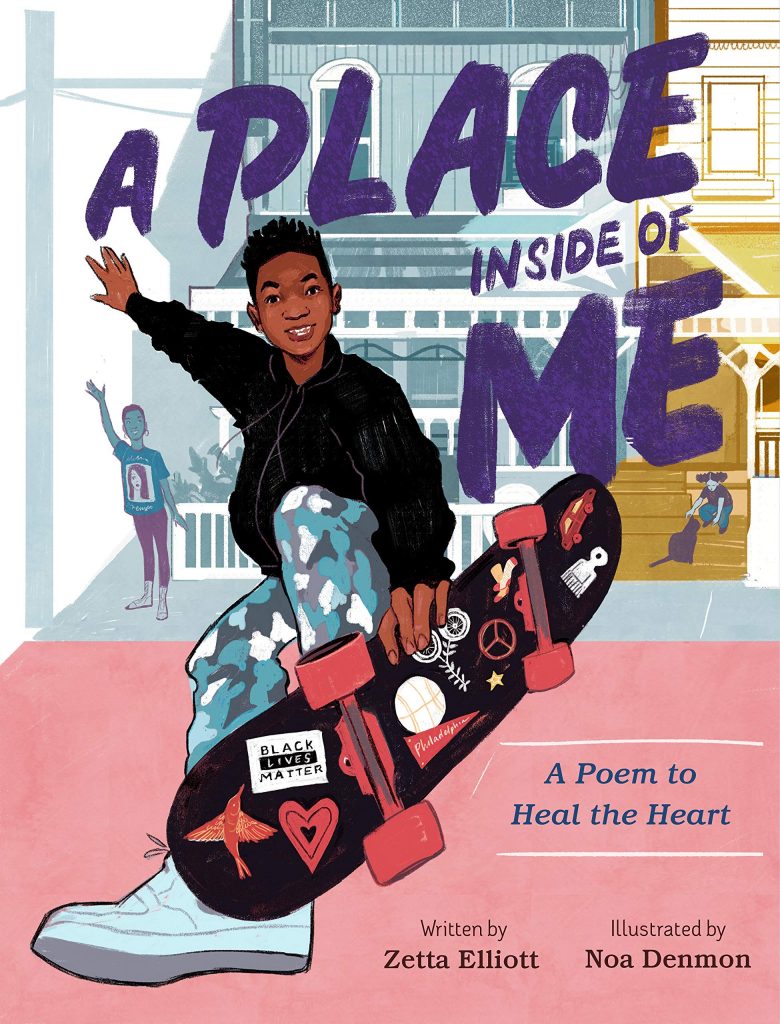 In this powerful, affirming poem by award-winning author Zetta Elliott, a Black child explores his shifting emotions throughout the year. Summertime is filled with joy―skateboarding and playing basketball―until his community is deeply wounded by a police shooting. As fall turns to winter and then spring, fear grows into anger, then pride and peace.
Catch That Chicken by Atinuke, Angela Brooksbank Ages 2 – 5.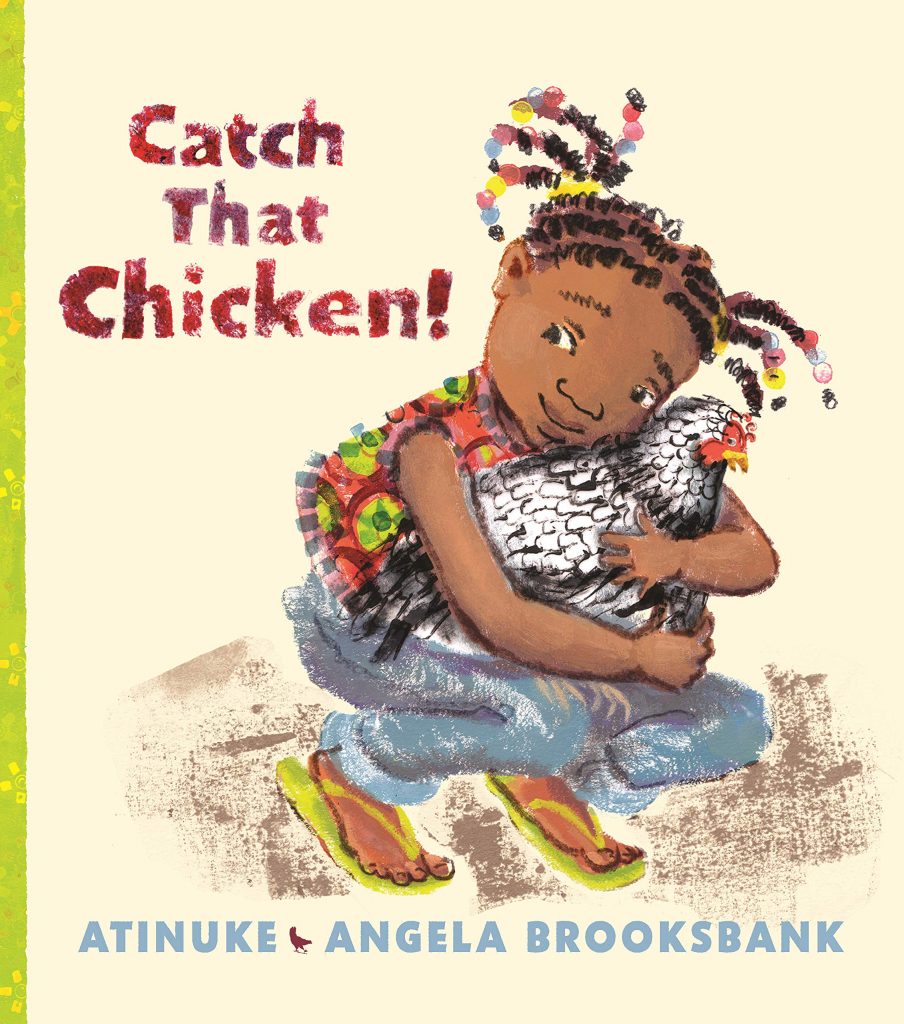 Lami is the best chicken catcher in her whole Nigerian village. Her sister may be speedy at spelling, her friend fast at braiding hair, and her brother brave with bulls, but when it comes to chickens, nobody is faster or braver than Lami. That is, until the day when Lami chases a little too fast, up the baobab tree, and reaches a little too far . . . ow! How can she catch chickens with an ankle that's puffed up like an angry lizard? Could it be, as Nana Nadia says, that quick thinking is more important than quick running?
Speak Up by Miranda Paul, Ebony Glenn Ages 4 – 7


Join a diverse group of kids on a busy school day as they discover so many different ways to speak up and make their voices heard! From shouting out gratitude for a special treat to challenging a rule that isn't fair, these young students show that simple, everyday actions can help people and make the world a better place.
Already a Butterfly: A Meditation Story by Julia Alvarez Weybridge VT (Author), Raúl Colón (Illustrator) Ages 5 – 9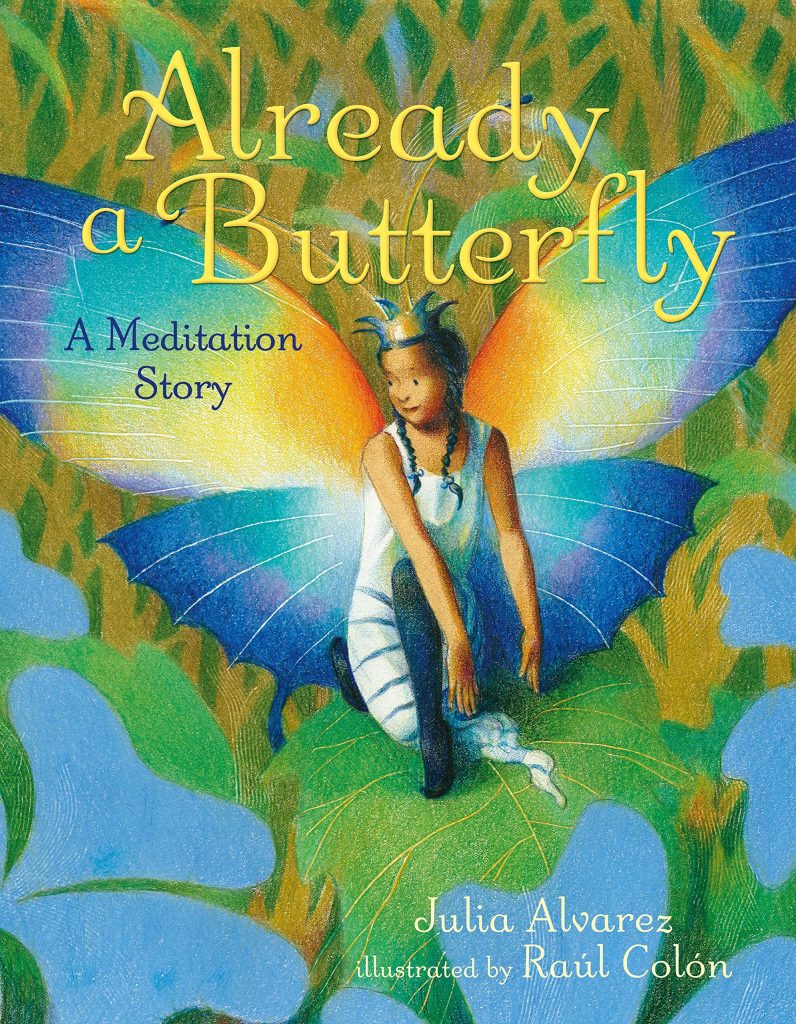 With so much to do in so little time, Mari is constantly on the move, flitting from flower to flower, practicing her camouflage poses, and planning for migration. She's the busiest butterfly around. But does being productive mean she is happy? Mari couldn't say. The only way she feels like a butterfly is by acting like one. Little does Mari know, the secret to feeling like herself is simply to focus her breath, find her quiet place, and follow her instincts. With the guidance of a thoughtful flower bud, Mari soon learns to meditate and appreciate that she was a butterfly all along.
V Is for Voting by Kate Farrell and Caitlin Kuhwald (Ages 3 – 7)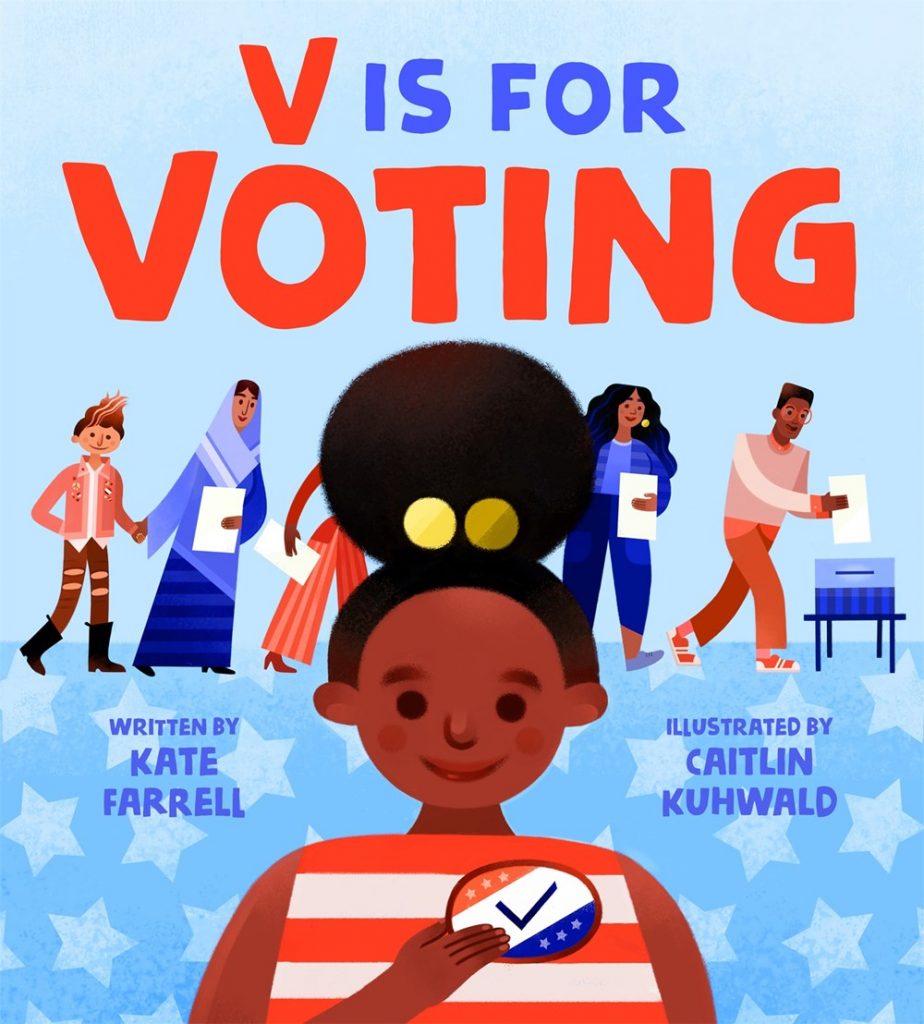 An engaging introduction to the tenets of democracy, V Is for Voting is a playful, poetic, and powerful primer about the importance of voting and activism. Featuring Kate Farrell's rhyming text and Caitlin Kuhwald's bold art, plus thoughtful back matter, the book is a gorgeous, and crucial, addition to every young reader's library.
Your Name is a Song by Jamilah Thompkins-Bigelow (Ages 4 – 8)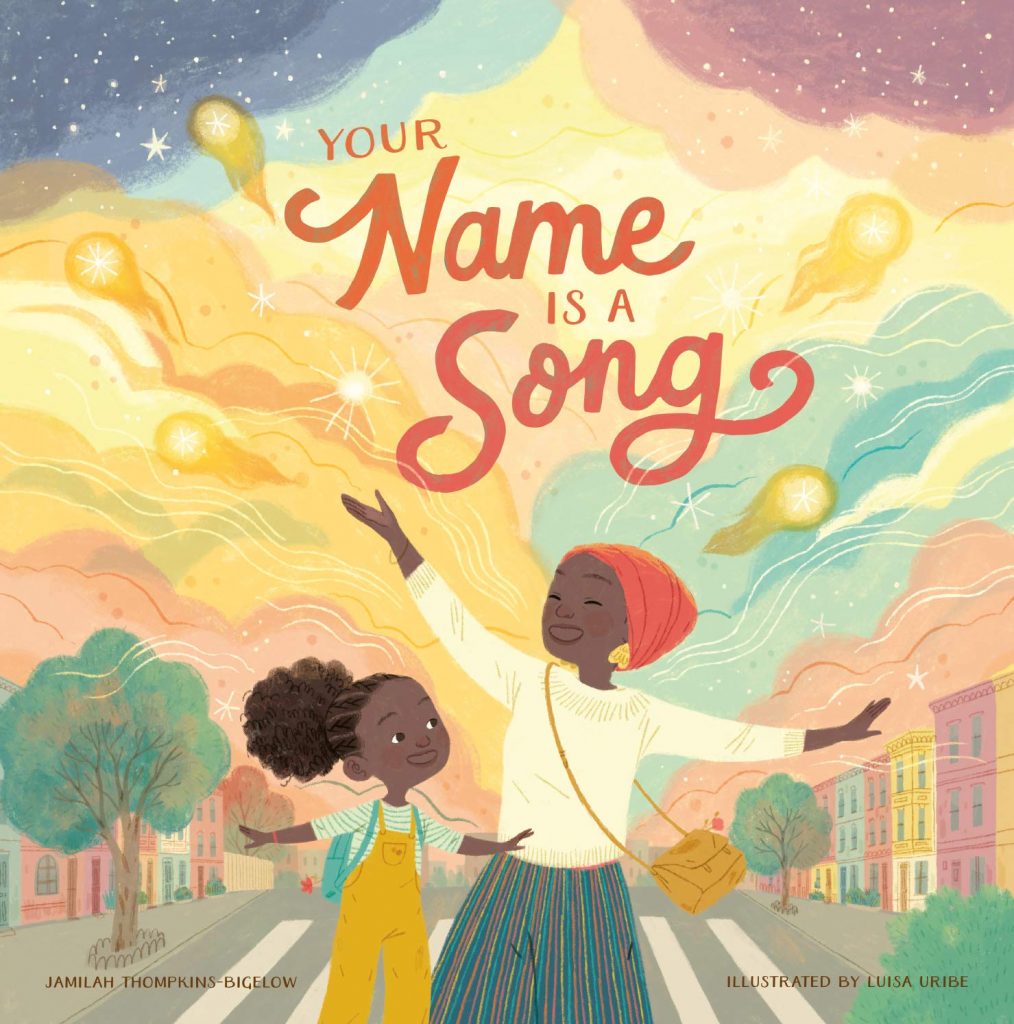 Frustrated by a day full of teachers and classmates mispronouncing her beautiful name, a little girl tells her mother she never wants to come back to school. In response, the girl's mother teaches her about the musicality of African, Asian, Black-American, Latinx, and Middle Eastern names on their lyrical walk home through the city. Empowered by this newfound understanding, the young girl is ready to return the next day to share her knowledge with her class. Your Name is a Song is a celebration to remind all of us about the beauty, history, and magic behind names.
I Got the School Spirit by Connie Schofield-Morrison (Author), Frank Morrison (Illustrator) Ages 3-6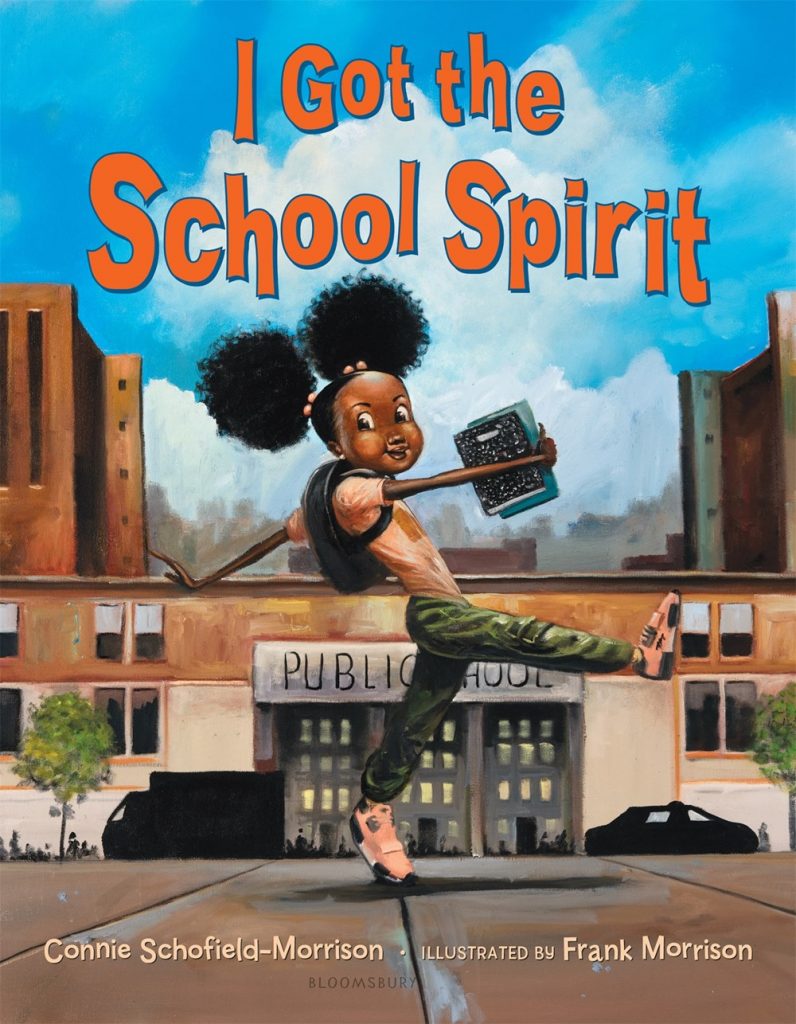 As a new school year begins, a young girl is filled with school spirit as she zips her book bag shut, rides the bus, enjoys her classes, and eagerly anticipates the next day.
Danbi Leads the School Parade by Anna Kim (Author/Illustrator) Ages 3-7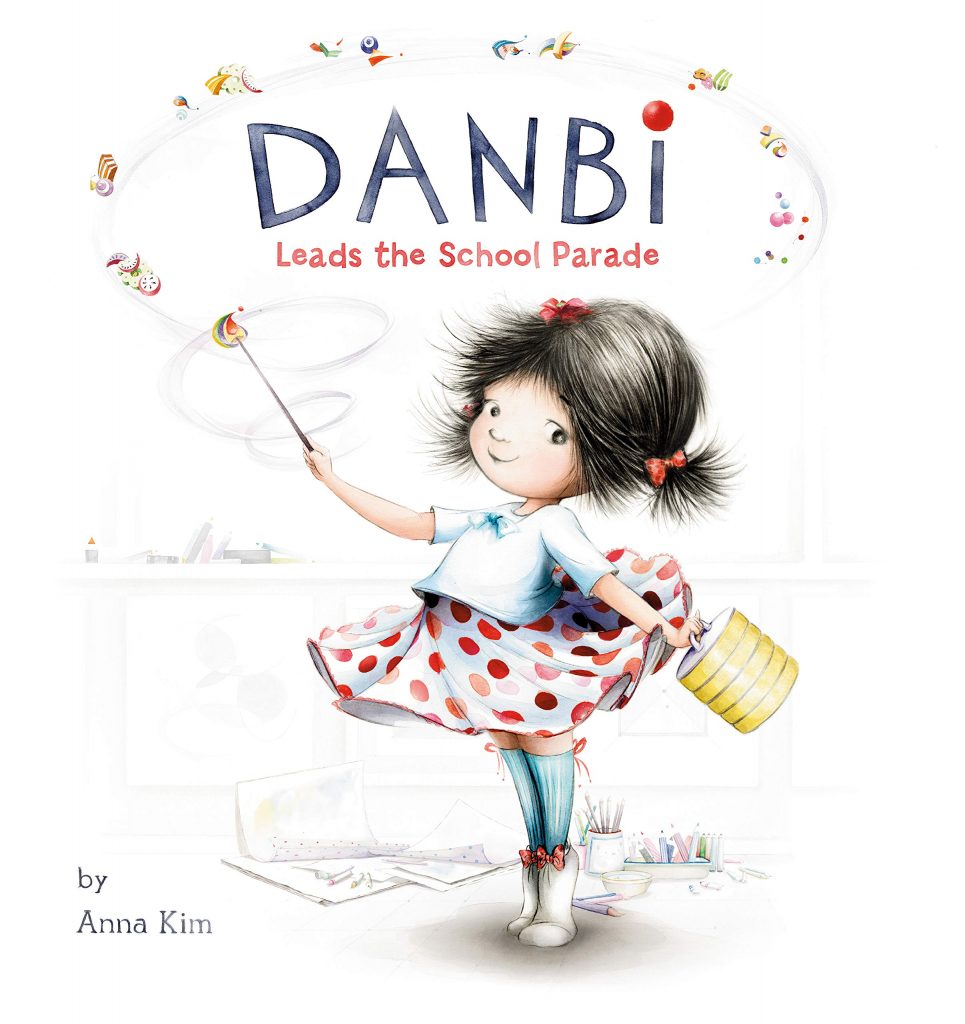 Danbi is thrilled to start her new school in America. But a bit nervous too, for when she walks into the classroom, everything goes quiet. Everyone stares. Danbi wants to join in the dances and the games, but she doesn't know the rules and just can't get anything right. Luckily, she isn't one to give up. With a spark of imagination, she makes up a new game and leads her classmates on a parade to remember!
A Unicorn Named Sparkle and the Pumpkin Monster by Amy Young Ages 2 – 6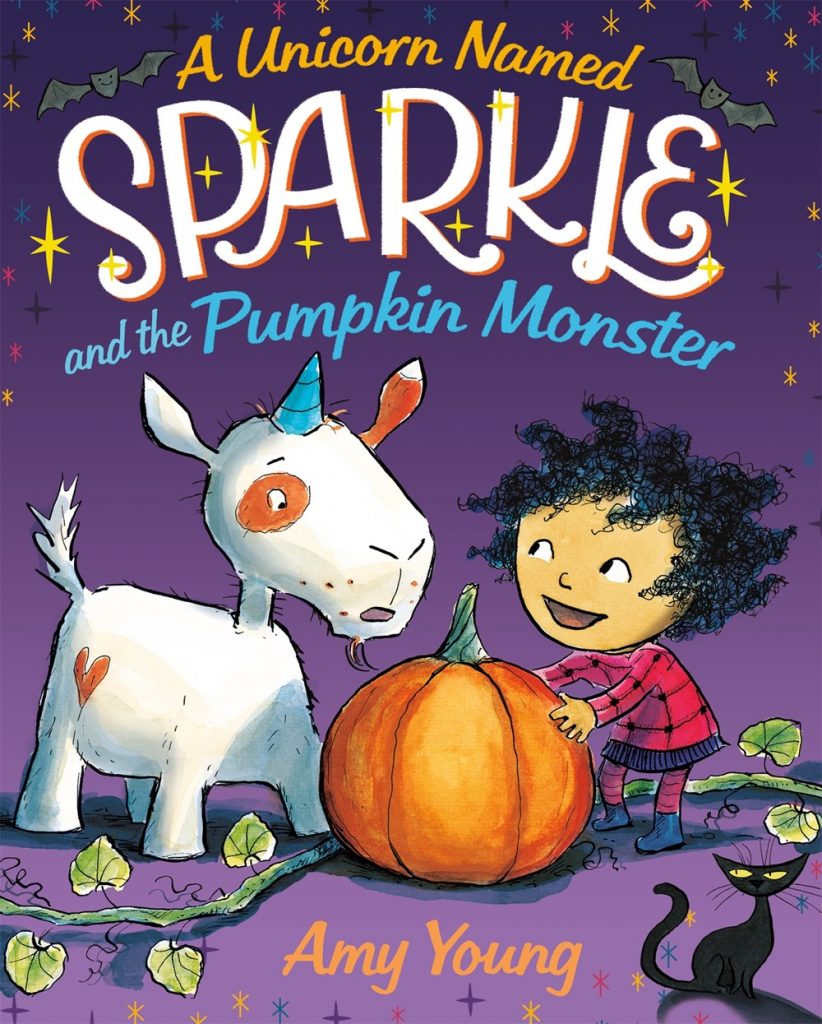 Lucy and our favorite unicorn are back in Sparkle the Unicorn and the Pumpkin Monster. Lucy and Sparkle love Halloween, especially at Frank's Pumpkin Farm. They get to run through corn mazes, play games, decorate pumpkins, and most importantly: eat a lot of cider donuts.
My Baby Loves Halloween by Jabari Asim, Tara Nicole Whitaker Ages Birth – 3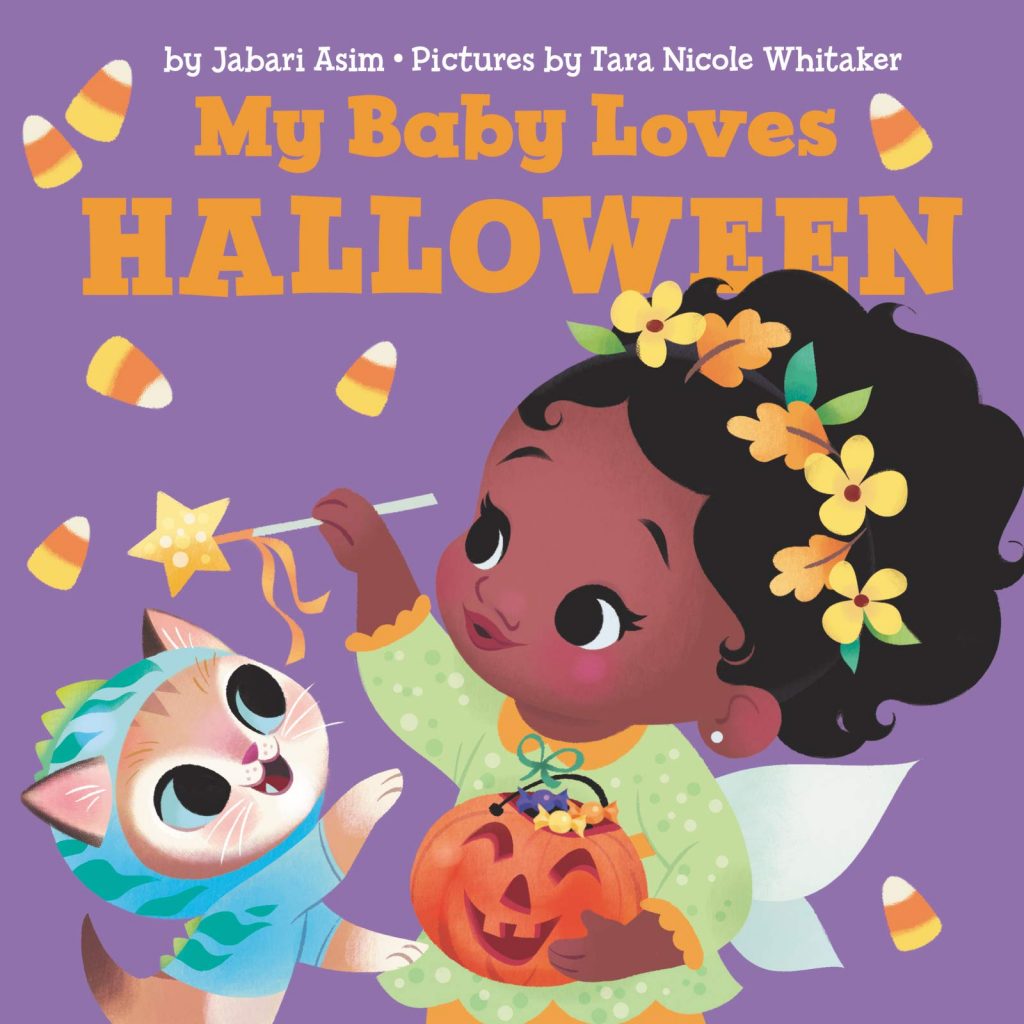 Celebrate all the sweet things that Baby discovers about Halloween. This Own Voices board book, the perfect gift for a new baby, features rhythmic poetry from Jabari Asim and adorable art from Tara Nicole Whitaker.
August
Kamala Harris: Rooted in Justice by Nikki Grimes and Laura Freeman Ages 4 – 8 and up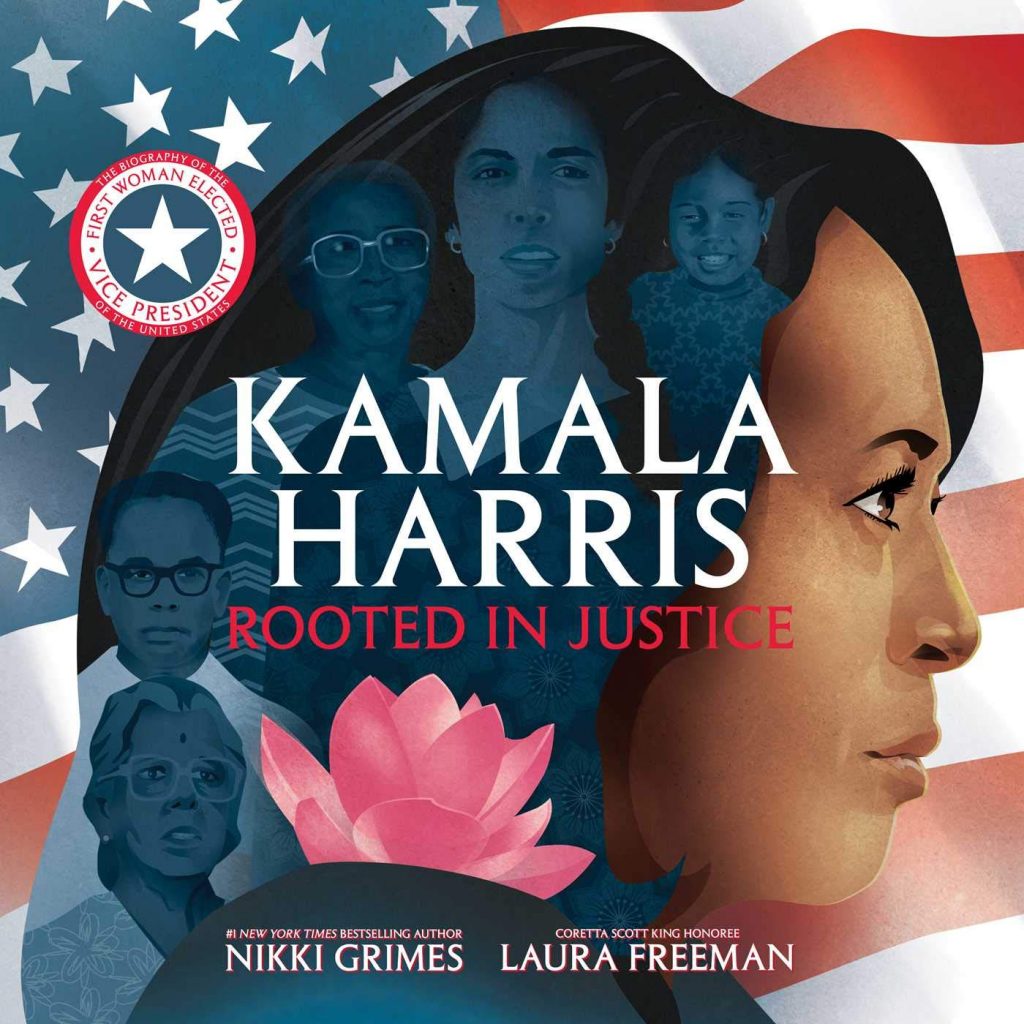 As Kamala grew from a small girl in Oakland to a senator running for president, it was this long-fostered belief in freedom and justice for all people that shaped her into the inspiring figure she is today. From fighting for the use of a soccer field in middle school to fighting for the people of her home state in Congress, Senator Harris used her voice to speak up for what she believed in and for those who were otherwise unheard. And now this dedication has led her all the way to being elected Vice President of the United States.
I Promise by Lebron James, Nina Mata Ages 4 – 8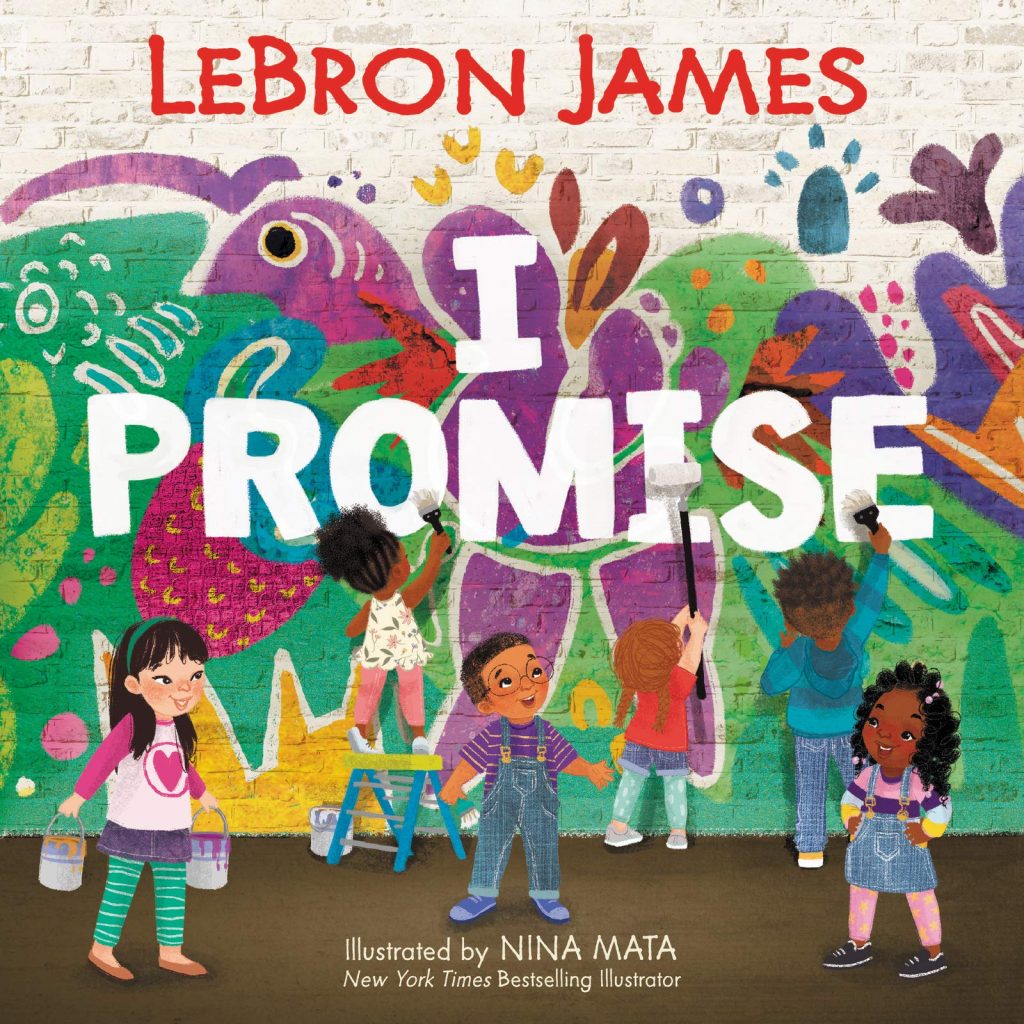 I Promise is a lively and inspiring picture book that reminds us that tomorrow's success starts with the promises we make to ourselves and our community today.
Featuring James's upbeat, rhyming text and vibrant illustrations perfectly crafted for a diverse audience by New York Times bestselling artist Nina Mata, this book has the power to inspire all children and families to be their best.
Me & Mama by Cozbi A. Cabrera Ages 4 – 8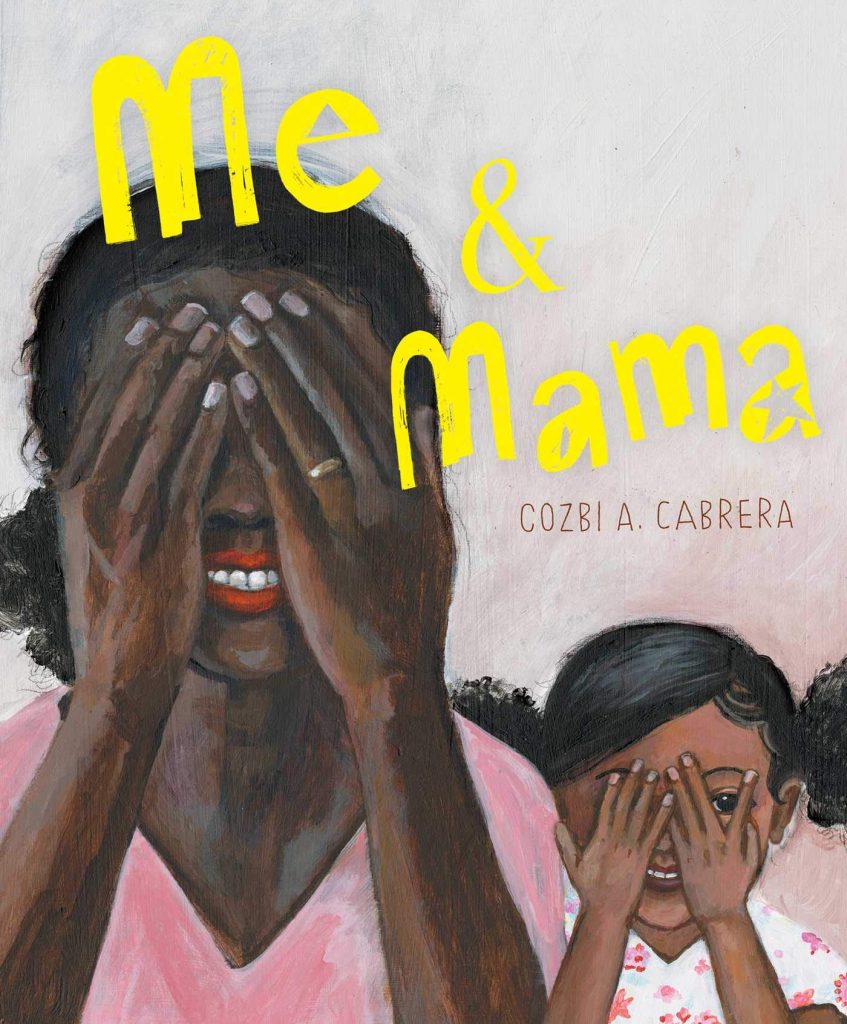 On a rainy day when the house smells like cinnamon and Papa and Luca are still asleep, when the clouds are wearing shadows and the wind paints the window with beads of water, I want to be everywhere Mama is.With lyrical prose and a tender touch, Mama and Me is an ode to the strength of the bond between a mother and a daughter as they spend a rainy day together.
The Magic in Changing Your Stars by Leah Henderson Ages 8 – 12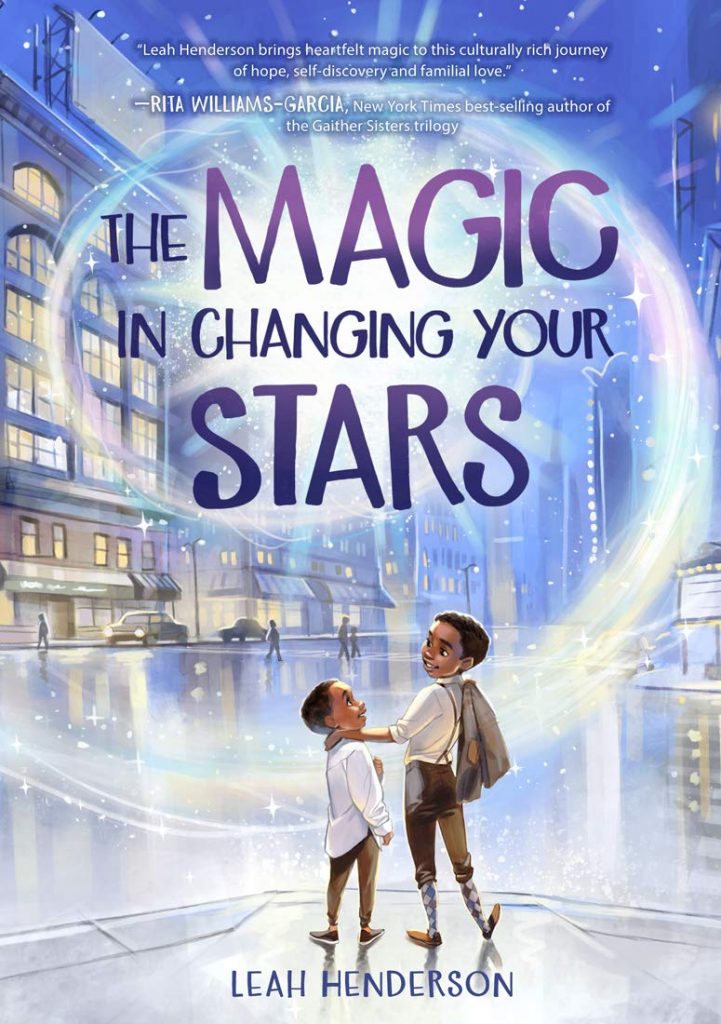 Eleven-year-old Ailey Benjamin Lane can dance—so he's certain that he'll land the role of the Scarecrow in his school's production of The Wiz. Unfortunately, a talented classmate and a serious attack of nerves derail his audition: he just stands there, frozen. Deflated and defeated, Ailey confides in his Grampa that he's ready to quit. But Grampa believes in Ailey, and, to encourage him, shares a childhood story.
You See Me, God by Jan Spivey Gilchrist Ages 3 – 11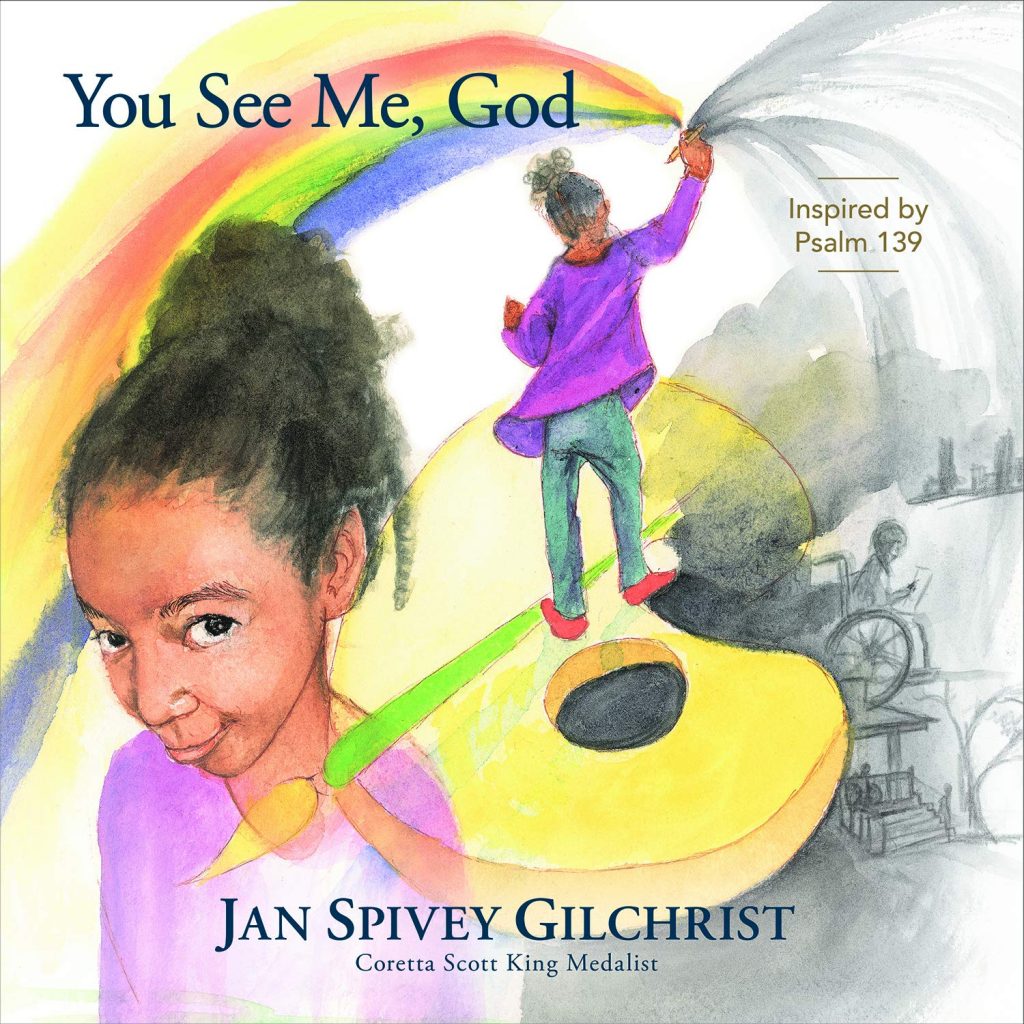 You See Me, God is a beautifully illustrated children's book based on Jan's understanding of how God sees her—and all of us—since before birth. The flowing poetry describes the beauty of Psalm 139 in a way children will understand, and the colorful, detailed illustrations will capture their imaginations, further bringing this important message to their young hearts.
Astrid and Apollo and the Happy New Year by by V.T. Bidania, Dara Lashia Lee Ages 6 – 8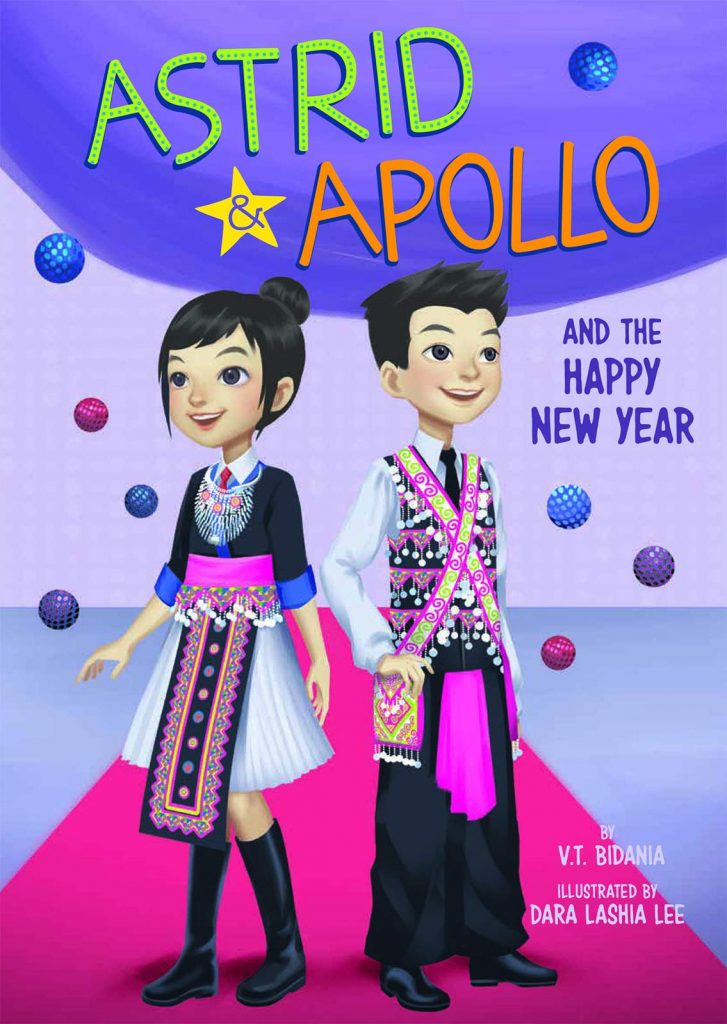 Dressed in their traditional New Year clothes, Astrid and Apollo attend the Hmong New Year Festival. While at the noisy and jam-packed celebration, they accidentally become separated from their family and end up lost in the crowds. Follow along on their adventure as they try to find their way back to their mom, dad, and little sister, Eliana.
Finish the Fight: The Brave and Revolutionary Women Who Fought for the Right to Vote by Veronica Chambers, The Staff of the New York Times Ages 8 – 12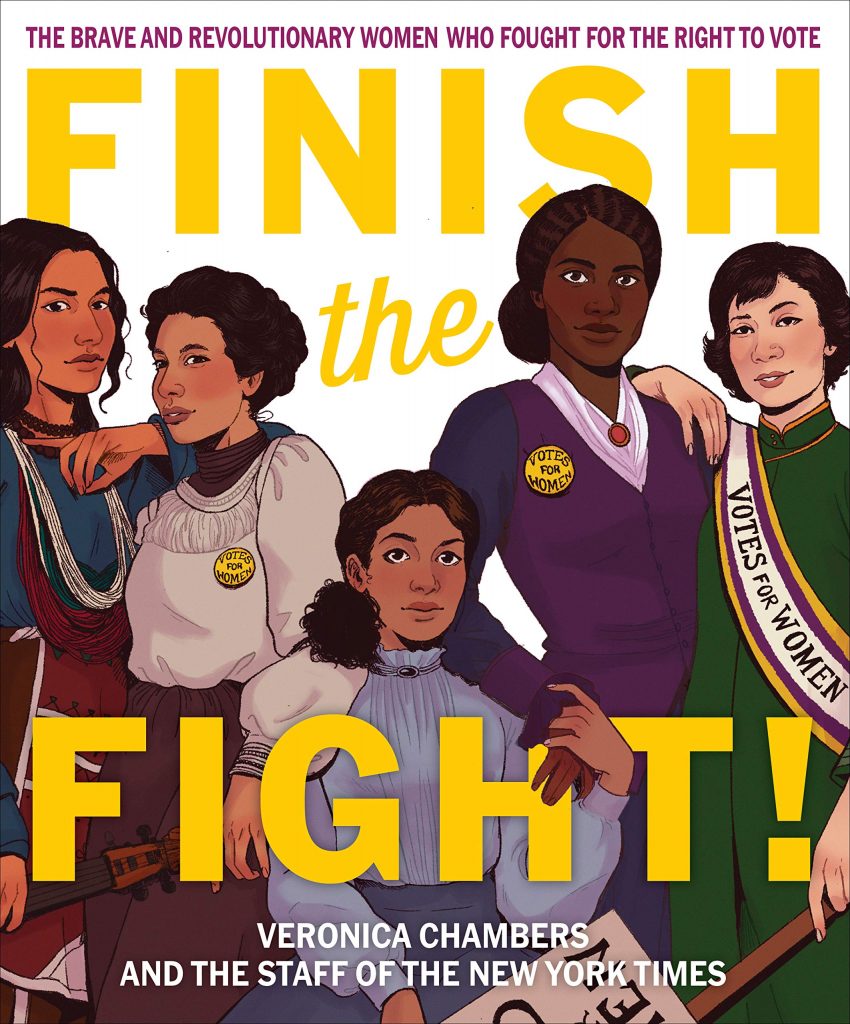 This exciting collaboration with the New York Times will reveal the untold stories of the diverse heroines who fought for the 19th amendment.   On the 100th anniversary of the historic win for women's rights, it's time to celebrate the names and stories of the women whose courage helped change the  fabric of America.
Grasping Mysteries: Girls Who Loved Math by by Jeannine Atkins Ages 10 and up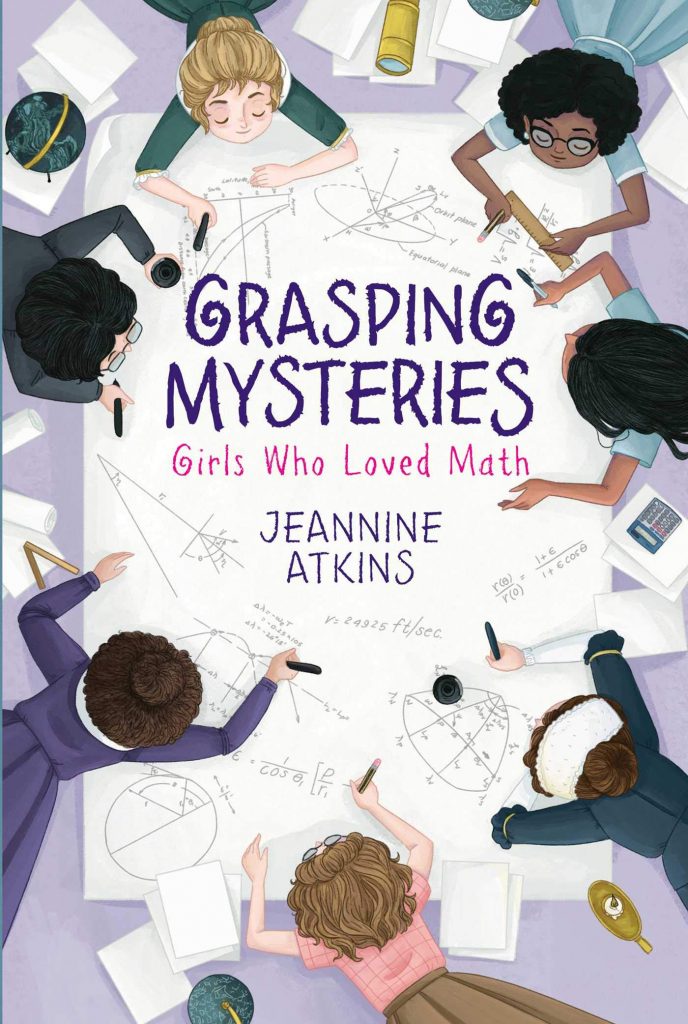 Told in vibrant, evocative poems, this stunning novel celebrates seven remarkable women who used math as their key to explore the mysteries of the universe and grew up to do innovative work that changed the world.
After a childhood spent looking up at the stars, Caroline Herschel was the first woman to discover a comet and to earn a salary for scientific research. Florence Nightingale was a trailblazing nurse whose work reformed hospitals and one of the founders of the field of medical statistics. The first female electrical engineer, Hertha Marks Ayrton registered twenty-six patents for her inventions.
Marie Tharp helped create the first map of the entire ocean floor, which helped scientists understand our subaquatic world and suggested how the continents shifted. A mathematical prodigy, Katherine Johnson calculated trajectories and launch windows for many NASA projects including the Apollo 11 mission. Edna Lee Paisano, a citizen of the Nez Perce Nation, was the first Native American to work full time for the Census Bureau, overseeing a large increase in American Indian and Alaskan Native representation. And Vera Rubin studied more than two hundred galaxies and found the first strong evidence for dark matter.
The Dramatic Life of Azaleah Lane by Nikki Shannon Smith, Gloria Felix Ages 6 – 8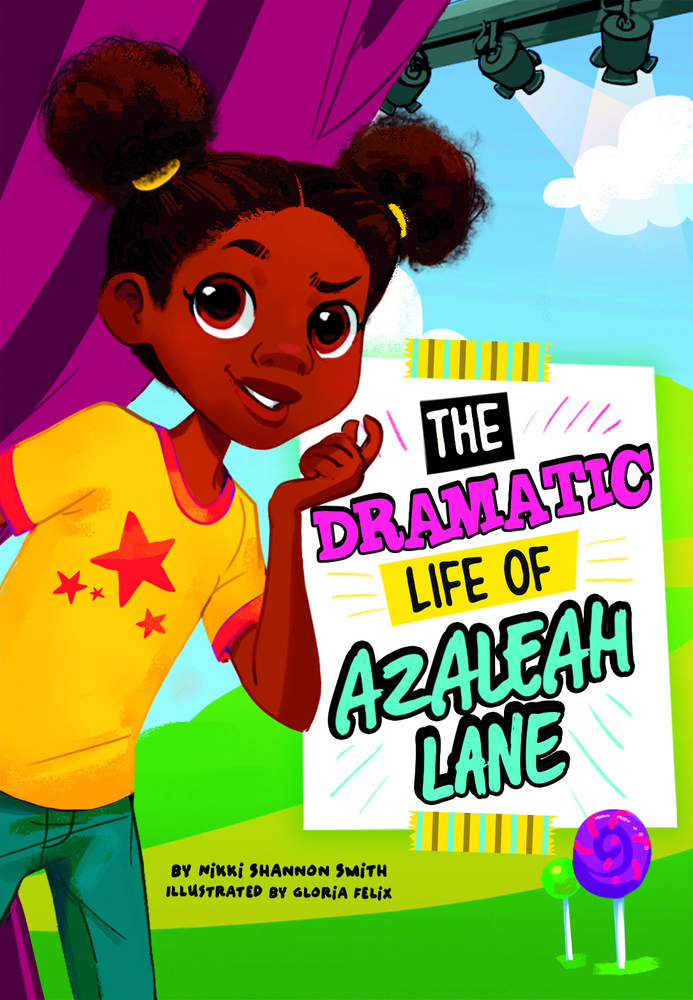 Azaleah's big sister, Nia, has been cast as Willa Wonka in the school musical, and the entire Lane family is looking forward to the show. Azaleah has even helped plan a surprise dinner party for Nia at Avec Amour, Mama's restaurant. But then the real drama starts. At the first rehearsal, all sorts of things go wrong: missing batteries, sets falling over, props misplaced . . . It's so many things, in fact, that Azaleah suspects "foul play." And when the special effects on Nia's costume don't work at dress rehearsal, Nia is a nervous wreck. To top it all off, the high school journalism class is covering the performance for the school blog, and the director doesn't have time to replace Nia's costume. Nia has to wear it without the special effects. Azaleah becomes determined to make sure the musical isn't ruined for Nia. Azaleah has to get to the bottom of the mysterious rehearsal troubles, and finish party preparations, before the curtain goes up.
Aretha Franklin (Little People, Big Dreams) Ages 4 – 7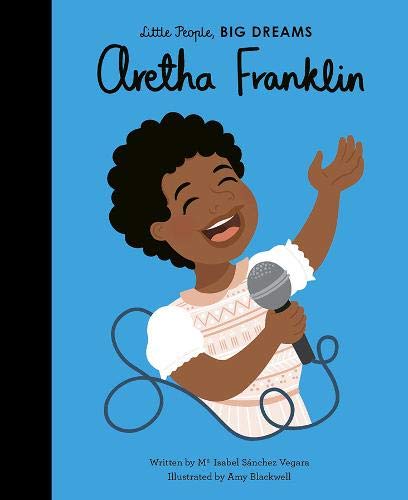 The fourth of five children, Aretha was born in Tennessee and took the stage at an early age in her father's church choir. She went on to become the best-selling rhythm and blues singer of all time, and the first woman to be installed in the Rock and Roll Hall of Fame.
RESPECT: Aretha Franklin, Queen of Soul by Carole Boston Weatherford, illustrated by Frank Morrison Ages 4 – 8 and up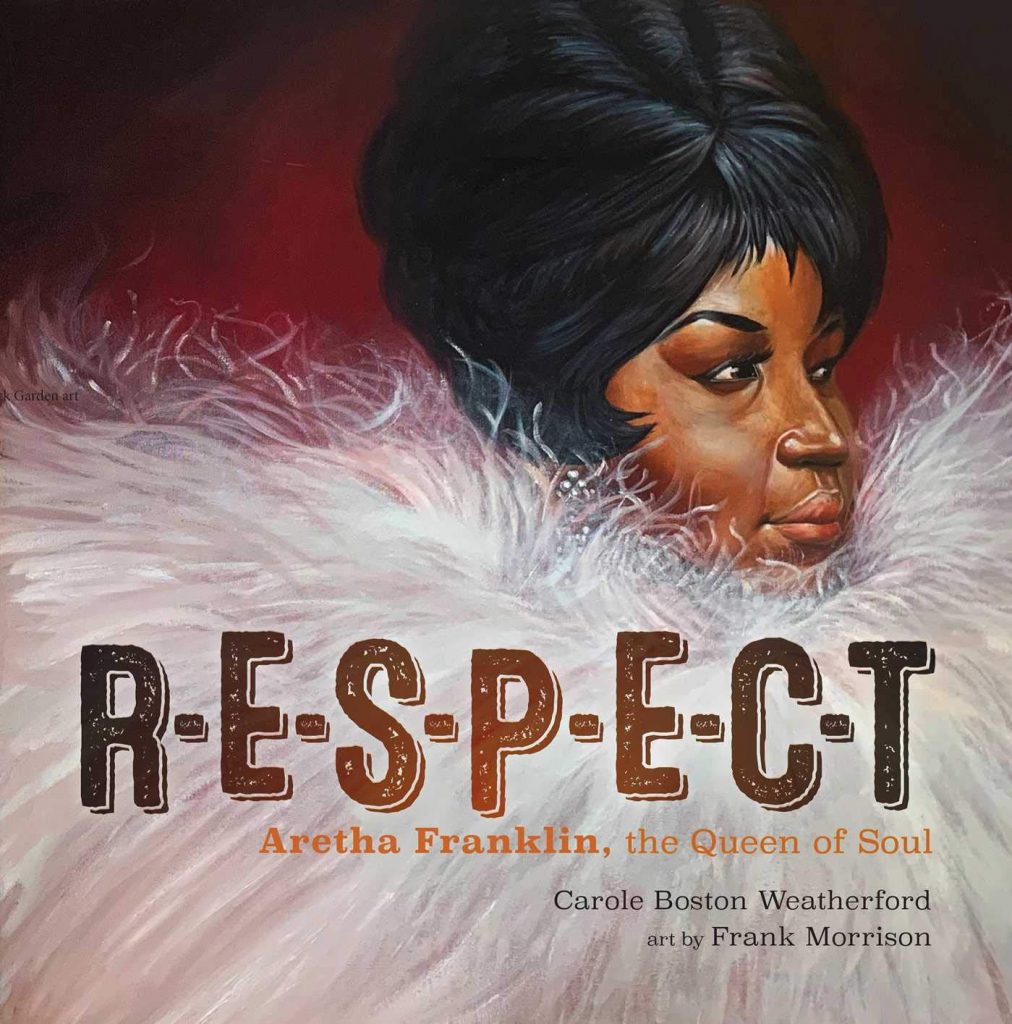 Aretha Franklin was born to sing. The daughter of a pastor and a gospel singer, her musical talent was clear from her earliest days in her father's Detroit church where her soaring voice spanned more than three octaves.
Her string of hit songs earned her the title "the Queen of Soul," multiple Grammy Awards, and a place in the Rock & Roll Hall of Fame. But Aretha didn't just raise her voice in song, she also spoke out against injustice and fought for civil rights.
Fauja Singh Keeps Going: The True Story of the Oldest Person to Ever Run a Marathon by Simran Jeet Singh, Baljinder Kaur Ages 4 – 8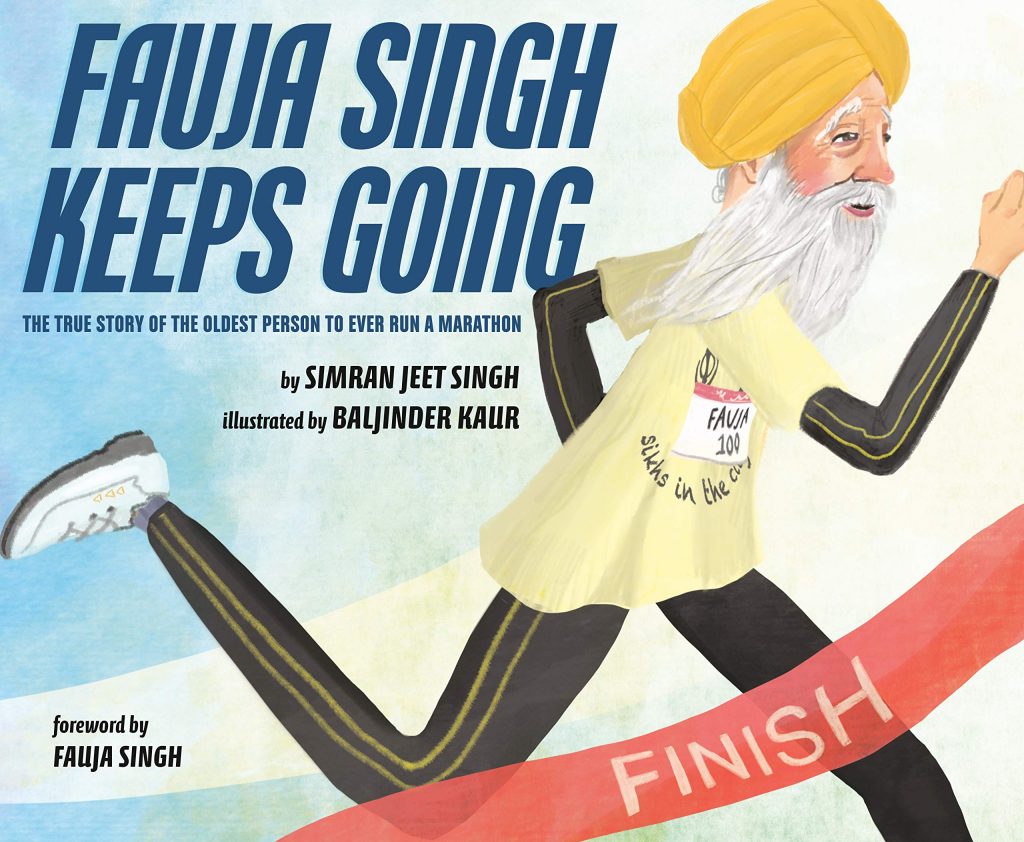 The inspiring true story of Fauja Singh, who broke world records to become the first one hundred-year-old to run a marathon, shares valuable lessons on the source of his grit, determination to overcome obstacles, and commitment to positive representation of the Sikh community.
Fauja Singh was born determined. He was also born with legs that wouldn't allow him to play cricket with his friends or carry him to school miles from his village in Punjab. But that didn't stop him. Working on his family's farm, Fauja grew stronger to meet his own full potential.
He never stopped striving. At the age of 81, after a lifetime of making his body, mind, and heart stronger, Fauja decided to run his first marathon. He went on to break records all around the world and became the first person over 100 to complete the grueling long-distance race.
The true story of Fauja Singh reminds us that it's both where we start and how we finish that make our journeys unforgettable.
Forever This Summer by Leslie C. Youngblood Ages 8 – 12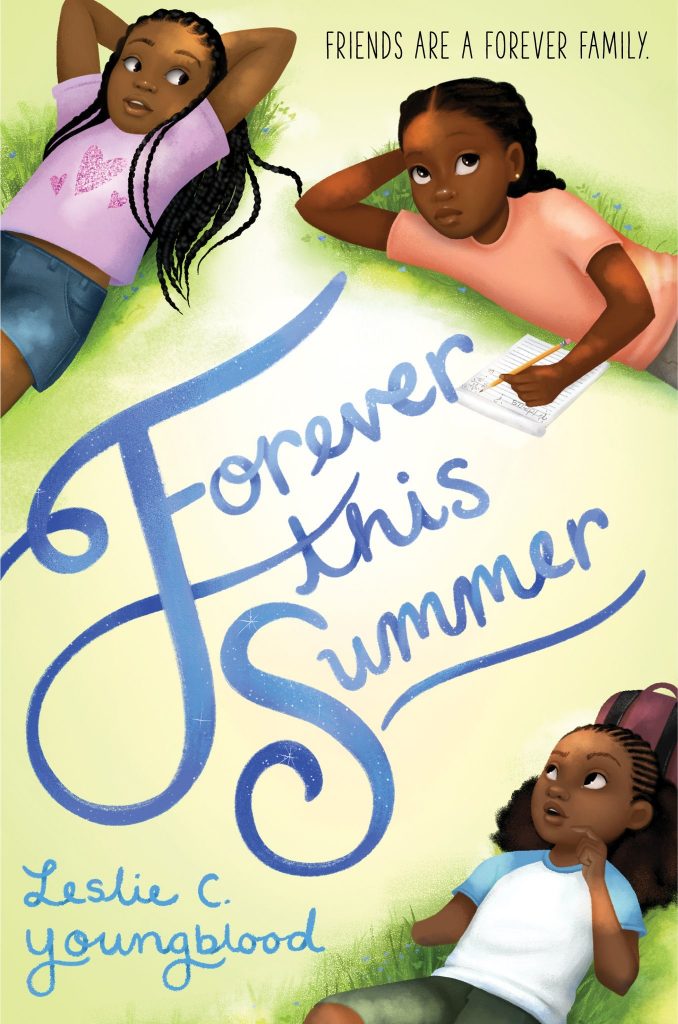 Georgie has no idea what to expect when she, Mama, and Peaches are plopped down in the middle of nowhere–AKA Bogalusa, Louisiana. G-baby wants to help out at the famous family diner that once served celebrities like the Jackson 5 and the Supremes, but with restaurateur Great Aunt Elvie needing help remembering day-to-day things, everyone is too busy to show G-baby the ropes.G-baby makes friends with Markie, a foster kid under Aunt Elvie's care, who has a short arm caused by something called ULD and a huge singing voice. When G-baby's best friend, Nikki, comes to visit they realize that the kids in town don't have a place to hang out like their Boys & Girls club in Atlanta. G-baby, Nikki, and Markie embark on a mission to start a club of their own: the Bogalusa Summer Club. Since clubs aren't exactly free, they decide to put on a talent show to raise money. Along the way, G-baby will discover an unexpected talent of her own: fighting for what's fair and right even when everything is stacked against you.
Isaiah Dunn is My Hero by Kelly J. Baptist (Ages 8 – 10)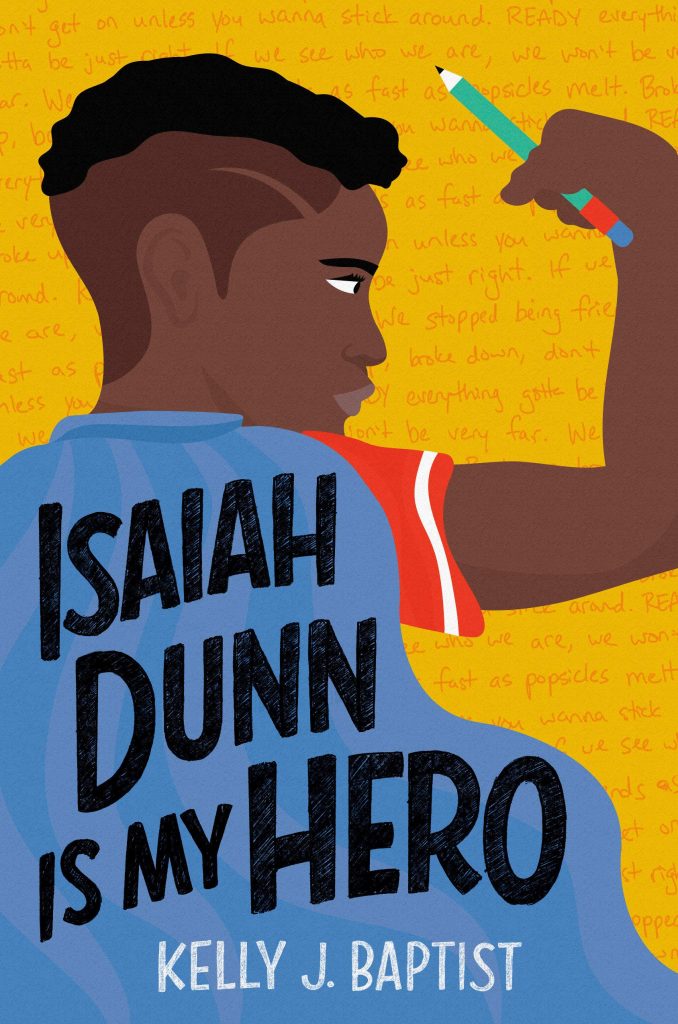 Isaiah is now the big man of the house. But it's a lot harder than his dad made it look. His little sister, Charlie, asks too many questions, and Mama's gone totally silent.
Good thing Isaiah can count on his best friend, Sneaky, who always has a scheme for getting around the rules. Plus, his classmate Angel has a few good ideas of her own–once she stops hassling Isaiah.
Tyaja Uses the THiNK Test by Linda Ryden (Author), Shearry Malone (Illustrator) Ages 6 – 8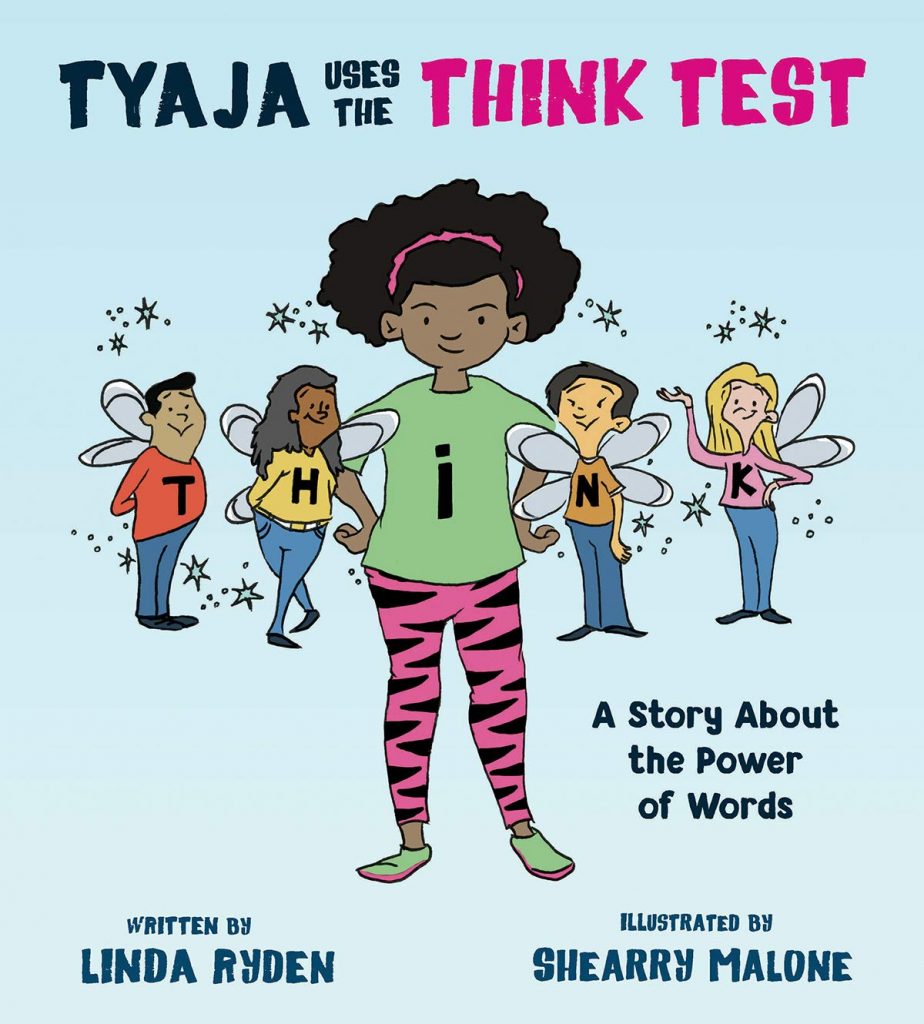 Mrs. Snowden tells the kids that T = True, H = Helpful, N = Necessary, and K = Kind. If what you're about to say isn't any of these things, she tells them, you shouldn't say it. Later that day, when Tyaja is about to criticize her friend Dhavi's new haircut, she is stopped by four little elves sporting the letters T, H, N, and K, who reinforce Ms. Snowden's lesson and remind Tyaja how friends should treat friends. Tyaja learns that she is the "I" in THiNK! full color.
Corazon Aquino by Maria Isabel Sanchez Vegara, Ginnie Hsu Ages 4-7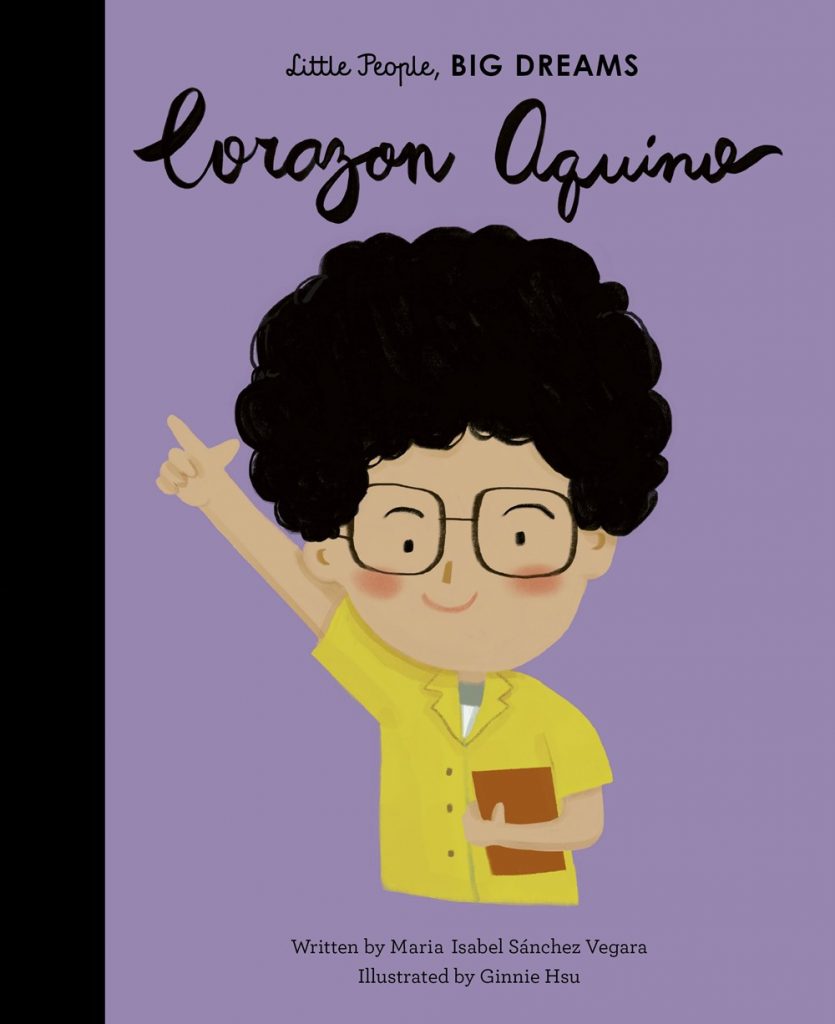 Born Maria Corazon Sumulong Cojuangco in the Philippine province of Tarlac, little Corazon grew up around politics. She excelled in school, but eventually left her studies to get married. She remained in the background during her husband's political career while she raised her five children. But when her husband was assassinated, she became the presidential candidate, and went on to restore democracy in the Philippines.
September

Rocket Says Clean Up! by Nathan Bryan, Dapo Adeola Ages 4 – 8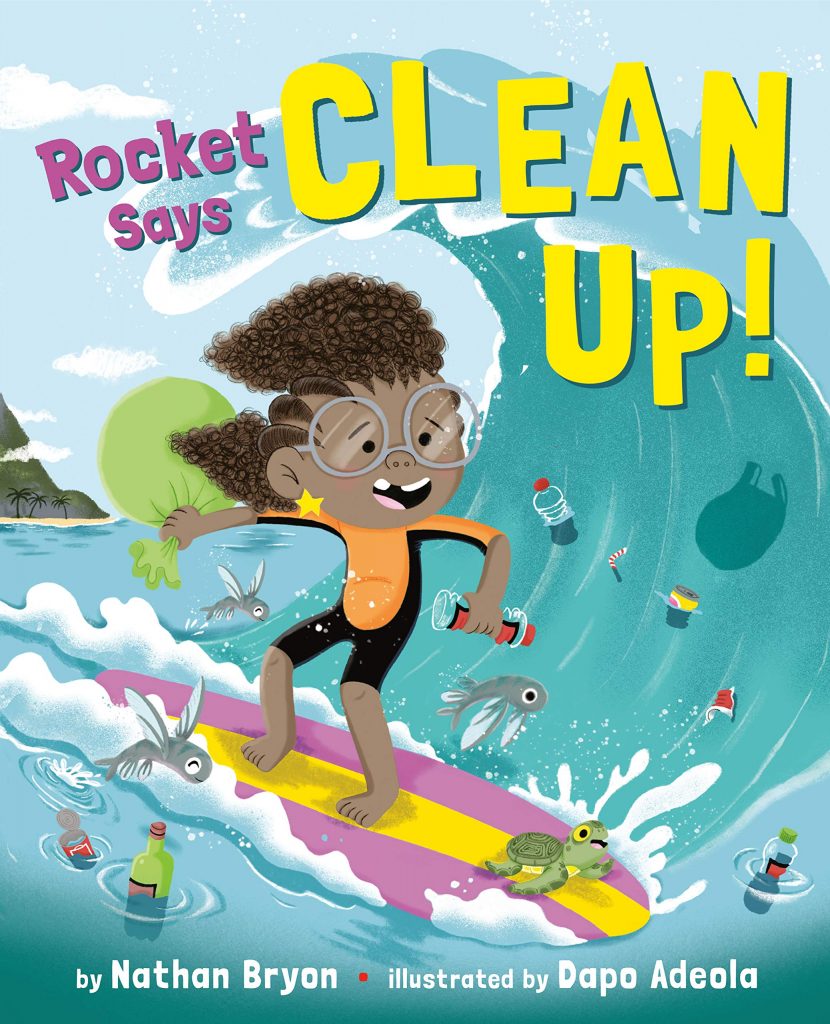 Rocket, is off to the islands to visit her grandparents. Her family loves nothing better than to beach comb and surf together…but the beach is clogged with trash! When she finds a turtle tangled in a net, Rocket decides that something must be done! Like a mini Greta Thunberg, our young activist's enthusiasm brings everyone together…to clean up the beach and prevent plastics from spoiling nature. Rocket Says Clean Up! will inspire readers of all ages to dream big and tackle problems head-on.
Love is Powerful by Heather Dean Brewer, Leuyen Pham Ages 5 – 8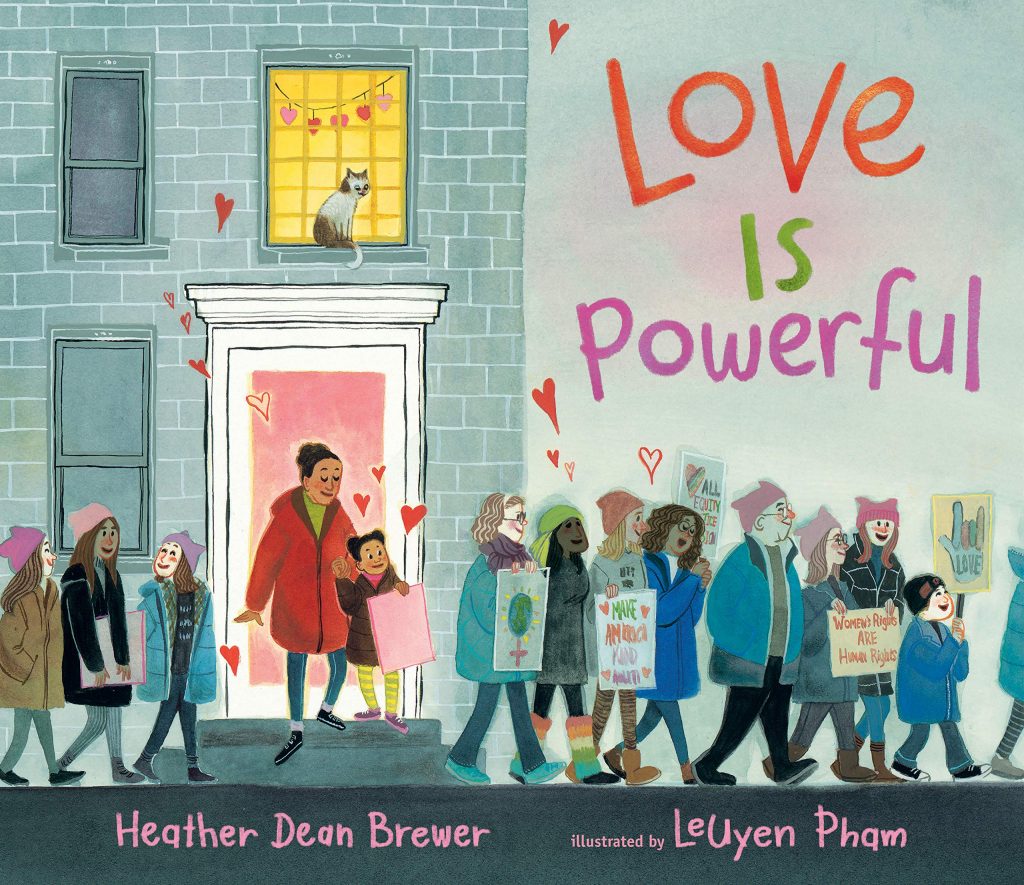 Mari is getting ready to make a sign with crayon as the streets below her fill up with people. "What are we making, Mama?" she asks. "A message for the world," Mama says. "How will the whole world hear?" Mari wonders. "They'll hear," says Mama, "because love is powerful." Inspired by a girl who participated in the January 2017 Women's March in New York City.
Bronxtones by Alex Rivera Ages Birth – 3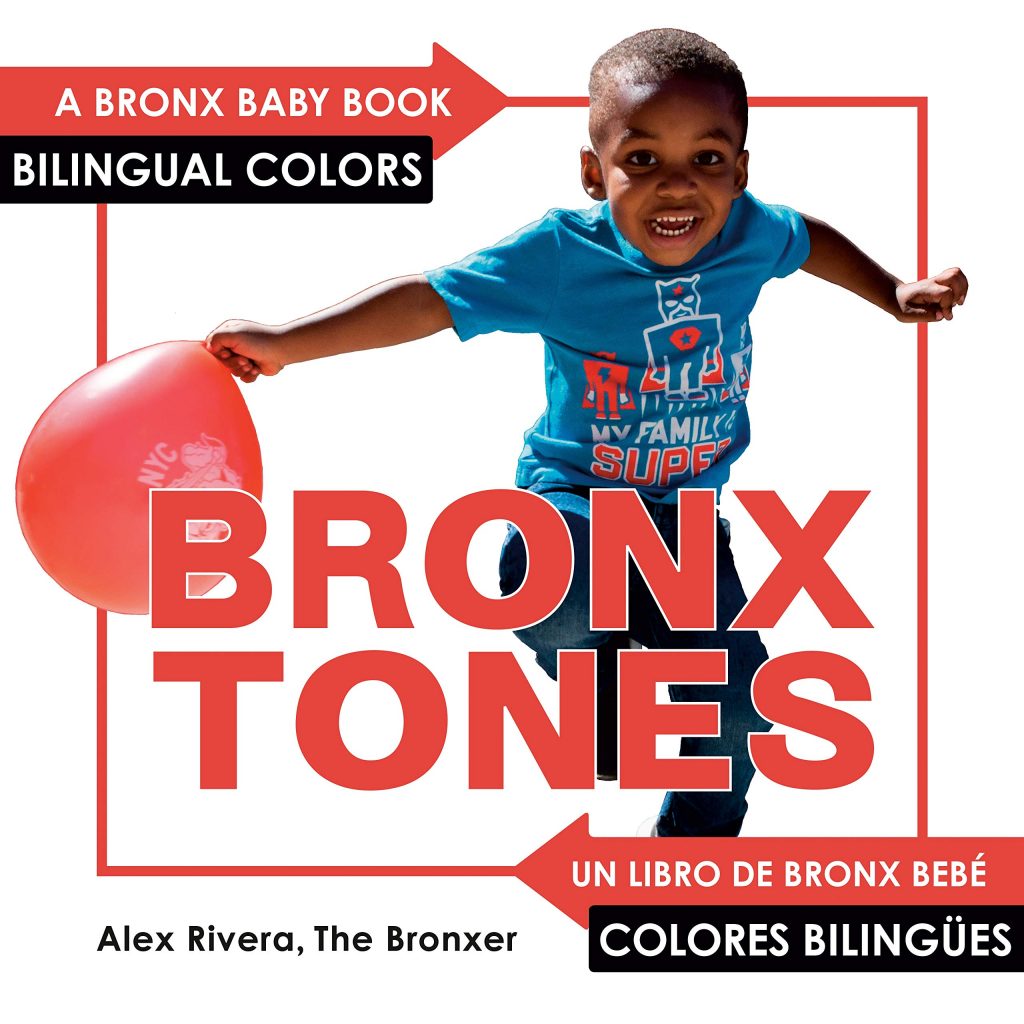 Where can you find your best friend playing with a RED balloon, tamales from your favorite GREEN cart, or YELLOW pineapple raspados? The Bronx! Bronxtones, the first board book in a new series, teaches young readers about colors through the vibrant palette of the Bronx, as captured by Bronx native Alex Rivera's eye-catching photographs and creative design. The sturdy pages are a perfect format for toddlers, and the content inside promotes language acquisition and concept learning in both English and Spanish.
Bronxshapes by Alex Rivera Ages Birth – 3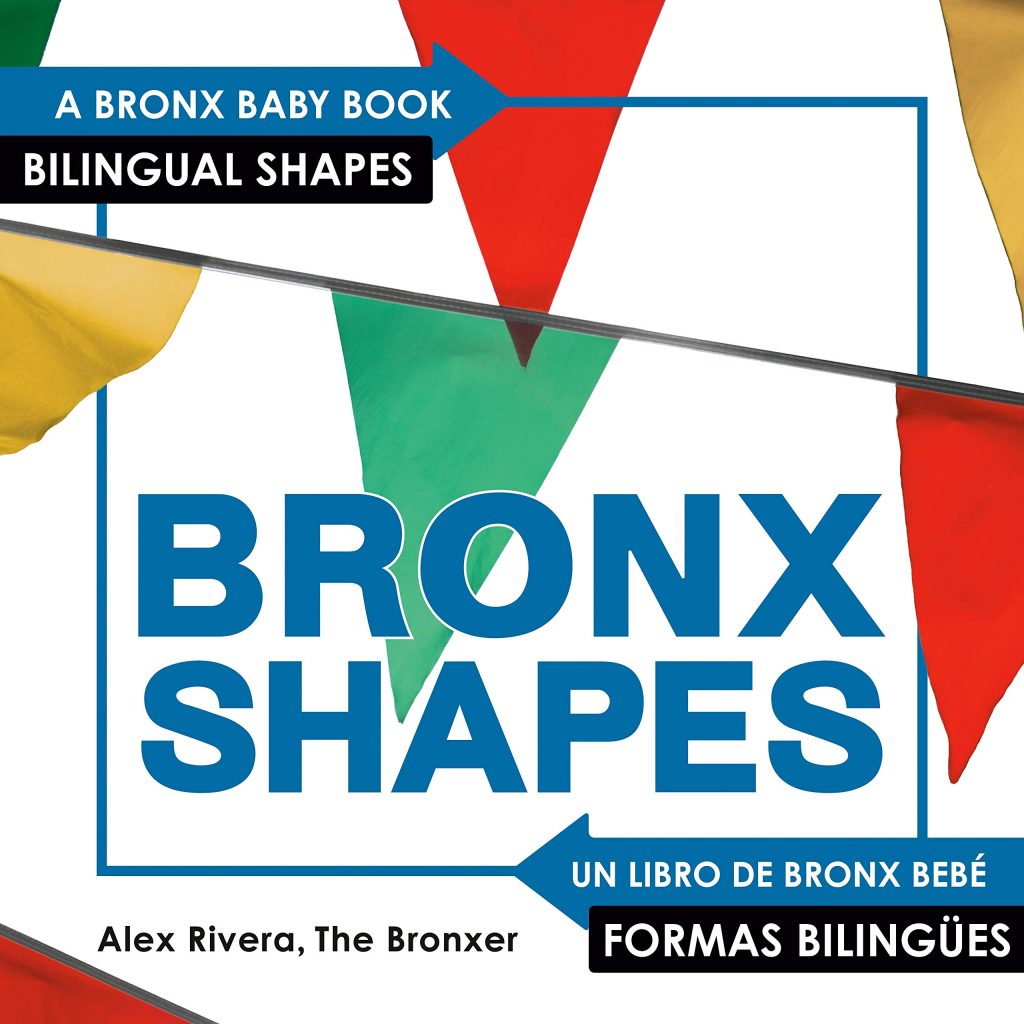 Take a walk through the Bronx and what do you see? CIRCLE wheels on a classic tricycle, a vast DIAMOND where the Yankees play baseball, colorful TRIANGLE flags above the bodega, and more! Bronxshapes, the second board book in a new series, teaches young readers about shapes through Bronx native Alex Rivera's eye-catching photographs and creative design. The sturdy pages are a perfect format for toddlers, and the content inside promotes language acquisition and concept learning in both English and Spanish.
Who Was Kobe Bryant? by Ellen Labrecque, Gregory Copeland Ages 8 – 12
Kobe Bryant was just an eighteen-year-old high-school basketball player when he decided to enter the National Basketball Association's draft. Though he was the thirteenth overall pick by the Charlotte Hornets, he would never play a single game for them. Instead, Kobe was traded to the Los Angeles Lakers, where he would spend his entire twenty-season career, winning five championships and numerous awards. Author Ellen Labreque takes readers through each exciting moment, from his iconic dunks to his 81-point game–all the milestones that span Kobe Bryant's legendary career and legacy.
Everything Naomi Loved by Katie Yamasaki, Ian Lendler Ages 6 – 8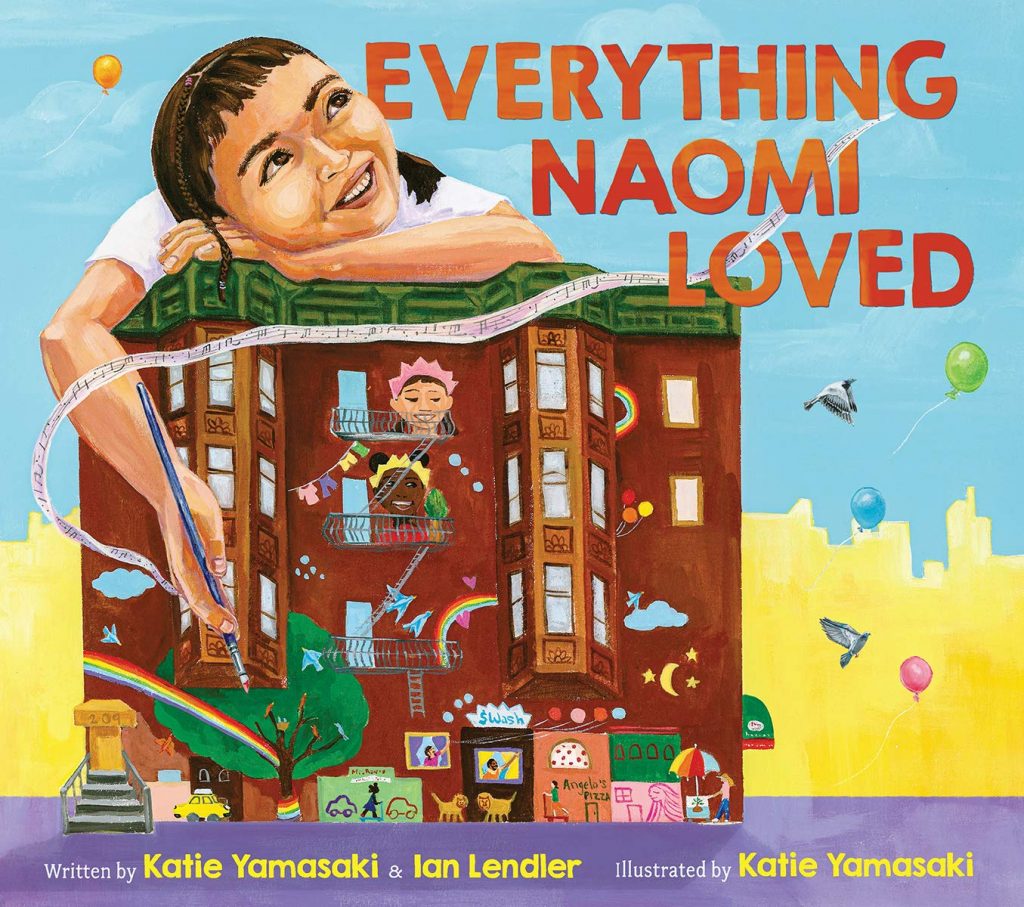 11th Street: it wasn't pretty, but it was home. Naomi spends her afternoons scooting down the streets and drawing with chalk on the sidewalks with her best friend Ada, getting a slice of pizza and visiting her neighbor Mister Ray at his auto shop, and dreaming of fantastic worlds within her own.
But her beloved neighborhood is changing. Trees are chopped down, flashy new buildings spring up, and one by one Naomi's neighbors are forced to move away. Faced with the rapid transformation of her once-familiar city block, Naomi turns to painting murals to preserve her favorite 11th Street memories. When something we love goes away we paint it on the wall so it's always with us, Mister Ray tells her, and Naomi discovers that no matter how her world changes, as long as she has places and people to love, she will always have a home.
Selena: Queen of Tejano Music by Silvia López, Paola Escobar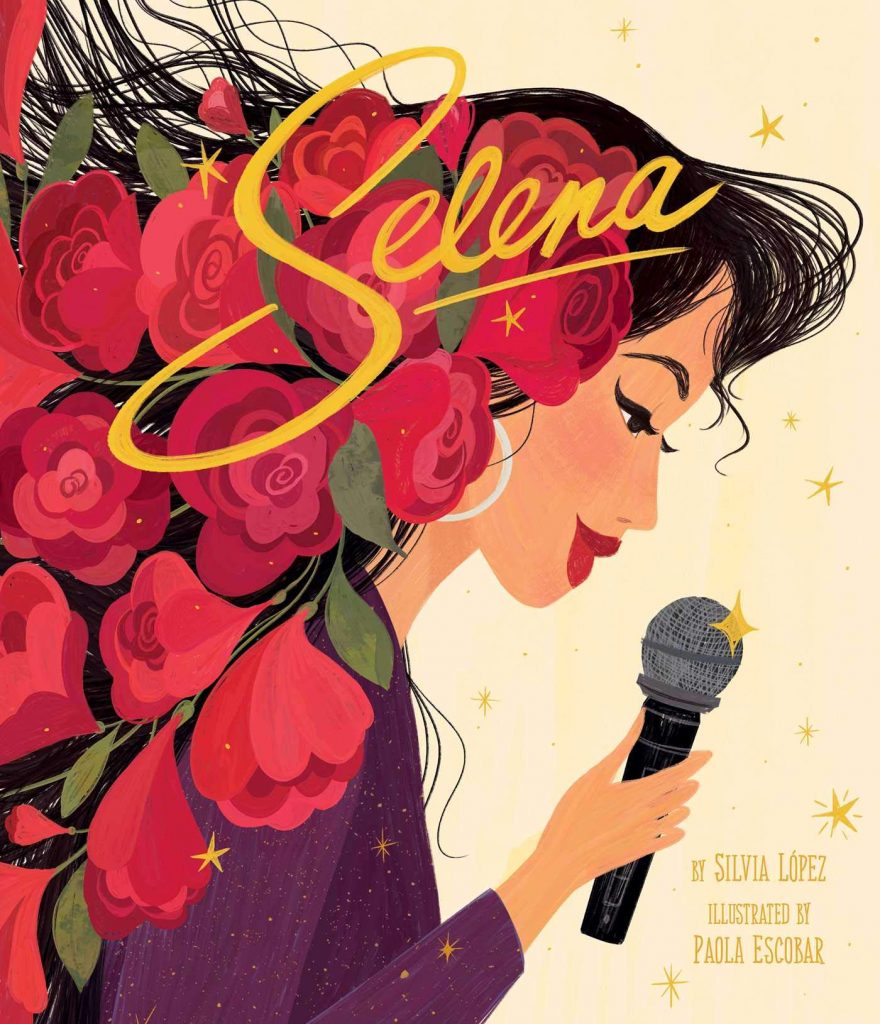 Selena Quintanilla's music career began at the age of nine when she started singing in her family's band. She went from using a hairbrush as a microphone to traveling from town to town to play gigs. But Selena faced a challenge: People said that she would never make it in Tejano music, which was dominated by male performers. Selena was determined to prove them wrong.
Ming's Christmas Wishes by Susan L. Gong, Masahiro Tateishi  Ages 5 – 6 and up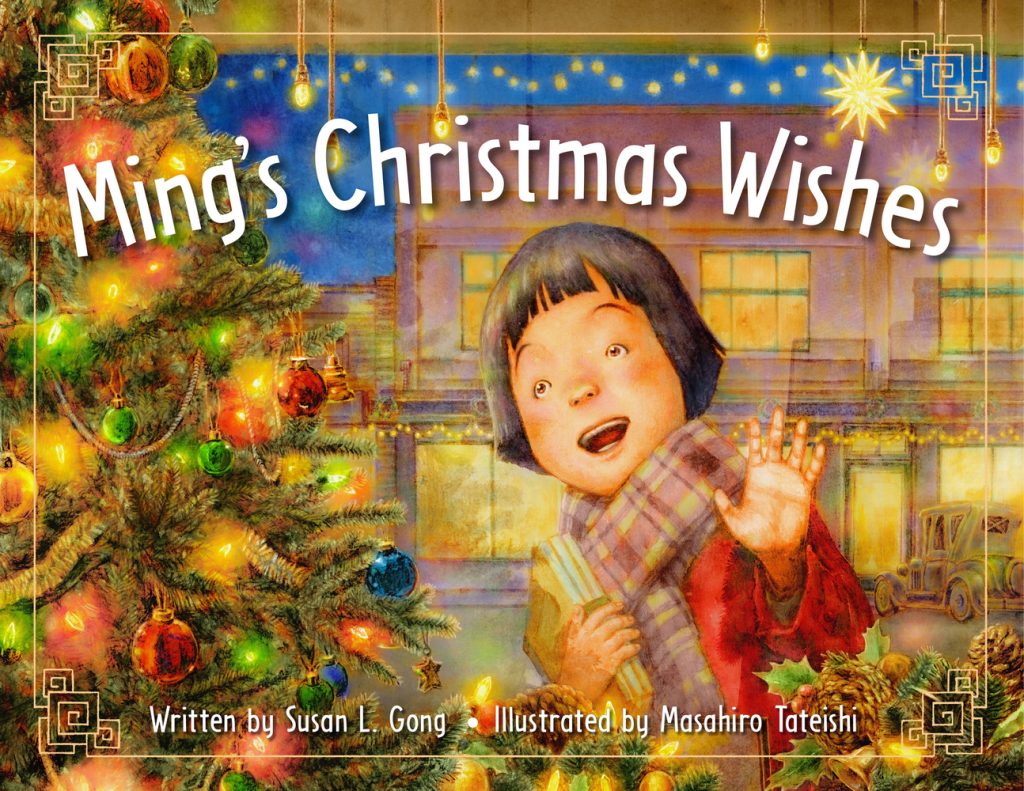 As a daughter of immigrants in 1930s California, Ming is often treated differently than other children at school. She's pointedly not invited to sing in the Christmas choir. At home, when Ming lobbies her parents for a Christmas tree, her mother scolds her for trying to be American. Ming doesn't seem to fit in anywhere: she's not quite American enough at school, not quite Chinese enough at home.
Bunheads by Misty Copeland, Setor Fiadzigbey Ages 5 – 8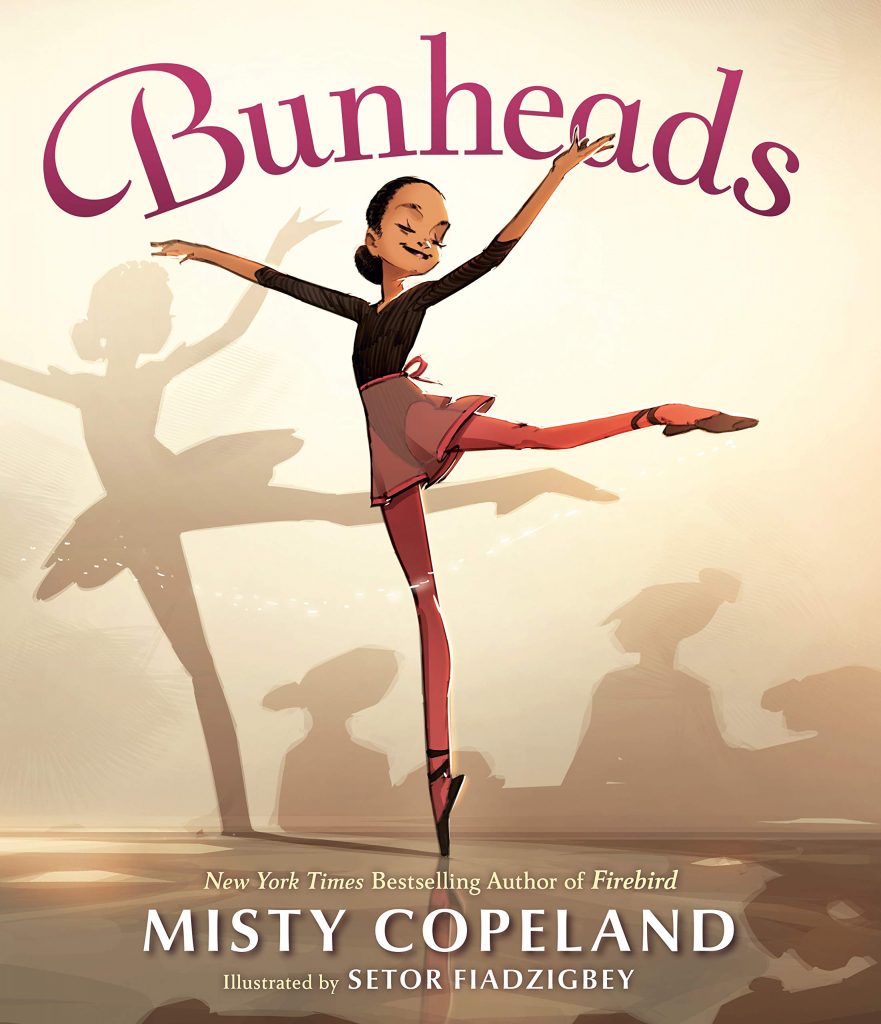 Featuring themes of teamwork, friendship, dedication, and hard work, children everywhere will be inspired to reach for their dreams in Misty's exciting new picture book series, Bunheads.
Red Shoes by Karen English, illustrated by Ebony Glenn Ages 3 – 5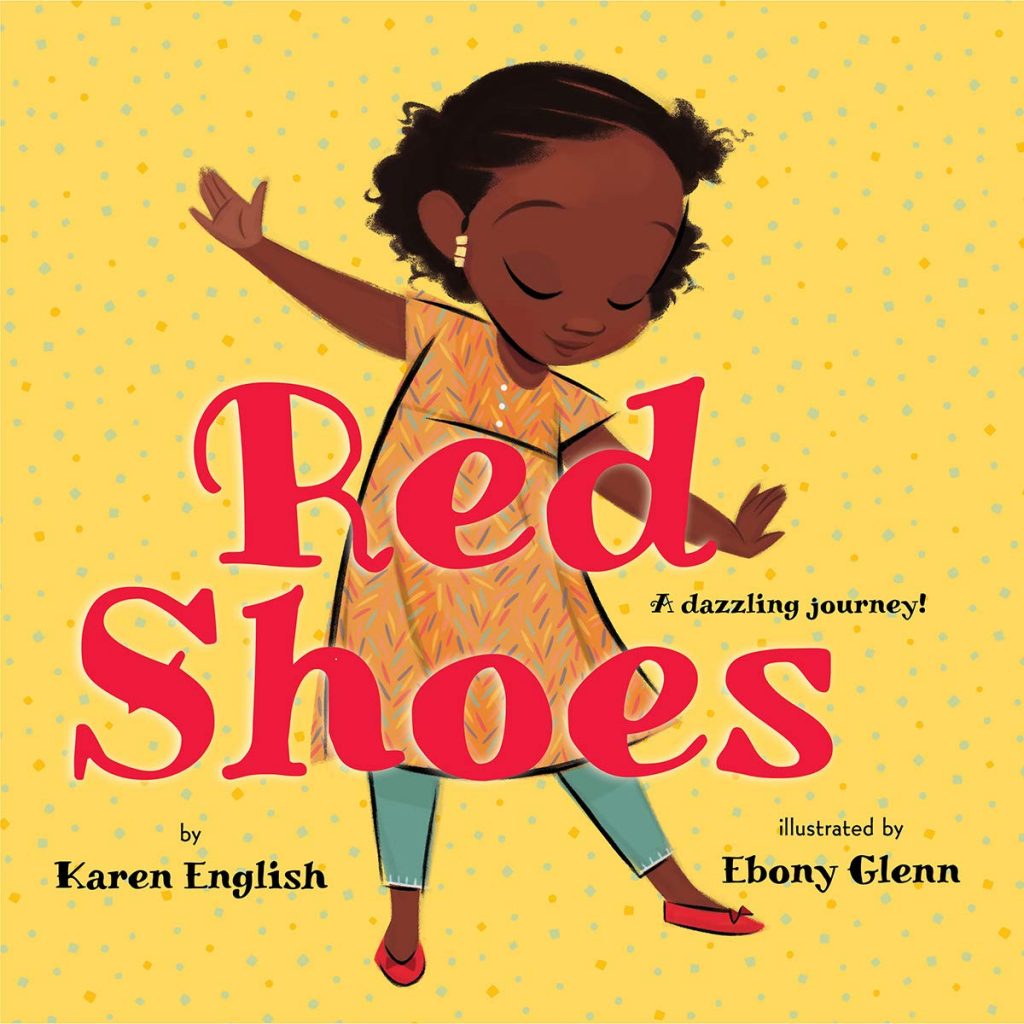 Malika is delighted when Nana surprises her with a beautiful new pair of red shoes! And with a click-clack-click and a swish, swish, swish, Malika wears her wonderful new shoes everywhere she goes. But one day, the shoes begin to pinch Malika's toes. And alas, they don't let her forget that her feet have grown! Soon Malika and Nana are off to the Rare Finds Resale Shop, where the shoes can be resold — so another little girl can enjoy them!
Who will be the next to wear the red shoes? Malika wonders.  Then Inna Ziya buys the shoes, and readers follow the shoes all the way across the world to Africa, where Amina, another little girl, who has fasted her first time for Ramadan is about to get an amazing gift!
Families Belong by Dan Saks, illustrated by Brooke Smart Ages 1 – 3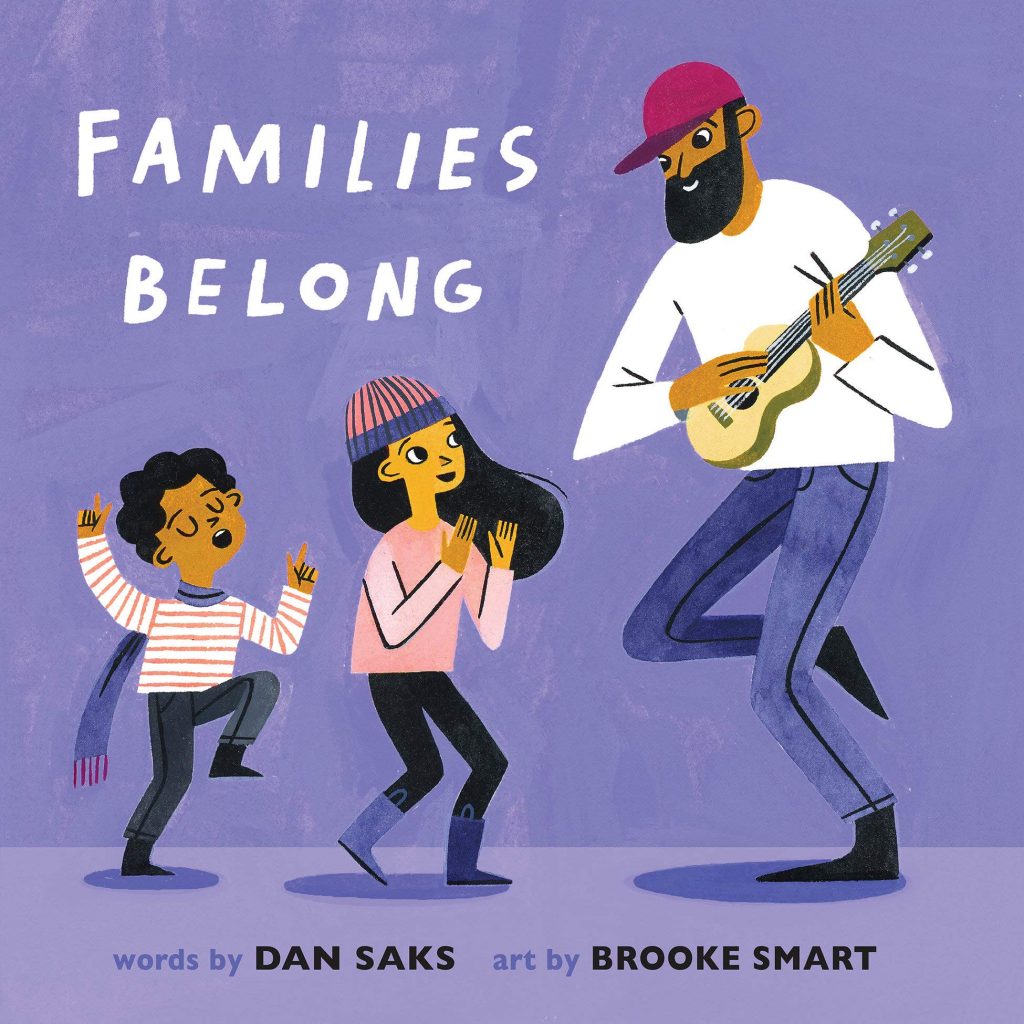 This deliciously warm board book is an appreciation of the unconditional love and comfort shared within a family. Through a handful of specific yet universal scenarios, from singing songs together to sharing food together, from dancing together to lying still together, this book invites the youngest readers to celebrate what it means for a family to be truly together.
Digging for Words: José Alberto Gutiérrez and the Library He Built by Angela Burke Kunkel, Paola Escobar Ages 4 – 8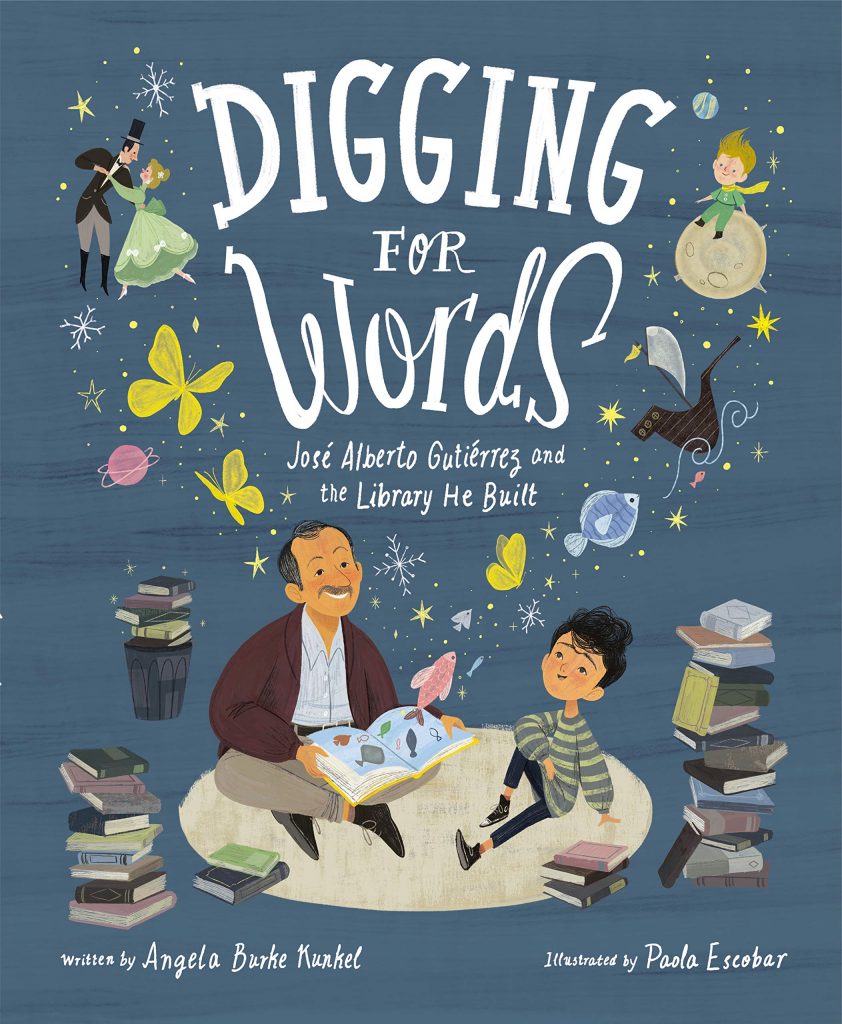 In the city of Bogata, in the barrio of La Nueva Gloria, there live two Joses. One is a boy who dreams of Saturdays– that's the day he gets to visit Paradise, the library. The second Jose is a garbage collector. From dusk until dawn, he scans the sidewalks as he drives, squinting in the dim light, searching household trash for hidden treasure . . . books! Some are stacked in neat piles, as if waiting for José́. Others take a bit more digging. Ever since he found his first book, Anna Karenina, years earlier, he's been collecting books–thick ones and thin ones, worn ones and almost new ones– to add to the collection in his home. And on Saturdays, kids like little Jose run to the steps of Paradise to discover a world filled with books and wonder.
I Am Every Good Thing by Derrick Barnes, illustrated by Gordon C. James Ages 3 – 7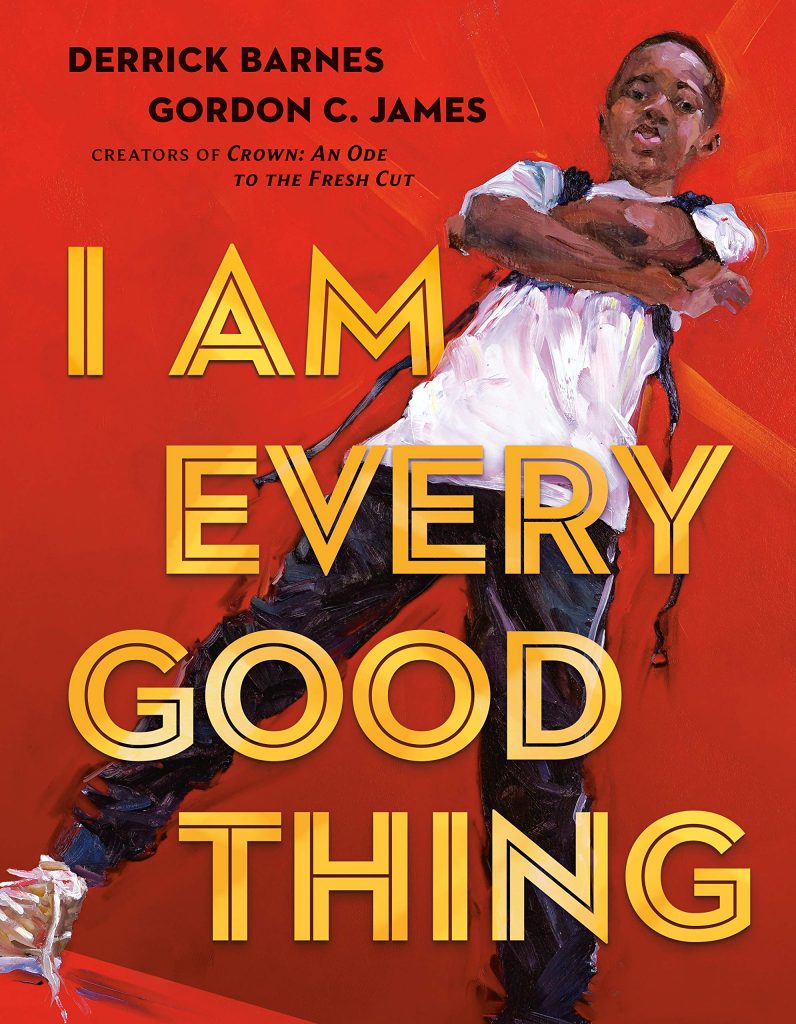 The confident Black narrator of this book is proud of everything that makes him who he is. He's got big plans, and no doubt he'll see them through–as he's creative, adventurous, smart, funny, and a good friend. Sometimes he falls, but he always gets back up. And other times he's afraid, because he's so often misunderstood and called what he is not. So slow down and really look and listen, when somebody tells you–and shows you–who they are. There are superheroes in our midst!
Jabari Tries by Gaia Cornwall Ages 4 – 8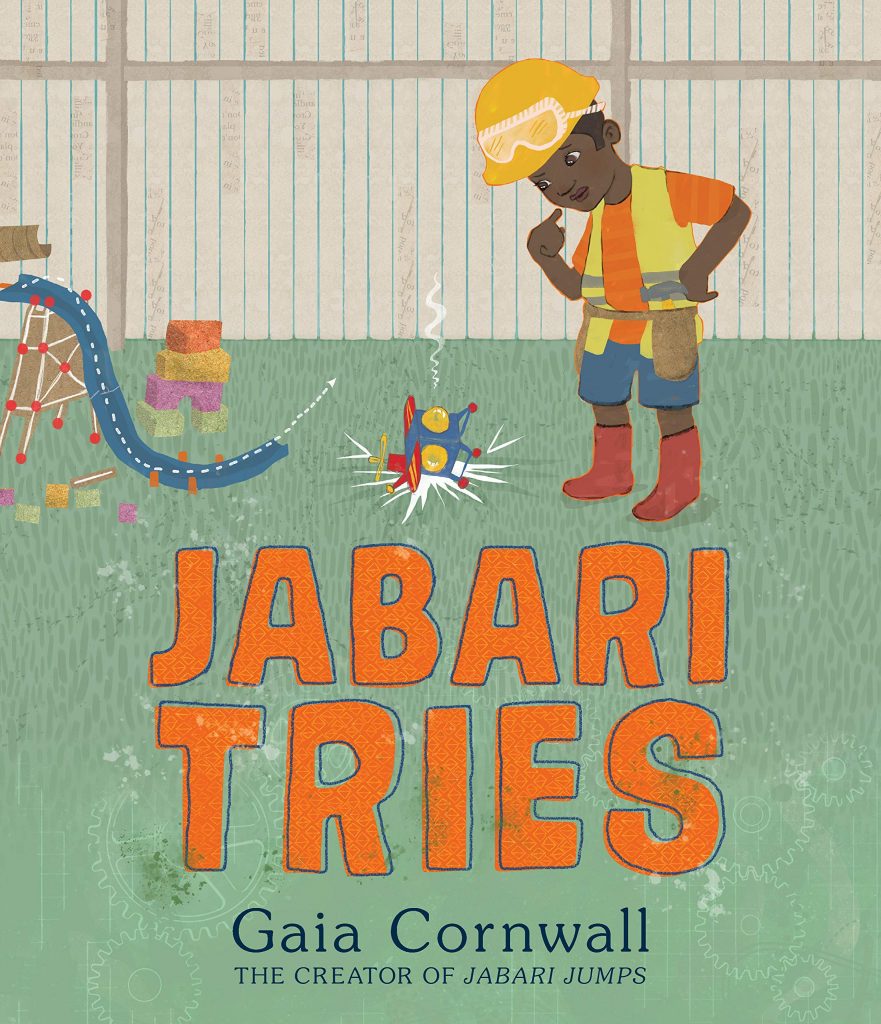 Jabari is making a flying machine in his backyard! "It'll be easy. I don't need any help," he declares. But it doesn't work! Jabari is frustrated. Good thing Dad is there for a pep talk and his little sister, Nika, is there to assist, fairy wings and all. With the endearing father-child dynamic of Jabari Jumps and engaging mixed-media illustrations, Gaia Cornwall's tale shows that through perseverance and flexibility, an inventive thought can become a brilliant reality.
The Teachers March: How Selma's Teachers Changed History by Sandra Neil & Rich Wallace, illustrated by Charly Palmer Ages 7 – 10 and up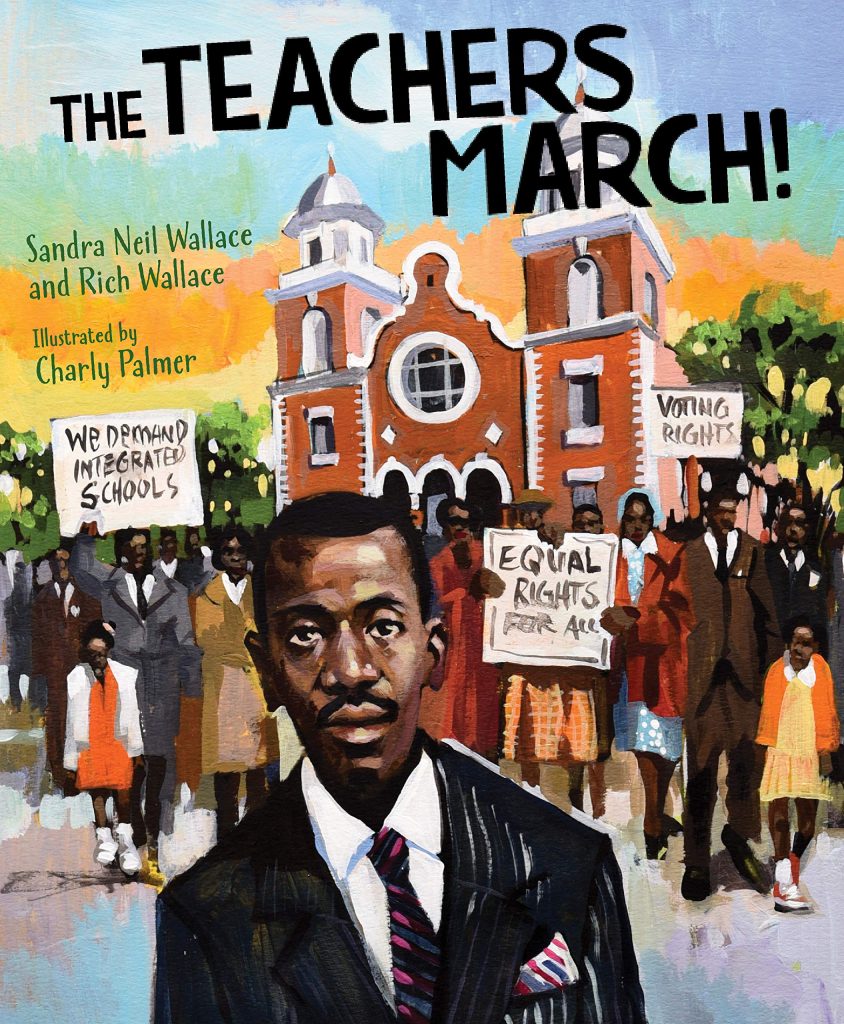 Demonstrating the power of protest and standing up for a just cause, here is an exciting tribute to the educators who participated in the 1965 Selma Teachers' March, featuring evocative illustrations and eyewitness testimonies.
Reverend F.D. Reese was a leader of the Voting Rights Movement in Selma, Alabama. As a teacher and principal, he recognized that his colleagues were viewed with great respect in the city. Could he convince them to risk their jobs–and perhaps their lives–by organizing a teachers-only march to the county courthouse to demand their right to vote? On January 22, 1965, the black teachers left their classrooms and did just that, with Reverend Reese leading the way.
Resist!: Peaceful Acts that Changed Our World by Diane Stanley Ages 7 – 10 and up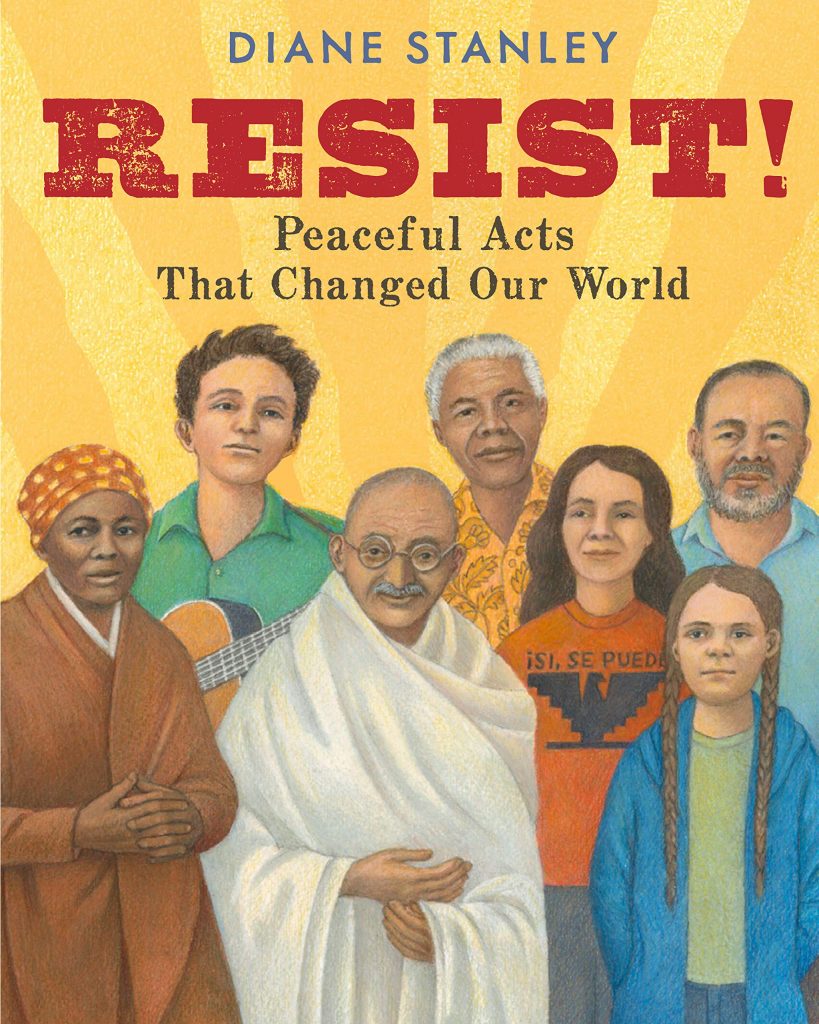 Aspiring activists the world over will take inspiration from Resist!, a collection of 21 brief but comprehensive essays, accompanied by striking artwork and rich supplementary material by Diane Stanley, about men and women who have used peaceful resistance and non-violent protests to make their voices heard. Today, a new wave of activists is emerging, and their efforts are more urgent than ever.
Featured figures include: Harriet Tubman, Elizabeth Cady Stanton, Woody Guthrie, Mohandas Gandhi, Irena Sendler, The Hollywood Ten, Claudette Colvin and Rosa Parks, Ruth Bader Ginsburg, The Greensboro Lunch Counter Sit-in protestors, Martin Luther King, Jr., Larry Itliong, Doloras Huerta, Cesar Chavez, Richard Oakes, The Tree-Sitters of Pureora, Father Luis Olivares, Tank Man, Nelson Mandela, Ryan White, Ai Weiwei, the "It Gets Better" Project, The March For Our Lives protestors, and Greta Thunberg.
Counting Kindness: Ten Ways to Welcome Refugee Children by Hollis Kurman, illustrated by Barroux Ages 3 – 6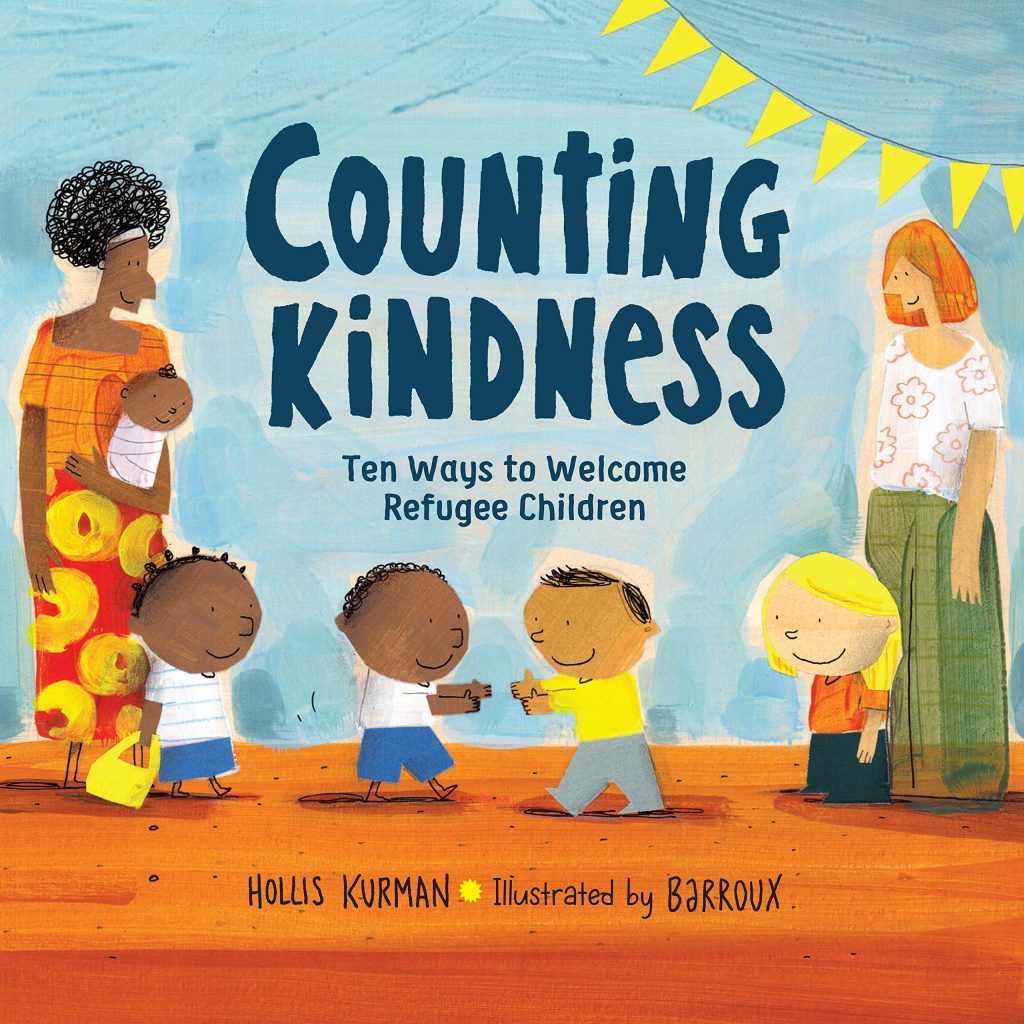 A warm and welcoming introduction to immigration, refugees, and inclusivity as children count from one to ten with one boat, two helping hands, and the generosity and kindness of many.
More than half of the world's refugees are children, with millions of kids fleeing wars, floods, and other scary situations in search of a safe place to live.
Arriving in a new place is stressful for both newcomers and their new communities, especially when the newcomers are little ones. But this beautiful counting book captures the joy of finding a home and the power of a welcoming community. From playing to sleeping, eating to reading, leisure to learning, Counting Kindness proves we can lift the heaviest hearts when we come together. Commended by Amnesty International.
I Am One: A Book of Action by Susan Verde, Peter H. Reynolds Ages 4 – 8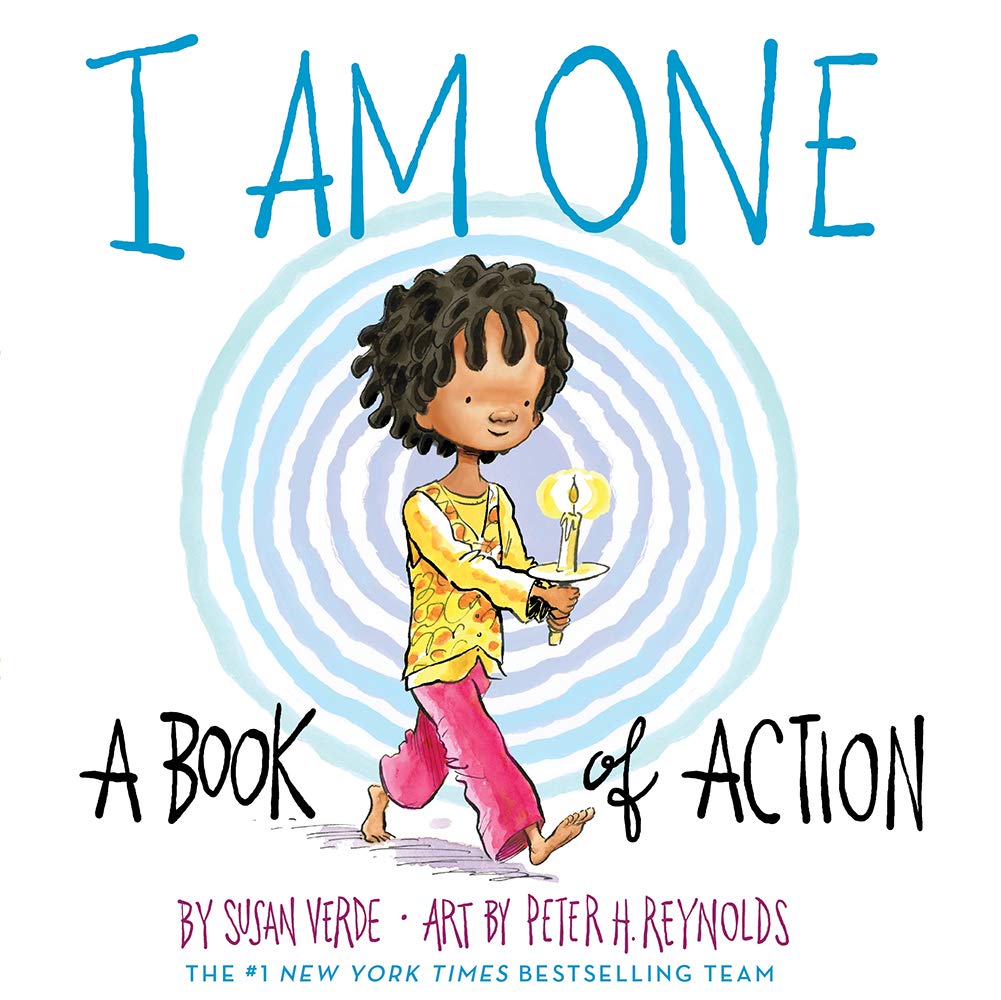 One seed to start a garden, one note to start a melody, one brick to start breaking down walls: Every movement and moment of change starts with just one. From the #1 New York Times–bestselling team behind I Am Yoga, I Am Peace, I Am Human, and I Am Love comes a powerful call to action, encouraging readers to raise their voices, extend a hand, and take that one first step to start something beautiful and move toward a better world. Includes a guided meditation and self‑reflection activity.
Follow Your Dreams, Little One by Vashti Harrison Ages 0 – 3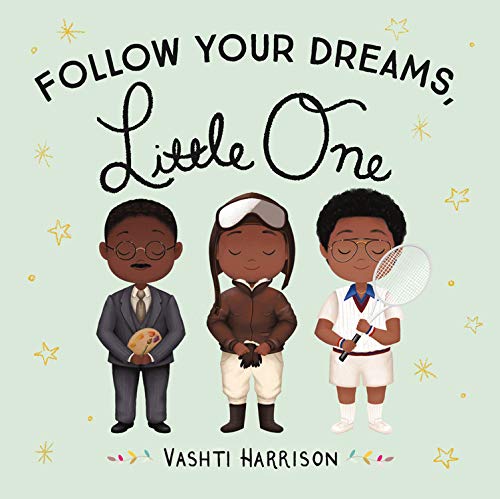 This beautifully illustrated board book highlights true stories of black men in history. The exceptional men featured include artist Aaron Douglas, civil rights leader John Lewis, dancer Alvin Ailey, lawman Bass Reeves, tennis champion Arthur Ashe, and writer James Baldwin.
Before the Ever After by Jacqueline Woodson Ages 10 and up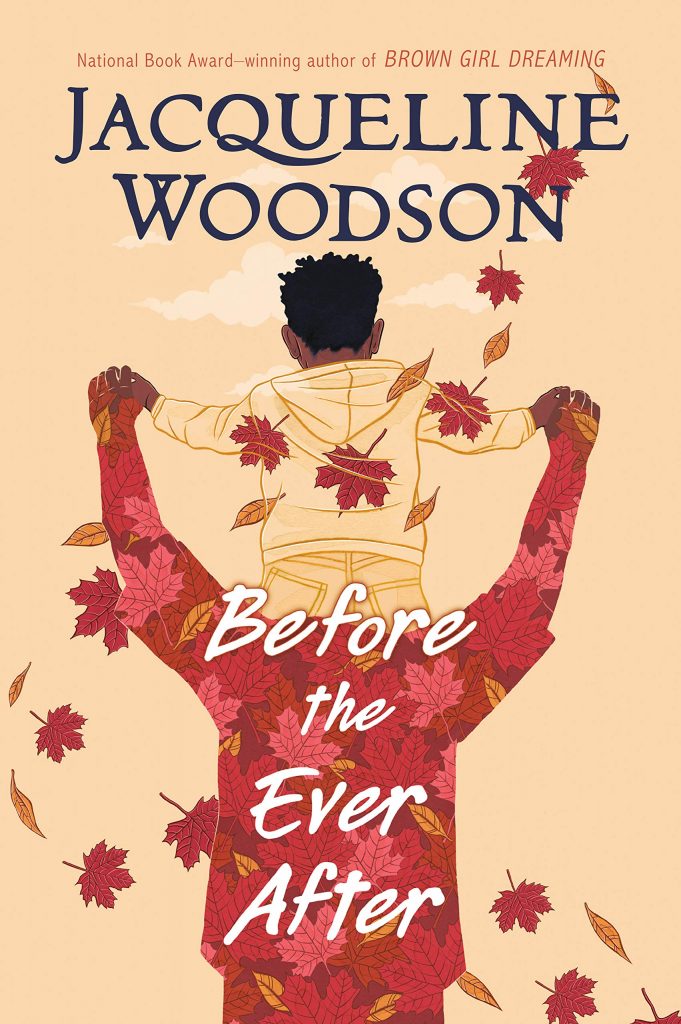 For as long as ZJ can remember, his dad has been everyone's hero. As a charming, talented pro football star, he's as beloved to the neighborhood kids he plays with as he is to his millions of adoring sports fans. But lately life at ZJ's house is anything but charming. His dad is having trouble remembering things and seems to be angry all the time. ZJ's mom explains it's because of all the head injuries his dad sustained during his career. ZJ can understand that–but it doesn't make the sting any less real when his own father forgets his name. As ZJ contemplates his new reality, he has to figure out how to hold on tight to family traditions and recollections of the glory days, all the while wondering what their past amounts to if his father can't remember it. And most importantly, can those happy feelings ever be reclaimed when they are all so busy aching for the past?
If Dominican Were a Color by Sili Recio, illustrated by Brianna McCarthy Ages 4 – 8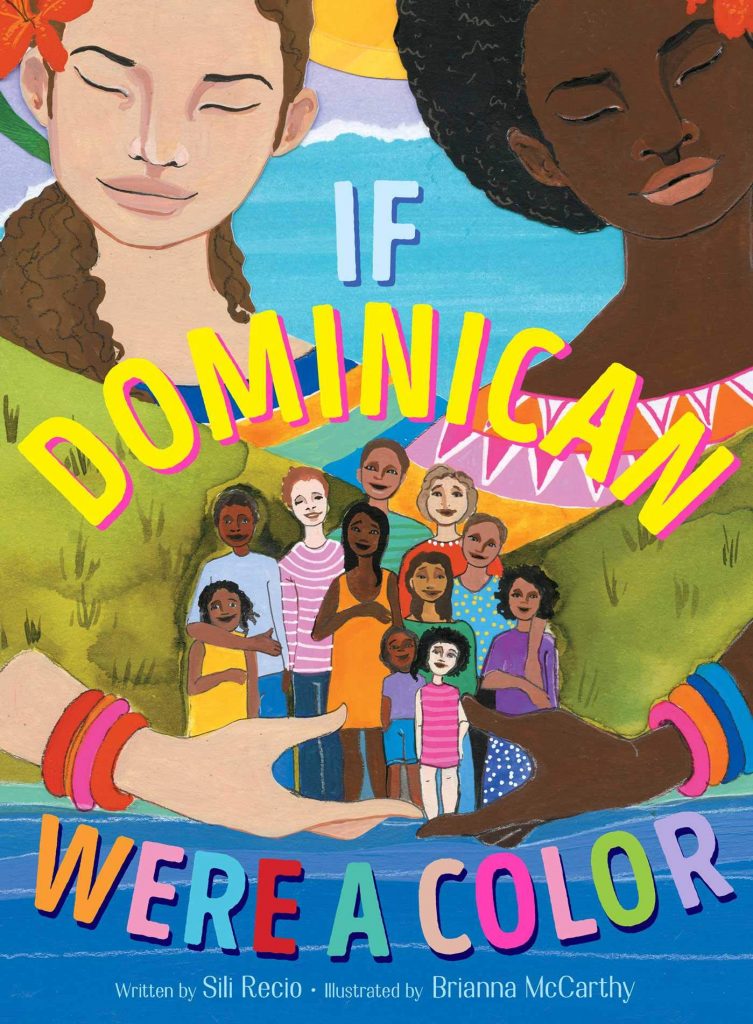 The palette of the Dominican Republic is exuberant and unlimited. Maiz comes up amarillo, the blue-black of dreams washes over sandy shores, and people's skin can be the shade of cinnamon in cocoa or of mahogany. This exuberantly colorful, softly rhyming picture book is a gentle reminder that a nation's hues are as wide as nature itself.
October
Lubaya's Quiet Roar by Marilyn Nelson, Philemona Williamson Ages 5 – 8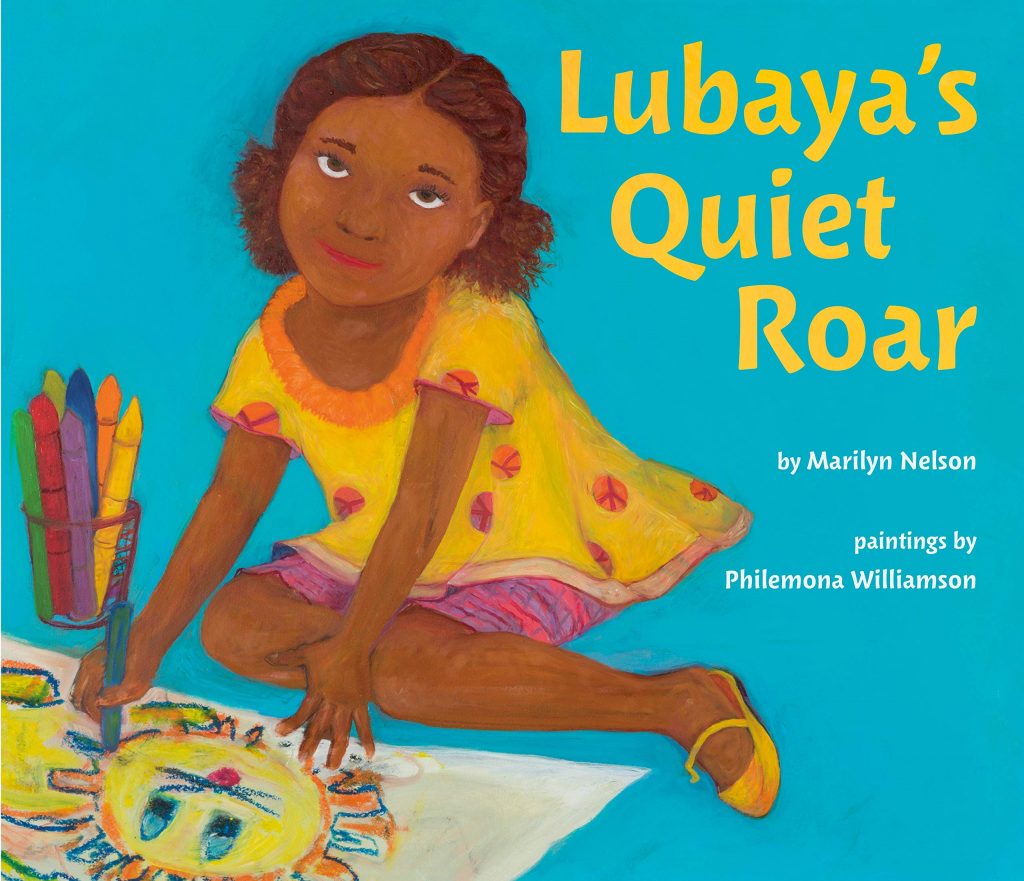 Lubaya is a quiet girl who doesn't raise her hand in class and who prefers daydreaming to soccer games. She spends most of her time drawing, often behind the sofa while her family watches TV. That's where she is, creating happy pictures on the backs of her parents' old protest posters, when upsetting news shouts into the living room. The next day her family takes part in a march, and there, on one side of the posters being held high, are Lubaya's drawings of kids holding hands and of the sun shining over the globe–rousing visual statements of how the world could be.
Oh, The Things We're For by Innosanto Nagara Ages 4 – 8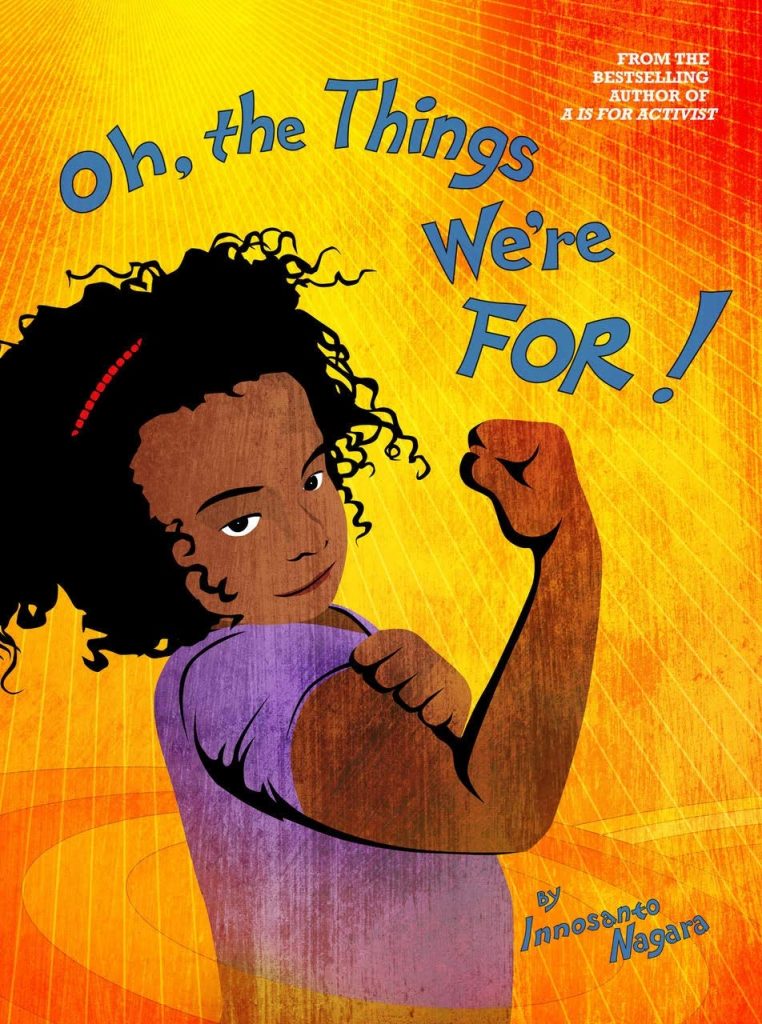 Oh, The Things We're For! is a celebration of the better world that is not only possible, but is here today if we choose it. Today's kids are well aware of the many challenges that they face in a world they are inheriting, from climate change to police violence, crowded classrooms to healthcare. Poetically written and beautifully illustrated in Innosanto Nagara's (A is for Activist) signature style, this book offers a vision of where we could go–and a future worth fighting for.
Sofia Valdez and the Vanishing Vote by Andrea Beaty and David Roberts Ages 6 – 9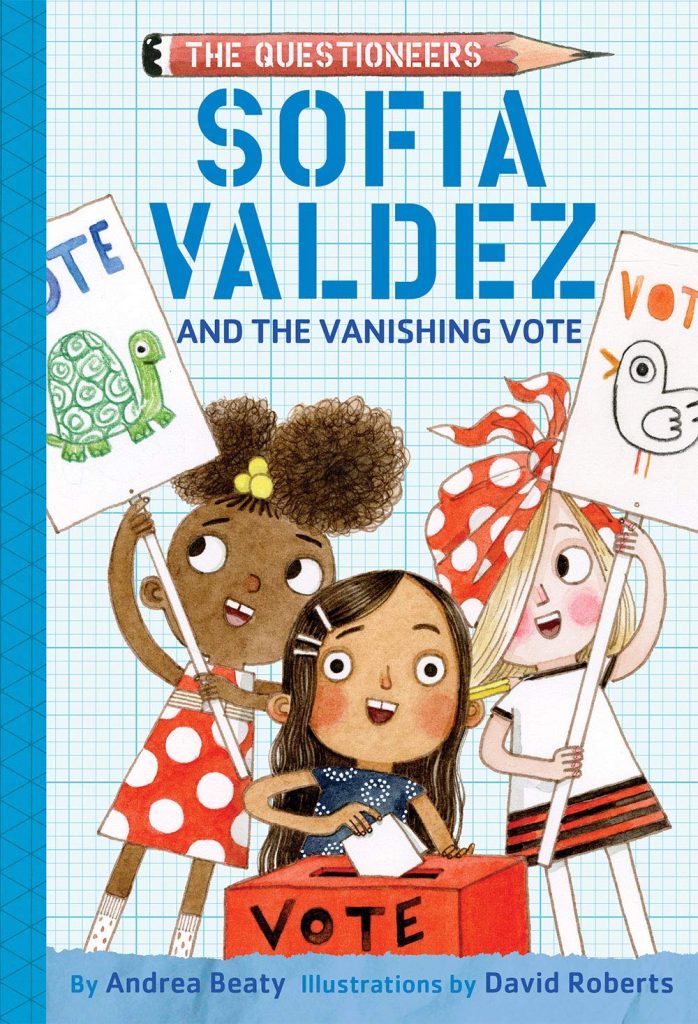 Miss Lila Greer announces it's time for Grade Two to get a class pet, and she wants the kids to participate in choosing which one. After all, they will all have to share the responsibility of caring for it. The class narrows it down to two options: Team Turtle and Team Bird. Sofia is named Election Commissioner, in charge of overseeing a fair and honest election between the two teams. There's a class-wide campaign, complete with posters, articles, and speeches. Then it's time for the election! But when the votes are counted, there's a tie, and one vote is missing. How will the class break the tie? And what happened to the vanishing vote? It's up to Sofia Valdez and the Questioneers to restore democracy!
Julián at the Wedding by Jessica Love Ages 4 – 8 and up

Julián and his abuela are going to a wedding. Better yet, Julián is in the wedding. Weddings have flowers and kissing and dancing and cake. And this wedding also has a new friend named Marisol. It's not long before Julián and Marisol set off for some magic and mischief of their own, and when things take an unexpected turn, the pair learns that everything is easier with a good friend by your side. Jessica Love returns with a joyful story of friendship and individuality in this radiant follow-up to Julián Is a Mermaid.
Becoming Muhammad Ali by Jimmy Patterson, Kwame Alexander Ages 8 – 12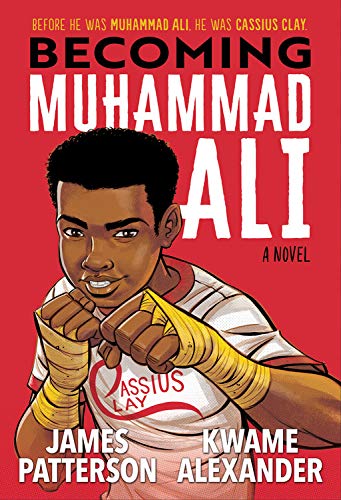 Before he was a household name, Cassius Clay was a kid with struggles like any other. Kwame Alexander and James Patterson join forces to vividly depict his life up to age seventeen in both prose and verse, including his childhood friends, struggles in school, the racism he faced, and his discovery of boxing. Readers will learn about Cassius' family and neighbors in Louisville, Kentucky, and how, after a thief stole his bike, Cassius began training as an amateur boxer at age 12. Before long, he won his first Golden Gloves bout and began his transformation into the unrivaled Muhammad Ali.
The Most Beautiful Thing by Kao Kalia Yang, Khoa Le Ages 5 – 9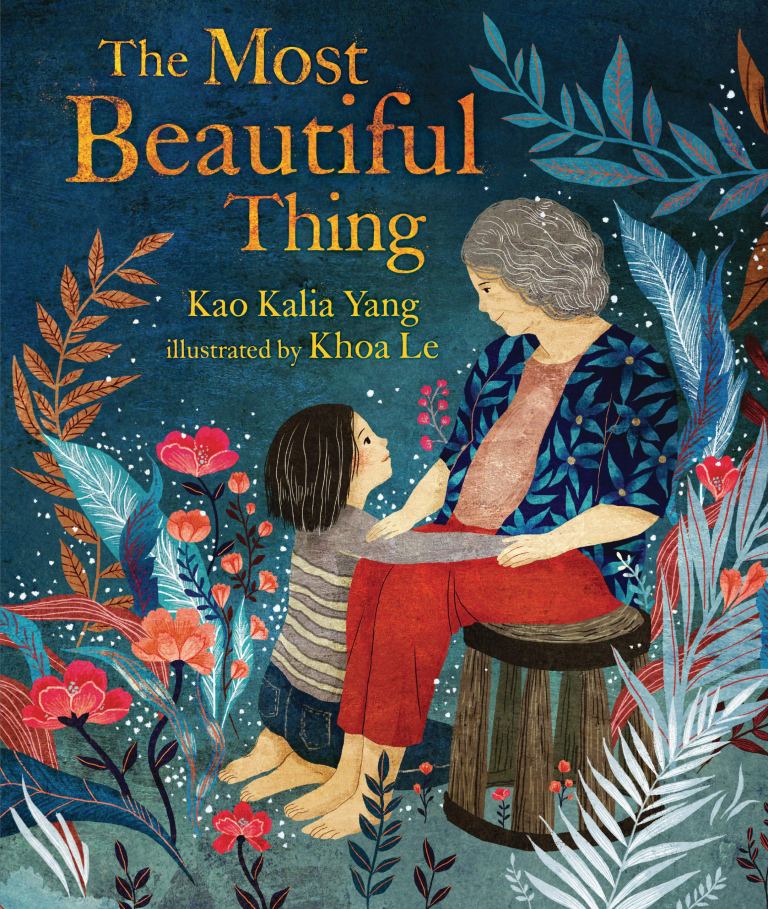 Drawn from author Kao Kalia Yang's childhood experiences as a Hmong refugee, this moving picture book portrays a family with a great deal of love and little money. Weaving together Kalia's story with that of her beloved grandmother, the book moves from the jungles of Laos to the family's early years in the United States.
When Kalia becomes unhappy about having to do without and decides she wants braces to improve her smile, it is her grandmother―a woman who has just one tooth in her mouth―who helps her see that true beauty is found with those we love most. Stunning illustrations from Vietnamese illustrator Khoa Le bring this intergenerational tale to life.
Ginger and Chrysanthemum by Kristen Mai Giang, Shirley Chan Ages 4 – 7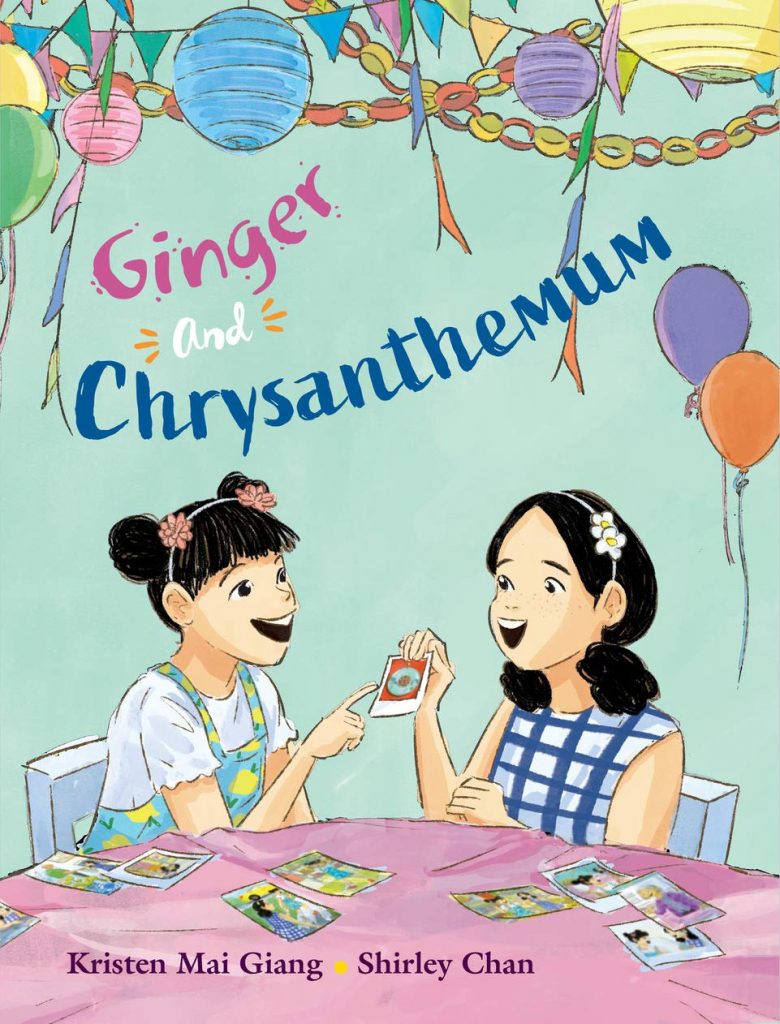 No doubt you can be close to someone who's very different from you. Ginger is excitable; she leaps into action, throwing herself headfirst into any project. Chrysanthemum is cooler-headed; she likes to plan, she's organized. She makes lists. Yet they are cousins, close as two beans in a pod.
But planning Grandma's birthday together is a pretty huge challenge. There are presents to buy, decorations to pick, and a special birthday cake to bake. Together. How they manage it is a testament to affection being stronger than differences.
Above the Rim: How Elgin Baylor Changed Basketball by Jen Bryant, illustrated by Frank Morrison Ages 4 – 8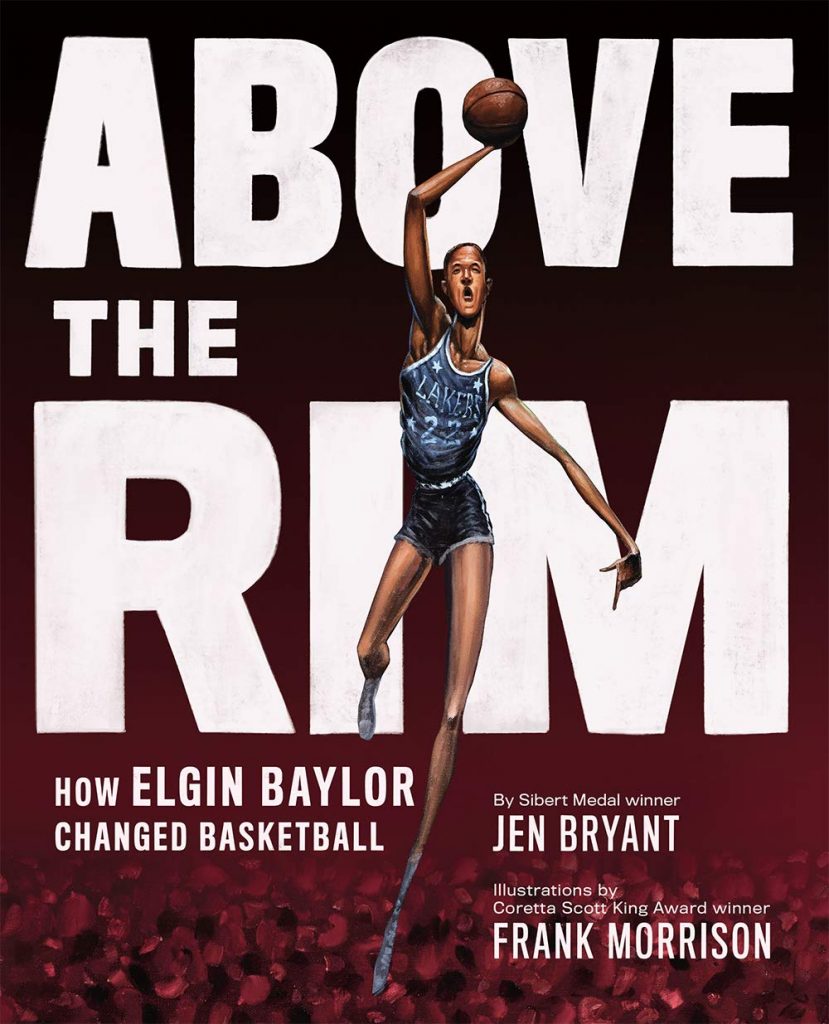 Hall-of-famer Elgin Baylor was one of basketball's all-time-greatest players—an innovative athlete, team player, and quiet force for change. One of the first professional African-American players, he inspired others on and off the court. But when traveling for away games, many hotels and restaurants turned Elgin away because he was black. One night, Elgin had enough and staged a one-man protest that captured the attention of the press, the public, and the NBA.
Mexique: A Refugee Story from the Spanish Civil War by María José Ferrada, illustrated by Ana Penyas Ages 7 – 10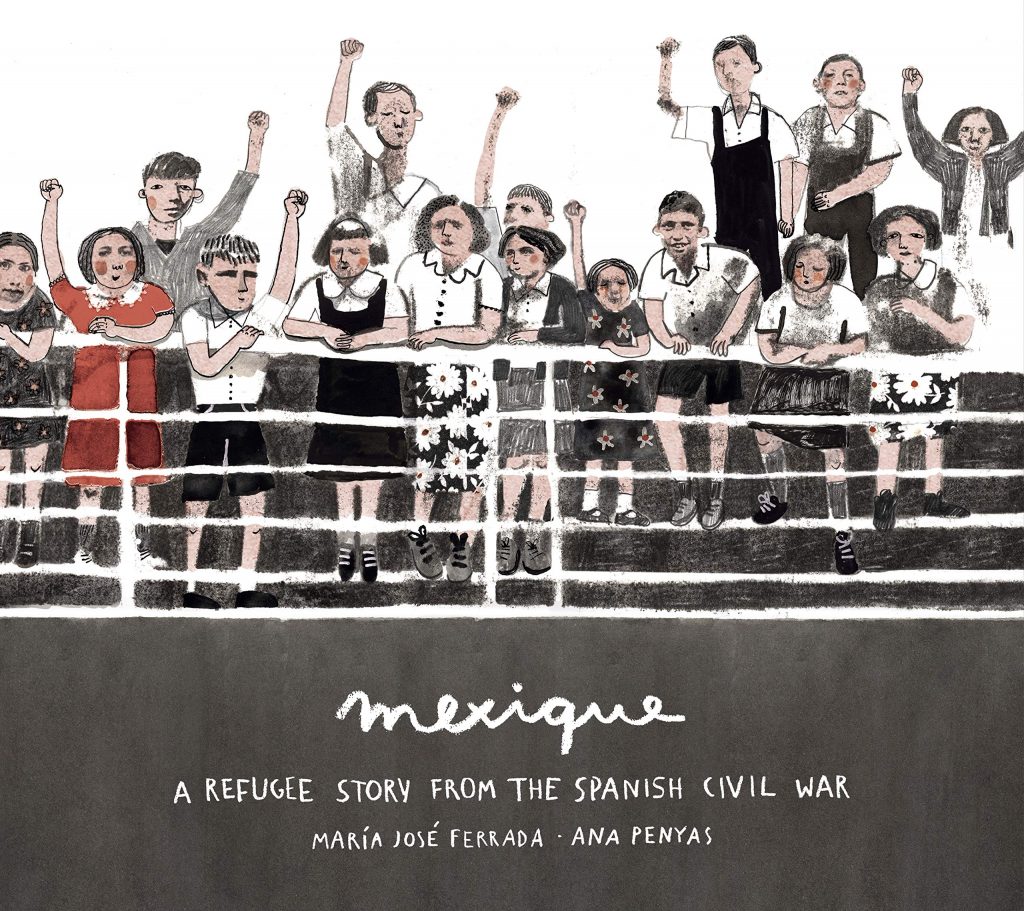 On May 27, 1937, over four hundred children sailed for Morelia, Mexico, fleeing the violence of the Spanish Civil War. Home was no longer safe, and Mexico was welcoming refugees by the thousands. Each child packed a suitcase and boarded the Mexique, expecting to return home in a few months. This was just a short trip, an extra-long summer vacation, they thought. But the war did not end in a few months, and the children stayed, waiting and wondering, in Mexico. When the war finally ended, a dictator—the Fascist Francisco Franco—ruled Spain. Home was even more dangerous than before.
The All-Together Quilt by Lizzy Rockwell Ages 5 – 8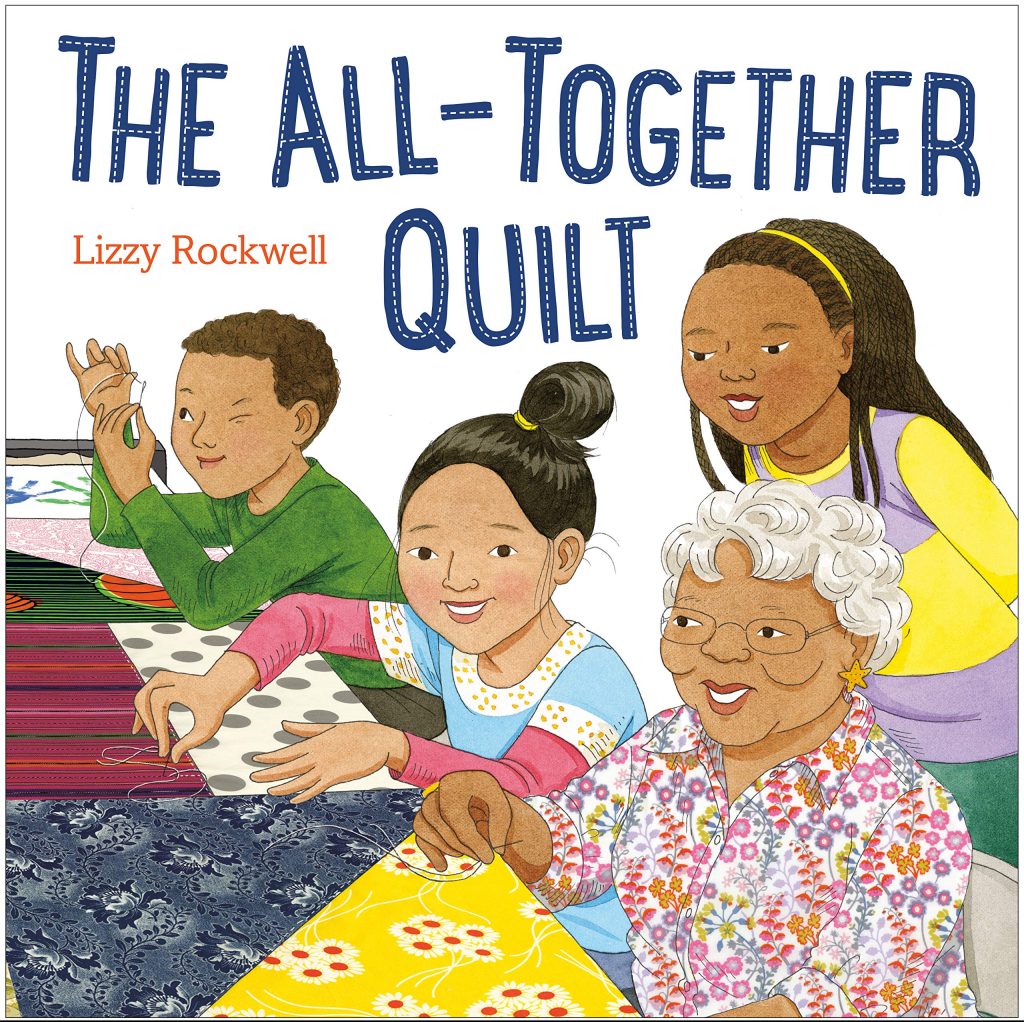 The kids and grown-ups at a community center begin with lots of colorful fabrics and an idea. Then step by step they make that idea a reality. They design, cut, stitch, layer, and quilt. It's the work of many hands, many hours, and many stories. And the result is something warm and wonderful they all can share.
Lizzy Rockwell is the artistic director and organizing force behind the Norwalk Community Quilt Project: Peace by Piece, and this book is inspired by all the people who have gathered over the years to teach and learn and to make something beautiful together.
One Girl by Andrea Beaty, illustrated by Dow Phumiruk Ages 5 – 7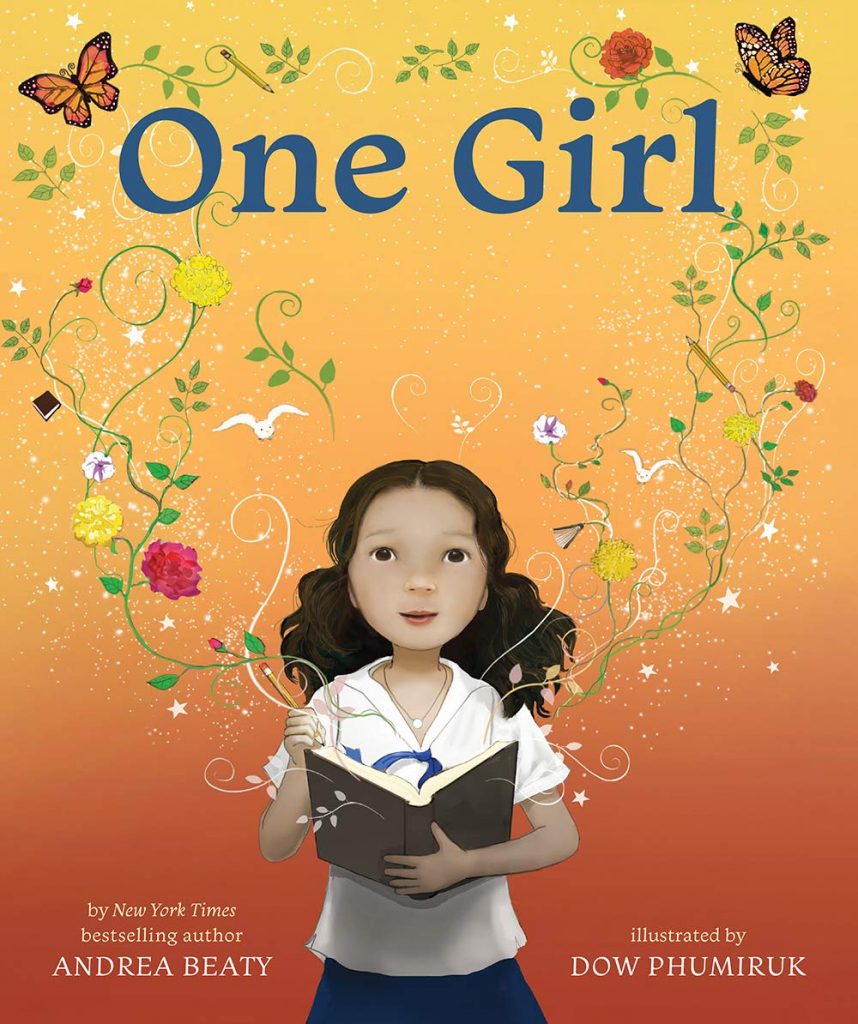 Inspired by the global movement to empower girls through education, this lyrical story tells of one small girl who reads a book that lights a spark. She shares what she learns with her class, and the spark grows. The girl is then moved to write her own story, which she shares with girls around the globe, and it ignites a spark in them, lighting up the whole world. This heartwarming and moving narrative shows how books and education can inspire change and how one child can make a huge difference.
My Rainbow by DeShanna Neal, Trinity Neal, illustrated by Art Twink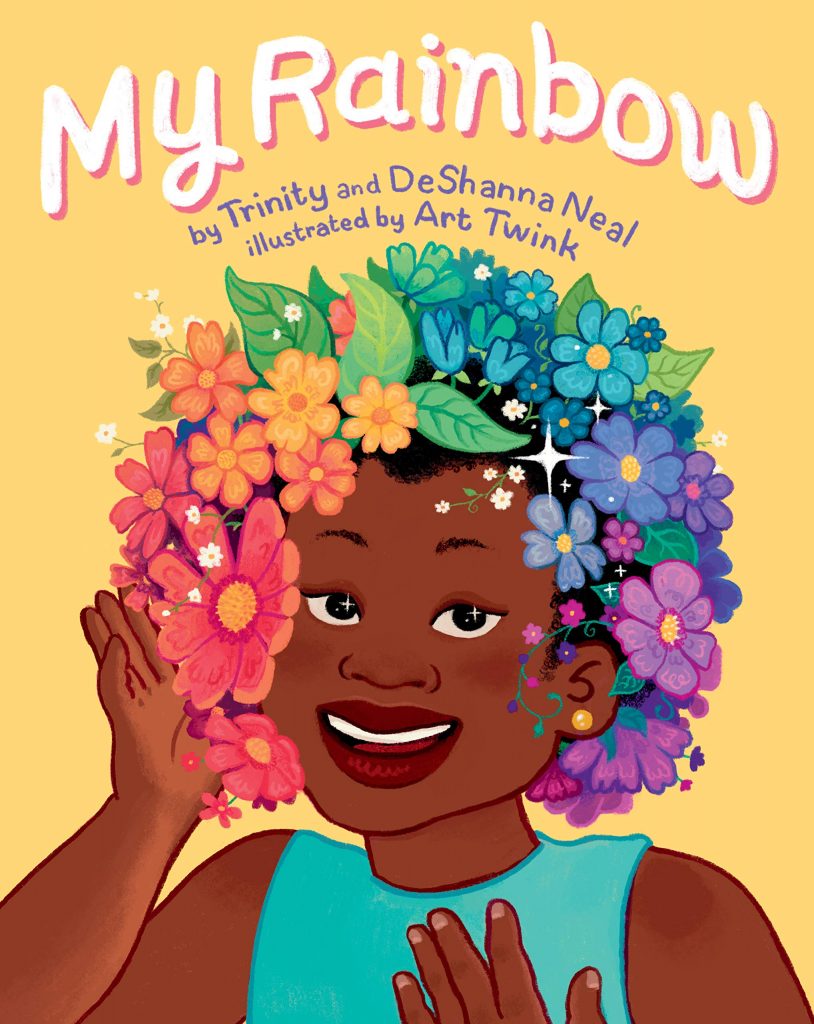 A dedicated mom puts love into action as she creates the perfect rainbow-colored wig for her transgender daughter, based on the real-life experience of mother-daughter advocate duo Trinity and DeShanna Neal.
Warm morning sunlight and love fill the Neal home. And on one quiet day, playtime leads to an important realization:Trinity wants long hair like her dolls. She needs it to express who she truly is.
So her family decides to take a trip to the beauty supply store, but none of the wigs is the perfect fit. Determined, Mom leaves with bundles of hair in hand, ready to craft a wig as colorful and vibrant as her daughter is.
November
A Girl Named Rosita: The Story of Rita Moreno: Actor, Singer, Dancer, Trailblazer! by Anika Aldamuy Denise, illustrated by Leo Espinosa Ages 4 – 8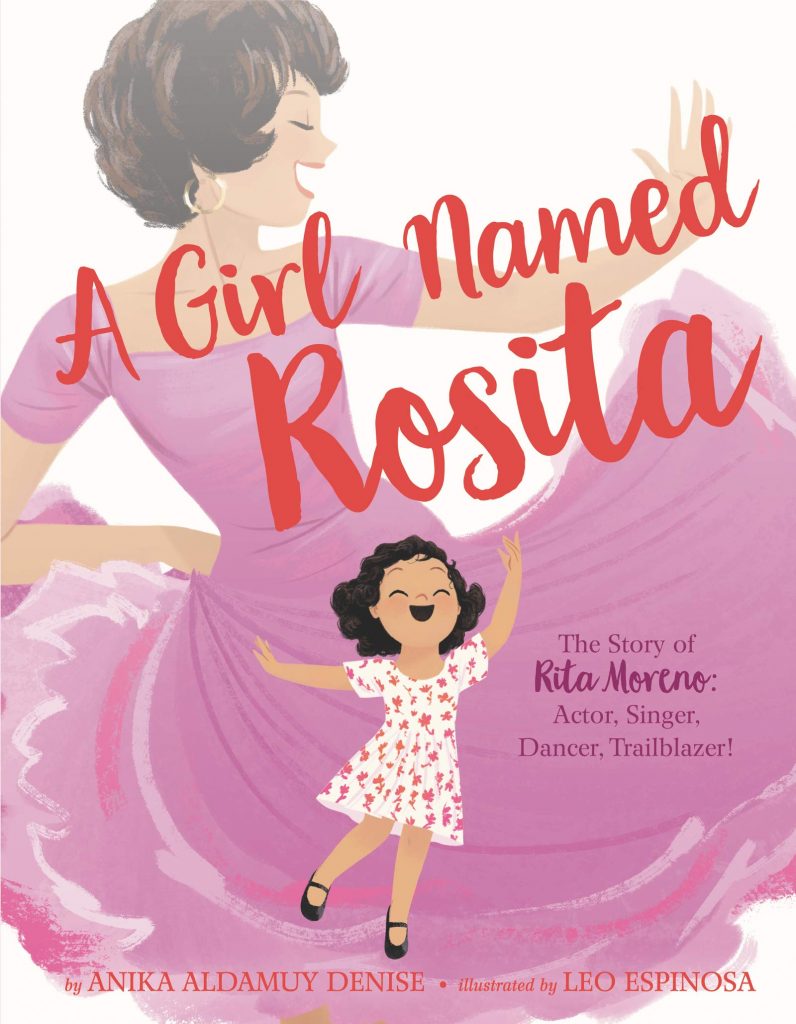 When young Rosita moved from Puerto Rico to the mainland United States, she didn't know what to expect—but she knew she loved to sing and dance. Working to overcome the language barrier and bullying she experienced in a strange new country, Rita eventually made her way to Hollywood with a dream to be a star. There, she fought to be seen and heard and eventually reached the pinnacle of success, landing her iconic role in West Side Story and, finally, winning her groundbreaking Oscar.
The Little Mermaid by Jerry Pinkney Ages 4 – 8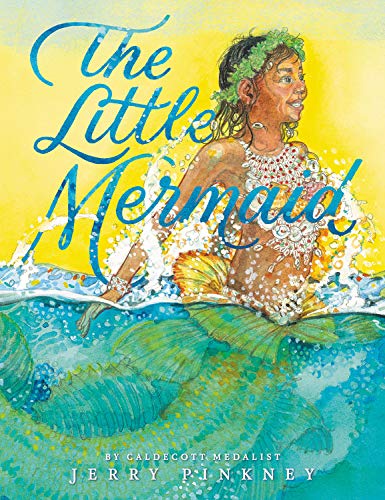 In this captivating reimagining of Hans Christian Andersen's classic, Caldecott medalist and bestselling artist Jerry Pinkney conjures a poignant friendship story and an epic tale of redemption — the definitive new version for our time.
Melody, the littlest sea princess, is not content just to sing in the choir of mermaids like her sisters. She is an explorer who wonders about what lies above the water's surface…especially the young girl she has spied from a distance. To meet her requires a terrible sacrifice: she trades her beautiful voice for a potion that gives her legs, so that she may live on land instead. It seems like a dream come true at first. But when trouble stirs beneath the ocean, Melody faces another impossible choice — stay with her friend, or reclaim her true identity and save her family.
Legendary artist Jerry Pinkney's singular reinvention of this tale about love and sacrifice empowers young, twenty-first century girls with the strong message that "you should never give up your voice…for anyone."
Swish: The Slam-Dunking, Alley-Ooping, High-Flying Harlem Globetrotters by Suzanne Slade, illustrated by Don Tate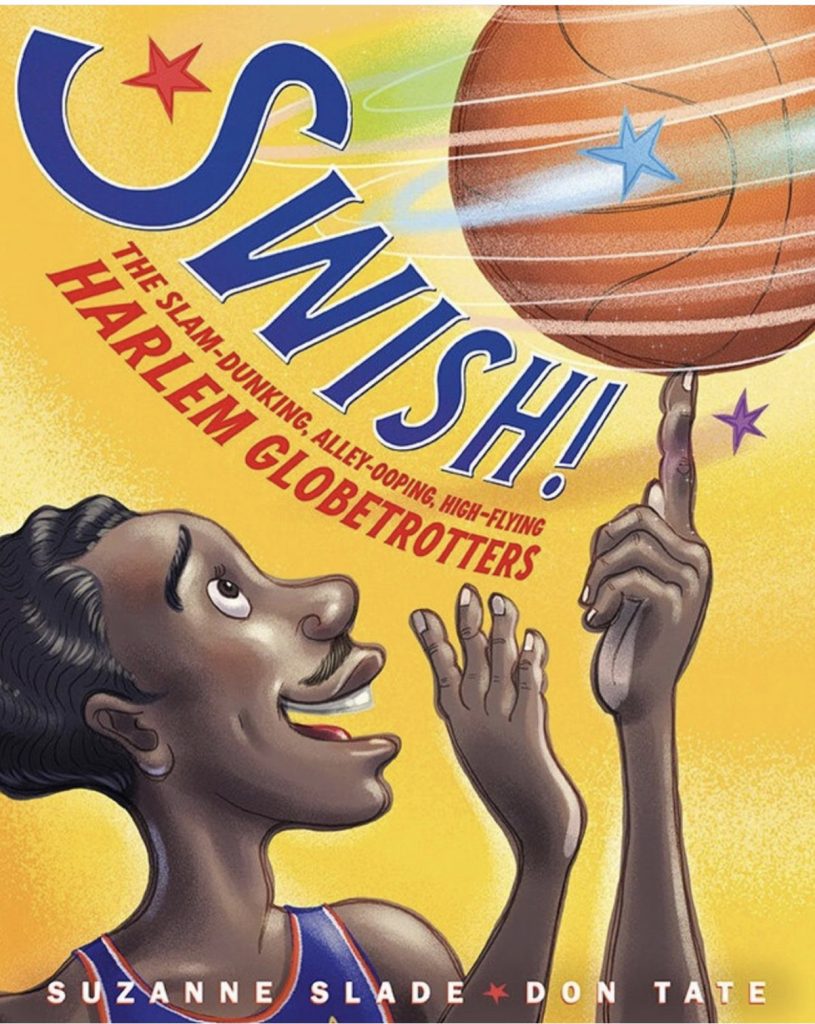 In this book you will find one-finger ball-spinning, rapid-fire mini-dribbling, and a ricochet head shot!  You will find skilled athletes, expert players, and electrifying performers — all rolled into one!
You will find nonstop, give-it-all-you've-got, out-to-win-it, sky's-the-limit BASKETBALL!
Voices from the March on Washington
by George Ella Lyon, J. Patrick Lewis Ages 10 -14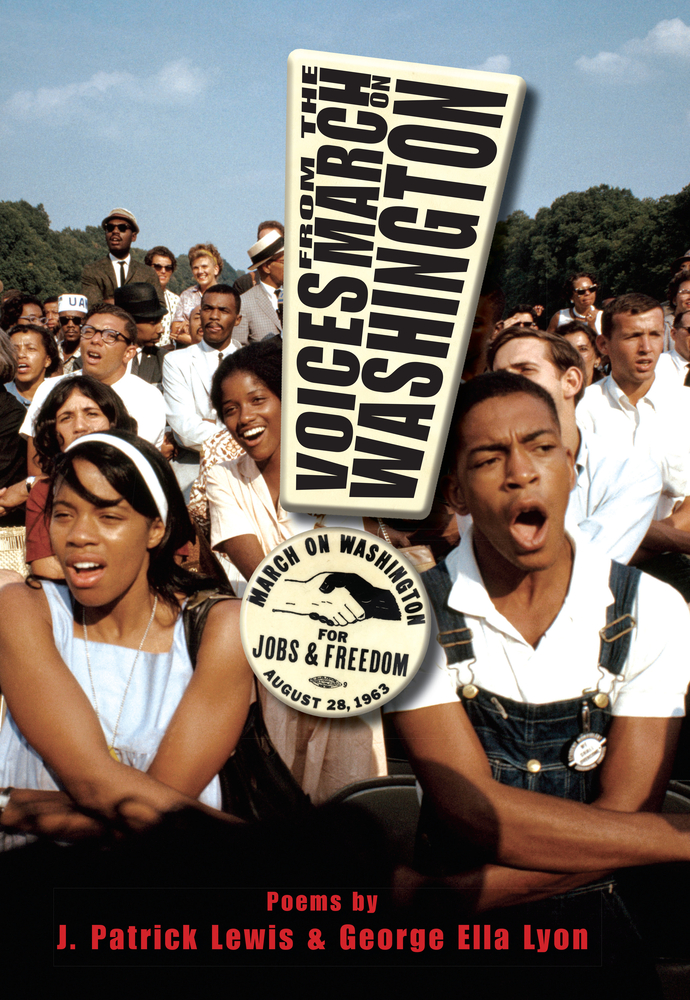 From the woman singing through a terrifying bus ride to DC, to the teenager who came partly because his father told him, "Don't you dare go to that march," to the young child riding above the crowd on her father's shoulders, each voice brings a unique perspective to this tale. As the characters tell their personal stories of this historic day, their chorus plunges readers into the experience of being at the march–walking shoulder-to-shoulder with strangers, hearing Martin Luther King Jr.'s famous speech, heading home inspired.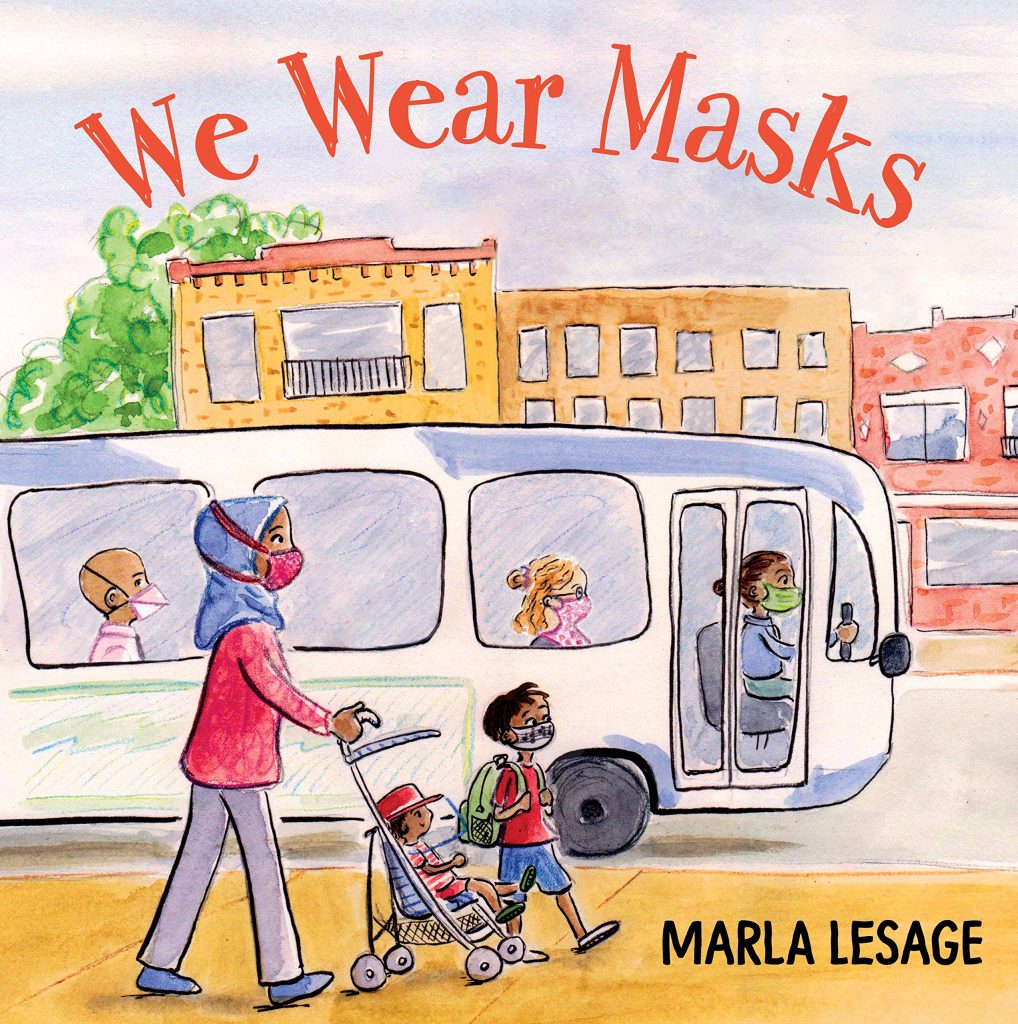 During the COVID-19 pandemic, many children have been introduced to wearing face masks and seeing others in masks. Author and illustrator Marla Lesage normalizes mask-wearing by introducing young readers to artists, ranchers, pilots, welders, scientists and many more people who already wear masks in their day-to-day lives. This delightful, rhyming picture book will help explain to children why wearing a mask is important as we interact with others in our communities. Readers will learn that, when they put on their mask, they are choosing to be kind and considerate of others.
We Wear Masks is a fun tool to help children make sense of this new reality and make wearing masks less scary and more relatable. This book can be used as a conversation starter about the pandemic, the spread of germs and viruses, and what families can do to keep themselves and the people they care about safe.
December

Building Zaha: The Story of Architect Zaha Hadid
Ages 4 – 8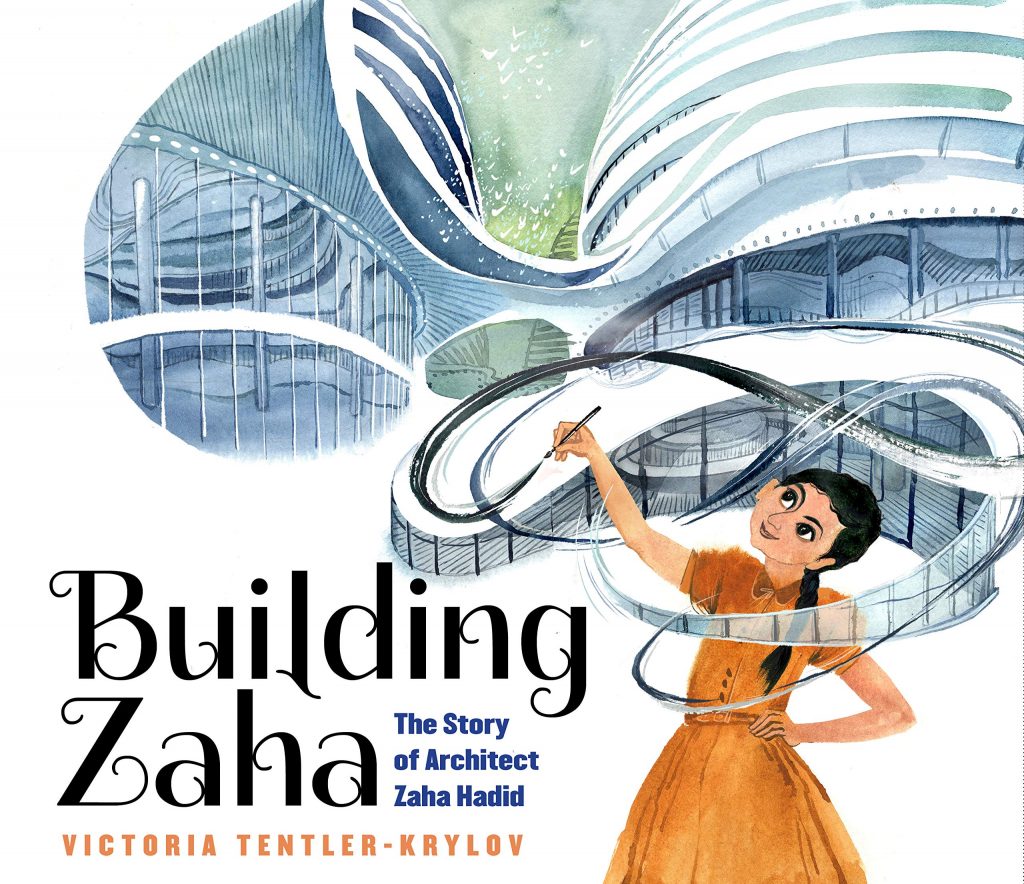 The city of Baghdad was full of thinkers, artists, and scientists, the littlest among them Zaha Hadid. Zaha knew from a young age that she wanted to be an architect. She set goals for herself and followed them against all odds. A woman in a man's world, and a person of color in a white field, Zaha was met with resistance at every turn.
When critics called her a diva and claimed her ideas were unbuildable, she didn't let their judgments stop her from setting goals and achieving them one by one, finding innovative ways to build projects that became famous the world over. She persisted, she followed her dreams, and she succeeded.
Ritu Weds Chandni
by Ameya Narvankar Ages 5 – 7 and up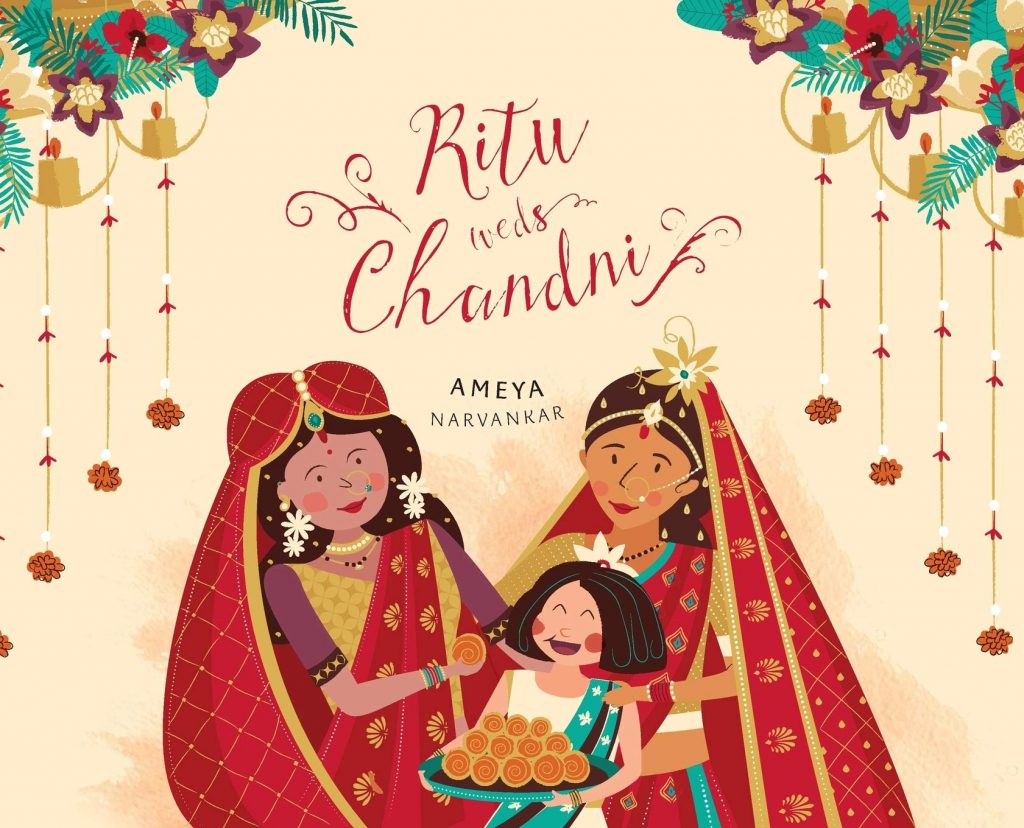 Ayesha is excited to attend her cousin Ritu's wedding. She can't wait to dance at the baraat ceremony! But not everyone is happy that Ritu is marrying her girlfriend Chandni. Some have even vowed to stop the celebrations. Will Ayesha be able to save her cousin's big day?
Centering Ayesha's love for her cousin as much as it showcases Ritu and Chandni's love for each other, this warmhearted debut from Ameya Narvankar celebrates the power of young voices to stand up against prejudice and bigotry.
I Am Smart, I Am Blessed, I Can Do Anything! by Alissa Holder, Zulekha Holder-Young, illustrated by Nneka Myers Ages 4 – 8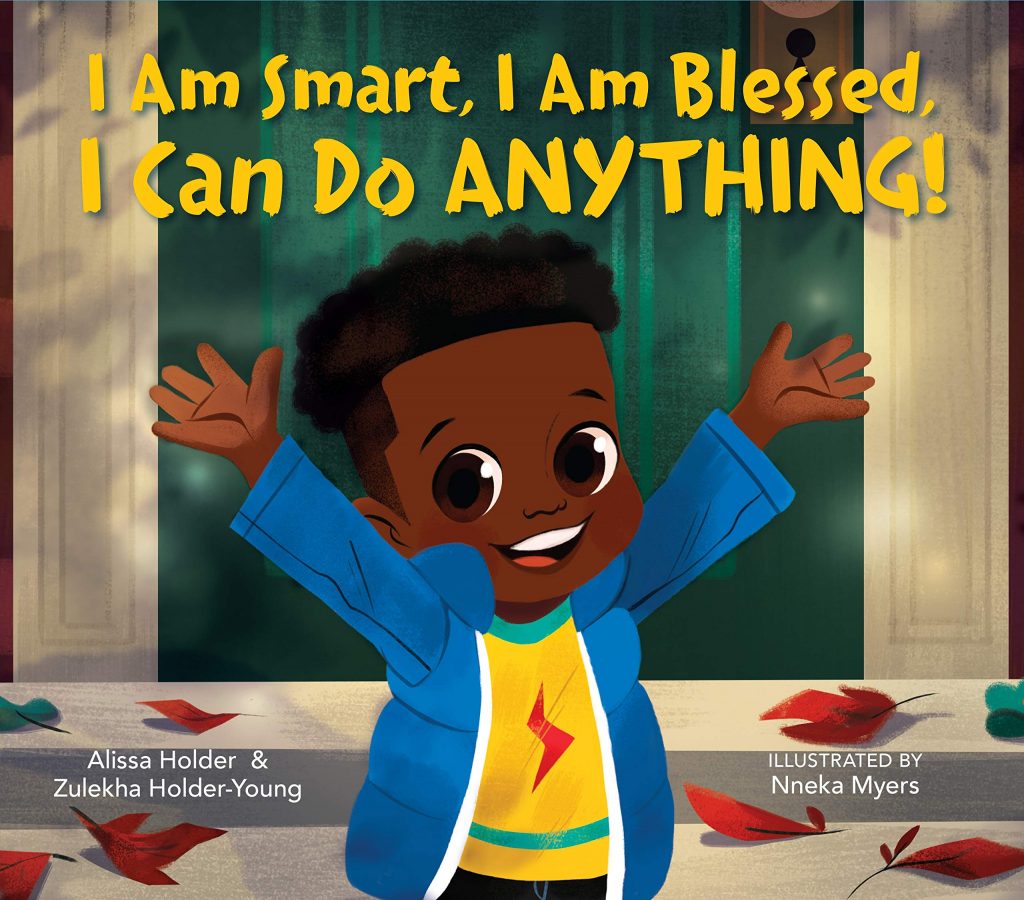 It's a new day and Ayaan has woken up on the wrong side of the bed, where nothing feels quite right. What if he doesn't know the answer at school? What if he messes up? But as he sets out that morning, all it takes is a few reminders from his mom and some friends in the neighborhood to remind him that a new day is a good day because…
HE IS SMART,
HE IS BLESSED,
AND HE CAN DO ANYTHING!
Flying Free: How Bessie Coleman's Dreams Took Flight
by Karyn Parsons, illustrated by R. Gregory Christie Ages 4 – 8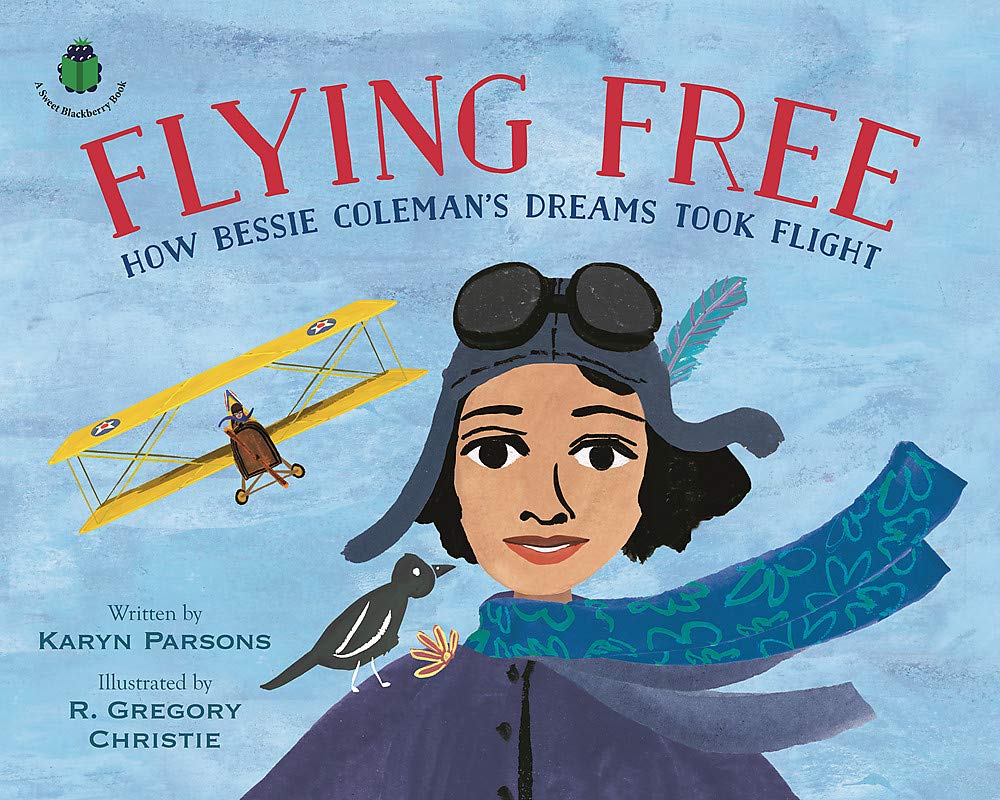 Based on Karyn Parson's critically acclaimed Sweet Blackberry video series comes the story of Bessie Coleman, the first African American female to earn her pilot's license.


Before Bessie Coleman blazed a high trail with her plane . . . Before she performed in death-defying flying shows that would earn her fame as "Queen Bess" . . . Before she traveled the country speaking out against discrimination, Bessie was a little girl with a big imagination that took her to the sky, through the clouds, and past the birds.
Knocking down barriers one by one, Bessie endured racism and grueling training to become the first black female pilot and an inspiration to Mae Jemison, Josephine Baker, and many more influential people of color for years to come.
The ABCs of Black History by Rio Cortez, illustrated by Lauren Semmer Ages 5 and up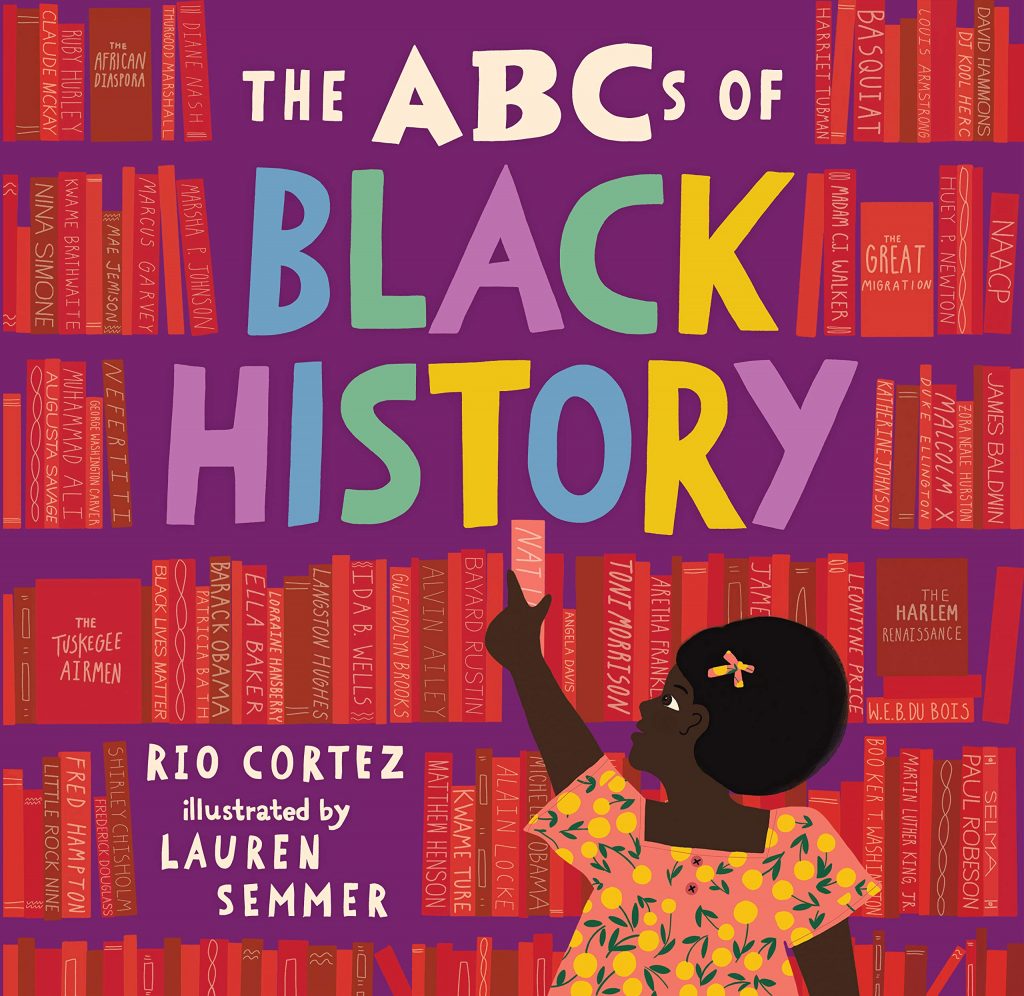 Letter by letter, 
The ABCs of Black History 
celebrates a story that spans continents and centuries, triumph and heartbreak, creativity and joy.It's a story of big ideas––P is for Power, S is for Science and Soul. Of significant moments––G is for Great Migration. Of iconic figures––H is for Zora Neale Hurston, X is for Malcom X. It's an ABC book like no other, and a story of hope and love.
In addition to rhyming text, the book includes back matter with information on the events, places, and people mentioned in the poem, from Mae Jemison to W. E. B. Du Bois, Fannie Lou Hamer to Sam Cooke, and the Little Rock Nine to DJ Kool Herc.
My Baby Loves Valentine's Day by Jabari Asim, illustrated by Tara Nicole Whitaker Ages 0 – 3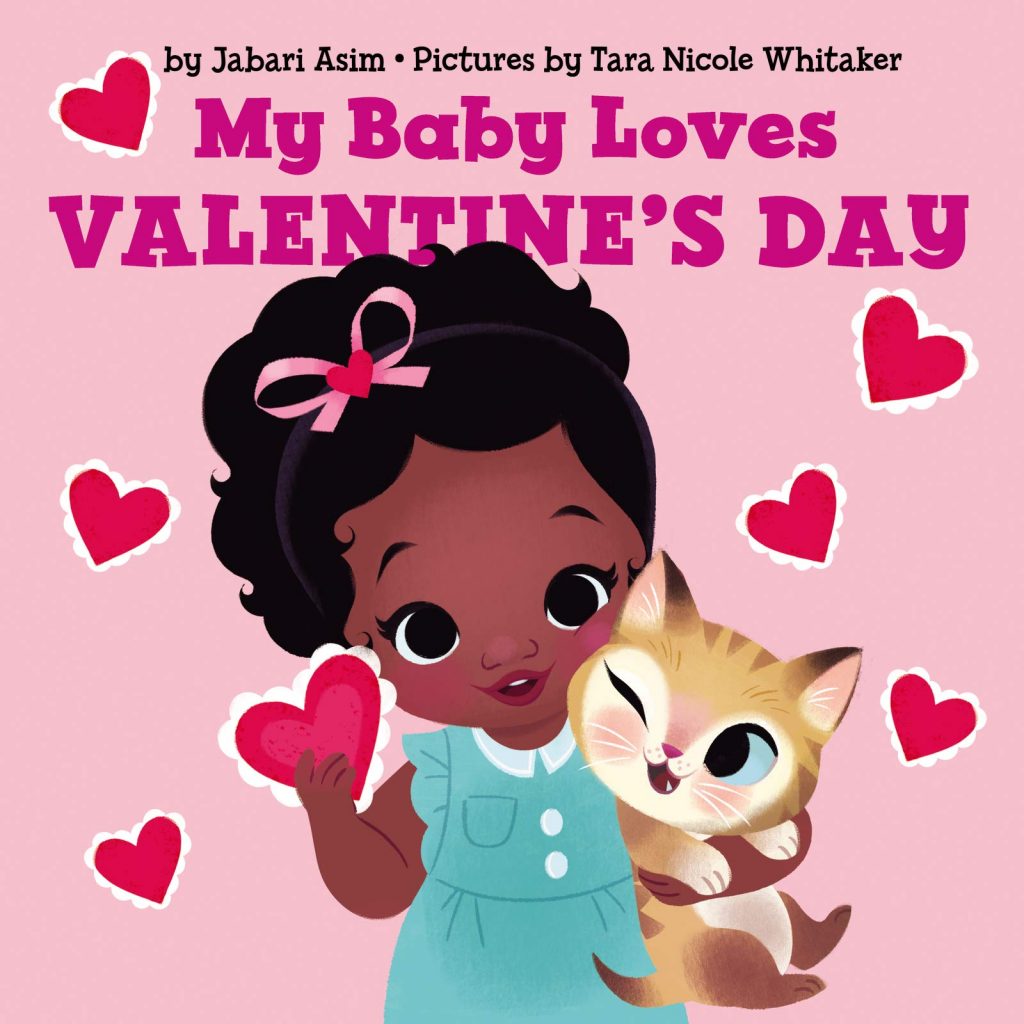 The perfect Valentine's gift for your baby or toddler! 
In 
My Baby Loves Valentine's Day
, celebrate all the lovely things that Baby discovers about Valentines Day:
Baby loves hearts made of paper and lace.
Baby loves kisses and a loving embrace.
Baby loves pretty red roses…
Celebrate all the lovely things Baby discovers about Valentine's Day!
I Love Being Me! (Step into Reading) by Mechal Renee Roe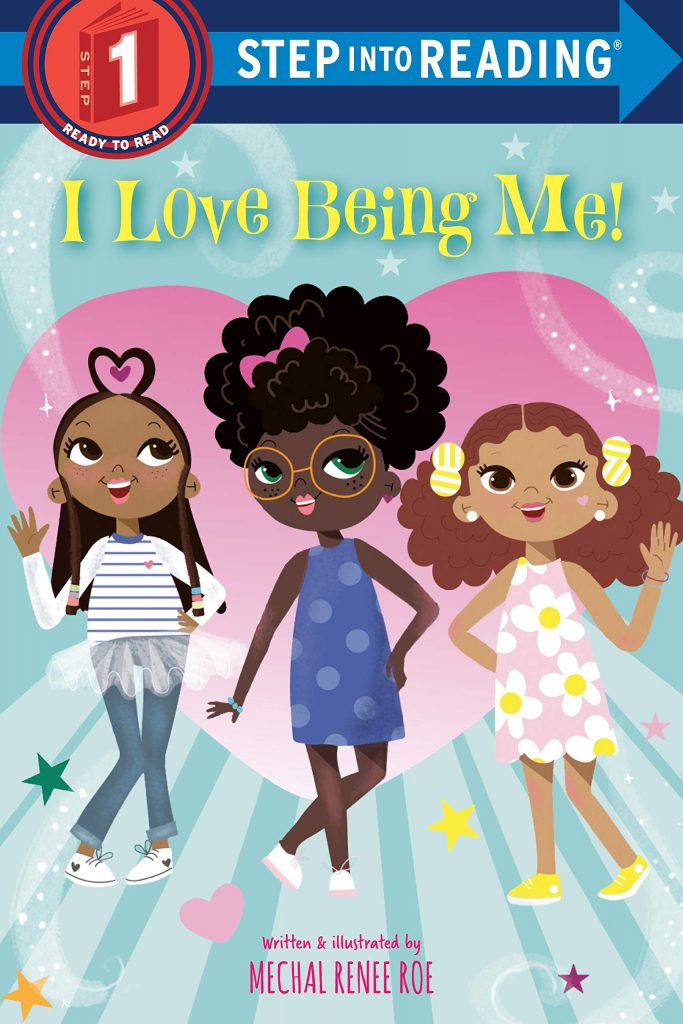 Celebrate diversity with this bright, joyful level 1 Step Into Reading book that will have girls everywhere repeating the book's chorus: I love being me.
Girls will love seeing strong, happy reflections of themselves in this vibrant, rhyming, Step 1 reader about the joy of being a girl. Featuring a variety of kids and the activities they enjoy – reading, soccer, cooking, swimming, gardening, and more – this easy reader promotes girls' self-esteem, smarts, and strength.
Curls by Ruth Forman, illustrated by Geneva Bowers Ages 0 – 3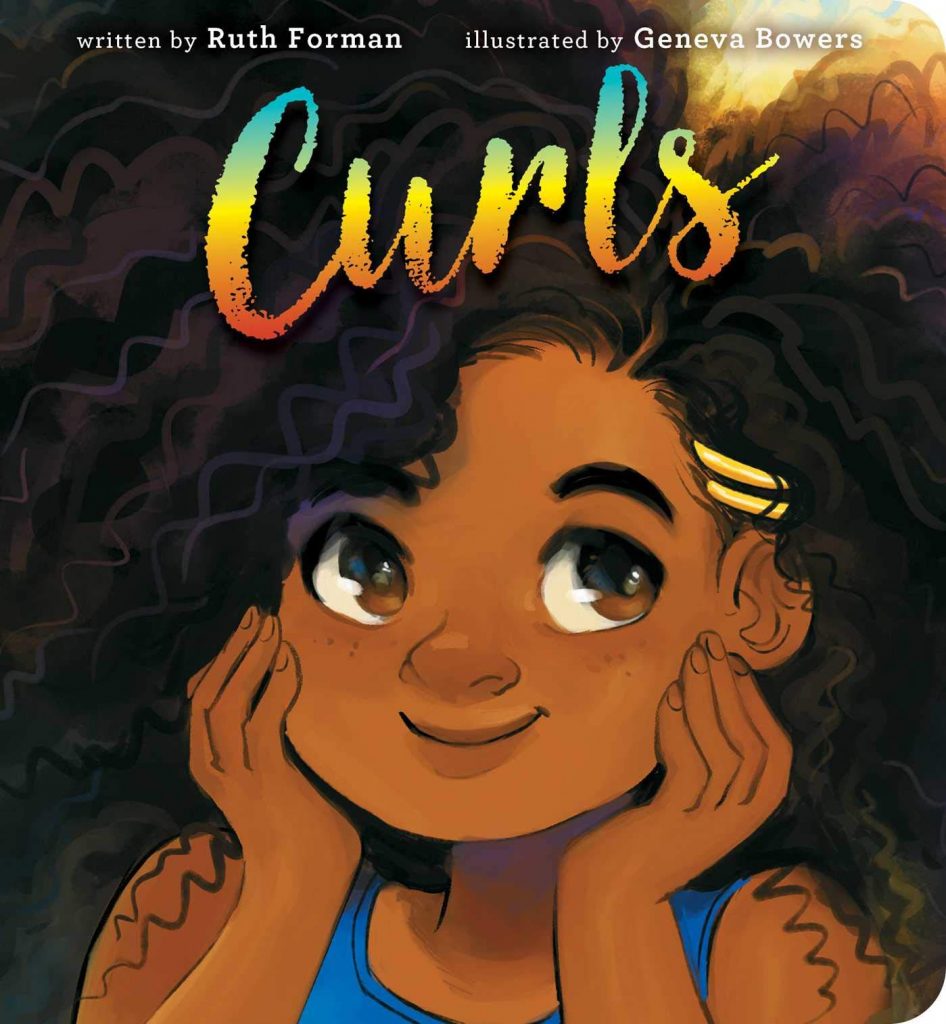 A joyfully poetic board book that delivers an ode to African American girls and the beauty of their curls.

This simple, playful, and beautiful board book stars four friends who celebrate the joy of their hairstyles from bouncing curls to swinging braids.
Who Was Martin Luther King, Jr.?: A Who Was? Board Book
by Lisbeth Kaiser (Author), Who HQ (Author), Stanley Chow (Illustrator) Ages 2 – 4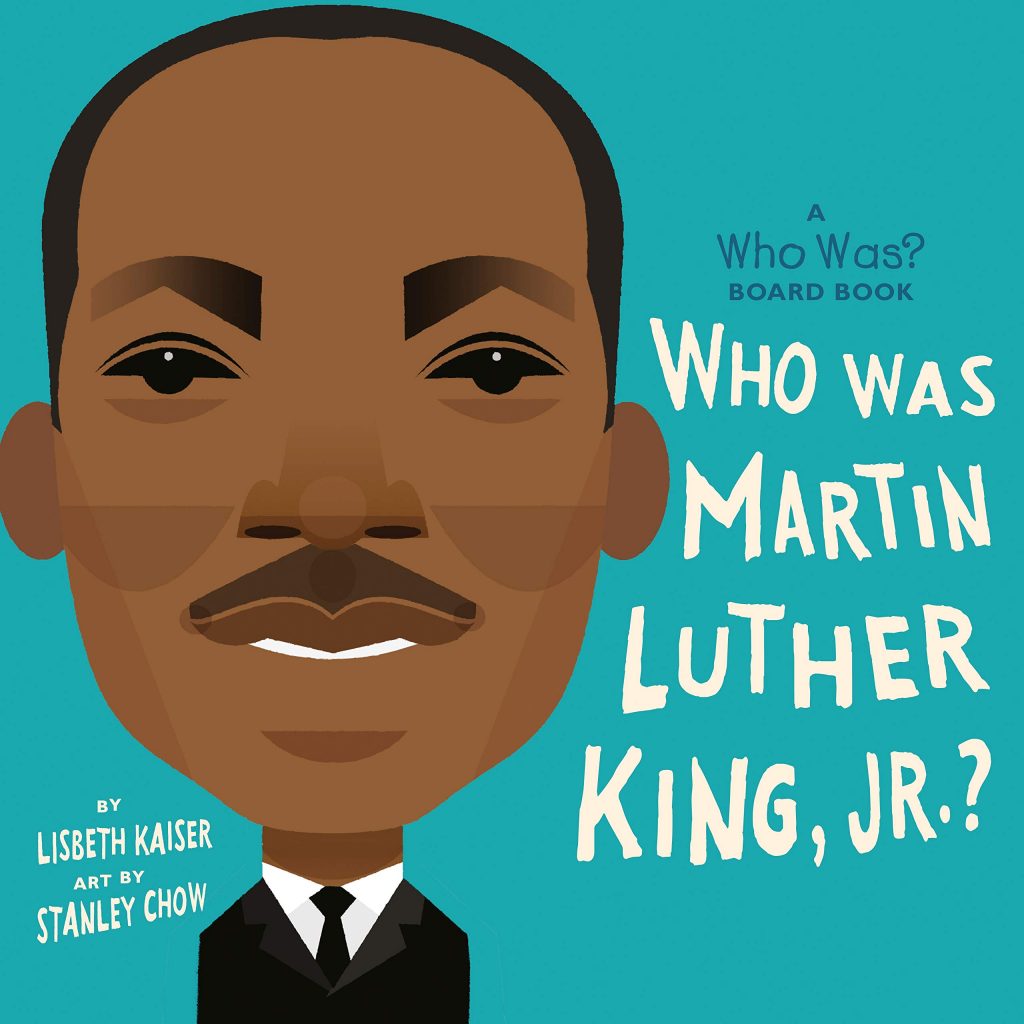 The #1 
New York Times
 Bestselling Who Was? series expands into the board book space, bringing age-appropriate biographies of influential figures to readers ages 2-4.
The chronology and themes of Dr. Martin Luther King Jr.'s meaningful life are presented in a masterfully succinct text, with just a few sentences per page. The fresh, stylized illustrations are sure to captivate young readers and adults alike. With a read-aloud biographical summary in the back, this age-appropriate introduction honors and shares the life and work of one of the most influential civil rights activists of our time.
Amy Wu and the Patchwork Dragon
by Kat Zhang, Charlene Chua Ages 4 – 8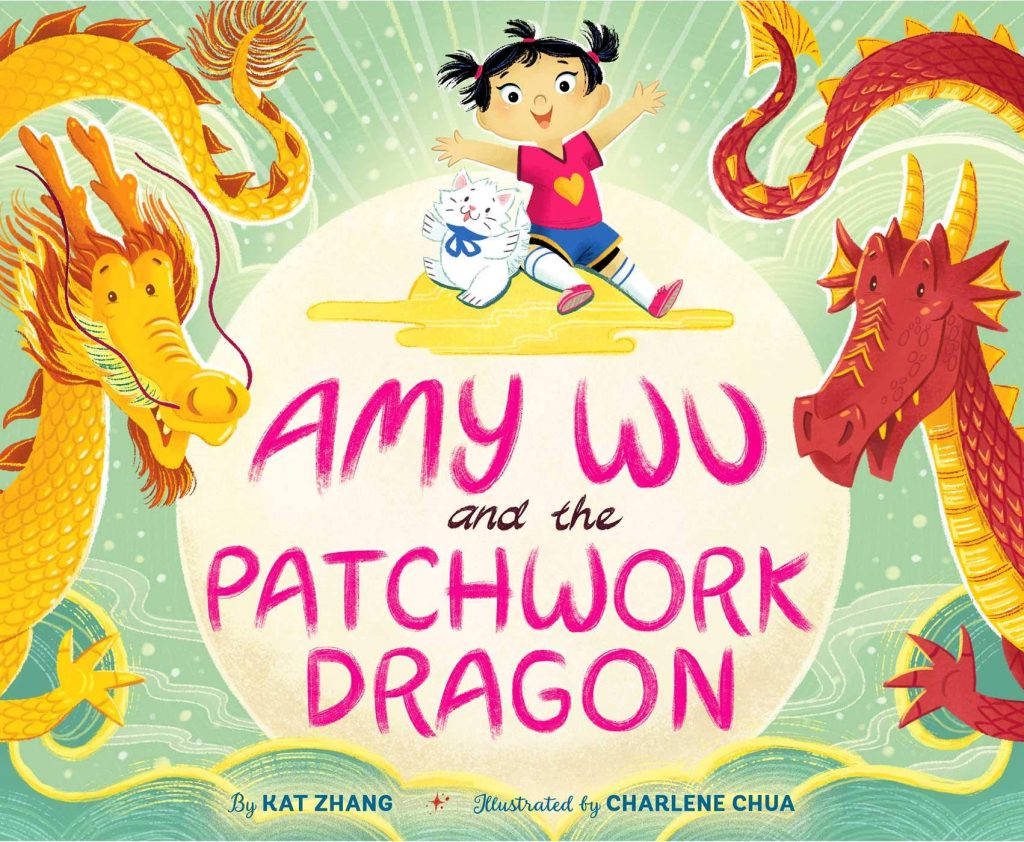 Amy loves craft time at school. But when her teacher asks everyone to make their own dragon, Amy feels stuck. Her first dragon has a long, wingless body, stag-like horns, and eagle claws, but her friends don't think it's a real dragon. Then she makes dragons like theirs, but none of them feels quite right…None of them feels like hers.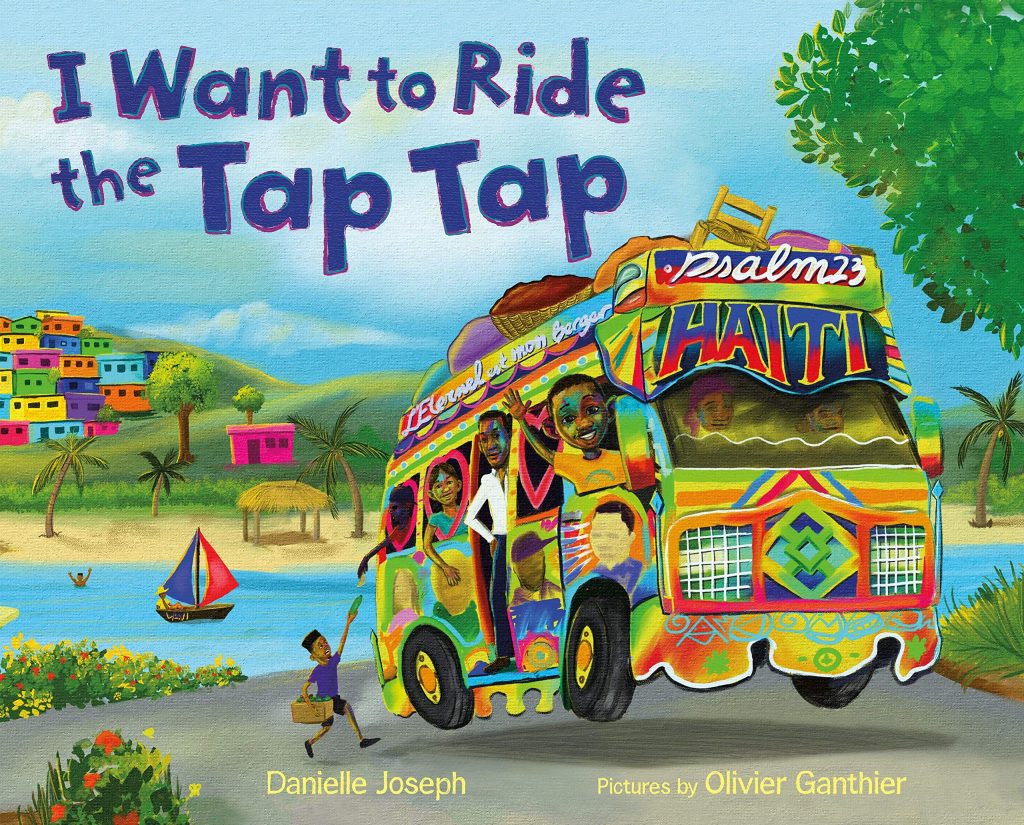 I Want to Ride the Tap Tap
is a day-of-the-week picture book about a Black family who ride the taxi-bus service―called a tap tap―in Haiti, and the fascinating people they meet along the way, illustrated by a Haitian artist known for his vibrant street art.
Trailblazers: Martin Luther King, Jr.: Fighting for Civil Rights
by Christine Platt Ages 8 – 12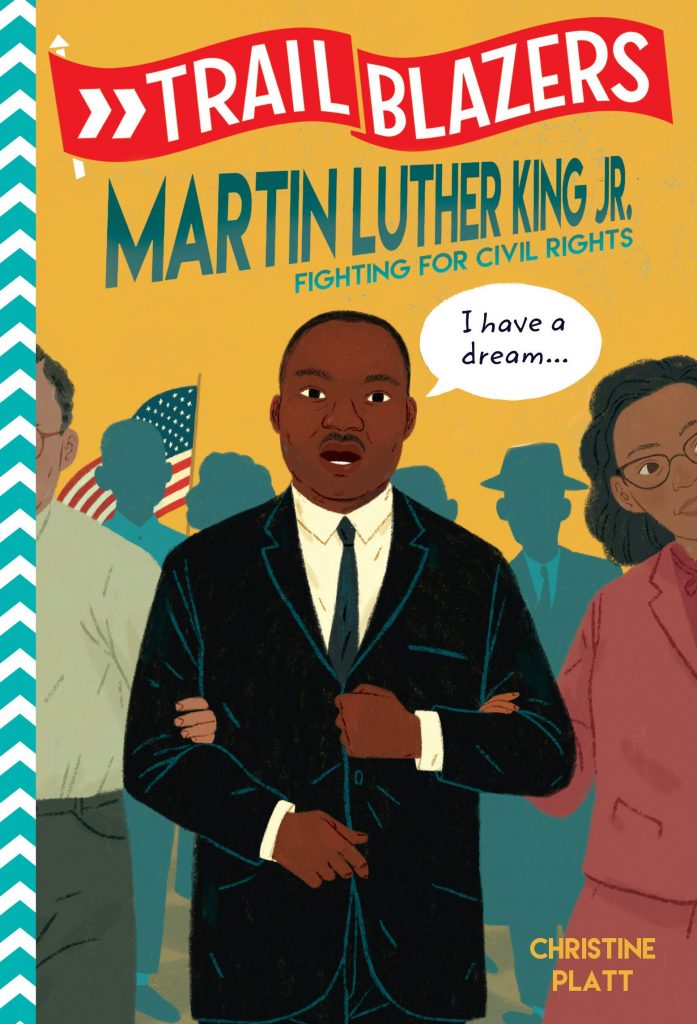 Bring history home and meet some of the world's greatest game changers! Get inspired by the true story of the civil rights leader whose peaceful fight for justice still motivates people today. This biography series is for kids who loved Who Was? and are ready for the next level.
On August 28, 1963, Martin Luther King Jr. spoke to more than 250,000 people in Washington, DC about his dream of racial equality. His message of peaceful protest inspired a generation to stand up for their rights. Find out how a boy who was not allowed to go to school or the movies with white people blazed a trail in civil rights.
Flying High: The Story of Gymnastics Champion Simone Biles by Michelle Meadows and Ebony Glenn (Ages )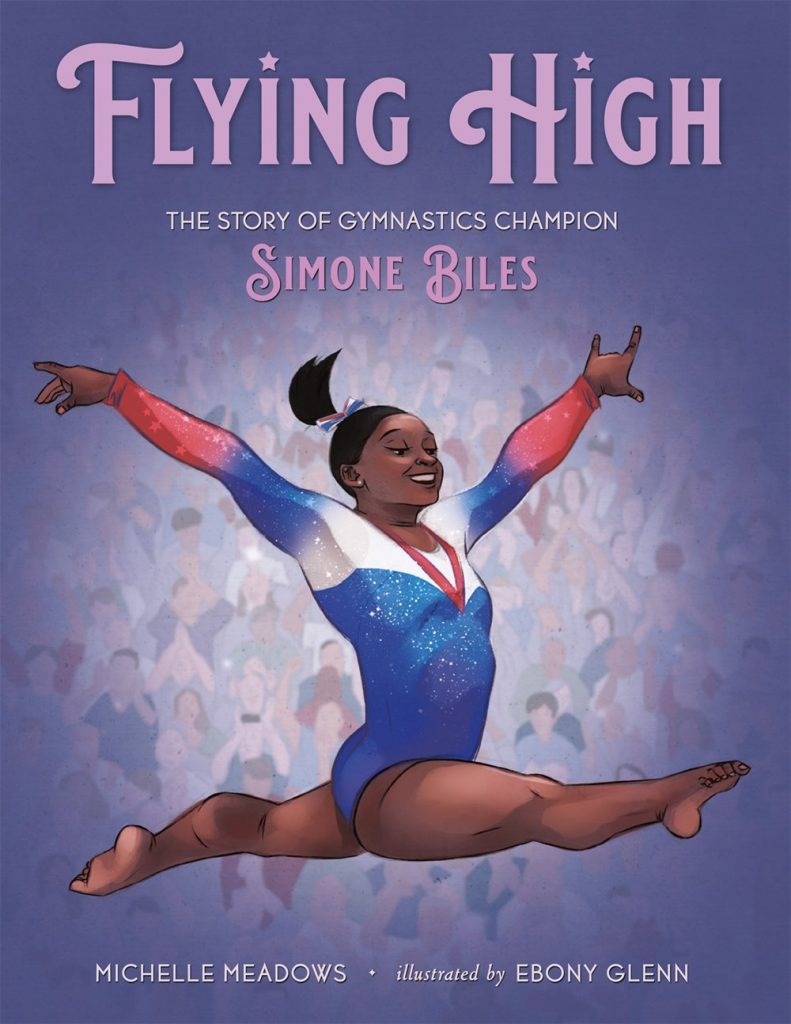 When she was six years old, Simone's family took shape in a different way. Her grandparents Ron and Nellie Biles adopted Simone and her sister Adria. Ron and Nellie became their parents. Simone was also introduced to gymnastics that same year, launching a lifelong passion fueled by remarkable talent, sacrifice, and the undying support of her family.
My Very Favorite Book in the Whole Wide World by Malcolm Mitchell, illustrated by Michael Robertson Ages 4 – 8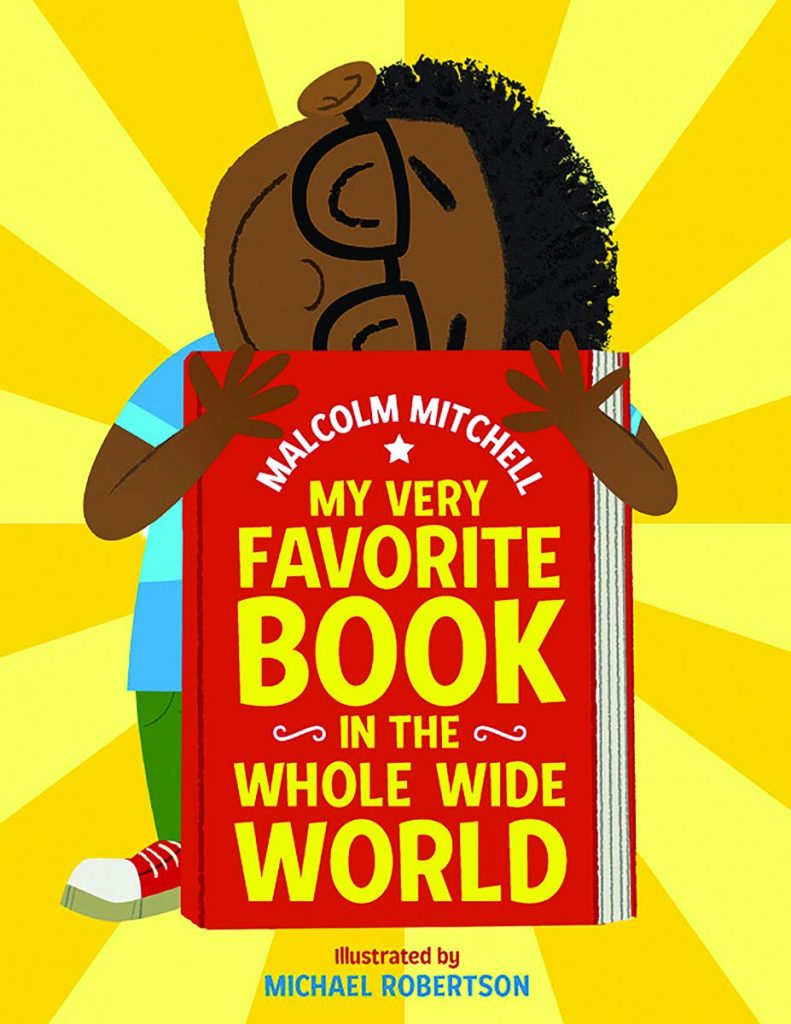 Meet Henley, an all-around good kid, who hates to read. When he's supposed to be reading, he would rather do anything else. But one day, he gets the scariest homework assignment in the world: find your favorite book to share with the class tomorrow.What's a kid to do? How can Henley find a story that speaks to everything inside of him?
Major Eights 6: The Secret Valentine by Melody Reed, Émilie Pépin Ages 6 – 8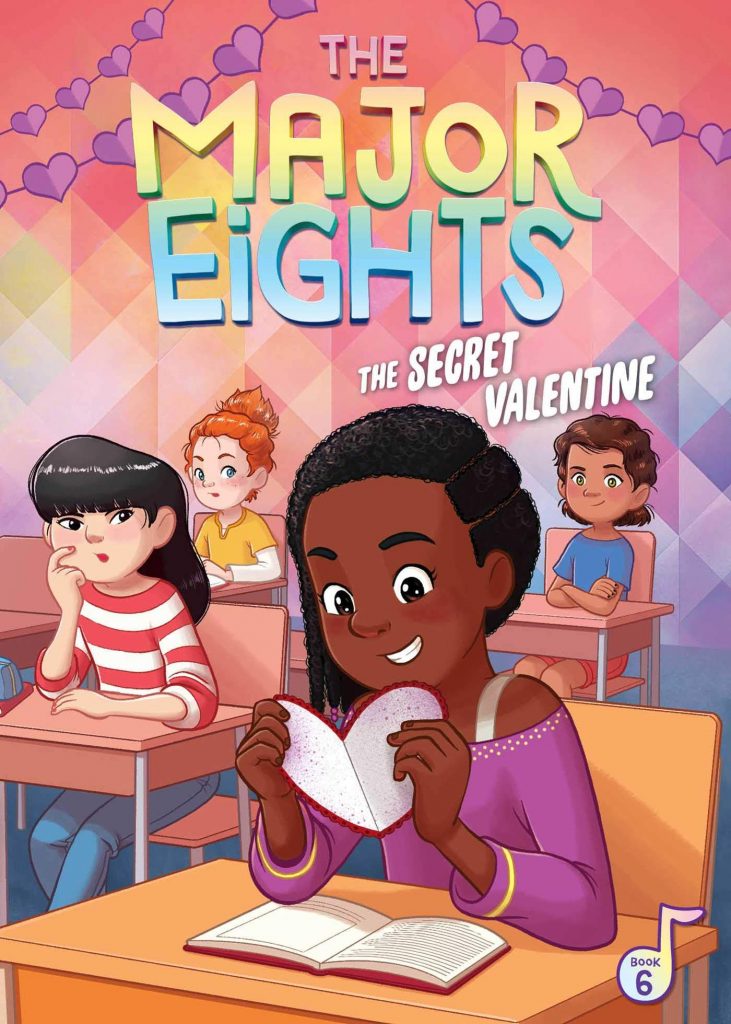 In book 6 of the Major Eights series, someone is leaving notes for the band. Do the Major Eights have a secret admirer?
Scarlet is flattered when she finds a sweet message in her locker. But she doesn't know who it's from. Is it fan mail? Or a secret admirer? Can the band figure out the mystery?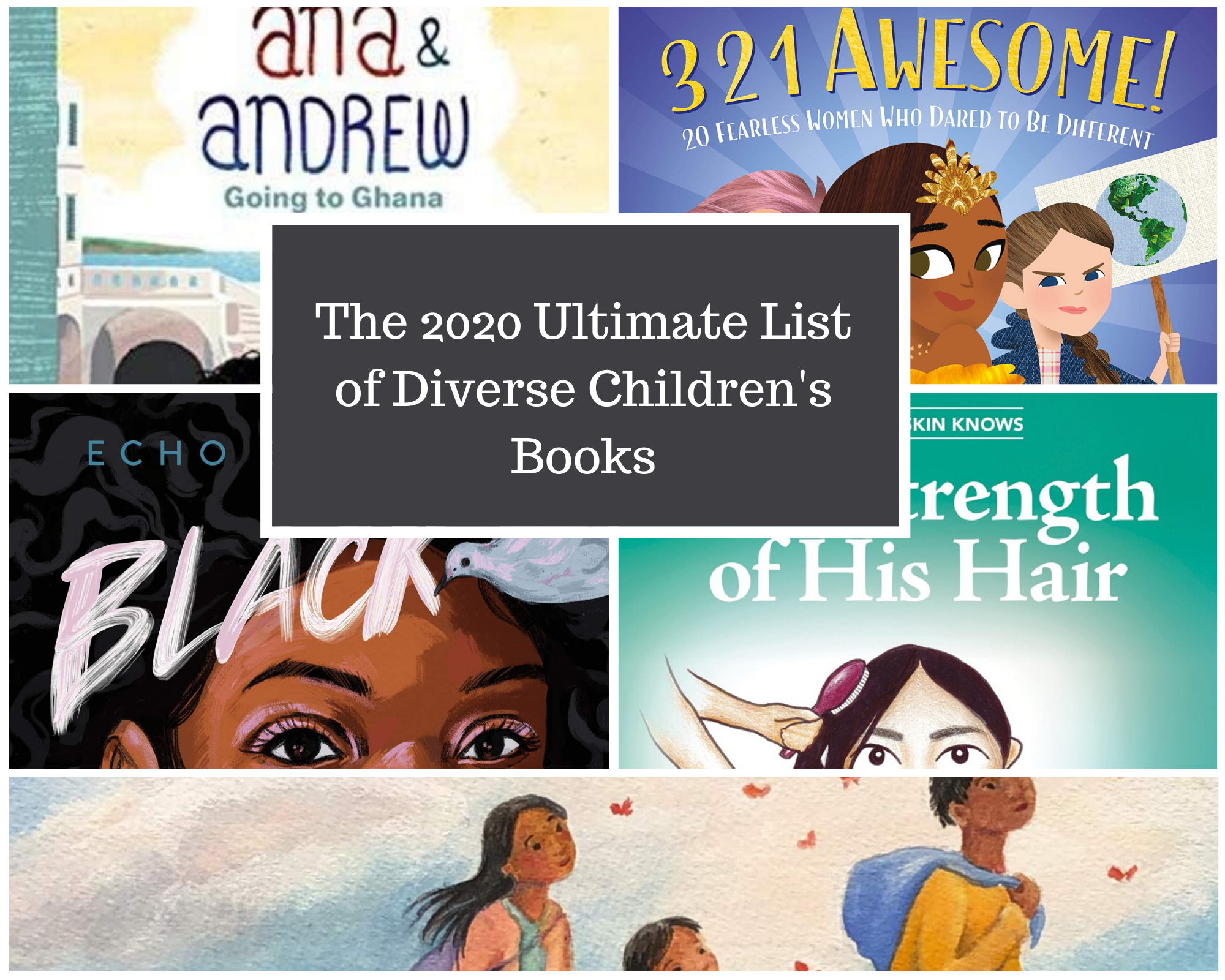 Did you enjoy this list?  Feel free to subscribe to my mailing list if you're not already.  Let's stay in touch!
Your turn:  What books from this list are you most looking forward to?  What books should I add to the list?  Feel free to share in the comments.