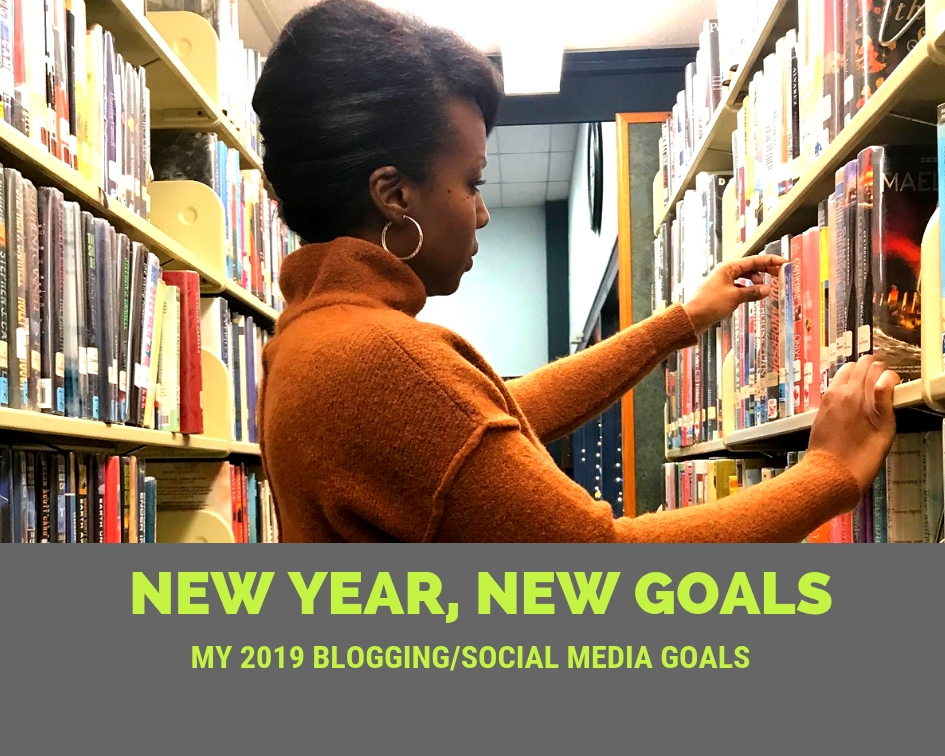 Hello 2019!
I'm claiming this right now…2019 will be the year I take my blog and social media presence to the next level!  I have no idea how this will happen, but I'm stepping out on faith and trusting it will.  I am determined to CRUSH it and grow in all areas of my life this year.
I've never been a big New Year's Resolution person, but rather a goals oriented person.  I don't think you should have to wait for a new year in order to make changes in your life.  If you know without a shadow of a doubt you want to make a change you just do it and figure out a way to get it done.  Am I right?  At any point in the year you can revisit your vision, habits, and goals, and set some intentions for what you want to improve.
This year I've decided try something new and BOLDLY share my list of goals for my blog.  While I don't really subscribe to making New Year's Resolutions, I do I love using the New Year as an excuse to start a fresh with a new boost of energy and motivation.  I'm setting myself a lot of goals this year for work, my personal life and my personal development and I'm really excited to see where the year takes me!
Here are my blogging goals for 2019 as they currently stand (in no particular order):
Grow my blog traffic to 20,000+ unique visitors a month (Blog Traffic/Followers)
Attend 2-3 blogging or book conferences or events for FREE that I don't have to pay for
Be a guest on 4 podcasts (one podcast per quarter)
Launch an e-book (Topic to be determined)
Work on 1-2 Instagram social media takeover for major brands/companies
Provide more useful content to my audience (printables, worksheets, etc.)
Participate in more PAID/sponsored post/brand collaborations (Blog Monetization)
Sign up for and participate in additional affiliate programs (Blog Monetization)
Create an organized master content list filled with content ideas for blog and social posts (Content Creation/Organization)
Focus more on Pinterest to increase and drive more traffic to my blog
Incorporate more lifestyle, family and travel content into my blog and social posts (Content Creation/Organization)
Revive my newsletter and publish content more consistently for my subscribers (Content Creation/Organization)
Write blog posts at least 2-3 times per week (or more when my schedule permits) (Content Creation/Organization)
Reach 50,000+ Instagram followers (Blog Traffic/Followers)
Increase my Pinterest followers to 2,500+ (Blog Traffic/Followers)
Increase my Facebook followers to 2,000+ (Blog Traffic/Followers)
Increase my Twitter followers to 5,000+ (Blog Traffic/Followers)
Track ALL of my income and expenses so I'll have a clear picture of how much my blog/social income was this year.
Connect with a small tribe of like-minded, goal oriented bloggers to share ideas with and support
Use a photographer for some of my photos
I already have all of these goals (and more) written down in my 2019 journal, but sharing them somehow makes me feel even more committed to them.  Note: The goals listed here are just general goals I jotted down, but in my journal each goal is a S.M.A.R.T. goal with timelines/deadlines against each one.
If you have a blog or are thinking of starting one this year, I hope this post inspires you to set some goals for yourself.  Go on, give it a try.  Write down your goals somewhere where you'll see them regularly, for example on your blog notebook or on a memo board in your office. Seeing goals regularly and thinking about them often, will help you stay on top of them.  Cheers to a fantastic and productive 2019!
Your turn: Do you write all of your goals down at the start of a new year and reflect on them throughout the year?  Feel free to share in the comments.