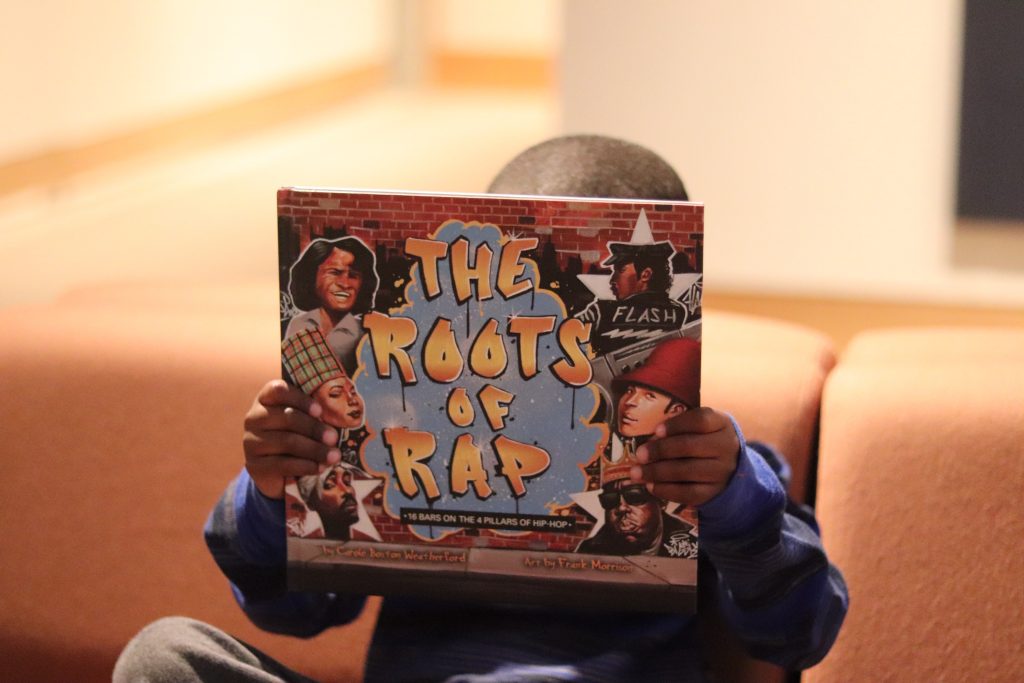 The Roots of Rap: 16 Bars on the 4 Pillars of Hip-Hop by Carole Boston Weatherford, illustrated by Frank Morrison
Publisher: Little Bee Books
Format: Hardcover
Pages: 48
Age Range: 4 – 8
Grade Level: Pre-K – 3
Synopsis
The roots of rap and the history of hip-hop have origins that precede DJ Kool Herc and Grandmaster Flash. Kids will learn about how it evolved from folktales, spirituals, and poetry, to the showmanship of James Brown, to the culture of graffiti art and break dancing that formed around the art form and gave birth to the musical artists we know today. Written in lyrical rhythm by award-winning author and poet Carole Boston Weatherford and complete with flowing, vibrant illustrations by Frank Morrison, this book beautifully illustrates how hip-hop is a language spoken the whole world 'round, it and features a foreward by Swizz Beatz, a Grammy Award winning American hip-hop rapper, DJ, and record producer.

Reflection
Nostalgic. That's the first word that came to mind the first time I read this book. I was immediately transported back to my childhood in the 1980's when hip-hop reigned and was blasted on the radio and in the streets at every block party.
Hip-hop's foundations were being laid in the 1970s, but it was DJ Kool Herc, a.k.a. Clive Campbell, who laid the first building block of hip-hop down in 1973.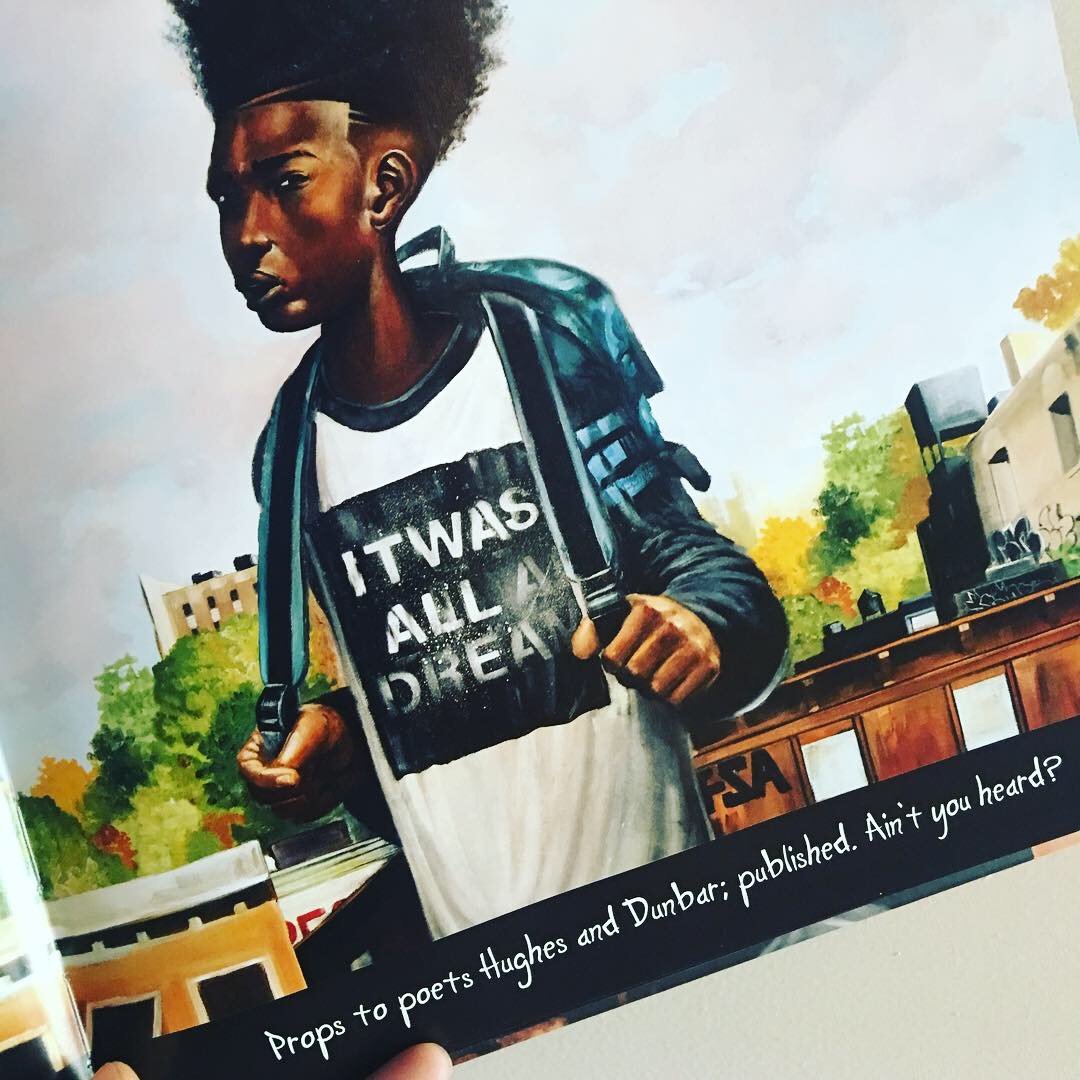 The thing I love most about hip-hop music is it's another form of storytelling. Just as the sound of the movement was created by re-purposing music that already existed, the success of hip-hop's MCs was based on their willingness to shatter old forms of music and create a new style of self-expression. Enter hip-hop.
The Roots of Rap is a lyrical rhyming book accompanied by captivating illustrations by Frank Morrison. The book also features a foreward by Swizz Beatz and mentions both male and female rappers. Some of the artists mentioned are: DJ Kool Herc, The Sugarhill Gang, James Brown, Run-DMC, LL Cool J, 50 Cent, Tupac, Biggie, and more. All of these artists used rap music as a form of wordplay, repetition and extended metaphor to relate real-life experiences that were sometimes dark, violent, romantic, hopeful or funny.
When I was younger I remember feeling elated when female rappers started coming onto the scene unapologetically detailing their interpretations and experiences of the world they lived in. They all had distinct variations in style, flow and lyrical content, but what each woman had in common was a fiercely independent voice and the power to remain consistently and resoundingly herself. Little girls and older females will be thrilled to see female rappers like: Queen Latifah, Salt-N-Pepa and Lauryn Hill mentioned in this book too!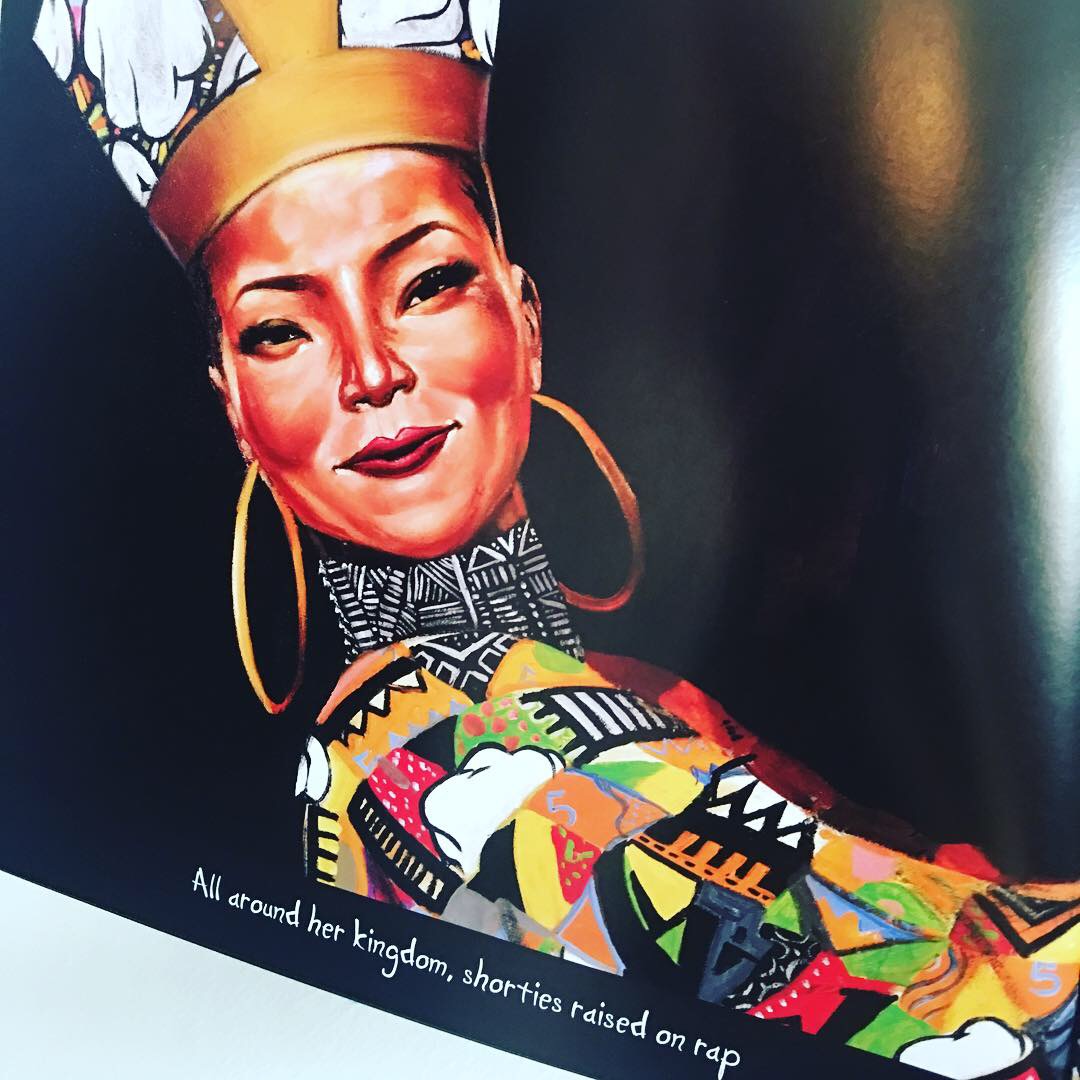 The Roots of Rap teaches readers about the history, creativity and diversity of hip-hop and how it has become a major genre of popular music in the 21st century. Recommended for ages 4-8 and up. Music lovers and lovers of hip-hop are likely to enjoy this one!
Your turn: Have you read this book yet?  What are some of your favorite memories of hip-hop music?  Feel free to share in the comments.