Disclaimer: I was provided with a complimentary copy of this book from the publisher in exchange for an honest review.  As always, all opinions expressed are my own.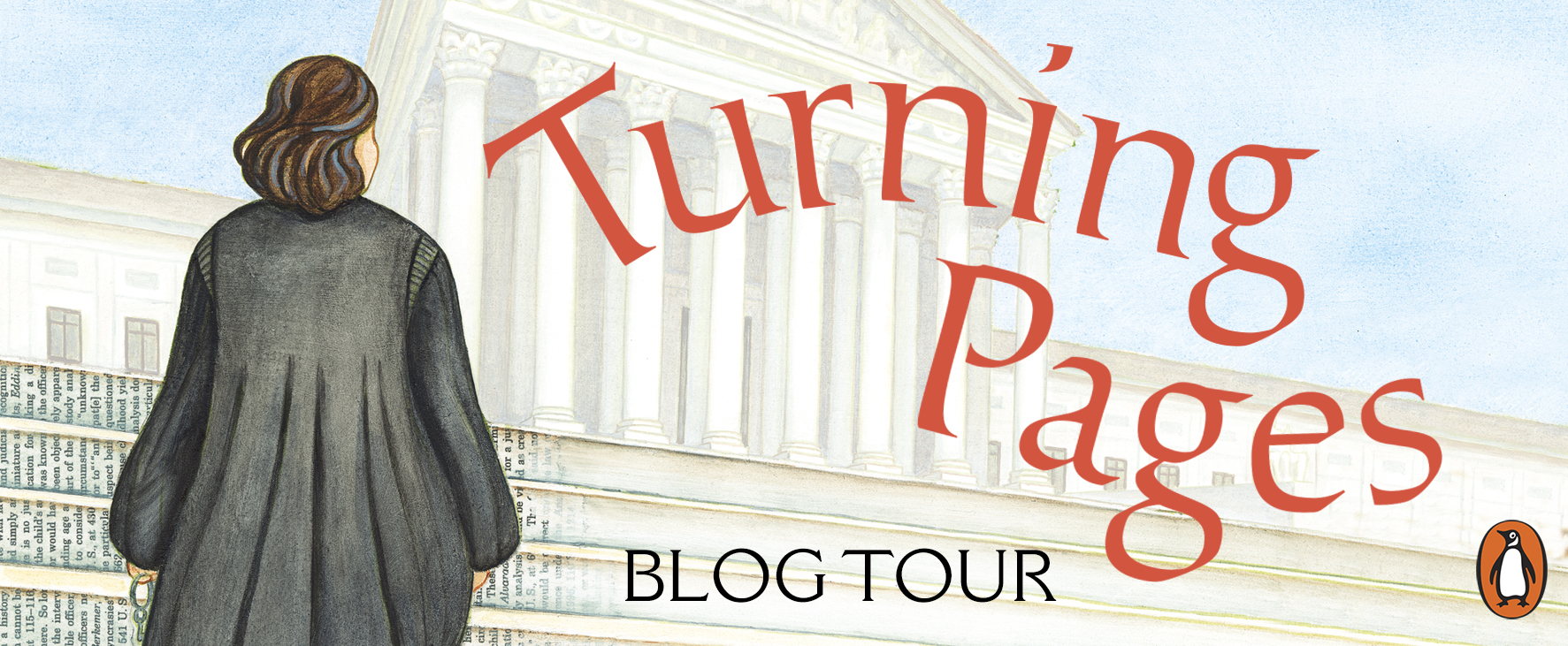 Turning Pages: My Life Story by by Sonia Sotomayor, illustrated by Lulu Delacre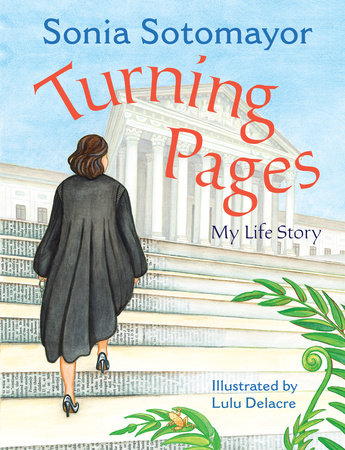 Publisher: Philomel Books
Format: Hardcover
Pages: 40
Age Range: 4 – 8
Grade Level: Preschool – 3
Synopsis
As the first Latina Supreme Court Justice, Sonia Sotomayor has inspired young people around the world to reach for their dreams. But what inspired her? For young Sonia, the answer was books! They were her mirrors, her maps, her friends, and her teachers. They helped her to connect with her family in New York and in Puerto Rico, to deal with her diabetes diagnosis, to cope with her father's death, to uncover the secrets of the world, and to dream of a future for herself in which anything was possible.
In Turning Pages, Justice Sotomayor shares that love of books with a new generation of readers, and inspires them to read and puzzle and dream for themselves.

Reflection
From the very first sentence right to the very end, this story captured my full attention.  Not only did I learn so much about Justice Sonia Sotomayor and her background, but I also read some of the most poetic and beautiful phrases about books and reading.  It was such a treat to learn how much books played such an important part in her life.
My story is a story about books – of poems and comics, of law and mystery, of science and science fiction.

Reading was like lighting candles, each book a flame that lit up the world around me.

Written words, I discovered, were electrical currents that jolted feelings to life.

Books, it seemed, were magic potions that could fuel me with the bravery of superheroes.

Books were my loyal friends.  They made it so I never felt lonely.

Books were mirrors of my very own universe.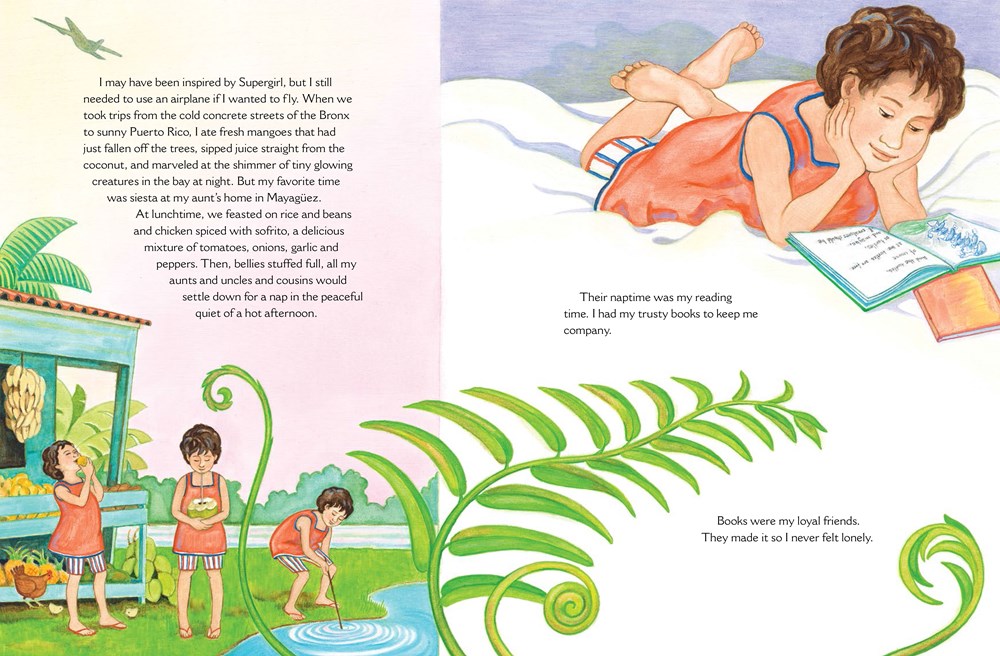 Throughout Sonia's life, books brought her comfort in the darkest periods. She talks about being diagnosed with diabetes when she was seven years old and how she found courage by reading comic books.  The illustrations showing her injecting herself with needles are powerful.  Instead of insulin, she imagines injecting herself with a "magic potion" and being a brave superhero.  When she was nine years old her father passed away.  At the time, Sonia found comfort and escape at the nearby Parkchester Library.  Books helped her escape her reality and allowed her precious opportunities to experience wonder.
Almost every illustration in the book features books or reading in some way.  Sonia is seen reading at home, at the library and in college.  The back matter has a timeline of Justice Sonia Sotomayor's life and there are actual photographs in the end papers.  The thing I love most about this book is that Sonia wrote it on her own and she's still alive to tell her own story – her own truth.  A delightful and informative book that is sure to inspire a new generation of readers, leaders, aspiring lawyers and social justice activists.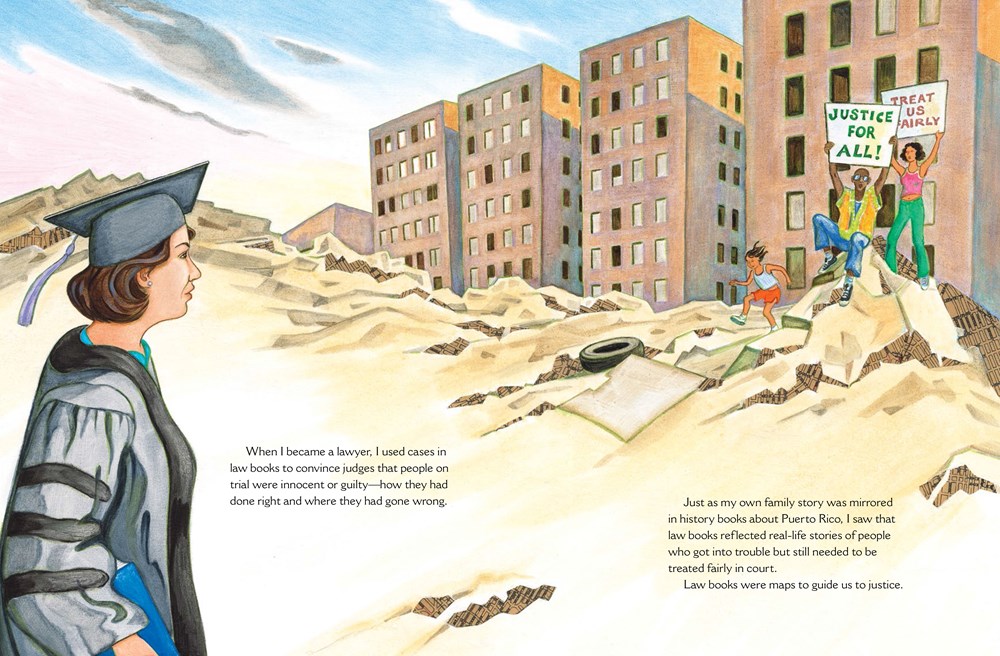 Your turn: Which book(s) from your childhood played an important part in your life?  Feel free to share in the comments.