Go Photo! – An Activity Book for Kids by Alice Proujansky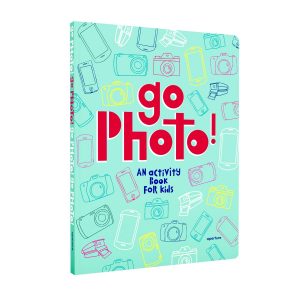 Age Range: 8 – 12 years
Grade Level: 3 – 7
Hardcover: 108 pages
Publisher: Aperture Foundation
Available for Sale: May 24, 2016
Synopsis (from Amazon)
This book features 25 hands-on and creative activities inspired by photography. Aimed at children between eight and twelve years old, this playful and fun collection of projects encourages young readers to experiment with their imaginations, get messy with materials and engage with the world in new and exciting ways.
Indoors or outdoors, from a half-hour to a whole day, and whether alone or with friends, family or an unsuspecting pet, there is a photo activity for all occasions. Some don't even require a camera! Each project also features a series of pictures and handy tips to help guide the reader step-by-step, building a visual language and encouraging creativity as they go. Accessible, fun and practical, the activities in this book have been brought together to engage children in the fun and wonder of photography.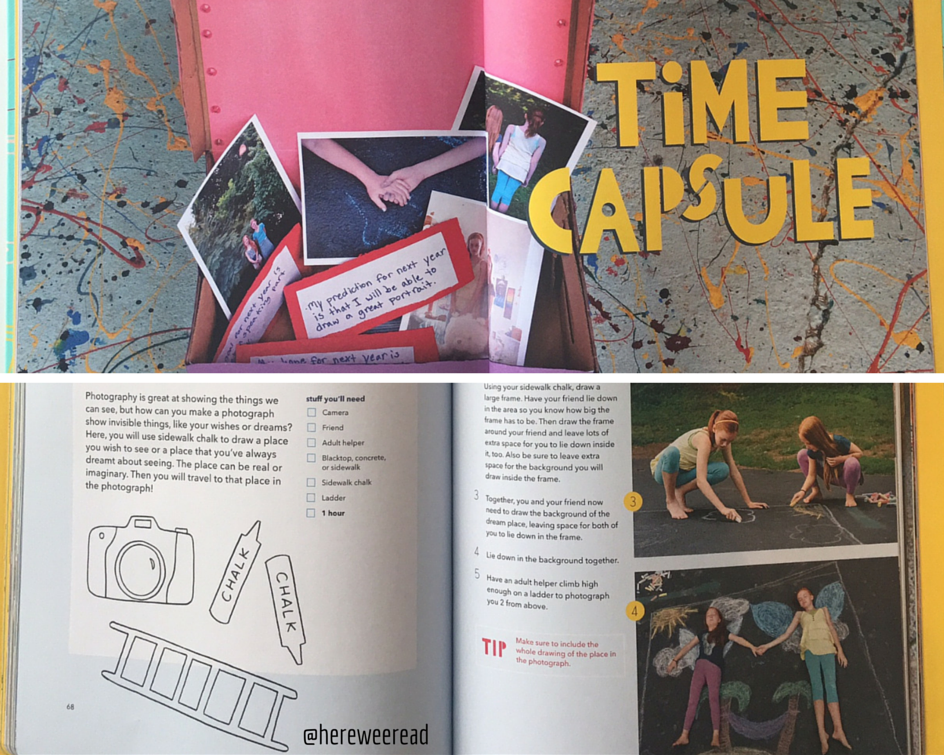 Reflection
I think the concept of this book is so neat!  Although my kids are too young to actually do these activities independently, it was still a fun book to read and get some great ideas of things to do as they grow.
The first activity in this book is to go on a photography scavenger hunt on your own or with a few friends.  The idea is to photograph a list of different items mentioned in the book.  For example: something bumpy, things on a table, a triangle and more.  Kids could also choose to make up their own lists of things to photograph too.
Another fun activity is to make a map of your neighborhood.  I plan to actually do this activity on my own so the kids can have their own neighborhood map to refer to.  How cool would it be to have a photo map of your neighborhood that kids can actually recognize!  I remember as a kid we didn't have all the technology that kids have today like GPS.  I don't remember the last time I actually pulled out a physical hard copy of a map when I needed directions.  I either punch it into the GPS, Google it or ask Siri.  My, how spoiled (and lazy) we've become!  I still think it's critical for kids to be able to read and understand maps.  In fact, I remember recently reading an article on pbs.org about the subject matter that was fascinating to me.  They even provided a list of some of my favorite mapping books for kids.  You can check it out here.
Not all of the activities require kids to use a camera, but most do.  I love that this book can force kids to use their imagination, think outside-of-the-box and in some cases actually spend time outdoors.  I found the step-by-step instructions and illustrations to be very clear, detailed and helpful in completing each activity.  The target audience that this book is geared towards should have no problems reading and following the directions.  Even older kids and adults will enjoy getting in on the action and providing some creative ideas.  Most of these activities could easily keep kids entertained for hours on end.  All they need is a camera, their creativity, a wild imagination (and depending on the project a few other materials) to make these projects come alive.  Highly recommended for children who love photography and creative thinkers.
About the Author
Alice Proujansky has taught photography and led professional development coaching sessions for educators at Urban Arts Partnership, the Red Hook Community Justice Center, and the New York City Department of Education. A practicing photojournalist covering working motherhood and birth, she has been published in The New York Times, New York, Harper's, the New Republic and others.  Visit Alice's website here.
About Aperture Foundation
Aperture is a not-for-profit foundations that connects the photo community and its audiences with the most inspiring work, the sharpest ideas, and with each other – in print, in person, and online.
Connect with Aperture Foundation!
Website | Facebook | Instagram