I'm thrilled to be a part of the TLC tour for Crow Made a Friend by Margaret Peot!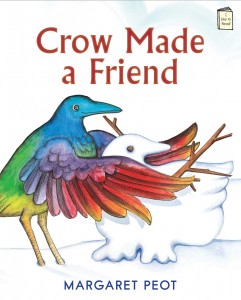 Recommended for Children Ages: 4 to 8
Themes: Easy Readers, Animals/Fiction, Friendship

Book Synopsis
Try, try again is the lesson Crow teaches beginning readers in this picture book reader. Crow was all alone. But like all crows, he was very clever. Using autumn leaves for wings, sticks for the body and a crab apple for the head, Crow made a friend! But winter winds blew in, destroying his creation. Undaunted, Crow fashioned another bird friend out of snow but could not prevent it from melting in the warm spring sun. Alone again, Crow heard the caw, caw, caw of a real, live bird. Together they built a nest and by summer, Crow had a family. This warm, satisfying story, celebrates perseverance and ingenuity.
Reflection
Making new friends can be intimidating, but it's definitely rewarding. After all, friends form a big part of our life. They are the ones who walk through life together, share our ups and downs and joys and pains. Without friends, life wouldn't be the same at all.  The lonely crow in this book certainly understands this so he goes on a quest to make a new friend and ends up starting a new family at the end.
The kids and I really enjoy this book!  It's a wonderful, charming, beautifully illustrated, short story that my three-year old daughter can read word for word on her own.  It's a quick read and perfect for beginning readers to enjoy over and over.  I think the overall messages about the importance of friends and continual effort are easy enough even for the youngest readers to understand.
After reading the book, the kids and I did the craft activity that was included to make our own "friend".  I adore doing craft activities with the kids after reading the book as it seems to help reinforce what we've just read while having fun.  You can download your very own crow activity sheet here!
I'm a true believer that children's books teach us some of life's most valuable lessons.  The valuable lesson I took away from this book is the key to making new friends is YOU!  Friends will not magically come your way.  It takes time, trying different things, and lots of effort on your part.  Just like shopping for shoes, you have to try on lots of pairs before finding the right fit.
Margaret Peot is an artist, writer, and a teacher.  Some of her other books include: Inkblot: Drip, Splat and Squish Your Way to Creativity (Boyds Mills 2011), The Successful Artist's Career Guide: Finding Your Way in the Business of Art (F&W 2012), Alternative Art Journals: Explore Innovative Approaches to Collecting Your Creativity (F&W 2012), and Make Your Mark: Explore Your Creativity and Discover Your Inner Artist (Chronicle Books, 2004).
Margaret attended Miami University in Oxford, Ohio, and studied with Alex McKibben, Rocio Rodriguez, Lon Beck, Thomas Effler, Geoff Fishburn, Michael Griffiths, and Crossan Curry. She is currently serving on the first College of Creative Arts Advisory Board at Miami.
Connect With Margaret!
Author's Website
The InkBlotBook
Facebook
Twitter
Pinterest (Crow)
Pinterest (Birding)
Also, be sure to "like" the TLC Tours Facebook page for contests, giveaways, book talk, links to great reviews, and much more! 
Now you can enter to win a copy of the book!  TLC Book Tours is Giving Away a Copy of Crow Made a Friend to one random reader. To enter simply leave a comment below.  Hurry, ends Monday, November 16, 2015.