El Perro con Sombrero: A Bilingual Doggy Tale
by Derek Taylor Kent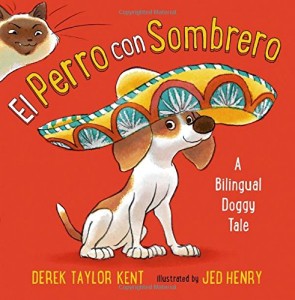 Summary
Pepe is a lonely street dog without a home or a loving family. When a strong wind blows a sombrero onto his head, people begin to take notice of the pup, and soon he and his sombrero are making movies and receiving letters from fans every day.  Although Pepe now has fame and fortune, he has no family to call his own. When the jealous cat with purple shoes (el gato en zapatos) hatches a plan to take away Pepe's hat—and the fame it brings—a chase through streets, weddings, and movie theaters ensues, ending with the cat cornered in a playground sandbox. Just as Pepe is about to get his sombrero back, a family nearby takes notice of him, and the little girl asks if they can take him home. Pepe looks at the family and at the cat holding the hat that made him so famous and tells el gato he can keep the sombrero. Pepe finally finds the precious love he has been seeking.
Reflection
This is the first bilingual book I've added to the kid's home library so I'm thrilled about that!  I plan to start introducing both of my children to Spanish somewhere between the ages of 3 and 4 years old, so having this book in my possession now is a treat!
The first time I sat down to read this book with the kids they were confused whenever I read the Spanish text.  I'm sure they were wondering what I was saying as that was the first time they heard me read full sentences to them in Spanish.  Since then, I've read the book several more times and now they seem to understand the word "perro" means dog, "gato" means cat and "zapatos" means shoes in Spanish.  I think they learned this so quickly because the book has a page where each of those words appear in both English and Spanish along with pictures right next to them.
I was even surprised when my daughter, who is almost 3 years-old, pointed to some money and said "dinero", the Spanish word for money.  One thing I've witnessed during my parenting journey is just how amazing little minds are.  They can grasp so much more than we give them credit for.
This book keeps the children engaged and entertained as they listen.  There are a couple of pages that make them laugh out loud, which in turn makes me laugh.  The illustrations definitely help make this story come alive.  You can feel the sadness that Pepe feels in the beginning, the sheer joy he feels when he finally finds a family in the end, and the sadness "el gato" feels when he's left all alone in the sandbox.
There were a few things I personally liked about this book.  First, I think Pepe is so cute and when he puts that over-sized sombrero on he looks even more adorable!  It really does make him look like a movie star.  What a difference a sombrero can make!
Next, I liked that each page has English text with the translated Spanish text written in red right below it.  I think by having the Spanish text in a different color it makes it easier to read.  Parents and children can choose to either read only the English text, only the Spanish text, or both the English and Spanish text.
I also enjoyed the story line and the overall message of the book.  I think it's simple enough for children to understand even for younger readers.  This book will teach children that having a having a family and being loved is more important than fame, acceptance, and possessions.  Other topics touched upon are feelings, jealousy, and friendship.  Learning a few words in Spanish is an added extra bonus.
Lastly, the ending adds an element of both suspense and surprise when you find out what happened to "el gato", the cat.  I think it really helps to drive the moral of the story home.
Overall, I enjoyed reading this book and the kids seem to enjoy it too.  I think it's a fantastic read aloud book, especially for children learning Spanish.  I'll definitely be reading more bilingual books to the kids after reading this.
Disclaimer:  I received a copy of this book in exchange for an honest review.  All opinions expressed are my own.
About the Author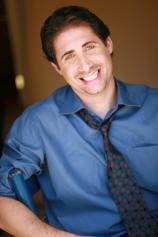 Derek Taylor Kent is a screenwriter and the author of the award-winning middle-grade series Scary School.  He lives in Los Angeles with his greyhound puppy, Zander, whose nose for mischief was the real-life inspiration for El Perro con Sombrero.
For more information about the book or the author please visit derektaylorkent.com or check out the Facebook fan page.
Your turn: Did you enjoy this review?  Have you ever read any bilingual books to your little ones?  Feel free to share in the comments.