Are your kids picky eaters?  My kids are both very good eaters for the most part.  However, as they're getting older I'm noticing they are becoming picky sometimes.  There have even been times when they gripe about the foods I put on their plates. Sometimes their likes change… mid-bite.  Don't you hate it when they spit out their food?
While searching online about ways to deal with picky kids I came across this gem that I'll be reading in April: French Kids Eat Everything by Karen Le Billion.  I've heard people sing its praises, and it's been one of those books on my "to-read" list since last summer. Let me tell you a bit about it.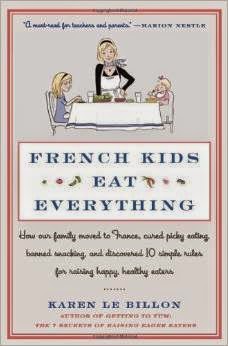 As the cover of the book states, Karen Le Billon and her husband moved their family from North America to France where they "cured" picky eating, quit giving their kids snacks, and started living by 10 simple rules that eventually taught her kids to be happy eaters who eat healthy food.
Over the course of the book French Kids Eat Everything, Karen shares her experience as well as the 10 rules she has adopted for her family that made her kids go from picky to happy, healthy eaters. Some of these rules are French food rules and some are French parenting styles. No matter, I'm sure there's plenty of wisdom for us American parents in this book. I personally can't wait to read it!
And just for the record, this book isn't all advice and information. There are recipes scattered throughout. Another thing I'm looking forward to trying… French recipes!  I love France and hope to visit there…someday.
So do you have picky kids? Are you tired of struggling? Do you want to cut snacks out of your kids' diet?  If so, this book may offer you some help, and I'm inviting you to join me in reading it too so we can find some nuggets of wisdom together!
Happy Reading!