Reading to my kids regularly is a fabulous, frugal, habit that I enjoy immensely. It costs little to nothing if you get your books from the library, and it's a great way to spend quality time together.
I've heard from other moms that reading to your kids isn't automatically an easy thing to do, especially if you have kids of multiple ages or have a very active kid who doesn't like to slow down to listen.
So, in honor of National Read Aloud month, I thought I'd share some of my read aloud tips: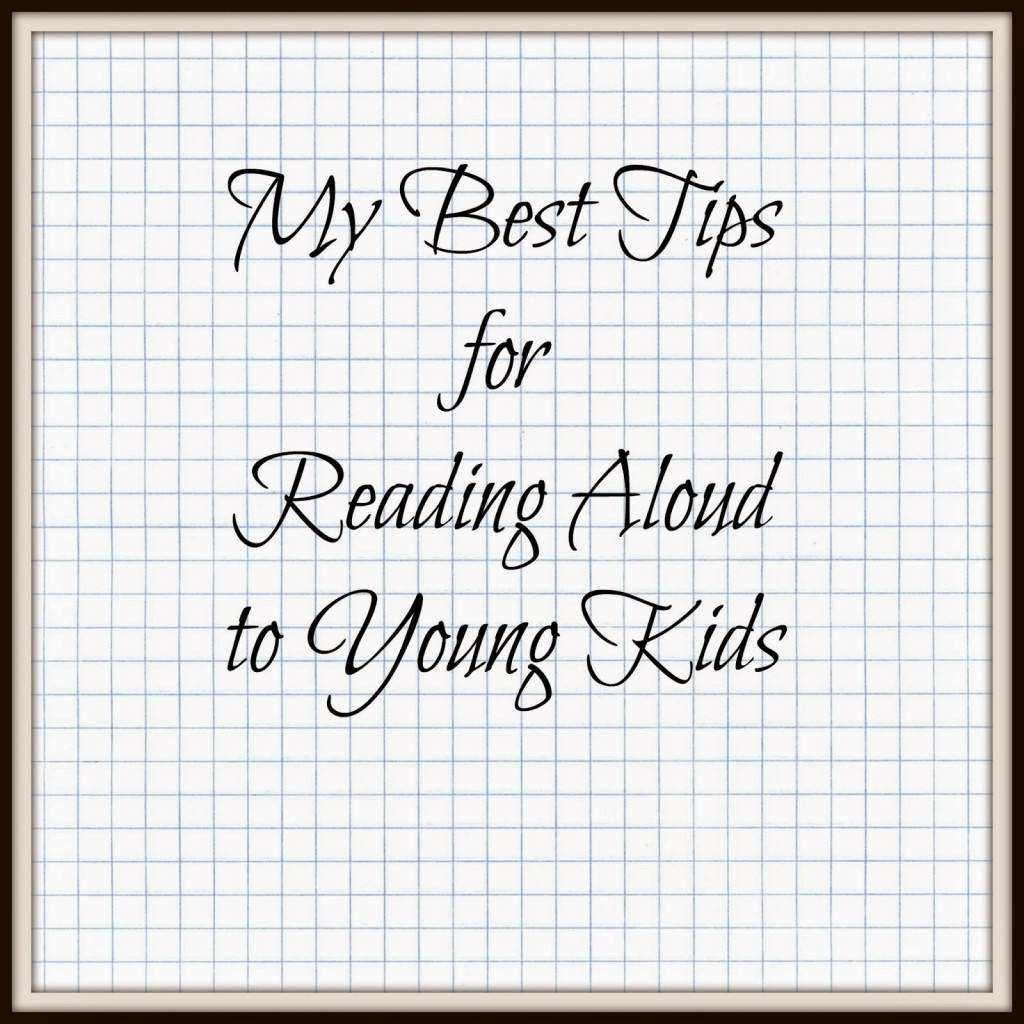 1. Make it a habit.
Read aloud every day.  Pick a reading time and put it on your schedule. After breakfast? At bedtime? After lunch? If you work it into your day, you'll be more likely to do it and your kids will come to count on it.  We do our read alouds either in at bedtime or in the morning before daycare drop off.
2. Stop before they get tired.
Some kids can listen to books for hours. Some will only sit for 5 minutes – try to stop before your kids get antsy.  This also applies to you – stop before you get tired too.
3. Turn the story into a craft.
If you're crafty like me, you can find easy projects to go along with most children's books on Pinterest or other websites.  I'll be sharing some of our book crafts on this blog as time goes on.
4. Use audiobooks!
These are great for quiet time, car trips or when you don't have time to read books.
5. Keep a list of books you've read together.
Kids will enjoy looking back over the list and remembering their favorites. You might even get them to write a short review once they get older.  I hope my children will appreciate all of the books I have listed here on this blog that I've read to them over the years.
6. Build up their attention spans.
If your kids aren't used to long read alouds, start small.  You can start with short picture books or even read a short chapter in a chapter book.
7.  Read at least three stories a day.
It may be the same story three times.  Research shows that children need to hear a thousand stories before they can begin to learn to read on their own.
Other General Tips:
Have fun!
Let your child see you reading. (Gotta practice what you preach, right?)
Talk about the pictures.
Show your child the cover page. Explain what the story is about.
Run your finger along the words as you read them.
Make silly sounds; especially animal sounds, are fun to make.
Choose books about events in your child's life such as starting preschool, going to the dentist, getting a new pet, or moving to a new home.
Make the story come alive. Create voices for the story characters.
Ask questions about the story. What do you think will happen next? What is this?  What color is this car?
Let your child ask questions about the story. Talk about familiar activities and objects.
Let your child retell the story (when they are old enough).
Visit your local library often.
Reading with Your Baby
Hold your baby on your lap while you read.
I find that babies like…
board books (in case they try to chew on them or put them in their mouth)
pictures of other babies
rhymes and songs from the same book(s) over and over
when you point at pictures – this is how babies learn
Reading with Your 1-Year-Old
Let your toddler move around while you are reading if they want to.
Name the pictures – this is how toddlers learn new words.
Read labels and signs wherever you go.
I find that 1-year-olds like …
the same book(s) read over and over
to choose and hold the book
books about food, trucks, animals, and children
books with a few words
Reading with Your 2-Year-Old, 3-Year-Old or 4-Year-Old
Let your toddler move around while you are reading if they want to.
Read labels and signs wherever you go.
Keep different books around the house and let your child choose.
I find that toddlers like …
to help turn the pages
to fill in the words in a story they know
to point and name pictures
to hear the same book(s) over and over
books that are silly
animal books and animal noises
I hope these tips help inspire you to start a read aloud habit with your kids if you're not already doing so.  Read to your child daily because you love being with your child, not because it's the right thing to do.
What are your best tips for reading aloud to your kids?