Disclaimer: Thank you to Kalahari Resorts and Conventions for providing me and my family with complimentary access to the resort. As always, all opinions expressed are my own.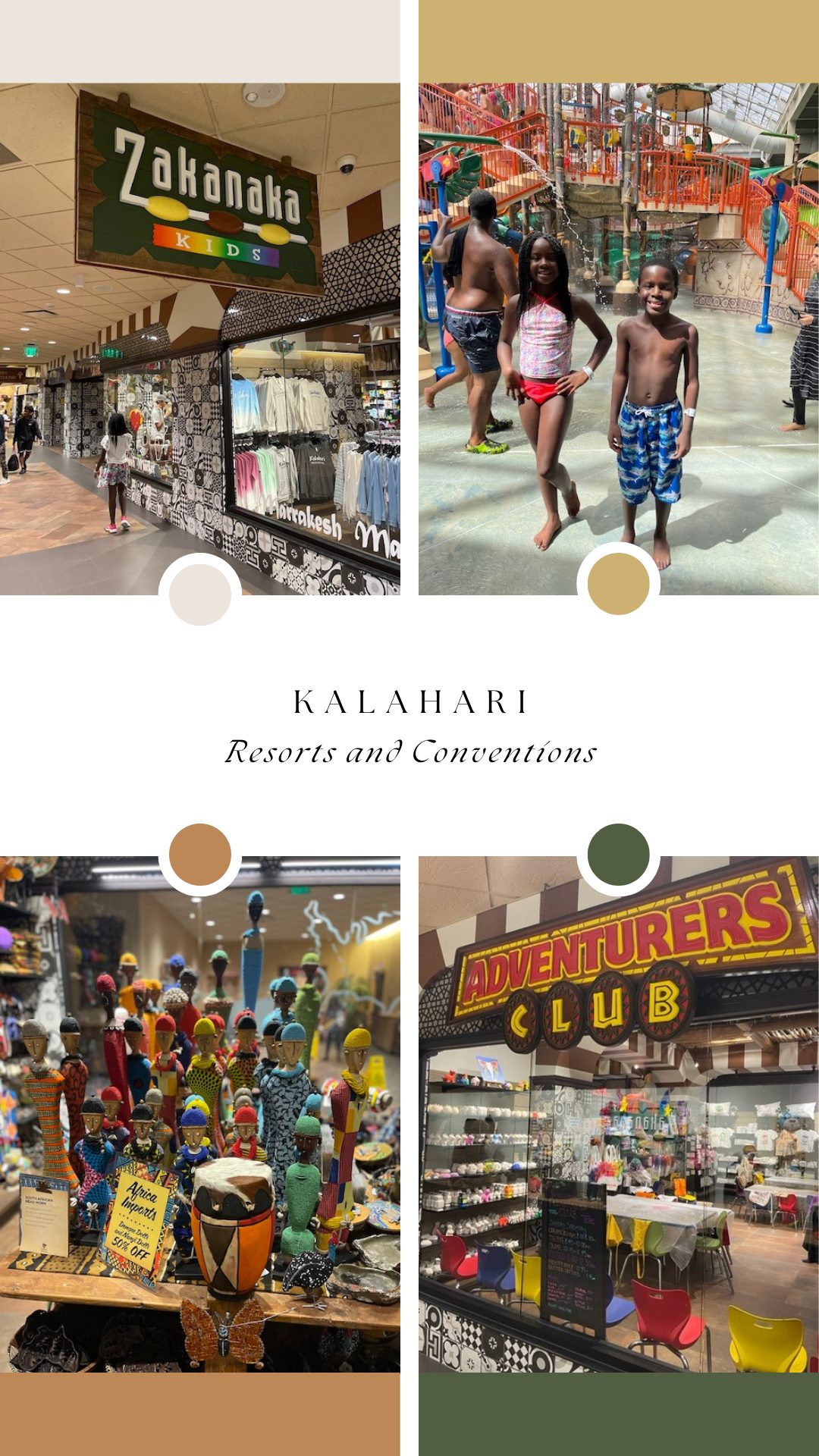 The word Kalahari is a Tswana word that can be defined as "a waterless place".
A few days ago, our family had the pleasure of visiting Kalahari Resorts and Conventions in the Pocono Mountains.  Located at 250 Kalahari Blvd, Pocono Manor, PA, Kalahari Resorts is about a 3-hour drive from where we live in Connecticut.  It's an easy and scenic drive straight up Interstate 84 West. As with all road trips, we made sure to bring plenty of books and other activities to keep the kids busy during the drive.
Upon arrival, the first thing we noticed was how beautiful and HUGE the place was.  Being greeted by a quote right in front of the resort that says, "There has never been, nor will ever be a more beautiful place on Earth than Africa" made me instantly fall in love with Kalahari before we even set foot inside.  I also loved seeing the outdoor kids' playground, stunning African decor, and lots of statues inside and outside the property.
Pro Tip: Bring comfortable shoes – you'll be doing a lot of walking since there is so much ground to cover.
The Resort
When you walk in you see the check-in/out area, gift shops, restaurants, and a sitting area in front of a large fireplace with views of the water park. You can access the arcade from the main area as well as the convention center and the different North and South room wings. When you check-in you receive wristbands that allow you access to your room, and if you connect a credit card to your account, your wristband can used to pay for things throughout the resort. When your stay is over, you are automatically checked out so there is no need to visit the front desk before leaving.
Inside, the entire resort is African themed. It felt like we entered the fictional world of Wakanda from the movie The Black Panther.  I enjoyed learning about the history and inspiration behind Kalahari Resorts and Conventions.  It's inspiring to read about the resort owners' efforts in fostering entrepreneurship and creating various partnerships throughout Africa.  You can read more about that here.  I was also impressed to see the wishing well in the front lobby.  The owners of the resort donate the coins tossed into the wishing well to provide clean water to communities in Africa.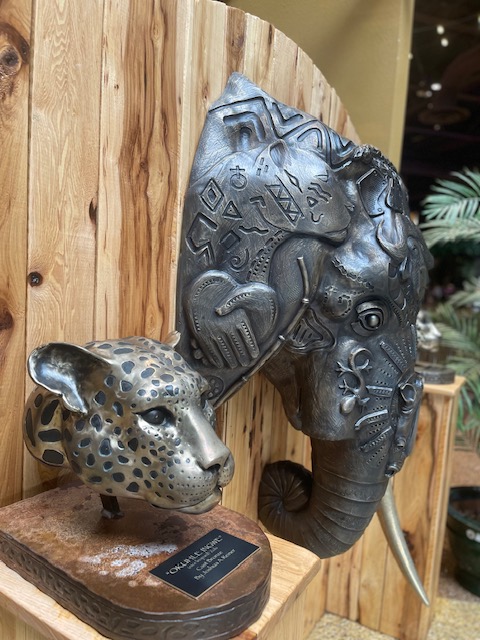 Our Room
Our room was large enough to sleep a family of six.  We had two queen beds, a pull-out couch, a bathroom, and a small "kitchen" area which had a refrigerator, microwave, and a coffee pot.  We also had a balcony overlooking the outdoor pools and waterslides.
Pro Tip: Wear your swimsuit, bring your own towels, and a small beach bag if you plan to arrive early.  Upon arrival, our room wasn't ready since we got there around 11:00am. However, after checking in at the front desk, we were able to go to the waterpark while waiting for our room to be ready.  This allowed us to get in some extra time at the waterpark and kept the kids from being antsy while waiting.  Once our room was ready, we received a text message letting us know our room was ready and our room number.  It was super convenient and easy!
The Waterpark
The main attraction at Kalahari is, of course, the humongous 220,000 square-foot water park (Water park admission is included in your stay). Kalahari is known for being home of America's largest waterpark and it does NOT disappoint! Families can choose from thrilling waterslides to toddler pools, to private cabanas with personal jacuzzis and more!  Our kids loved the wave pool. the Lazy River, and the waterslides the most.  My husband and I enjoyed the hot tub, the wave pool, waterslides, and thrilling rides like the Screaming Hyena.  Even though there were a lot of people in the waterpark and in the resort, the lines for the waterslides moved quickly.  The most time we remember being in line was 10 minutes, which wasn't bad.
Pro Tip: Towels and lifejackets are available for free inside the waterpark.  Remember to return all the towels you borrowed to avoid being charged a fee.
Activities
There are lots of other activities available if you want to take a break from the water park.  For creative children, there is the Adventurers Club where they can do art and crafts.  My daughter participated in Canvas & Ceramics Painting at the Adventurers Club and enjoyed it.  There is also an outdoor hiking trail, an arcade, indoor mini-golf, escape rooms, and mini bowling.  Families can also experience Gorilla Grove which offers outside mini-golf, zip-lines, and a ropes course. If you're in the mood for exercise you can visit the Fitness Center.  In the mood for some relaxation? Visit Spa Kalahari and Salon and try one of their relaxing therapy services.
Food
Every place we ate the food was delicious! There are so many wonderful places to choose from.  We had the opportunity to eat at B-Lux, Great Karoo Marketplace, Sortino's, Zulu Grill, and Cinco Niños.  Our favorite place to dine was Sortino's.  Next time we visit we want to experience Double Cut Steak House.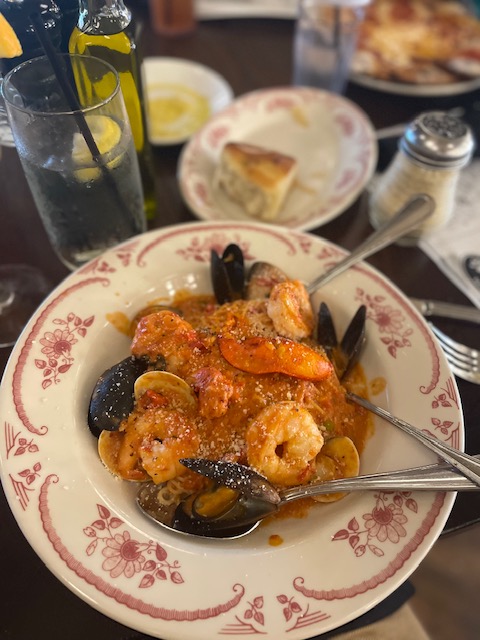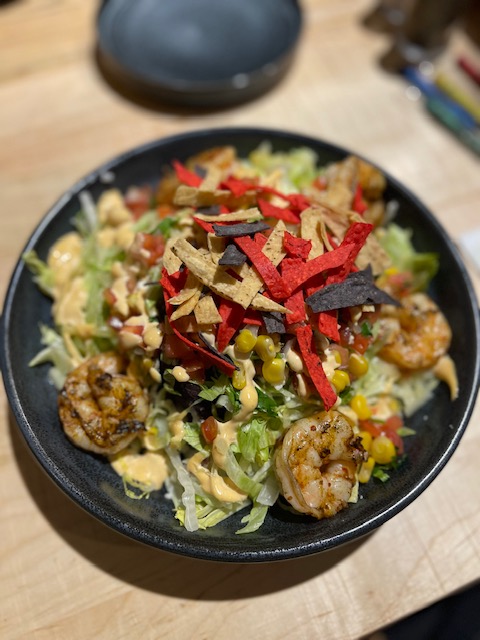 Final Thoughts
Overall, we thoroughly enjoyed our stay. Would we go back? ABSOLUTELY! As always, we had a wonderful time making memories.
Any questions about Kalahari Resorts? Leave them in the comments! If you have stayed there before I would love to hear about your experience.
About Kalahari Resorts and Conventions
Kalahari Resort & Conventions are full-service vacation destinations including meeting & convention facilities that combine America's largest indoor Waterparks with the magic of Africa. Located in Pocono Mountains, Pennsylvania, Sandusky, Ohio, Wisconsin Dells, Wisconsin, and Round Rock, Texas, Kalahari Resorts & Conventions' innovative Waterparks, family entertainment centers, luxury spas, adventurous restaurants and convention centers deliver beyond expectations, all under one roof.
Closest Library to Kalahari Resorts and Conventions: Pocono Mountain Public Library
Pocono Mountain Public Library
5500 Municipal Drive
Tobyhanna, PA 18466
12-minute drive from the resort
Closest Bookstore to Kalahari Resorts and Conventions: Book Warehouse
Book Warehouse
1000 Premium Outlets Dr.
Space A-22 Tannersville, PA 18372
10 – 12-minute drive from the resort