Rock-A-Bye Romp
by Linda Ashman, illustrated by Simona Mulzzzani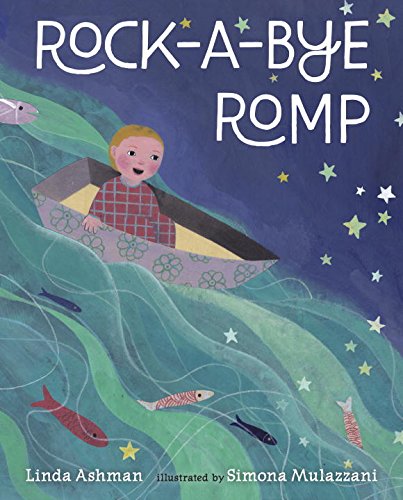 Prolific author and illustrator duo Linda Ashman and Simona Mulazzani expand on a beloved nursery rhyme in Rock-a-Bye Romp; on sale January 19, 2016; Recommended for children ages 1 – 3
Publisher: Penguin Random House
Synopsis
Turning a beloved lullaby on its head, this wonderful read-aloud pairs playful text and enchanting paintings to create a rollicking escapade with a clever premise and a cozy conclusion.
 
"Rock-a-bye, Baby, in the treetop. How did you ever get so high up?"
That's a good question—and this delightful book weaves a gentle fantasy around the baby who finds himself in that very predicament! A marvelous adventure ensues, taking Baby from the tree branches to a farm full of animals to a ride down the river, and finally on a flight through the night sky into the safety of Mama's arms.
Reflection
When I was contacted to write a review for this book I was thrilled!  We are huge fans of Linda Ashman's book entitled Rain so I was excited to read her latest book with the kids.  The story starts off just like the original "Rock-a-Bye Baby" lullaby, with the baby in a cradle in a treetop, but then baby disappears!  Where'd baby go?  Well, that's part of the adventure little readers will get to go on in this cute bedtime story.  Watch as baby turns up in some unexpected places before making his way back safely into his mother's arms.
We all liked the rhythmic text in this adorable book including the darling illustrations to match.  I kept asking the kids where they thought baby would end up next which seemed to add a bit of suspense.  Also, since there are several animals in this book (a pig, a horse, a duck, a sheep, and an owl) it's a great way to practice and reinforce the sounds that the animals make with the little ones.
We've had this book on rotation during story time since we received it just a few weeks ago.  Overall, a great treat to read, especially at bedtime.  The story line is short and in a very simple rhyme, setting the ideal audience target to a younger crowd of around one to three years old.
You can pre-order the book here before it's released on January 19th!
About the Author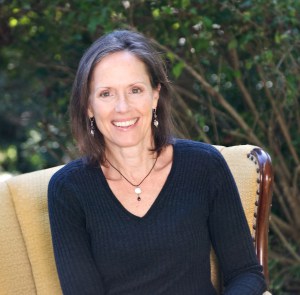 Linda Ashman has written more than thirty children's picture books.  Many of her works have garnered awards including the New York Times Notable Children's Book, IRA/CBC Children's Choices Selection, Bank Street Best Book, and others.  As a children's poet, she's often been compared to Ogden Nash, Mary Ann Hoberman, Douglas Florian, and Jack Prelutsky.  Linda was born in New York and grew up in New Jersey, and has worked as a real estate market analyst and in urban planning.  She lives in Chapel Hill, North Carolina with her husband, son, and two dogs.  Visit Linda's website here.
About the Illustrator
Simona Mulazzani is an internationally celebrated children's book illustrator.  She has illustrated over seventy books for both children and adults for international publishers.  She received a silver medal from the Society of Illustrators in 2013.  She was born in Milan, Italy, and now lives in Pesaro, Italy.  Visit Simona's website here.
Disclaimer: I received a free copy of this book from the publisher in exchange for an honest review.  All opinions expressed are my own.
Your turn: Did you enjoy this review?  Feel free to share in the comments.