Picture of Grace
by Josh Armstrong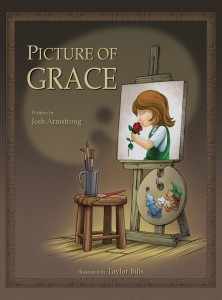 This Sunday, September 13th is National Grandparents Day.  I'll be honest and say I didn't even know such a day existed until my adult years.  This is probably because it didn't originate in the United States until the year 1978.  It's often one of those holidays that can be easily overlooked especially since it's right around back-to-school, Labor Day and adjusting to new routines for both kids and adults.
Of course, one way the kids and I will be celebrating Grandparents Day is by reading grandparent-related books like Picture of Grace written by Josh Armstrong.
Summary
Six-year-old Grace aspires to be an artist like her beloved grandfather Walt. Every week, she goes to his house and watches with great joy as he paints.
Of course, not everyone appreciates Grandpa Walt's artwork. But as Walt tells Grace, "Some people appreciate the hard work while others just want the painting to be finished. But you can't be distracted by either group."
When tragedy strikes, Grace takes it upon herself to honor Grandpa Walt in a special way. Through her act of love and kindness, Grace's family discovers an amazing secret about Walt's final, unfinished masterpiece.
Reflection
What a heartfelt story about a little girl who is her grandfather's biggest fan!  First off, let's talk about the book cover illustration.  It's so simple, yet so beautiful!  I think the illustrations used throughout this book are amazing and really do an awesome job of capturing a wide range of emotions: happiness, sadness, shock, confusion, and anger.
Next, I think the story is very engaging and interesting.  I love the relationship between Grace and her Grandpa Walt.  How cool would it be to have a grandfather who is also a famous artist?  What a treat it would be to sit and watch him paint his masterpieces and have them come to life right before your eyes!  It's apparent that Grace envied her grandfather as she told him she wanted to be just like him when she grew up.  I loved Grandpa Walt's response when he said to Grace, "That's very kind of you, but I can think of nothing better than you simply being yourself."  Who wouldn't love a grandpa like that?
Grandpa Walt was in the process of painting his final masterpiece and Grace enjoyed sitting by her grandpa's side each day while he painted.  Then one day tragedy strikes and Grace is heartbroken.
I was surprised when Grandpa Walt passed away.  I wasn't expecting that at all.  This is the first book I've read to the kids where someone actually dies in the book.  Although death is touched upon briefly, I didn't find it to be disturbing to the kids in any way.  My kids are still too young to have an in depth conversation about death so when Grace's mother tells her she can't visit Grandpa Walt anymore, I just told the kids Grace was sad and moved on with the story.  I think it also helped that the author chose not to dwell on the loss of Grandpa Walt with text.  Instead, the illustrations did all the talking and let you know why Grace wouldn't have the opportunity to see her grandfather again.
Finally, I really enjoyed the ending of this book when Grace took it upon herself to finish the painting her grandfather started by adding her own special touch.  She painted herself and her grandfather both smiling and having fun – just the way she remembered spending time with him.  It was perfect!
Although death is addressed in this book, don't let that deter you from reading it to your little ones.  Besides, there are other topics to be explored and discussed like: grandparents, art, honoring loved ones, love, courage, and respect.
Overall, I think this is a good, quality book for children, although I would recommend it for children ages 4 – 8 years old.  Consider letting the kids snuggle up with a grandparent and read this touching story.  Or, if your child's grandparents have passed away read it in remembrance of them.
Special Grandparent's Day Deal: The e-book is FREE until Grandparent's Day on Sunday, 9/13.  Get your FREE e-book copy here.  Hurry, expires on 9/13!
About the Author
Josh Armstrong is a bereavement counselor for Mountain Valley Hospice & Palliative Care. This year, he published his first illustrated children's book, Picture of Grace, collaborating with Tear Soup illustrator Taylor Bills. He has also contributed to several newspapers, including The Mount Airy News, The Winston-Salem Journal, The Elkin Tribune and The Weekly Independent. He and wife Chelsea celebrated their third anniversary this March.
For more information about the book or the author please visit the website: http://josharmstrong.com/
Picture of Grace is also on Facebook: http://www.facebook.com/picofgrace
Your turn: Did you enjoy this book review?  How will you be celebrating Grandparent's Day with your little ones?  Feel free to share in the comments below.