Destiny: Step Into Your Purpose
by T.D. Jakes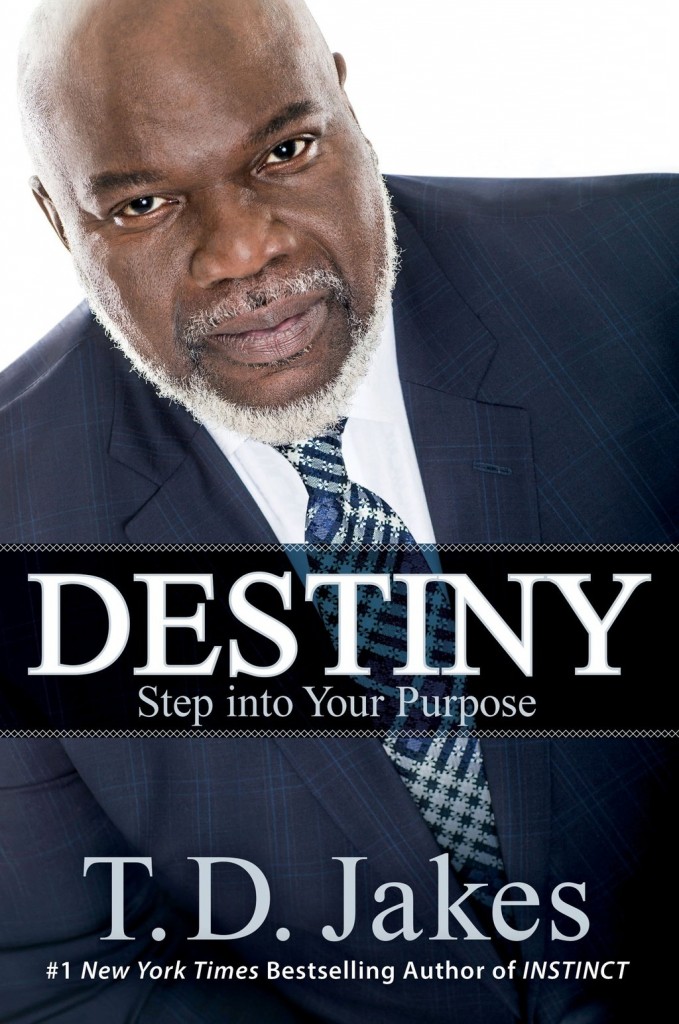 Book Summary
In this book, T.D. Jakes teaches you to find order in the steps of your life and have the courage to say yes to destiny. We all have a destiny. Finding the courage to drive past the challenges, pains, and even the shortcuts of life to the deeper purpose of living is to thrive in one's divine destiny.
Most people have sensed destiny pulling them to just the right place or person. Whether it is the spouse you meet, or the children you bear, or the promotion you receive, everyone has a purpose to pursue. Sometimes it is understanding our destiny that helps us accept what on the surface appears to be failure.
Throughout the book, T.D. Jakes shares insight to help you play the roles you were designed for. Expanding on his #1 bestselling book Instinct, Jakes reveals that instinct is the first step to the destiny that awaits.
Author Background
Thomas Dexter, better known as Bishop T.D. Jakes, has turned his lifelong love of Scripture into a thriving empire that has inspired millions of people around the world.  Jakes is the bishop of The Potter House, a megachurch with over 30,000 members.  His ministry program, The Potter's Touch, is televised to 3.3 million viewers weekly.

If you've never heard of him before, I think T.D. Jakes can be best described as one of the most influential black thought leaders in America today.  With his very charismatic demeanor, he's a visionary and provocative thinker.  Jakes is also a communicator, evangelist, entrepreneur, philanthropist and bestselling author of over 25 books.
Reflection
To say that I enjoyed this book would be an understatement.  I truly LOVED this book!  It spoke to the very depths of my soul and came into my life at the perfect time.  I devoured this book in just two days while on a mini family vacation over the summer.
The book starts out with Jakes recounting a conversation he had on an elevator with the late Coretta Scott King several years ago during her last days.  He asked her why she never remarried and she said, "I was called to be his wife".  It was in those moments after his interaction with Mrs. King that Jakes began to ponder about his own destiny.  Hence, he wrote this amazing book to help others clear their paths of distractions and disruptions and get on the path to destiny.
This is the first book I've read that was written by T.D. Jakes.  The thing I noticed right away was his writing style.  It's exactly like his speaking style…straight and to the point.  No sugar coating.  As I was reading the book, it felt like he was right there in the room preaching a private sermon to me.  It might sound funny, but I could actually hear his voice in my head as I read each word.
Throughout the book, Jakes shares stories of some of the challenges and setbacks he faced throughout his life while traveling on the path to his destiny.  He tells readers to get their relationships, money, and thoughts in step with their destiny and pull away from visionless people who have no plans for their future.  He also urges you to pour into relationships that pour into you and discusses the importance of being intentional about the people you are connected to.
There are so many great nuggets of wisdom sprinkled throughout this book that I took note of.  Here are just a few:
Leave behind small thinking and think big – always go above and beyond.
Stop allowing minor thoughts to occupy your mind.
If you pray for an oak tree, God will send you an acorn because things can come from small beginnings.  Don't throw the acorn away because your tree is the seed.  God works through the agricultural principle of planting a seed and reaping a harvest.
There are times when emptiness is needed so that God can be allowed to fill a void.
God can use disorder to create a new order in your life.
Be determined to invest in yourself despite delays, setbacks, and sidetracks.
The most important things in life require struggle.
Destiny becomes reality when you partner with God.  Be open to listening to God.
Let God fight the battles you can't win for yourself.
Add someone you your life who is smarter, more knowledgeable or accomplished than you and learn from them.
To expand your knowledge and exposure in life, let go of the easy and familiar.
Be careful with the gift of time.  Every day is a withdrawal from the bank of time.
Don't spend your time obsessing about what others are doing.  Don't be jealous.
Declare there is more inside you yet to be discovered and focus your attention on getting it.
The journey to destiny requires a curious mind.
Gain knowledge from unlikely sources.  Knowledge comes from all types of people and sources.
Although there were some points in this book I've heard other motivational speakers say before, they weren't articulated quite the same way that T.D. Jakes said them.  His matter-of-fact tone really resonated with me.
Throughout each revealing chapter, Jakes shares how stepping into his purpose got him where he is today. He is also transparent about a few of the mistakes he made along the way, what he learned from each and how he overcame them.
I really felt T.D. Jakes's charismatic personality shine through in each chapter as he unfolded each topic with lots of colorful anecdotes and high-paced energy.  Overall, I think this is one of the most inspirational and motivational books I've read in a while.  I would highly recommend it to anyone who is ready to discover how to step into their God given destiny and purpose in life. I think this book is an excellent blue print that outlines the steps you need to take to reach your destiny.  A winner!
Your turn:  Have you read this book yet?  Have you figured out your destiny and purpose in life yet?  If so, what is it?  Feel free to share in the comments.