Wild: From Lost to Found on the Pacific Crest Trail by Cheryl Strayed
Status: Finished
I found this book to be very inspiring.  It was interesting to read about all the things she endured and the people she met along the way in her very emotional and compelling journey.  The quality of writing in this book is fantastic.  Cheryl is a wonderful storyteller who vividly captures her experience of hiking the PCT.  Now I want to see the movie starring Reese Witherspoon!
The Life-Changing Magic of Tidying Up: The Japanese Art of Decluttering and Organizing
by Marie Kondo
Status: Finished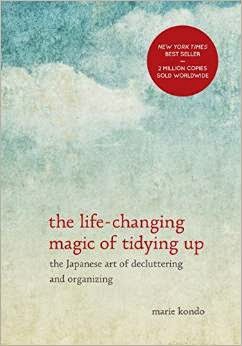 WOW, this book is AMAZING!  I read the entire book cover to cover in five days.  I probably could have finished this in one full day, but between work, taking care of the house and the kids I had to squeeze it in when I could.  Anyway, this book was definitely a page turner for me from beginning to end.
The topic of decluttering and tidying has always intriguied me, but Marie Kondo has definitely got me beat.  She spent more than half of her life researching tidying since the age of 5…that's impressive!  Some people may find this book a bit over the top, but I loved every.single.word.  Who knew I would find a book about decluttering and tidying so intriguing?
Now that I've completed the book, I'm going to start the process of tidying up our home using the KonMari Method.  I can truly see how this book can be life-changing and magical.  It just makes so much sense to me by putting your house in order you can put your entire life in order.  Kudos to Marie Kondo for writing such a well-written and inspiring book!
The Noticer: Sometimes, all a person needs is a little perspective by Andy Andrews
Status: Finished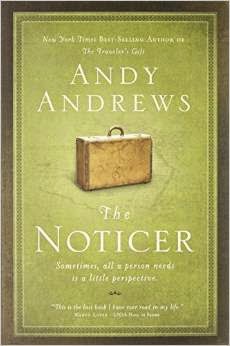 I started reading this book on a Thursday and was finished by Saturday of that same week.  This book is a quick read – only 156 pages in length, but it's filled with so many great nuggets of wisdom that can truly be applied to your everyday life.
I absolutely loved the chapters about the four dialects that people use to convey love.  It definitely gives you a whole new perspective and makes excellent comparisons between the four dialects and corresponding animals – brillant!
I look forward to sharing the life lessons I learned from "Jones" in this book.  Everyone needs a "Jones" in their life – I know I do.  I can definitely see why this book has gotten such rave reviews on Amazon and other websites.  I'll be purchasing this book for sure to add to my collection.  An excellent read!