Summer is officially here! What is summer if not a time for adventure, exploration, and traveling to new and different places!  This summer the kids and I (along with some friends and maybe "the husband") intend to hit the road and go on some literary-themed and kid-friendly road trips.
A few months ago, I compiled a list of places in the Northeast where we can get our book shopping and literary geekiness on thrown in with some family and kid-friendly fun!  This summer, we'll be embarking on a literary pilgrimage of sorts.  I hope to offer my kids a unique, inspiring and educational summer vacation.  We'll be visiting various museums, libraries and centers for children's literature.  Whether your family will be hitting the road this summer, or whether you're staying close to home, I hope this literary road trip series will inspire you and your kids kids to do some exploring in your own area.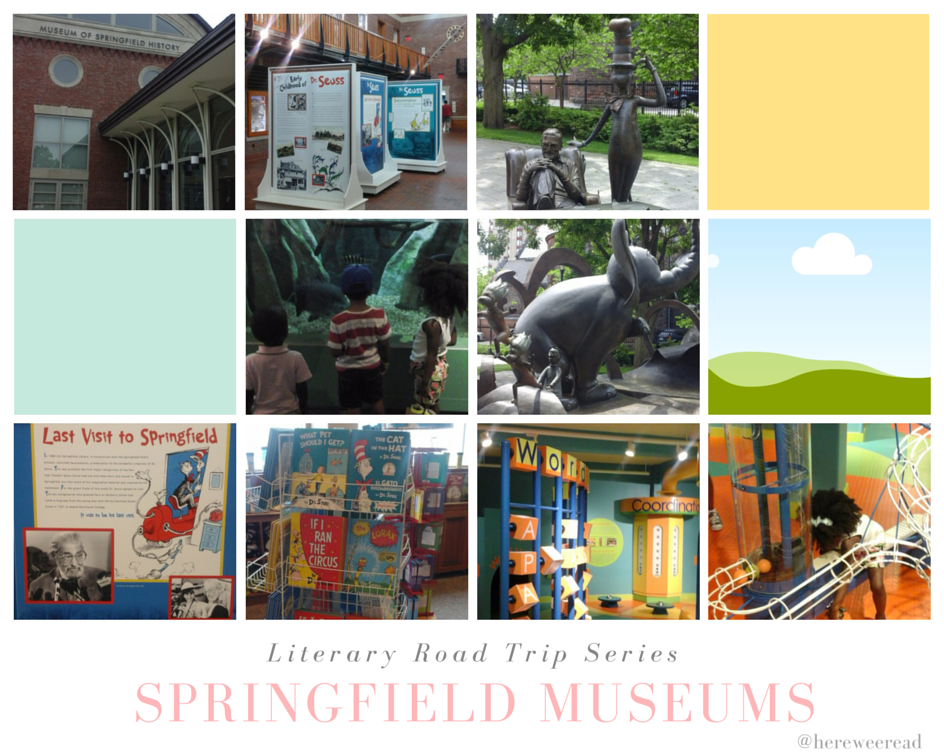 We kicked off our road trip series with a visit to the Springfield Museums.  Located in the heart of downtown Springfield, Massachusetts, the Springfield Museums offers access to four world-class museums and the Dr. Seuss National Memorial Sculpture Garden, all for one admission price.  What a great deal!
The four museums are as follows: George Walter Vincent Smith Art Museum, Springfield Science Museum, Michele and Donald D'Amour Museum of Fine Arts and Lyman and Merrie Wood Museum of Springfield History.  There is also a museum store which has a fabulous range of children's books, educational kits and toys available for purchase. You're bound to find a gem (or two) to take home.
The Amazing World of Dr. Seuss Museum will be a brand new addition coming to the Springfield Museums!  It will include an interactive, bilingual museum for children and families that brings the stories of Ted Geisel (a.k.a. Dr. Seuss) to life. Visitors will encounter three-dimensional characters and scenes from his books as they explore Ted's childhood in Springfield, Massachusetts. This colorful exhibition aims to make reading and learning fun for visitors of all ages and will open in 2017.
We only ended up exploring two out of the four museums which seemed to be the most kid-friendly ones.  First, we went to the Springfield Science Museum which has an Exploration Center of touchable displays, the oldest operating planetarium in the United States, an extensive collection of stuffed and mounted animals, dinosaur exhibits, and the African Hall, through which you can take an interactive tour.
Next, we went to The Museum of Springfield History which tells the story of the town's manufacturing heritage. Did you know that Springfield was home to the former Indian Motorcycle Company?  The museum has a rich and beautiful collection of Indian bikes and memorabilia on display throughout.
Afterwards, we headed over to the Dr. Seuss National Memorial Sculpture Garden.  The garden includes an array of bronze statues depicting scenes from Theodor Geisel's famously whimsical children's books.  The statues include a four-foot-tall Lorax, one of his most popular creations and the elephant from Horton Hears a Who.
The kids really enjoyed seeing all the animals and exhibits at the museum, playing in the interactive kid's play area and running around in the sculpture garden.  One of my friends and her son accompanied us too – we had a ball!  Before heading home, we went to the on-site cafe to grab a bite to eat and ended up having an impromptu picnic lunch outside on a blanket.  What a nice way to spend a Saturday afternoon!
If you're ever in the area, I'd highly recommend going on a literary road trip to Springfield, MA, the home city of Dr. Seuss.  Make the Springfield Museums one of your first stops with your little readers!
What bookish adventures can you and your little readers go on in your area this summer? Please leave your thoughts in the comments as we embark on our own summer literary adventure!
Disclaimer: We were provided with complimentary tickets to the Springfield Museums in exchange for an honest review.  All opinions expressed are my own.
Connect with the Springfield Museums!
Website | Twitter | Instagram