If you follow me on Instagram, you may have recently seen me participating in a 30-hour Orton-Gillingham comprehensive training course. The comprehensive training is just ONE training option available if you want to learn the Orton-Gillingham methodology. Trainings and style can vary. You can view the different training descriptions that the Institute for Multi-sensory Education (IMSE) has here.

I chose the comprehsive course that also has a practicum in order to learn the approach and methods inside and out. My ultimate goal is to become a Certified Orton-Gillingham Tutor if possible. I took my training course through IMSE (The Institute for Multi-Sensory Education). There are other companies that train in the Orton-Gillingham methodology.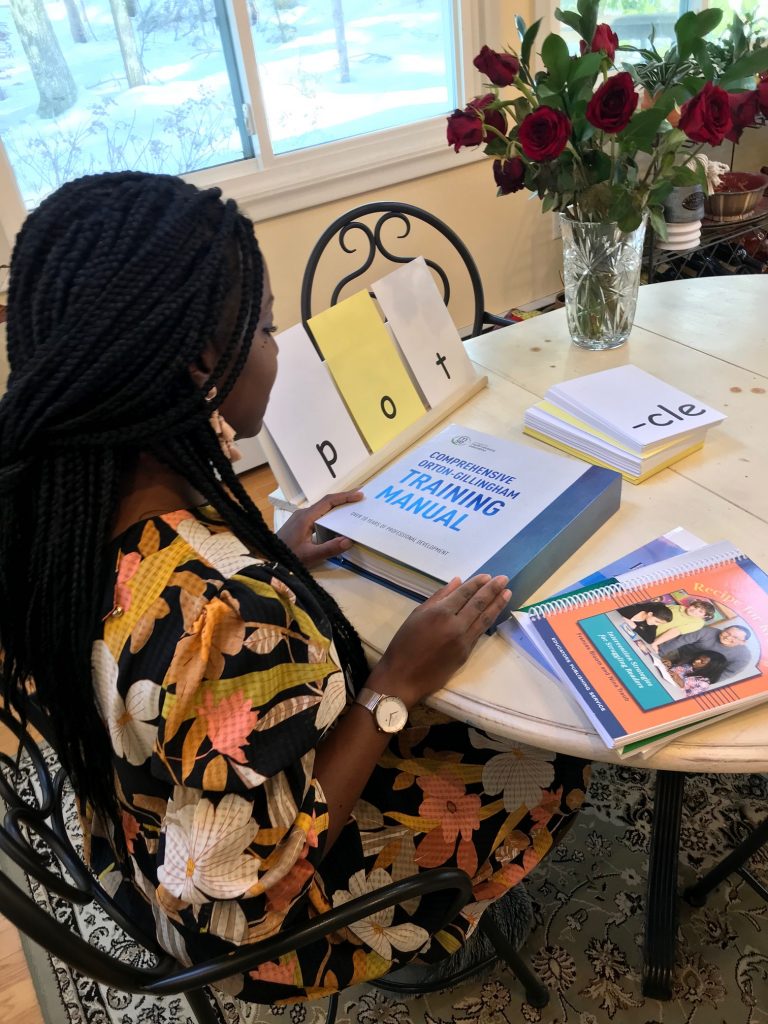 What is Orton-Gillingham?
"Orton-Gillingham is a highly structured approach that breaks reading and spelling down into smaller skills involving letters and sounds, and then building on these skills over time. It was the first approach to use explicit, direct, sequential, systematic, multi-sensory instruction to teach reading, which is not only effective for all students but essential for teaching students with dyslexia." (Definition taken from the IMSE website.)
The History of Orton-Gillingham
"Orton-Gillingham was among the first teaching approaches designed to help struggling readers by explicitly teaching the connections between letters and sounds. In the 1930s, neuropsychiatrist and pathologist Dr. Samuel T. Orton and educator, psychologist Anna Gillingham developed the Orton-Gillingham approach to reading instruction for students with "word-blindness," which would later become known as dyslexia." (Definition taken from the IMSE website.)

What is the Orton-Gillingham Methodology?
The Orton-Gillingham Methodology is a direct, multisensory, structured, sequential, diagnostic, and prescriptive way to teach literacy. When reading, writing, and spelling does not come easily to individuals, such as those with dyslexia (or any new or struggling readers). It is most properly understood and practiced as an approach, not a method, program, or system. In the hands of a well-trained and experienced instructor, it is a powerful tool of exceptional breadth, depth, and flexibility.
It has been proven by research that when using a diagnostic, systematic, structured, multisensory approach faithfully, you take the guesswork out of reading.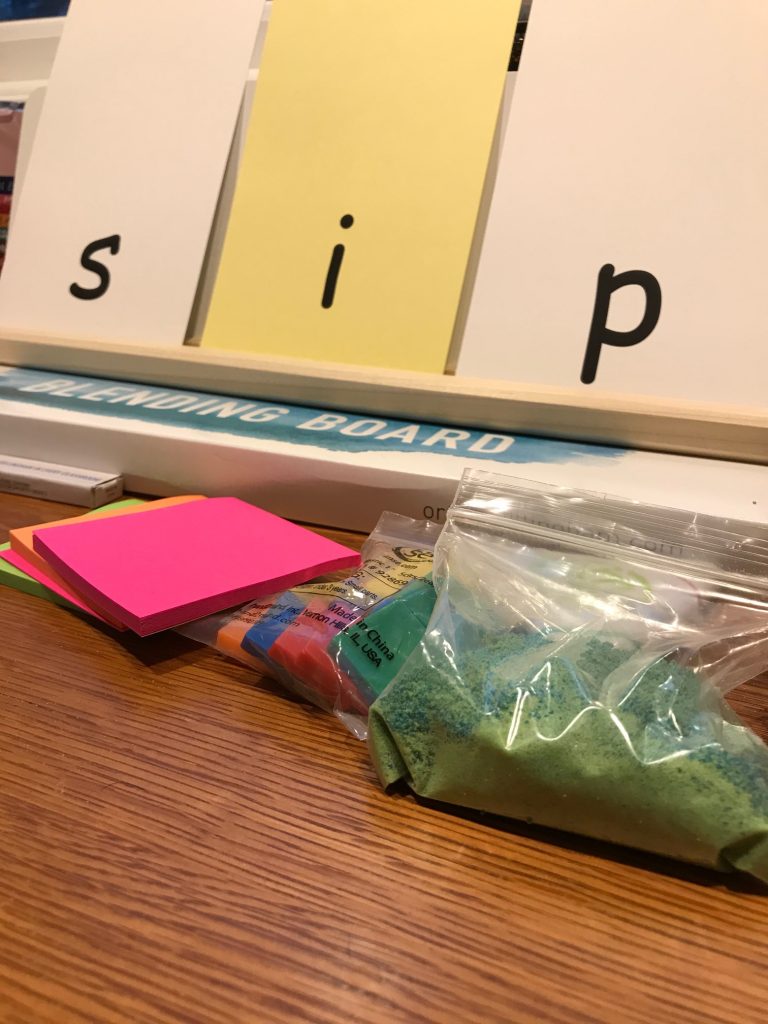 My Training Course Experience
I'll be honest and say I had no idea what to expect prior to taking this training course. While I was familiar with Orton-Gillingham, I had never used it and really didn't know that much about it besides it being an effective approach to teach reading.

Since I don't have an education background, (I have an IT background) I was unsure how quickly I'd be able to catch on and grasp the concepts. However, the instructor for our class at IMSE was AMAZING! She was a delight to learn from and very knowledge about all things Orton-Gillingham, literacy and phonological awareness. She made me feel at ease from day one right up until the last day.

Due to COVID, my training course was virtual and I had about 15 – 17 other people in my class. I was glad that the course was interactive giving you the opportunity to work in smaller groups during breakout sessions. The small group time allowed you time to really practice and hone the skills being taught by the instructor. In addition, it gives you the opportunity to communicate with others in the class and provide each other with constructive feedback.
The class started at 8am each day and finished up around 3:30pm for a total of 30 hours of Orton-Gillingham training. At the end of the course you receive a certificate of completion for the course. Please note: That certificate doesn't mean you are a Certifified OG tutor, there is additonal training required for that which includes the practicum.
IMSE provided me with the following materials:
IMSE Comprehensive Training and Assessment Manual
Recipe for Reading by Bloom and Traub
IMSE Comprehensive Syllable Division Word Book
Phonological Awareness: Assessment Tools & Strategies by Zgonc
IMSE Phoneme Grapheme Card Pack
IMSE Syllable Division Cards
Set 1 IMSE Decodable Readers
Blending Board
Sand (for kinesthetic learning)
IMSE Interactive OG (online lesson planning tool) One-year subscription (additional years will require a renewal fee)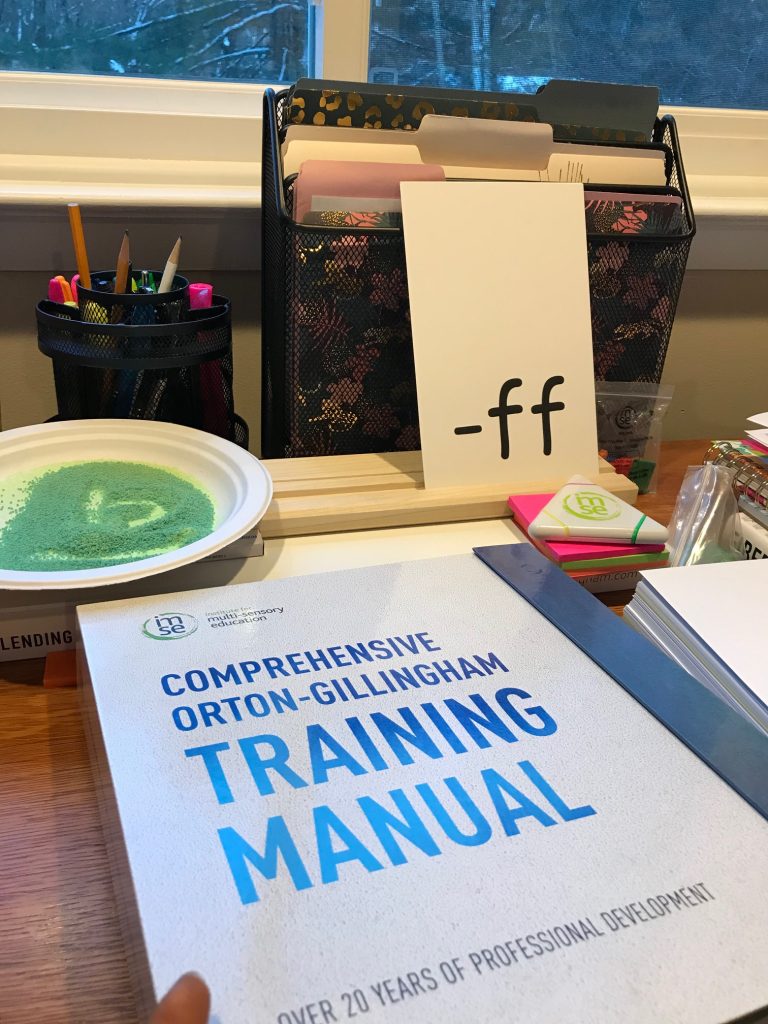 Some of the concepts I learned in the course include:
Encoding and decoding words
Syllable division patterns (multi-syllable words)
Vowel Intensive
Fluency
Red Words
Three-Part Drill
Phonological awareness
Vocabulary Development
Comprehension
Assessments
Guidelines for Weekly Lesson Planning for Students
Here are a few things I learned that I thought were interesting:
Dyslexia affects 1 in 5 people and it runs in families. Children DO NOT outgrow dyslexia. Children with dyslexia grow up to be adults with dyslexia.
Our brains are wired for speech, not reading.
The four phases of reading: pre-alphabetic phase, partial-alphabetic phase, full alphabetic phase, and consolidated phase.
The six stages of reading development
The Cat/Kite Rule (The Rules for letters C & K)
My training experience was absolutely amazing and so eye-opening! Who knew learning to read and teaching others to read could be so seamless and easy to comprehend? Throughout the course I kept thinking, all children should have the access to be able to learn to read this way. I definitely believe Orton-Gillingham should indeed be taught in every classroom. I truly believe Orton-Gillingham can make all children better readers. Here are a few reasons why I think this based on the things I learned during my training:
The Orton-Gillingham methodology uses systematic instruction techniques and resources to teach new concepts in the exact same way every time. By doing this, the brain is not expending energy trying to figure out a new method. Instead, the brain expects the routine of learning and can focus on the new concept being taught. Brilliant and way less confusing!

When teaching new concepts, the steps are clear and teach the rules one at a time. Each step builds from the previous step, building from simple to complex.
Learning is individualized to each student. Students should be able to move through the program at an individualized pace which allows for developing fluency and automaticity for each step. Students

only

move from one step to the next as they build fluency for each level of language skills.

Each student's skill development is monitored along the way with assessments. The instructional practices are built upon what was observed in the previous lesson and what is judged to be necessary to move the student forward in the next lesson.
It's also important to note that students with dyslexia need to master the same basic knowledge about language as any other learner. However, because of their dyslexia, they sometimes need more help when it comes to sorting, recognizing, and organizing language.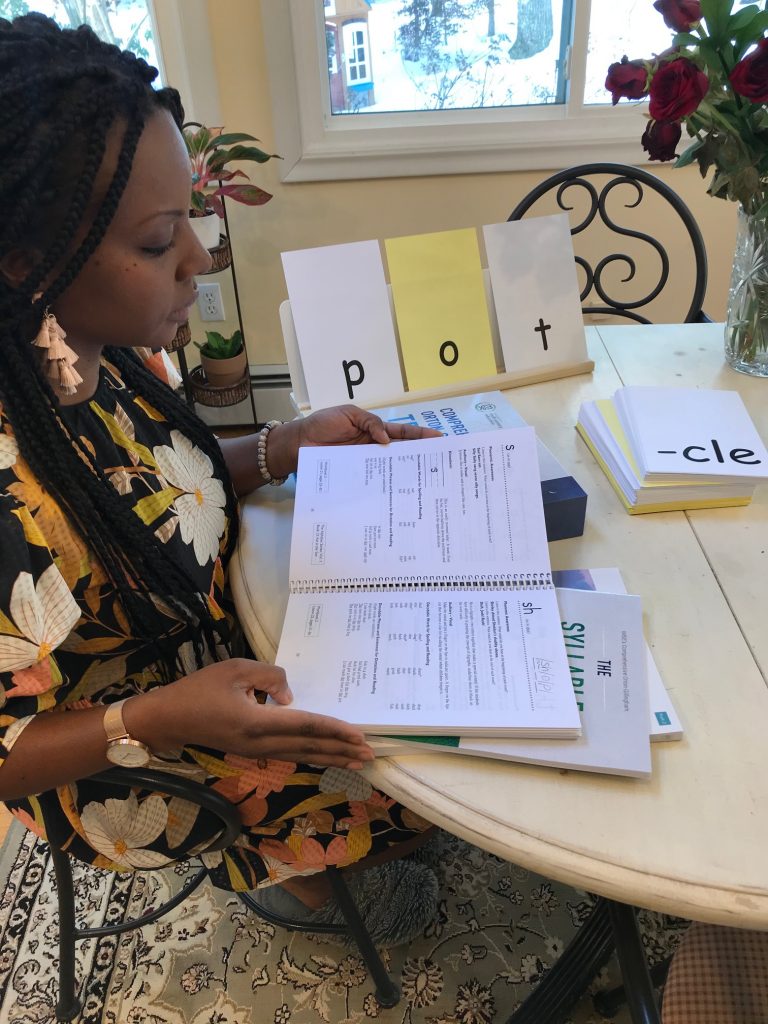 How I'm Planning to Use My Orton-Gillingham Training
As I mentioned earlier, my utlimate goal is to become a Certified Orton-Gillingham Tutor to help beginning and struggling readers learn how to read better. Since taking the course I've been continuing to use the skills I learned in class with my two children at home. I am also working with a Certified OG Instructor who is giving me a few hours of coaching in preparation for me embarking on the practicum. The practicum is a lot of work and it requires you to pass the KPEERI exam.

In addition, I have now acquired my first Kindergarten student who I will be tutoring starting next month. I need to complete 50 hours of tutoring which will be great pracice for me and allow me to keep my skills sharp. I'm excited for this new journey and look forward to seeing the progress my student makes in the coming months.
I'll keep you posted on my journey along the way!
If you'd like more information about Orton-Gillingham or the Institute for Multi-Sensory Education please visit the IMSE website. There you can also find out the training requirements and pricing for each of the courses they offer. You can also purchase some of their products.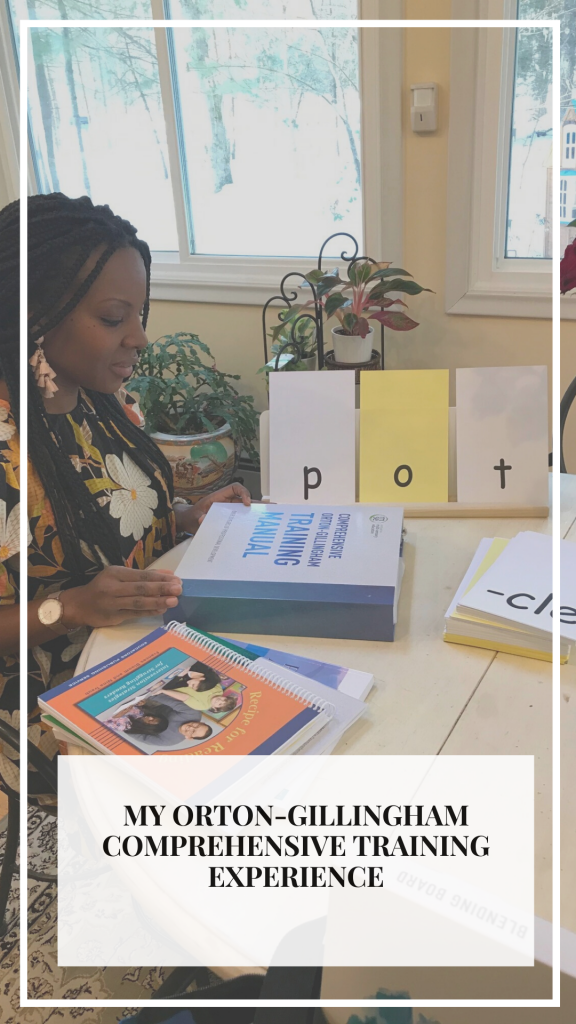 Your turn: What questions do you have about Orton-Gillingham? Feel free to ask your questions in the comments.