What Pet Should I Get? by Dr. Seuss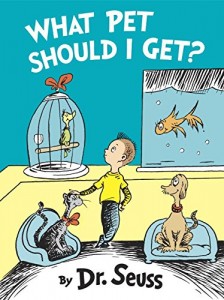 In a recent blog post I rounded up a list of upcoming books for children and adults.  One of the books on my list was the long awaited release of What Pet Should I Get? by Dr. Seuss.
Well, today is the official release date and I snagged my copy from a local book store.  I'm looking forward to reading it to the kids tonight during story time!  Of course I couldn't wait and read it right away.
Background
Dr. Seuss whose real name was Theodor Geisel died in 1991.  It's no secret he is known as one of the most beloved children's book authors of all time. His long list of awards includes Caldecott Honors, the Pulitzer Prize, eight honorary doctorates and other awards.  Geisel wrote and illustrated 45 books during his lifetime, and his books have sold more than 650 million copies worldwide. Though Theodor Geisel died almost 25 years ago, Dr. Seuss still lives on, inspiring generations of children of all ages.
According to Random House, What Pet Should I Get? is believed to be written between 1958 and 1962. The book features the same brother and sister seen in Dr. Seuss' 1960 classic One Fish Two Fish Red Fish Blue Fish.
Summary
What happens when a brother and sister visit a pet store to pick a pet? Naturally, they can't choose just one! The tale captures a classic childhood moment—choosing a pet—and uses it to illuminate a life lesson: that it is hard to make up your mind, but sometimes you just have to do it!

Reflection
I absolutely love this book!  It's a charming story about a brother and sister who want to get a pet.  Their parents agree to let them get a pet, but they can only choose one and they must be home by noon.  In the pet store they encounter a few different animals (a dog, a cat, a fish and a rabbit), but they simply can't make up their minds about which one to get.  Finally, the kids decide which pet to get, but you never actually find out which one they choose.
As it states in the back of the book, "by ending the story the way he did, Dr. Seuss encourages readers to make up their own minds about how the story ends."  Therefore, when you read this book with your children ask them which pet they think the kids chose.  I think it was a dog, but that's because I'm a dog lover.
The text of this book is typical rhyming text that Dr. Seuss is known for.  The illustrations are great too and really help the story come to life.
What I love the most about this book is the section in the back that includes notes from the publisher.  You get to find out that Dr. Seuss was a huge animal lover himself, but he seemed to favor dogs the most.  You also get a glimpse into some of the pets Dr. Seuss owned and a behind-the-scenes look at his creative process for writing books.
If you are a Dr. Seuss fan or collector, you'll want to add this one to your home collection.  Especially since it may very well be his last published book.  Or who knows, they may find some additional lost manuscripts of other books he's written.
For all the animal rights activists and advocates who will argue the kids should have gone to a shelter to choose their pet, please keep in mind this book was written over 50 years ago.  I don't believe shelters were a common place to find pets back then.  Besides, it's just a children's book so enjoy it!
Now that the release date for this book is here, I can't wait for the Amazing World of Dr. Seuss to open up next year.  Especially since it will be located in Springfield, Massachusetts which isn't too far from me!
Your turn:  Have you had a chance to read this book yet?  What are some of your favorite Dr. Seuss books to read?  Feel free to share in the comments.