The Thunder Beneath Us by Nicole Blades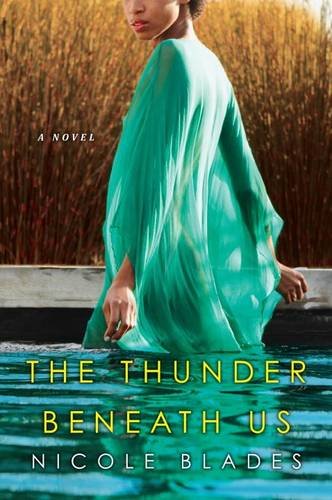 Publisher: Dafina (Kensington Publishing Corp.)
Format: Paperback
Pages: 320
Synopsis
To the world, Best Lightburn is a talented writer rising up the masthead at international style magazine James, girlfriend of a gorgeous up-and-coming actor, and friend to New York City's fabulous. Then there's the other Best, the one who has chosen to recast herself as an only child rather than confront the truth.
Ten years ago, on Christmas Eve, Best and her two older brothers took a shortcut over a frozen lake. When the ice cracked, all three went in. Only Best came out. People said she was lucky, but that kind of luck is nothing but a burden. Because Best knows what she had to do to survive. And after years of covering up the past, her guilt is detonating through every facet of her seemingly charmed life. It's all unraveling so fast: her new boss is undermining and deceitful, her boyfriend is recovering from a breakdown, and a recent investigative story has led to a secret affair with the magazine's wealthy publisher.
Best is quick-witted and headstrong, but how do you find a way to happiness when you're sure you haven't earned it—or embrace a future you feel you don't deserve? Evocative and emotional, The Thunder Beneath Us is a gripping novel about learning to carry loss without breaking, and to heal and forgive—not least of all, ourselves.

Reflection
Survivor's guilt.  It's something many people deal with at some point in their lives.  People living with survivor's guilt for extended periods of time often experience depression, self-loathing and self-punishment.  In each situation in their lives – whether it's a relative living as an addict, a parent being a full blown alcoholic, or being the lone survivor in an accident – they feel like they had somehow, unfairly, escaped the doom and gloom that seemed to prey upon the people they love the most.  Sometimes they even believe they caused it.  As a result, people suffering from survivor's guilt end up wasting a lot of time and emotional energy trying to answer questions like, "Why them and not me?"  If you've ever experienced the pain of survivor's guilt in some capacity then The Thunder Beneath Us is the book for you.
The opening line of this book made me laugh out loud – literally!  It immediately intrigued me and drew me into the story.  Best (short for Bathsheba) is a beautiful, accomplished magazine journalist dating a hot actor.  What more could a woman ask for, right?  Although it sounds like she has it all together on the surface, her life is a hot mess! She's been living with so many secrets that eventually begin to come bubbling to the surface and rock her world upside down.
Although I think the first half of this book was a bit slow to develop, the second half definitely made up for it and had me turning the pages so fast wanting to know what was going to happen next!  After having a breakdown, Best visits her childhood home in Canada.  That's when we learn what really happened ten years ago when she was the sole survivor of a terrible ice accident that tragically took the lives of her two brothers. What she had to do in order to survive turns out to be the mystery.  For years Best lived with survivor's guilt, without ever expressing her feelings.  Can you imagine what that must feel like?
While Best isn't the most likeable character, I did find myself relating to her in some chapters.  Her personality can be described as sassy, witty and funny.  Some may even call her a hater.  No matter how you feel about Best Lightburn I think you'll find yourself cheering for her, laughing at her, crying with her, cursing her out and wanting to reach out and give her a big hug at times.  She's not perfect – she's human.
I love the author's attention to detail and the way she describes each character, their actions and the scenery around them.  The Thunder Beneath Us is a very thought-provoking, gripping, compelling and emotional book with themes of: love, family, relationships, personal discovery, self-acceptance, healing, loss, forgiveness, coping with the past and moving forward.  There are some valuable personal growth and self-discovery lessons to be learned for people who have struggled with things that haunt them from their past.  Best is forced to finally confront her tainted past so she can finally move on, forgive herself and experience happiness in her life once again.
Add this book to your holiday gift list for yourself or a friend.  This book has it all: fresh, detailed and concise writing, scandal, secrets and workplace affairs it's great for reading while traveling or over the weekend.
About Nicole Blades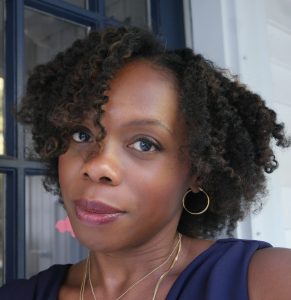 Nicole Blades is a novelist and journalist who has been putting her stories on paper since the third grade. Born and raised in Montreal, Quebec, by Caribbean parents, Nicole moved to New York City and launched her journalism career working at Essence magazine. She later co-founded the online magazine SheNetworks, and worked as an editor at ESPN and Women's Health. Now a freelance writer, her features and essays have appeared in MORE magazine, Cosmopolitan, NYTimes.com, WashingtonPost.com, MarieClaire.com, BuzzFeed, SELF, and BlogHer. Nicole has been a speaker and panelist at BlogHer, Mom 2.0 and the MA Conference for Women. She also created Ms. Mary Mack, a blog that aims to bring compassion and common sense back to parenthood.  Nicole currently lives in Connecticut with her husband and their son.
Connect with Nicole Blades!